The Palawan area of the Philippines is the nicest, most natural, safe and devoid-of-typhoons area in the country. And the Puerto Princesa > El Nido > Coron to Manila corridor is rapidly growing as a favourite tourist route.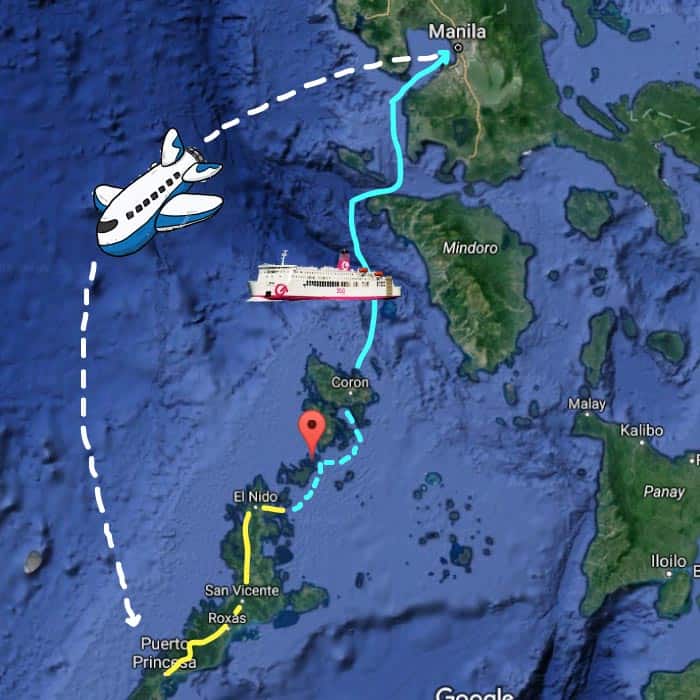 If you are short of time, such as 12 days or less, and you like pristine beaches and off-the-beaten-path places, I would suggest to fly instead to El Nido and skip the south, since you tend to lose way too much time in a crammed van going from place to place. The underwater river tour is not so spectacular to make it an absolute must see and you will spend most of the day waiting with the flood of other tourists. Port Barton and Sabang are nice off-the-beaten-path places, but there are better or as good places between El Nido and Coron. In any case, if you do want to check out the south, below you will find lots of info on places to stay and a good way to go about it.
If you would like to limit your tour from El Nido to Coron and like off the beaten path places in nature, you can check out my suggested places to stay along this route. Beach hop your way along the north peninsula with a maximum 30-60 minute van ride each day, until you get to the nice archaeological village of Sibaltan, from where you can start a multi-day Palawan boat tour to Coron and check out the beautiful Linapacan area half way in between, surrounded by 52 other islands. Many of them deserted if you'd like to camp out on some just yourselves. Check out these videos for an idea of what this wonderful area offers.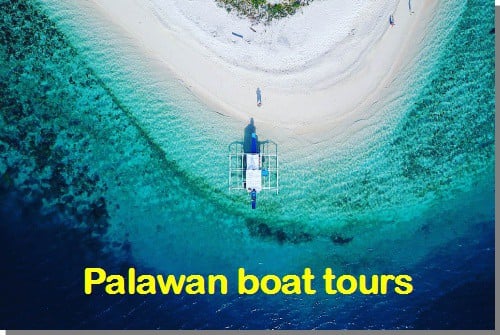 After that you can continue on to Coron, see some more sites along the way, including some of the most popular lagoons to see around Coron. If you are on a tight budget and cannot join a boat tour, you can check out the public ferries and save on inexpensive accommodation available in the Linapacan area, or take less expensive local day tours (reformulated as a 10 day all-inclusive Manila-Palawan package for 10,000pesos). Or get totally off the beaten path and visit our little nature camp on a small, nearby island.
If you plan to stay longer, visa extensions are really easy in this country.
Manila
As explained on the Manila page, if you are limited for time, best to just move on straight to paradise and enjoy your vacation on the beach. If you do have time, the page has some suggestions where you can stay and what to do.
Puerto Princesa
Fly to Puerto Princesa, although you can also take a long ferry there. Hopefully your plane will land by 6pm so that can go directly to one of the two travel agencies located to the left as you leave the building. There you can book a van which will pick you up the next morning to take you to the Underground River Tour (in Sabang, below), designated as one of the seven wonders of the world.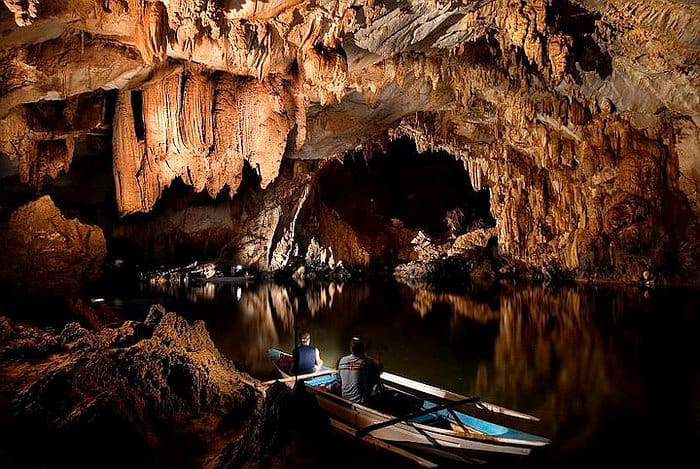 If on the other hand you'd like a private tour or a more native experience, you can try my friend Joseph. [Note that this above picture can be rather misleading. The only lighting they have is from flashlights on the boats waving around in random directions. The boats are constant, one after the other, in both directions, inching along to a recording of what the different rock formations supposedly look like (penises, cucumbers and so forth). It has become totally over-commercialised and you waste an entire day just to get there and back, constantly waiting in line.]
As explained on the Princesa page above (where you will also find info on vans and buses, or to book the river tour in advance), not so much to see there, so one night should be plenty.
Sabang
The next morning the van will pick you up from your hotel. Make sure to take all your stuff with you, so that you can continue heading north after exploring the underwater river tour. The agent on the right offered a 200p tour of the Mangrove Paddle Boat Tour, while waiting in the long line for the underground river tour, which I thought was better than the local zipline, as I feel the one in El Nido is better. Aside from the busy mayhem during the day, Sabang is a nice peaceful town and I heard a good place to stay overnight, if you have the time. I've been told there is a good and active couchsurfing community there.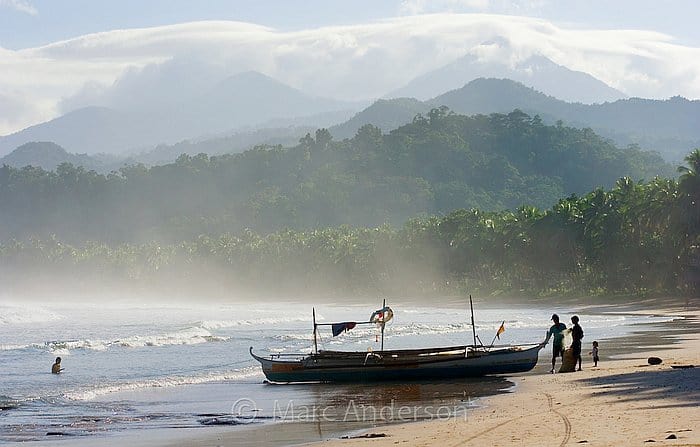 credit: Marc Anderson
When your or other van takes you back to Puerto Princesa, you can ask them to drop you off at the highway junction so that you can take another one continuing north.
Port Barton
If you have the time, Port Barton is another quaint and peaceful town off the beaten path. They recently completed the paved highway there, so who knows how long that will last, but well worth the visit if your schedule permits it. You can also ask around and take a private boat to El Nido, for a greater adventure, as the van ride is not so interesting.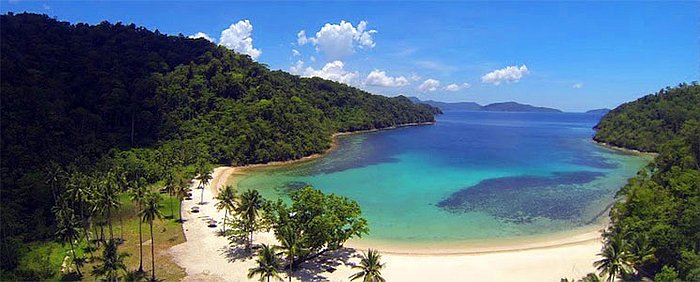 If you decide to take the land journey continuing north, there are many vans to catch, but I found the public buses better. Not only are they less expensive, but much more spacious. If you are limited for time, you can take the night bus which leaves around 11pm from Princesa and arrives in El Nido around 5am. The vans, although about one hour faster, can be quite crammed and uncomfortable.
If you do stay in Port Barton and don't mind tenting, I heard good things about Thelma and Toby's Island Camping Adventure.
El Nido
Like Princesa, El Nido also has a good live music scene, but if you are a musician, it is much easier to find a venue where you can jam with others. Three long beaches for romantic strollers, a great zipline, beautiful lagoons to explore, or you can rent a kayak and explore some of the nearby islands. There are also nice lagoons in Coron, so depending on what you want to see, one to two days should suffice for this town.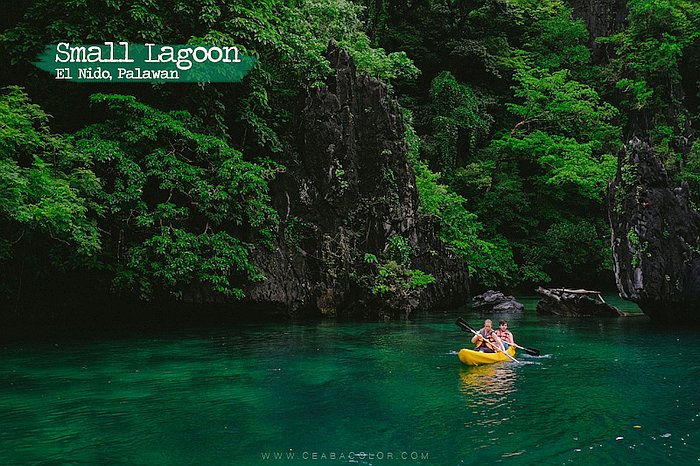 How many places you see in the Palawan area depends on how much vacation time you have. With a seven day trip, I would suggest the underwater tour in Sabang, El Nido, Coron, and to squeeze in at least one other place. You need some time to enjoy and relax and not constantly rushing to the next place. On this page, Sabang, Port Barton, Sibaltan and Linapacan are good places to relax. El Nido and Coron or more high strung but offer special sites and a good night life. I would consider Manila and Puerto Princesa only a quick pitstop.
To see the most, a private boat tour is the best, so that you are not dependent on the schedules of the public ferries between El Nido and Coron. The private boat can pick you up from Sibaltan, take you to Pical, tent on a deserted island, snorkel on the way, see the caves of Linapacan, and check out some of the lagoons around Coron before they drop you off there. This can easily work out cheaper than if you tried everything separately.
From El Nido you can take a 1.5 hour van ride to Sibaltan, 20 minutes north of which is the port of San Fernando, from where you can catch Marphye's big banca ferry heading north towards Coron. But the ferry is a grueling 7+ hours, so if you have the time, better to stop halfway in Linapacan.
The Philippines has a landmass the size of Italy, but broken up into 7,107 islands. Logistically it is better to choose a certain area and focus on that so that you can also rest and enjoy the sites. Come back another year to see other parts of the country.
Sibaltan
This is a nice archeological town about 1.5 hours by van ride east of El Nido. You will find a big banca boat builder and an old wooden ship acting as a museum. The town aspires to maintain its historical flavour, it has a very long and beautiful stretch of beach, along a small section of which you will find some great resorts.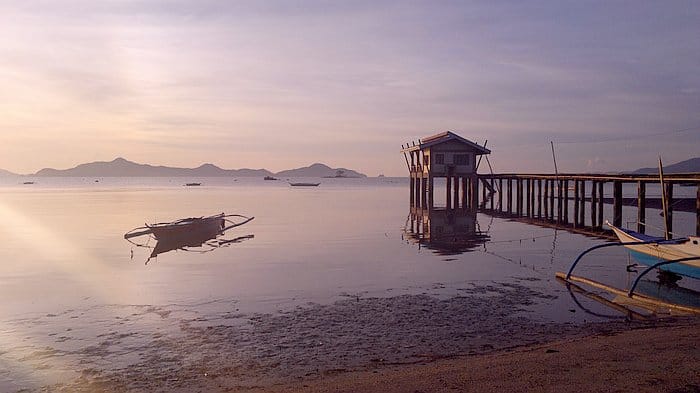 About 20 minutes to the north is San Fernando, from where a lot of the ferries head north to Coron. Some leave from El Nido, as explained on that page. But if you have some more time, the following is a worthwhile visit.
Pical on Iloc Island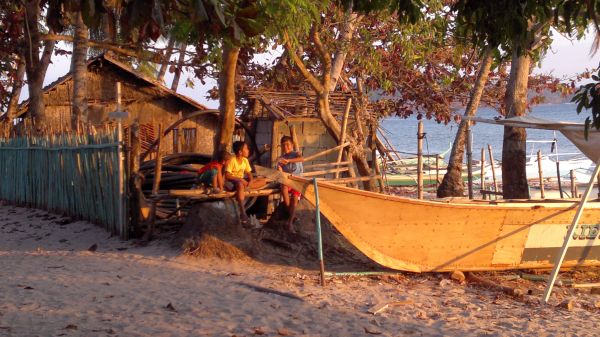 A 30 minute boat ride from Sibaltan, this is a great stop if you have the time. Or is part of our regular island hopping tours if you'd like that option on your way to Coron. If you instead prefer the public ferries (big banca boats) leaving from San Fernando, it will cost you roughly 1,000p each way to get on and off the island from Sibaltan, but with its endless, beautiful beach and warm hospitality of the locals, well worth a visit. The lodging owner can also organise a local day boat tour for some excellent snorkeling in the area. He also collects the daily catch from all the local fishermen before sending it off to Manila, and loves to cook, so expect the best of fresh seafood. You can check out some reviews at its airbnb listing.
Boats and Public Ferries between El Nido and Coron
You will find the latest information about this on our page here, as it often changes.
From El Nido, most of the ferries leave from San Fernando, which is about 1 hour van ride east of El Nido.
Once you get to Linapacan, you can take a local, one day tour for as little as 1,500p total for a five person boat.
Private Boat Tour Operator
However, the above public ferries have set schedules, which can be delayed for various reasons, in which case, if you are on a tighter schedule, getting on a private boat tour can not only make your trip through the Palawan area logistically easier, but you can see a lot more.
There are 52 islands in the Linapacan area alone, and there are several private boat tour operations servicing the El Nido <> Coron stretch, the most famous of which is Tao Expeditions.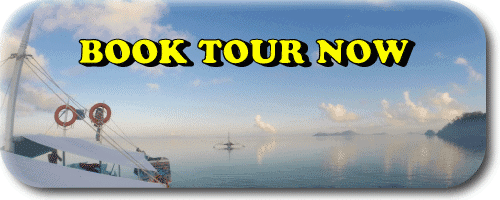 We work with several operators, found on our Boat Tours Schedule page, where you can also form a group if you want to share and reduce costs (to as little as 1,500p per person for a four day trip). If you hire your own boat, you can invite others to join to reduce costs, and decide who you want to let on board. If you allow others on your booked tour (requires deposit payment in advance), you are in charge of which places you want to see, otherwise you must decide collectively as a group.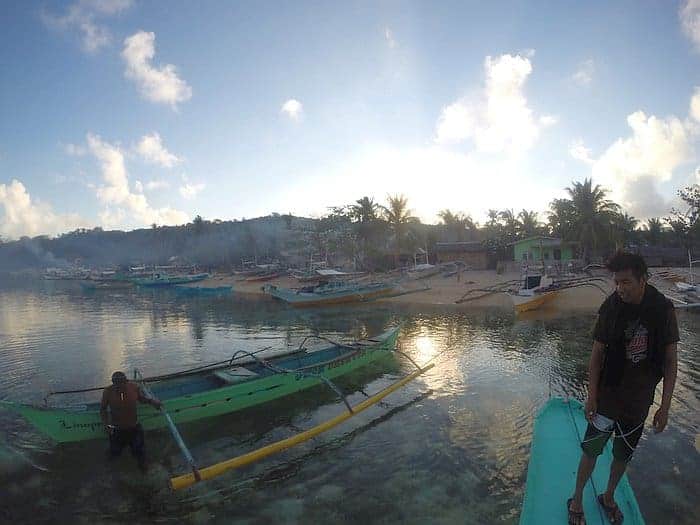 Note that most of our operators are from Linapacan and depart from San Fernando or Sibaltan (on the mainland east of El Nido). Not only is El Nido significantly farther and would cost more, but the waters can be exceedingly rough around the north peninsula of El Nido and all the special paradise beach islands to visit are east of the peninsula anyway. If you want to check out the lagoons around El Nido, best to organise that separately.
There are around a thousand islands in the Palawan area, so much to see. Here is a video of some of the larger towns in the Linapacan area (not on the island of Linapacan), for a feasibility study by a power company proposing to set up solar power stations there:
Possible Boat Tour Itinerary between El Nido and Coron

Possible interest points.

So many islands, so many options. With a private tour you have a say where exactly you want to go. With a smaller group in a smaller boat, or larger group in a larger boat, the cost per person can approach the same if taking the public ferries. Throw in some lagoons before disembarking in Coron and it can easily be less. We are growing a network of boat operators, each with their own contacts and relatives owning different islands.This of course can also be taken backwards, if you are going in the opposite direction from Manila, although this way you may need an extra day to see the underground river tour. Below are some of our favourite places so far.

Time permitting, visit this archaeological village of Sibaltan east of El Nido. Would recommend you stay there for one or two nights. Accommodation on the beach varies from 300p for tent to 1200p for nice cabin.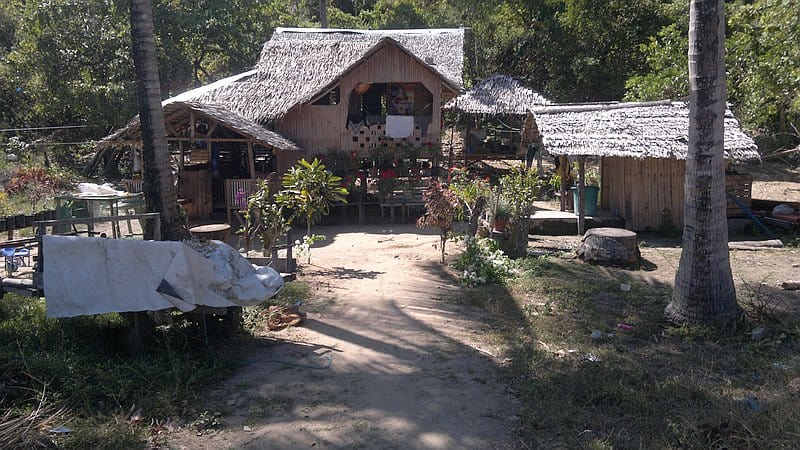 Our boat operator can pick you up from there and take you to a rural, authentic village on a small island. 300p per night for small bed in small room, but worth a visit for a day. For 300p you can also hire a local guide to take you to an even smaller community, through the jungle to the other side of the island.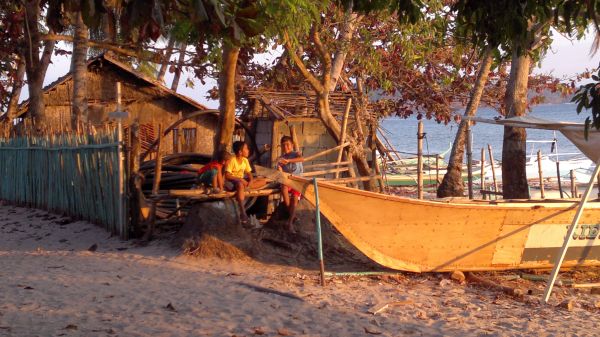 Then you can camp out on your own deserted island, such as Takling, (next two pictures), or some other deserted islands in the vicinity (last three pictures immediately below – click to zoom in).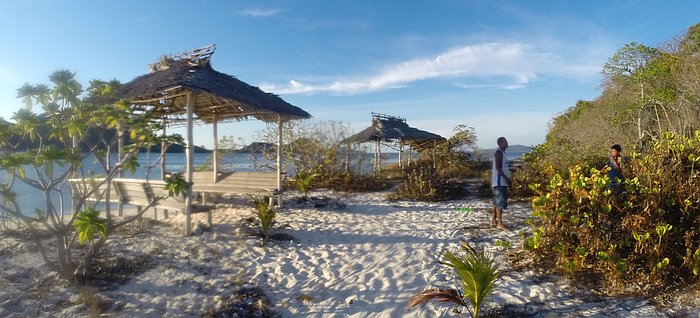 Food is provided either on open campfire or on charcoal on the boat for 100p per meal. Usually seafood, rice and veggies, but if you want something more exotic, we will tell you where you can stock up on the way and you can even cook it yourself right on the boat!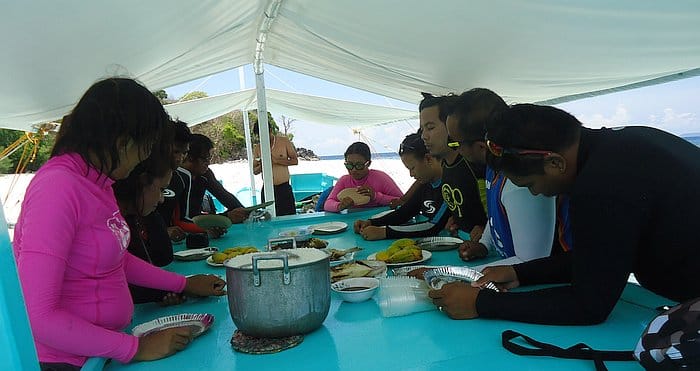 Then it is off to San Miguel in Linapacan, with 52 islands in the area, mostly deserted or sparsely populated for excellent snorkeling (or camping out on) in the clearest waters in the world. There are also caves to explore, trekking in the jungle, kitesurfing at our own resort, diving with hired gear at two sunken shipwrecks, or even stay on your own island overnight. You can combine snorkeling with fishing, or borrow our own fishing equipment, or go on excursions with local fishermen. Learn how to build with bamboo and coconut leaves, or for avid climbers, there are many islands along the way with vertical cliffs plunging deep into the ocean in this interesting post-volcanic terrain. And there is the old Spanish fortress on Linapacan. Lots to see!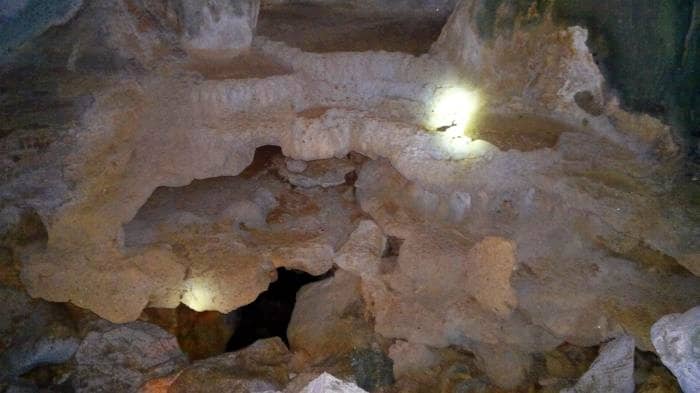 Senora caves near San Miguel.
Along the entire journey you can sleep for free on the boat, in tent for 300p per tent or 400p if two people in one tent, or stay in the home or a local for 300p per night. Sheets and snorkeling gear can be provided or hired. Meals are 100p each, and you can stock up on your own booze and snacks.
Once you are satisfied with soaking in the paradise and have truly relaxed on your vacation, you can continue on to Coron, exploring some of its beautiful lagoons before disembarking from your fantastic journey. Time permitting, you can even explore the beautiful and secluded area and islands around Culion on the way.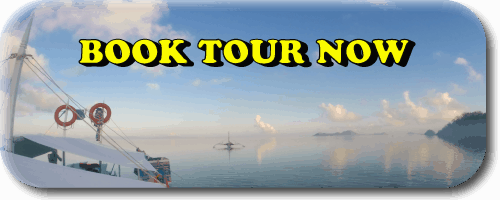 Coron
There are eight sunken shipwrecks around Coron, if you are an avid diver, after which we would recommend you take the overnight sleeper ferry to Manila. 1,500p, good live entertainment in the evening, and arrive in Manila early enough in the morning for a quick tour before boarding your flight. We can help you with local Coron tours.
Of course you can also take the trip backwards, but a little harder to see the underground river tour that way.
Enjoy your trip!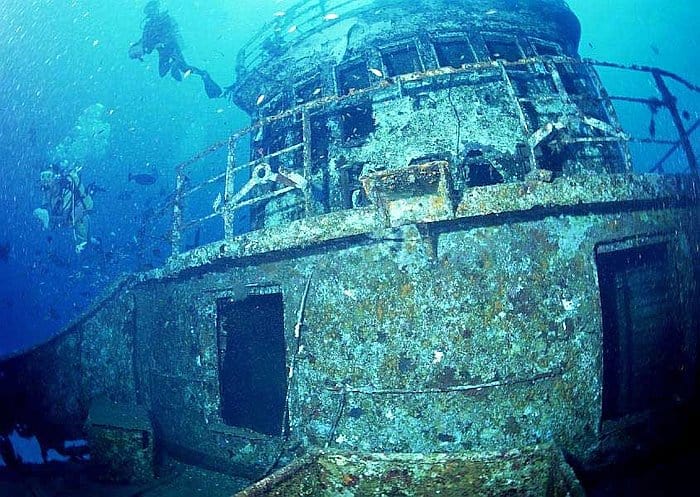 Useful links
  If this information was useful, let others know with a review!