Sibaltan – Archeological Village in Palawan
Now that you've made it through the zoo of Manila, Puerto Princesa and El Nido, you can finally begin your real vacation by relaxing a little. But don't worry, there will always be plenty to do! Sibaltan is also the launching pad or final destination of our multi-day private custom boat tours to or from Coron. We can also arrange local eco tours around Sibaltan only.
And this is a true oasis. Actually, an archeological site and prime example of traditional Filipino housing and lifestyle.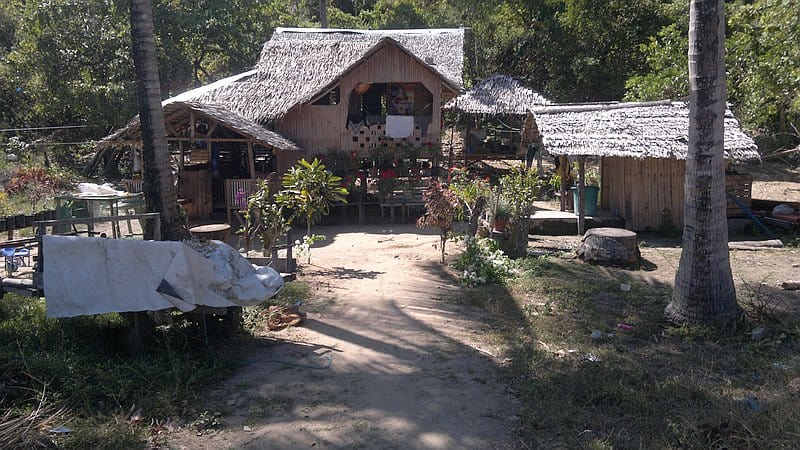 Only about 1.5 hours east of El Nido, you no longer need to worry about long journeys and travel stress, but can begin to relax and enjoy what you really came here for.
Tapik Beach Guesthouse, take good care of you, personal pickup from El Nido (600-1,600p)
Warm people who can pick you up straight from El Nido, rent you their kayak and take care of all your needs. A cozy atmosphere with traditional huts for your accommodation.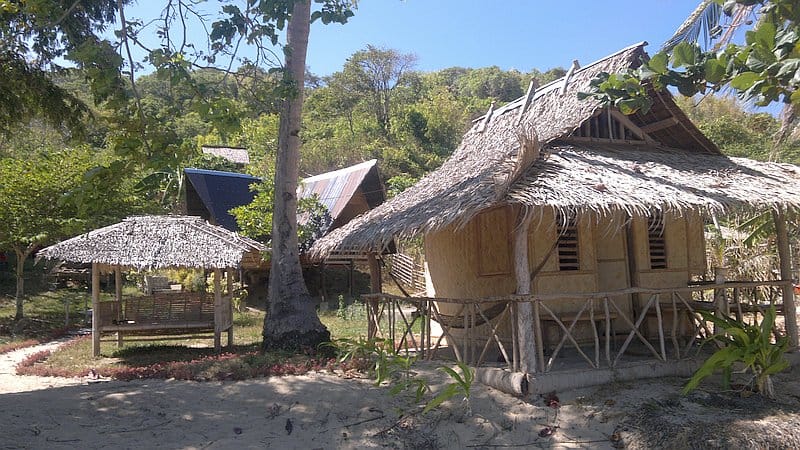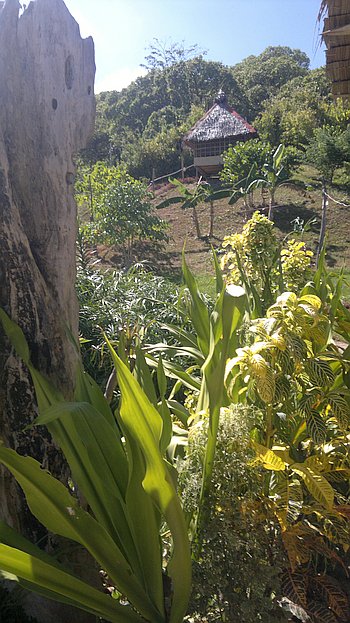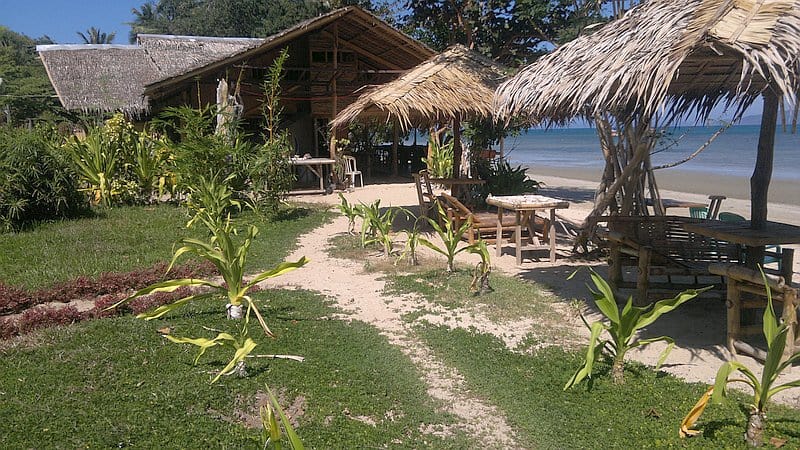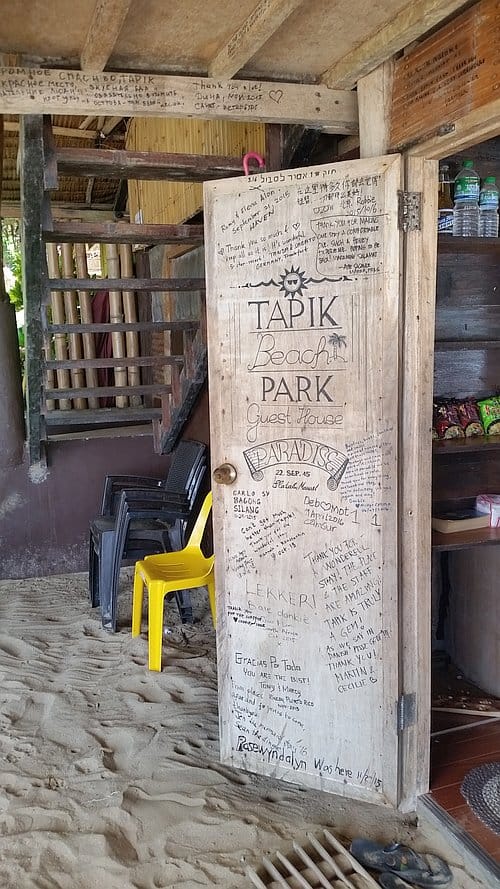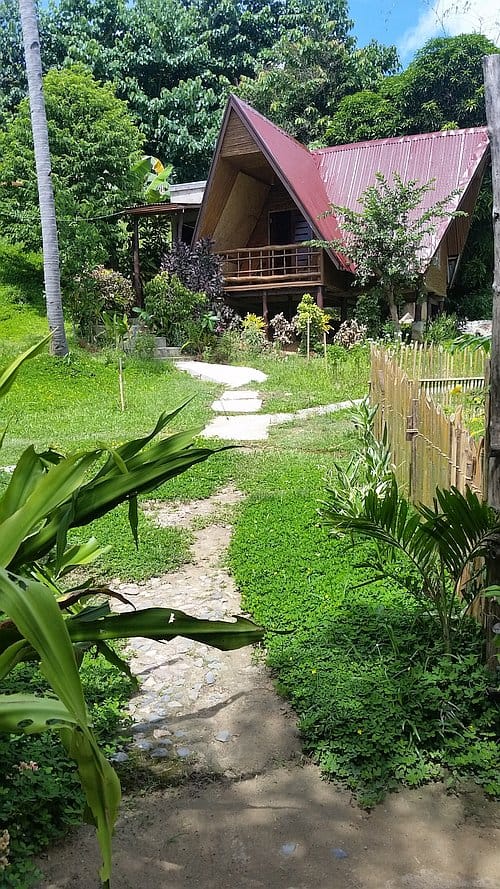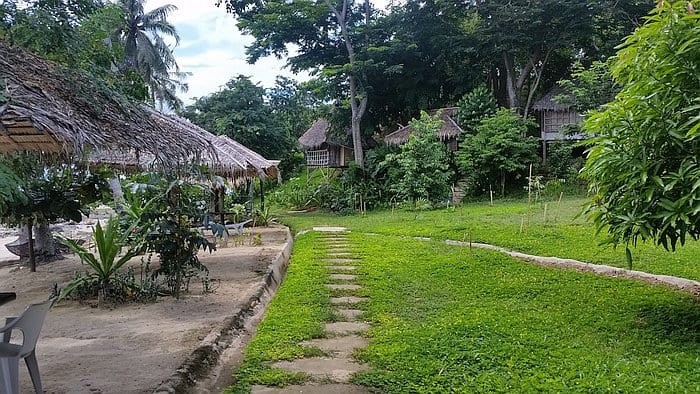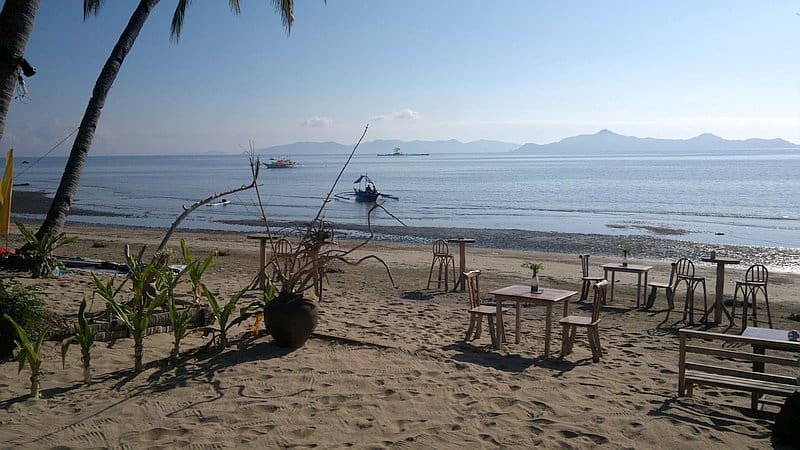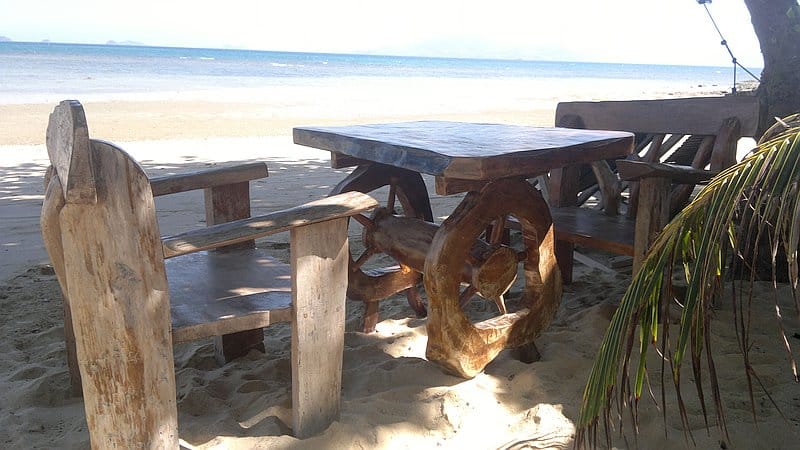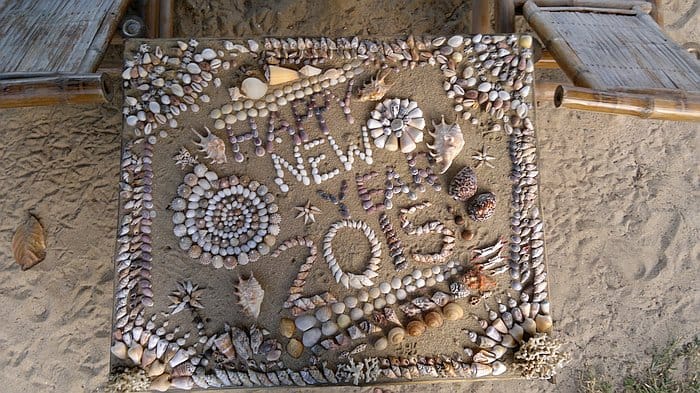 So peaceful here that this loose art in the sand on table top looked untouched even two months after the occasion!

Their prices:
Beach Cottage – 1,600p (=$33)
Beach Hut – 800p
Traditional Loft Room – 800
Traditional Loft Small – 600
Camping Tent – 600
Ursula Beach Club, very nice people, next door to resort 1 above (800p = $17, or 300p tent)
On the same, long stretch of quiet beach, these two places compete against one another by trying to start a cozier evening fire on the beach. Either place has a restaurant and bar and nice place to hang out in the evenings. Short distance walk from the village.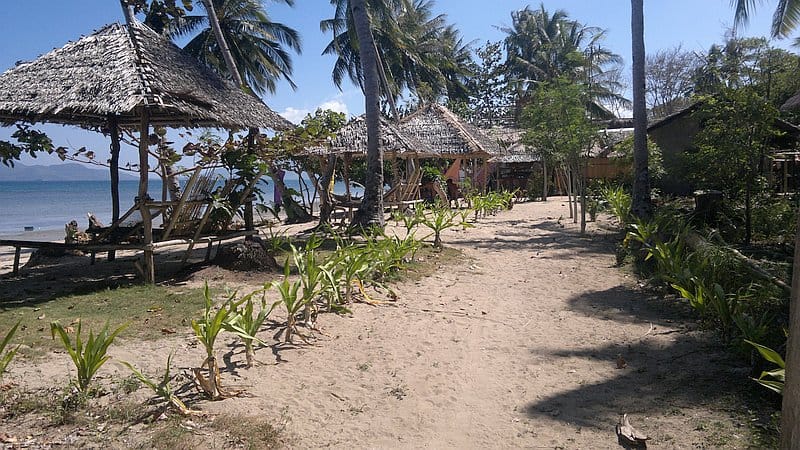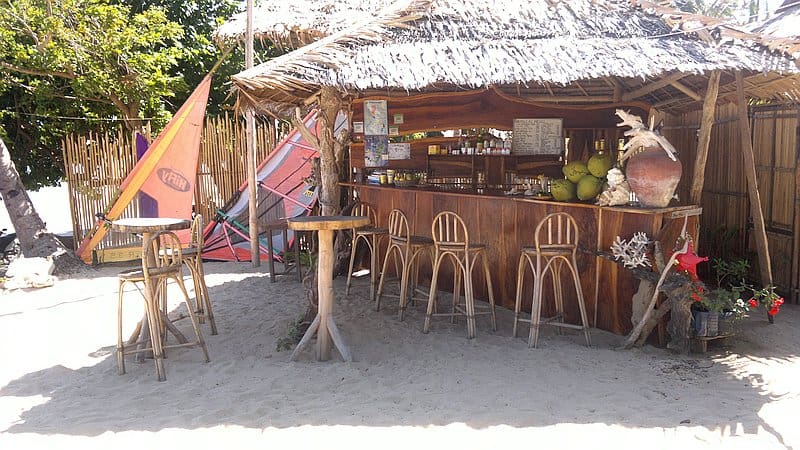 Their prices:
One of two rooms in small structure, complete with own toilet and shower – 800p (=$17)
Tent under open, roofed hut – 300p
– more places are currently being built on the hillside

Low price stay in village (200p = $4.5)
Nice woman runs this place, with internet cafe and solar power for 10p an hour during the day (like many smaller villages, this one turns on the power generator only from 6-10pm, as do the two resorts above). She has a well on her property, which can come in handy during the drier summer months, as both the resorts above occasionally run out of water.
She prefers not to post her contact information, so you'll just have to try your luck once you get there. You can also try other places along the beach (where there is now a third resort I'm told, part of Tapik), or possibly set up a tent for free, as some parts of the long stretch are totally unused.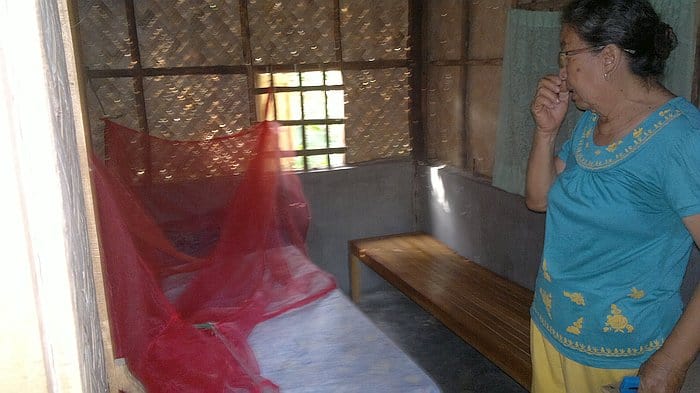 One of her single rooms for 200p.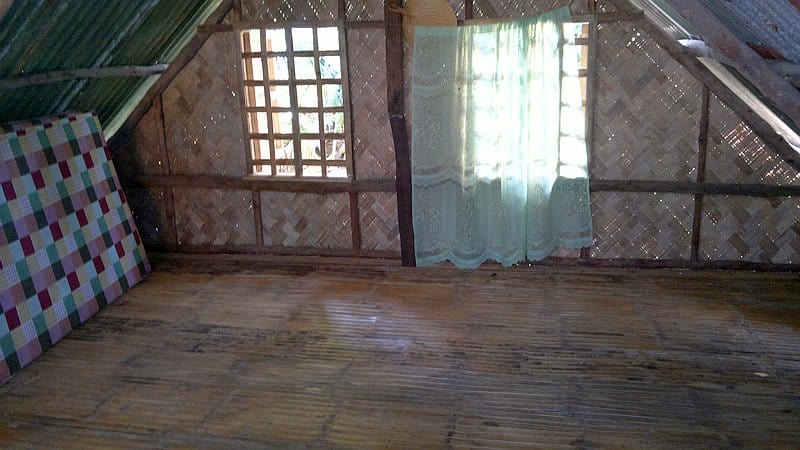 Loft upstairs with room for four (mattresses on floor), 200p each.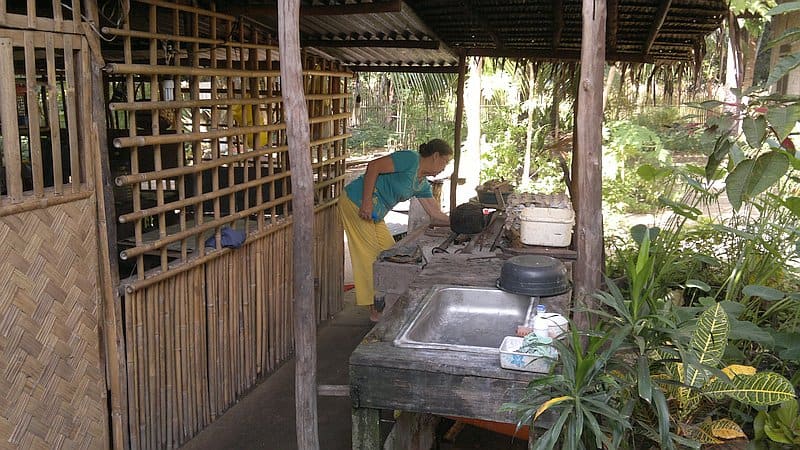 The kitchen above with picture of coconut shell fired stove below.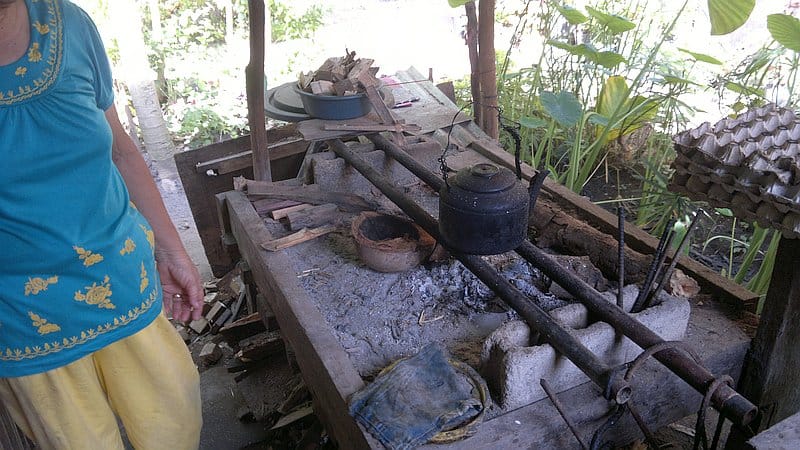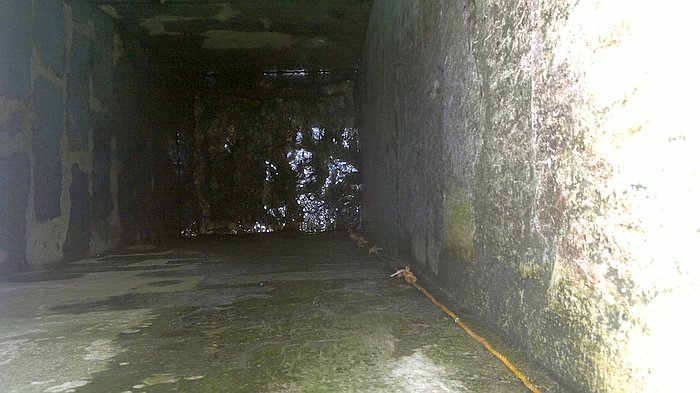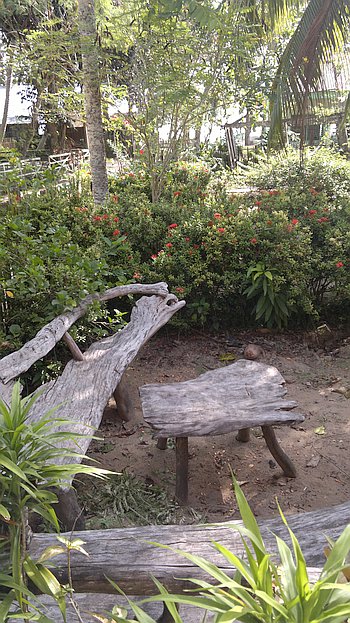 A new place which opened up just next to the top two resorts.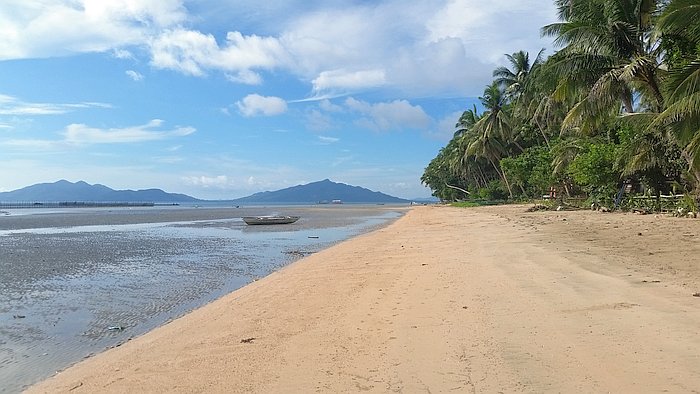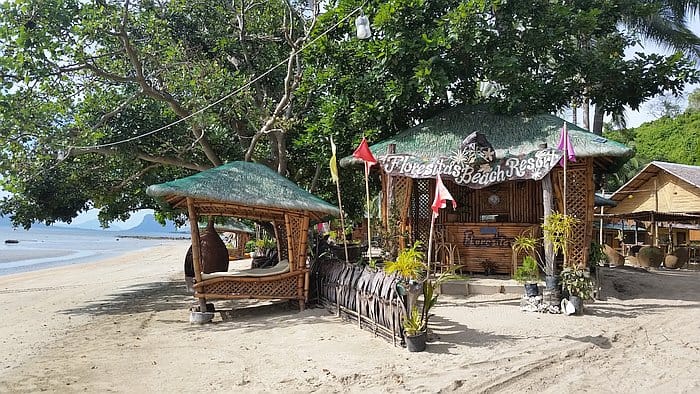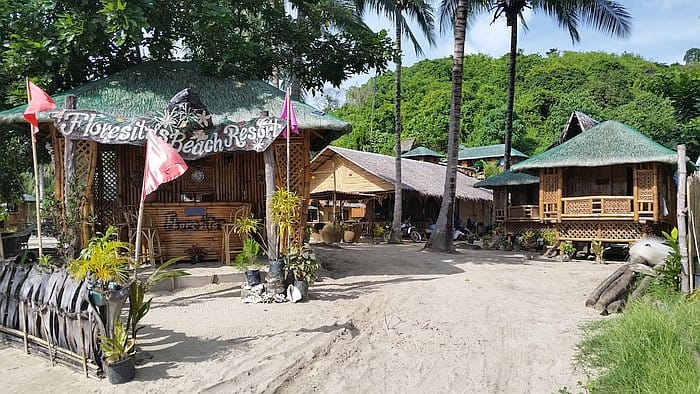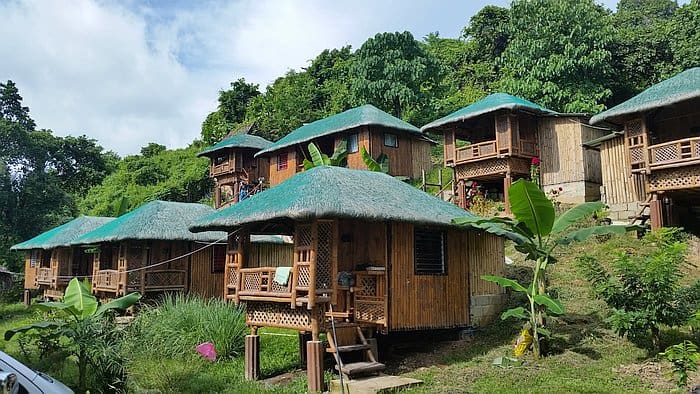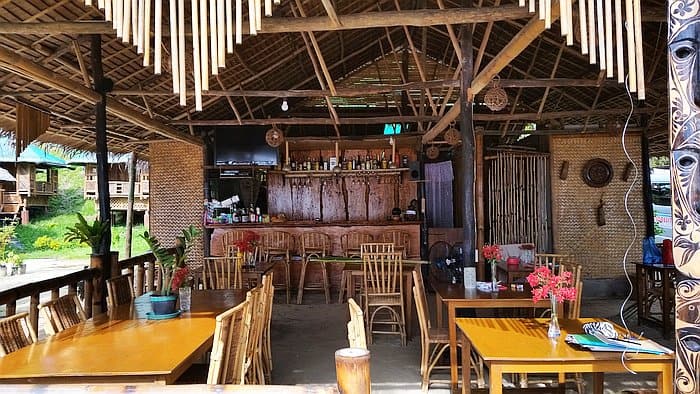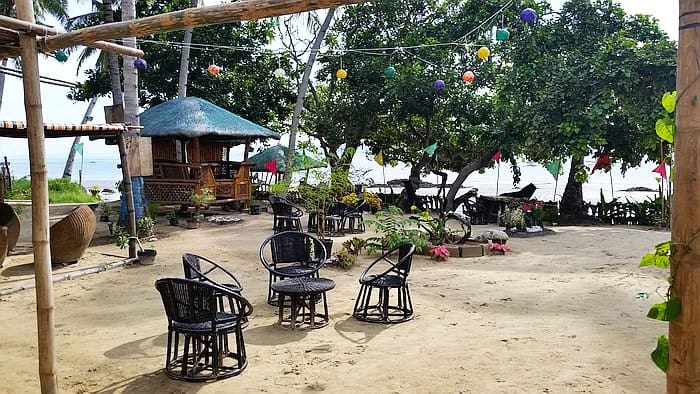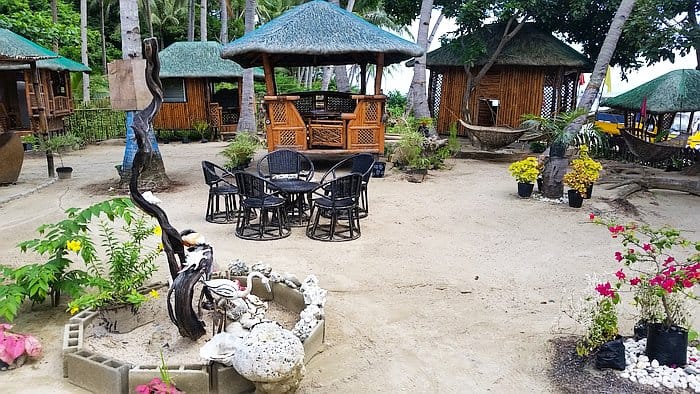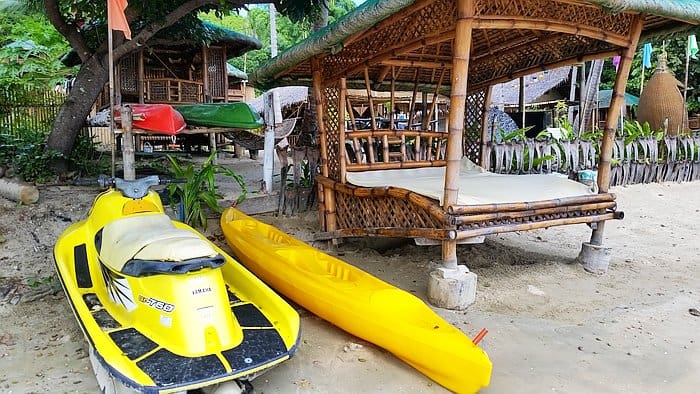 Further down the endless beach away from town.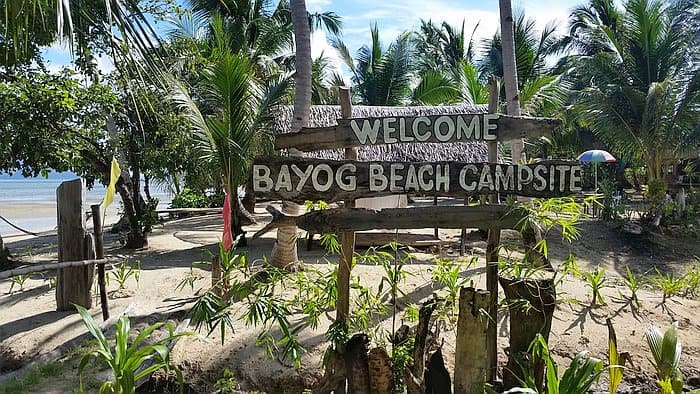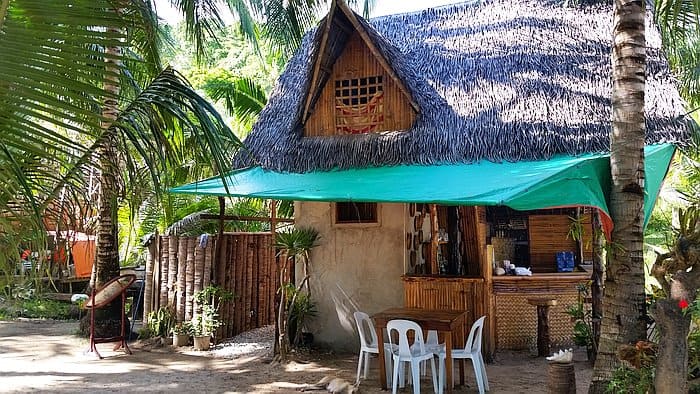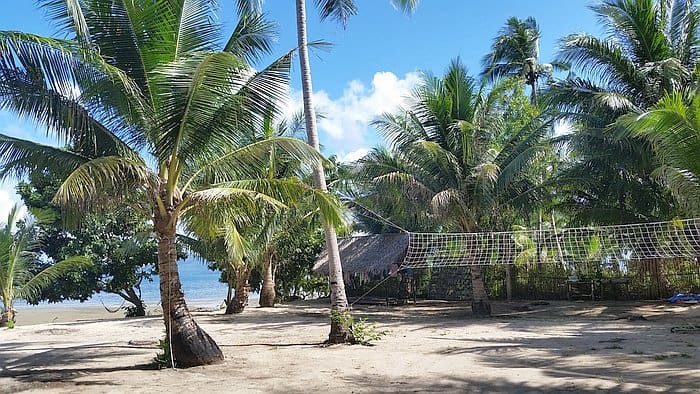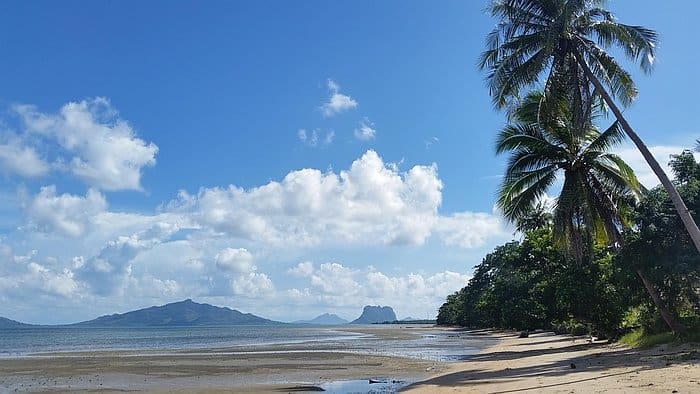 And still further down the beach away from town, a really relaxing and quiet place.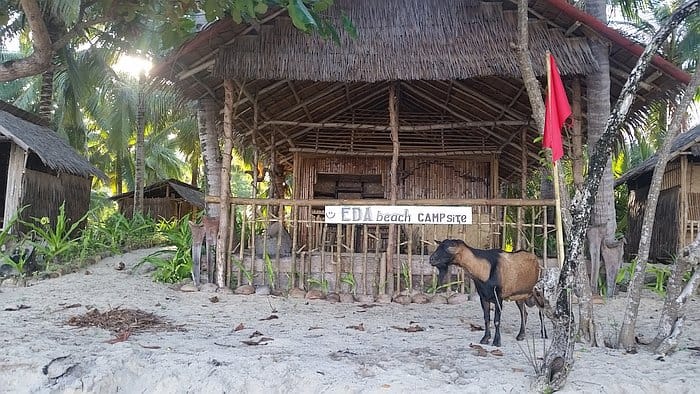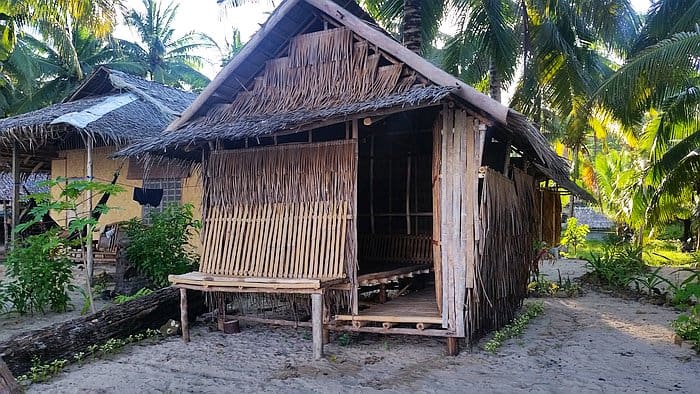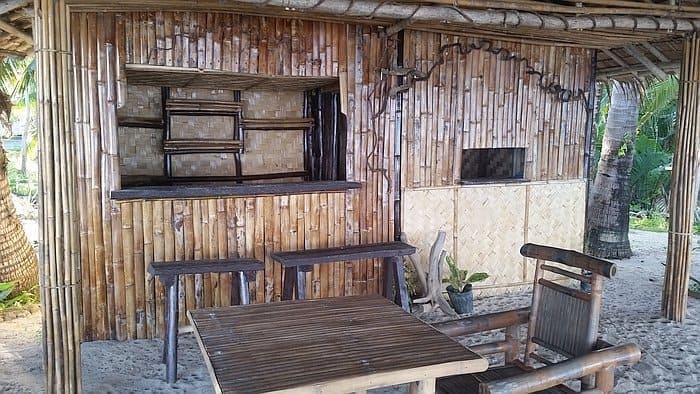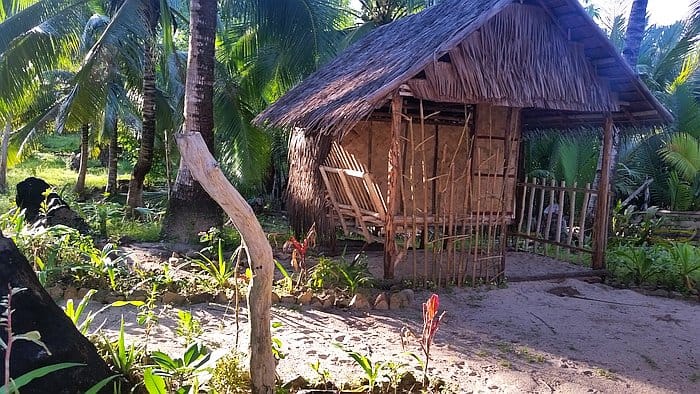 Randy the owner would be glad to show you how to make a coconut leaf hat, among other traditional skills:
Itinerary
This is a historical, archeological village and is being protected as such, so you can easily spend a few hours just walking around.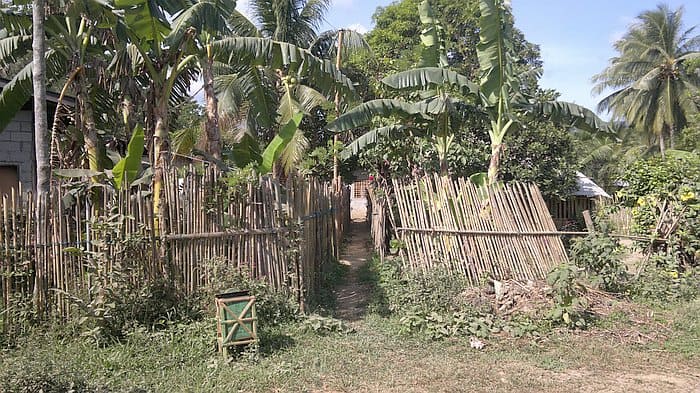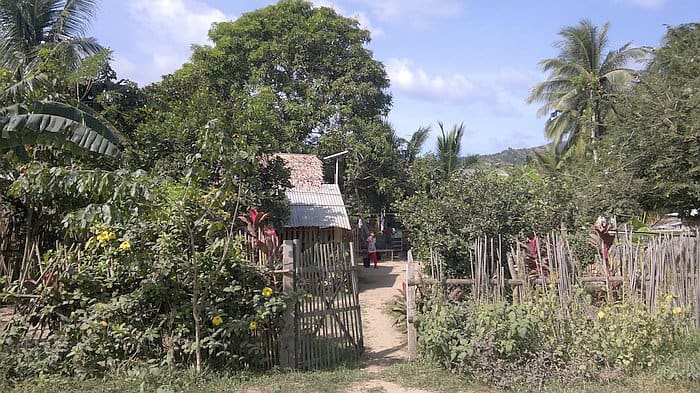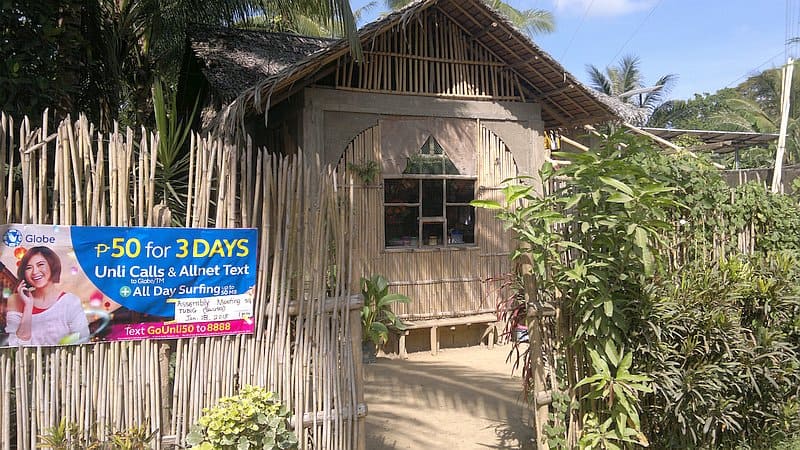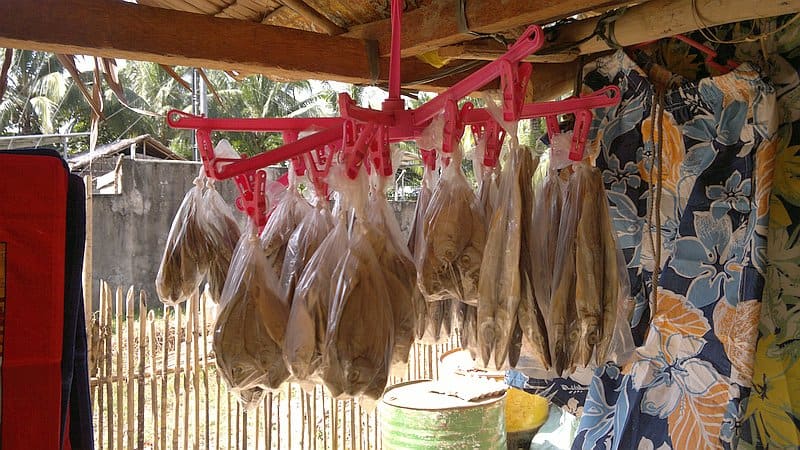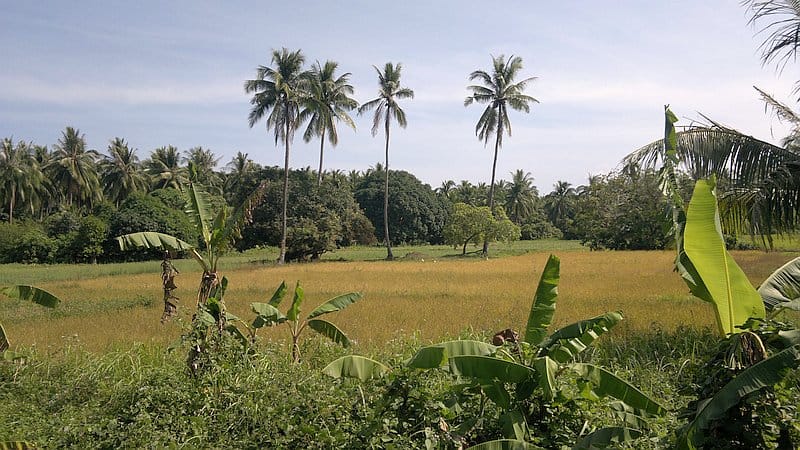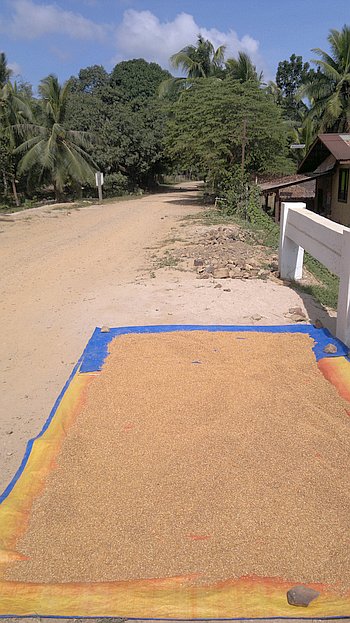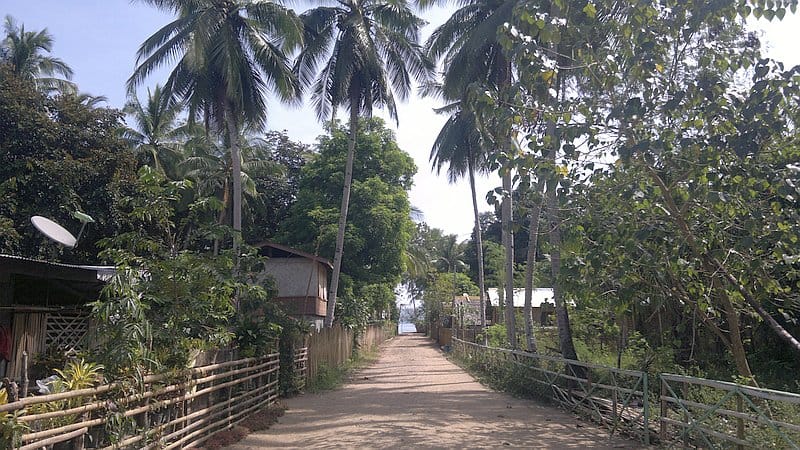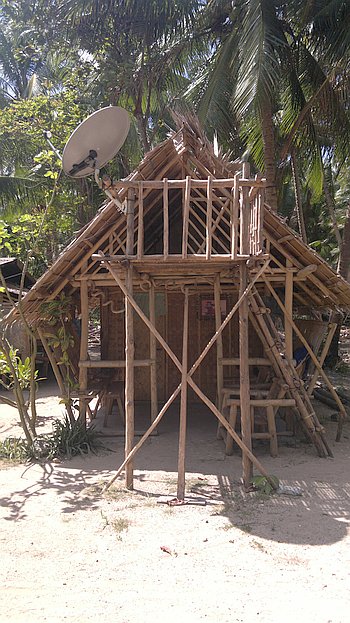 Then on one end of the village you have the free entry boat museum: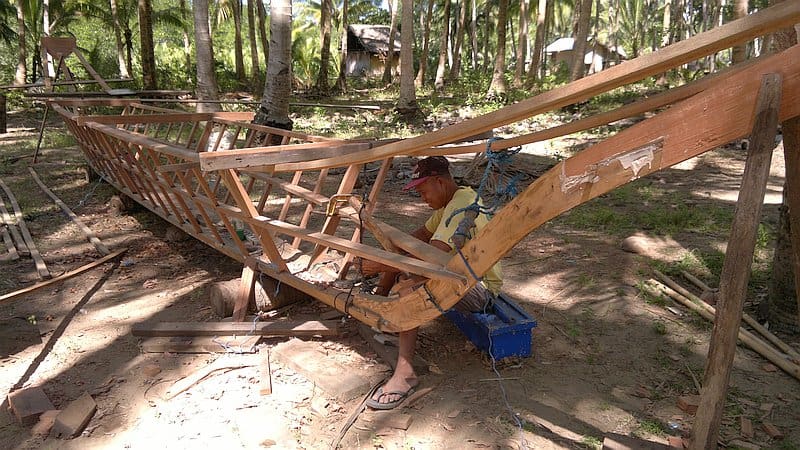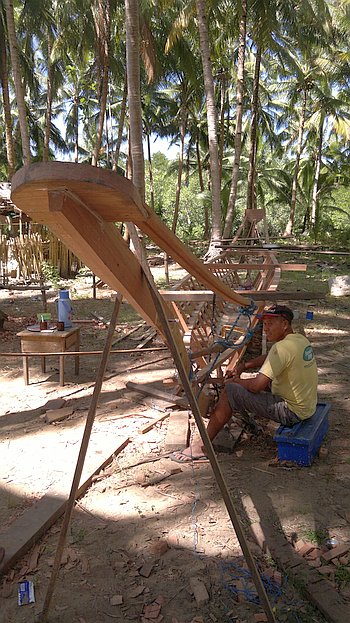 The boat museum: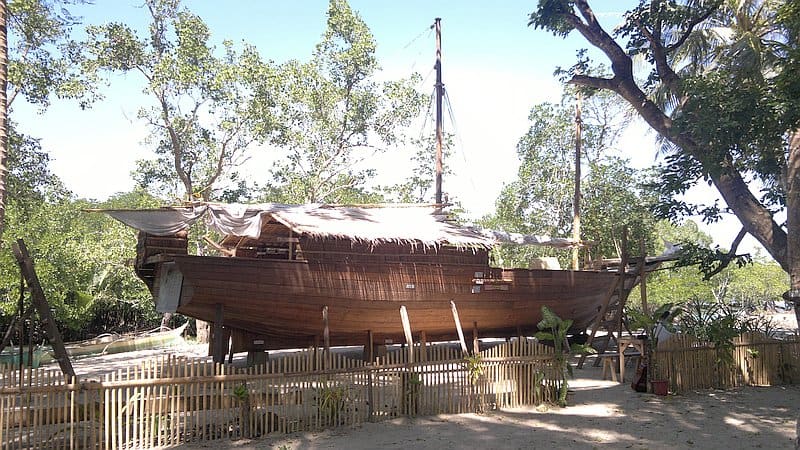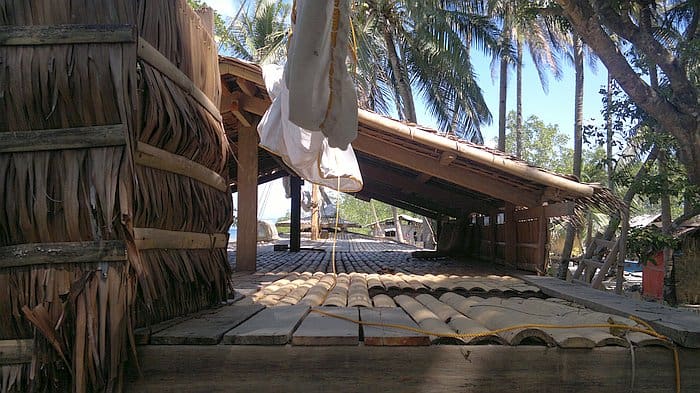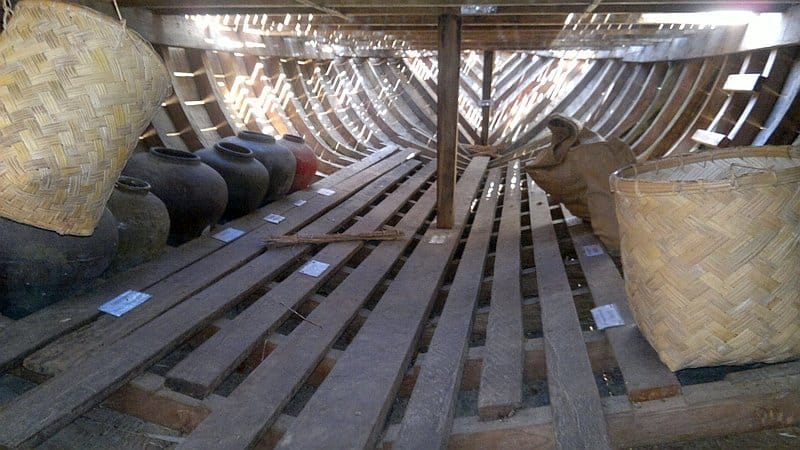 On the other end of town you have another museum, showing traditional housing, with coconut shell lined sidewalks, artifacts on display inside when open: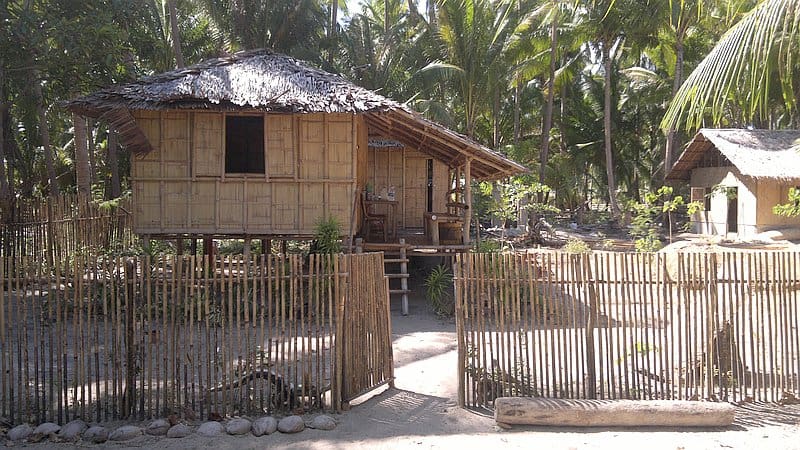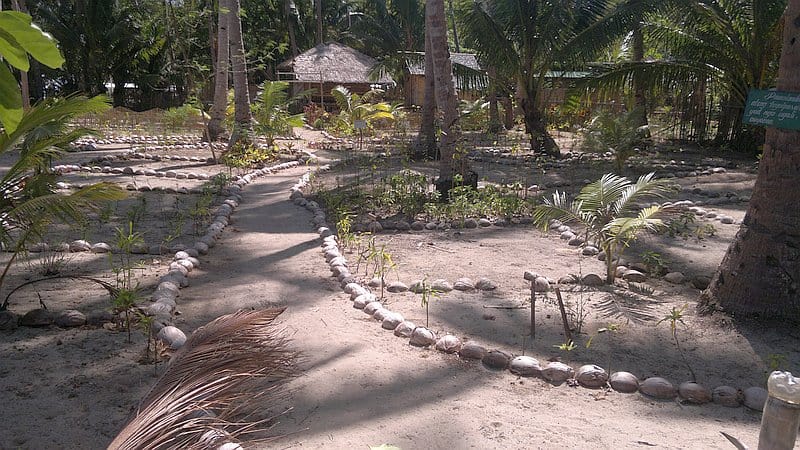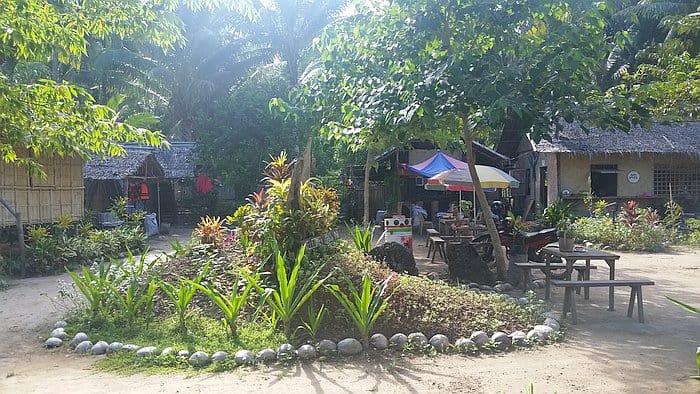 The historical center now has its own restaurant.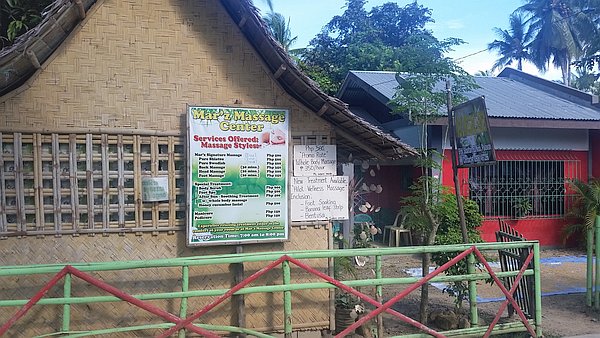 New masseuse now in town.
And if that ain't enough, there's always the endless stroll along the beach, or frolic in the water by renting a canoe to go up the mangrove river for about 500p, or windsurf boards.
Right: local cemetery by the sea. 
After a lovely stroll you can dine in one of the village's restaurants: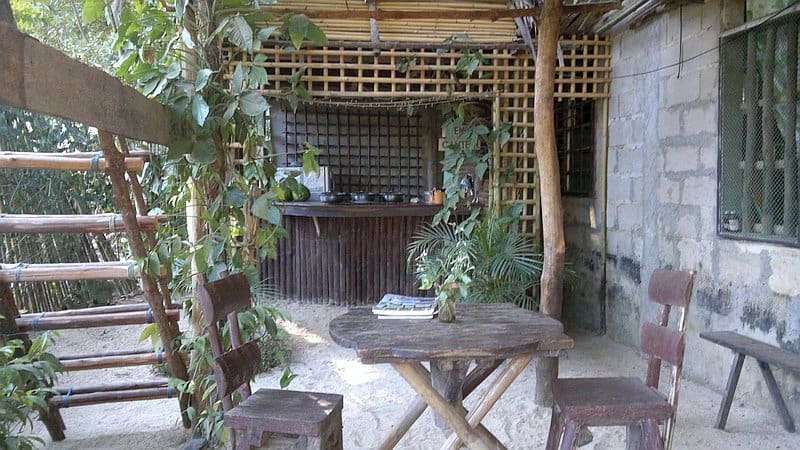 Another one recently opened, part of Tapik: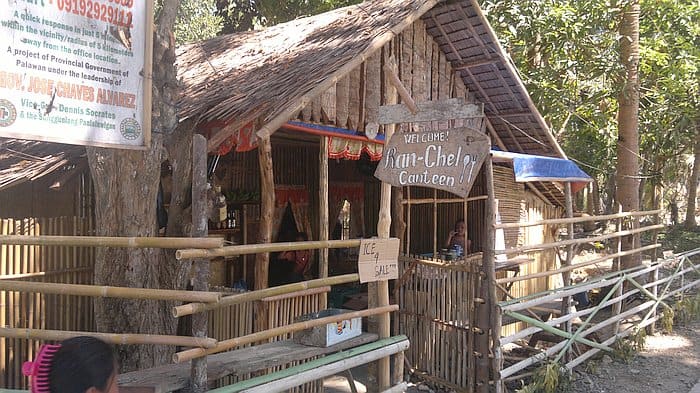 Or dine and wrap up the evening in one of the resorts (both have good menus and cooking):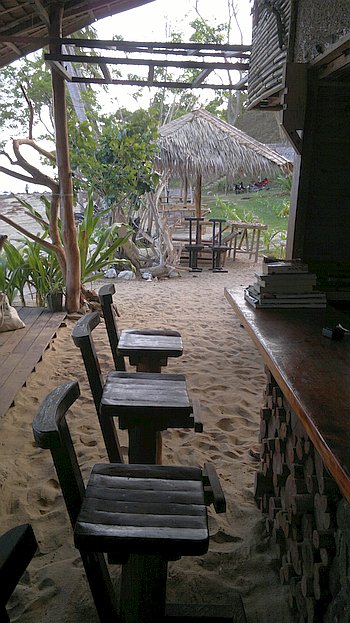 You can also rent a motorbike from one of the locals for around 500p and explore the outlying area, where often cock-fighting goes on in the villages, or summer festivals on the weekends.
Typical Sunday in this area.
Transportation
Confirm with whom you are staying but there should be a public bus leaving for El Nido every morning at 4:30am. Not only is the time grueling but be prepared for a crammed journey in a slow bus or jeepney that seems to take forever and stops at everyone's house. You can also try the Tapik resort, as they have their own van and pick up their guests regularly from El Nido. Or you can try Katar Van Services at 0905 432 5019, 090 664 84 602, 0927 627 0343, who for 700p can take you straight to Sibaltan from your hotel in Princesa. Otherwise, it could be a roughly 30 minute brisk walk to San Fernando to the north, where the buses are more regular or where you can catch a public banca ferry heading north to Linapacan and Coron. You can also ask locals if they can take you to Fernando, or try Noy at 0909 873 3809, who helps run a hotel and restaurant there and who may be able to arrange a local taxi for you.
If coming from or continuing on to Coron the best way is by one of our private custom boat tours, or we can also offer local eco tours around Sibaltan only.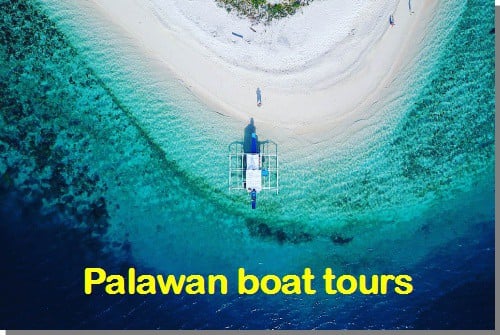 History of Sibaltan
Managed to glean some history of the area from Ben the ex-mayor of San Miguel, Linapacan, who was born in Sibaltan and whose grandfather was the first school teacher of the elementary school built there by the Americans in the 1930s. Ben started out his business collecting dried fish to ship to Manila, but would stop for a couple of hours in Linapacan before sailing on and where he met his future wife.
The people of Sibaltan are predominantly Cuyonan, originally from the island of Cuyo, where around the 800s the local tribe began venturing elsewhere to grow their rice when the island's landmass could no longer support its population's feeding needs. They would ship the cargos on an ancient ship which proved seaworthy risky and which was eventually used as a museum as shown in the pictures above.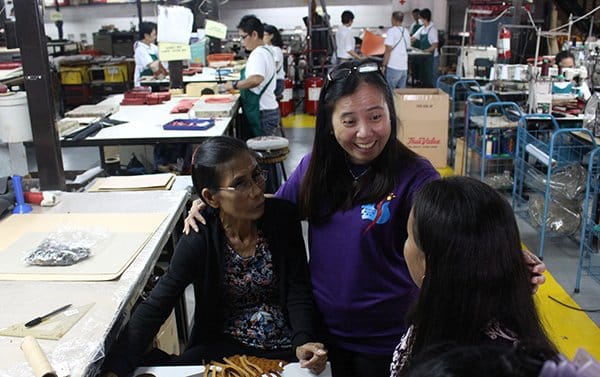 "Sibatan" means war or battle in Tagalog and during WW1 the area became a battleground between the Muslims and Spaniards. The Muslims would hunt crocodile up the mangrove rivers to use their skin for belts around their waste, bags and shoes. Sibaltan then became a training ground by the US for local soldiers against the Japanese. One Japanese person remains in Linapacan and who is now living on its beach with his family, is on the local tourist committee and guides tourists to the Senora caves, teaching them not to rest their sweaty hands on the 10+ million year old stalagmites, lest they flatten and lose their interesting shapes.
There are 18 barangays (regions) in the El Nido area, Sibaltan being one of the oldest of them. During the 1800s the old people would bury their belongings, such as kitchenware, necklaces and other jewelry, such that now many treasure hunters frolic to the area digging down only a few feet to find precious antiques. This has given the village its archeological reputation and its locals the desire to preserve this history by focusing mostly on traditional bamboo and coconut structures. Its heritage building is now home to a thriving weaving coop which exports hand made purses and other goods.
Sibaltan
Average rating:
0 reviews