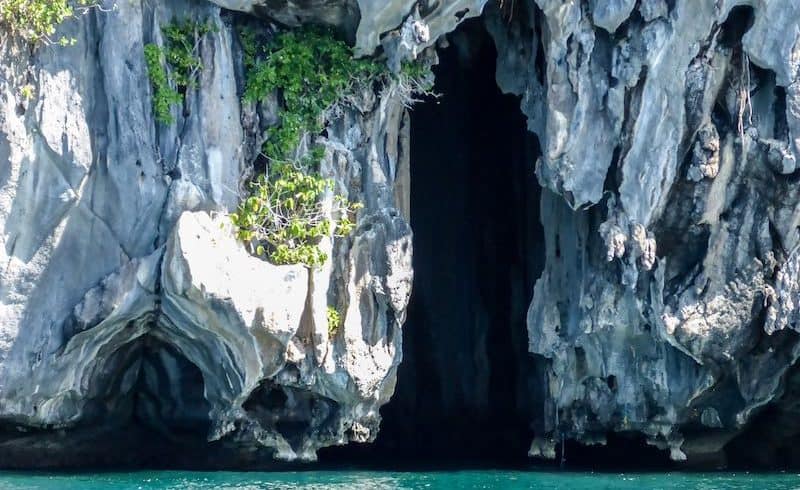 El Nido Private or Group Boat Lagoon Tours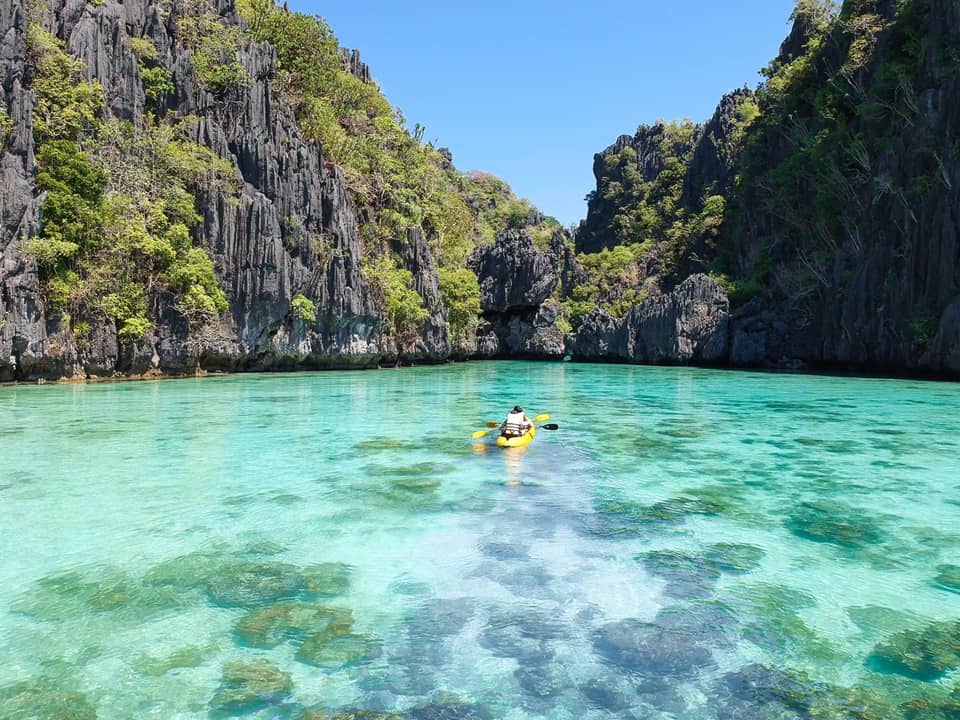 Go against the current of the crowd by visiting the famous El Nido lagoons in a private tour when the others are not present. Or we can organise group tours for you as well.
Where should I go in the Philippines? This question has been asked a million of times whenever someone for the first time is visiting Philippines and has no idea where to go. If you are the kind of person who visits google whenever you are planning your trip for the first time, Palawan is at the top. In Palawan, El Nido and Coron are the most visited places.
El Nido has been one of the most popular destinations for tourists visiting Palawan because of its beautiful lagoons and secret beaches. The El Nido lagoons are some of the nicest scenery in the Philippines, if not the world. But having been discovered long enough ago, they have become inundated with the usual swarms of tourists bobbing in their obnoxious coloured life preservers.
If you would like a slightly different approach, we offer an opposite route, so you have a better chance of enjoying an entire lagoon for your small crew alone and avoid the crowds. This is possible by booking a private boat tour with us.
There are three famous tours in El Nido. You can choose between Tour A, Tour B and Tour C.
Which is the best tour in El Nido?
If you have a limited number of days in El Nido, of course you want to choose the best tour. When I first went to El Nido a few years ago, I stayed for one week, during which time I accomplished Tours A, B and C. Following is my experience regarding these tours to help you choose which one best suits your tastes and time.
El Nido Private Boat Tour A
For first timers who want to experience the beauty of El Nido in one fell swoop, Tour A is PERFECT for you. If you only have time to take one tour, Tour A is the answer because it best showcases what El Nido is all about: snorkeling or swimming in peaceful blue clear waters while surrounded by a jaw-dropping view.
Big or Small Lagoon
Advin Divesite
Shimizu Island
South Entalula
1. Big Lagoon is an easy first stop since you can simply opt to marvel at the view that will serve to prepare you for the beauty that is Small Lagoon.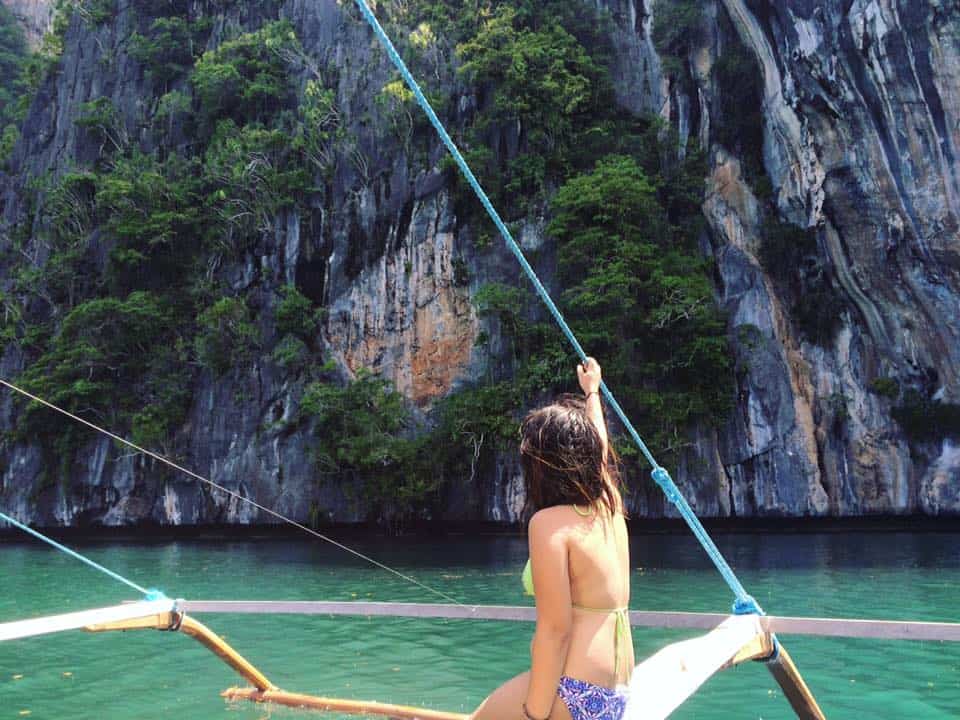 2. Small Lagoon is a gorgeous little corner of El Nido that can be accessed by kayaking or swimming through a gap between limestone formations. Pictures won't suffice since you have to see it yourself to understand why Small Lagoon is a favorite pit stop among travelers to El Nido.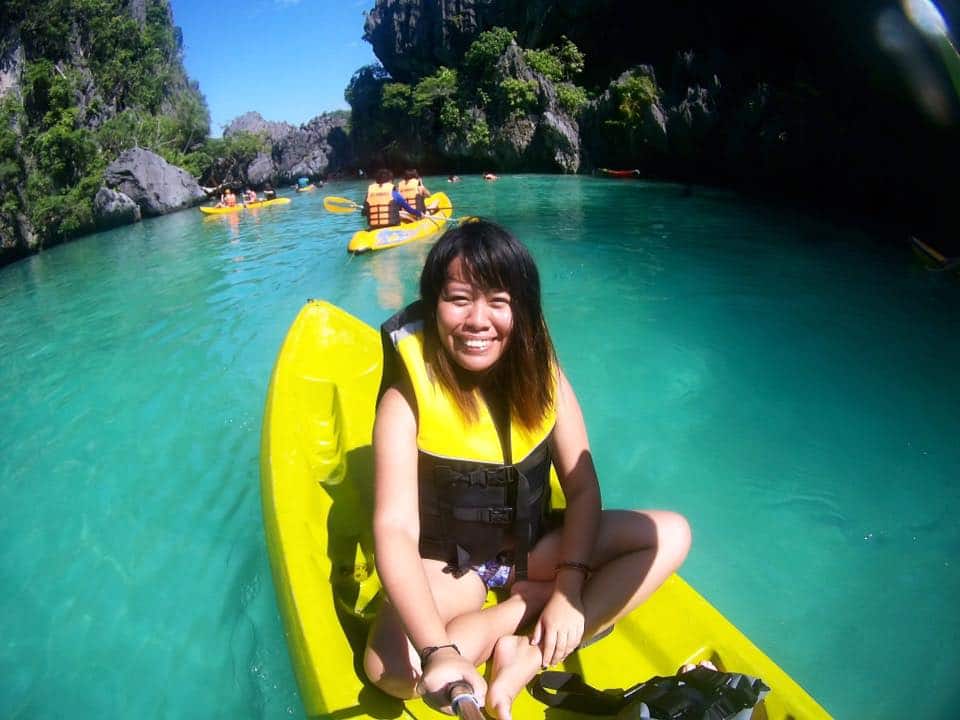 3. Secret Lagoon is accessible via a hole through a rock. The water in the lagoon is a cool blue, which is a striking contrast for the usual emerald waters found throughout El Nido.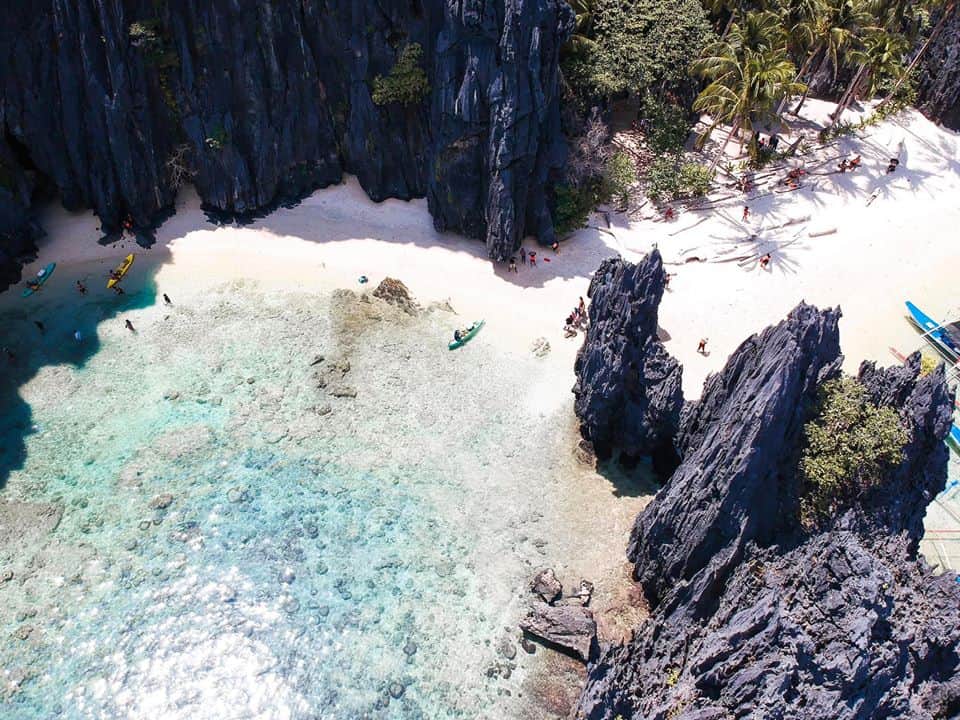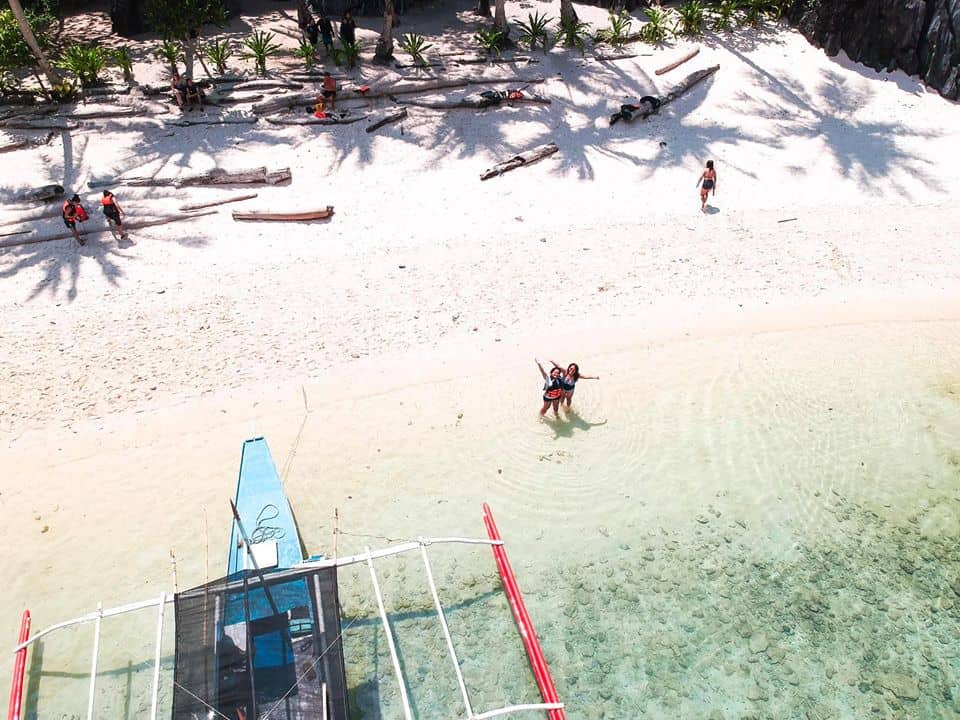 4. Advin Dive site is one of the most popular dive sites in El Nido and known for hard corals, sea turtles, and barracuda. A must for big snorkeling fans!
5. If there's one thing you have to do at Shimizu Island, it's to snorkel! The waters are fairly shallow, but you'll get to see schools of fishes while swimming through the emerald and turquoise waters. It's also a good spot for picnic lunches or just lazing around.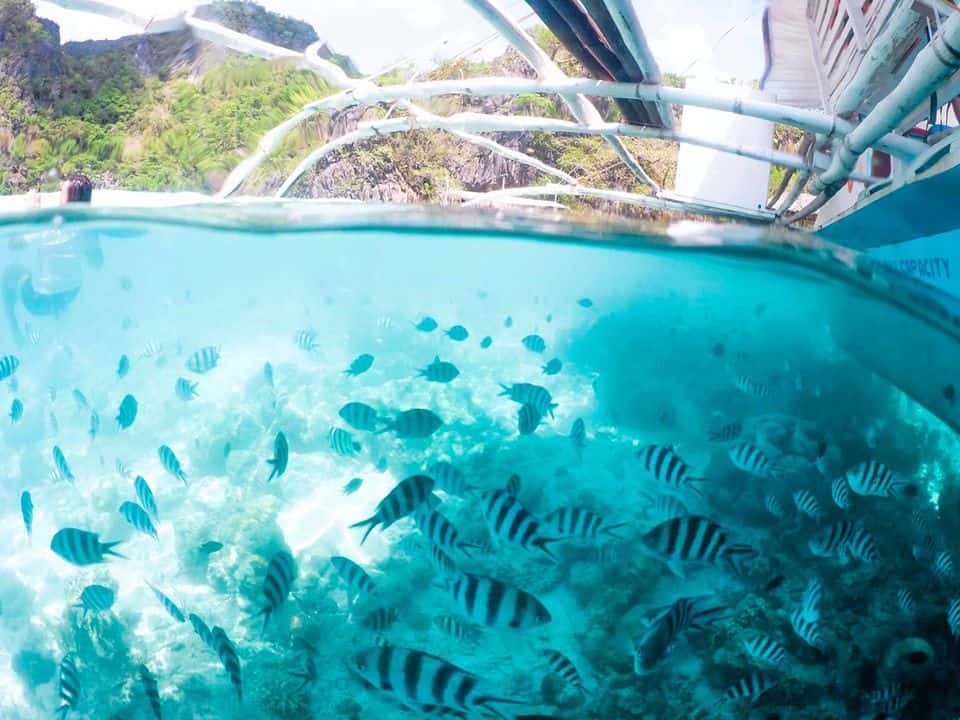 6. South Entalula is a dive and snorkeling site known for its beautiful soft corals, whip corals and sea fans.
7. Seven Commandos Beach is perfect for families who want a little bit of everything that the beach can offer. There's a dedicated swimming area for swimmers, you can kayak and enjoy the peaceful waves, or you can lounge around with a drink or Halo-Halo (a Filipino delicacy of crushed ice with fruits and condensed milk) in hand. Papaya Beach is adjacent to Seven Commandos Beach and it's a great beach if you want peace and quiet.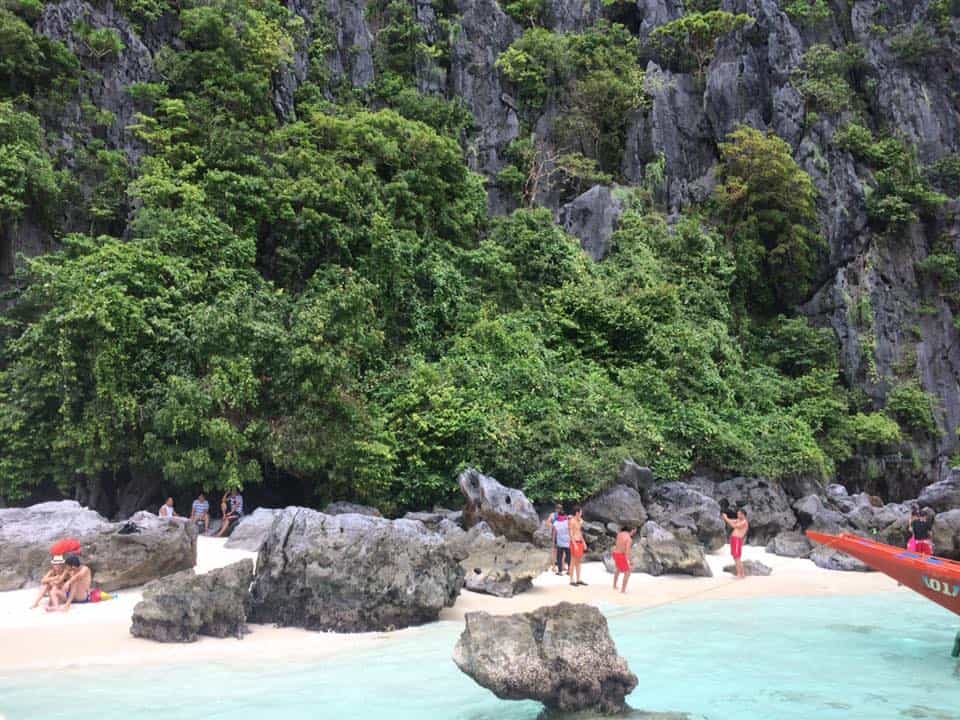 Take note: Before, you can technically visit both the Small and Big Lagoon in the same tour, but because of an increasing number of tourists visiting these lagoons, the government decided to limit the number of tourists visiting each lagoon at any one time. Hence, you can only choose which one you would like to visit, the Small or Big Lagoon, in any single day.
El Nido Private Boat Tour B
For those who are more into caves and coves, Tour B is perfect for you. Be mesmerized by these amazing wonders of El Nido.
Pinagbuyutan Island
Snake Island
Entalula Island
Cudugnon Cave
Cathedral Cave
Pinagbuyutan Island is home to one of the best beaches in the Philippines. Witness sparkling clear waters in varying shades of blue, enjoy the shade of coconut trees lining the sand, fresh coconut juice, and wonder at the towering cliffs that complete the view.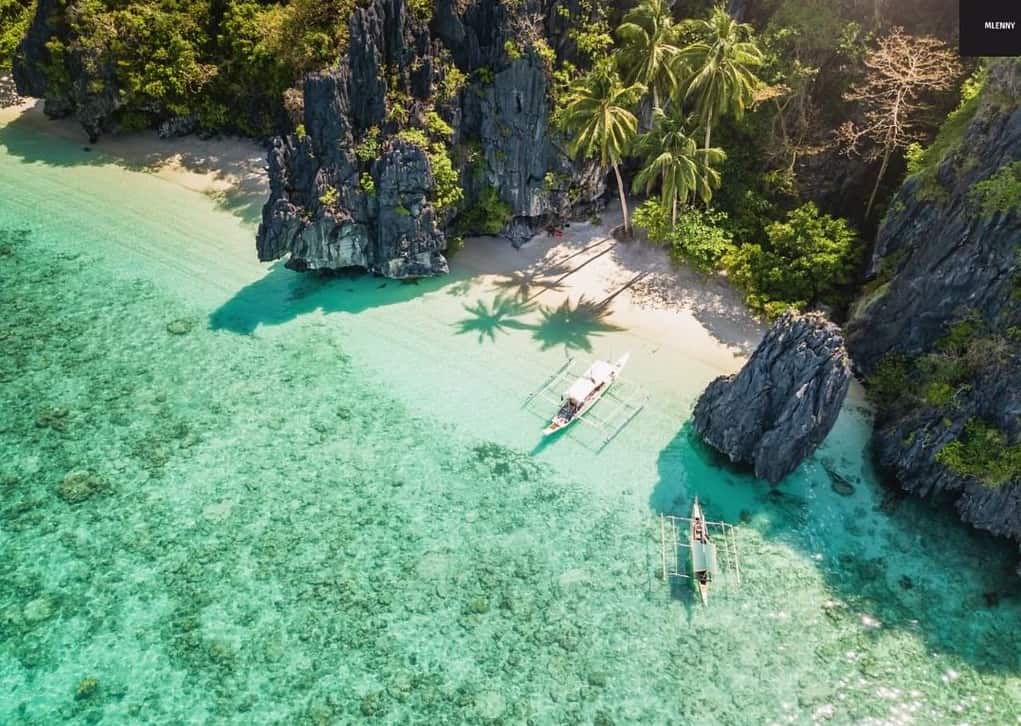 Snake Island is so named because the sandbar, when viewed from above, resembles a snake. Do not be afraid, though, there aren't any snakes aroundd here. It is better to come early when it is low tide so that you can see the long white sand bar. If you want to see mangroves, a quick walk to a different part of the island will reward you with a view of the gorgeous mangroves that dot the fine sand.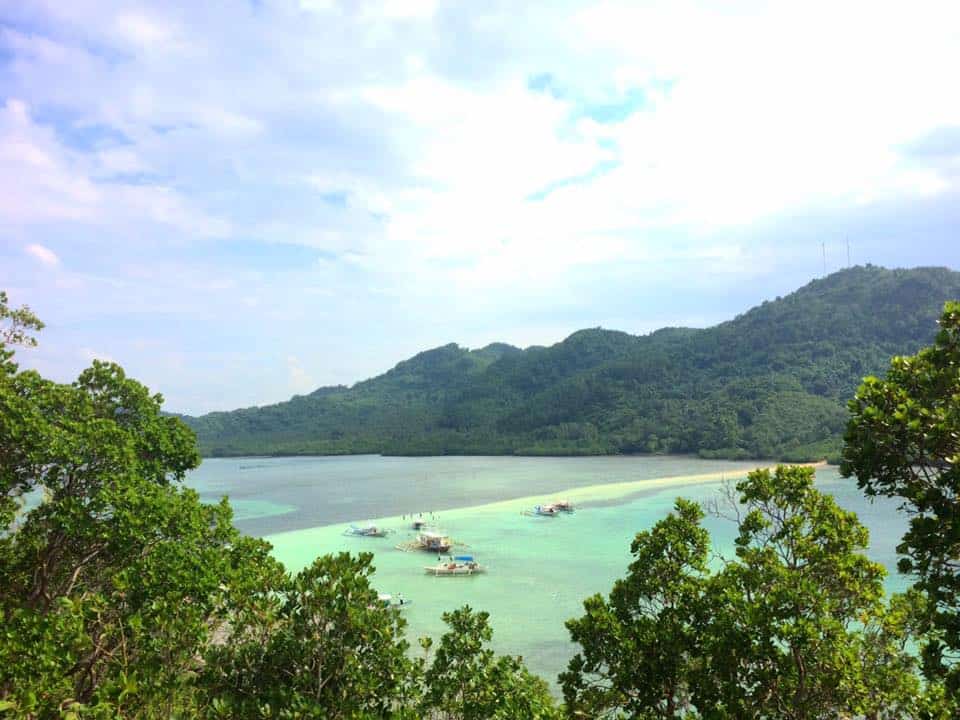 Entalula Island is an idyllic spot that's perfect for families or beach lovers who want to enjoy clear waters and fine sand, which most people say are better than on Boracay Beach. A must-experience pit stop!
To enter Cudugnon Cave you need to go through a hole that barely fits an adult. Inside you'll find multi-color walls and bats. A stint at Cudugnon Cave definitely makes for a thrilling experience.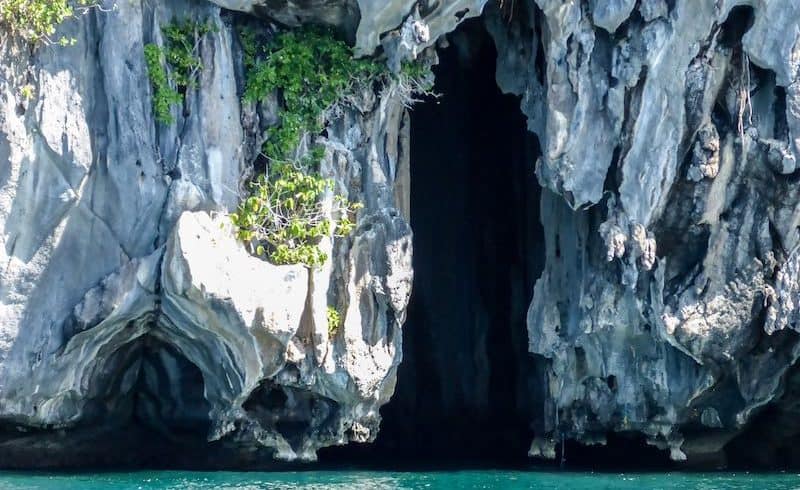 3. Cathedral Cave is a massive structure in varying shades of black, white and gray. You can enter the cave by swimming or you can do so without disembarking from your boat. It's an awesome pit stop in that you can really see nature at work here. The interior of the cave does resemble a cathedral and it's a solemn place that will instill you with a renewed sense of wonder for all that Nature has to offer.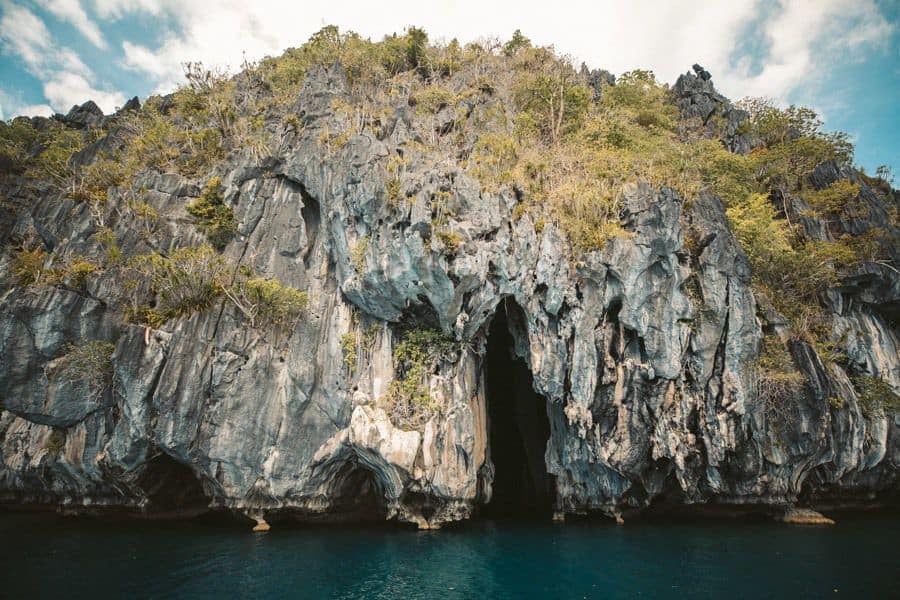 El Nido Private Boat Tour C (Hidden beaches and Shrines)
Trust me, it's paradise. This is where the hungry come to feed. For mine is the generation that travels the globe and searches for something we haven't tried before."
-Alex Garland, The Beach
If you have an appetite for discovery, Tour C is for you. Like a good story, we'll begin with an eye opening scene: Cadlao Lagoon. Next you'll get hooked in by Talisay Beach, feel a rush of excitement at Secret Beach, and end on a tranquil note at Seven Commandos. Incidentally, the novel The Beach by Alex Garland was said to be partly inspired by Secret Beach, the fifth stop in our itinerary.
Cadlao Lagoon

Helicopter Island

Talisay Beach

Turtle Sanctuary
Secret Beach
Cadlao Lagoon's emerald waters and towering limestones make this place picturesque and amazing.
Helicopter Island looks exactly like that from a distance – a helicopter except without the propeller. Helicopter Island is home to excellent diving spots and it's easy to lose track of time just gazing at the emerald waters. Depending on the weather conditions, our tour guides will tell you when the waves are too rough and could prove to be unsafe for snorkelers.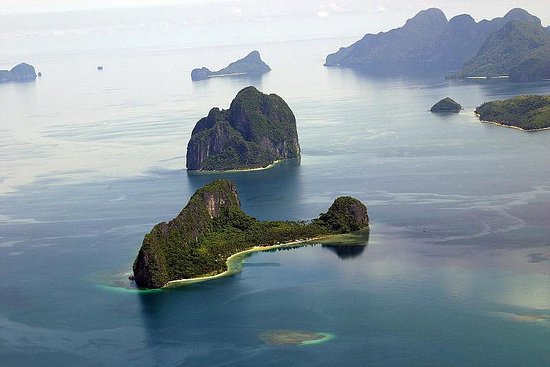 3. Talisay Beach is our usual lunch stop and only a few minutes away from Matinloc Shrine. It is also a great destination for snorkeling and diving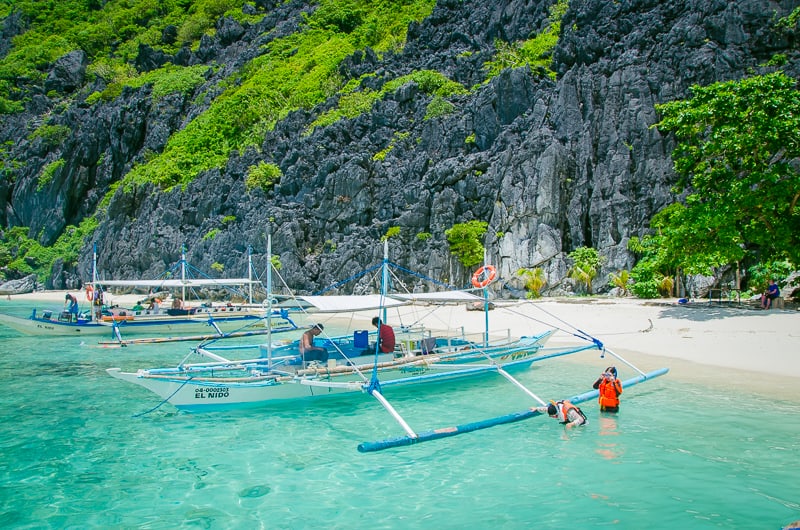 4. Massive limestone formations will hide the beach from view, hence the nickname Secret Beach. There are two ways to visit the island: via boat or via a small crevice. If you can swim and would love to feel a rush of excitement upon discovering a secluded beach, then swimming is the way to go.
5. Seven Commandos Beach is perfect for families who want a little bit of everything the beach can offer. There's a dedicated swimming area for swimmers, you can kayak and enjoy the peaceful waves, or you can lounge around with a drink or Halo-Halo (a Filipino delicacy of crushed ice with fruits and condensed milk) in hand. Papaya Beach is adjacent to Seven Commandos Beach and it's a great beach if you want peace and quiet.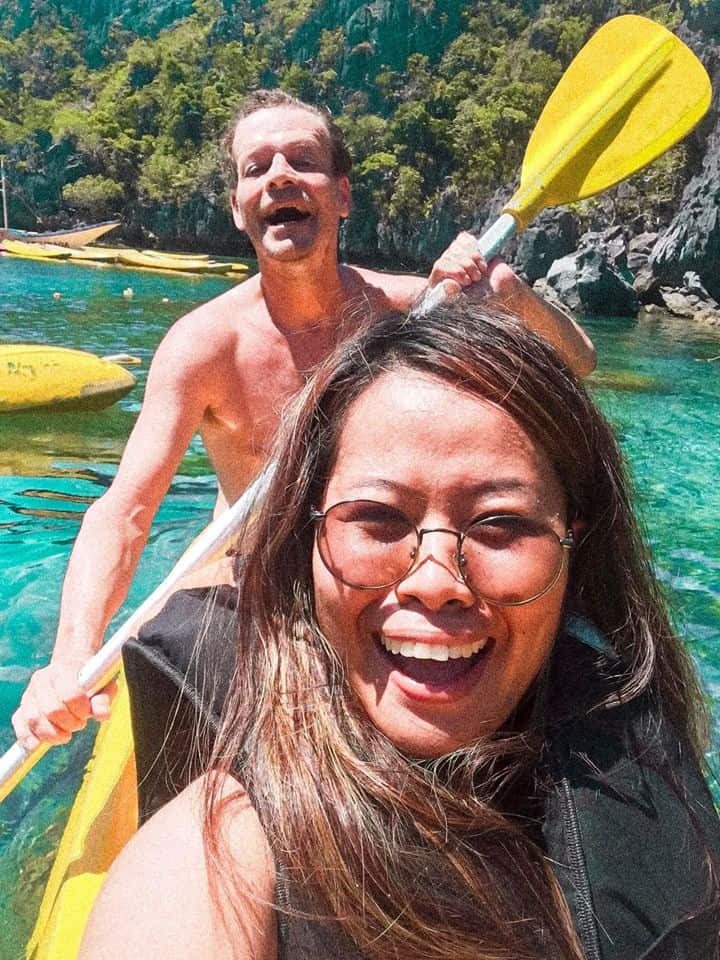 After doing tours A, B and C, I liked Boat Tour A the most. The best part for me was the lagoon. In the Small Lagoon I rented a kayak and shared it with a friend. You will be cruising on clear waters until you make yourself fit in a small hole in order to enter the other side of the lagoon. You may skip the kayak and just snorkel if you so choose, but be careful of the jellyfish which might appear sometimes.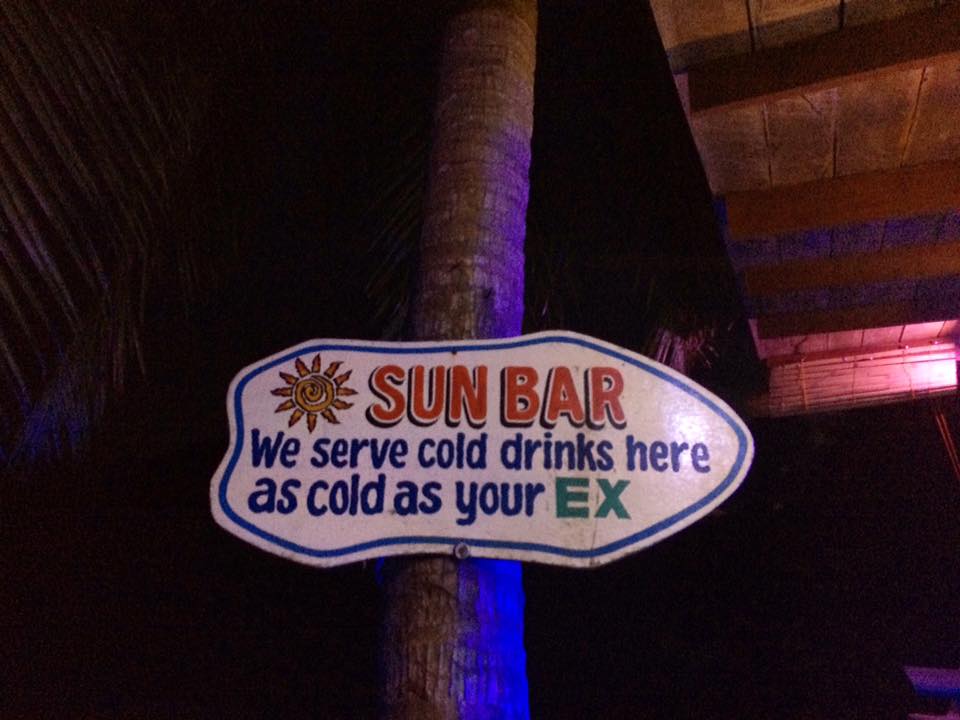 El Nido is a nice place to stay if you want some adventures and night life. There are plenty of bars along the beach in town. Our favorite bar is Pukka bar as they play live music every evening, most especially reggae music. If you are tired from island hopping, you can chill and work on your sun tan and beach bumming in Las Cabanas beach. If you are looking for some adventures, you can do zip lining there as well. Las Cabanas beach for me is the perfect place to have a beer while watching the sun set.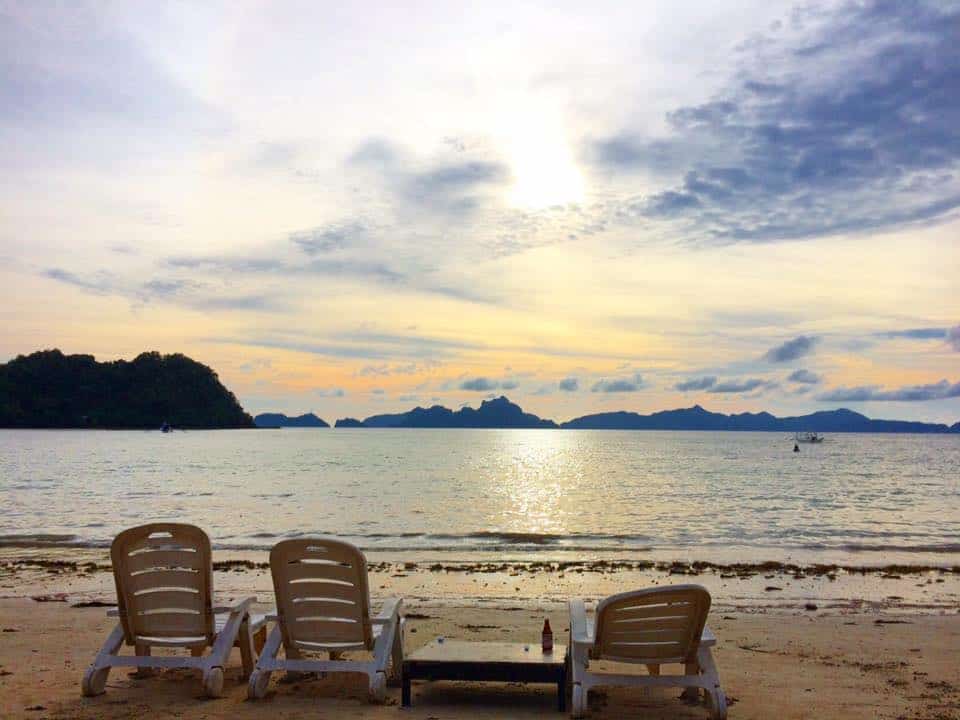 If you want a more quiet place and longer beach, Nacpan beach is a nice place to visit. If you know how to ride a motorbike, it is cheaper to rent one for 350-400pesos, or charter a tricycle if there are more than two of you.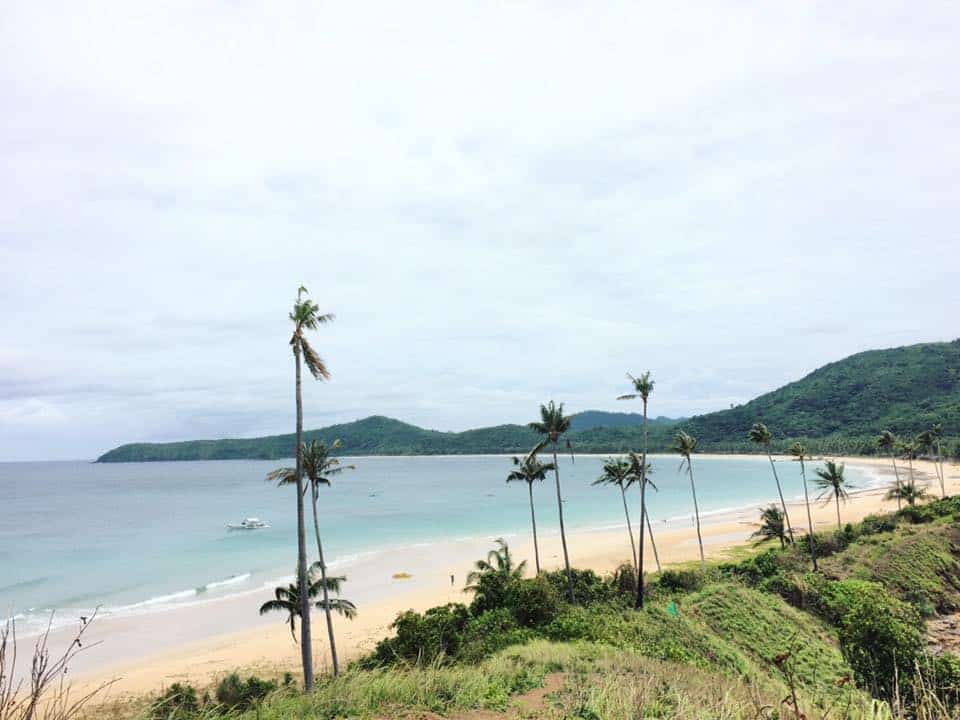 As what I have previously mentioned, Coron is also one of the famous spots tourists love to visit in Palawan. It is known for shipwrecks during the Japanese World War II and thus makes it great for diving. If you are not into diving, there are islands with  beautiful sand bars perfect for beach bumming, and sites plentiful of corals and fishes perfect for snorkeling.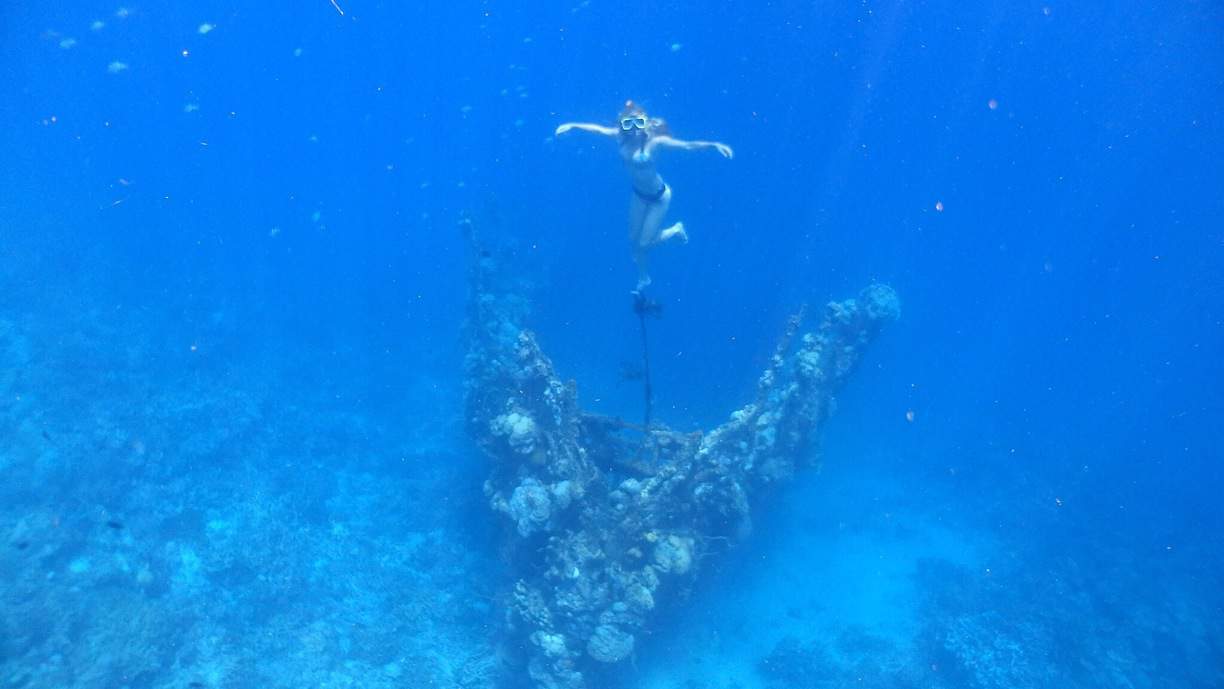 Because there are so many things to do and see in Coron, crowds are increasing and can be a pain in the butt if you want to enjoy the beaches and lagoons just for yourselves. That's why we have figured out a hack on how to avoid the crowds and enjoy the beaches just for yourselves. For customized private boat tours in Coron only, or multiday tours between Coron and El Nido, contact us here or through the photo below:
Enjoy your bobbing!
Back to itinerary travel suggestions for Palawan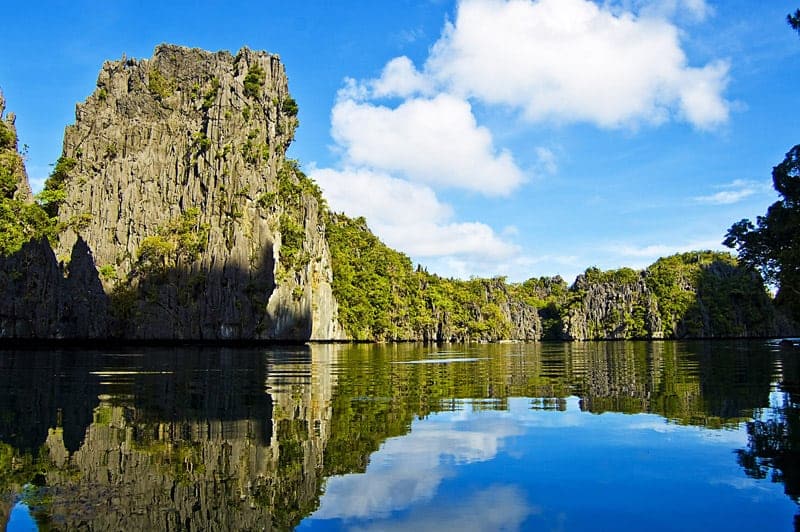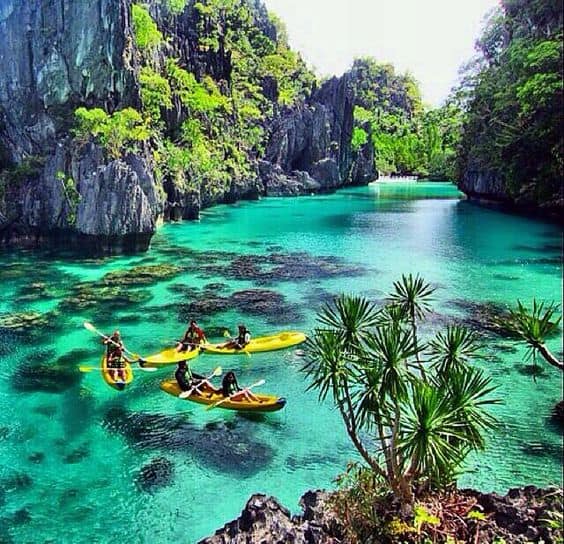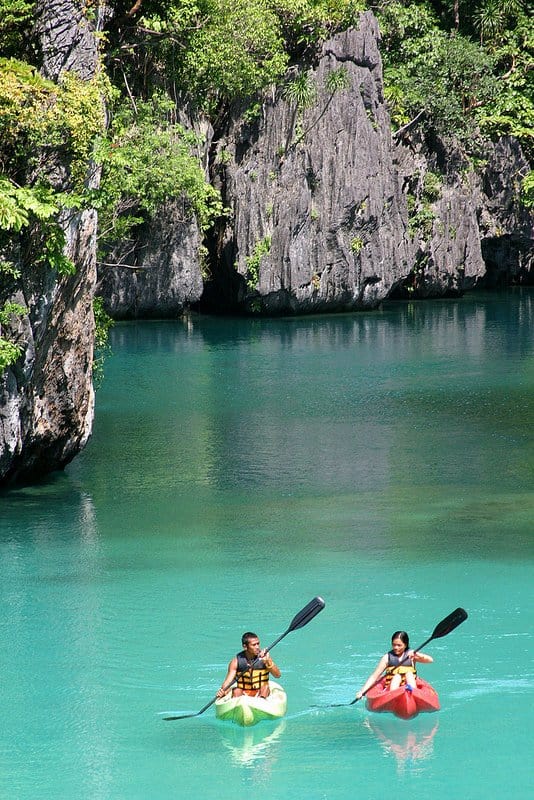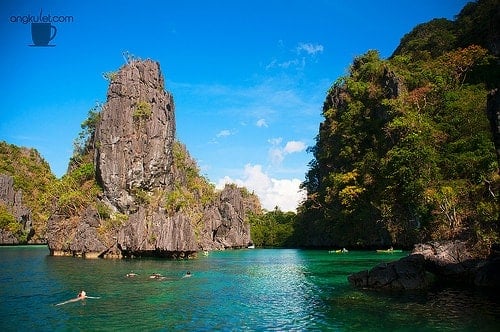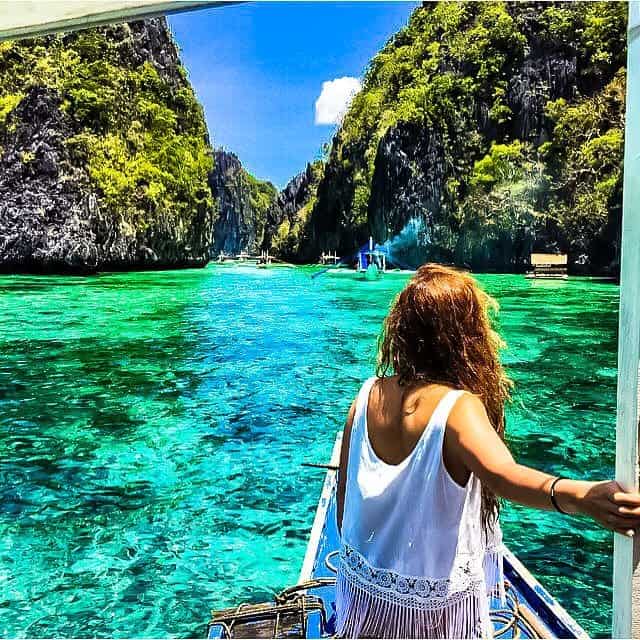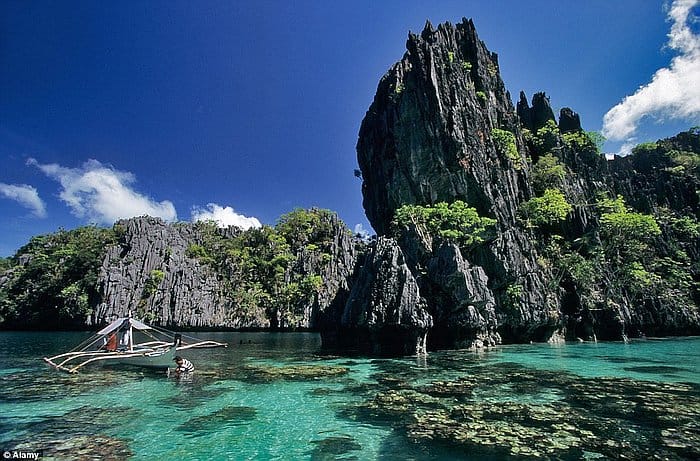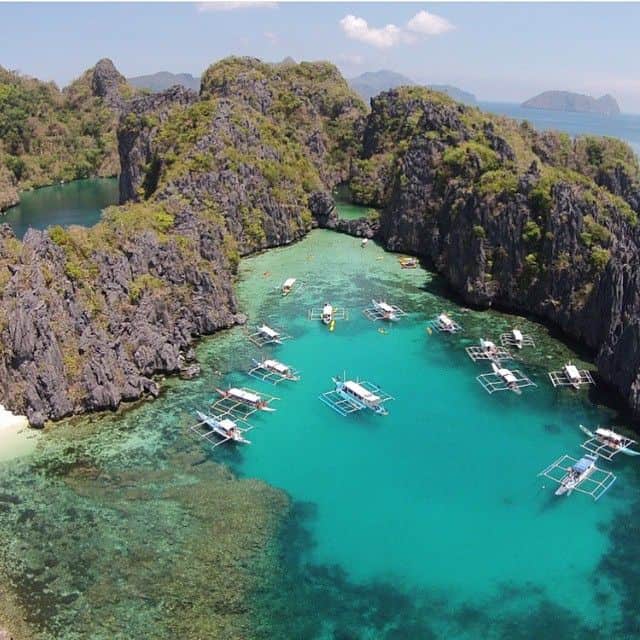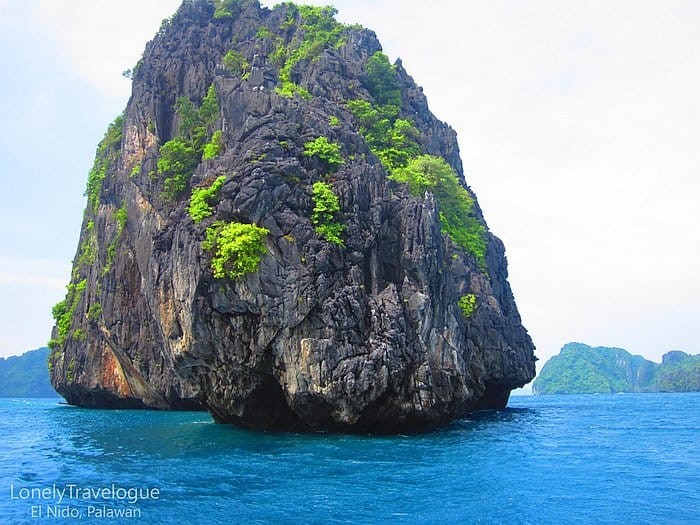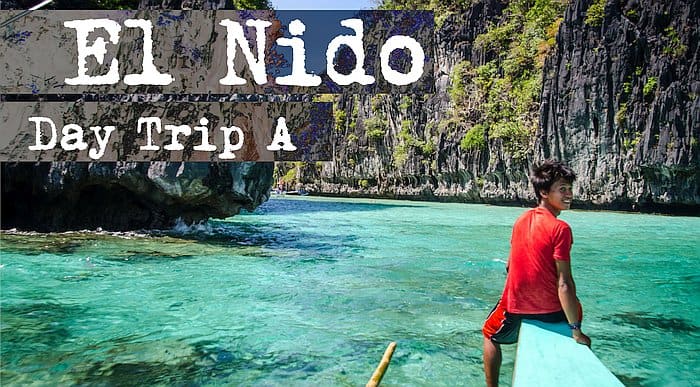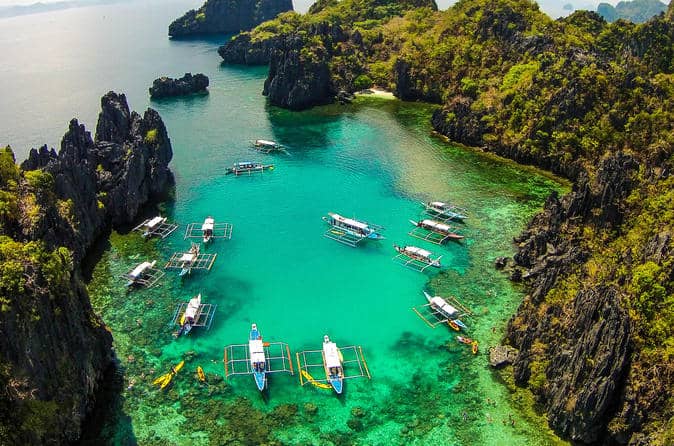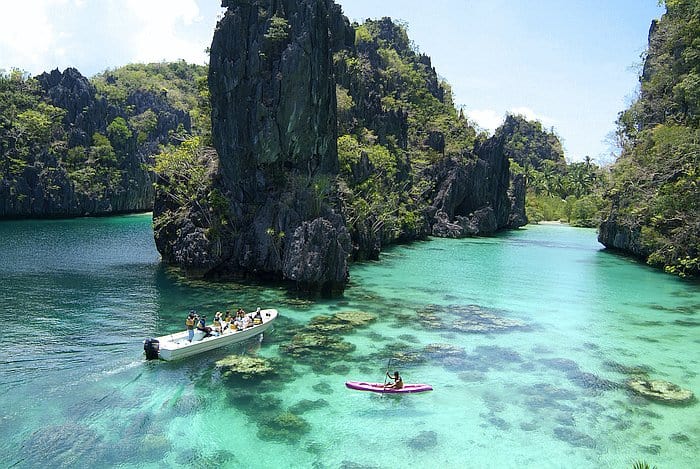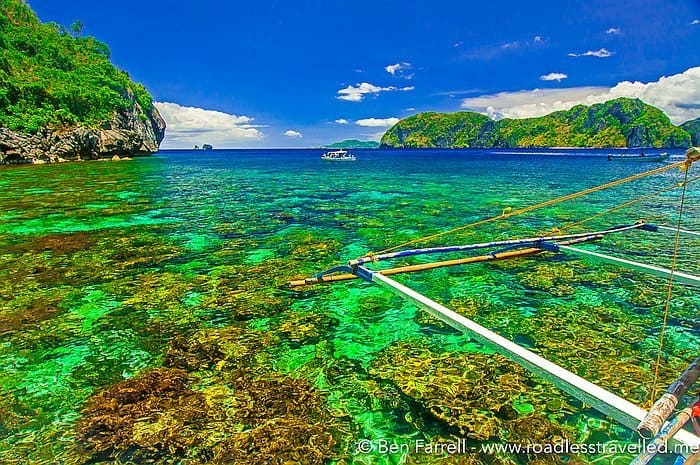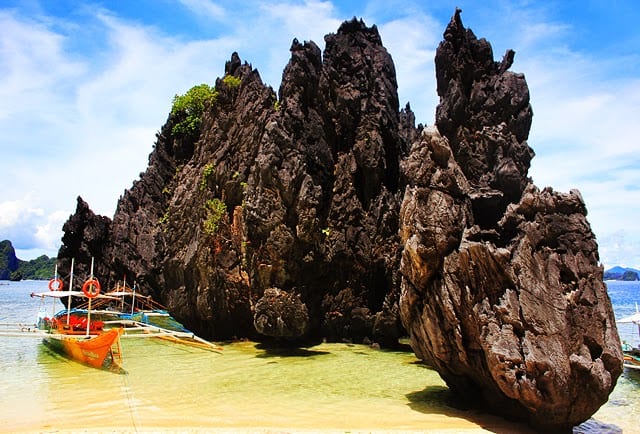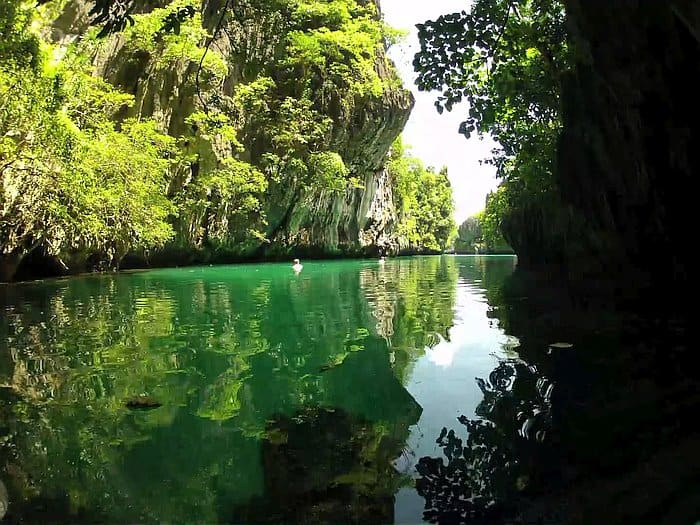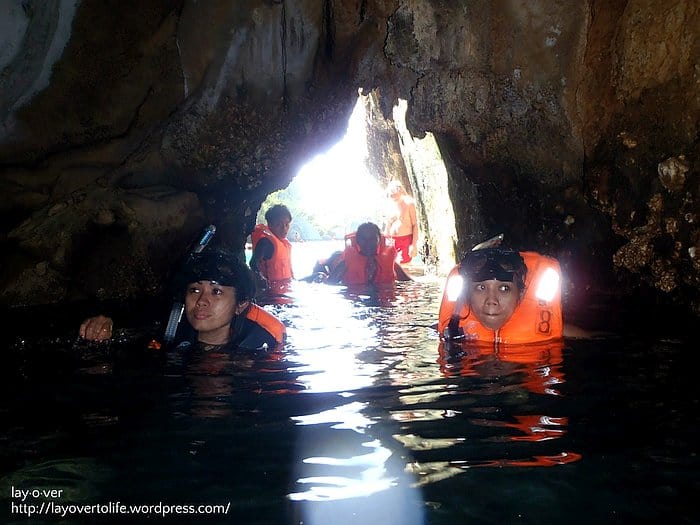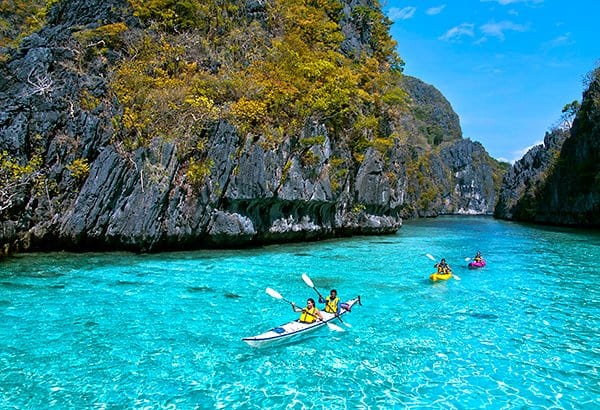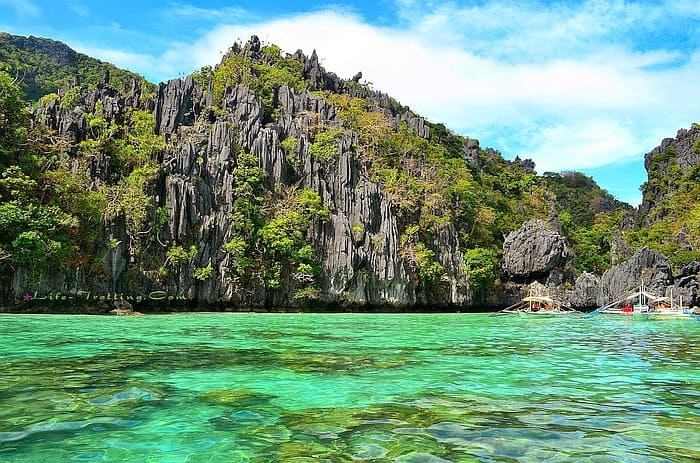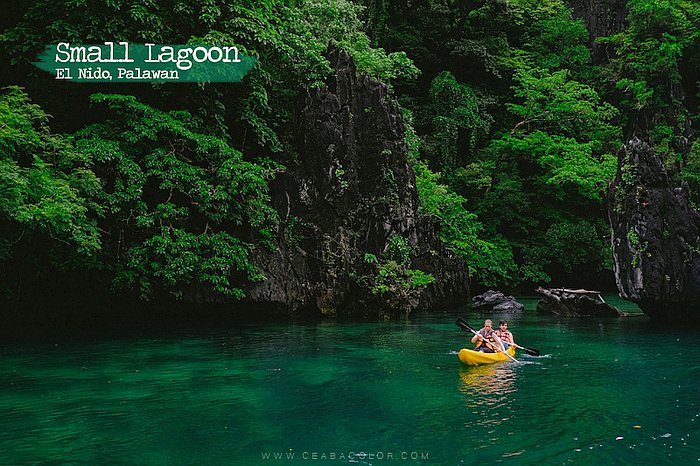 Back to itinerary travel suggestions for Palawan
Island Hopping in the Philippines
Average rating:
2 reviews
Feb 8, 2023
An excellent memory
I was looking for a personalized excursion to the beautiful Gulf of Bacuit.

Seeing the comments, I contacted Mel.

Very responsive, very efficient and perfect organization.

The flight attendants were very friendly and very helpful.

And I'm not even talking about the meal on board...a marvel.

In all fairness, this excursion will remain an excellent memory and I cannot recommend Mel and his team highly enough.

A big thank-you.
Sep 13, 2022
What an awesome area!
If you want exotic, this is a cool place to go!