Home
»
Palawan »
El Nido is one of the most beautiful areas in the country, but it has become rather overcrowded with tourists and the locals somewhat tired of them.
In any case, it is worth an overnight stay with a packed itinerary, including a nice stroll along the shore, a zip line, kayaking, and a robust nightlife with live music playing somewhere every night of the week, or many places during the high season.
When you arrive to town, keep in mind that it is only a 10 minute walk to the centre from the bus terminal when the local taxis try to charge you exorbitantly. Across from the bus terminal is the local market, if you want a good selection of raw veggies, and you would walk right to get to the center (same direction that the bus or van was going).
Suggested itinerary for El Nido
The obvious first choice would be the famous boat tours of the beautiful islands clustered around the town.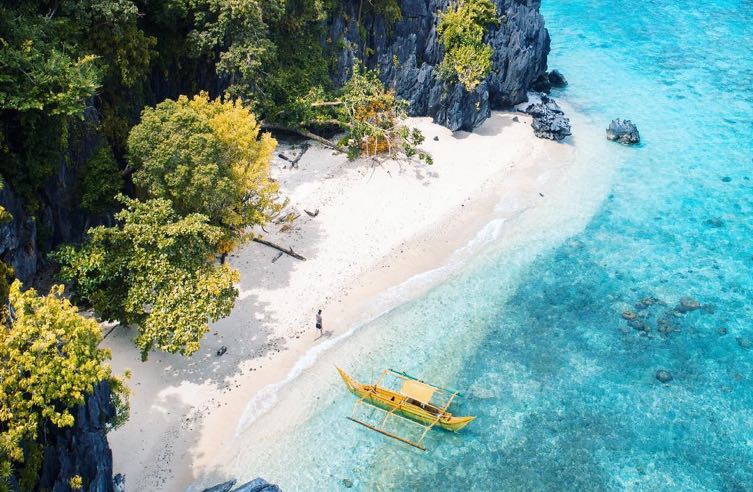 There are a few islands you can kayak to for 400p. The cheapest kayak rental is located next to A on the map. The yellow arrow for the "local kayak route" is aimed at the island you see in the middle of the picture below. If you go to the centre of the beach, perhaps a bit past the Seaslug restaurant, you should find a map on the beach showing the various kayak options. Those that are farther away require a boat trip, so they are more expensive. Last time I went around the corner but found it a real muscle job to get back, so pay attention to the changing tidal currents and, to play it safe, perhaps just go to the centre island below – it has a beautiful coastline.
Kayaking around El Nido.
To kayak or just snorkel at one of the
lagoons
, the Art Cafe (
B
on the map above) is a good place to book, or you can do so
online
. But many have suggested that, if possible, it is better to form a group and
hire a private boat
. The standard tours all go in the same direction, one after another, so it ends up being a traffic jam with endless obnoxious-coloured lifejackets bobbing in the emerald waters. With a private boat you can go in the opposite direction and stand a good chance to have at least one of the lagoons to yourselves. Or you could skip the El Nido lagoons and save it for Coron, which also has beautiful ones.
You can go for a nice stroll along the water, through a second village and on to a third, quiet beach next to an abandoned resort. The top picture is the view from the Corner lodge explained above.
View from the third beach – click for larger pic.
Then there is the famous zip line (the one closer to town to zip your way to a neighbouring island) (500-900p = $11-19):
Here's another video I made on a later visit, this time with my drone and wife.
Or another video of the cool canopy walk:
For a higher price you can take another zip line back, but I think it is much nicer to walk down the rickety rackety bamboo steps and walk back along the skinny peninsula (shown in the video above) to a really nice restaurant.
View of the restaurant while walking back from the zipline (click pic to zoom in):
For those who are into ziplines, just mentioning that there is one now also in Coron, right next to the pier, basically downtown: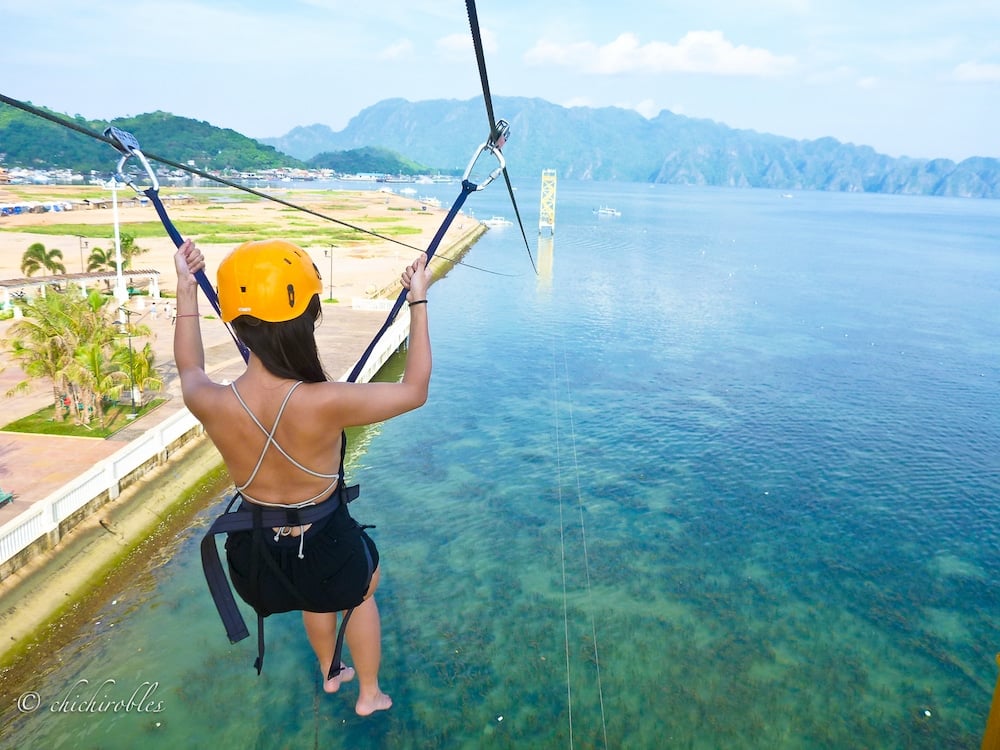 You can also climb to the top of the cliff overlooking the town, but I have not done that yet and apparently you should find a guide:
And for the evenings, lots of live music, every night in different bars. You can start at B on the map, at the Art Cafe. During the low season, they play music three times a week, while the Seaslug plays the other three days of the week. During the high season I must have counted at least five places playing every evening. Start at the Art Cafe and work your way east to the beach. On the left hand side of the road is another place (more for open jam sessions if you are traveling with an instrument), while on the beach there are at least three more.
Accommodation suggestions for El Nido
Amigos, take good care of you, open late (500p = $11)
Right on the beach, pretty basic, neighbor has a room for 800p with 2 medium sized beds. The red A marked on the map above (click for larger view), at the very end of that stretch on the right hand side. The owner's uncle also has a place next to B, which is the Art Cafe. If you are facing the Art Cafe, it is the unmarked building just to its right, single rooms for around 500p. To the left of the Art Cafe is an alley. If you go down that, there is a very nice shared dorm hostel on the left hand side.
Amigos: +639277353221
El Nido Corner, nice restaurant on the water (600p = $13)
Those cheaper rooms are out back, without a view of the water, but if they are full or you want something fancier, they have rooms with terraces for 1,800p ($40) – the three pictures shown below are of the fancier rooms.
Red C on the map above, at the very end of the beach before it turns into a trail working its way around the bend. The restaurant food is hardly great, but the view is really nice, and they have internet as well. Nice, quiet part of the beach, as the partying can get loud towards its centre.
IBR INN, open late (800p = $18)
Not the most glamorous, but still a fair amount cheaper than anything else around. Forgot to mark it on the map, but it's roughly across the street from the Seaslug Restaurant, which is in the centre on the beach. So no view of the waterfront.
Tel. +639182968833
Kalinga (3000p = $65)
If you want something fancier. Not in El Nido proper but the next village over to the right, on the next beach. Nice and quiet area, good for romantic couples.
cottages 1500 2xPAX incl. breakfast, family room 2000 2xPAX +500p per extra person
Tel. +639215700021, +639212540818
Others have given good reviews about OMP Our Melting Pot Hostel, saying they have been very helpful when trying to book a ferry north to Coron or Linapacan. Note that many places in El Nido will say that there are no ferries to Linapacan, but this is simply not true. If you will be taking the 7+ hour long boat journey to Coron and you can squeeze in the time, better to cut your trip in half and hopefully stop by to visit us!
Transportation to El Nido
At the bottom of the map at the top of this page you will notice an arrow pointing down/south to the bus terminal. This is about a ten minute walk from the center, so keep that in mind when the tricycles quote you prices, as they can be rather aggressive here.
The prices and information about vans and buses (fancy and public) going to Puerto Princesa apply here as they do on that page. If you want to go to San Fernando or Sibaltan, check out the Transportation info at the bottom of that page. More info available if you want to take a custom private Palawan boat tour to Coron or Linapacan.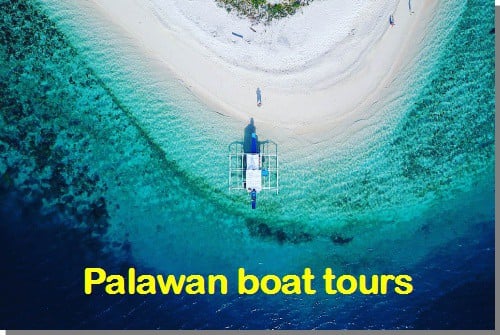 Home
»
Palawan »
recommends
I was looking for a personalized excursion to the beautiful bay of Bacuit. Seeing the comments, I contacted Mel. Very responsive, very efficient and perfect organization. The crew were very friendly and very helpful. And I'm not even talking about the meal on board...a marvel. In all fairness, this excursion will remain an excellent memory and I can recommend Mel and his team highly enough. A big thank-you.
André Mardoñal
2019-10-22
recommends
⭐⭐⭐⭐⭐ The island world of Linapacan between Coron and El Nido with the clearest waters in the world is truly a dream for itself! Without a boat you won't be able to see it! But what this boat trips makes so amazing is the crew! Once you come on board they might be shy in the beginning but will make you feel welcome and home from the first moment. Not only that they are looking that you sit comfortable all the time, they will prepare fresh and delicious food what the buy from local markets. They know the best spots and most beautiful islands and will bring you to places where you get this "Robinson Cruisoe feeling". Every day you visit 3 to 5 spots for snorkeling, enjoying a beach or exploring a little island. The accommodation we had was good and simple. We slept in bungalows and tents right at the beach. Sheets and towels were always provided and sometimes towels. After a while you feel like a family on board. We loved living the boat life didn't wanna leave! If you doubt take a longer than shorter trip! For any questions please message me.
recommends
All in all it was a really great experience. It's a once in a lifetime thing to do and you won't get more authentic and basic Philippino experiences anywhere else. We were not so lucky with the wind and waves so we couldn't do all the stops we wanted to unfortunately. So be aware that especially the months from January to May can be very rough on water. But we still saw some great places Benji took us. Benji and his family was very nice and they did everything they could. The food was amazing - always freshly made in authentic Philippino style and way too much for the 2 of us. Make sure to bring enough cash - many of the islands cost extra (entrance fee) and be aware that any kind of accommodation and food (200php per meal) is not included in the boat fee. Also the deposit and commission fee for the agency are a little over the top, especially since the crew does not get any of it. The costs all in all are rather high for phillipino circumstances especially given the basicness of it all. However if you think about that all 5 boat people (in our case) live off of the boat fee alone, you spent the money willingly. Be aware though that accommodation and sanataries are very basic if even existant. So you gotta have the right mindset. Bring tissue, sanatiszer and earplugs to get some better sleep. Another feedback I have concerning the size of the boat. I don't think it is sufficient for more than 4 people. If the weather is like it was these days, you always have to sit on top and it was already a little squeezy with us 2 and 5 boat people. So I guess 4 guests can be fine but more than that won't have the space. There is different boat sizes but make sure to talk about that with Karel in advance. Other than that it was really worth it and we got to see so many great beaches and reefs which we could have never been able to visit without the tour.
recommends
It was scary to book a 5 day trip with no places to stay confirmed or a strong itinerary. And in the Philippines, communication is difficult. But that is part of changing mindsets to a rural island mindset. In the end, everything worked out. We had some tough moments with bugs. But we also had some amazingly beautiful secluded beaches, the best snorkeling in the world, relaxing on the beach, and freshly made food on the boat while docked at beautiful places (better than being on land). Note, we went with Benji. Recommendations: - you must get a local SIM when you arrive to make sure pickup and everything works out - some islands have bugs - use bug spray! Pros: - a fraction of the cost - away from the crowds - can customize what you want - just ask! - a truly local experience - saw a REAL rural town Cons: - locals aren't really polished tour guides - if you don't ask for it, you won't get it, need to be pretty proactive - pretty simple "activities" - no frills like bathrooms or kayaks etc.
recommends
We can't be more grateful to have had the opportunity of experience the peace in Patoyo Kitesurfing Camping! Spending two weeks in Dimancal Island, gave us the chance to experiment the rural and traditional way of life, in touch with the nature and people. We have learnt how to cook with fire, how to open a coconut and how to survive in an environment where for a time we forget about unnecessary needs, just to focus on enjoy the small details and pleasures of life. Mentioning too the amazing snorkeling and beautiful islands around this place, which make it unique​ and special. It is a lovely option if you are running away from tourists and overcrowded places in the Philippines. You will find yourself in the middle of virgin beaches and nature, surrounding​ by charming people. We will definitely come back!
Caroline Danielle
2017-02-13
recommends
We haven't done a Tao tour, but I would suspect that this is a cheaper version of the same thing. Our boat operator (Benji) and the entire crew were were fun, friendly and made an effort to ensure we had a good time. If you get a large group of people together it can be a really inexpensive alternative to other Coron-El Nino and vice versa island hopping tours. The food was good, but more expensive than as advertised by Karl. The price quote we got was 100 php a meal, but the boat charged us 200. Since the food was good we didn't mind the extra expense, but it is important to keep in mind if you're on a budget. Definitely plan for some incidental spending. Our boat did have some mechanical issues and as a result we ended up being stuck in the same place for longer than we wanted to be. That being said, little could have been done about it and the trip was fun nonetheless.
Hauk Are Fjeld
2017-01-01
recommends
If you believe that doing the touristic tours in El Nido and going to "The hidden beach" takes you off the beaten path, you are wrong. There are lots of beautiful places in Palawan, but few of these places are without any other tourists. If you want to spend some extra effort on getting away from the tourist places, and don't mind a little "primitive" living, Island Hopping in the Philippines is definitely something you should check out
Arnold Cabiguen
2015-05-08
recommends
The snorkeling in this area is phenomenal. Clearest waters in the world. I guess it's because there is relatively such lower tourist traffic through here, and the locals really protect the reefs!
recommends
Love it so much, just had to say it twice!