Mel and Karel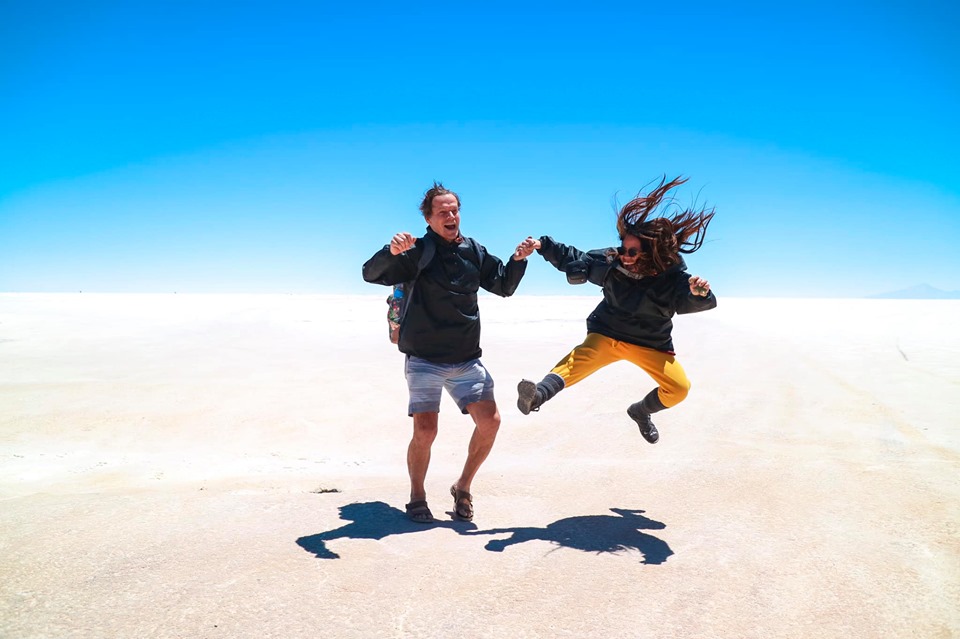 For about three years I had managed my own kitesurfing nature camp in the Philippines, having as many as 200 volunteers over a two year period, with a slowly increasing number of paying guests.
During this time I had one French volunteer on her way, who met a Chinese traveler in Puerto Princesa by the name of Tony. She invited him to join, while he in turn invited a certain Filipino girl. Unfortunately, Mel had just depleted her travel budget and already had a flight booked back to her home town of Iloilo. It seems that our fates were rubbing shoulders but the time had not come yet.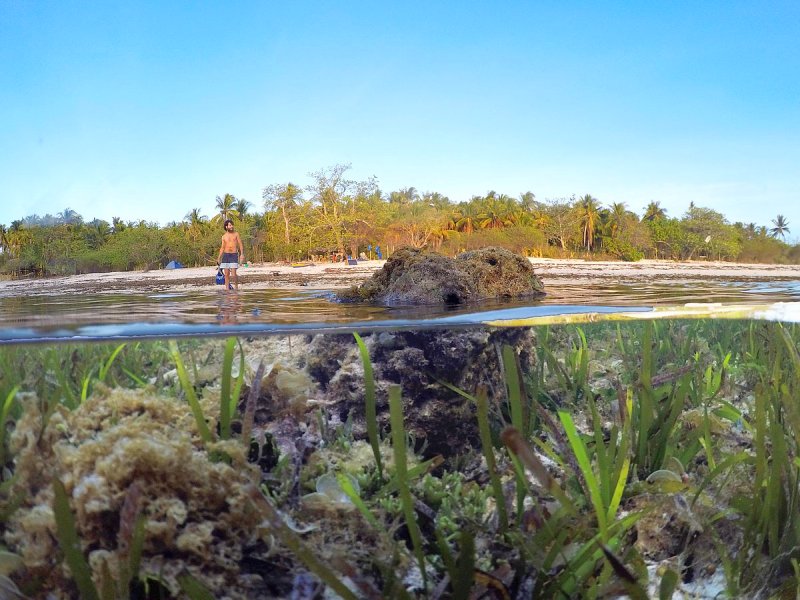 The island kitesurfing nature camp I was working on.
Fast forward to the end of that project, I decided I'd rather focus on my boat tours business, and to do that my plan was to explore the rest of the country to add content to my website (increases traffic) and search for other tour package opportunities to sell on the internet.
Since I had already extensively explored Palawan, the next logical step was to explore eastwards, to another popular Philippines destination: Visayas. From my paradise island I made the long boat ride north to Coron, visiting a friend up in the mountains for a month and from where I could take a ferry to Visayas – first stop the island of Cuyo to end in Iloilo.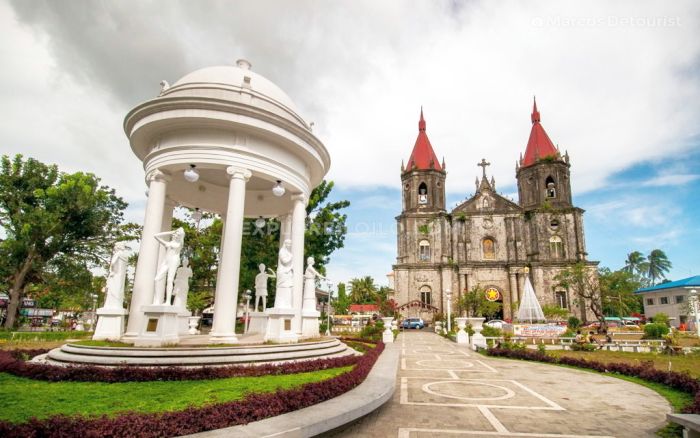 Iloilo City
It is in the city of Iloilo that I settled down for a while with the plan to save up for a motorcycle and sidecar so I can comfortably take all my toys with me to explore the rest of the Philippines. This process took about a year, during which time I found myself rather bored with the city and even resorted to…
We met at a Couchsurfing event, a free pancake party organised by a Dutchman, even though neither of us like pancakes – it was just a means for us to meet other people. The party was in a cafe on the third floor of a building, they did not sell beer but said I could go bring some from the 711 on the ground floor. I brought up a bunch and even gave one to the host, as he seemed to be standing alone in the corner not talking to anyone. At one point this girl sat down beside me and asked me for a beer, promising to replace it later. I was busy checking out another girl across the table (who, by the way, was not invited to the wedding) and responded with a flat NO, considering my experience with Filipinos and their promises to pay back later. When telling this story to others, she likes to comment that, at the time, she considered me a complete asshole.
About a month later I organised my own couchsurfing event, a potluck party at the beach I was staying at, where everyone brings a dish to share with others while I make my famous steak marinade to grill on an open fire. I do not remember seeing her there.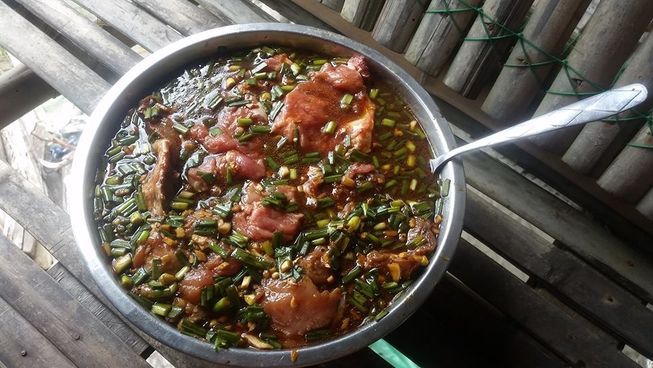 The pic I used for my potluck steak marinade I used to entice guests.
About another month passed by and I organised another potluck couchsurfing event, but this time I mentioned it is also my going away party. Mel wrote to me that she is sad to see me going (she later whispered that she thought I was cute) and invited me for a beer, stating that it is her nurse's day off during the week, she is bored and none of her friends want to go out. I checked out the pictures on her profile, hum and hawed for a bit, then thought, "Wait a minute, what am I doing? Have I EVER turned down someone asking me to go out for a beer??"
The rest, one might say, is history. I quickly grew to like her and soon enough found myself driving her to and from work, which were crazy hours, two shifts ending at midnight, two midnight shifts, two regular shifts, leaving about one and a half days for us to go on short road trips together, once she caught up on some much needed sleep.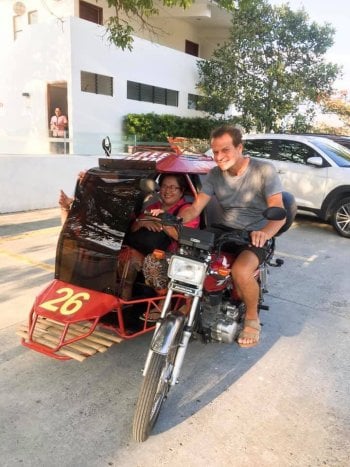 Bike with sidecar I'd pick her up in,
sometimes like here with the whole family.
As with regular conservative Filipinos, she did not tell her parents about me but would say she'd sleep at the hospital and not make it home, AGAIN. Eventually though she did introduce me and I quickly won them over by cooking them a fancy dinner, taking them out a few times to fancy restaurants, and eventually reconstructing their living room.
Early in our relationship I quickly realised that we were compatible and that she fulfilled all my requirements for a wife: someone who loves to travel, is willing to travel with our children and homeschool them, we have the same interests, we get along, and she appreciates my sense of humour. I began to court her, but she was insistent on moving forward with her plans to move to the UK to nurse there. In vain I argued that this is not really traveling, that the UK is boring, that she might get hit on or mistreated by aggressive male patients, and that at best she might be able to explore the country or possibly Paris the occasional weekend.
She was adamant because her parents have paid for her education and she promised to go abroad, like many other Filipinos, to send a constant stream of money back home. Maybe after a few years of doing that, she told me, she could then come back and if I truly loved her I'd wait for her.
Fat chance of that happening. I was getting too old to wait, the clock was ticking, and when I know something is right I go for it. So I finally came up with a juicy enough bribe: a six month all-expense paid trip from Alaska to Antartica. She crumbled under the immense temptation with a quiet "yes". [On a sidenote, after our marriage her Facebook friend Tony–refer above–commented: "Hey, isn't that guy Karel the guy I invited you to volunteer at on that island?"] Her parents were absolutely devastated, but I left them with all my belongings, which includes a motorbike and sidecar (our original plan was to explore the Philippines to help expand my business), and promised them I'd teach her how to make money online, as myself, and that soon enough she will be sending money back home.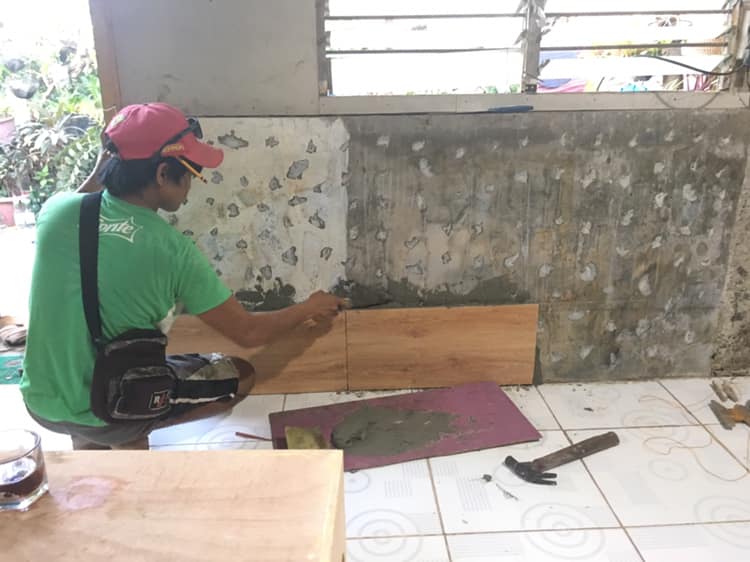 Another bribe to win parents' approval was to
reconstruct their living room before departure.
My business is to organise boat tours in the Philippines, and soon enough I taught her how to sell small packages I was not interested in dealing with. Within a month she even made more than I did! Because it is very difficult to travel around the world with a Filipino passport (I myself have both a Czech and Canadian one, so not a problem for me), our first stop of the day is to get her a better passport. The requirements as a Czech or Canadian wife seemed overly daunting, but after some research it seems we would only need to live in Argentina for a couple of years before attaining citizenship there. If that fails we'll try Canada, but not before first making a proper exploration of South America, as five countries there offer a free viza to Filipinos. Whether or not the Argentinian passport is successful, after a couple of years our next stop would be Canada, buy a van (after we sell our South American van) to explore Canada, U.S. and Mexico, then Europe (where I still have a campervan), then a slow trans-Siberian train to China, about five years later ending up back in the Philippines, where we hope to start a paradise beach island resort with our growing family (one bun already firmly in the oven).
We could run the resort six months a year during the sunny season, spending the remaining six months exploring Africa and other parts of South East Asia during the rainy season. That is our dream at the moment, but along the way, we thought we could document our travels with advice on safe and fun things to do for the entire family in a new website wanderlustingfamily.com, through which we might even expand our business by selling package tours or possibly advertising. The world is our oyster and we want to consume it!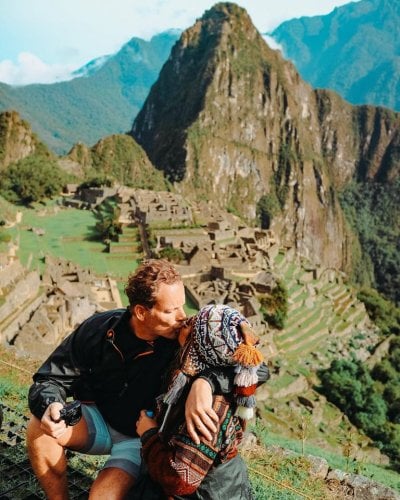 After Peru, wife had a baby in Ecuador during our crazy trip around the world – Cesarian Section but thank God Ecuador has a free medicare system, even for tourists! Now it is Dec. 30, 2022 and in about a month we will move to a nearby island, where we eventually hope to buy property, build a resort from the ground up, continue running our island hopping boat tours business and look for other opportunities in the country, but still keep traveling occasionally. The world is such a beautiful oyster!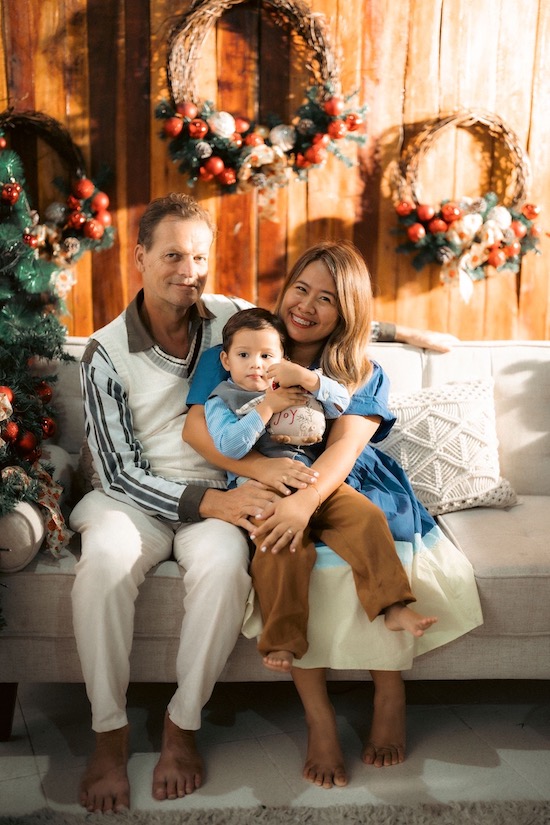 Experience the thrill of island hopping in the Philippines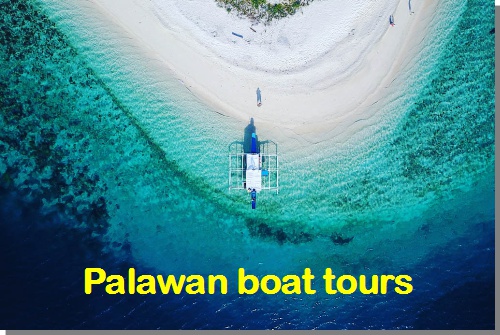 You May Also Like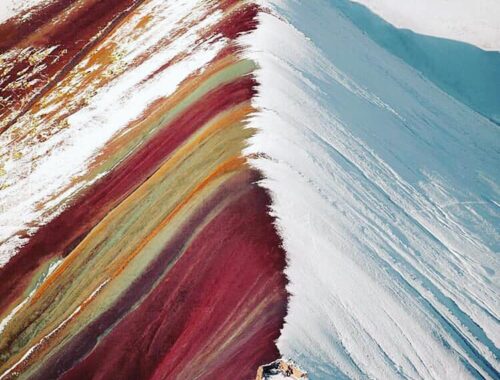 December 13, 2022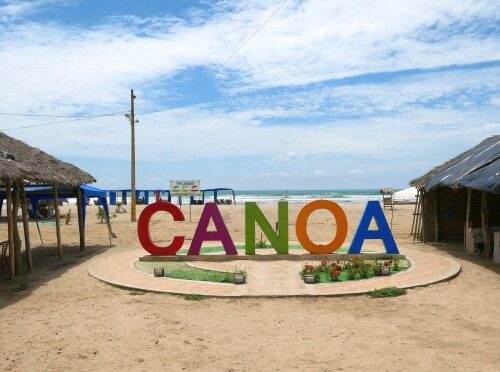 January 27, 2020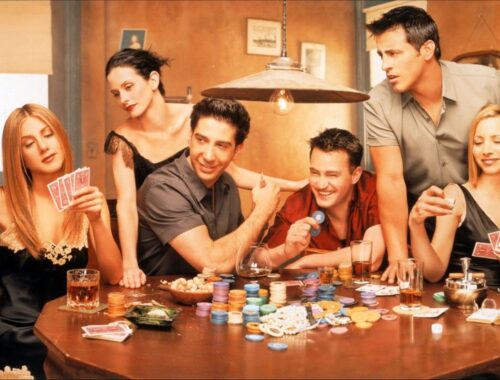 April 29, 2020