Home
»
Palawan » Photos »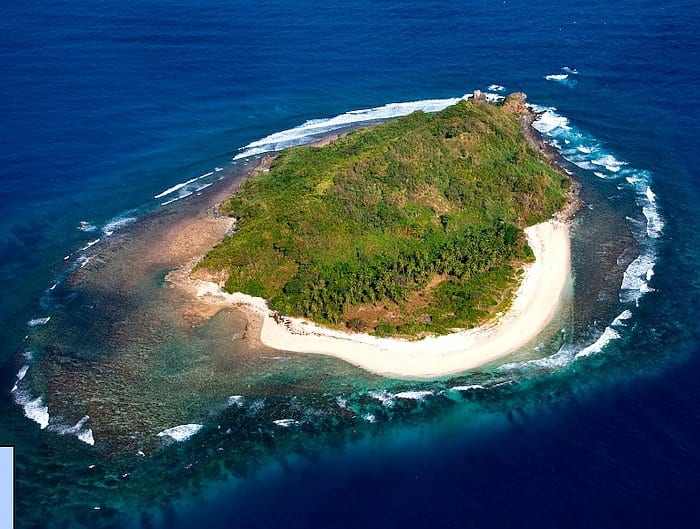 In addition to some of the deserted islands you can camp out on when taking one of our island hopping boat tours, you can camp out on Bolina island, which is just across the way from our own nature camp.
Bolina is located in the Linapacan area, half way between El Nido and Coron. If you do not have the budget to join one of our private multiday tours between El Nido and Coron, you can get to the Linapacan area by public ferry. Linapacan encompasses 52 mostly deserted islands, and you can get to Bolina with a local boat or combine it with a local boat tour. You can rent a tent(s) from the local boatman, who can also provide you with cooking gear or make you dinner etc. There are many factors and best to write to me for details. Expect an all-inclusive package to cost roughly 5,000p.
Very nice, wide fluffy beach ideal for teaching beginners on kitesurfing, as shown in the video below. Good for swimming as well, as the water gets deep right from shore. As explained in the official sales pitch for the island below, could be a good island for bird watching!
And if you really want to experience wild camping, you can canoe, kayak or longboard your way through the entire Palawan area, a mere 2,000km stretch!
For Sale
The Island is located at the North-East tip of Linapacan Island, in the Province of Palawan, Philippines, with a total "Titled" land area of 125,059 square meters (12.5059 has.) In actuality, the whole island including the foreshore measures to around 24.5 hectares'. GPS at 11 degrees 33'43.27"N – 119 degrees 52''06.81"E. The island has a wide beach coast on the south end with a 900 meter flat land area from the tree-line up to the center of the property. The sloped hill of Bolina on the North edge is a perfect ground for adventurous trekkers and mountaineers alike. The highest point in the island is around 164 feet from sea level, making it an ideal location for a view deck and or cabanas with a magnificent vantage point over the Linapacan straight. The north-west side of the island has a flat rock face with an inclination of around 70 degrees and an elevation of 80 feet. It is great for rock climbing activities. Photo enthusiasts and/or amateur photographers would marvel at the spectacular rock formations in and around the island. The surrounding sea is calm between the months of March to October making it possible for wake boarding, kayaking, Jet Ski, banana boat rides and other water sports. There are two natural wells on the island which could be harnessed and developed as a source of fresh mineral water supply for the inhabitants. From time to time, the surrounding islands are being monitored by the Navy, Coast Guard, the local Barangay units and the PNP "Bantay-Dagat" patrol boat for added protection. Commercial & other illegal types of fishing methods are strictly prohibited to help preserve the precious coral reefs and the marine life. It is also worthy to note that cell phone signals are available on the property. Smart & Globe telecommunication networks are present throughout the day.
The Surrounding Islands
The closest rural community from Bolina Island is the Inupupan Island (which is a short 15 minute boat ride). There are around 600 families that reside on the island. Basic public services are available on the island such as a small health clinic, flea market, a make-shift gas station, Barangay outpost (local police unit) and a small chapel. This rural community can be a source of basic food supplies with local fishermen selling their freshest catch daily and farmers selling their produce on the banks of the shore.
The Beach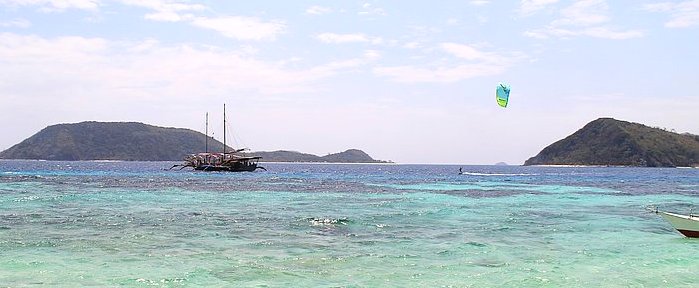 View from Bolina's wide fluffy beach facing our island on the left, behind the sailing boat.
The island has a beach frontage of about 500 meters of unspoiled, powdery white silica sand. It is the only island in Linapacan with the widest beach from the tip of the sea up to the tree lines (which measures about 230 meters in the center). The beach is virtually protected by two elongated islands on the south-end making it an ideal place to just bathe under the sun without the worries of monstrous waves hitting you on the shores during monsoons and storms. The sandy beach covers almost the entire south-east tip of Bolina all the way to its south-west end. The sand gradually inclines from the shore towards the tree line at a 20 degree-angle with at least four (4) meters from sea level at its height. Its half crescent shape with its longest tip at the center faces southward, thus avoiding the strong North winds and waves that gradually reclaim the sand over time such as that of its neighboring islands. Flora & Fauna
The regular visitors of the island are the endangered sea turtles belonging to the Leather backs and the green back turtles which frequent the property all year round. They lay their eggs on the far end of the beach, two or three turtles at a time and then leaves without a trace. After 3 to 4 weeks, hundreds of baby turtles start to emerge from their burrows in the sand and instinctively rush to the sea, leaving only small straight tracks and empty shells behind. It's a magnificent site and a rare opportunity to witness such a miracle of nature and actually be the owner of such a privileged island. The numerous varieties of birds that inhabit the island are also a key factor in promoting the place. There are endemic species such as the Tabon bird and the native Mayna. Finch, King Fisher, Red-head wood pecker and silver larks that inhabits the area has virtually transformed the island into a bird sanctuary. With a minimalistic approach and a genuine concern for nature, a peaceful co-existence can be harmoniously achieved between the island and its future developer. The coast line has about 170 coconut trees with additional trees being planted all year round. This multi purpose tree can yield lumber, the leaves can be woven together to form a strong type of roofing and wall (Nipa), which is locally used by the native Filipinos on their houses. The fruit is delicious and the coconut juice is a stable source of nutrient and is truly a tasty drink. Other fruit bearing trees such as the Cashew, Mango and Santol can be found all through out the island. Thick vegetation and foliage also prevents land spills and flooding during the rainy season and helps clean the air. A few type of flower bearing plants also abound the property with the beautiful white Orchid (native to this region) at the fore front. Large hardwood trees can also be seen dotting the entire island. The Marine Life
The marine life is another factor in considering this island paradise. The varieties of corals and fishes are too numerous to mention. Snorkeling in the crystal clear water around the beach will be more than a treat. Just hold a small piece of bread in your hand under the water line and you will be treated to a feeding frenzy of hundreds of fishes gently nibbling your hand. The water level during high tide is about 4 to 5 feet deep for several meters into the sea. Experience or inexperienced divers will get a kick out of the beautiful coral formations around the island. Just a few meters of the beach are varieties of anemone, branching alveopora marionensis, invertebrates & giant clams can be seen. The water is clear all through the year making visibility at 100%. Also worth considering are the dolphins which during their breeding months (between April to September) frequent the surrounding seas. Swimming with the boats and often putting on an acrobatic show for tourist and residents alike. They have grown accustom to their human neighbors and have flourished in numbers over the years. So travelling to and from the island will probably turn out to be a "dolphin watching trip.
To get here you can join or book one of our private custom Palawan boat tours between El Nido and Coron. Tons of paradise beach islands to see along the way, excellent snorkeling in crystal clear waters, caves to explore, Spanish fortress and much more. Completely off the beaten path!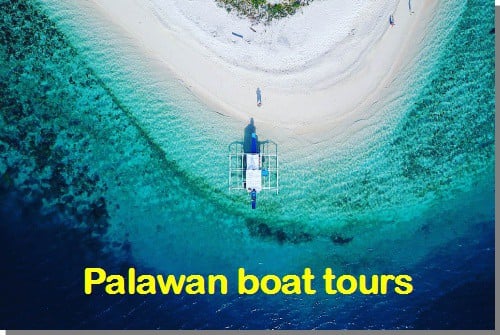 >>> check out more trekking, or camping in the Philippines
Home
»
Palawan » Photos »
recommends
I was looking for a personalized excursion to the beautiful bay of Bacuit. Seeing the comments, I contacted Mel. Very responsive, very efficient and perfect organization. The crew were very friendly and very helpful. And I'm not even talking about the meal on board...a marvel. In all fairness, this excursion will remain an excellent memory and I can recommend Mel and his team highly enough. A big thank-you.
André Mardoñal
2019-10-22
recommends
⭐⭐⭐⭐⭐ The island world of Linapacan between Coron and El Nido with the clearest waters in the world is truly a dream for itself! Without a boat you won't be able to see it! But what this boat trips makes so amazing is the crew! Once you come on board they might be shy in the beginning but will make you feel welcome and home from the first moment. Not only that they are looking that you sit comfortable all the time, they will prepare fresh and delicious food what the buy from local markets. They know the best spots and most beautiful islands and will bring you to places where you get this "Robinson Cruisoe feeling". Every day you visit 3 to 5 spots for snorkeling, enjoying a beach or exploring a little island. The accommodation we had was good and simple. We slept in bungalows and tents right at the beach. Sheets and towels were always provided and sometimes towels. After a while you feel like a family on board. We loved living the boat life didn't wanna leave! If you doubt take a longer than shorter trip! For any questions please message me.
recommends
All in all it was a really great experience. It's a once in a lifetime thing to do and you won't get more authentic and basic Philippino experiences anywhere else. We were not so lucky with the wind and waves so we couldn't do all the stops we wanted to unfortunately. So be aware that especially the months from January to May can be very rough on water. But we still saw some great places Benji took us. Benji and his family was very nice and they did everything they could. The food was amazing - always freshly made in authentic Philippino style and way too much for the 2 of us. Make sure to bring enough cash - many of the islands cost extra (entrance fee) and be aware that any kind of accommodation and food (200php per meal) is not included in the boat fee. Also the deposit and commission fee for the agency are a little over the top, especially since the crew does not get any of it. The costs all in all are rather high for phillipino circumstances especially given the basicness of it all. However if you think about that all 5 boat people (in our case) live off of the boat fee alone, you spent the money willingly. Be aware though that accommodation and sanataries are very basic if even existant. So you gotta have the right mindset. Bring tissue, sanatiszer and earplugs to get some better sleep. Another feedback I have concerning the size of the boat. I don't think it is sufficient for more than 4 people. If the weather is like it was these days, you always have to sit on top and it was already a little squeezy with us 2 and 5 boat people. So I guess 4 guests can be fine but more than that won't have the space. There is different boat sizes but make sure to talk about that with Karel in advance. Other than that it was really worth it and we got to see so many great beaches and reefs which we could have never been able to visit without the tour.
recommends
It was scary to book a 5 day trip with no places to stay confirmed or a strong itinerary. And in the Philippines, communication is difficult. But that is part of changing mindsets to a rural island mindset. In the end, everything worked out. We had some tough moments with bugs. But we also had some amazingly beautiful secluded beaches, the best snorkeling in the world, relaxing on the beach, and freshly made food on the boat while docked at beautiful places (better than being on land). Note, we went with Benji. Recommendations: - you must get a local SIM when you arrive to make sure pickup and everything works out - some islands have bugs - use bug spray! Pros: - a fraction of the cost - away from the crowds - can customize what you want - just ask! - a truly local experience - saw a REAL rural town Cons: - locals aren't really polished tour guides - if you don't ask for it, you won't get it, need to be pretty proactive - pretty simple "activities" - no frills like bathrooms or kayaks etc.
recommends
We can't be more grateful to have had the opportunity of experience the peace in Patoyo Kitesurfing Camping! Spending two weeks in Dimancal Island, gave us the chance to experiment the rural and traditional way of life, in touch with the nature and people. We have learnt how to cook with fire, how to open a coconut and how to survive in an environment where for a time we forget about unnecessary needs, just to focus on enjoy the small details and pleasures of life. Mentioning too the amazing snorkeling and beautiful islands around this place, which make it unique​ and special. It is a lovely option if you are running away from tourists and overcrowded places in the Philippines. You will find yourself in the middle of virgin beaches and nature, surrounding​ by charming people. We will definitely come back!
Caroline Danielle
2017-02-13
recommends
We haven't done a Tao tour, but I would suspect that this is a cheaper version of the same thing. Our boat operator (Benji) and the entire crew were were fun, friendly and made an effort to ensure we had a good time. If you get a large group of people together it can be a really inexpensive alternative to other Coron-El Nino and vice versa island hopping tours. The food was good, but more expensive than as advertised by Karl. The price quote we got was 100 php a meal, but the boat charged us 200. Since the food was good we didn't mind the extra expense, but it is important to keep in mind if you're on a budget. Definitely plan for some incidental spending. Our boat did have some mechanical issues and as a result we ended up being stuck in the same place for longer than we wanted to be. That being said, little could have been done about it and the trip was fun nonetheless.
Hauk Are Fjeld
2017-01-01
recommends
If you believe that doing the touristic tours in El Nido and going to "The hidden beach" takes you off the beaten path, you are wrong. There are lots of beautiful places in Palawan, but few of these places are without any other tourists. If you want to spend some extra effort on getting away from the tourist places, and don't mind a little "primitive" living, Island Hopping in the Philippines is definitely something you should check out
Arnold Cabiguen
2015-05-08
recommends
The snorkeling in this area is phenomenal. Clearest waters in the world. I guess it's because there is relatively such lower tourist traffic through here, and the locals really protect the reefs!
recommends
Love it so much, just had to say it twice!
Bolina Island
Average rating:
0 reviews