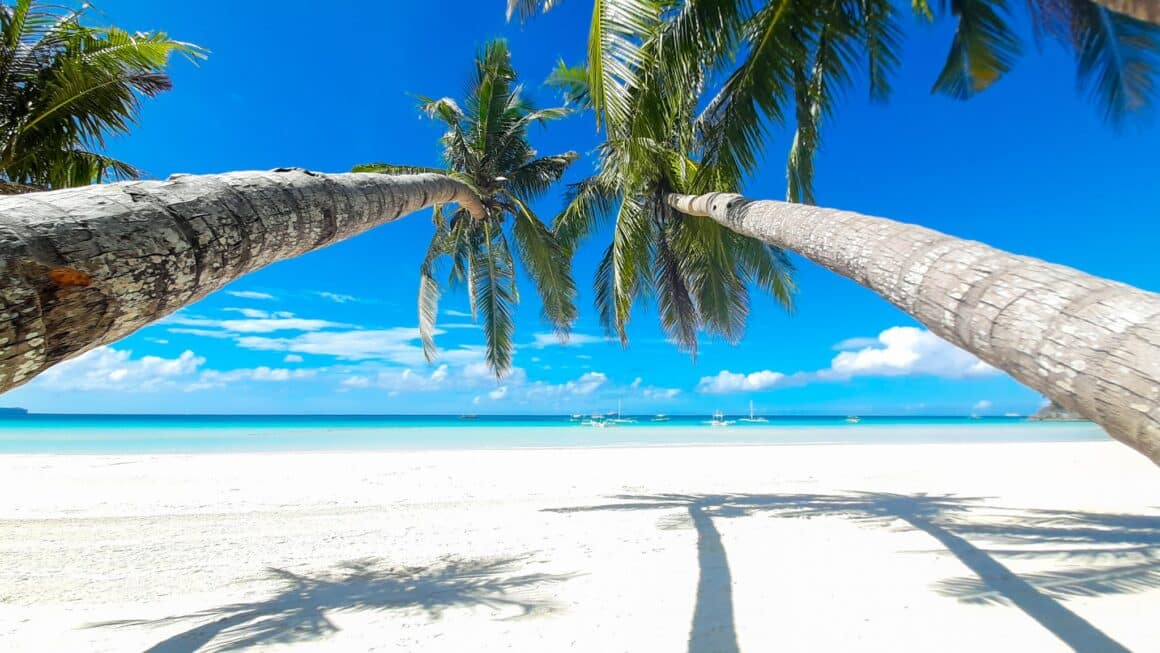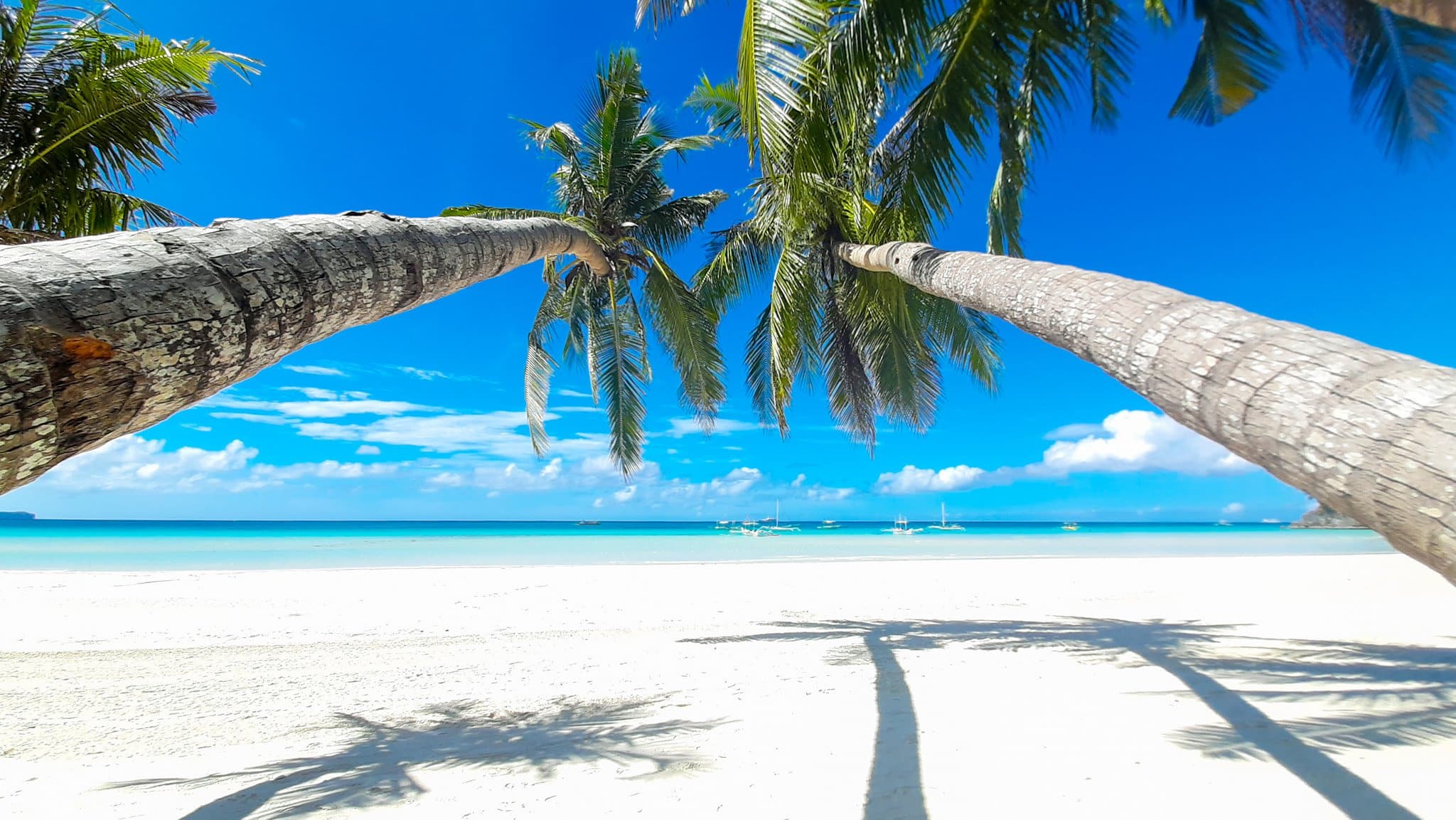 A Guide to Boracay Island
Boracay Island Guide
Boracay Island is a tropical paradise with pristine sands, a clear blue sea, and stunning sunsets. It's also not too far away, making it ideal for first-time tourists, groups of friends, or a romantic trip for two.
Boracay has changed dramatically over the years. It grew from a previously unknown island inhabited by indigenous people to a world-renowned tourism destination. It was closed on April 26, 2018, for a 6-month restoration as part of a transition to a more sustainable future.
Basically, they have forced any establishment off the beach and cleaned up the operations. No longer can you drink alcohol or beverages or sleep on the beach, and the number of tourists to the island at any one time is limited. It is cleaner and world class, but more expensive, not the backpacker crowd it used to be. But don't worry, this beautiful country has plenty of other places to visit for those on a budget!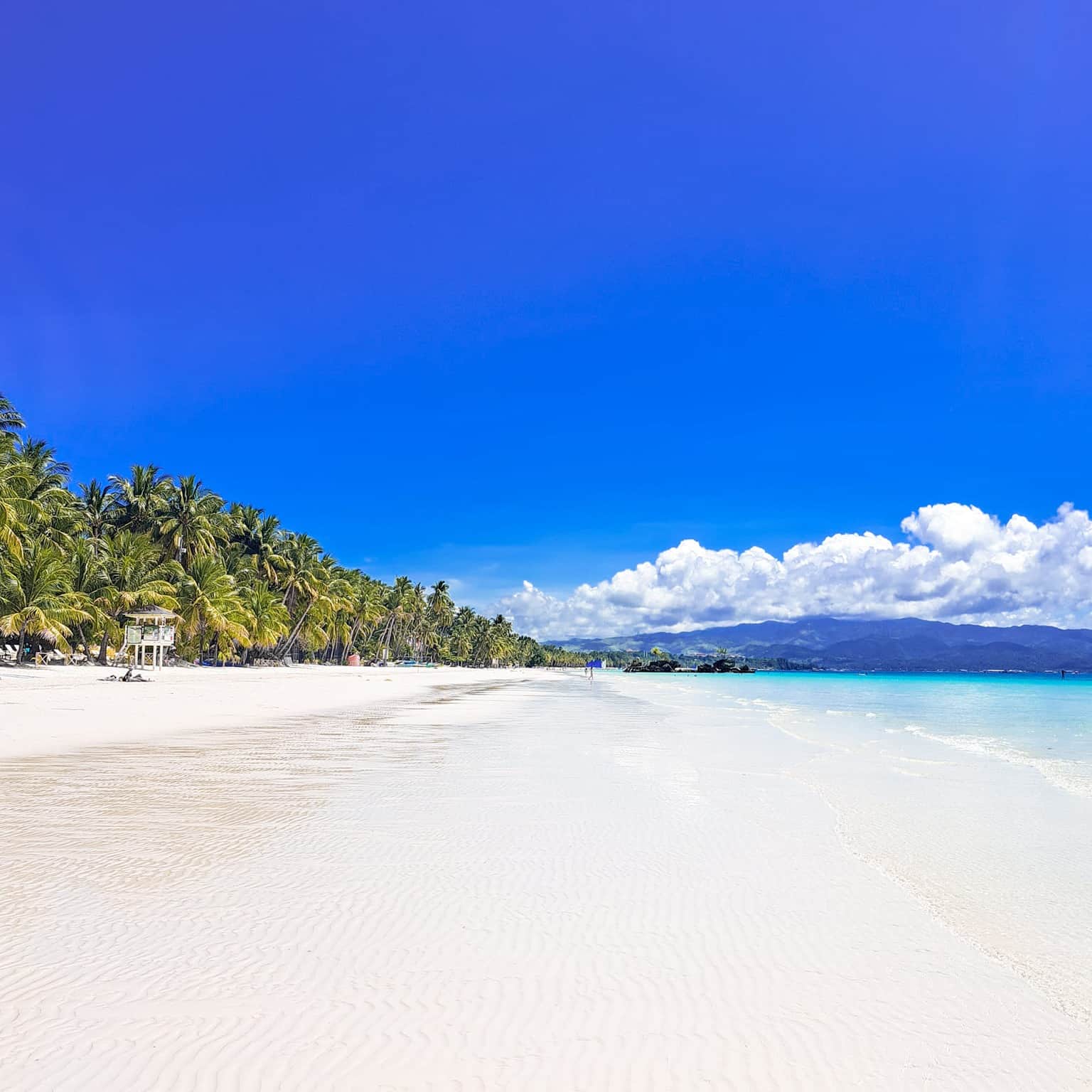 Here's an updated guide on visiting Boracay Island.
Best activities in Boracay
Binge-Eating in Boracay
You can always find a place to eat on Boracay Island that will suit your tastes. Everything from authentic Filipino food to Chinese, Japanese, Mexican, Mediterranean and Indian restaurants can be found on the island.
A trip to Boracay wouldn't be complete without dining on some of the fresh seafood available there, such as oysters, clams, and other shellfish.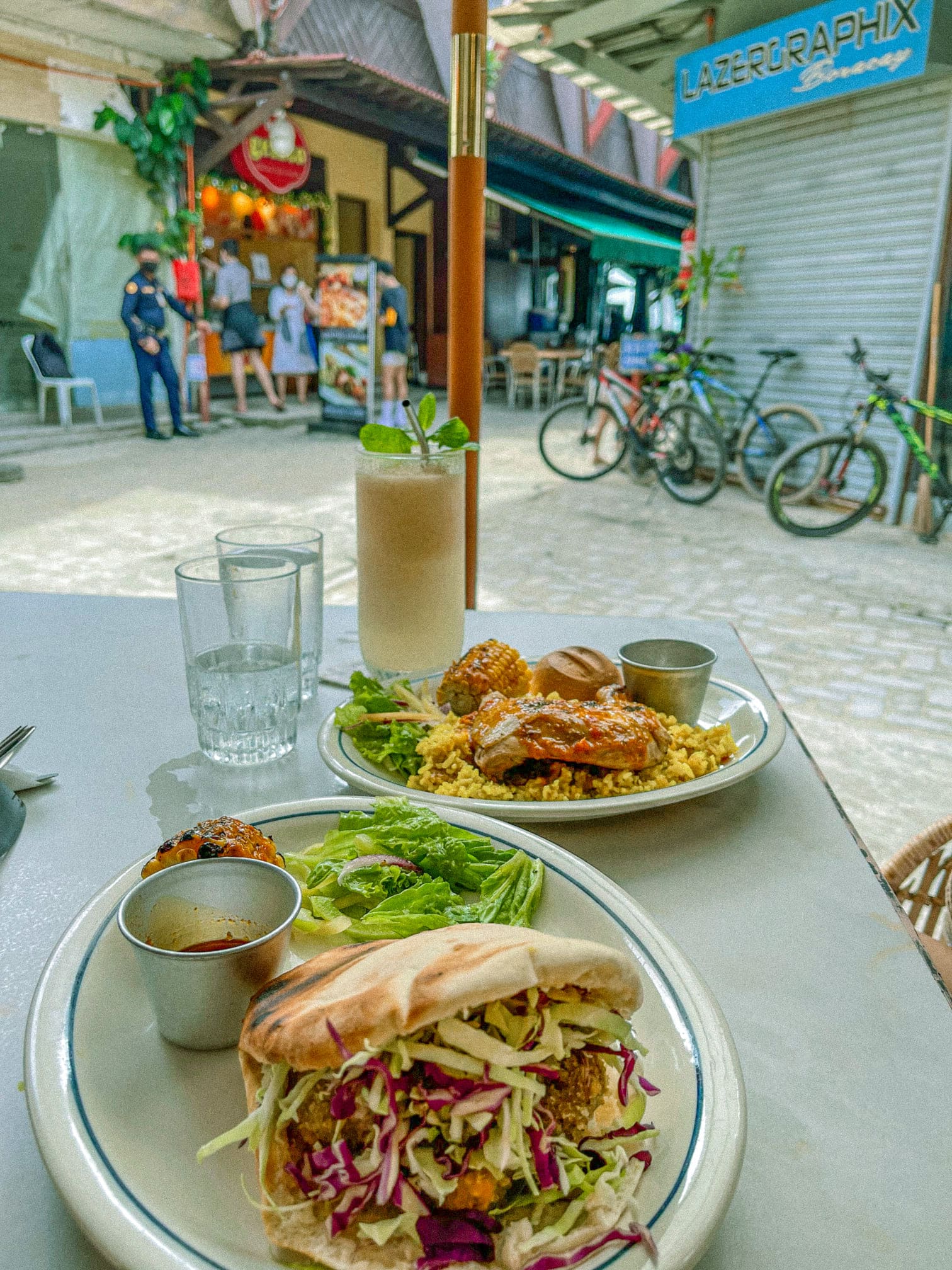 At Station X, the culinary adventure begins. The street market can be found on the island of Boracay, which has been increasingly popular in recent years. Spend some time lounging on one of the daybeds by the pool after dinner.
Not sure where to go? Here is a list of our favorite choices for your next food trip.
Wander Around White Beach of Boracay.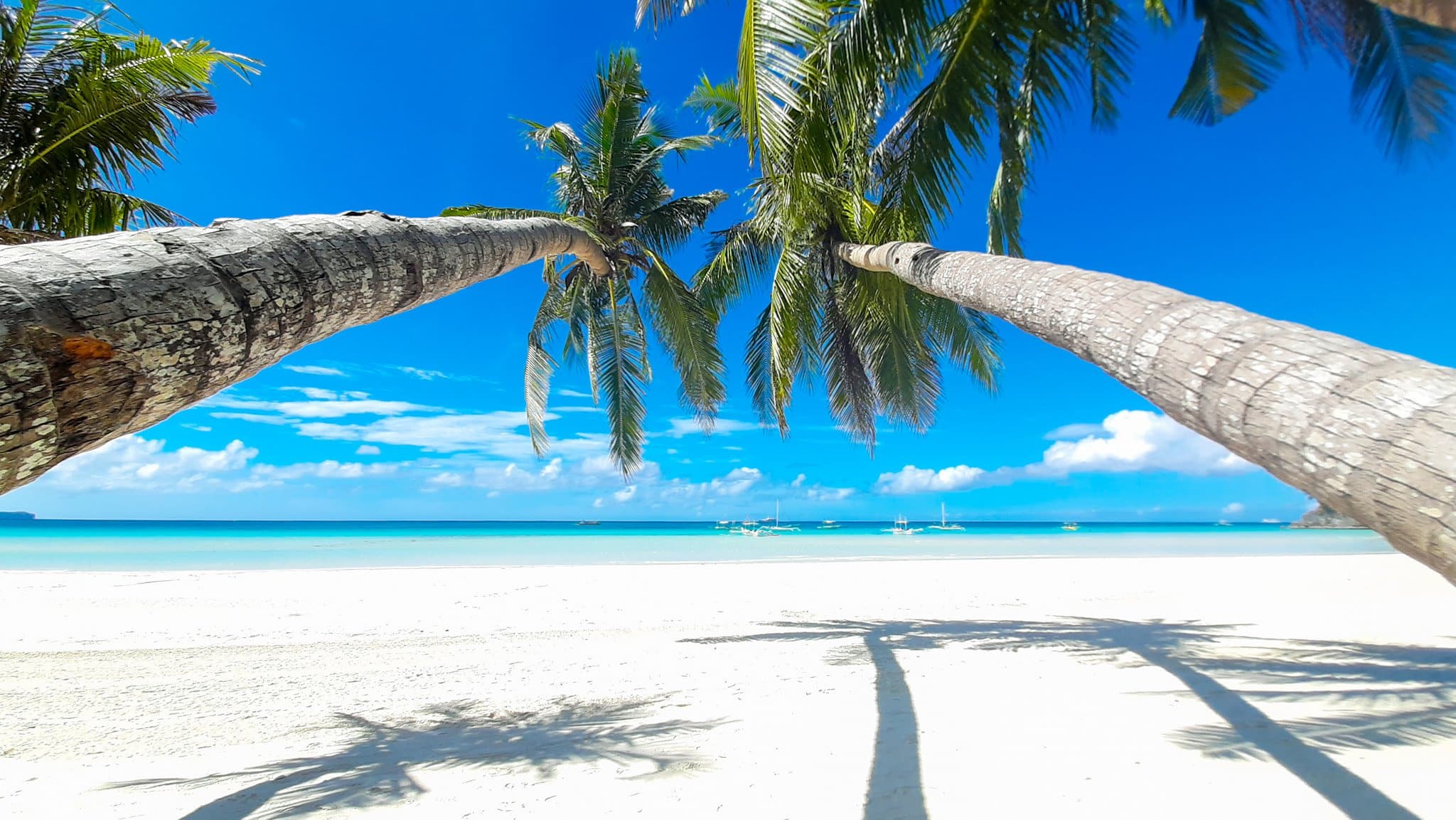 Most visitors to Boracay come to relax on the island's world-famous beaches, so don't forget your towel and sunscreen and spend some time lounging in the sun or taking in the sights of the colorful paraw sailboats as they cruise the coast. Don't miss one of the best sunset views in all of Asia, which is claimed to be on this island.
Island Hopping
Exploring many of Boracay's other gems is a common thing to do when in Boracay. There are a number of possible stops during this roughly 5-hour excursion, including Puka Beach, Coral Garden (snorkeling), Magic Island, Crystal Cove, Crocodile Beach, Ilig-Iligan Beach, and Ariel's Point (cliff-diving). You'll get to spend half a day exploring less-visited islands and cap the adventure with a scrumptious grilled seafood picnic.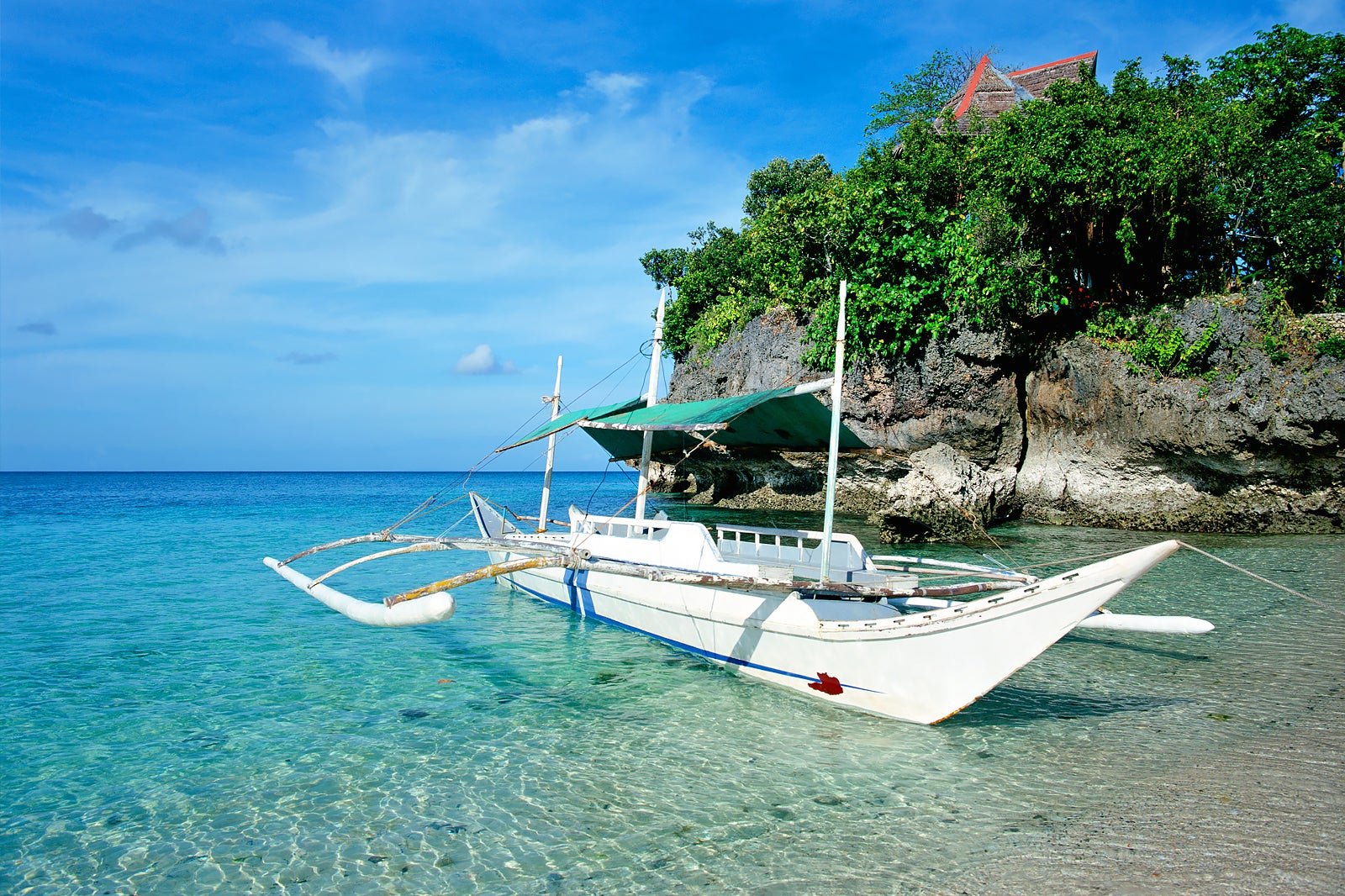 Land Tour
Just like on an island-hopping tour, you can see all the highlights of the island—from Puka Beach to the mountainous interior—on a land tour by e-trike. Visit Tambisaan Beach (where you can take pictures in a kawa), Bulabog Beach, Keyhole, New Coast Beach, and/or Ilig-Iligan Beach on your land trip.
Personally, we found this better than the island hopping tours, because you can travel at your own pace and see beaches not offered on the boat tours. The following is our experience.
Motorbike Boracay
Many websites will rave about the boat tours of Boracay, but we actually found them rather boring. Plus you are constrained for time with a group of strangers, whereas with a motorbike you get to explore the interior while on your way to your next secluded beach (many of which the boat tours do not even frequent) and lounge in your dream location at your own pace before deciding to move on to the next beach.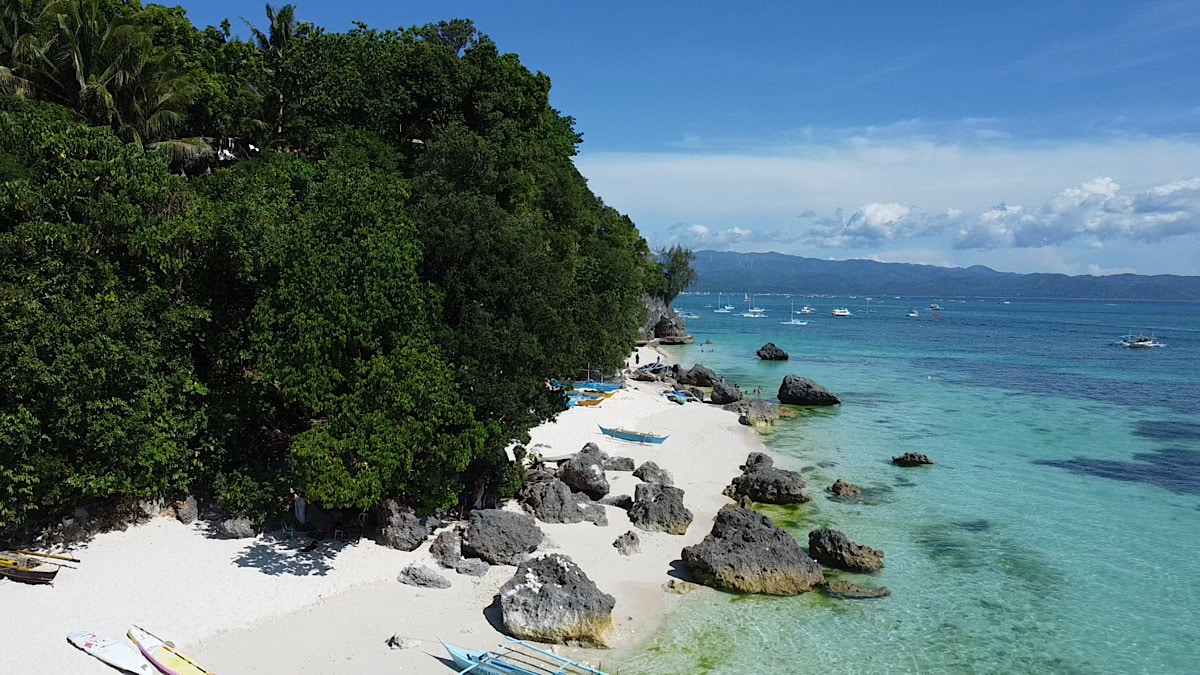 Below are the beaches we managed to visit over a two day period of renting the motorcycle. Another advantage of renting a motorcycle is you can use it to check out more difficult to get to locations, such as the exotic restaurants we chose to indulge in.
But first:
Where to rent a motorcycle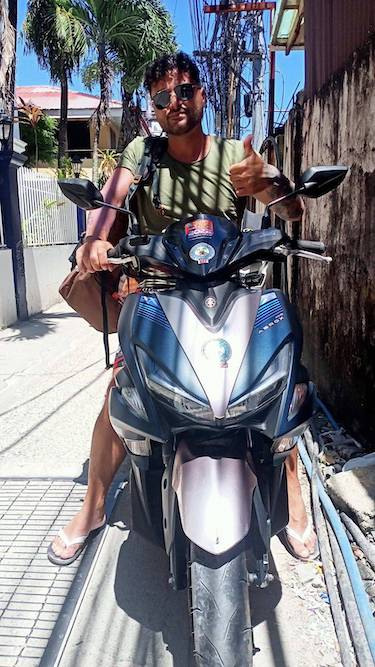 Unfortunately we could only find one place to rent from and it is relatively expensive compared to the rest of Asia, but compare that to the price of a boat tour with the added convenience of getting where you want to go faster, without having to pay for a taxi, we feel it is worthwhile. Then again, at a common price of 200p per small beer, the whole island is more expensive than the Asian average.
Droning
As you will see from our shots on this page, droning is a great way to eternalize your travels, but some places do not allow it. Such as on the island of Boracay. But my DJI drone did not say so, which makes me think it is not official law. Rumor has it that the island's mayor objected to their use because he felt invaded by one hovering over his house. Who knows what activities he was indulging himself in at the time, but locals tend to be very compliant. However, as you will see from our videos below, on the more remote beaches the locals couldn't care less about such rules, but exercise caution anyway.
Our path of choice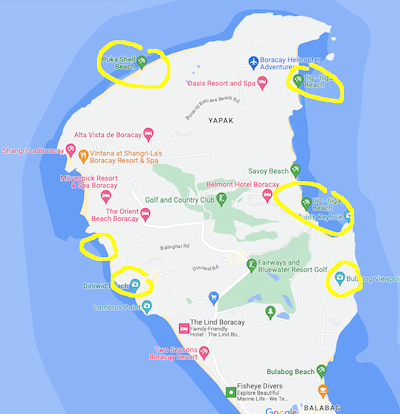 As we were staying in a hotel on Beach1, we decided to cross over to the other side of the island and start our trip there in a counterclockwise direction around the island. Over a two day period and because we like to lounge and enjoy ourselves, we only managed to cover the north half of the island, but that seemed plenty once we were done.
Bulabog Viewpoint
Our first intended stop was to the Bulabog viewpoint, but we were disappointed to find the site closed and boarded up. Nevertheless I did crawl over some barriers but I chose not to enter the building. Anyway, from a google image posted only four weeks ago you can apparently ignore the barricades and climb up the stairs to the top.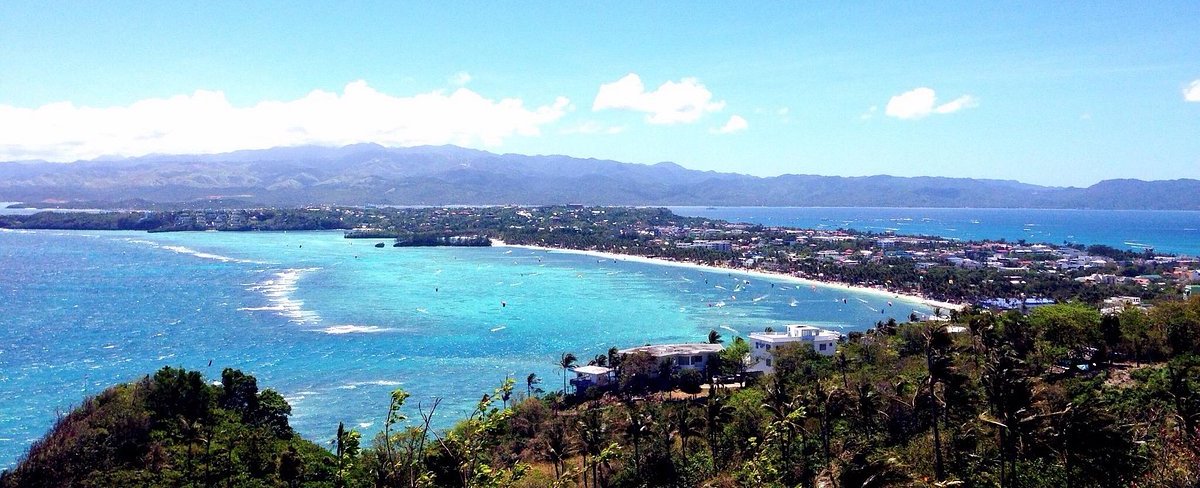 It is a shame, because I think this would be a worthwhile landmark for the island to maintain, but according to comments I've read on the net, there is a caretaker there to help you. I guess we just had bad timing.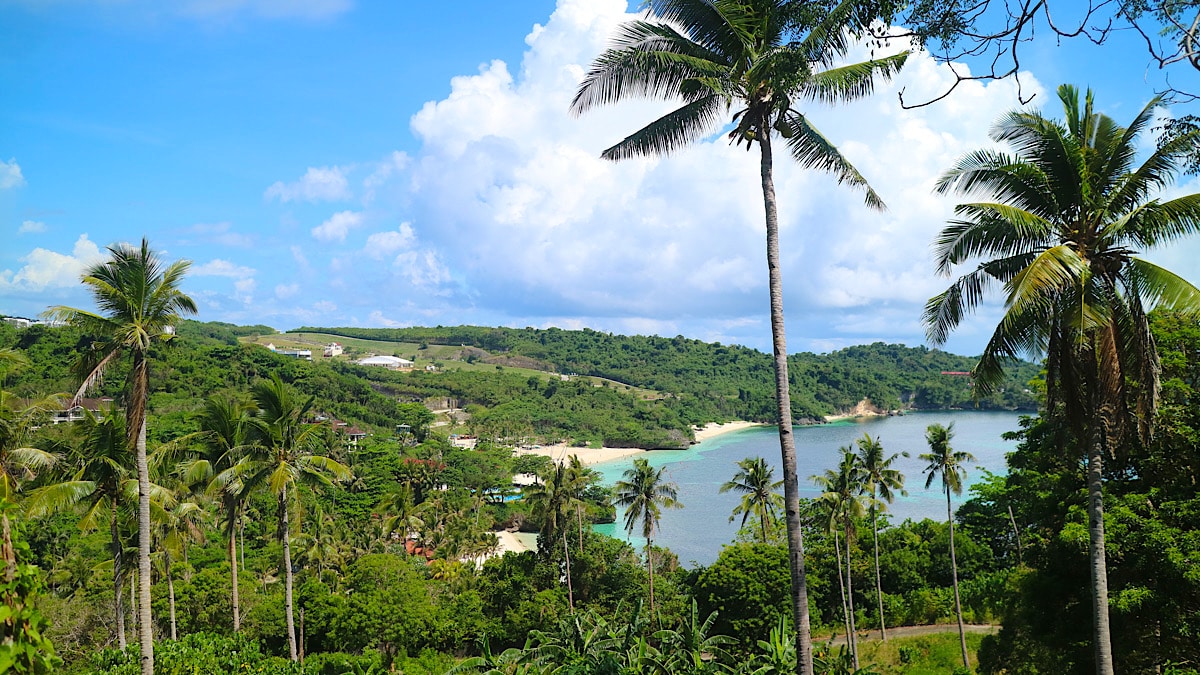 Newcoast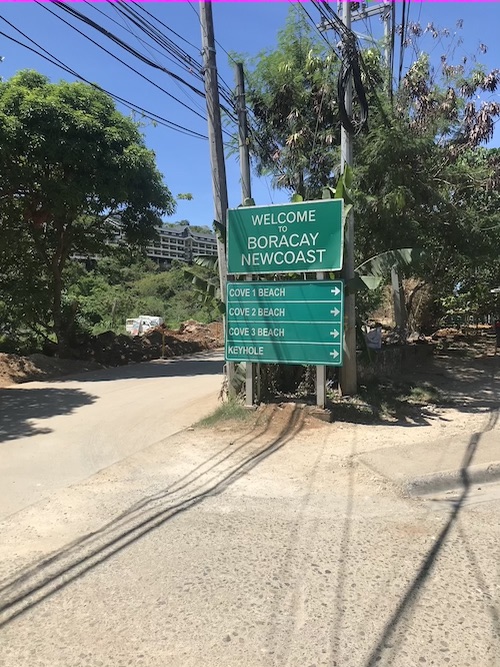 Following my google and maps.me maps, the next logical location was Newcoast. Actually Ilig Iligan Beach, but there are three different beaches on that corner of the island with the same name, so I'll just call it Newcoast.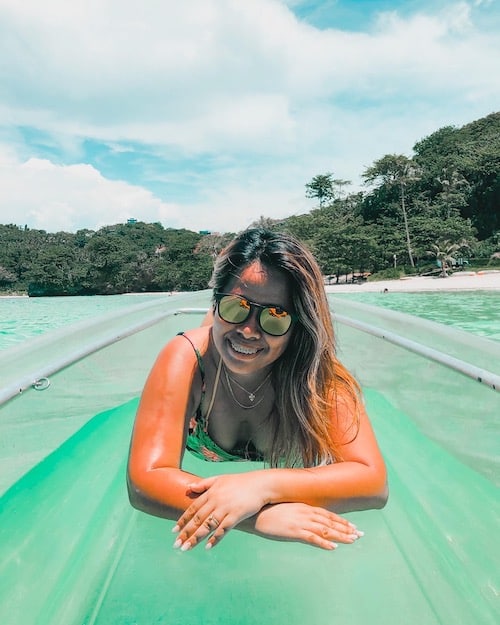 It was rather empty, hot and expensive. Part of a major resort complex. My wife rented a crystal kayak, and we later walked to Cujo's Keyhole. Which was a rather annoying experience because you had to stand in line in the hot sun waiting for the security guard to take a picture of you with this hole in the rock as background.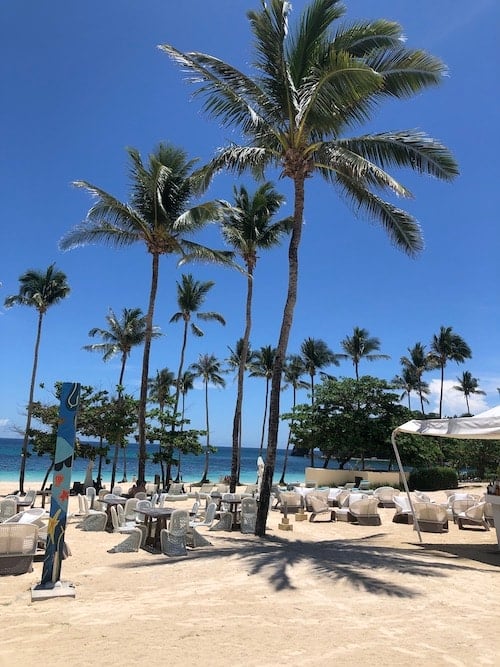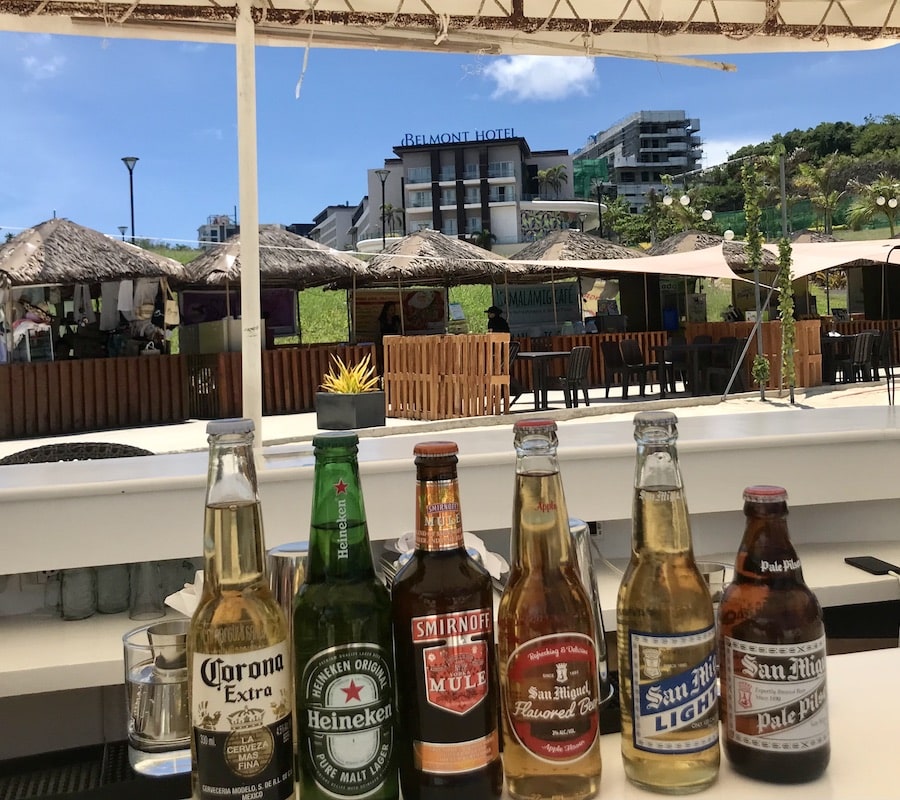 So, overall, I would say you could potentially just skip and save your time for another beach. Because it was more official I decided not to use my drone here.
Ilig Iligan Beach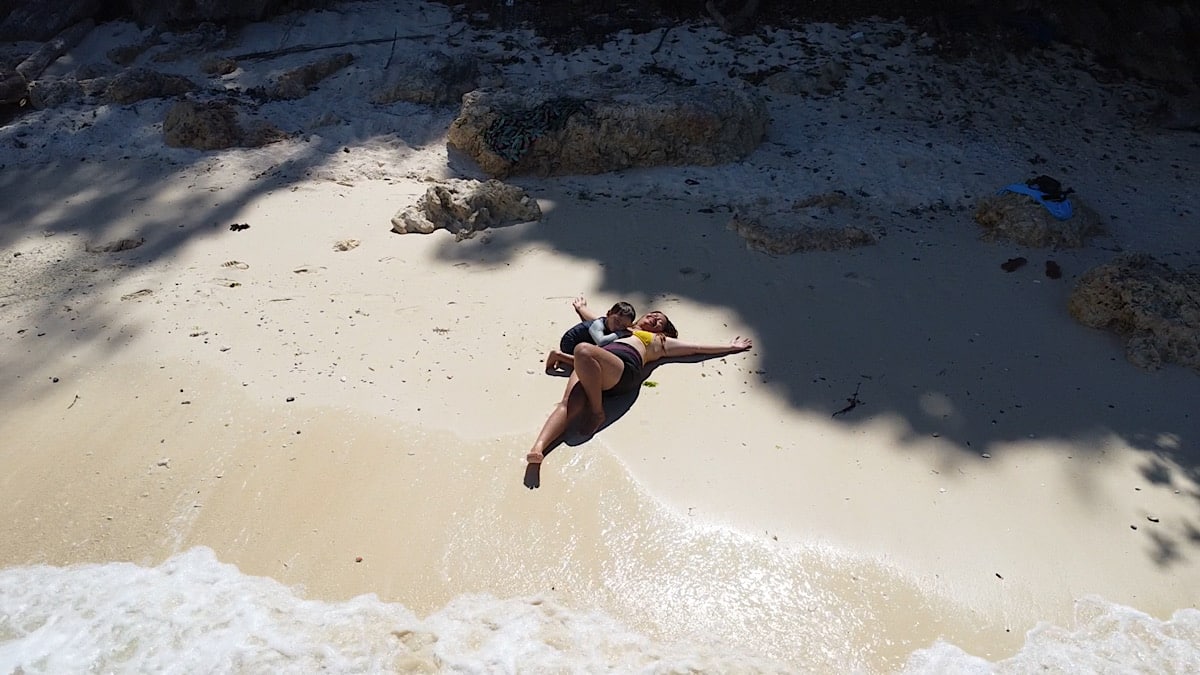 This is the farthest north of the three beaches with the same name, but the next logical to visit based on its easy access.
A nice remote beach and beers are already approaching normal. Note that on the main, White Beach of Boracay or on the busy areas it is not permitted to walk around or sit on the beach with a beer. Hence yet another reason to do the motorcycle trip, as here it was not a problem at all and they would bring the beers right to you!
Here's a drone video of this beach:
Puka Beach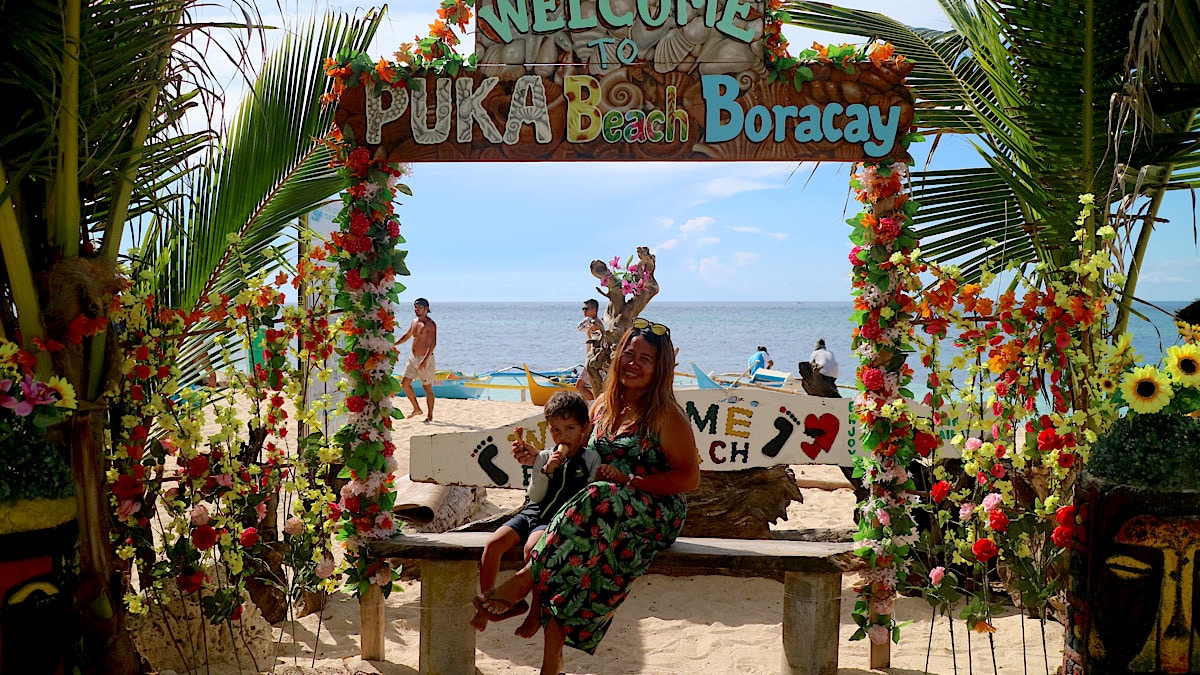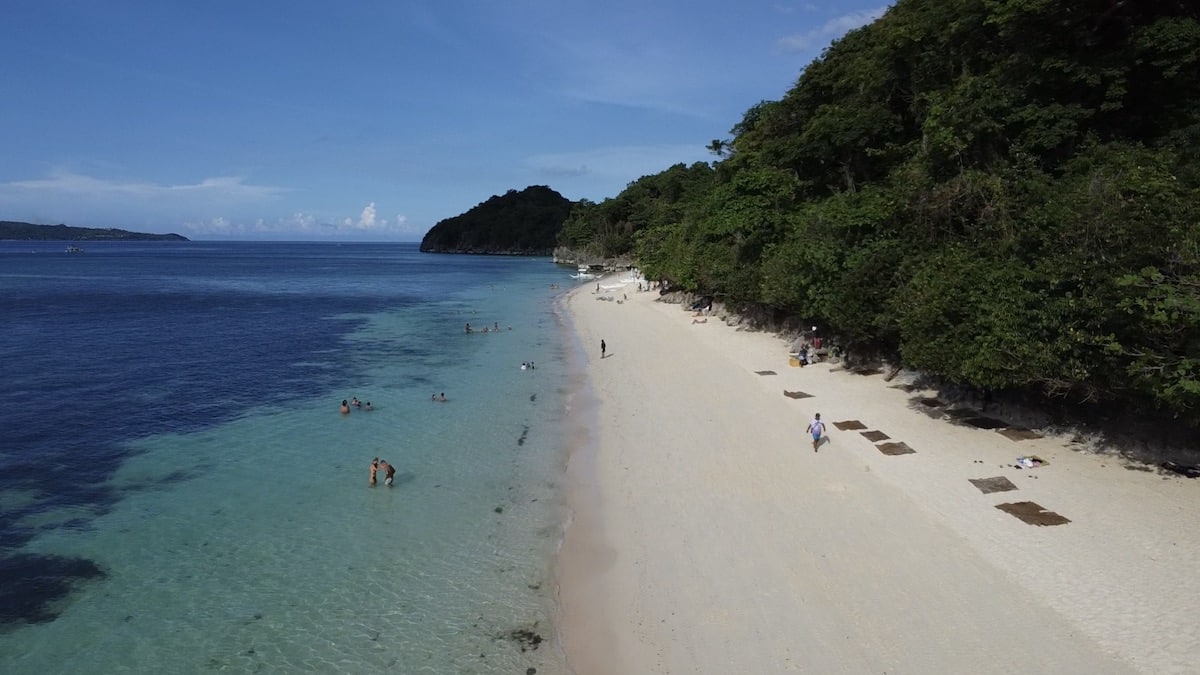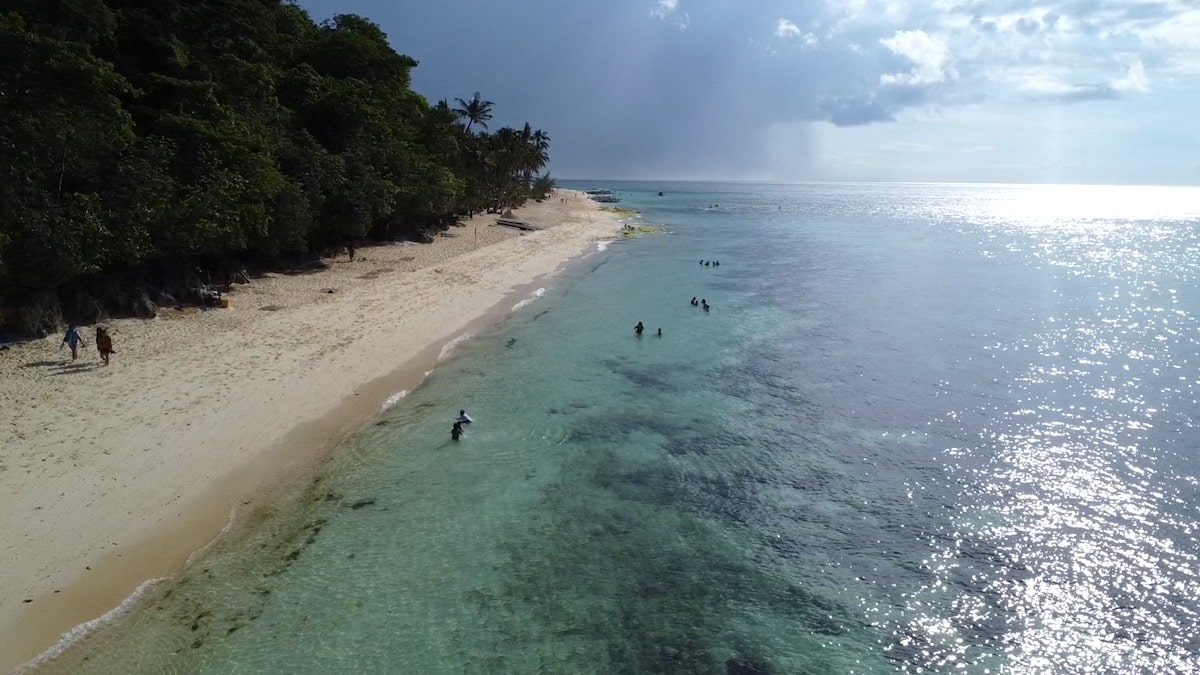 Next in line when going counterclockwise around the north half of the island is Puka Beach. Many websites rave how off the beaten path it is, but we found it far from it. Busy and hectic enough in our opinion, but nice to explore anyway. Reasonably priced beer, sold at the entrance and you can drink on the beach.
Balinghai Beach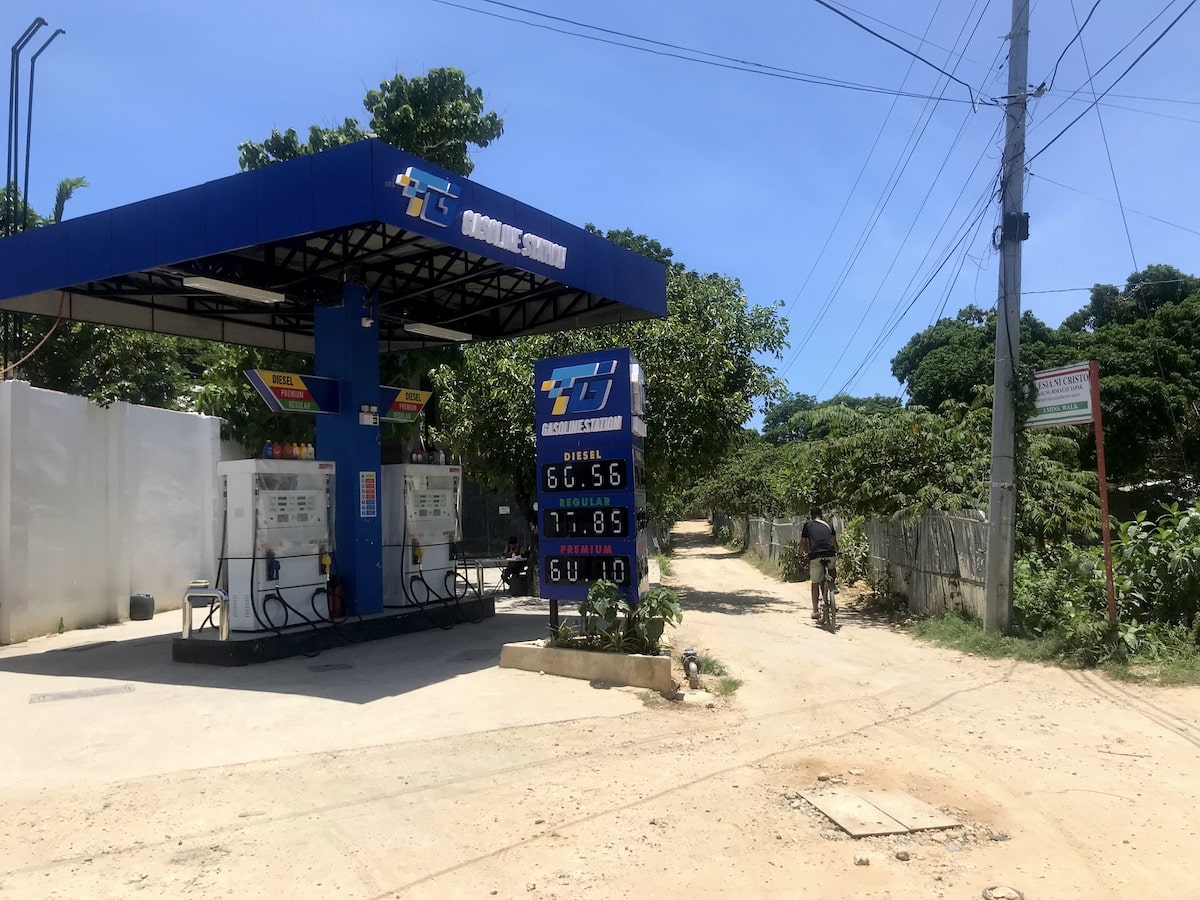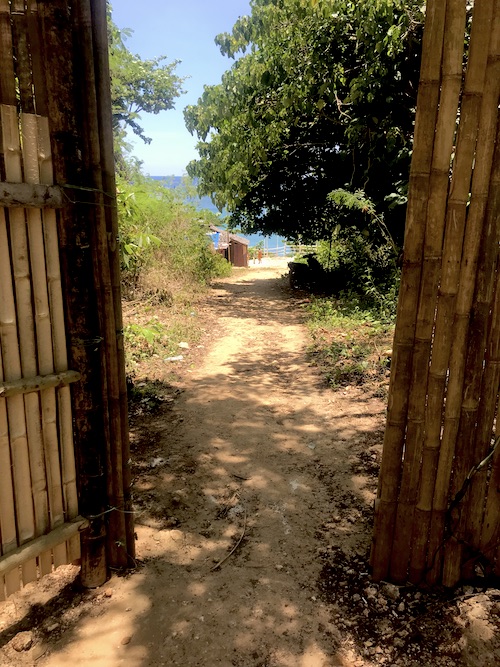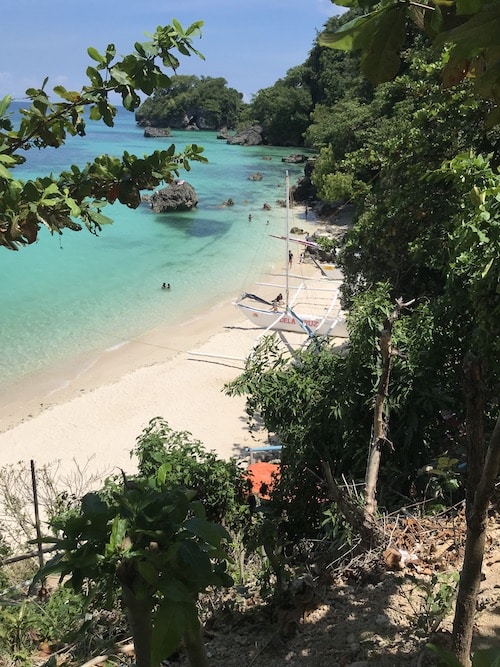 It took us a bit of time to find the next beach, my wife asking locals regularly. There was a lot of road construction going on at the time, so perhaps because of that some parts were harder to get to, in any case, take a right at the gas station and it is an easy enough ride to this beach.
After we finished droning and drinking my beers, it so happened that the local official sauntered onto the beach and informed my wife there is a 2,000p fine for drinking on the beach. He probably would have not permitted the flying of the drone either, so exercise caution as usual. Reasonably priced beer at the restaurant before you descend the stairs down to the beach.
Diniwid Beach
The next logical location was Diniwid Beach. As a Czech I heard a surprising proportion of Slavs (Russians, Slovakians etc) chatting. During my travels around the world, I find they like to collect in similar places, if you are interested in meeting something more exotic.
Anyway, another chill hangout where I could fly my drone and drink beer on the beach. But after hiring a sailboat the next day:
I decided a good one day activity was to start early in the morning, starting at Station 3 of White Beach and ending on this Diniwid Beach, to spend the rest of the day on a casual stroll southward along the White Beach. You can dive into any one of the numerous cafes and restaurants along the way, and they are actually significantly less expensive at the northern end around Station 3.
These sailboats are most popularly used during sunset, when they are most expensive due to demand. But you can equally see the same beautiful sunset while lounging on the beach or nibbling and sipping in an ocean-side restaurant. Plus you will probably have to join others, so I did not see the charm in it. And the time limit is half an hour. However, if you start early morning you can get a good deal and sail for at least an hour, and they can drop you off at Diniwid Beach to start your long lazy stroll back down along White Beach over the daytime.
If you would be interested in reserving one of these boats in advance, we can arrange this for you, simply contact us.
Synopsis of island motorbike tour
Excluding the last beach I mentioned above, Diniwid Beach, if you had a limited time I'd say you could hit the middle three beaches with a motorcycle, skip the first one and get to the last one the next day by the sailboat trip, so that from there you can walk back along the coast to the main beach. It is a nice walk and lots of cheap places to stop and have a beer!
If you have some extra time, there are plenty of places to see in this beautiful country of 7,000 islands and we would be happy to give you our advice on other places to see. Palawan is not far away so perhaps you could squeeze in one of our boat tours in the area. Just give us a shout and we'll see what we can come up for you!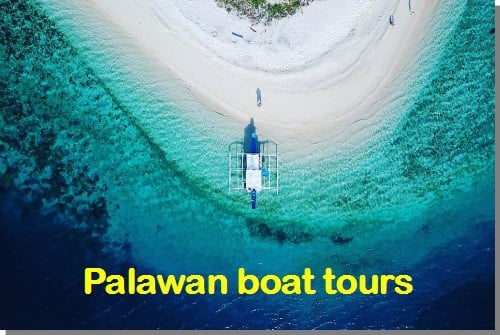 Experience the thrill of island hopping in the Philippines
Watersport And Outdoor Activities
Whether you're looking for a relaxing activity like parawsailing or a thrilling one like helmet diving, parasailing, paddle boarding, jet skiing, banana boating, and more, Boracay has it all.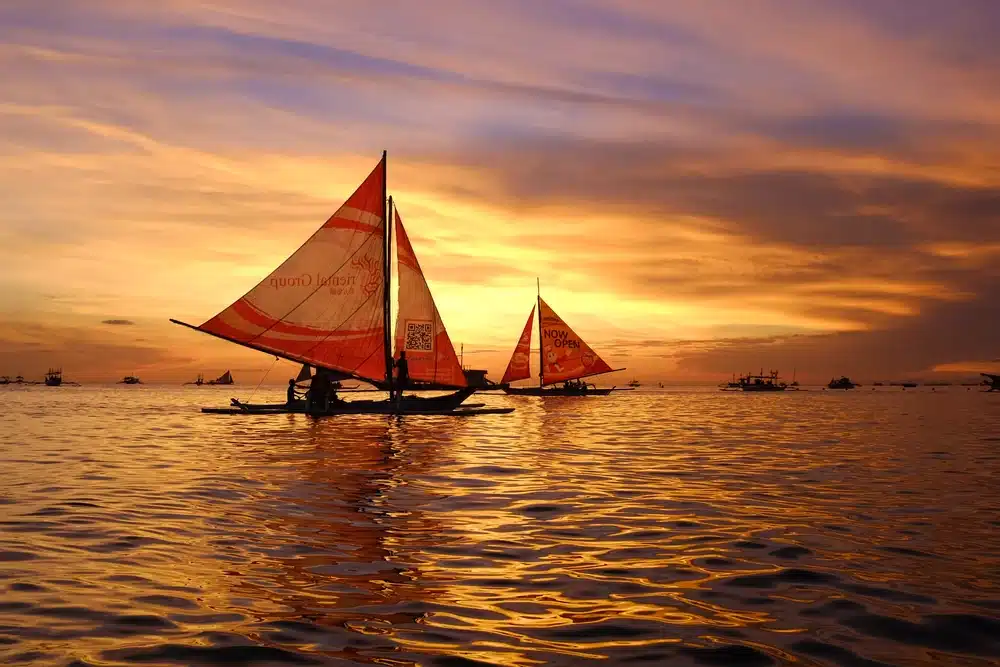 Thanks to its ideal wind conditions, the island is also a popular destination for windsurfers and kitesurfers. And divers will love the many great dive spots in and around Boracay. World-famous diving sites including Yapak Wall, Virgin Drop, Camia, Tribird, Punta Bunga, and Crocodile Island are just a short boat trip away, along with more than 20 more.
Crystal kayaking is a relatively new attraction on the island. A tour guide can take you out on the water so you can shoot photos for social media with the crystal blue waters of Boracay as a backdrop.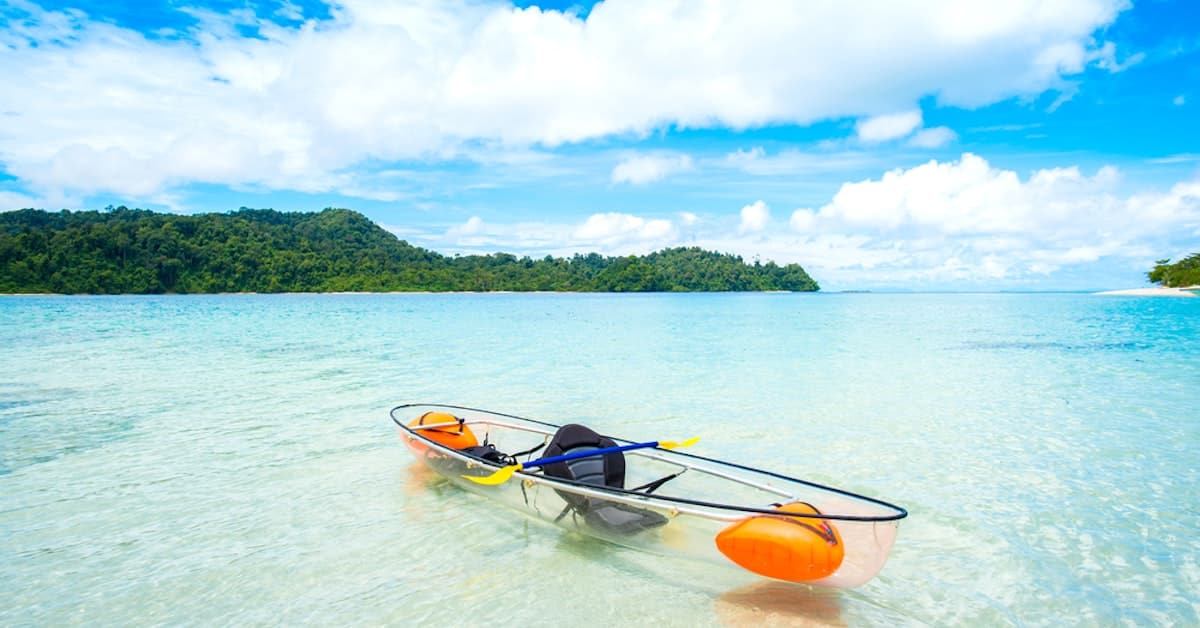 Nightlife Walk in Boracay
Boracay's party scene is known for being extravagant. Boracay is a popular destination for those looking to get their party on till the wee hours of the morning. Some bars on White Beach have "buy one, get one free" drink discounts from 4 until 9 o'clock at night, making this city's happy hours among the longest in the world. Most of them are open till 3 or 4 in the morning.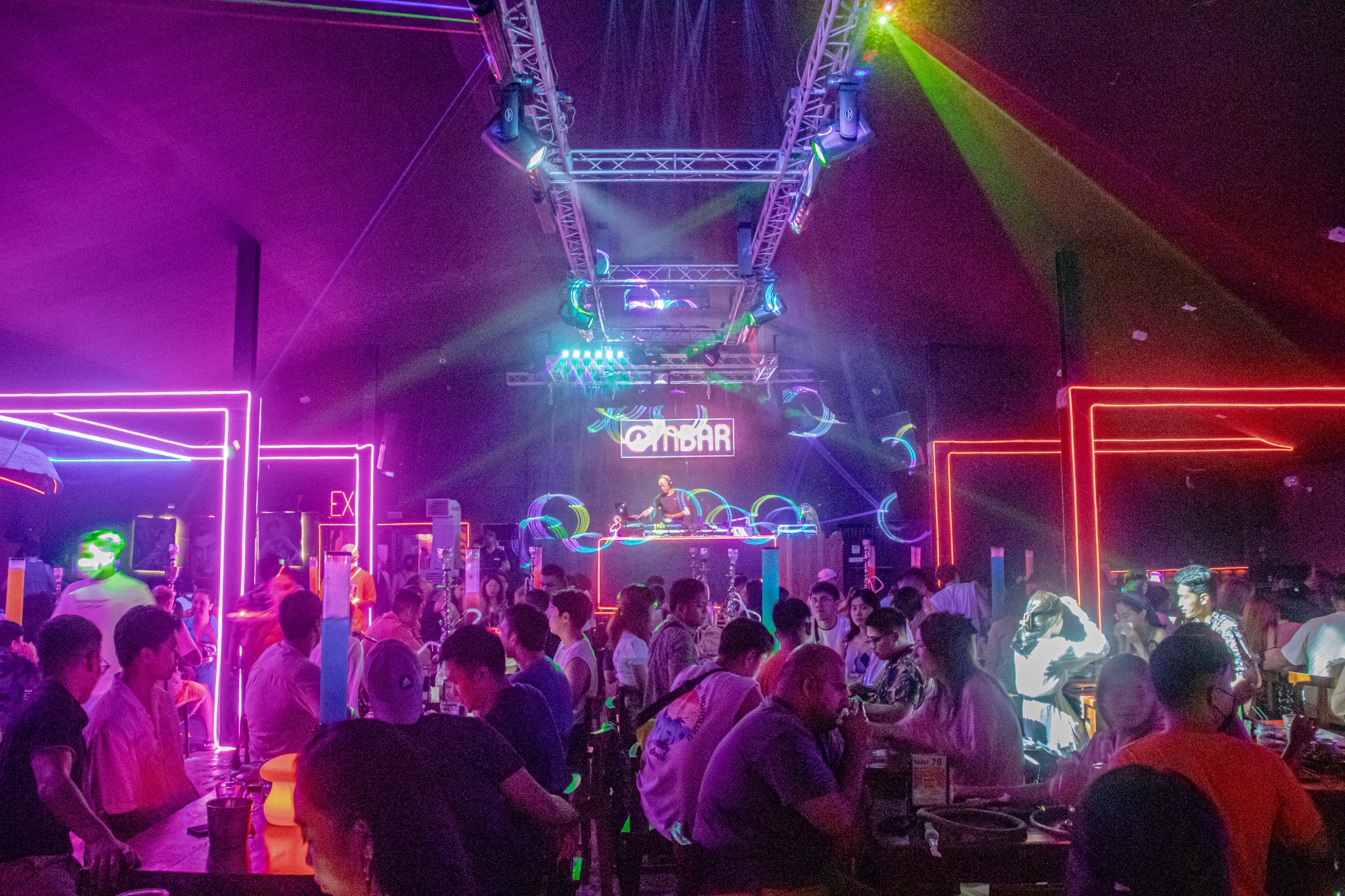 Numerous nightclubs and bars may be found at White Beach such as Epic Boracay, Boracay PubCrawl, OM Boracay Bar, Club Galaxy, Boracay Sports Bar, and a lot to mention. Bars in the first and second subway stops are more popular, have louder music, and feature DJs and live bands. The bars in the Station 3 area are more chill, with a few local hangouts frequented by travelers. Personally, our favourite was Exit Bar. A really nice reggae live band played every night, totally chill and we met some great people. But hey, we're a family with a three year old son and the single's dance scene is just not so interesting for us. And with beach sand for a floor, our son had a great time within our view!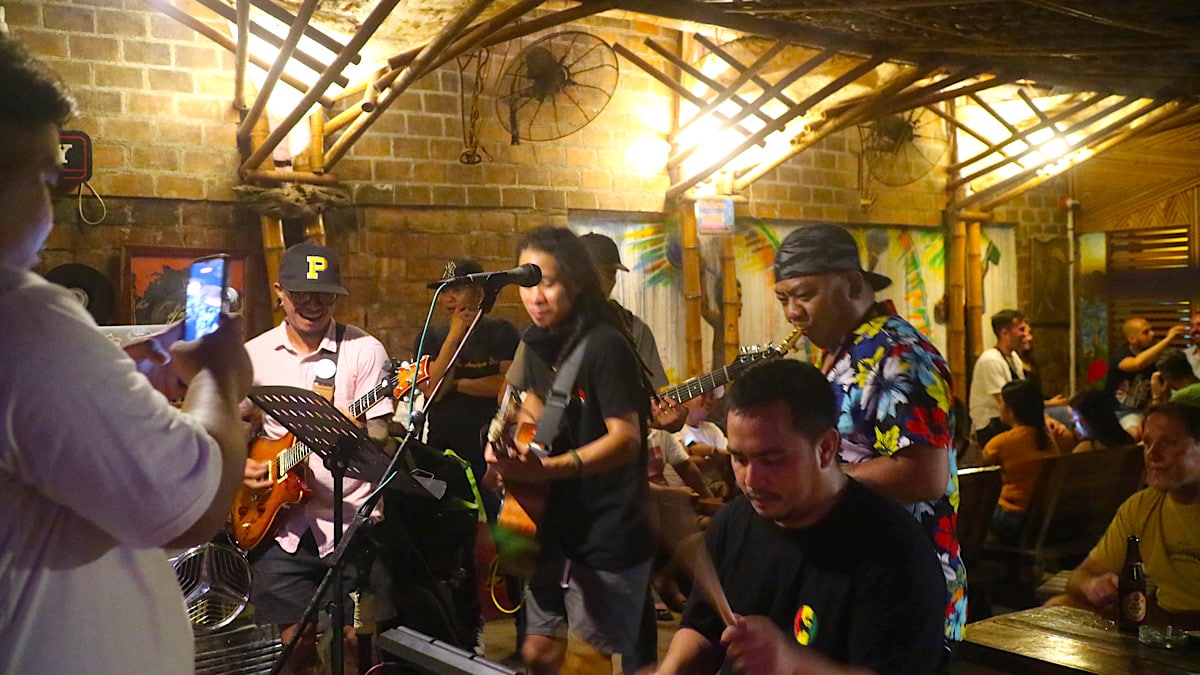 Conclusion to best activities in Boracay
Boracay Island, located in the Visayan region of the Philippines, is a popular vacation spot due to its stunning natural beauty and clean beach conditions. This Island is particularly stunning because of the rich marine life and coral reefs that surround it.
It's impossible to get bored in this fantastic tourist spot, as there are so many things to do during the day and so many places to unwind at night, from luxurious spas to lively bars.
Among the world's islands, it ranks among the very best destinations. Under the stars, on the pure white sand, you may relax to the sound of crashing waves and have a meaningful conversation. Relax and forget about your troubles as you sip on some refreshing tropical drinks. Then, arrange a trip to the island that never sleeps with your loved ones.
Restaurant Guide to Boracay
A beautiful fine-sand beach and exciting water sports like sailboarding, parasailing, and crystal kayaking are just a few of the reasons Boracay is so well-known. Although it is known for its Filipino restaurants, it also boasts a wide variety of other restaurants serving Chinese, Japanese, Moroccan, Mediterranean, and other cuisines.
Here is a list of the greatest Boracay restaurants you should visit if you're planning a trip there. We've included our favorite spots, as well as some of Boracay's other best-reviewed eateries.
Cafe Maruja, Boracay Island
At Cafe Maruja, a charming neighborhood hangout near Station 3, you can bask in the warmth of summer any time of year. The smoothie bowls at Cafe Maruja are well-known for both their aesthetic appeal and their wonderful flavor. You can also get burgers, pizza, crepes, toast, and buddha bowls there. Juices, fruit shakes, and coffee are just a few of the many drink options available.
Both vegans and pescatarians can enjoy their meals at Cafe Maruja.
We love eating here so much that it's become one of our top recommendations for Boracay dining. You can't go wrong with any selection, as everything is nutritious, tasty, and, did we mention, Instagrammable?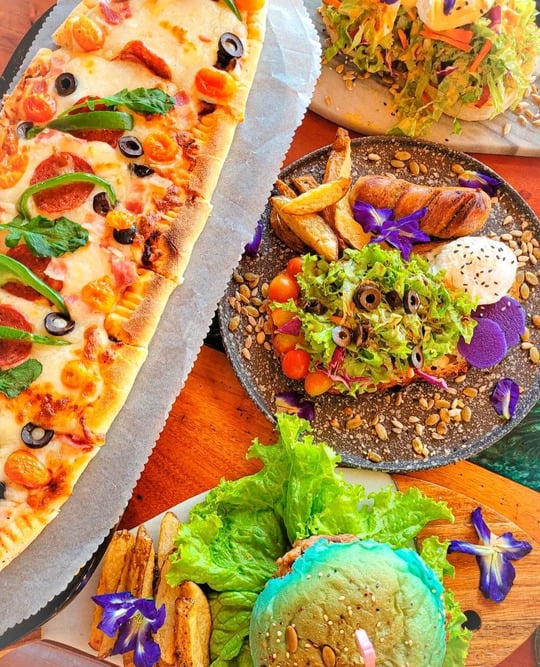 Locale: On the sands of Station 3
SpiceBird
Try out SpiceBird at Terminal 2 for some delicious peri-peri chicken. The restaurant's signature peri-peri sauce is used to season chicken, pig, and shrimp platters and has earned the restaurant widespread acclaim. Scallops and other shellfish, sandwiches, and vegetarian dishes are also available.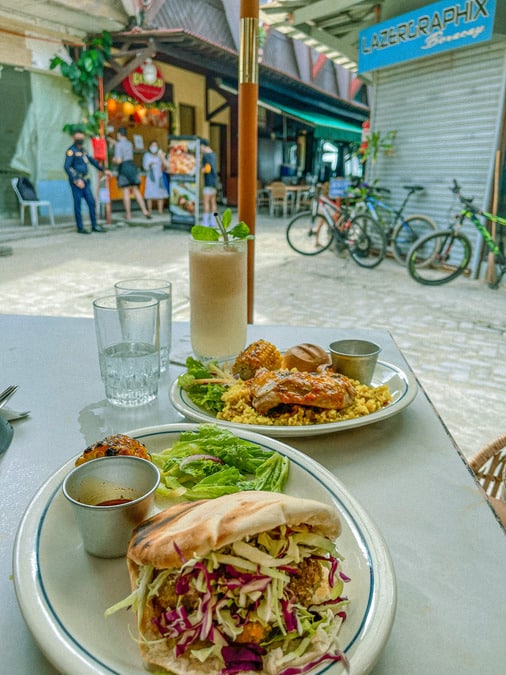 One of the best restaurants on the island of Boracay is called SpiceBird. As a result, lines may form, especially during busier times.
The restaurant can be found at D'Mall Station 2.
Nalka Seafood Restaurant
The seafood at Nalka is some of the best on Boracay. Both an a la carte menu and an endless seafood buffet are available. This is a great place to go if you enjoy seafood.
We provide a wide variety of freshly caught seafood that can be prepared in a variety of ways, including fish, oysters, shrimp, scallops, mussels, and more. Beef, hog, and chicken meals are also available. Finally, there are sweet treats to choose from so that the meal can end on a high note.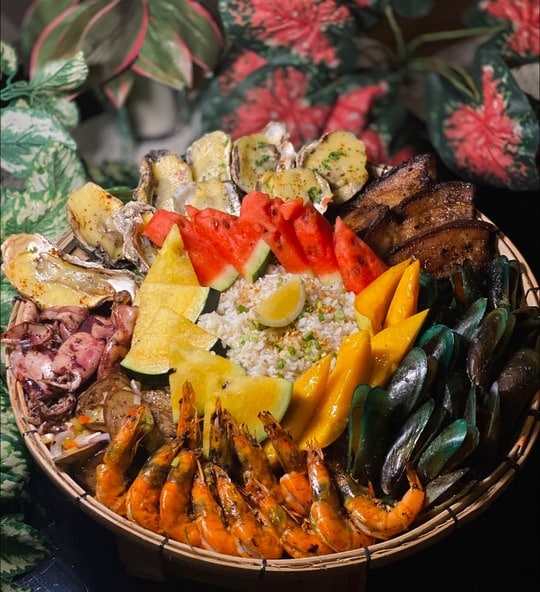 Nalka is a terrific option for those who wish to enjoy a meal while gazing at the beautiful Boracay sunset because it serves some of the island's greatest seafood and has one of the nicest views from any restaurant in Station 1.
Location: Station 1 beachfront
Meze Wrap
Despite its low price tag, Meze Wrap is often voted as one of Boracay's best restaurants. Each bite of their Mediterranean fare is packed with flavor thanks to the generous use of spices. You can have pita and hummus or tahini sauce to go with your rice, kebabs, or any of their other rice dishes. Not sure what to get? Kebabs, grilled pork belly, and a side of hummus or kofta and cheese dip are safe bets.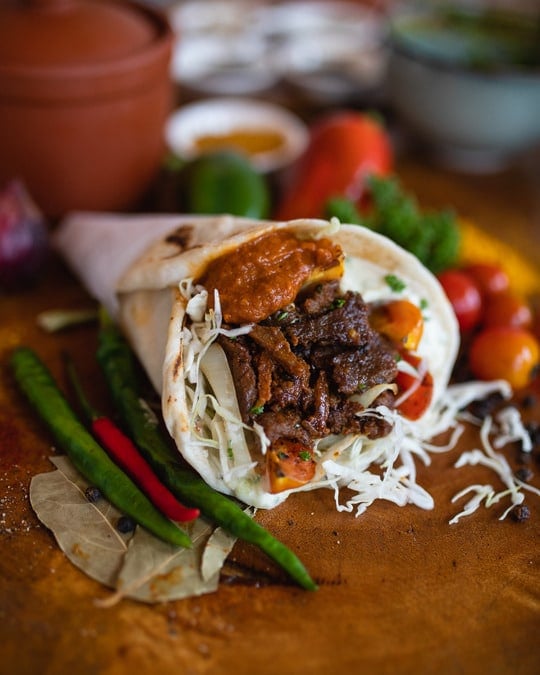 Meze Wrap is well-known not only for its delicious cuisine but also for its stunning tropical decor and the open area facing the lake.
Place: on the main road near Station 2
Nagisa Boracay Cafe and Japanese Food
One of Boracay's best-kept secrets is the Nagisa Boracay Cafe and Japanese Food. This outdoor eatery offers authentic Japanese cuisine at prices that are lower than those of most other restaurants on the island.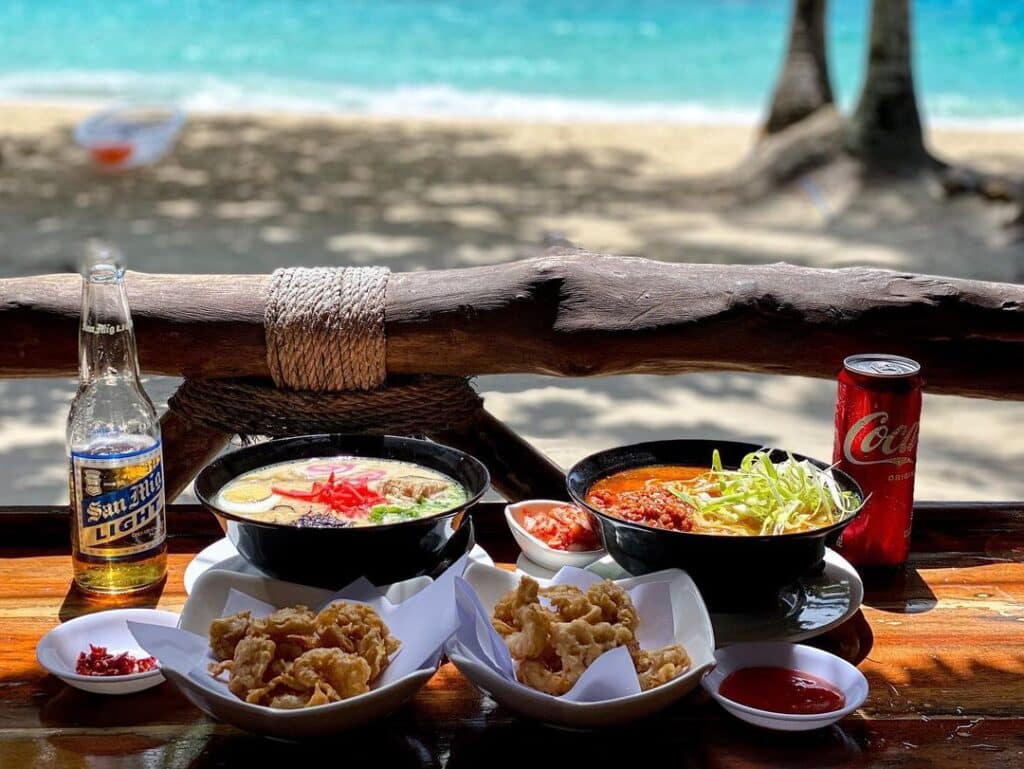 Savor delicious noodle dishes, bento boxes, fried rice, fresh sashimi and sushi, and more. One of the best tuna or sashimi pacchos can be found at this restaurant. The cafe serves a variety of fruit smoothies, cocktails, beer, and hot coffee.
You'll have to go a short distance from Station 2 to get to this eatery, but it'll be well worth it.
Location: on the sands of Station 3
BunBun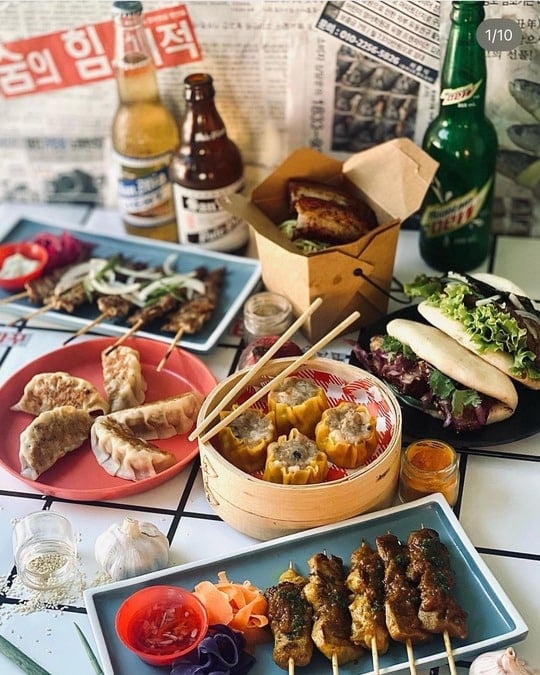 BunBun is a tiny, low-cost eatery that serves a variety of bao buns, skewers, and dumplings in a variety of flavors, all made by the same people that brought you Meze Wrap. They also provide a variety of rice dinners and noodles for those who prefer something heartier. Lychee green tea with yakult is a popular beverage option.
Rooftop dining is available at BunBun and is perfect for twosomes and smaller groups. At night, the restaurant transforms into a picturesque spot with brightly illuminated lanterns.
Location: Balabag Main Road
Sunny Side Café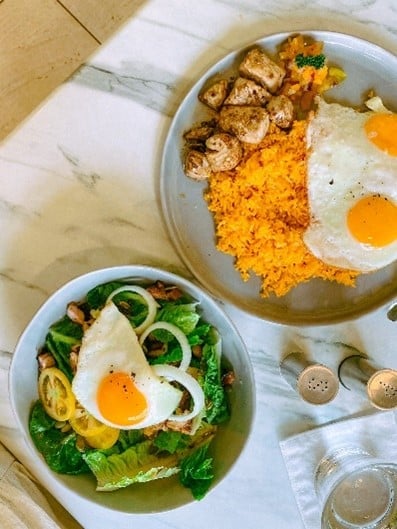 There are two locations of the popular Boracay café, Sunny Side Cafe, at Stations 1 and 3. The chori-burger, grilled cheese sandwich, and pulled pork eggs benedict are signature items at this 24-hour breakfast, bakery, and coffee establishment. Pancakes like the ube pancake and espress-caramel pancake are available for breakfast and brunch. Naturally, a trip there wouldn't be complete without trying some of the locally roasted coffee.
Location: Station 1 and Station 3
Dinibeach Bar and Restaurant
Trying to find a spot with a beautiful beach view and delicious food and drinks? Visit the Dinibeach Bar and Restaurant at Diniwid Beach, not far from Station 1.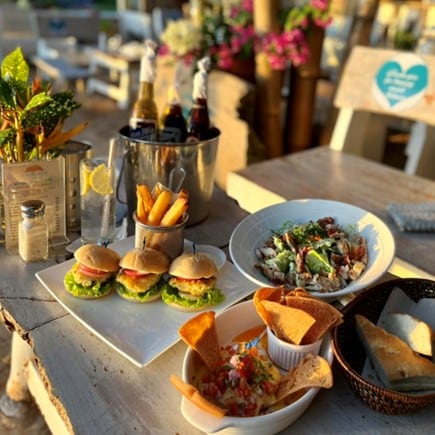 You can choose from a wide variety of seafood, spaghetti, bar chow, and salads at Dinibeach Bar and Restaurant. Fish and chips, tuna kinilaw on pita, and grilled vegetables are just a few of the menu's suggested dishes.
Location: Diniwid Beach
Little Taj
You may enjoy genuine Indian food without booking a plane ticket. Indulge in some authentic Indian cuisine at Boracay's hip Indian restaurant. One of the newest eateries on the island, Little Taj features contemporary and classic Indian fare such as curry, tandoori, biryani, and kathi rolls. Among the many delicious options are tikka masala, butter chicken, beef keema matar, and dal makhani and dal tadka soups.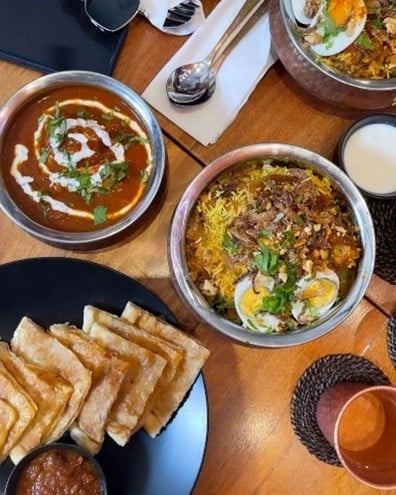 Late-night revelers can also visit the bar at Little Taj. Indian-inspired artisan cocktails are available at the bar. Have no interest in alcoholic beverages? If so, I recommend a traditional lassi or a cup of masala chai.
Location: Station 2 D'Mall
VHub Dampa Seafood Grill and Restaurant
Looking for a cheap way to experience traditional Boracay nightlife? At the reasonably priced VHub Dampa Seafood Grill & Restaurant, you may have a variety of seafood, grilled dishes, and other mains. This is a must-see while in Boracay, as they also have live music and fire dancers.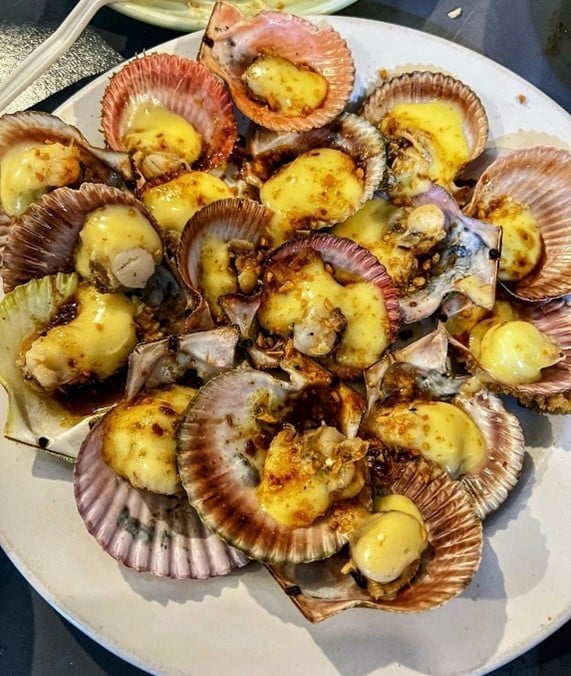 Location: Station 3
Muchos
I highly recommend eating at Muchos, a Boracay establishment that receives too little attention. Mexican street corn, gambas quinotto, and ceviche classico, created with the catch of the day, are just a few of the Latin American delicacies on the menu. Get a margarita, a shot of tequila, or one of their specialty cocktails to drink.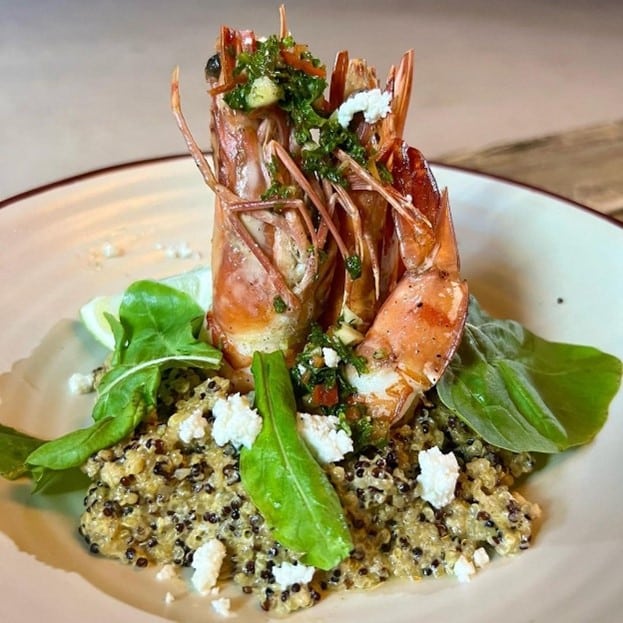 Also, on Tuesdays, they offer a special deal where you can get two street-style tacos for the price of one.
Location: Station 1 beachfront
Mosaic Latin American Grill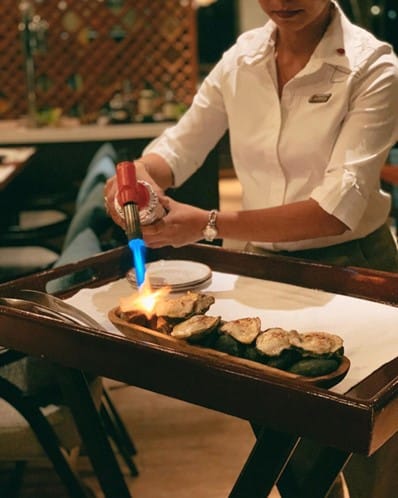 Latin American Grill is an upscale restaurant serving up tasty grills. The Crimson Resort and Spa at Spaceport Zero features several dining options, including this one. The ceiling is made of wooden slats and the walls are made of glass, giving the impression of being under the sea. This is also where the resort's Art on a Plate events take place, where guests may paint while being served a meal and wine.
You should begin by ordering some ceviche. We import premium cuts like the tomahawk, T-bone, and wagyu for our main courses. In addition to Chilean seabass and Iberico pork tenderloin, the restaurant also serves a variety of Peruvian dishes. Depending on what you choose, you can choose from a variety of wines.
Location: Station Zero, Crimson Resort, and Spa
Conga's Restaurant
On the route to Bulabog Beach, you'll find Conga's, a cozy Thai eatery tucked away along a side street. Their menu may be small, but the food is excellent. Pad thai, beef spring rolls, lemongrass chicken, and pomelo salad are all dishes you simply must order.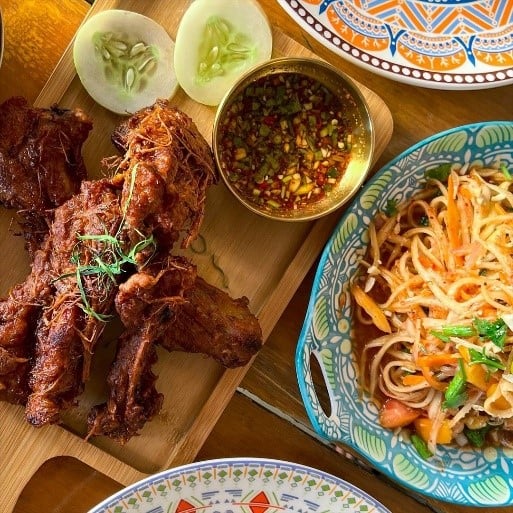 You may also find some of the same Moroccan specialties at the restaurant's sister location, which can be found at Angol in Station 3.
Location: Station 2 and Station 3
Nonie's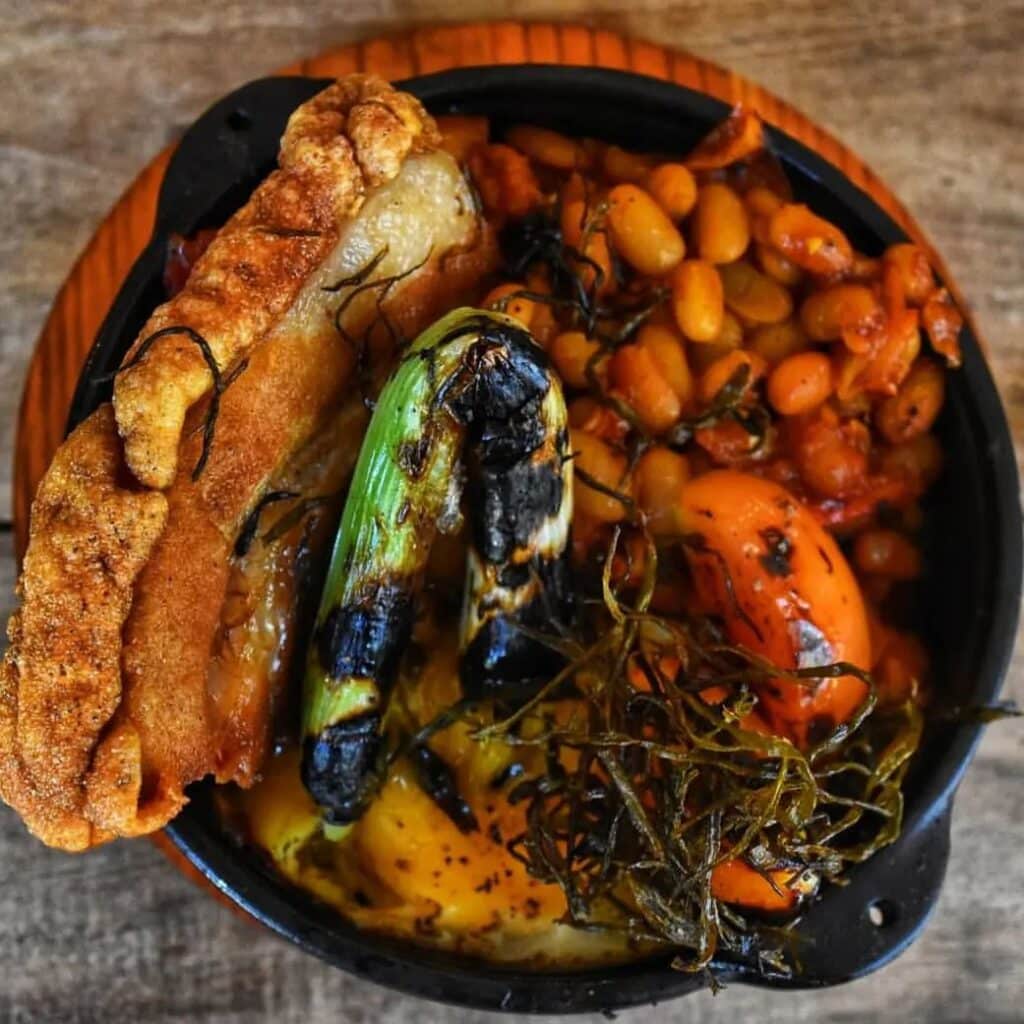 Pork and Beans
"Eat Good, Feel Good" is the guiding principle of Nonie's life. They offer tasty dishes prepared using ingredients that are all-natural, organic, and sourced from within a reasonable distance. The Chicken Longganisa Grain Bowl, the Tuna Tataki Grain Bowl, the Pork and Beans with their famous pork belly, and the Mango and Banana Smoothie Bowl are just a few of their most popular items.
Consume these nutritious treats with cold-pressed juice, fruit shake, or kombucha. Guests can also order cocktails with a Filipino twist.
Location: Station X, Hue Hotels and Resorts
Dos Mestizos Boracay
Dos Mestizos Boracay, which has been there for a decade, is a well-liked eatery known for its authentic Spanish fare. In addition to traditional Filipino flavors, they also use certain imported components. Although it's on the pricier side, the reviews suggest it's well worth the cost.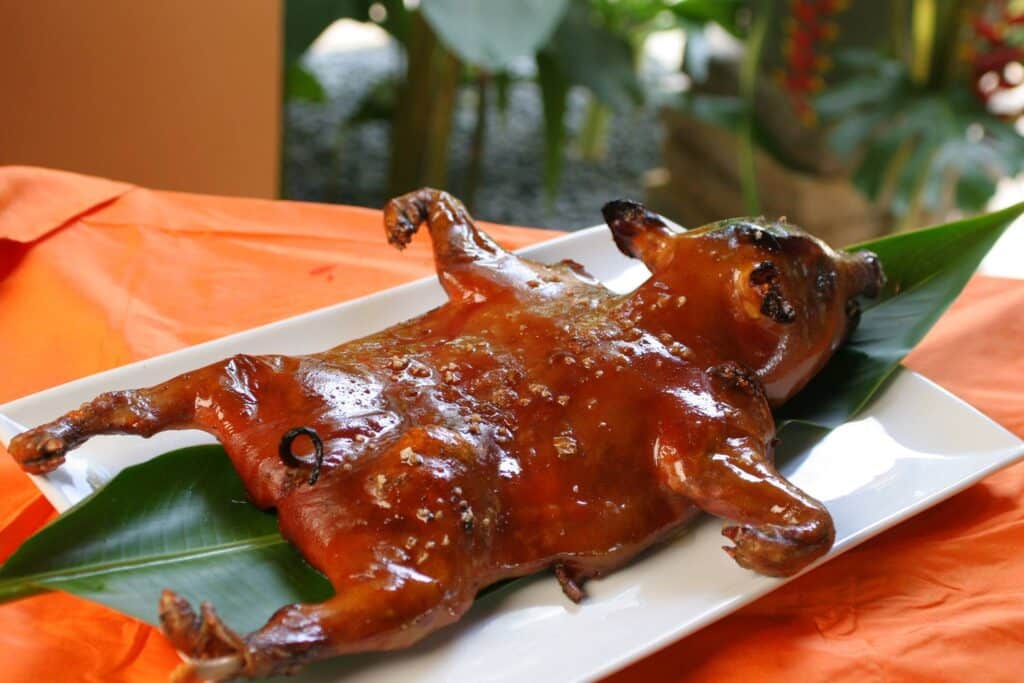 Tapas, paella, and other crowd-pleasers like Lengua de Vaca, Cochinillo, and Pollo Al Aljillo can all be found on the menu here.
Location: Station 1
Food Tips
Have you set a spending limit for yourself? Despite Boracay's high prices, it is possible to find affordable restaurants. There are a variety of restaurants, from fast food chains like Jollibee, McDonald's, and Mang Inasal to more casual dining establishments, lining the side streets of the Philippines.
Are you hungry but don't know what to eat? D'Mall has a wide variety of eating establishments for you to choose from. D'Talipapa, a wet market selling fish and other ingredients, may be found here as well. While some guests enjoy preparing dishes at their hotel, the vast majority opt for the "paluto service" (cooking service) offered by local eateries.
Are you interested in watching a fire dance? It would be a shame to visit Boracay and miss out on the chance to see some fire dance. Fire dancing is still performed in some nightclubs and pubs, despite being banned
Our own experience
Because we live full time in the Philippines, during our recent anniversary celebration on the island, we decided to try out the best rated foreign cuisine according to Tripadvisor. The following is our reviews. Needless to say, pretty well everything was delicious on the island!
Kasbar Moroccan Restaurant
The first and most foreign exotic restaurant we could find. Everything was superbly delicious. Our friends showed up later but forgot to take a video of how they fired a flame onto the cheese of their pizza to give it a bit of yummy crisp.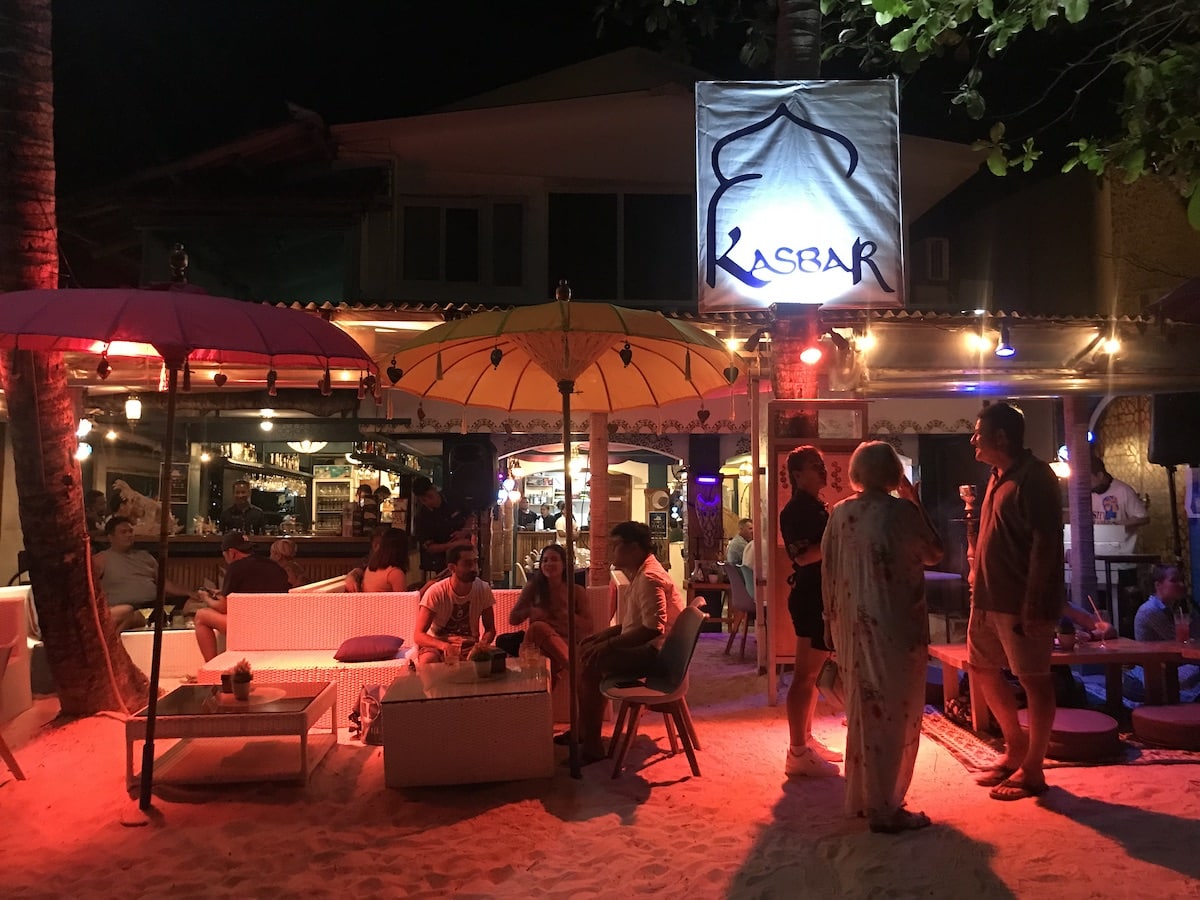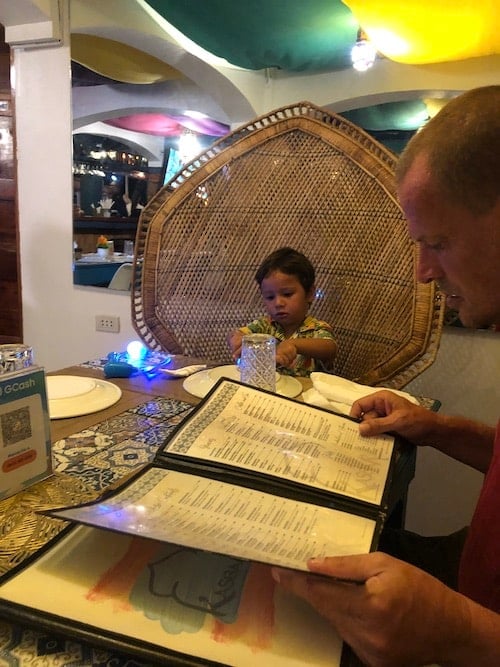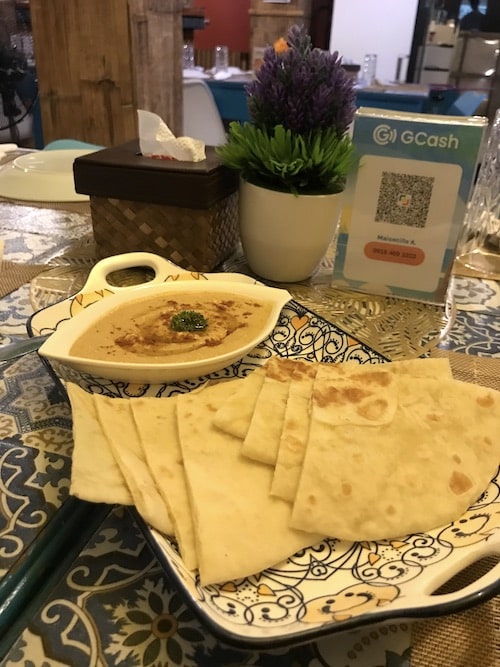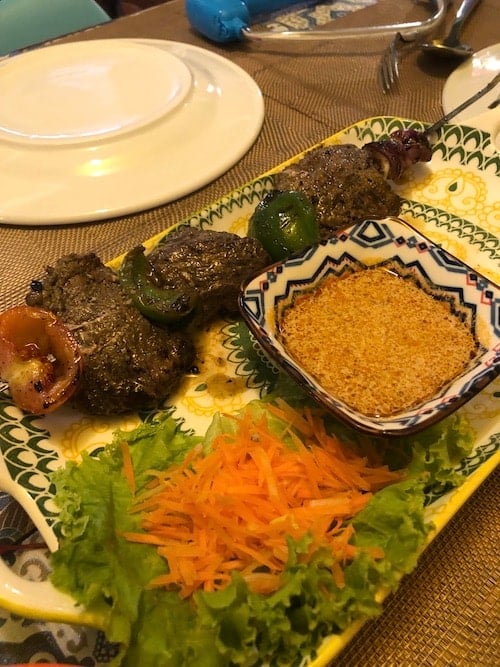 Where to Stay in Boracay Island
White Beach, located on the island of Boracay, is a 3-kilometer stretch of white sand that has gained international fame. Every section of White Beach has its own name: Station 1, Station 2, and Station 3. Getting from Station 1 to Station 3 on foot will take roughly 30 minutes.
Station 1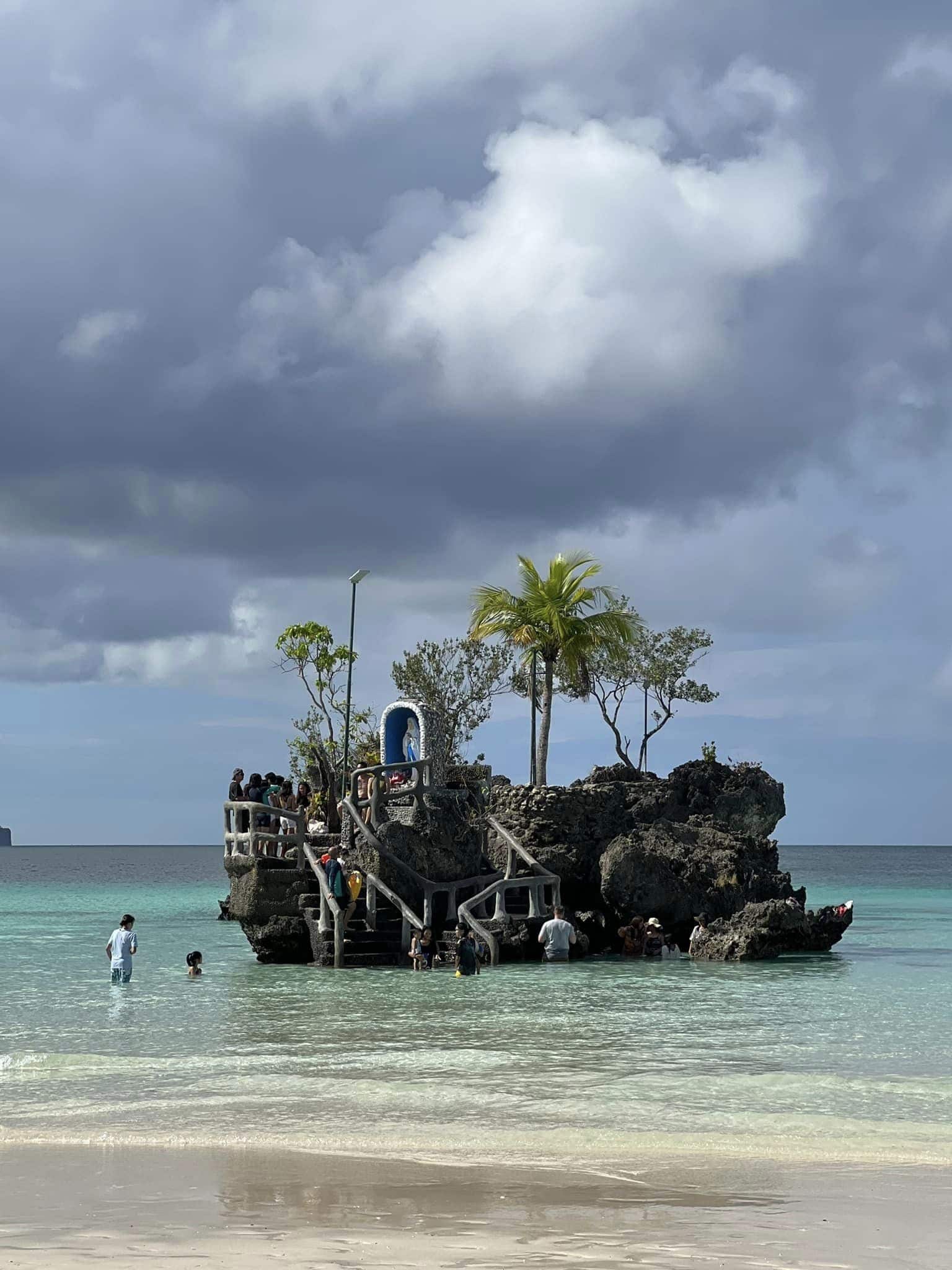 It's recommended that visitors stay at Station 1. It is peaceful, tranquil, and features luxurious seaside hotels. The area is also home to the well-known landmark known as Willy's Rock.
Station 2
Boracay's primary transportation hub is located at Station 2. If you prefer to be in the thick of everything, this is your best bet. A wide variety of stores, eateries and entertainment options may be found there. In terms of room rates, it provides a range from moderate to upscale.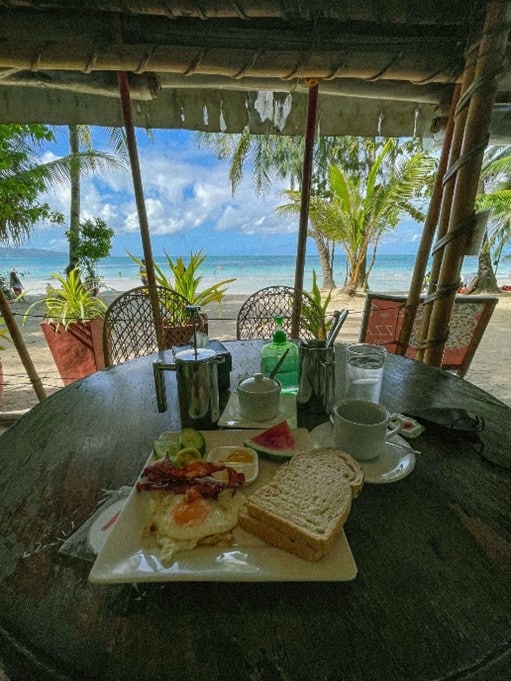 Station 3
To stay on a budget while yet being in a serene portion of Boracay, go no further than Station 3. Although there are fewer places to eat and shop, this section of the beach is rarely busy, and it only takes a few minutes to walk to Station 2.
Station Zero
Aside from these stops, you may reach exclusive 5-star hotels like Crimson Resort & Spa Boracay by transferring to Station Zero. Book a stay at one of the island's alternative beaches or resorts in the mountains if you're seeking for a more tranquil vacation. Boracay also has a number of party hostels for lone travelers who are looking to meet people.
Aira Resort – kitesurfing side of the island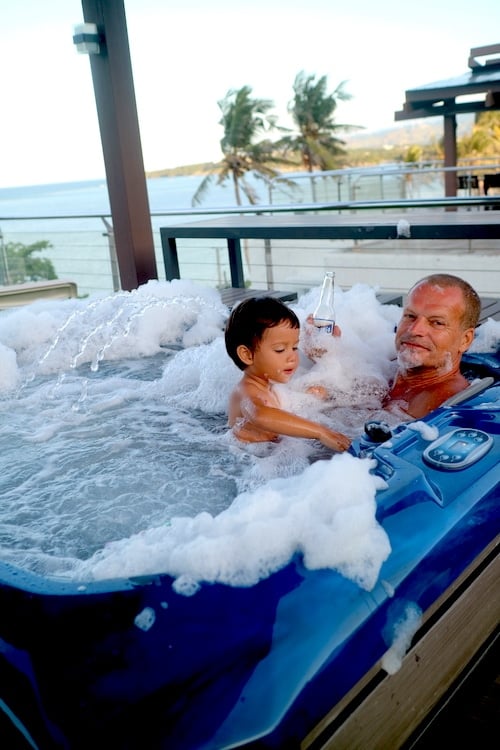 If you want to stay on the other side of the island, still in the main town but where all the kitesurfing action takes place, as it is on the windy side of the island, you can check out our drone shots of this nice place.
The Best Way to Get to Boracay Island
The island of Boracay lies in the Philippine province of Aklan. Caticlan and Kalibo International Airports are both relatively close by. After landing at either airport, make your way to the Caticlan Jetty Port to catch a ferry to the island.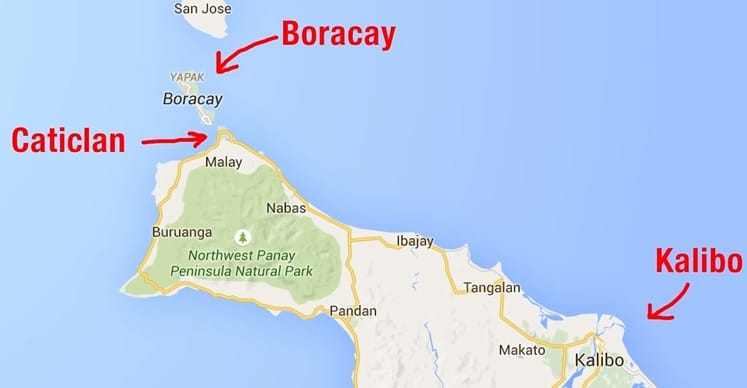 From Caticlan
Since Caticlan is only 30 minutes away from Boracay, it serves as the island's primary entry point. There are tricycles ready to carry you from Caticlan Airport to the jetty port. There is a P50 charge for each rider.
From Kalibo
Many low-cost vacationers choose Kalibo as their destination. It's about a two-hour boat ride from the island paradise of Boracay. The airport at Kalibo is serviced by vans that travel to the port. Cost is roughly P250-P300 per person.
Caticlan Jetty Port to Boracay Island
In order to board a boat, you must first check in at Caticlan Jetty Port and pay the required costs. It takes roughly 15 minutes to get to Boracay via boat. Crossings are offered every day, beginning at 4 AM and ending at 10 PM.
Terminal Fee                     Php 100.00
Environmental Fee        Php 150.00 (Local)
Php 300.00 (Tourist)
Boat Fare                            Php 50.00
Boracay Island's e-trikes are ready to whisk you away to either Station 1 or Station 2 upon your arrival. You can either split the fare with other riders or hire the tricycle for yourself. Each passenger will pay P30, and the cost to charter the entire e-trike will be P150.
Keep in mind that cars are only allowed to drop off passengers along the main highways, so even if you book a beachfront hotel, you may still have to walk. It may be more convenient to arrange for transport from your hotel if you have a lot of bags.
But if you do not want to spend your entire vacation in Boracay alone, we have recommendations how you can incorporate your stay there while visiting some of the other very beautiful areas in this country.
Frequently Asked Questions About Boracay Island
When is the best time to visit: Boracay is a famous tourist spot any time of year. As a result, the island is always bustling with visitors. Specifically, the months of July through November constitute the off-season. During this time, many hotels and resorts offer discounted rates. The months of February and late May/early June, the shoulder season, are also slow. It's common for tourist attractions like island hopping and helmet diving to have large queues throughout the summer and around the holidays.
Ways to get around: From Terminal 1 to Terminal 3 is a walkable distance. Transportation on tricycles is also widespread.
Cash Machines: ATMs are available on the island. GCash is accepted at a wide variety of locations.
Have we missed anything in this Boracay Island Guide? Leave a comment and tell us what you think!
Or, if you decide to check out Palawan, our small family operation organizes private custom boat tours through the Palawan area, voted the best island in the world, with its 52 pristine white sand beaches and some of the clearest waters in the world.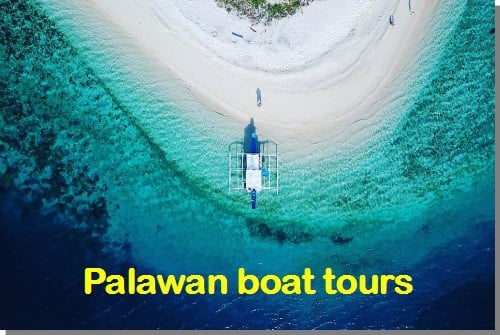 Experience the thrill of island hopping in the Philippines