Home
»
Palawan » coron »
Ferries, private tours and flight information on this page:
Table of contents
Introduction to Linapacan, 52 islands between Coron and El Nido
Ferries
Private Tours
Flights
Getting to Borneo
Cuyo
Introduction to Linapacan, 52 islands between Coron and El Nido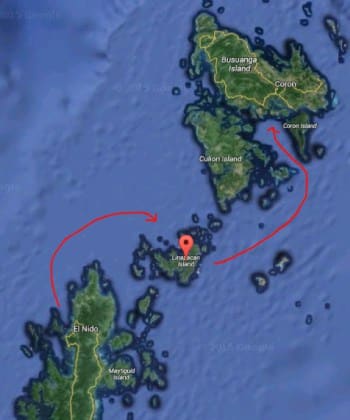 Linapacan is a beautiful area off the beaten path and about half way between El Nido and Coron, as shown in these beautiful videos. The easiest and least expensive way to get here is by Jessabel and Bunso ferries (details below). Big safe banca boats with capacity for 80 people, but they might not make a regular stop in our harbour.
A second option is to take the Marfye's ferry from San Fernando, a small town about one hour van ride east of El Nido. There is another ferry called Lara running every Monday, Wednesday and Friday between San Fernando and San Miguel in Linapacan, contact Sir Rruel Llado at +63 939 925 6218 for reservations. For other options you can contact Dory at +63 920 954 8991.
To get from El Nido to Sibaltan, one van service is Leila Baja at 09753868473 / 09753006616, 200p per person or 2,500p for special commission.
If you need to get here from Coron when Jessabel is not operational, I can possibly organise a small boat for 4,000p, capacity for 2, or a larger private boat for 8,000 (can include a little island hopping). Same prices apply from San Fernando, details here.
Then there is the Atienza ferry which runs between Manila and Linapacan (apparently does not stop in Coron), and now apparently also between El Nido and Linapacan (check details below).
You can also try the beach of San Fernando or the public market in Coron and ask different boats, but the coast guard is getting strict about boats having the proper permits to take foreign passengers, so you will have to be surreptitious about your endeavours or actual departure. Or perhaps wear a burka??
Private tour between El Nido and Coron
And lastly but most interesting, you can hire a private boat (depending on the number of passengers, can be less than $20 a day), between El Nido and Coron. There are tons of beautiful islands and things to explore, such as caves, the Spanish fortress, cliff diving into the ocean, and fantastic snorkeling in the clearest waters in the world.
Or click here if you are interested in booking some local Coron tours, or around El Nido.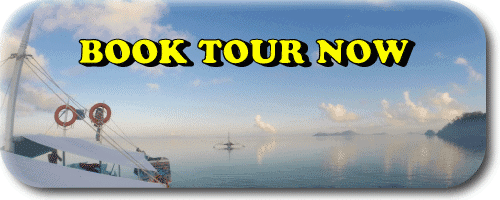 Ferries between El Nido and Coron and from/to Manila
Mbca Jessabel Ferry
Their numbers are +63 918 967 6838 and +63 917 655 5915 and they can even help arrange van or bus pickup for you. Or arrange ferries to Manila, Puerto Princesa or Mindoro. If in Coron you can find them here:
Or in El Nido you can get tickets and details from The Og's Pension or The Artcafe Boutique near the pier.
Jessabel on Facebook.
Atienza Shipping Lines Ferry

(contact below)
Click on to zoom in
Pictures below from their Coron office, March 2018:
Below picture taken of schedule at the Coron office, but everything seems to have shifted one day forward, the ferry from Linapacan to Manila now leaving every Tuesday at 11:00 a.m. Best to always call them.
[email protected], their facebook, Manila office: 0999 881 7266, 986 3118, Palawan office: 0939 912 6840, 0998 881 7226 (best to call them as they do not seem to respond to emails), Linapacan: 0909 2022 079.
For their boat going to Linapacan, called MV May Lillies, you can check out that link for more info online. But be warned, at 14.5 km/hr, make sure to bring a deck of cards with you!
According to the latest inside scoop from Dory (contact above), MV May Lillies now leaves from El Nido To Linapacan on Tuesdays at 8pm, leaves from Linapacan to Manila 10am Wednesday, and leaves Linapacan to El Nido on Sunday at 2am.
Their latest info sent to me on September 8, 2022:
M/V SEPTEMBER TULIPS
Every Tuesday, Thursday and Saturday
(T, Th, S)
Coron to El Nido at 7:00 AM
El Nido to Coron at 12:30 PM
Rates:
Regular: 2,816.00
Student/PWD: 2,253.00
Senior: 2,011.00
3-7 yo: 1,408.00
For travel agencies or referrals, our contracted rate is 200 per passenger.
For inquiries:
Booking: 0928-457-7623
Marketing: 0999-881-7266
Billing/Cargo Rate Inquiry: 0917-633-2099
Ticketing: 0998-532-6553
Branches:
Coron: 0939-912-6840
El Nido: 0998-881-7226
Marfye Ferry

 
Runs between San Fernando (about an hour by van east of El Nido) and Linapacan (no longer goes to Coron).
Contact: 0910 992 6727, 0907 927 8630, marfivenia caabay <[email protected]>
Bunso Transport Ferry

 (contact below)
Bunso on Facebook – tel: 0907 985 5306
D'Asean Journey Ferry
Contact: 0920 617 4950, 0917 563 1230, 0920 721 0011
Montenegro Lines Ferry
This is a new FAST BOAT but does not stop in Linapacan (although they plan to soon), but if enough people keep asking perhaps they will make it a regular stop, as there is so much to see in this beautiful area and they cruise right by it on their way.
Their website wasn't working when I tried it a few times, and when I sent them an email I received the following automatic information. I called the head office and they confirmed the above information.
For any inquiries and booking reservation please contact our MSLI Travel and Tours (Batangas / Main Office) 0908-571-3984, MSLI Booking Station (El Nido / Ticketing Booth) 0928-826-1645/ 0915-092-0358 and MSLI Booking Station (Coron / Satellite Office) 0917-496-2009/ 0917-520-1993 for any inquiries and booking reservation.
More info and contact to other booking agents on this Tripadvisor thread.
Ferries between Manila and Coron
Although they are slower than flying, a ferry can be more fun and less stressful. There is live entertainment on the 2Go ferry, you sleep comfortably in a bed, leave in the afternoon and arrive at your destination early next morning. At 1,500p it can be the same price as accommodation.
2GO Travel (large ferry)
Please check their webpage for updated schedule
Leaves Manila from Pier 4 Fridays at 5pm – arrives at Coron Saturday 7am.
Leaves Coron Sundays at 4.30pm – arrives at Manila Monday 6.30am
Trunkline : (+63 2) 5287000
E-Mail: [email protected]
https://www.facebook.com/2GoTravel
https://travel.2go.com.ph/Schedules/schedules.asp
Bunso Ferry
CORON – EL NIDO
Tuesday/Thursday/Friday/Sunday
EL NIDO – CORON
Monday/Wednesday/Friday/Saturday
Booking office downtown Coron/El Nido
Phone: +63 (0) 9103710621
or +63 (0) 9359588273
Atienza Shipping Lines Ferry (freighter)
M/V April Rose, (steel hull) Estimated travel time: 17 hours
Wednesday 4pm MANILA – CORON, Saturday 4pm CORON – MANILA
PHP 1,000 Ordinary / PHP 1,150 Aircon
Pier 5, Manila
Telephone No: +63(0)29863118, +63(0)25368123
Mobile No: +63(0)999-8817266
E-mail address: [email protected]
https://www.atienzashippinglines.net/schedule.htm
Flying in, Flying out
Note that if you are flying into Manila, the domestic flights often depart from a different terminal which can be located in another part of the city and not so quick to get to. Considering immigration, picking up and checking your luggage at the next terminal, the possibility of a delay in your international flight and the distance between the terminals, you should give yourself at least a six hour window between your international and local flights. Ideally, your international flight should arrive early so you wouldn't have to stay overnight in Manila, because there is hardly anything to see there and might as well start your paradise vacation as soon as possible!
Cebu Pacific

 – Several daily flights from Manila, Princesa, Cebu and Davao.
Philippine Airlines – Several daily flights from Manila, Princesa, Cebu.
Air Asia – Manila, Princesa, Cebu.

SkyJet Airlines

 – Boutique airlines with one flight from Manila every day.

Air Juan Airline

 – Small 9 seat charter airline that flies between Coron and Boracay (Tuesday & Saturday) and Coron – Puerto Princesa (Thursday & Sunday). The 45 minute flight costs from P3,499 each way. It also flies between Puerto Princesa and Cuyo, and Boracay and Cuyo (refer to comments at bottom).
Borneo – Palawan
[The following was taken from the internet but from what is now a suspended account:]
If you take Aleson Shipping from Sandakan, Sabah it will not make any stops along the way to Zamboanga. If you take Weesam – they will make deliveries along the way.
I have not yet made the trip with Weesam and likely will not be taking them in the future, because I prefer the open air deck of the Aleson Shipping vessel.
The Superferry does make trips between Zamboanga and General Santos – I have done that trip one time a few years back – we did make a port of call in Cotabato City on the way.
I suggest not driving from Zamboanga through Cotabato City on the way to General Santos. The 2 times that I made this trip on my bike, I did not see any buses at all on the road coming in from the north. Traveling that route is a bit dicey.
The ferries between Surigao City, Mindanao and Liloan, Leyte take about 4 hours and it's a basic run.
Here is an option that might interest you – Sandakan – Zamboanga – Pagadian – Ozamis – (to Mukas by ferry – 45 minutes) – Iligan- Cagayan de Oro – Butuan – Surigao City – Liloan – Sogod – Agas Agas
Getting to Cuyo
Please refer to the top comment below.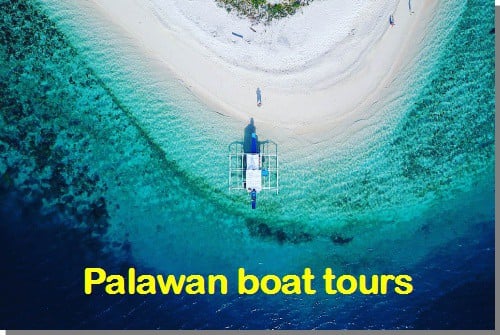 Experience the thrill of island hopping in the Philippines!
Back to Suggested Travel Itinerary for the Palawan Area
Home
»
Palawan » coron »
recommends
I was looking for a personalized excursion to the beautiful bay of Bacuit. Seeing the comments, I contacted Mel. Very responsive, very efficient and perfect organization. The crew were very friendly and very helpful. And I'm not even talking about the meal on board...a marvel. In all fairness, this excursion will remain an excellent memory and I can recommend Mel and his team highly enough. A big thank-you.
André Mardoñal
2019-10-22
recommends
⭐⭐⭐⭐⭐ The island world of Linapacan between Coron and El Nido with the clearest waters in the world is truly a dream for itself! Without a boat you won't be able to see it! But what this boat trips makes so amazing is the crew! Once you come on board they might be shy in the beginning but will make you feel welcome and home from the first moment. Not only that they are looking that you sit comfortable all the time, they will prepare fresh and delicious food what the buy from local markets. They know the best spots and most beautiful islands and will bring you to places where you get this "Robinson Cruisoe feeling". Every day you visit 3 to 5 spots for snorkeling, enjoying a beach or exploring a little island. The accommodation we had was good and simple. We slept in bungalows and tents right at the beach. Sheets and towels were always provided and sometimes towels. After a while you feel like a family on board. We loved living the boat life didn't wanna leave! If you doubt take a longer than shorter trip! For any questions please message me.
recommends
All in all it was a really great experience. It's a once in a lifetime thing to do and you won't get more authentic and basic Philippino experiences anywhere else. We were not so lucky with the wind and waves so we couldn't do all the stops we wanted to unfortunately. So be aware that especially the months from January to May can be very rough on water. But we still saw some great places Benji took us. Benji and his family was very nice and they did everything they could. The food was amazing - always freshly made in authentic Philippino style and way too much for the 2 of us. Make sure to bring enough cash - many of the islands cost extra (entrance fee) and be aware that any kind of accommodation and food (200php per meal) is not included in the boat fee. Also the deposit and commission fee for the agency are a little over the top, especially since the crew does not get any of it. The costs all in all are rather high for phillipino circumstances especially given the basicness of it all. However if you think about that all 5 boat people (in our case) live off of the boat fee alone, you spent the money willingly. Be aware though that accommodation and sanataries are very basic if even existant. So you gotta have the right mindset. Bring tissue, sanatiszer and earplugs to get some better sleep. Another feedback I have concerning the size of the boat. I don't think it is sufficient for more than 4 people. If the weather is like it was these days, you always have to sit on top and it was already a little squeezy with us 2 and 5 boat people. So I guess 4 guests can be fine but more than that won't have the space. There is different boat sizes but make sure to talk about that with Karel in advance. Other than that it was really worth it and we got to see so many great beaches and reefs which we could have never been able to visit without the tour.
recommends
It was scary to book a 5 day trip with no places to stay confirmed or a strong itinerary. And in the Philippines, communication is difficult. But that is part of changing mindsets to a rural island mindset. In the end, everything worked out. We had some tough moments with bugs. But we also had some amazingly beautiful secluded beaches, the best snorkeling in the world, relaxing on the beach, and freshly made food on the boat while docked at beautiful places (better than being on land). Note, we went with Benji. Recommendations: - you must get a local SIM when you arrive to make sure pickup and everything works out - some islands have bugs - use bug spray! Pros: - a fraction of the cost - away from the crowds - can customize what you want - just ask! - a truly local experience - saw a REAL rural town Cons: - locals aren't really polished tour guides - if you don't ask for it, you won't get it, need to be pretty proactive - pretty simple "activities" - no frills like bathrooms or kayaks etc.
recommends
We can't be more grateful to have had the opportunity of experience the peace in Patoyo Kitesurfing Camping! Spending two weeks in Dimancal Island, gave us the chance to experiment the rural and traditional way of life, in touch with the nature and people. We have learnt how to cook with fire, how to open a coconut and how to survive in an environment where for a time we forget about unnecessary needs, just to focus on enjoy the small details and pleasures of life. Mentioning too the amazing snorkeling and beautiful islands around this place, which make it unique​ and special. It is a lovely option if you are running away from tourists and overcrowded places in the Philippines. You will find yourself in the middle of virgin beaches and nature, surrounding​ by charming people. We will definitely come back!
Caroline Danielle
2017-02-13
recommends
We haven't done a Tao tour, but I would suspect that this is a cheaper version of the same thing. Our boat operator (Benji) and the entire crew were were fun, friendly and made an effort to ensure we had a good time. If you get a large group of people together it can be a really inexpensive alternative to other Coron-El Nino and vice versa island hopping tours. The food was good, but more expensive than as advertised by Karl. The price quote we got was 100 php a meal, but the boat charged us 200. Since the food was good we didn't mind the extra expense, but it is important to keep in mind if you're on a budget. Definitely plan for some incidental spending. Our boat did have some mechanical issues and as a result we ended up being stuck in the same place for longer than we wanted to be. That being said, little could have been done about it and the trip was fun nonetheless.
Hauk Are Fjeld
2017-01-01
recommends
If you believe that doing the touristic tours in El Nido and going to "The hidden beach" takes you off the beaten path, you are wrong. There are lots of beautiful places in Palawan, but few of these places are without any other tourists. If you want to spend some extra effort on getting away from the tourist places, and don't mind a little "primitive" living, Island Hopping in the Philippines is definitely something you should check out
Arnold Cabiguen
2015-05-08
recommends
The snorkeling in this area is phenomenal. Clearest waters in the world. I guess it's because there is relatively such lower tourist traffic through here, and the locals really protect the reefs!
recommends
Love it so much, just had to say it twice!