Best snorkeling sites in Palawan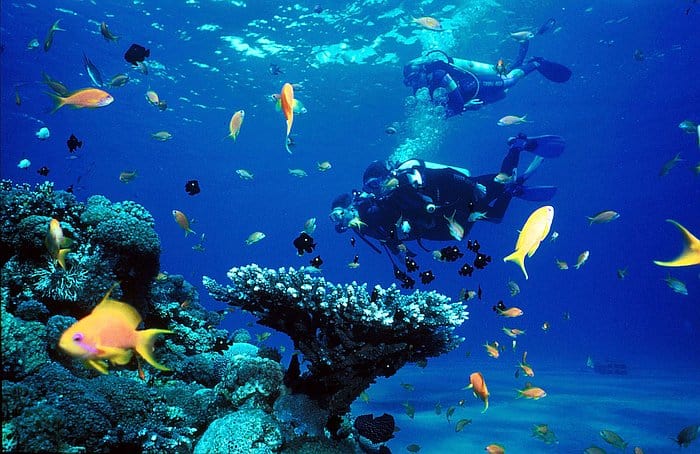 Palawan, known as the Philippines' "Last Frontier", is a paradise for snorkeling enthusiasts. The province is endowed with stunning seascapes, abundant marine life, and pristine water bodies that offer some of the best snorkeling spots in the country. Here are a few of the most popular:
Tubbataha Reefs Natural Park: Located in the middle of the Sulu Sea, this UNESCO World Heritage Site is one of the best dive sites globally. Its coral reefs house a rich diversity of marine life. Due to its location, it's only accessible by liveaboard from mid-March to mid-June.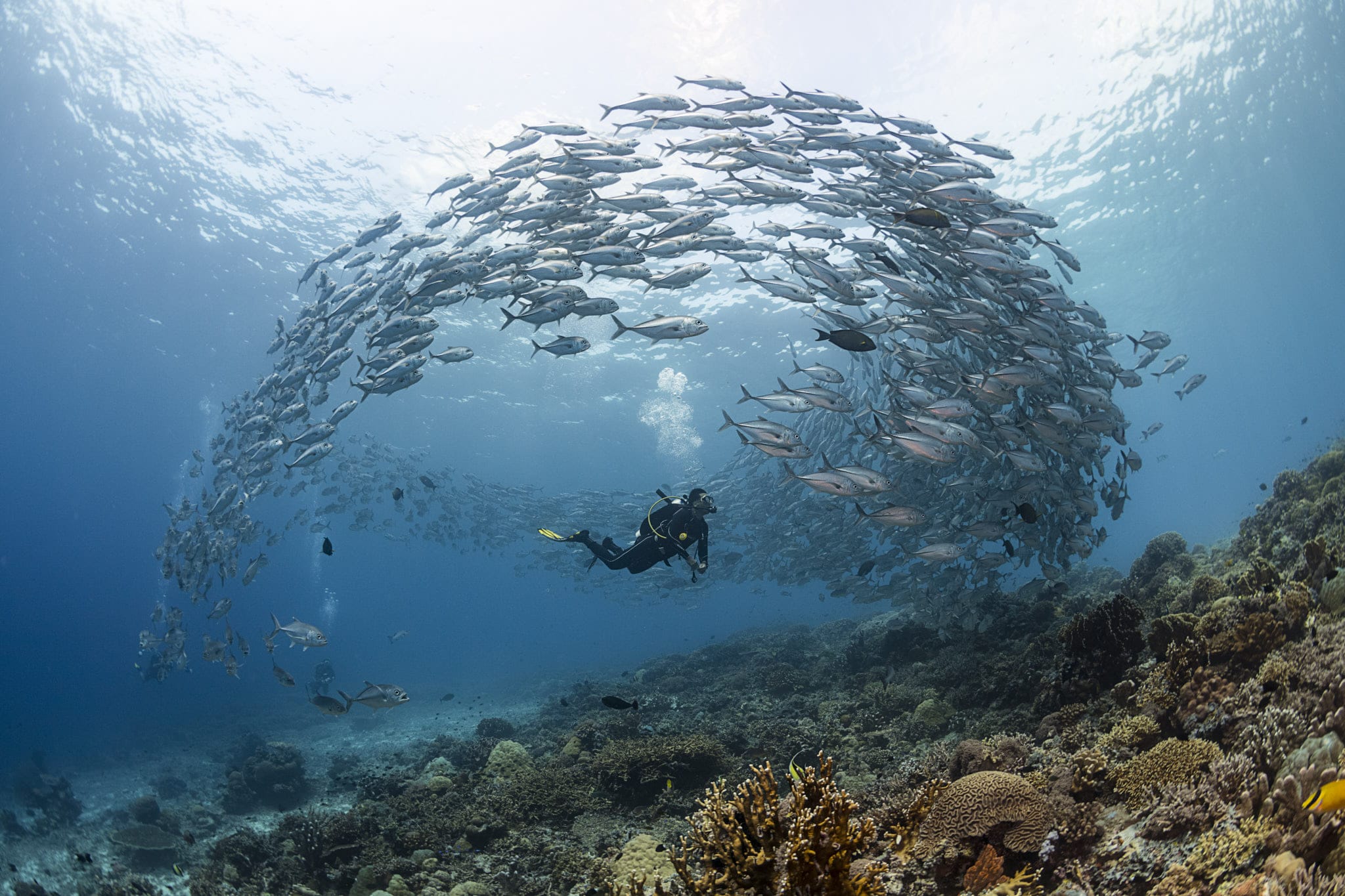 El Nido: El Nido is well known for its limestone cliffs, white sand beaches, and clear turquoise waters filled with marine life. Snorkeling spots around El Nido are aplenty, including Small Lagoon, Big Lagoon, Secret Lagoon, Shimizu Island, and Seven Commandos Beach. These spots are typically visited as part of island hopping tours (Tours A, B, C, and D).
Coron: Coron boasts several excellent snorkeling sites. The most famous ones include the Twin Lagoons, Siete Pecados, and Barracuda Lake. There are also several Japanese shipwrecks from World War II around Coron that offer fascinating snorkeling and diving experiences.
Port Barton: This quiet fishing village is another beautiful snorkeling spot with clear waters and vibrant marine life. You can take a boat tour to visit islands and reefs like Exotic Island, German Island, and Aquarium Reef.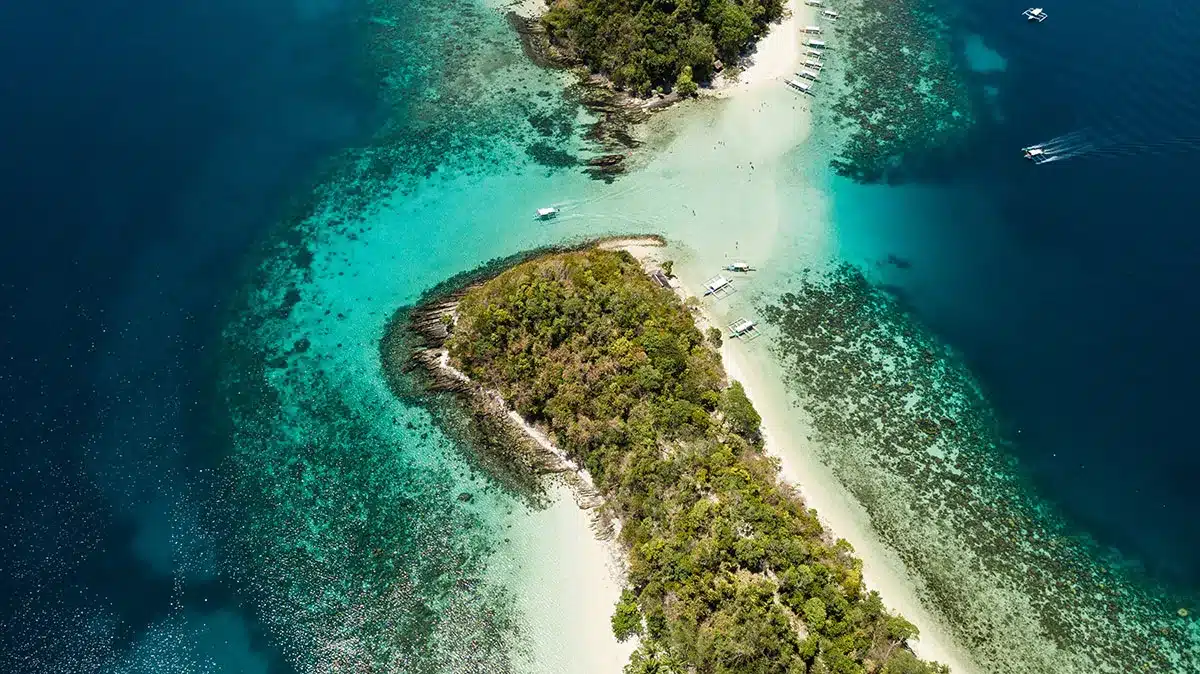 Balabac: Balabac is a group of islands in the southernmost part of Palawan. It is less developed than El Nido and Coron but offers similarly breathtaking snorkeling sites.
True, the above are famous and popular, but popularity means a lot of tourists, which can take away the magic and moment of bobbing in God's artistic splendour. Furthermore, perhaps because of the high traffic, the water around El Nido and Coron can seem rather foggy. While Balabac, Port Barton and Tubbataha Reefs Natural Park are not the easiest to get to and spread rather far apart.
This is why we suggest a boat tour between El Nido and Coron, where there are more than 80 islands in a beautiful, remote area with some of the recognized clearest waters in the world. Furthermore, if you choose for a private tour, you can enjoy the corals, reefs and desolate islands with their empty white sand beaches to yourselves, at your own pace (the group tours generally have a tight schedule, not to mention that the boats have a capacity easily exceeding 20 persons).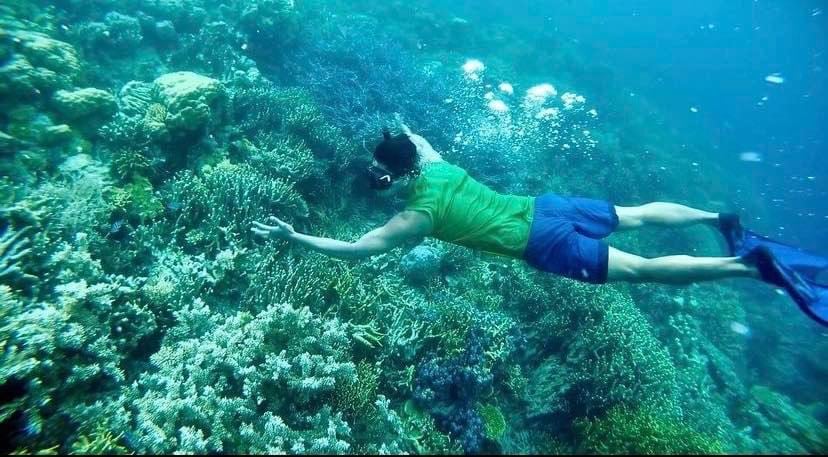 You can check out a standard sample itinerary we offer to get an idea of the beautiful, secluded beaches you will find along the way, or if you have enough time, you can even squeeze in Balabac, as this sample itinerary shows from one of our customers.
The multiday expedition tour includes much of the sites around Coron, but we also organize private tours in El Nido (not included in our multiday tours) and Coron, if you wanted to cover all the sites of Coron not included in the multiday tours. The advantage of private tours in these two locations is that our operators make sure to leave earlier and visit the sites in an order and such a way as to avoid the mass crowds of the group tours.
For our multiday tours you can even rent a speargun and get tips from the crew, who are skilled at catching fish using just a line in their hand with a piece of bread to catch a small fish to use as bait to catch the big fish.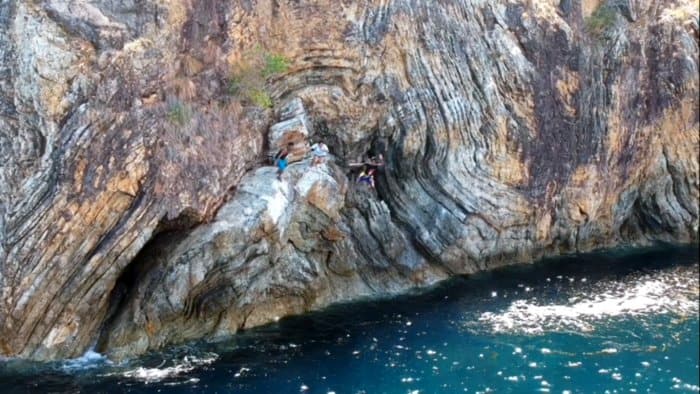 And if you like to color up your multiday excursion with some more fun, you can also rent kayaks and even a wakeboard and wakesurfboard, to get a little workout while making your way from one beautiful island to another. And don't forget to check out the cliff jumping spot!
If you'd like to experience this beautiful, remote and magical region in a custom, private tour catered to your specific needs (we also organize group tours if you are on a budget), just contact us so we can prepare the perfect plan for you.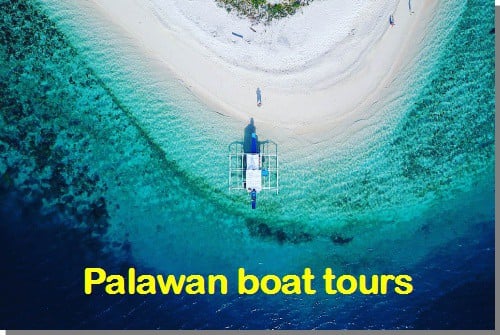 Experience the thrill of island hopping in the Philippines
Related keywords:
snorkeling in coron palawan
snorkeling in el nido palawan
top 10 snorkeling spots in the philippines
why palawan is the best snorkeling spot in the philippines
el nido snorkeling package
why coron palawan is best for snorkeling
best snorkeling spot in el nido
snorkeling palawan
snorkeling in palawan
snorkeling sites in the philippines
snorkeling spot in palawan
#snorkelingincoronpalawan, #snorkelinginelnidopalawan, #top10snorkelingspotsinthephilippines, #whypalawanisthebestsnorkelingspotinthephilippines, #elnidosnorkelingpackage, #whycoronpalawanisbestforsnorkeling, #bestsnorkelingspotinelnido, #snorkelingpalawan, #snorkelinginpalawan, #snorkelingsitesinthephilippines, #snorkelingspotinpalawan