Home
»
Palawan » Explore »
Coron Island
Coron Palawan is one of the Philippines' most spectacular islands, boasting massive limestone peaks, vibrant lagoons, and excellent opportunities for snorkeling and scuba diving.
Coron Island, like many other Philippine islands, is an affordable vacation spot with stunning scenery, including white sand beaches and some of the best coral reefs in Southeast Asia.
Ships from World War II are permanently entombed in the waters off the coast of Coron, making this group of islands famous for its historical significance. Coron is no less gorgeous above water and is home to one of the Philippines' most photographed landmarks. It's true that the more you explore Coron, Philippines, the more stunning its hidden treasures become.
This travel guide to Coron, Philippines, will tell you how to get there, what to do once you get there, and where to stay so that you may fully enjoy this Philippine treasure.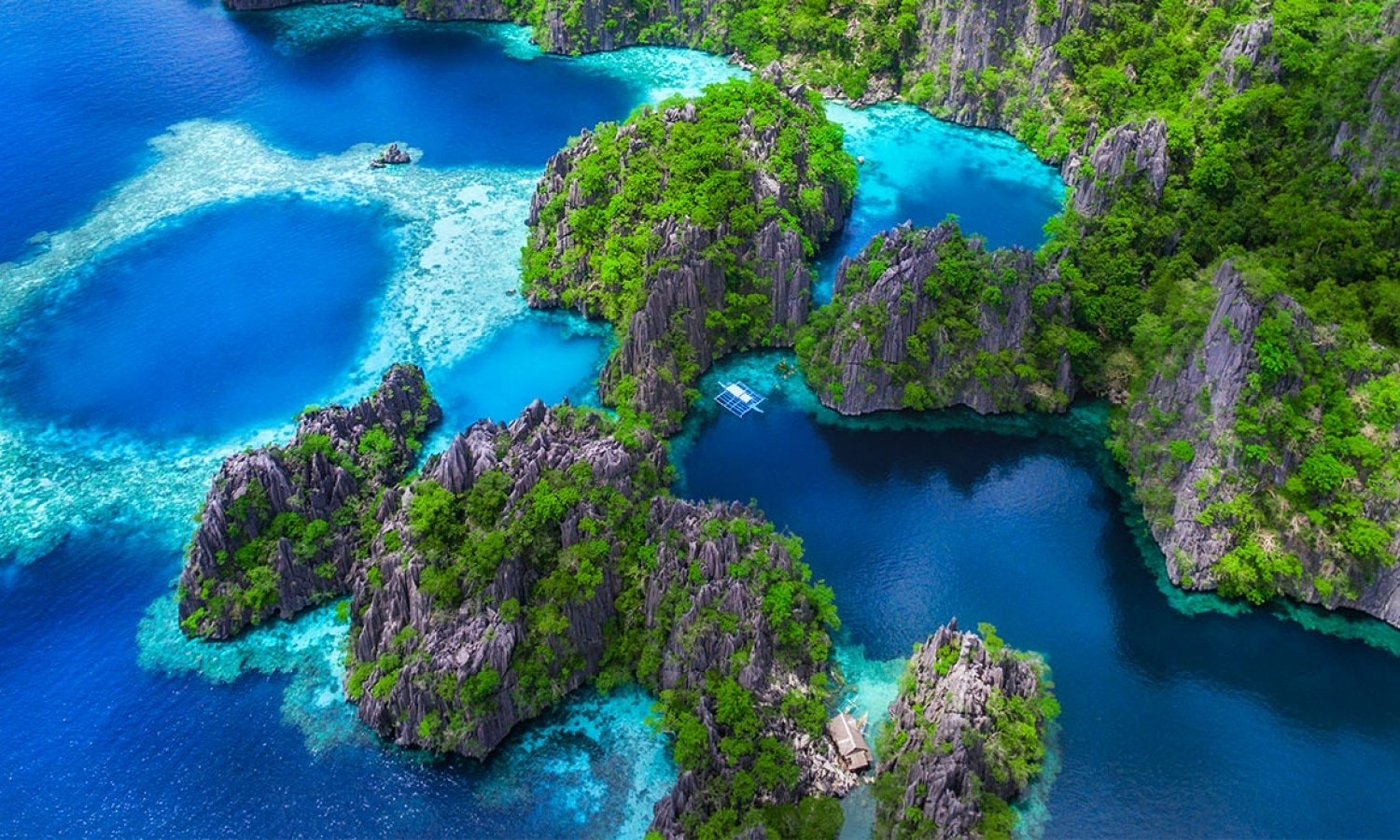 WHERE IS CORON ISLAND?
Coron, which forms a portion of the Calamian Islands (also known as the Calamianes Archipelago), may be found in the province of Palawan in the far western Philippines.
The town of Coron, as it is commonly known among tourists, can be found on Busuanga Island, the largest island in the Coron Archipelago. What adds to the confusion is that most day trips from Coron go to Coron Island, a magnificent unspoiled island.
Coron is a Philippine island located 60 miles (100 km) to the north of the more oversized island of Palawan.
Many of Coron's most popular attractions may be found on Coron Island, which is a half-hour boat ride from the town on Busuanga Island. Twin Lagoons, Kayangan Lake, Barracuda Lake, and many beautiful beaches and smaller lagoons can all be found in this area.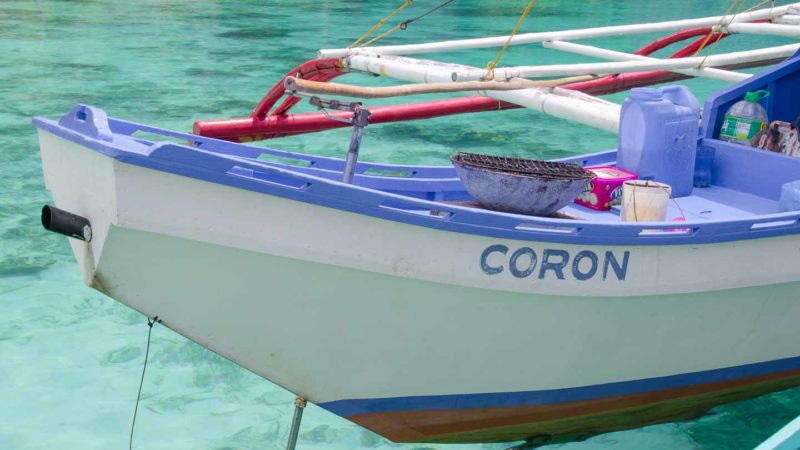 HOW TO GET TO CORON PALAWAN?
You can fly or take a ferry to get to the town of Coron.
Busuanga airport (USU) is Coron's airport, but it isn't connected to the rest of the world; to get there, you'll need to go to Manila or Cebu first. Skyscanner is a great place to look for airfare to the Philippines.
Taking the ferry between El Nido and Coron is the most convenient and economical option to see both destinations. The trip takes a few hours, costs 1,800 pesos, and is well worth it.
As I'll elaborate on below, you may also embark on a four-day sailing excursion from El Nido to Coron in Palawan to visit some of the region's spectacular uninhabited islands.
WHERE TO STAY IN CORON?
Busuanga Island is the best option for setting a camp in Coron Town. However, the town itself doesn't offer a lot of entertainment options. While the main island's beaches are a bit of a drive away, the town itself has all the amenities you might need, including restaurants, tour companies, and even some late-night action.
1. Two Seasons Coron Bayside Hotel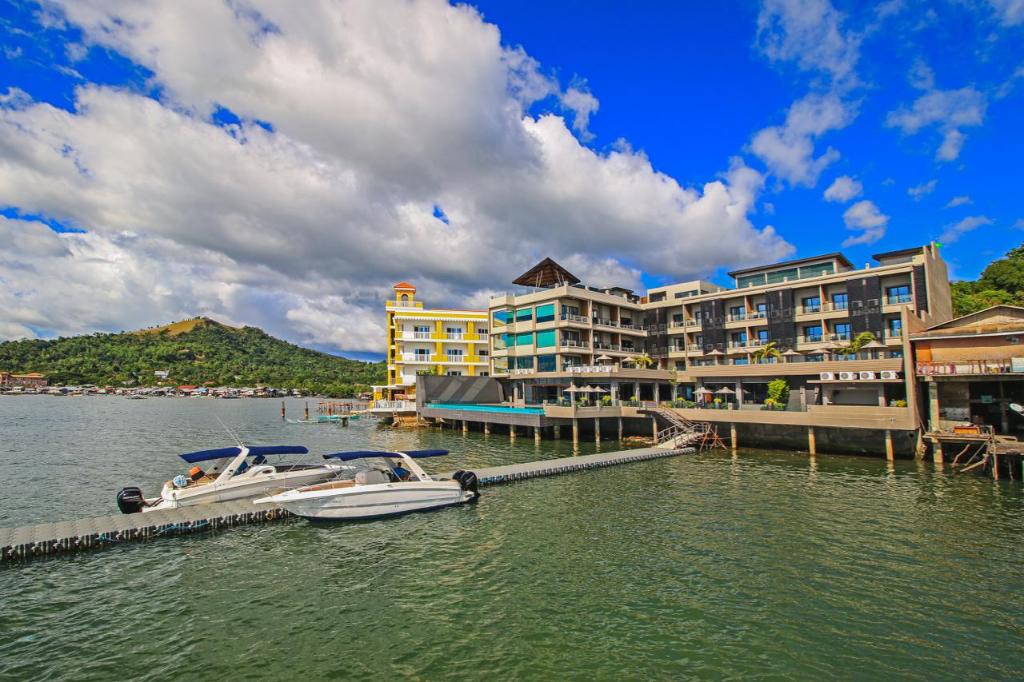 Two Seasons Coron Bayside Hotel is one of the greatest resorts in Coron and one of the most gorgeous beach resorts in the Philippines. This Coron hotel is near the town center and the beach, making vacations more enjoyable. Coron Port is 300m distant, while the stunning Maquinit Hot Spring is 3km away.
Bayside Infinity Pool visitors can enjoy panoramic views of Coron Bay. The BAYA Resto Lounge, Skydeck Jacuzzi Lounge, gym, and 100-person conference room are also top-notch. Vacationers can stay connected with free WiFi throughout the resort.
2. The Funny Lion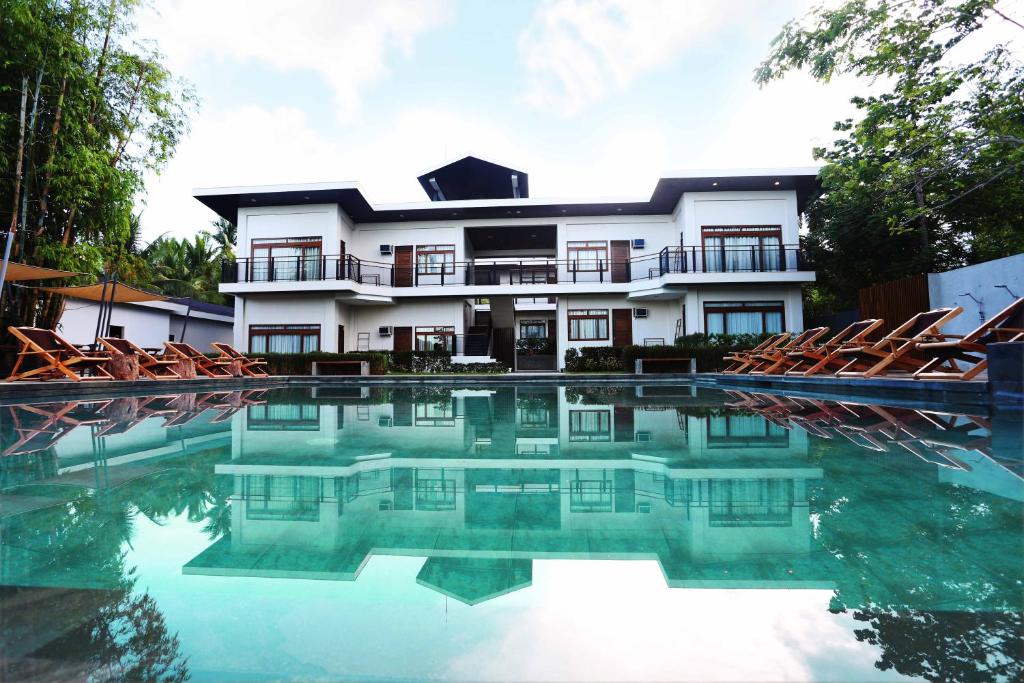 Coron's Funny Lion boutique hotel resort showcases nature. Sea vistas and lush greenery surround this 3-star home. The resort's eco-chic exteriors—concrete structures with natural material detailing—and sleek, snug rooms reflect its contemporary safari motif.
The Funny Lion is a serene retreat on Coron Town's outskirts. The resort is 1.6km from Mount Tapyas and 2km from Bayside Plaza.
At Pride Rock Deck, their rooftop bar, guests may enjoy amazing ocean views. Watch the sunset here. The outdoor pool has sun loungers and two jacuzzis. The Funny Lion has a Sea Tree Spa and on-site restaurants.
The Cub, King, and Pride rooms provide air conditioning, LED TVs with cable channels, coffee and tea makers, in-room safes, refrigerators, and private bathrooms with hot and cold showers. Staying at The Funny Lion in Coron is an adventure.
3. Two Seasons Coron Island Resort & Spa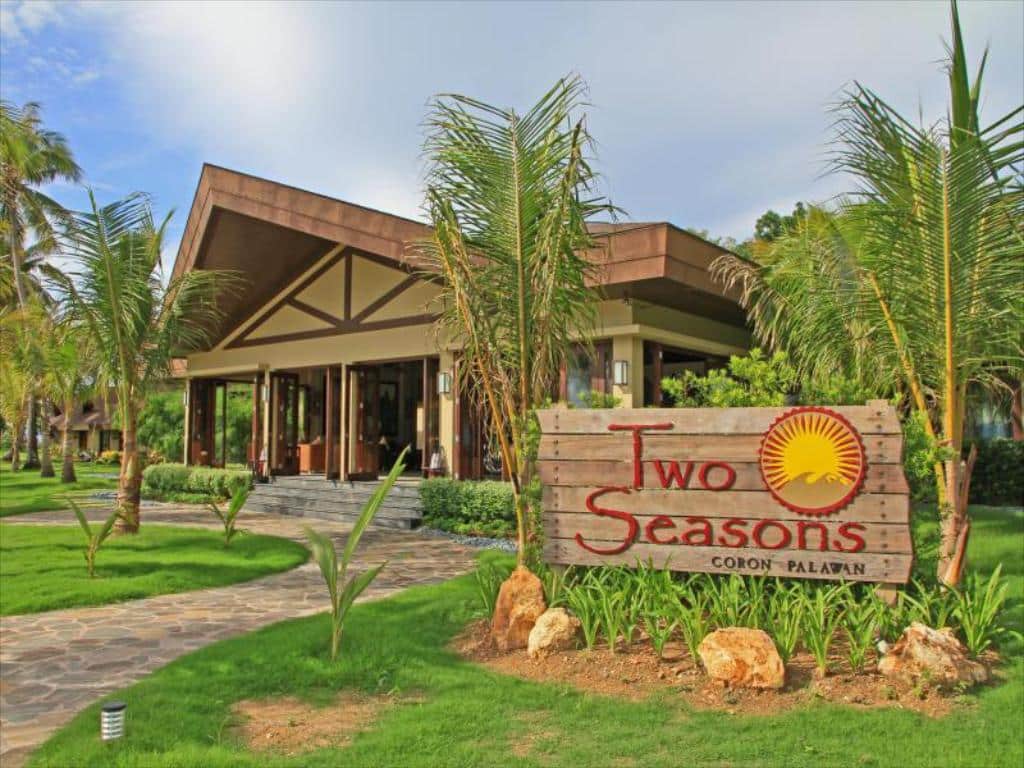 Two Seasons Coron Island Resort & Spa, a luxury eco-friendly resort, has become a Coron icon. Guests can enjoy magnificent bungalows, a full-service spa, a restaurant, and two beautiful Palawan beaches at this 5-star hotel in the Philippines. This stunning Bulalacao Island resort is a short boat ride from Coron Town.
Two Seasons Coron is a wonderful blend of luxury and nature, offering top-notch facilities and unmatched service. This Coron resort has high-ceiling bungalows with contemporary Filipino tropical design, air conditioning, soft lighting, flat-screen TVs, and sofa seating. Suites have baths and showers. Bungalow balconies offer panoramic vistas.
Two Seasons Coron Island Resort & Spa is a natural playground. Turtles and gigantic clams nest there. The island has two private beaches on the west and east sides, as well as a sandbar that links to an islet.
The resort's Molokini transparent kayaks and HydroBOB submersible scooters let guests explore the underwater world. Sulu Restaurant and Bahura Bar serve gourmet food. Narra Spa treatments at the resort will complete your fantastic vacation.
4. Club Paradise Palawan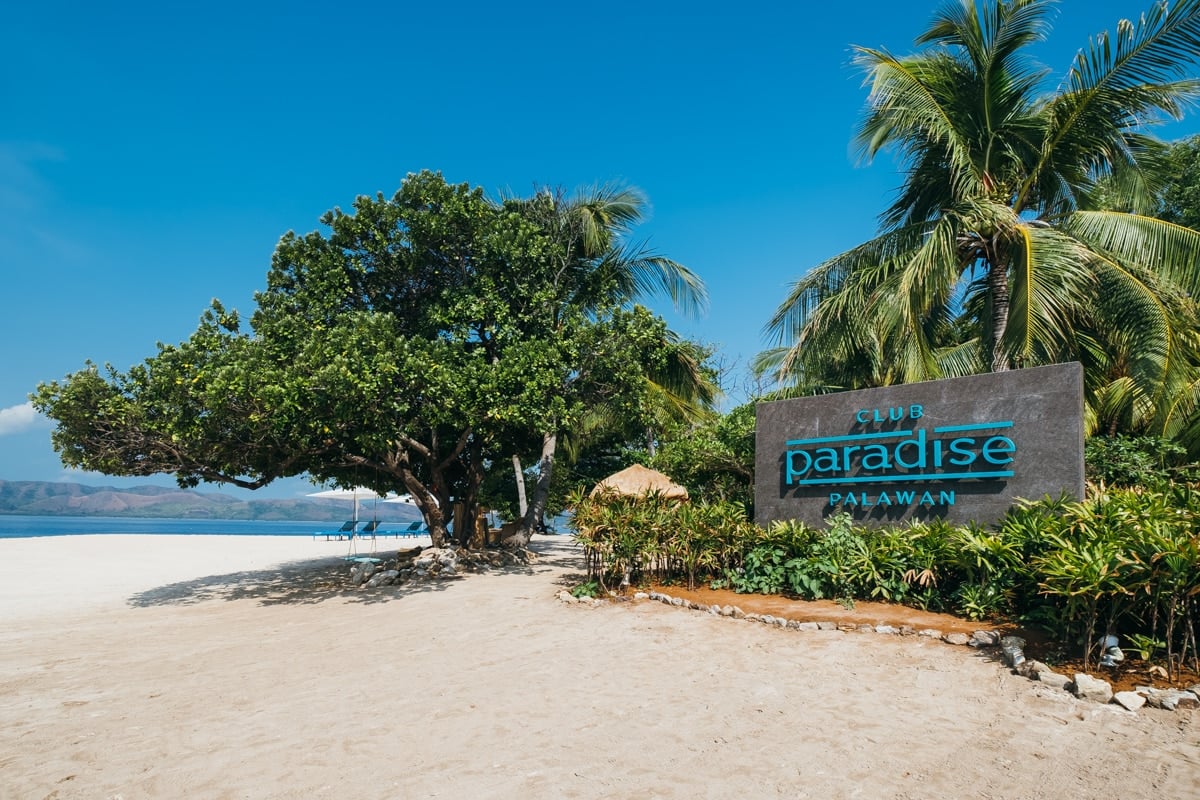 Club Paradise Palawan tops most Coron hotel lists. Its history, location, and service make it a must-visit for visitors seeking seclusion, tranquillity, and elegance.
It is a 19-hectare private island resort in a UNESCO Biosphere Reserve with unspoiled beaches, diversified flora, and abundant marine life.
Club Paradise Palawan has 50 accommodations, including beachside thatched villas with individual balconies. They are thoughtfully located to display nature's wonders: wake up to stunning views from the Sunrise Villas, experience beautiful sunsets from the Sunset Villas, immerse in panoramic beauty from the Ocean View Suites, or relax to humming tropical birds from the Garden Suites. All rooms have air conditioning, smart TV, mini-bar, refrigerator, electric kettle, safety deposit box, and en-suite bathrooms with hot and cold showers.
For a complete Club Paradise Palawan experience, this Coron beach resort provides many recreational activities. Kayaks, paraws, and hiking gear are available. The resort offers snorkeling and diving, and its beautiful house reef is home to over 500 aquatic species.
5. Huma Island Resort and Spa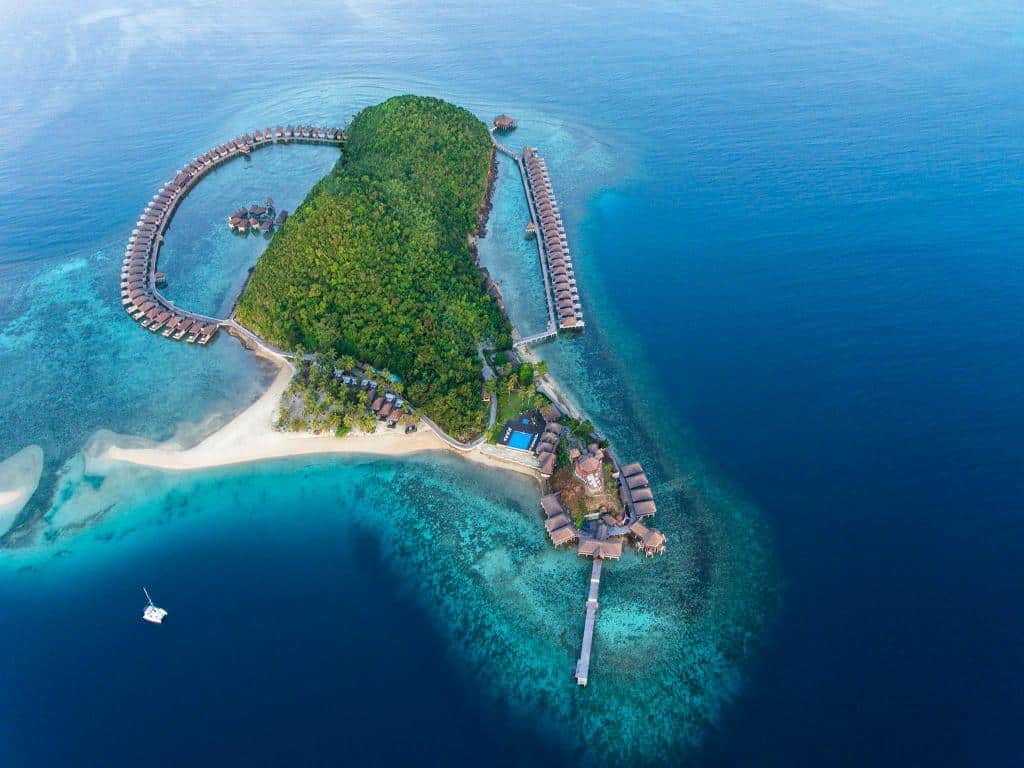 The picturesque Huma Island Resort and Spa offers an island of pure enjoyment, private luxury, and endless adventure. From Manila or Busuanga, a private seaplane takes guests to this Coron resort on Diciligan, one of the numerous untouched islands. Guests arrive at stunning views of white-sand beaches, crystal-clear ocean seas, and verdant rainforests. One of the Philippines' most luxurious resorts.
Huma Island Resort and Spa boasts 81 over-water and beach villas with unobstructed views of the ocean and sky. Each room features flat-screen TVs, private Jacuzzis and bathtubs, WLAN, and indoor and outdoor showers. The beach villas have their own courtyards and access to the pristine beach, while the thatched roof water villas have private sun decks.
Huma Island Resort and Spa has 8 themed gourmet dining stations with the best global cuisines, a unique glass-floored spa complex with the Philippines' first and only authentic Arabic Hammam, a yoga pavilion, a dive center, fitness facility, a conference room, and library. Having 24-hour "Villa Hosts" adds to its elegance.
You can also take a boat to another island, but you'll need to bring all of your food and be content with not doing much exploring.
HOW TO GET AROUND?
The population of Coron town is only around three thousand people.
You can get around on foot to get to restaurants and other necessities, but if you want to venture outside of town, you'll need transportation.
Scooter rentals cost around $10 USD per day or 500 pesos. A tricycle taxi can be hailed for 100 to 200 pesos, but the scooter can save you money on longer journeys or those with several stops.
THINGS TO DO IN CORON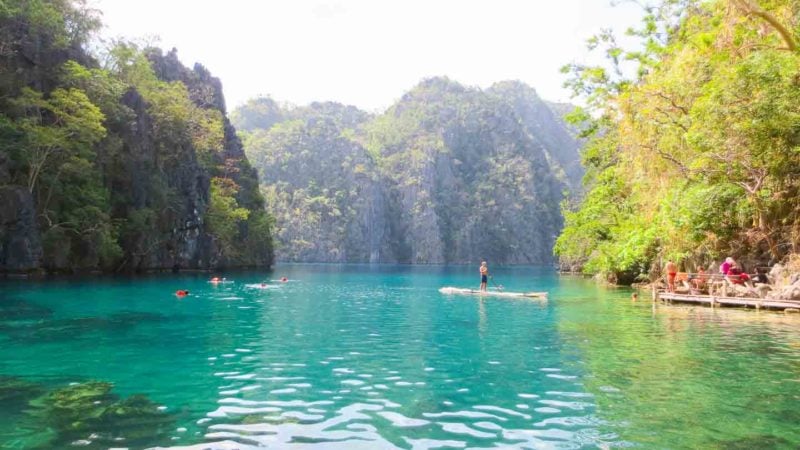 1. VISIT KAYANGAN LAKE
This precious jewel and the island it resides on are among the most breathtaking locations on Earth, as they are among the few of their kind in all of Asia. It's likely that you've seen pictures of Kayangan Lake or the neighboring overlook before.
Most visitors to Coron Island don't know that the island's most popular vantage point isn't of the lake, but of the bay on the opposite side of the island. There are sections of the lake that have been roped off for conservation purposes.
The lake is busiest in the afternoon, so plan your trip accordingly. To maximize your time, plan an early morning or afternoon departure. Since many of the more popular trips follow the same pattern, the attraction is typically crowded in the afternoon.
When there are no clouds in the sky and no shadows in the harbor, however, the famous perspective at the top of the hill at Kayangan Lake is at its best. The ideal time to see the lake and the viewpoint is first thing in the morning before the crowds arrive.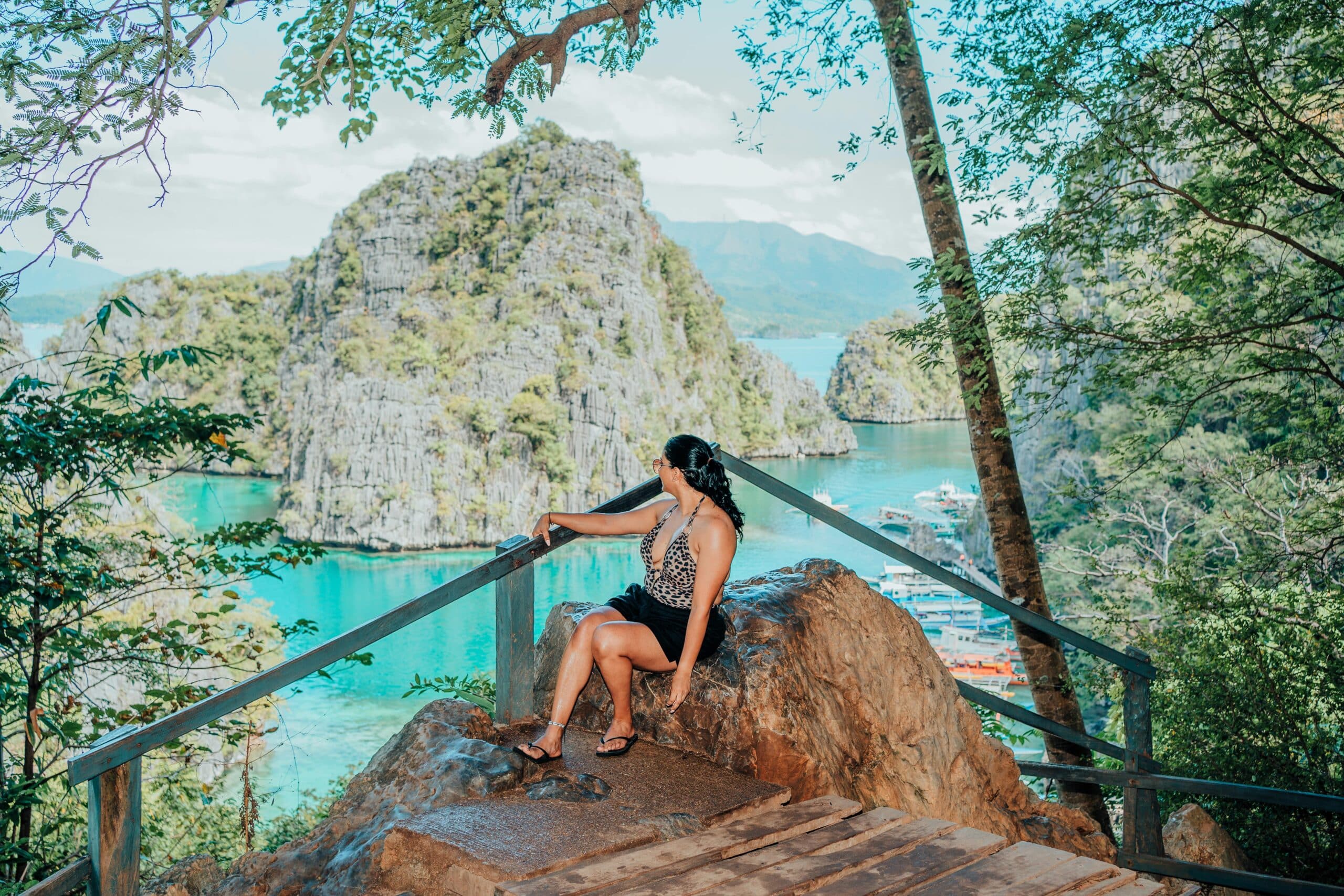 2. SHIPWRECK DIVING IN CORON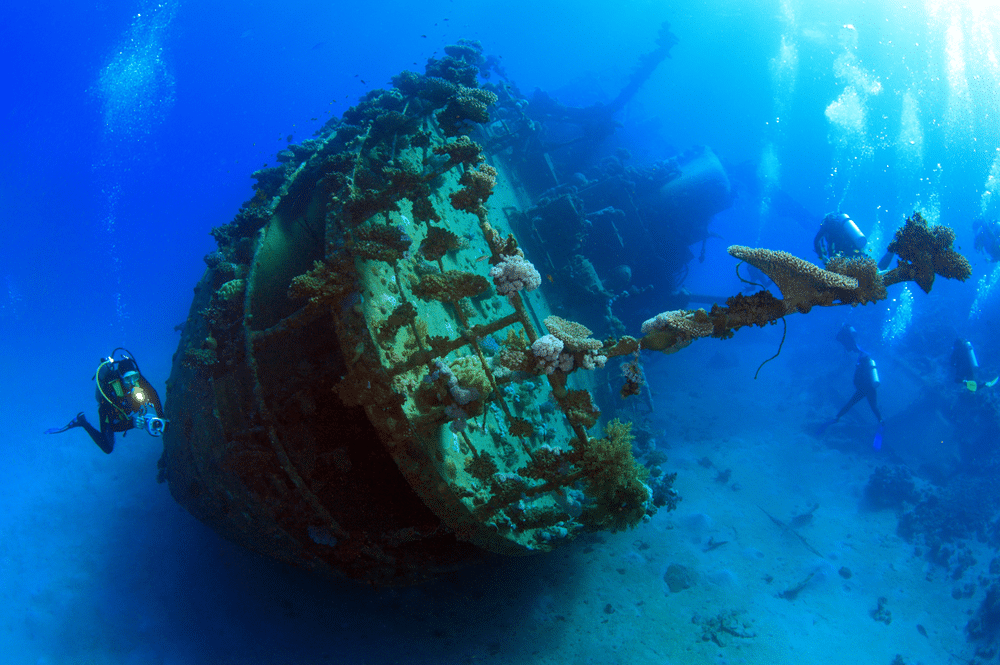 The sunken fleet of Japanese warships near Coron is a popular attraction for tourists. Twelve World War II wrecks, all of which are at diveable depths, are remarkably well preserved here. As part of the requirements for the Advanced Open Water Certification with Corto Divers.
3. VISIT CORON ISLAND BY BOAT
The island of Coron, not the island of Coron Town, is home to many of the city's most interesting attractions. Some of the best stuff is only accessible by boat. While in Coron Palawan, you must take many day trips.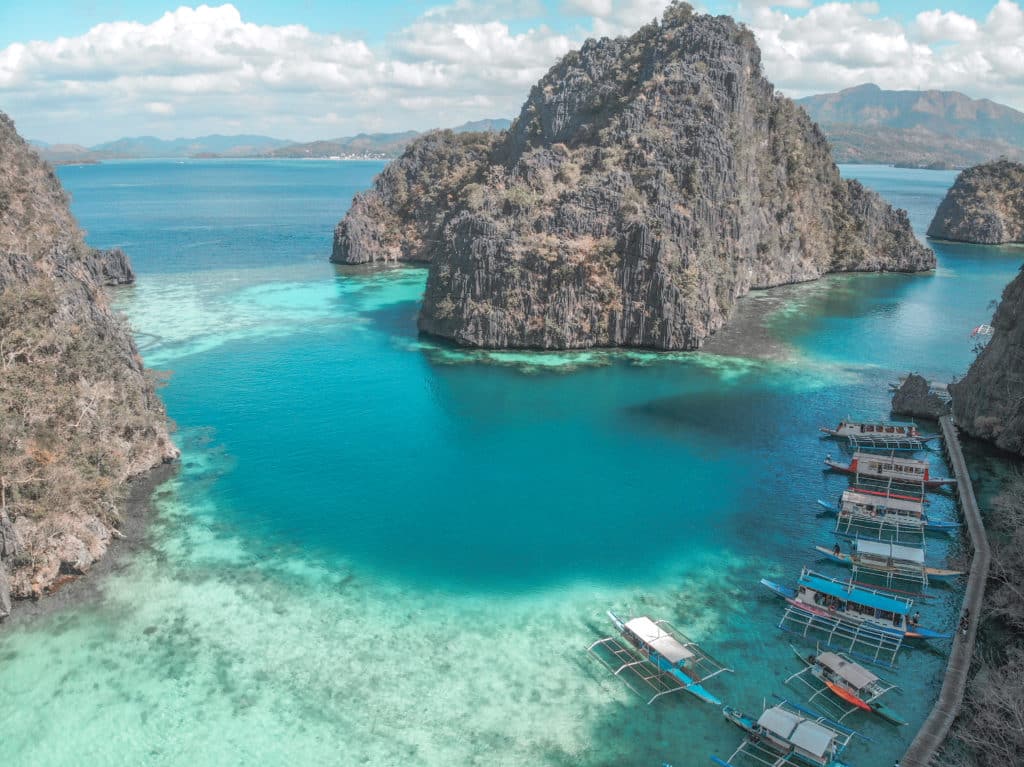 4. DIVE INTO BARRACUDA LAKE
Barracuda Lake is another crystal-clear lake in the area, and it's very next to Kayangan Lake. Barracuda is a quieter alternative to the more crowded Kayangan Lake. This lake contains a number of unique features, like thermoclines and underwater mountains, and it is also less crowded than others. Although not as well-known as Kayangan Lake, this body of water is equally as clear, if not clearer.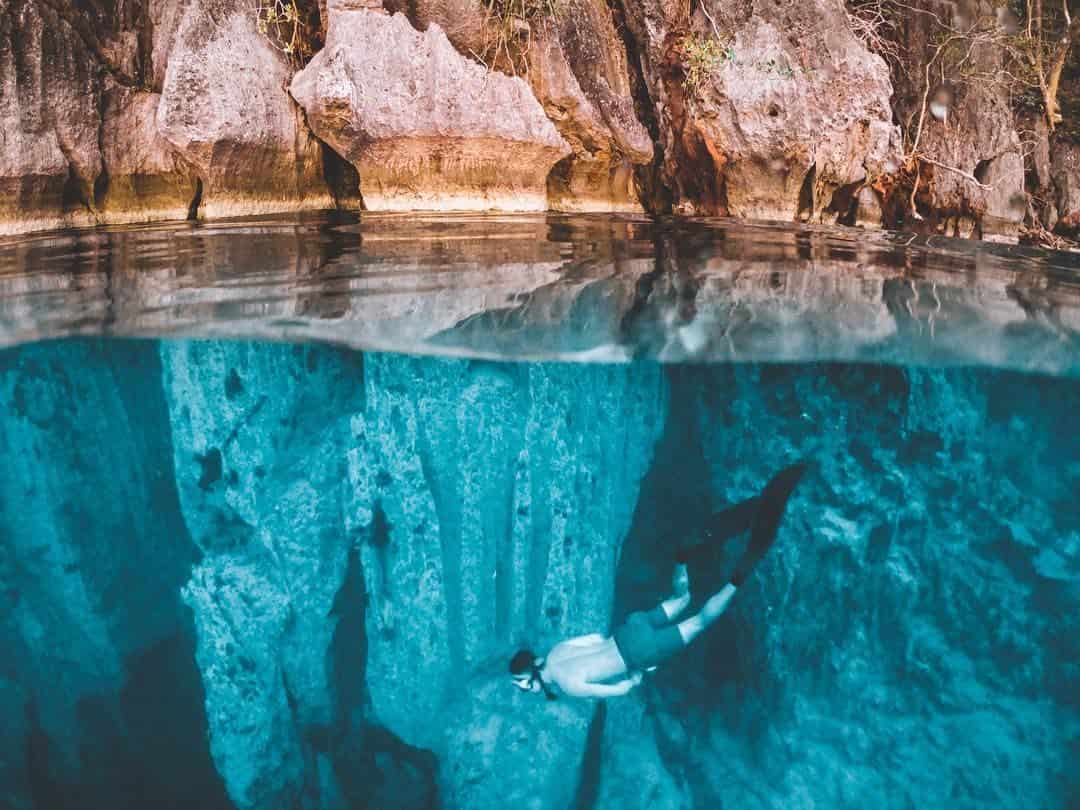 Kayangan Lake is widely regarded as Asia's purest lake. Barracuda Lake is a place that those individuals have obviously never visited. The Lake is a popular diving destination in Coron because of its many interesting characteristics.
5. SNORKEL THE LUSONG GUNBOAT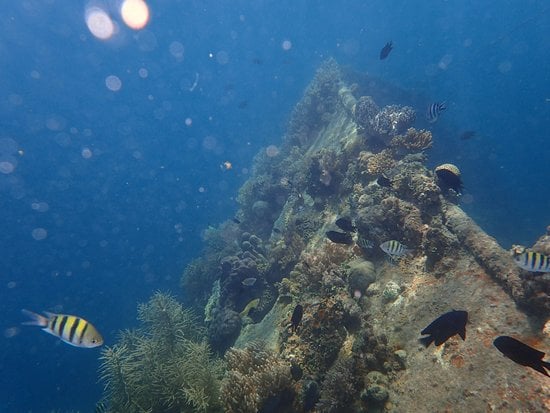 Fortunately, there is at least one shipwreck that is shallow enough for snorkeling. The Lusong Gunboat is situated just below the surface. After seven decades in the wild, it is now colonized by corals. Swimming in the water all the way around it is a blast.
WHERE TO EAT IN CORON?
In addition to its stunning Palawan beaches and shipwreck diving spots, Coron town has become famous as a culinary mecca. Seafood, along with Filipino and international fare, is particularly delicious here because of its proximity to the seaside. Sunset dinners at a restaurant with a view of the ocean are a wonderful way to round off a perfect day.
1. Trattoria Altrov'é Coron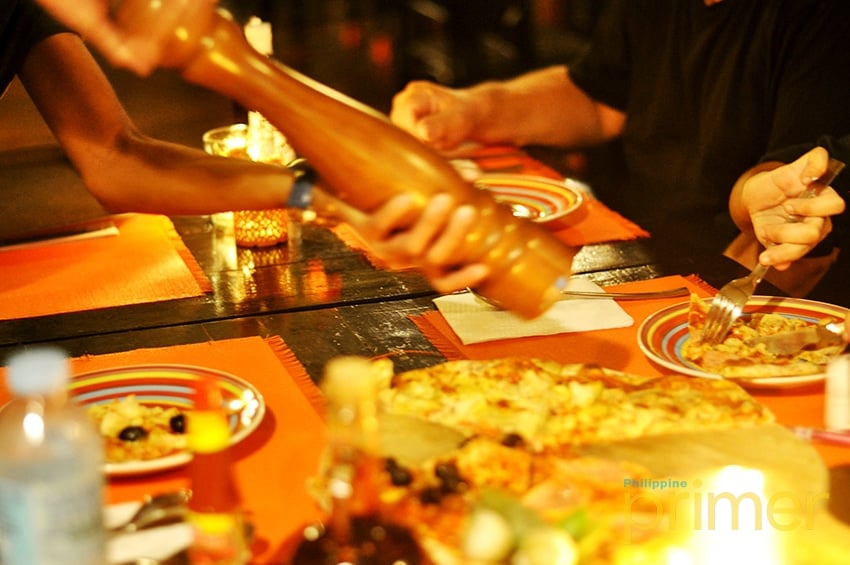 If you're looking for a place to eat pasta amid the tropics, look no further than Trattoria Altrov'é in Coron. Regulars attest that the wait is worthwhile because the pizzas are made to order and baked in a brick oven, so the cheese and toppings are nice and melty. This Rosario Street patio is known for serving the best pizza and spaghetti in all of Coron.
In addition to the fantastic pizzas, the Gamberi Olio D'Oliva, a pasta dish of sautéed shrimp mixed in olive oil, sun-dried tomatoes, and crushed pepper, and topped with fresh parmesan cheese, is a fan favorite. Beef Lasagna, Risotto with Funghi Porcini (rice with mushrooms cooked in white wine and herbs), and the Italian appetizer carpaccio are among the popular choices.
2. Manggis Restaurant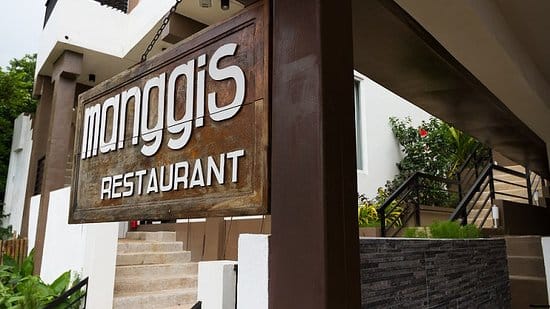 Manggis Restaurant, the hotel's in-house eatery, is nestled on the slopes of Mt. Tapyas, barely 500 meters from the mountain's famous view deck. It is located close to the heart of town on Calle Nueva in Poblacion, Coron. Delicious Filipino-inspired meals, as well as Italian, American, Mediterranean, and Asian fare, may be found on the menu with other world favorites.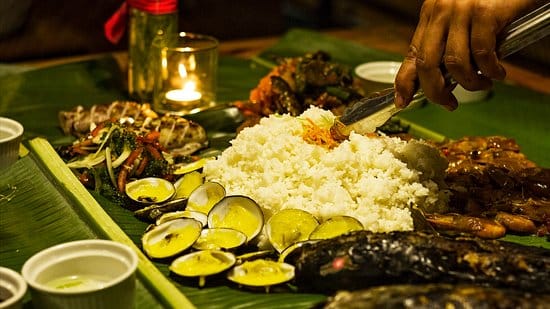 Their take on the Filipino party staple known as "boodle fight" is always a hit with guests. Meals are served "military style," with the food spread out on banana leaves along a long table and eaten with bare hands. Manggis is an excellent choice because dining there is a unique and unforgettable experience. Pizzas, pasta, and novel desserts like the hibiscus sorbet made with white wine are also popular.
3. Poco Deli Coron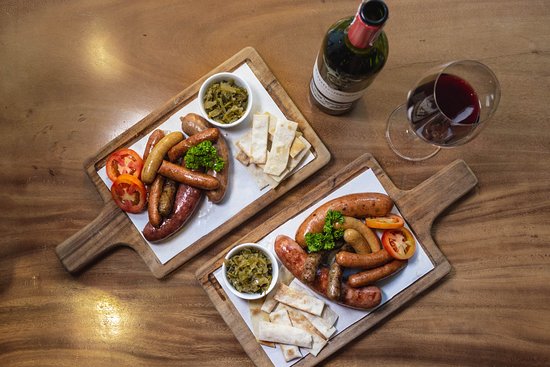 At Poco Deli Coron, you may have Italian food with a Spanish, German, and Irish twist. The restaurant, which can be found in the middle of the hip Real street district, serves only the highest quality meats, such as Angus Beef, Japanese Wagyu, and French Pork, seasoned with the finest Italian spices and absolutely none of the fake fillers or flavor enhancers that are so common in other restaurants.
Their sausage platters are much sought after for special occasions, and their brick oven pizza and pasta dishes are favorites among regulars. The charcuterie is also excellent, as it's created in-house without the use of any preservatives. The half-inch wood-smoked pork slab cooked to your taste and the Wagyu sausage sampler is also must-tries.
4. Santino's Grill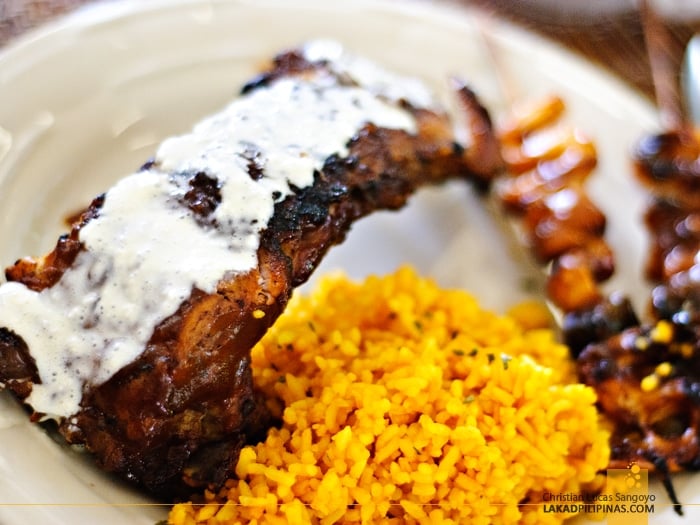 The baby back ribs at Santino's Grill are widely considered to be among the best in Coron. These pork ribs slide off the bone and are served with a side of salad and your choice of mashed or fried potatoes. The open-air restaurant's laid-back vibe is reflected in its quirky wooden furnishings and authentic island decor.
While visiting the Philippines, tourists should indulge in some authentic Filipino fare, such as sinigang (meat and vegetables in tamarind soup), a hog barbecue, or kare-kare (oxtail in stewed peanut sauce).
You can also count on great quality from their seafood offerings. All seafood, including fish, squid, shrimp, and more, is purchased fresh from local fishermen and brought directly to your table. Fruit smoothies and coconut juice are two examples of refreshing drinks that may be purchased to satisfy your thirst.
5. KT's Sinugba Sa Balay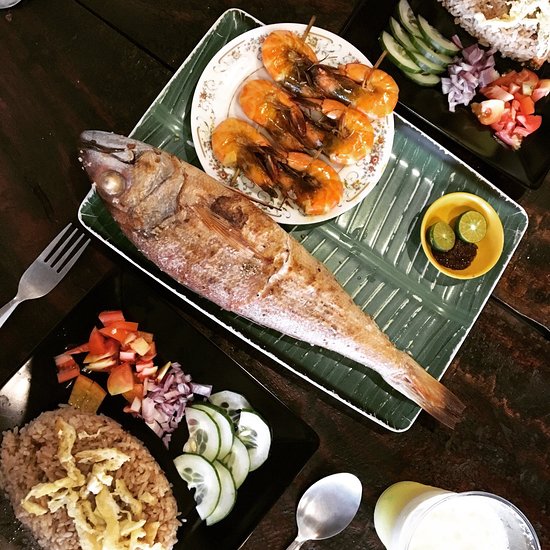 San Agustin Street in the heart of downtown Coron is home to KT's Sinugba Sa Balay, a popular restaurant known for its innovative takes on traditional Filipino comfort food. Mi Goreng (an Indonesian-style stir-fried noodle dish), shrimp in red curry, and beef curry are all highly recommended by regulars as some of the best items on the menu.
Other common orders include smoked barbecue items served with rice and house specialties like adobo (pork marinated in vinegar and soy sauce), crispy 'pata' (deep-fried pork knuckles), and sisig (minced pork in a sizzling platter).
Visitors can serve themselves complimentary water from a huge jug and cutlery at a self-serving station located in the alfresco restaurant's casual, no-frills environment. Noodles and sourdough and ciabatta bread are baked fresh daily.
CORON vs EL NIDO
Tropical landscape and island hopping have made Palawan Island famous, but which is better, Coron or El Nido?
The two provinces in the Philippines are separated by 100 kilometers of sea, so if time is of the essence, you may have to choose between the two amazing destinations.
There are pros and cons to El Nido's greater development and popularity compared to Coron. Coron is a more peaceful island with fantastic snorkeling and scuba diving. Amazing islands and beaches can be found in both El Nido and Coron.
El Nido is a must-see, as is Coron in Palawan.
CORON FAQS
Is there an ATM on Coron?
Indeed, several fully functional ATMs with high withdrawal limits have just become available in Coron. In the neighborhood of 250 pesos, the pull cost is standard.
Is there 24-hour power?
Yes. Power outages and brownouts have become far less common in recent years thanks to upgrades to the electrical grid.
Is there WiFi?
Most Coron hotels have poor WiFi. The best option right now is to get a local SIM card and use your phone as a hotspot. Globe delivered fast speeds in Coron.
What language should we speak?
Palawan, like much of the Philippines, speaks English. So you don't need to learn Tagalog to visit.
If you decide to check out Palawan, our small family operation organizes private custom boat tours through the Palawan area, voted the best island in the world, with its 52 pristine white sand beaches and some of the clearest waters in the world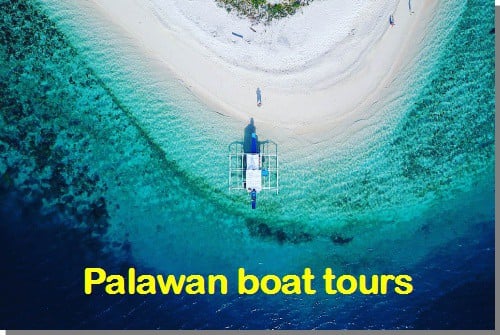 Experience the thrill of island hopping in the Philippines
Private and group multiday expedition tours between El Nido and Coron
Private boat tours around El Nido
Combination El Nido and/or Coron boat tours with multiday expedition in between
Marriage proposal tours
Home
»
Palawan » Explore »
recommends
I was looking for a personalized excursion to the beautiful bay of Bacuit. Seeing the comments, I contacted Mel. Very responsive, very efficient and perfect organization. The crew were very friendly and very helpful. And I'm not even talking about the meal on board...a marvel. In all fairness, this excursion will remain an excellent memory and I can recommend Mel and his team highly enough. A big thank-you.
André Mardoñal
2019-10-22
recommends
⭐⭐⭐⭐⭐ The island world of Linapacan between Coron and El Nido with the clearest waters in the world is truly a dream for itself! Without a boat you won't be able to see it! But what this boat trips makes so amazing is the crew! Once you come on board they might be shy in the beginning but will make you feel welcome and home from the first moment. Not only that they are looking that you sit comfortable all the time, they will prepare fresh and delicious food what the buy from local markets. They know the best spots and most beautiful islands and will bring you to places where you get this "Robinson Cruisoe feeling". Every day you visit 3 to 5 spots for snorkeling, enjoying a beach or exploring a little island. The accommodation we had was good and simple. We slept in bungalows and tents right at the beach. Sheets and towels were always provided and sometimes towels. After a while you feel like a family on board. We loved living the boat life didn't wanna leave! If you doubt take a longer than shorter trip! For any questions please message me.
recommends
All in all it was a really great experience. It's a once in a lifetime thing to do and you won't get more authentic and basic Philippino experiences anywhere else. We were not so lucky with the wind and waves so we couldn't do all the stops we wanted to unfortunately. So be aware that especially the months from January to May can be very rough on water. But we still saw some great places Benji took us. Benji and his family was very nice and they did everything they could. The food was amazing - always freshly made in authentic Philippino style and way too much for the 2 of us. Make sure to bring enough cash - many of the islands cost extra (entrance fee) and be aware that any kind of accommodation and food (200php per meal) is not included in the boat fee. Also the deposit and commission fee for the agency are a little over the top, especially since the crew does not get any of it. The costs all in all are rather high for phillipino circumstances especially given the basicness of it all. However if you think about that all 5 boat people (in our case) live off of the boat fee alone, you spent the money willingly. Be aware though that accommodation and sanataries are very basic if even existant. So you gotta have the right mindset. Bring tissue, sanatiszer and earplugs to get some better sleep. Another feedback I have concerning the size of the boat. I don't think it is sufficient for more than 4 people. If the weather is like it was these days, you always have to sit on top and it was already a little squeezy with us 2 and 5 boat people. So I guess 4 guests can be fine but more than that won't have the space. There is different boat sizes but make sure to talk about that with Karel in advance. Other than that it was really worth it and we got to see so many great beaches and reefs which we could have never been able to visit without the tour.
recommends
It was scary to book a 5 day trip with no places to stay confirmed or a strong itinerary. And in the Philippines, communication is difficult. But that is part of changing mindsets to a rural island mindset. In the end, everything worked out. We had some tough moments with bugs. But we also had some amazingly beautiful secluded beaches, the best snorkeling in the world, relaxing on the beach, and freshly made food on the boat while docked at beautiful places (better than being on land). Note, we went with Benji. Recommendations: - you must get a local SIM when you arrive to make sure pickup and everything works out - some islands have bugs - use bug spray! Pros: - a fraction of the cost - away from the crowds - can customize what you want - just ask! - a truly local experience - saw a REAL rural town Cons: - locals aren't really polished tour guides - if you don't ask for it, you won't get it, need to be pretty proactive - pretty simple "activities" - no frills like bathrooms or kayaks etc.
recommends
We can't be more grateful to have had the opportunity of experience the peace in Patoyo Kitesurfing Camping! Spending two weeks in Dimancal Island, gave us the chance to experiment the rural and traditional way of life, in touch with the nature and people. We have learnt how to cook with fire, how to open a coconut and how to survive in an environment where for a time we forget about unnecessary needs, just to focus on enjoy the small details and pleasures of life. Mentioning too the amazing snorkeling and beautiful islands around this place, which make it unique​ and special. It is a lovely option if you are running away from tourists and overcrowded places in the Philippines. You will find yourself in the middle of virgin beaches and nature, surrounding​ by charming people. We will definitely come back!
Caroline Danielle
2017-02-13
recommends
We haven't done a Tao tour, but I would suspect that this is a cheaper version of the same thing. Our boat operator (Benji) and the entire crew were were fun, friendly and made an effort to ensure we had a good time. If you get a large group of people together it can be a really inexpensive alternative to other Coron-El Nino and vice versa island hopping tours. The food was good, but more expensive than as advertised by Karl. The price quote we got was 100 php a meal, but the boat charged us 200. Since the food was good we didn't mind the extra expense, but it is important to keep in mind if you're on a budget. Definitely plan for some incidental spending. Our boat did have some mechanical issues and as a result we ended up being stuck in the same place for longer than we wanted to be. That being said, little could have been done about it and the trip was fun nonetheless.
Hauk Are Fjeld
2017-01-01
recommends
If you believe that doing the touristic tours in El Nido and going to "The hidden beach" takes you off the beaten path, you are wrong. There are lots of beautiful places in Palawan, but few of these places are without any other tourists. If you want to spend some extra effort on getting away from the tourist places, and don't mind a little "primitive" living, Island Hopping in the Philippines is definitely something you should check out
Arnold Cabiguen
2015-05-08
recommends
The snorkeling in this area is phenomenal. Clearest waters in the world. I guess it's because there is relatively such lower tourist traffic through here, and the locals really protect the reefs!
recommends
Love it so much, just had to say it twice!