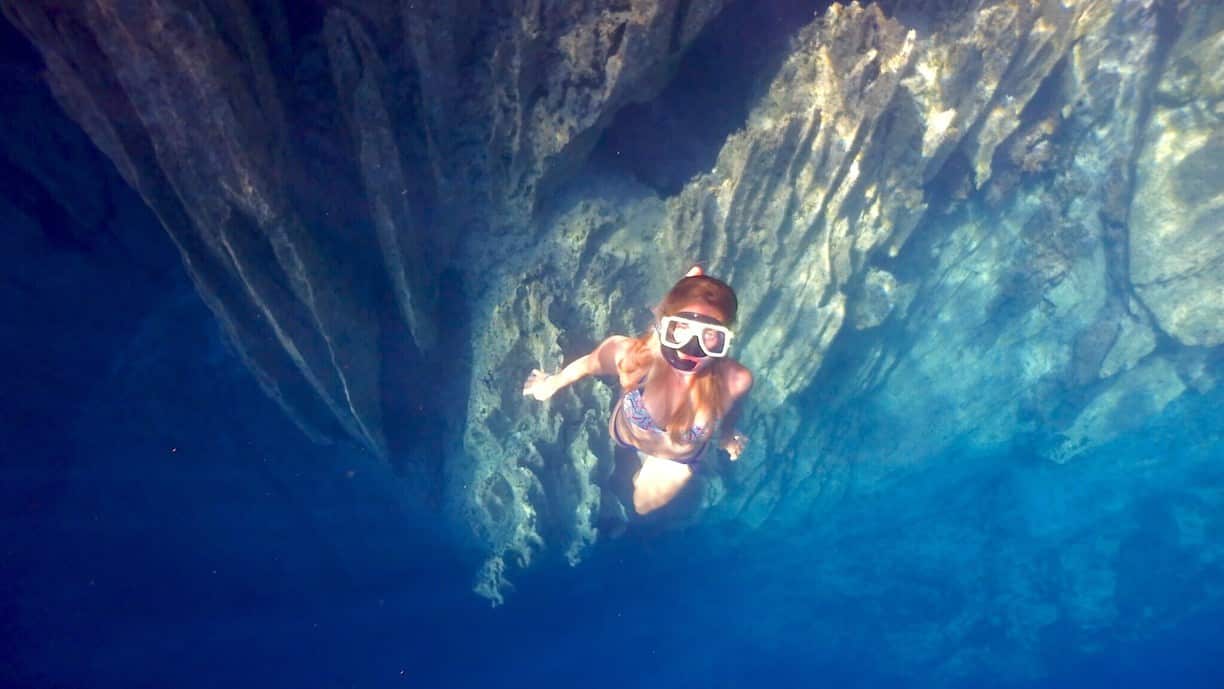 Barracuda Lake
Coron is one of the top destinations for travelers visiting Palawan, Philippines. Nestled amidst the breathtaking landscapes of Coron, Palawan, Barracuda Lake emerges as a captivating wonder for adventure enthusiasts and nature lovers alike.
This famous destination offers a remarkable blend of stunning natural beauty and a distinctive thermocline phenomenon, making it an ideal spot for divers and snorkelers seeking an extraordinary underwater experience. This famous fresh and salt water lake holds a secret that draws in diving enthusiasts from all over the world.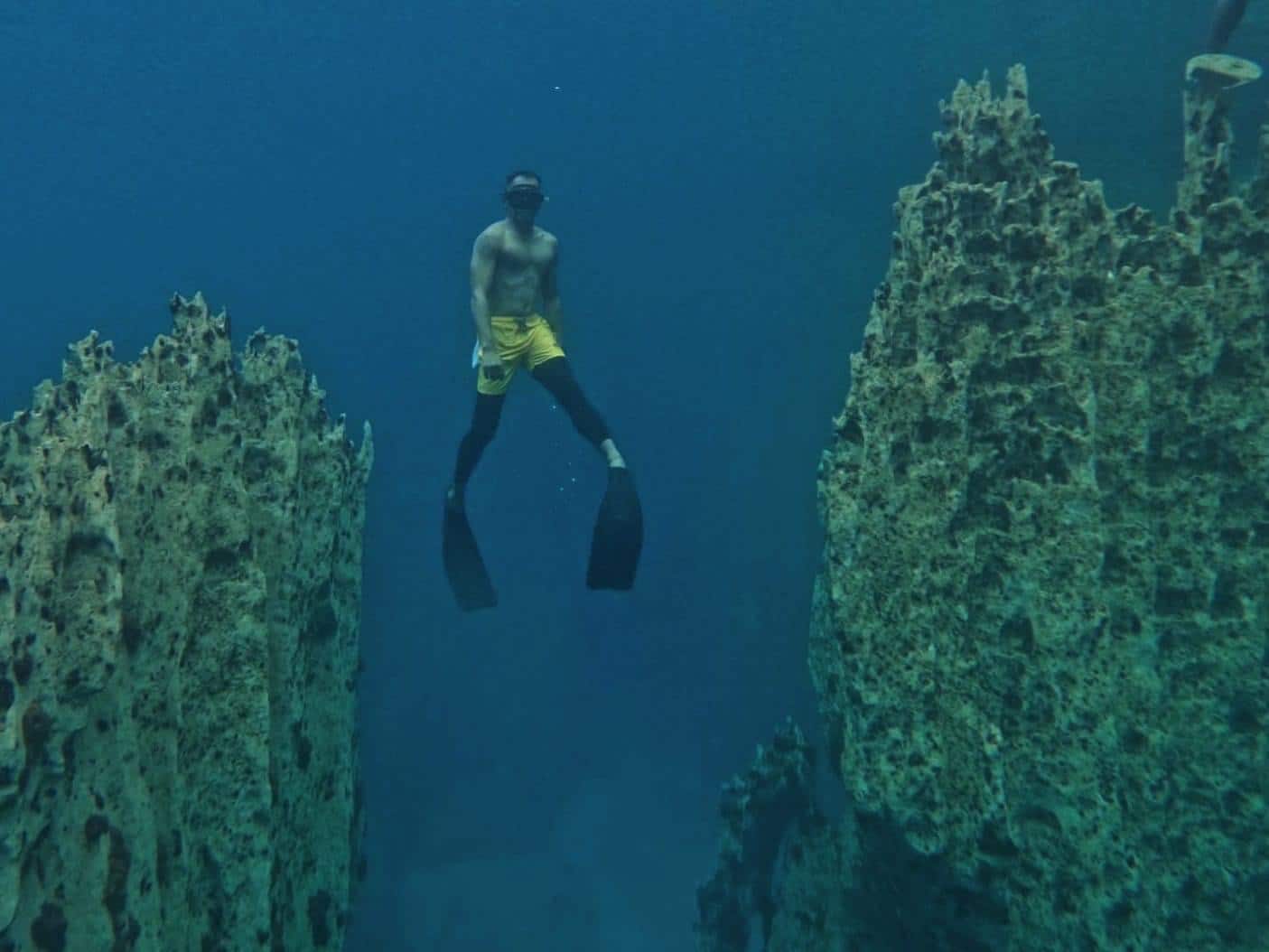 Barracuda Lake is renowned for its mesmerizing thermocline phenomenon, a unique occurrence where the water temperature changes dramatically at different depths. As you descend into the lake, you'll feel a distinct transition from warm surface water to cooler depths, but then even warmer again. This phenomenon creates a fascinating diving experience, unlike any other, as you navigate through layers of varying temperatures. With that being said, Barracuda Lake offers one of the most unique diving experiences. Occasionally referred to as Luluyuan Lake by locals, its crystal blue waters are hidden between majestic rocky formations.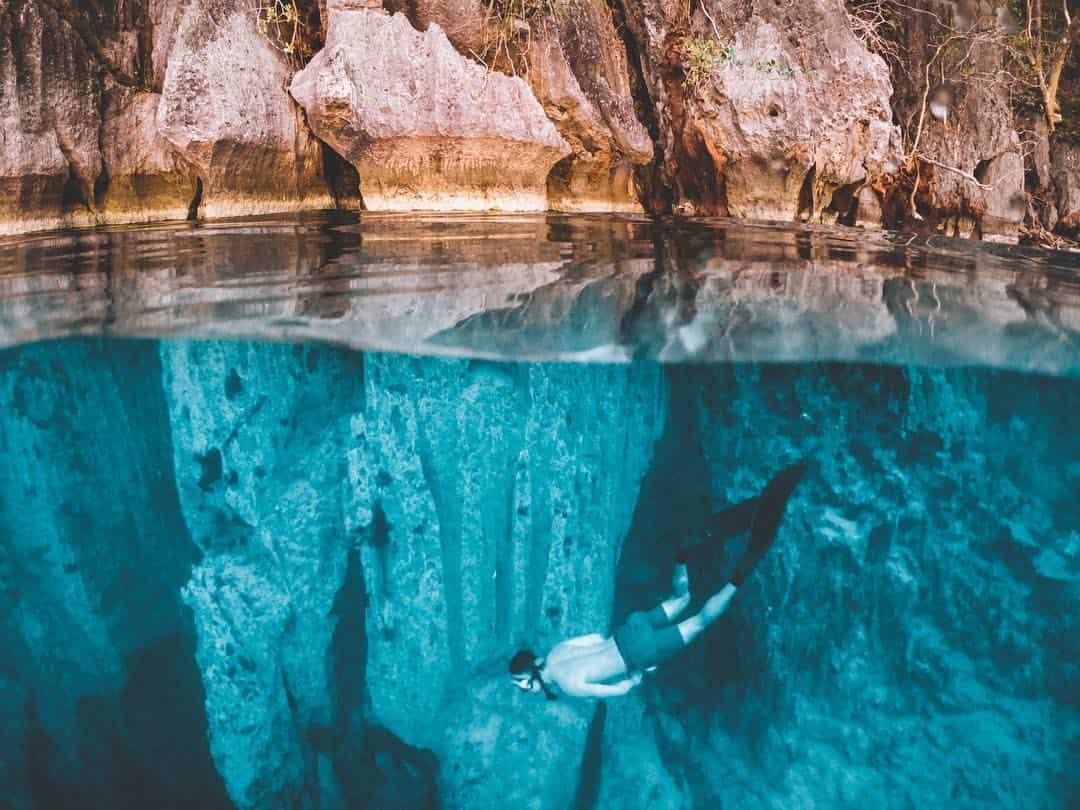 Prepare to be enchanted by the crystal-clear waters of Barracuda Lake. Its exceptional visibility offers a window into an underwater world filled with awe-inspiring rock formations, submerged trees, and intriguing marine life. The lake's remarkable clarity allows divers and snorkelers to explore its depths with unparalleled clarity, providing an immersive experience like no other.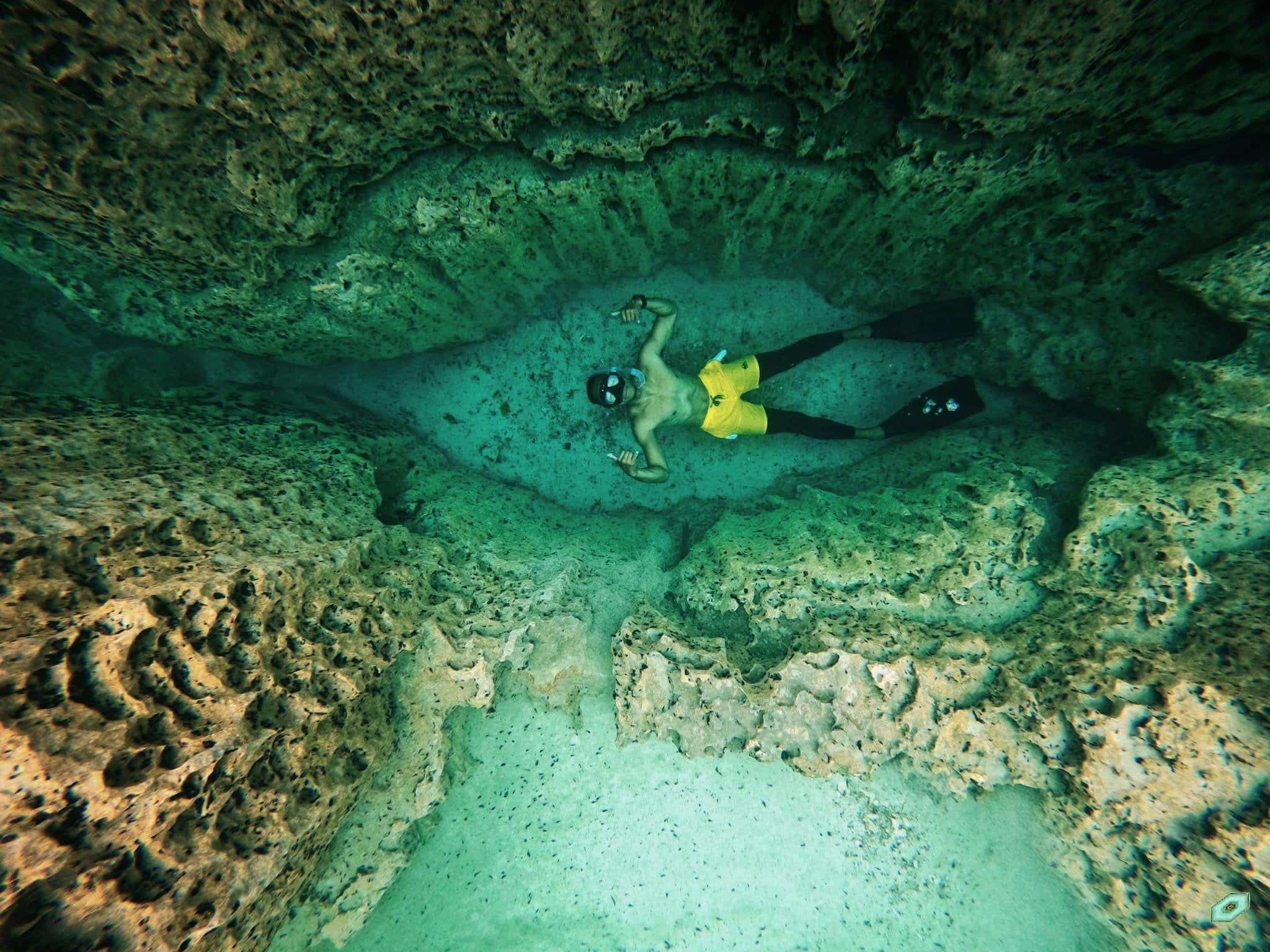 Starting out on the surface of the lake, divers, swimmers, and scuba enthusiasts can expect temperatures around 82 degrees Fahrenheit. But as you dive into lake deeper, around 45 to 50 feet down, the temperature of Barracuda lake suddenly changes to just over 100 degrees Fahrenheit (so you don't need to wear a wet suit as most people's hot tubs are at 104 degrees).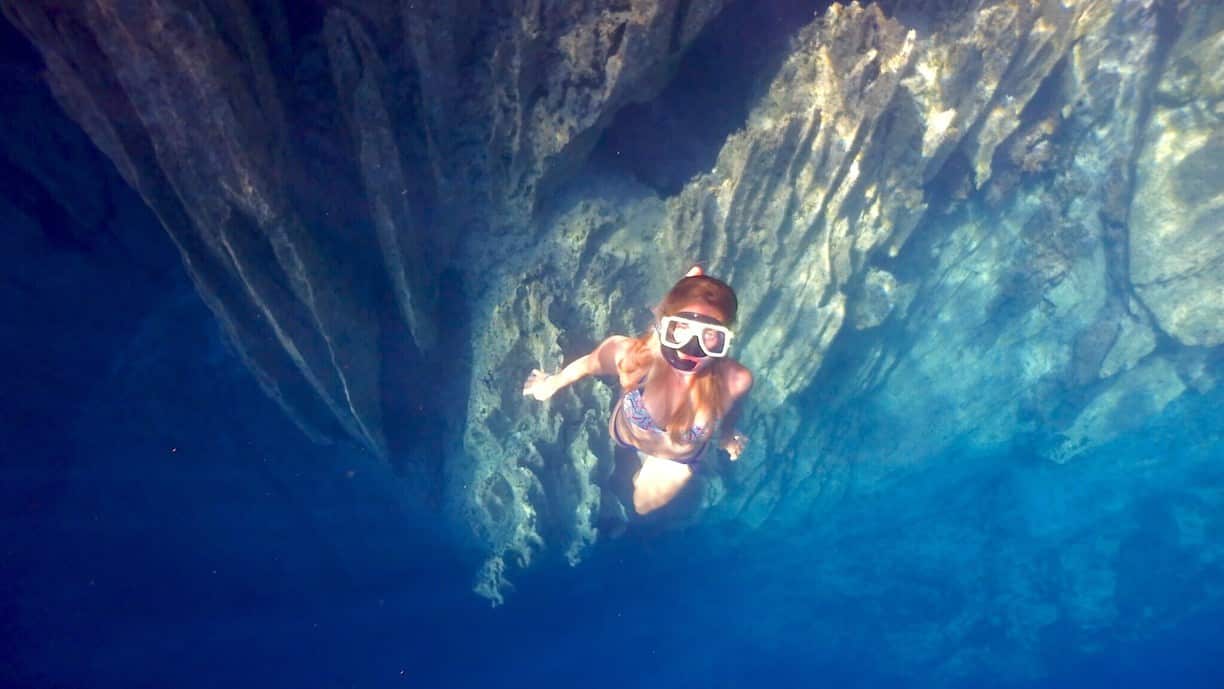 Since Barracuda Lake is made of both fresh and salt water, the result is this unusual temperature rise. What's more surprising is that the divers can even distinctly see the thin boundary that separates the two bodies of water.
Barracuda lake is also characterized by an impressive display of limestone formations that rise up on all sides and extend beneath the surface.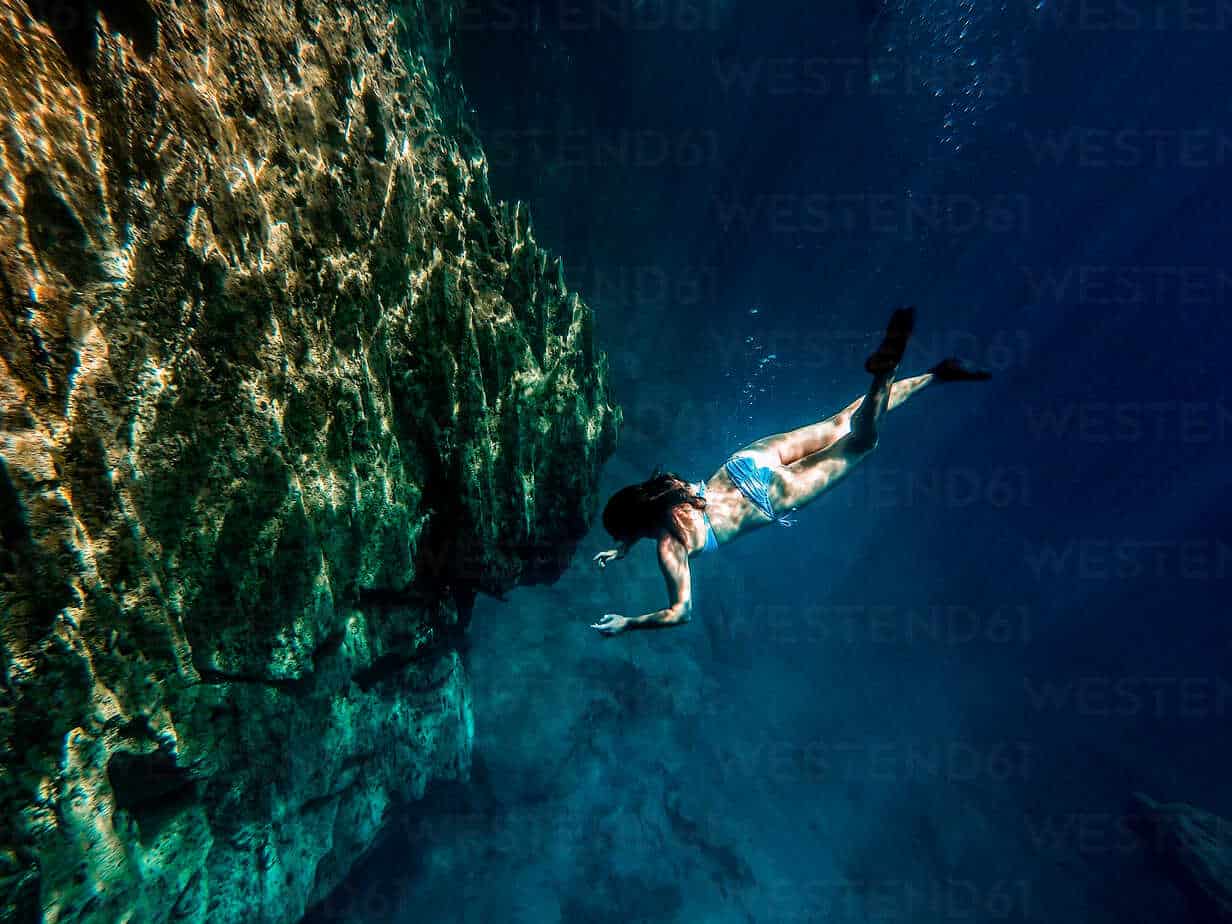 Divers flock to Barracuda Lake for its unique geological formations, including jagged limestone cliffs and underwater caves. As you dive deeper, you'll encounter a submerged rock face and swim-through crevices that add a touch of mystery to your underwater adventure. Keep an eye out for barracudas, snappers, and other marine creatures that call this pristine environment home.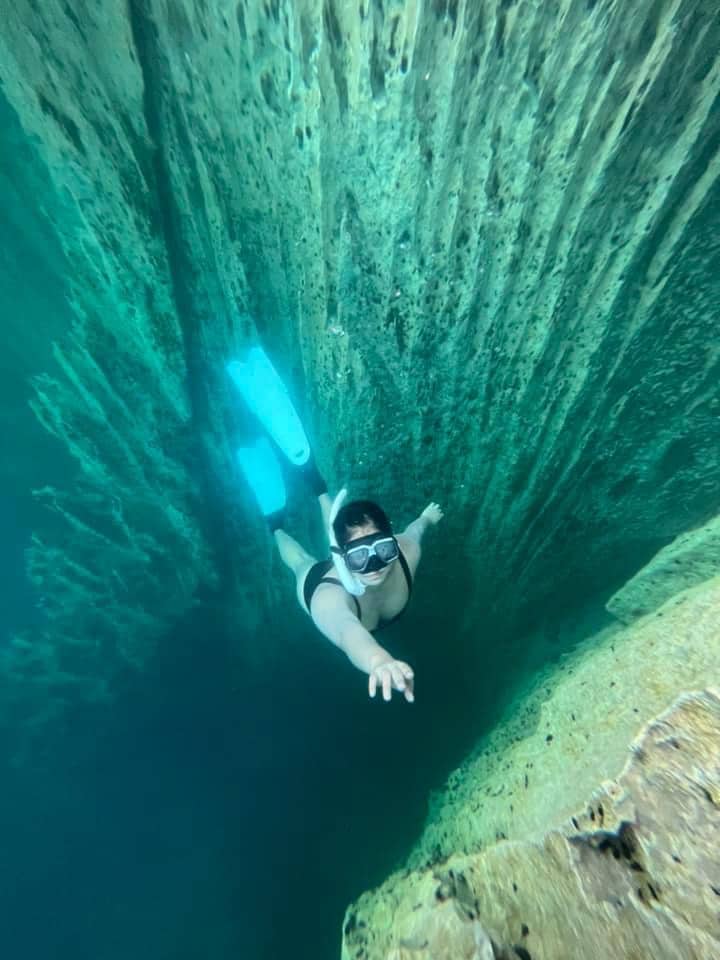 If you get really lucky you may even have a chance to encounter with the only resident barracuda for which the lake was named, who is said to lurk in the shadows of the lake's thirty-meter cave. Let's just say, scuba diving Barracuda Lake is a sensory experience you are sure to remember for the rest of your life.
Did you know that when you dive into Barracuda Lake it feels like you're walking on the moon? You will have a sense of "weightlessness" like you're floating while exploring the hot or cool depths, a sensational experience (which is largely devoid of flora and fauna).
However, the lake holds yet another shocker: just when the salt watery heat becomes a bit unbearable, the temperature changes back to cool again near the bottom — I know, it might sound and FEEL scary!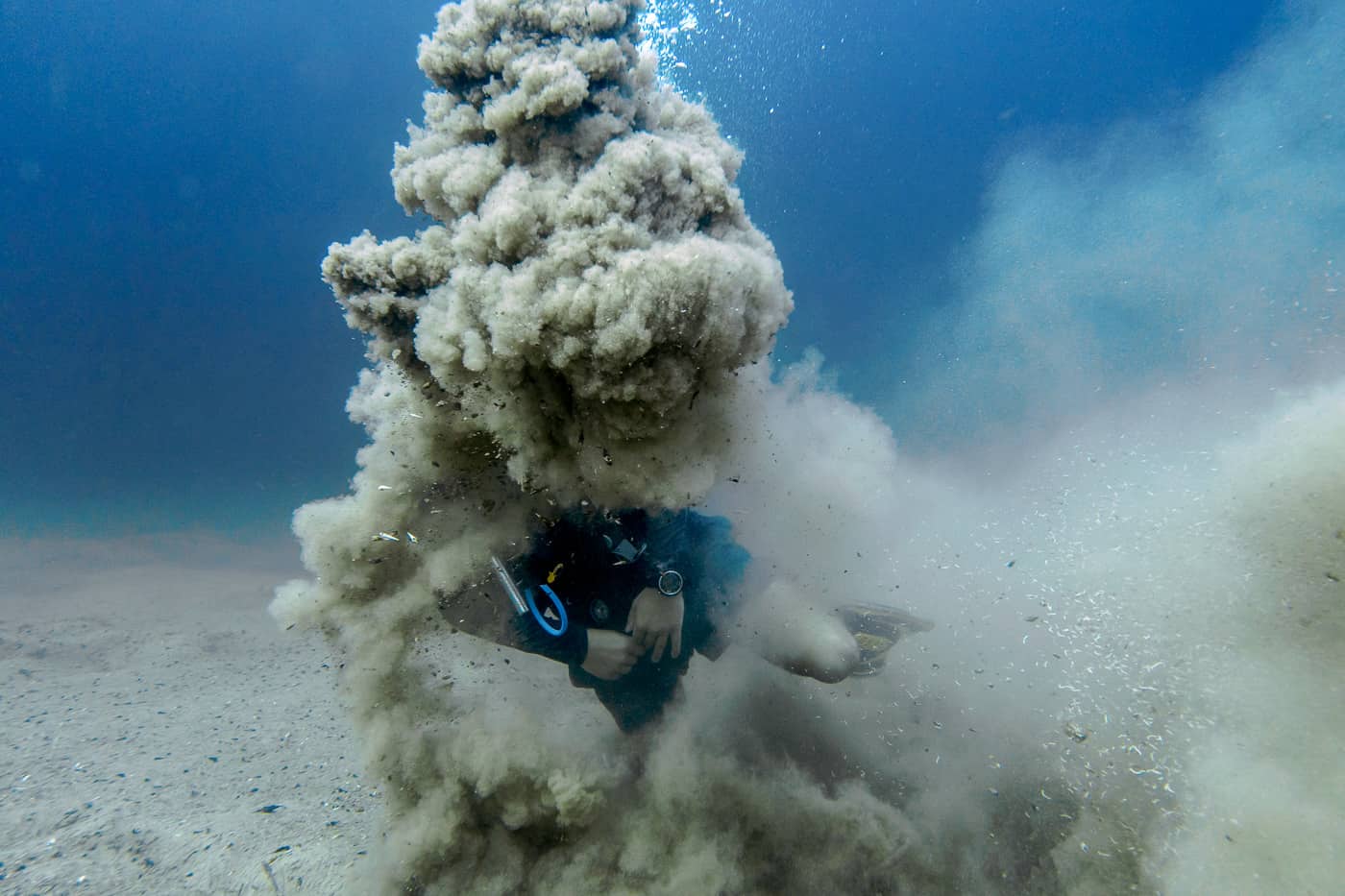 Another special feature of the lake is the sand at the very bottom, which has been described as "jelly-like," "silky," "airy," and "silty." The lake bottom was so light and airy, with one throw you could fill the water with a billowing cloud of its murkiness. It's apparently good for play, too. And although the barracudas aren't really around anymore, if you're lucky, you may still catch a glimpse of one.
A set of ugly dwarf catfish and large brine shrimp nervously navigated their way. They were truly some of the ugliest critters under the sea. Barracuda Lake was a most unusual dive indeed!
A video of some of our guests enjoying the sites:
Know Before You Go
This lake is best experienced via scuba diving to get the full experience of the thermocline.
Essential Travel Tips When Visiting Barracuda Lake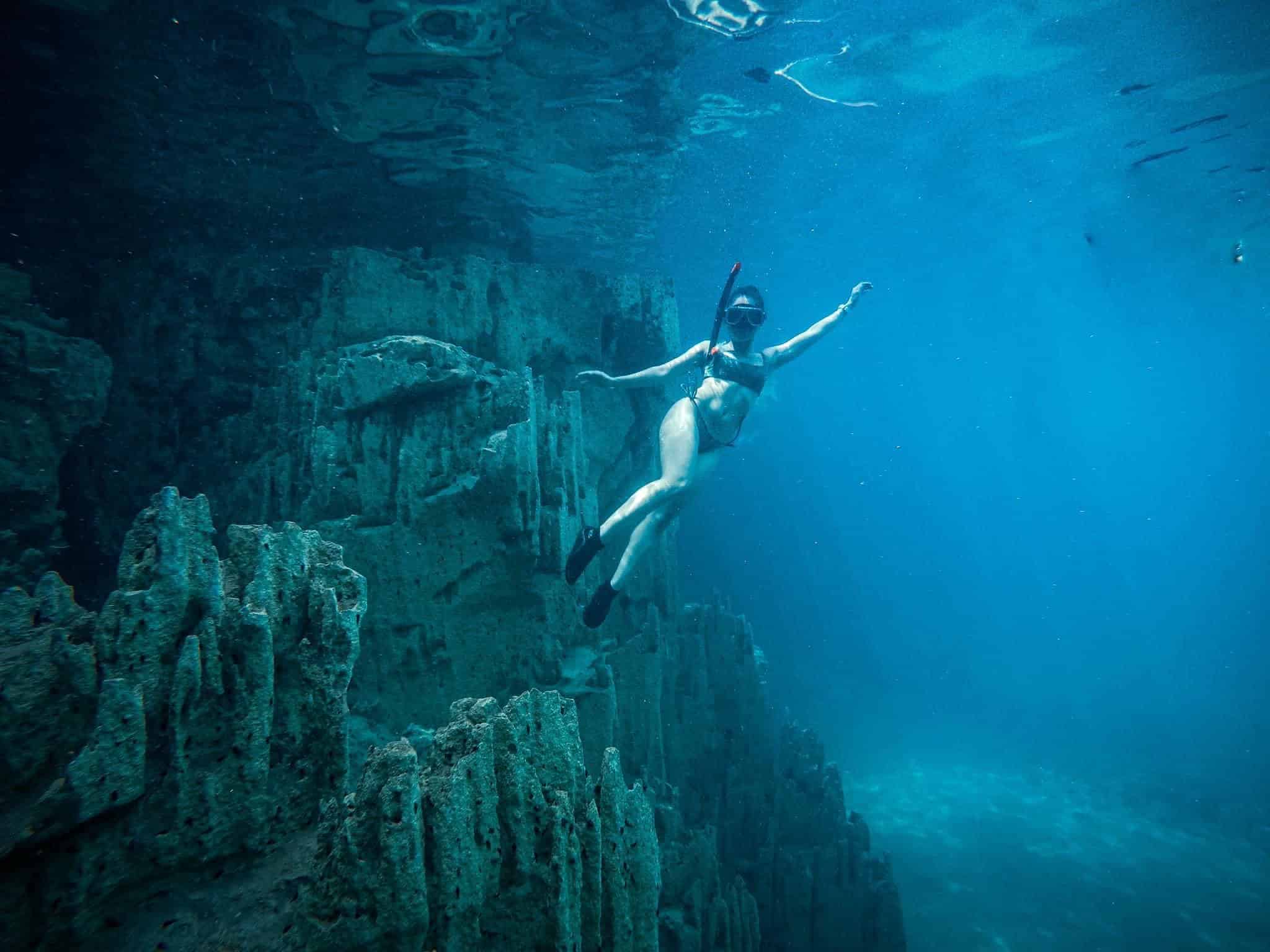 Dive Certification
Ensure you have the necessary diving certification and experience to explore the depths of Barracuda Lake. Ensure you have the necessary diving qualifications, such as an Open Water Diver certification or higher, to safely navigate the depths of the lake. Safety should always be a priority.
Rent or bring gear
If you plan to dive, consider renting or bringing your diving equipment, including wetsuits, masks, and regulators. Having properly fitted and comfortable equipment enhances your diving experience and allows you to fully appreciate the underwater wonders of Barracuda Lake.
Water Temperature and Dive Duration
Prepare for the thermocline phenomenon by being aware of the changing water temperatures at different depths. The surface water may be warm, while the deeper parts of the lake can be significantly cooler. Consider wearing appropriate exposure protection, such as a wetsuit, to stay comfortable during your dive. Also, be mindful of your dive duration and plan accordingly to avoid prolonged exposure to colder temperatures.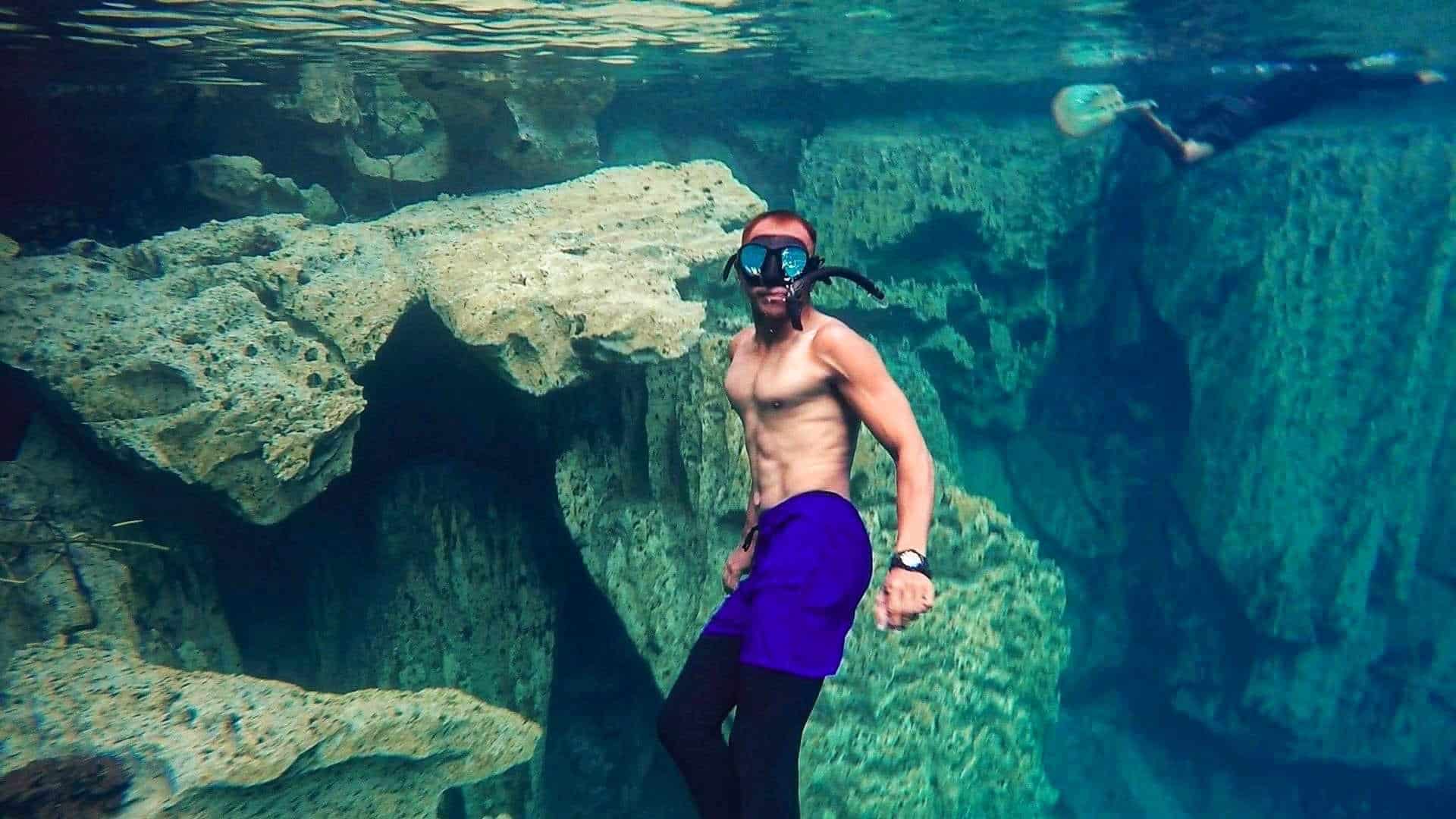 Local Guides
Hiring a local guide is highly recommended. These experts possess extensive knowledge of the lake's unique characteristics, safety protocols, and can provide valuable insights into the underwater landscape. They can also ensure you have a safe and memorable diving experience.
Environmental Preservation
Respect the delicate ecosystem of Barracuda Lake by refraining from touching or removing any underwater formations and avoiding the use of sunscreen that may harm the environment. Contribute to the preservation efforts by not littering and taking any trash back with you.
Best Time to Visit
The best time to visit Barracuda Lake is during the dry season, which typically runs from October to May. This period offers more favorable weather conditions, including calm seas and less rainfall, providing optimal visibility and enjoyable diving experiences. Detailed weather forecasts for the Philippines.
Don't Miss
Start your island hopping boat tour early in the morning before 9AM the tourists from joiner or group tours arrive. The entrance to the lake is small, so it can get crowded during peak hours. Best to avoid the crowds is by booking a Coron private boat tour.
Chill by the lake and enjoy this piece of paradise surrounded by limestone cliffs.
Visitors may snorkel or swim in the lake. If you're lucky, you might catch a glimpse of the barracudas residing in its waters. The name may sound scary but no need to worry because the barracudas won't eat you.
You may even spot other fishes like rabbit fish, cray fish, catfish, and other sea creatures from the ocean that have found their way through the small openings in the limestone cliff walls.
If you are into diving, you will have the chance to experience the changes in water temperature (thermocline) as you go deeper.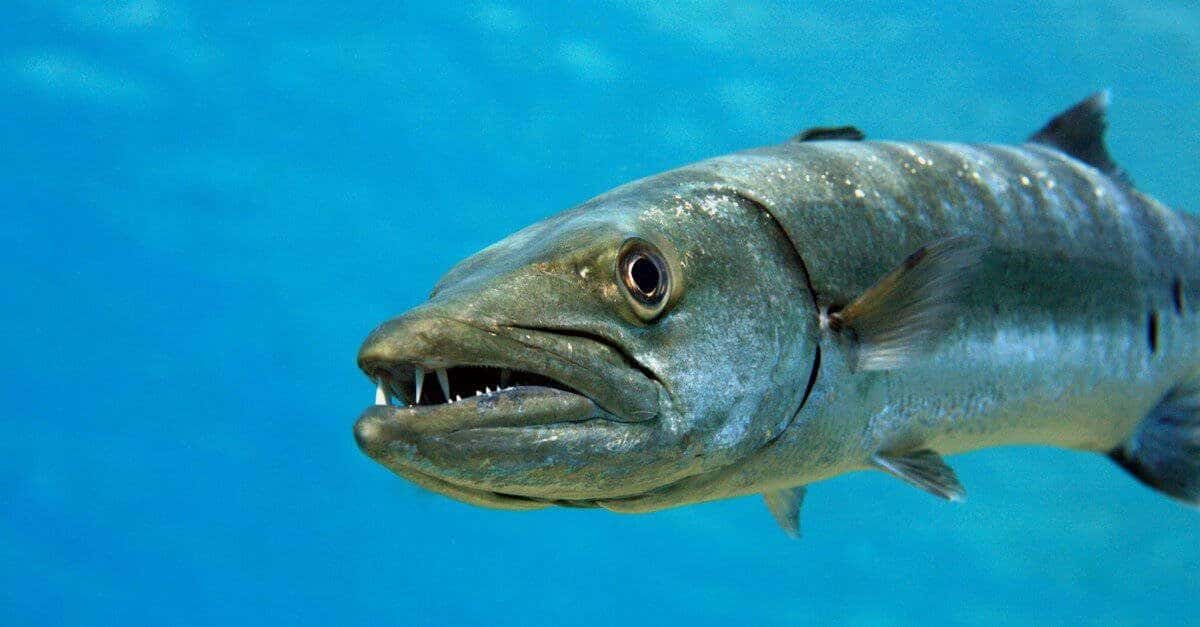 ---
Don't Forget
It is advised to wear a life vest when you swim or snorkel.
Follow the rules at all times. Practice caution, especially when swimming without your life vest. The lake is very deep, if you can, do not go on your own or out of sight of your companions or the local guides.
If you are planning to swim, just bring what you need. There's a resting area but it is advised to not leave your things unattended.
Bring enough money to pay for other incidentals such as food and drinks and entrance fee, especially if your group didn't join a group tour.
Charge your gadgets and/or bring battery packs.
Keep the place clean. Practice proper garbage disposal. Leave nothing but footprints. Take nothing but picture and VIDEOS!
---
If You Have More Time and Budget
Other places to explore in on a boat tour around Coron Island are Banul Beach, Twin Lagoon, Kayangan Lake, and Siete Pecados.
If you want to explore beautiful beaches with sand bar and powdery white sand, checkout Malcapuya island, Banana Island, Ditaytayan and Bulog dos in our Coron Escapade tour.
Take other tours like Coron Town Tour (which includes Mt Tapyas and Maquinit Hotsprings), Calauit Safari Park Tour, and Culion Historical Tour.
Still craving for the "natural high" after Mt. Tapyas? Go try Mt. Dalara.
You might also be interested in Fireflies and Plankton Night Tour.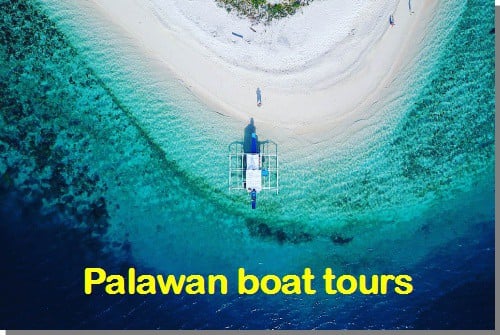 Other common mispellings for Baraccuda lake:
Barakuda, barrakuda and baracuda lake.
Barracuda Lake
Average rating:
1 reviews
May 25, 2023
Great dive!
Quite the experience, especially with the bizarre temperature change!