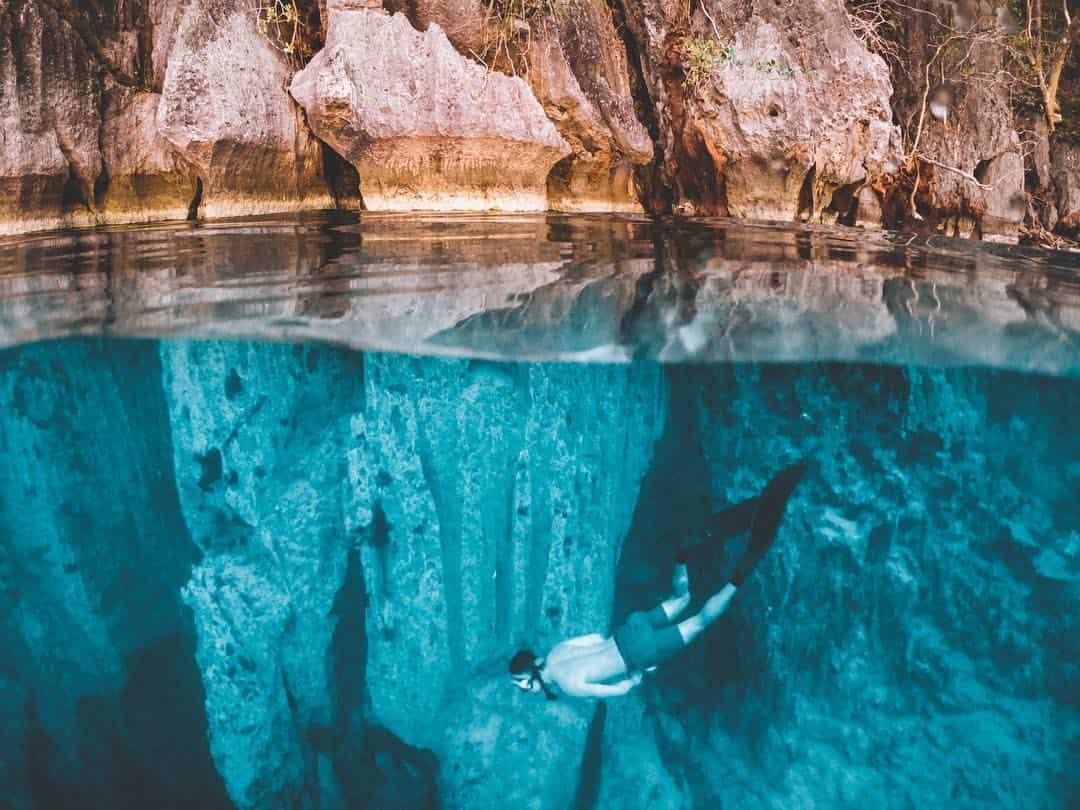 If you have only about two weeks to travel through the Palawan area, I would suggest my travel itinerary for this shorter time frame. If you have about a month, this page is for you. If you have more than that, at the bottom of this page is a link to other worthwhile places you can visit in the Philippines. 
I'd suggest you fly into Puerto Princesa. Generally I'd say it is not worth staying there, but if you do you can check out the link for things to do and where the live music scene is. 
You can grab a van to Sabang, which takes about 4 hours, but at the airport we grabbed a cab for about 2-2,500p which took us there in about half the time, the cab driver played my music via his bluetooth, and the ride was much more comfortable. 
Sabang is a nice town to hang out in for a bit, you can check out the underground river tour, and once you're ready to move on, I'd suggest the next stop would be Port Barton. Ideally ask around and get your own private boat there, because the inland route can be somewhat lengthy and complicated.
From Port Barton you can try to get a boat to El Nido, or van it somehow. El Nido is good for a few days, but be warned that the famous lagoons are quite packed with tourists. The town itself though does have a good live music scene, zipline and other fun stuff, so if you have a whole month, then the town is good for at least a couple of days. 
I wrote this for a friend who wanted to rent a motorbike and boot around Palawan island for a couple of months, but I would not suggest this, because you'd have to return the bike back to Puerto Princesa at some point and it would be difficult to move on from there, or you'd have to cover your same tracks. 
From El Nido you can beach hop your way to Sibaltan and continue on to Coron from there as explained in my shorter term suggested itinerary. 
Sibaltan is a village well worth visiting, a cool place to hang out for a few days, and if you ask around the locals, you can rent a motorbike and head south for a bit of a drive. 
Once you are back in Sibaltan you can catch a ferry to Linapacan and hang out there for a bit, or if you have the budget for it, either hire a private boat or join or form a group tour to take you on a multi-day boat tour to Coron. There are 82 paradise beach islands along the way, with excellent snorkeling in fantastically clear waters, caves to explore, cliff diving into the ocean and a Spanish fortress. 
Coron itself has a fair amount to offer and a fun nightlife, again good for at least a couple of days. From there you can rent a motorbike fairly cheaply and worth a few days trip around the island. 
On from Coron
You should be able to spread out the above over a nice one month period. You might even consider renting a motorbike in Puerto Princesa to do a loop to the south, where there is a crocodile farm, and potential problems with Muslims in the far south, but I haven't heard too much in terms of rave reviews concerning this — at least an option worth considering. 
If you are out of time I'd suggest taking the 2Go ferry back to Manila. It is a fun overnight slow ferry with the usual karaoke party. You can sleep comfortably and save on accommodation, even get a cabin if you want to be fancy. 
But if you do have lets say another month, as my friend for whom I wrote this page has, I'd suggest you can head eastward to explore some of the Visayas. 
If you have about a month, I'd suggest to fly from Coron to Cebu, rent a motorbike in that city and make your way around that island, at some point hopping over to the island of Siquijor before making your way back to the city of Cebu. 
If you have more than a month then you can doddle your way towards Cebu by taking a ferry to the kitesurfing haven of Cuyo, from there a ferry to the city of Iloilo, rent a motorbike there (we have a contact if you need) to make your way around that island of Panay and Guimaras, then the island of Negros before you make your way to Cebu. 
The Philippines is obviously not a country you can visit in a mere two weeks (this page only covers less than half of it). There are more than 7,000 islands and best to approach it like it is instead many countries. It's a great country to visit, because English is an official language and almost everyone speaks English quite well. It is also Christian, so you are not frowned upon for drinking beer, and unlike a lot of other places in South East Asia, the locals clean up their garbage every day and generally maintain a respect for their beautiful nature.