Join or form a group boat tour between El Nido and Coron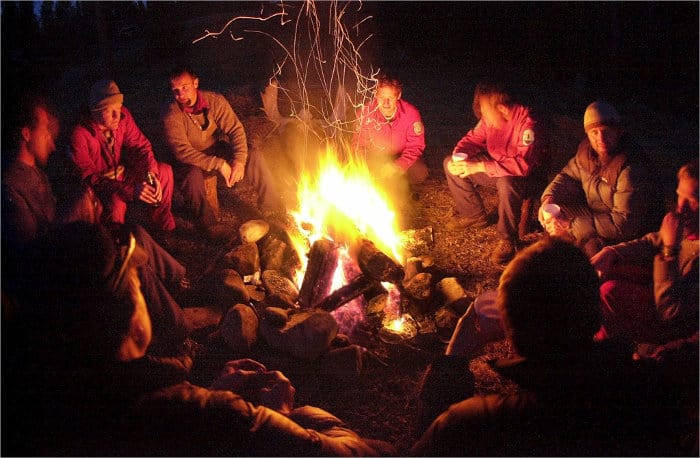 Note that the below are our old prices and that the new prices apply according to our parent page. There is a price calculator there based on number of people and days. You can also join one of our existing group tours, just send us a note to inquire. If you put together a large group we can work out a deal to make your share free.
Custom private or group tours between El Nido and Coron – best prices in the industry. Check out how we compare against our competition, who don't even offer private custom tours (other number of days are also possible)! You can invite others to join (and we can help you with that) to reduce per person costs further. Be in charge of your tour's destiny and path!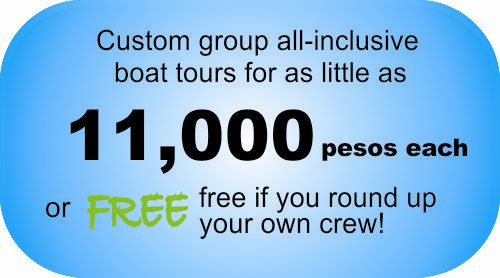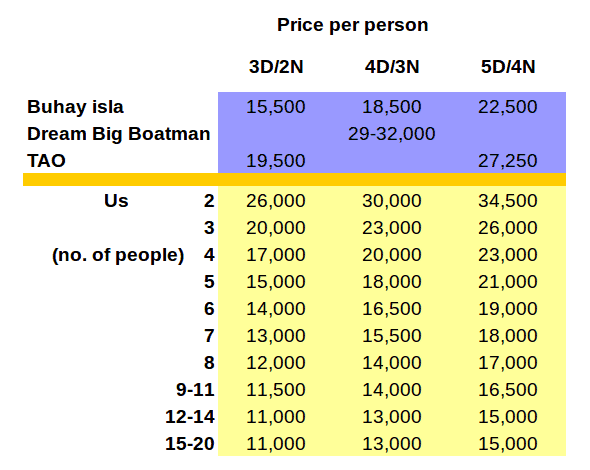 These are all-inclusive prices which include three hearty meals a day, all the entrance fees and basic accommodation in hotels, bamboo huts or in tent on the beach with mattresses, sheets and pillows. Or you can stay in fancy accommodation of your choosing – we're flexible and aim to please!
You have three options: reserve a boat if you have the budget to make a downpayment of at least 15,000p. This will make it easier for others to join. Or you can ask to join another tour, or if you do not find one with your preferred date and route, you can propose your own (free).
Below you will find a list of established tours you can join (green table below), groups you can join to form a tour (yellow table below that), or start a chat to form a party tour. If you do not find anything during the dates you will be traveling through the Philippines between El Nido and Coron, you can either join or request to form a group, or hire your own private boat (requires a deposit of at least 15,000p, details here). If you do hire your own private boat and would like others to join, to help reduce costs, we can help you find people and you are in control of who joins and the details of the tour. There is also the party boat tour (rows marked pink below), where you can go for FREE if you find enough people to join you (you can discuss to round up people here)!
This following chart (number of tours we have organised per month last season) shows which months are the busiest (season starts in October, the 10th month), to give you an idea what chance you might have in grouping people together: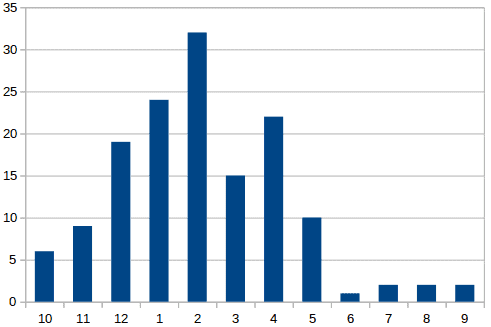 Here is a list of established boat tours you can join. Click on the person's name for more details. If they have not included their contact details or Facebook Event in the Comments, you can contact them directly by registering on this site.
Days – the number of days the tour will run (the number of nights would be one less)
No. – the number of People who have joined the tour so far
Below are requests from travelers who would like to form or join a group but who have not reserved a boat (scroll if the list is long).
Interval – the number of days this group is available for a tour
Days – the total number of tour days the group would prefer
If you could not contact someone above or would like to organise something yourself, you can do so here:
Or chat with others to form a group.
You can check out information on our various sized boats on this page.
Check out the boat tours weather forecast.
Check out our suggested travel itinerary for ideas how to best explore the Palawan area.
General information on our multi-day expedition tours, Coron only tours, or El Nido tours.
Here's a video of some of the sites we regularly visit:
Join or form a group boat tour
Average rating:
0 reviews