Treeplanting Accounting Software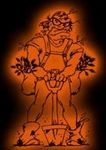 TreePlanting
Accounting Software
Our competition does not come close to money for value. Before you make a decision on your software needs, please allow us to give you a formal presentation. Or view the VIDEO TUTORIAL.

My life in Prague

soon to be PlantWizard compatible

easily customizable for your own needs

automatically fill out your tax forms, print out your cheques, and easily process any other tedious paperwork

just punch in the daily tallies and everything else computes automatically – save yourself lots of time!

with a press of a button, print out transparent reports for your treeplanters so they can confirm their numbers before you issue your next cheques

issue invoices with a click of a button, print them out, or send them by email after converting them to PDF files

designed by a highballer with seven years of planting experience, who knows what you need!

free demo version if you'd like to go for a test run

one-time charge of 1500$, as opposed to the competition's 1500$ every year.
While managing my own small company for 15 years, I used to do all my accounting in Excel. I got rather sophisticated and wrote macros and complex formulas to automate many tasks, but things got to a point where I was simply spending too much time fiddling with data and graphs, so I took the next step and learned how to organise a proper database, using Microsoft Access.
The advantage of Access over Excel (both Microsoft programs installed on most computers) is that Access is a database program, while Excel is a spreadsheet program. With Excel there is a constant need to manipulate data and create new sheets, while in Access all you need is to input the basic information (number of trees planted by each planter, which tree species on which block, and so on), where all the output, such as calculations of how much you owe each planter, the total earnings, their average planted per day, or any graphs depicting their progress, is outputted automatically, not requiring any additional work.
Below is a brief overview of how the system works.
Master Contract Form
The main contract page shows the following window: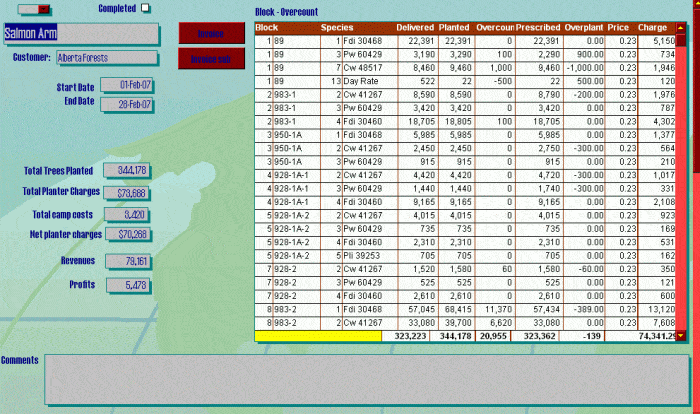 The Block Overcount subwindow shows the details of each block and how many of each tree species was Planted on each block, together with the number of trees actually Delivered, and hence an automatic calculation of any Overcount. Also the amount Prescribed for the block by the forester or contractor, and an automatic calculation of any Overplant. The Charge is based on the Price times the amount Delivered to the block.
Underneath each column are automatic calculations of the totals. In Access it is very easy to calculate these totals only for certain blocks, tree species or any other criteria, as explained in the demo instructions.
The top left of this window has a drop down menu: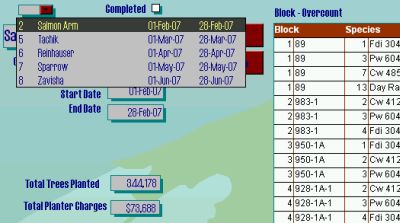 with which you can select any of the contracts you have worked on so far. This example uses the Salmon Arm contract.
As you can see from the window at the top, once you have selected a contract, such calculations as net profits and revenues are shown along the left hand side.
To the top left of the Block Overcount subwindow you will find two buttons: Invoice, and Invoice Sub. Both for printing invoices based on the total number of trees (broken down by species) delivered to each block. The Sub button is used if you want to print an invoice for only a certain time period, if the contract is a long one and you would like partial payments. The invoices can be printed on paper, or converted to PDF format to send in electronic format by email. This is further explained in the Full Version instructions.
Scrolling down in this window will take you to the Breakdown of Planter Charges subform, which shows details of each planter's tallies for each day: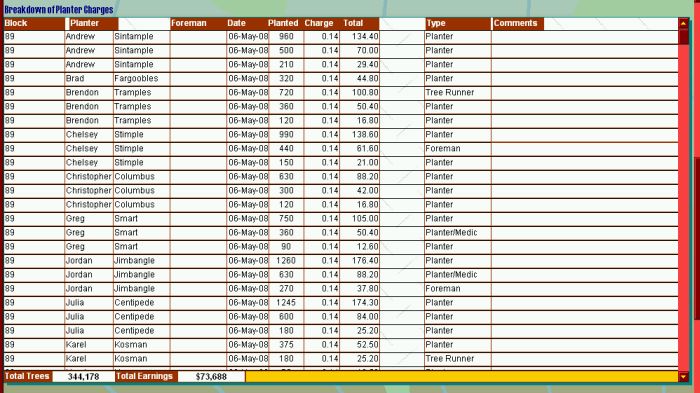 Note that these views are smaller than the actual size for the purpose of fitting into this webpage.
Scrolling to the right will take you to various subforms, such as input forms for blocks and tree species, and the Planter Breakdown and Profits per Block subforms, shown here below: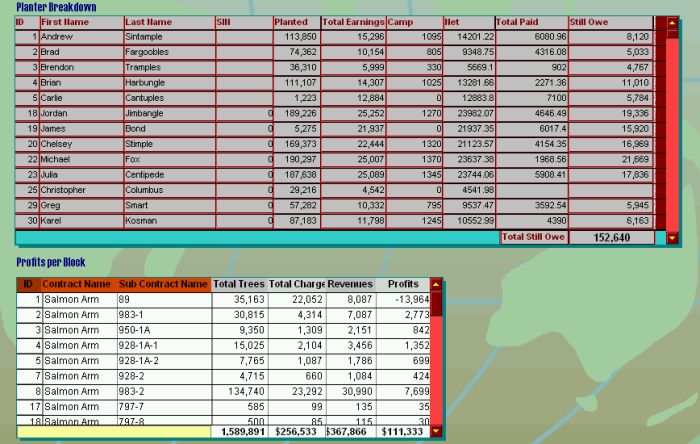 The Planter Breakdown subform shows important totals for each planter, and the Profits per Block shows important totals for each block.
As stated before, the subforms and various totals and calculations can be easily changed within Access and I expect to be doing so based on client requests.
Planter Tallies – Individual
This master form is useful to view calculations for individual planters.
As usual, it comes with a simple drop-down menu with which to choose a planter: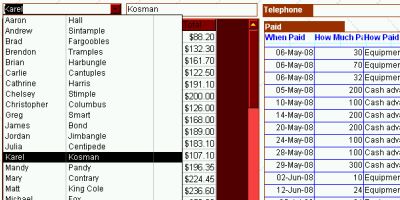 Once you have chosen a planter, you will see the following window: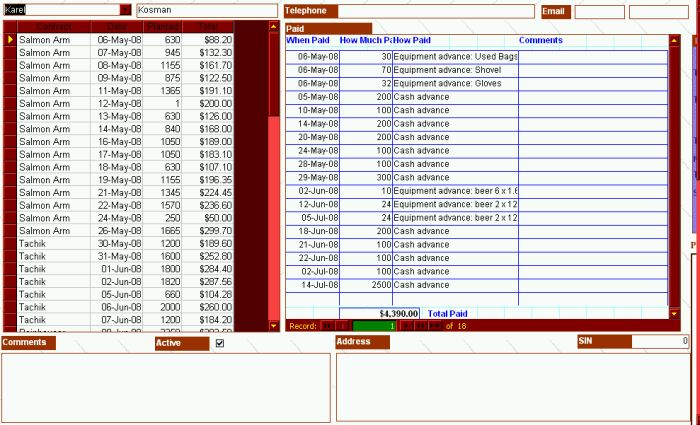 The subform underneath the name shows daily totals, not broken down by tree species (shown when scrolled below). The subform to the right shows how much has been paid to date. Note that, in accounting, cash advances, beer loans and purchases of equipment are considered as a form of payment. Inputting such payments will automatically affect the Total Owe that you owe them (shown below).
Most planters keep tallies based on a daily total and not broken down by species. You can show them their updated information any time they want, and it will increase their confidence in your organisation.
Scrolling to the right in this master form shows the Balance subform and below that a graph of the planter's progress: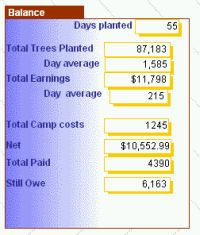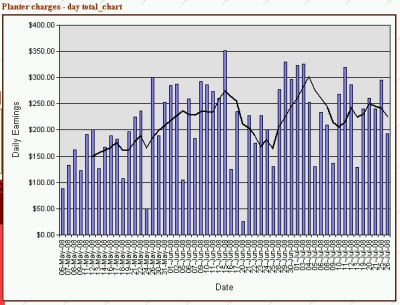 The graph shows the totals per day with a trend line. Such graphs are easy to set up in Access.
The Balance form shows the total number of days planted, calculated automatically based on days when earnings were over a certain amount, such as 1$.
Planter Report
When it is time to pay people, it is good to give them the opportunity to check your accounting numbers against theirs. The above master form is very useful for this, but not practical because it would require every planter to take turns in front of your laptop, which may not be desirable. Instead you can print out the above information in a simple form: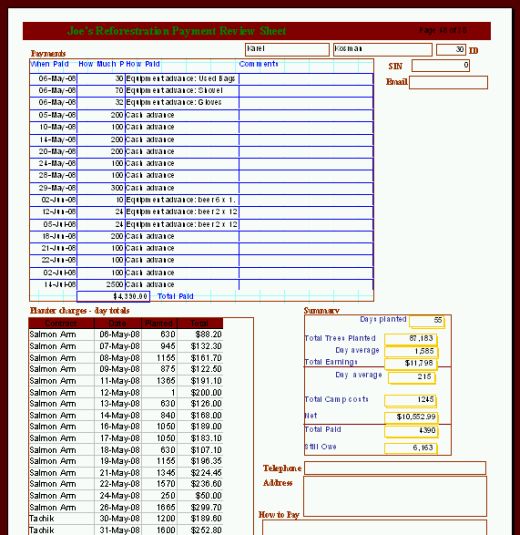 It shows the same information in the master form above, but organised to print out on paper. Alternatively, you can convert the data instead into PDF format and send that by email, in case they have left the contract and cannot double check the figures while in camp.
Below the Day Totals is the subform report which shows the data according to individual species, in case they would like to double check those figures: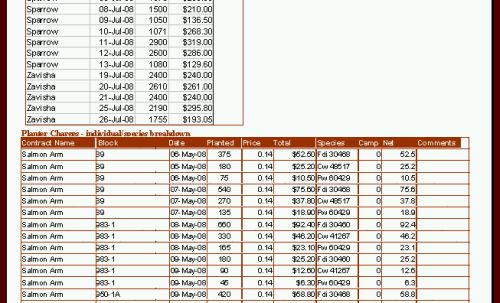 Note that you can set criteria to only show data for a certain time period, and buttons and forms have been created to make printing easy for individual planters and for certain pay periods.
Paying People
You can use this form to pay people and give you a quick overview of each planter.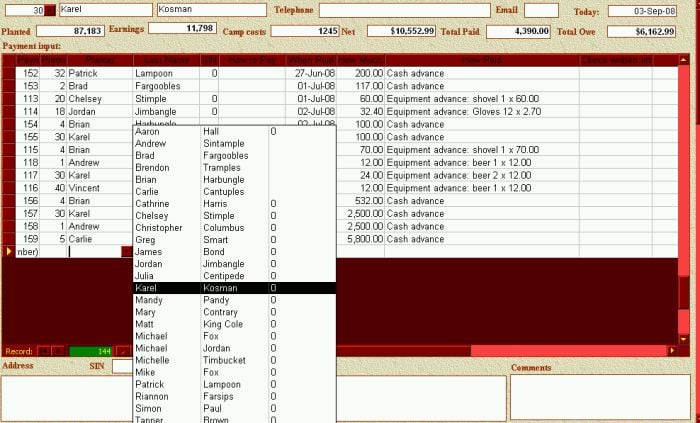 As usual, the top left of this master form has a drop down menu with which you can choose individual planters to see their individual data. The first subform on this master form is the Payment Input. When making a new payment, be it in the form of a cheque, cash advance, or equipment sale, the bottom record has a drop down menu to help you choose which planter you intend to make a payment to.
For all drop-down menus, you can select whether an individual planter or contract (or block, or tree species etc.) is Active, which is useful if you want to limit the size of these drop-down menus. For example, let's say you've been using this software for ten years, during which time you have employed 150 planters, but at present you only want to view data for the 25 planters you have employed for the current season. By selecting these 25 as Active, key drop-down menus will show a list of only 25 planters, as opposed to the full 150. Such things are easy to set up in Access.
Scrolling below in this master form shows you the tallies and totals for the planter you chose from the drop down menu at the top left of the master form. To the right of that you will find the same data but with daily totals as opposed to totals by tree species. These subforms are the same as found in the other master forms. It is easy to place various subforms and graphs into master forms. 
Below that is the How Much Owe subform, which is the same as the Planter Breakdown subform above, which shows an overview of how much you owe each planter (showing the totals for all planters at the same time).
Below that is a window showing the same data but only for a defined period, such as a two week pay period. You can easily copy such data into a Word file and send it to your accountant by email for processing. This is all explained in the Full Version instructions.
Comparison Graph
This last example was something I did not intend to create but which took me only a few minutes to prepare, based on a request by one of the planters. It serves to illustrate how easy it will be to develop this software based on client requests.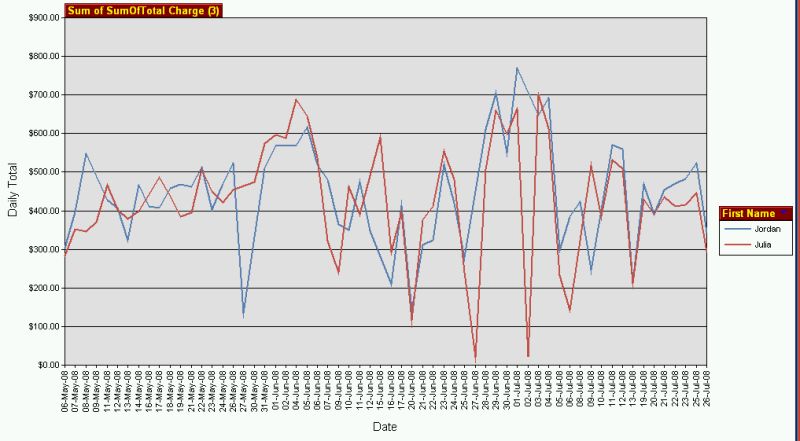 It shows a comparison of each planter's daily totals. Each planter is automatically assigned a different colour, but if your crew has at least 15 planters, you can imagine that this graph would be difficult to interpret with all the different lines and colours. For that you can simply click on the First Name box on the right and select a limited number of planters. Here I have selected the fastest two planters on the crew. On two days Julia was sick, and on one day Jordan was thrown in an extremely bad piece. There is also a Date box (not shown here) if you were interested in comparing their tallies for only certain days or a certain time period.
Other Features Not Mentioned Here or Which I Can Add After Consultation With You
print out cheques with a press of a button. Use any fancy fonts you want, and make your company look rock solid to your valued planters

quickly fill out tax forms, which can compute automatically for you. If I don't have my own accountant, you don't need one either

any fancy graphs and automatic calculations that you need. Real easy to set up

check back from time to time for any updates, or contact me and ask to be put on an email notification list
Conclusion
I have designed my own translation accounting software while managing my translation agency and enjoy this type of work. I offered to do it for my boss while planting during 2008 and would enjoy developing it further. You can read how to work with the Full Version, or you can download the Demo Version and read those instructions. I plan to tweak the relative instructions as I develop the software further. If you would be interested in purchasing the full version, or just ask me any questions, please feel free to contact me.
Karel Kosman, highballing planter with 7 years experience (end of 2008 season)
Partner links:
Chinese Translation Services – Offers certified Chinese, Japanese, Korean, and SpTanish translation services in Los Angeles.
Spanish Translation – Translation company leader in Spanish translation and language translations. Free quote or consultation. Quality at the best rates. Expert Translator teams.
---
Copyright © KENAX, Karel Kosman – All Rights Reserved Worldwide.
We are a family operation managing private custom boat tours in the beautiful Palawan area, and are happy to help travelers with their plans through the country, having traveled a lot of it ourselves and planning to visit it all. The pages in this section concern when I was treeplanting in Canada over eight summers.