Tree Planting Jobs and Work
Want to contact more than a hundred tree planting companies in one easy sweep?
For $50 I'll sell you email addresses of 121 treeplanting companies. I'll even proof (I've worked in the translation industry for several decades) your approach letter and give you some tips, as a veteran highballer who has worked in this wonderful industry for 8 seasons, and proud to have put roughly one million trees into the ground.
Otherwise, feel free to read these pages on my tips how to earn good money in this job by planting quickly and efficiently, and to generally know what you will be up against and how to prepare yourself. It really is one of the toughest jobs in the world, but I found it very rewarding and the people you meet are of very interesting and unique character. Tough nuts to crack!
---
The rest of this page provides some basic information about tree planting jobs.
Gear for a Tree Planting Job
I will go into this in greater detail. In the meantime, you can go to the main hardcoretreeplanters.com site link located at the top of this page for the basic information which has been prepared so far. Basically you will need tree planting boots (preferably at least two pairs – one with cleats and a light pair for less demanding terrain), a tree planting shovel, and proper tree planting clothing.
The Tree Planting Job Season
If you plan to tree plant in British Colombia, Canada, the tree planting season can run longer than in other provinces due to the moderate climate near the coast. This is referred to as coastal planting, but it is generally much more difficult and requires a seasoned planter who knows all the tricks of area planting
Third Party Job Links
---
Email Correspondence about Tree Planting Work
Tips and General Info
I would like to get a tree planting job in Canada this summer. I used some of the contacts on your site and some from other sources and I sent about 80 mails to the tree planting companies. The answere were all negative, because their crew is already full or it is too late. Do you have any idea what could help me to find a tree planting job for this summer ? I have read at your site that once you were tree planting job for 8 months straight. How is it possible when the season is only in the spring and beginning of summer ? Is there any kind of job, tree planting job for which I can apply at this time ? and so there is more months during which is possible to work there other than tree plant?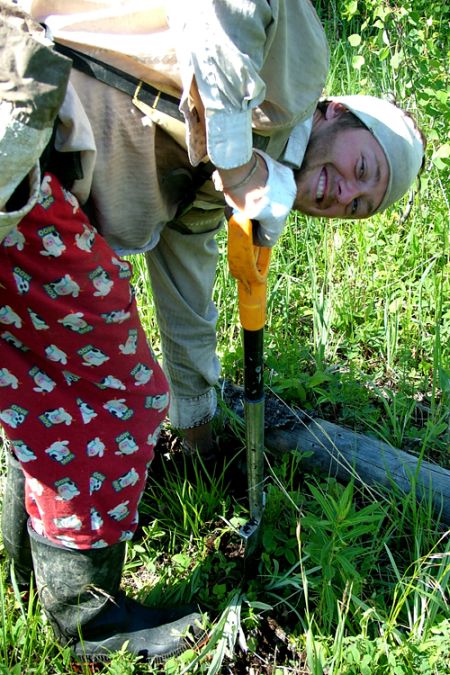 I live in Slovakia, Europe and will be 20 this summer. This week I have finished my highschool studying, so I´m available from the next week. I wanted to go fishing to Alaska, but I haven´t found a job for me. I have no tree planting job experience, but I know that it is a hard work and not for everybody. I have a positive relationship to nature and I´m used to sleeping in the nature and to the other living conditions, because I often go to nature for several days just with my sleeping bag. I´m exited about the tree planting and the possibility of earning good money.
Hi Tomas, cool you are from Slovakia, cause I was actually born in Czech! But the situation has changed a lot since I tree planted some 20 years ago, when there were people from Peru and other countries who told me it was not a problem to get this job. But since then and 911 things have changed a lot, so make sure you can get a job in Canada first.
The best way to apply for a tree planting job is to start early. Perhaps even in the fall of the previous year. Tree planting companies bid on contracts, usually need to finish them by a certain time, otherwise they might be subjected to fines, and then move onto the next tree planting contract to keep their crew constantly employed and happy over the summer. So they want to make sure they have their crews filled early. They need crews of certain sizes so they know they can finish the contracts on time, but not too big so that people are grumbling without tree planting work and perhaps look for other companies to work for.
But if you are starting late in the season, one thing I might suggest is to take your chances and go up to Prince George in northern British Colombia. It is the tree planter's meat capital of the world. It has been called the "crossroads to nowhere", in reference to the highways which turn to logging roads and eventually fade into nothing. It is a huge logging area, and many tree planting companies constantly prowl the streets looking for fresh meat to abuse. But at least this way you will get your feet into the door, gain some experience, learn about the industry, gain valuable contacts, accumulate your necessary gear, and be in a much better position to look for work the following year. Keep in mind that, yes, it is a tough job, and it will probably take you at least two months to get the hang of it and start to make real money. If you want to make money with tree planting work, unless you're one of those seldom few lunatics who can REALLY push themselves, you're going to want to do this profession for at least a few years, because it does take a while to learn all the tricks (which I suggest you read on the rest of my site, to help you earn more money faster). You should try to get a good overview of companies with horrible reputations. Keep in mind that there are horror stories where a tree planting company will fly you deep into a bush somewhere, from which you cannot even escape, and you might be stuck there working on the worst possible contract in the world. But at least it will be a good learning experience for you, so use your time to learn as much as possible, maintain a positive attitude (because a negative one wont help you), and think about trying another tree planting company once you do manage to escape.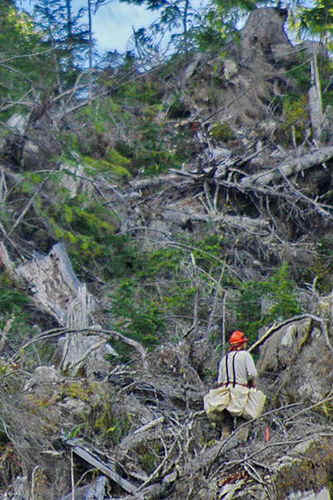 Otherwise, there are lots of other jobs out in the "bush". You can just go to PG (Prince George) and hunt around, and I think there could be a fairly good chance you find something. There is cone picking, through which I'm told you can make as much as tree planting. Then they need the seedlings cut down and thin out the forest as it grows. You plant about 2.5 metres apart, but I haven't seen too many healthy forests where the trees are that close to one another. I guess it's a probability game, so the sicker weaker trees get cut down at an early age and used as fertilizer as the forest grows.
Then there is all sorts of oil rig work and many other hard jobs in the bush.
I met one guy who said he went up to Alaska to a fishing marina and just walked from one boat to another until he found work, and said he was making 150 bucks a day. Then you can hit all the hotels. Lots of work to be found, and once you find anything, you can ask and hunt around and eventually find the better paying jobs. Maybe even get on a tree planting crew while you work at a hotel. Many crews go to PG on their days off if they are planting in the area, and there is certainly a lot of planting in the area. In fact, many crews stay in hotels in the town during their contract, so you can hit all of them while they are drinking, offer them some dope, schmooze the crew boss and see if you can muscle your way onto a crew. I suggest you bring your tent and try to sleep in the forest if you are worried about expenses until you do find work. And PG is a good town where to buy all your tree planting gear if you do find work. Or other gear if you end up with another job. The town is geared for all these professions so there is much competition and it might even be cheaper up there for such gear than in Vancouver. Otherwise many crews have second hand tree planting gear they'll sell you for cheap, so think twice before you start blowing all your money.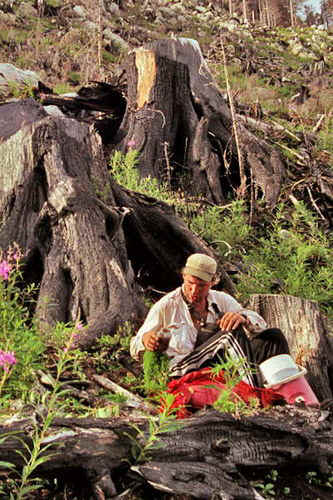 I managed to plant 8 months straight because I started at the beginning and held out to the very end. Because British Colombia has a coast, the ocean will naturally moderate the climate, meaning a longer planting season. Generally around the beginning of May the ground will start to thaw and you will already see planters pounding away and ripping up their tendons. But because the growing season is longer, the trees are also much bigger. And when the logging company comes and sees a slight crack in a tree, they'll just cut it down and let it lie to rot there. It's a sad waste, but since the trees are as wide as you are tall, there is a lot of clambering to do and it's a lot more difficult. So generally companies specializing in "coastal planting" wont even look at you unless you have at least six years of serious planting under your belt. So yes, as a greener, you're probably best off joining the rest of the meat grinders in Prince George, start at the bottom and work your way up. Coastal planting is a totally different ball game and such planters are usually long term and hard core professionals. But you can switch to cone picking, for example, which I believe starts in late fall and runs through the winter.
Oh yes, and there is also mushroom picking and I've heard of people making as much as 600 dollars a day, but that's sort of a secretive society and many locals might object to your presence, because they know where all the secret spots are and you are essentially taking work from them. I believe the Japanese are hot for pine and other mushrooms and pay a pretty penny in their markets for it.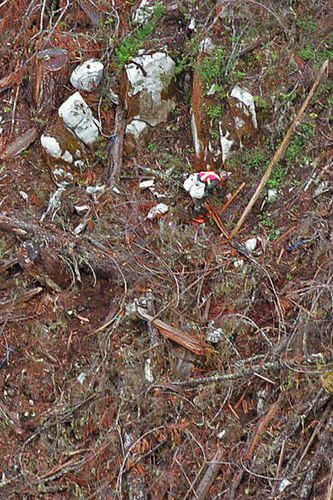 Concerning how tough the work is, it's probably tougher than you can imagine. I met a tree planting cook last summer who said he worked in different kinds of construction for seven years, from road building, to skyscrapers, to all sorts, and he said that tree planting is by FAR much tougher. Construction workers may think they're big and tough, occasionally carrying something heavy, slurping on coffee in between, but in tree planting, you are carrying at least 300 seedlings on your back until you bagup again, constantly clambering over all sort of obstacles, constantly trying to muscle the shovel into the ground (which certainly is not always giving), and if you want to make any money, you are doing this ALL DAY LONG, nonstop. I calculated that, at a highballer's rate, every second equates to one penny. So every second you waste picking your nose or enjoying the scenery will cost you one penny. The highballers know this and they don't stop for a single second the entire day. So it is much more than just liking nature and not minding sleeping in a sleeping bag but mostly about tolerating the billions of mosquitoes and pushing yourself like you've never worked before in your life. No one will push you, and it can be depressing to come back to camp after a long day, subtract your camp costs, figure out how much you made that day, and then blow most of it on your day off because you need to get wasted and forget what a horrible job it can be! Be careful about this because it's easy to think you're rich and get caught up in the party mood with the rest of the planters, but find at the end of the summer, after taxes, that not that much remains left in your pocket.
Otherwise, if your body is young and expendable, I found it a romantic and rewarding experience. Good luck!!
Thanks for your time to write me all the information. Actually, I have more czech blood than slovak because my father is czech and mother has mother from Czech Rep. and father from Slovak Rep. :-). The problem is that first I need to get a work contract so that I would be legally allowed to work in Canada. I made a call to one canadian company (Spectrum) and I was told that it is given by law that in the forest industry you are only allowed to work when you have a work visa before. But I think that getting a work visa is only possible when having work contract first so I´m little bit confused. Yes, you are right. For tree planting it´s too late. I decided that before my univerzity I would like to work. My plan is to find a job for summer in the silviculture industry (spacing, brushing…) and after that to go to Alaska and find a work contarct, a deckhand position for autumn and winter. Than coming back to Slovakia and getting a work visa (using the work contract) and flying back to Alaska. I have read on your webside that you are able to send emails for certain payment to these companies. Do you think that you could help me to find a job in the silviculture industry for this summer? Is this the kind of help you mention on your website?
When I used to plant 20 years ago there were many people from different countries and not sure if they had a permit. If you find out anything please let me know so that I can put the info on this website for others.
Sometimes contractors need positions filled over the summer, but for that it would be better if you were already there.
Don't forget that Alaska is not in Canada, so your work visa would not help you there. Tree planting pays much less in the US and I'm told it's quite a different ball game.
How to write cover letter when mass emailing companies
already responded to your payment. You can send a cover letter in a Word file, if you want fancy formatting, or just send simple text in an email. You can attach a CV if you like as well. I think what companies want to hear is that you love the outdoors and want to see that you have flair and creativity and will benefit the camp. You need to show you have a strong personality, because it is a really difficult job and many first- timers quit, which is costly for the companies.
Hey David, responding in your email.
> ok i have a cover letter that ive been sending around to other companies but i will edit it to make it work for a mass sending and i will add your suggestions in thanks very much for that should i also include my availability?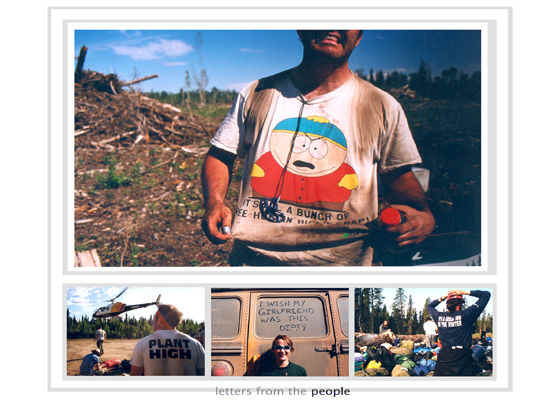 Yes, state which dates exactly you are available. There is the spring season and companies hiring for longer periods prefer to keep the same planters throughout all 3 seasons. If you are only available for the summer/student months chances are you may end up with less than favourable conditions, so check out their payment and condition reputation as posted by treeplanters at here. There are many companies who will take advantage of rookie treeplanters, so be careful who you work for, but also realize that, as a rookie, you might not have much of a choice. You may need to work grunt jobs for a few years before you get into a better company.
> and also do you think you could read it over and edit it in ways that you think would be nice?
Sure, I'll take a look at it.
> if you are not comfortable doing that its totally cool, don't worry about it its also like a page long on word i hope thats not too long thanks
You can have a long letter, but I'd suggest you put the beef of your message at the top. Important information such as your age, sports activity, exactly what dates you are available, your contact information, previous planting and related experience, if you have a first aid ticket or drivers licence for how many passengers, useful reconstruction and other skills which may be handy in a camp, why you think you are cut out for the job, followed by some cool things about you that would prove an addition to the collection (bringing musical instrument is probably a good bonus). People don't have much time these days, so good to get the meat out quickly. If you want to impress them more you can put your Shakespeare at the end.
---
Currently, I am tree planting in Deersdale New Brunswick, Canada for Irving. I had heard that their are companies that hire planters to plant in steep/mountain areas of the country, most likely in BC or Alberta. So steep that planters required harnesses and ropes while climbing/planting. I was just wondering if you have any information about this as far as company names, seeing I am a experienced rock climber, and would much enjoy this style of planting for next summer.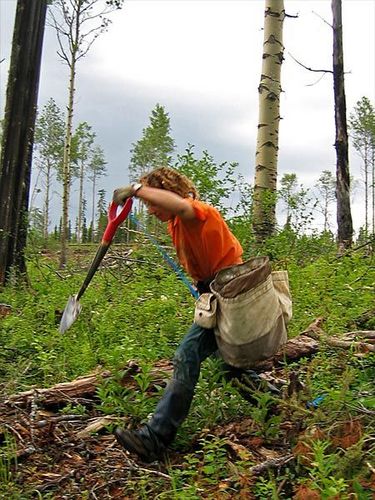 You can also check out http://www.replant.ca/index.html. They have lots of info. I put in a couple of seasons myself but I've never heard of planters having to use ropes or harnesses. Seems like a tall tale which billowed as it travelled to the other side of the country. But I do remember there were occasionally sections you practically had to climb just to get to the next plantable area. Otherwise I can't imagine it being too much sense to plant a tree into the side of a cliff (funny thought though).
One change I do remember being told about from before is you may occasionally have to slip little fertiliser bags next to the roots, to help the tree along. An extra flick of the wrist and thumb to do it quickly and which I'm told can increase the chance of tendonitis of the wrist.
Prices and conditions for cooks
I am hoping that this is the right e-mail address to contact someone or particularly the individual who shares all of his stories and experience at hardcoretreeplanters.com If I have contacted the wrong person, can you please refer me to the write e-mail address? Your website is extremely helpful and I will be sure to contact many of the companies that you have listed but I am just wondering if you have any input or suggestions for someone that would like to work as a cook for tree planters. Any ideas as to what the experience is like for a cook? how much money one can make? and other such questions. Any advice would be greatly appreciated. Thanks in advance!
I think cooks usually make between 300 and 350 a day, so generally more than the planters, but they work long hours. Very early morning. I gather they usually get a quite period during the day, good for naps, if you are the type of person who can do that. Other than that I don't know much. Perhaps check out the replant.ca (I think its that one) forum managed by Scooper or whatever his name is. Check if there are any cooker categories in that forum.
Good luck!
Possible late start? Non-Canadians?
I'm contacting you because I'm interested in your services that connect those Looking for employment in tree planting with tree planting companies, but I have a bit of a unique situation and was wondering if it would be worth even looking for work. I'm in my final year of college in the United States, and am looking to work in reforestation this upcoming summer (2010). The two catches are first – I'm American (and I heard that preference goes to Canadians) and second – I'm looking to work later in the summer, ideally July and August but I could potentially work during June. I have researched treeplanting rather thoroughly, understand the serious commitment, and am ready to make it. My question to you is do you think there will be opportunities for a foreigners who wants to plant later in the summer? If so, would you be willing to help connect me with those opportunities? If not, is there another way to get employed doing the same kind of work? Thanks for your time, and it'd be real great if we can work this out. Have a great day!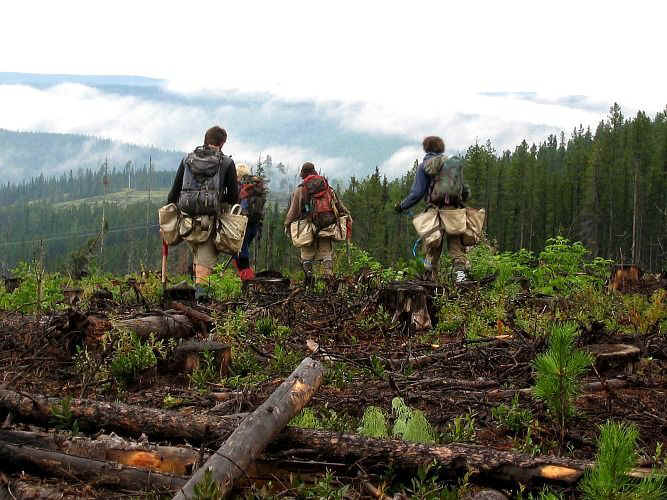 I think your chances could be slimmer if you are an American, but make sure that you are able to work in this country first.
For the later season stuff, usually the companies already have a good pool of people they have worked with during that year, or previously. The spring coastal stuff is also harder to get on, because you need more experience to get on that boat. So I think your chances of prancing across the border and finding work in the late season could be pretty slim.
Thanks for getting back to me so quickly. Also, thanks for the offer to send out my info to the different tree planting companies. In your email you said starting late in the season (say June) means I have less of a chance of finding work, and may have to wait to look for jobs as they open up later in the season. Given where I'm at right now financially, I'm not sure I can take the chance of waiting until summer to find employment.
Is there any way that I could be assured of work before the season started – as in, if you were to send out my application, do you know if any companies that you or I could follow up with to guarantee me work during June – August?
Sorry to be annoying, but I can't take the risk of not working this summer, especially if I have to plan transportation up to Canada and work out a Visa. Again, thanks for the quick response, and if there is a way that I could be sure of work this summer during that time, I'd love to pay to have you help. Have a nice rest of your day.
The season winds down around July August and any work after that is only on the coast for hard core veterans. The season can start as early as February, but also on the coast for hard core veterans. The summer is for the university meat crew who exploit their bodies, generally for lower rates.
The best bet is to send out emails as early as possible, even end of last year, and cross your fingers. I certainly cannot guarantee anything. Another option is just to go up there and pound on tents, but hunting in advance can get you into a better crew.
Drugs in Camp
wow you have a lot of info on your website. Super well organised!! Sorry  if my Engligh is not perfect!
Here goes!
I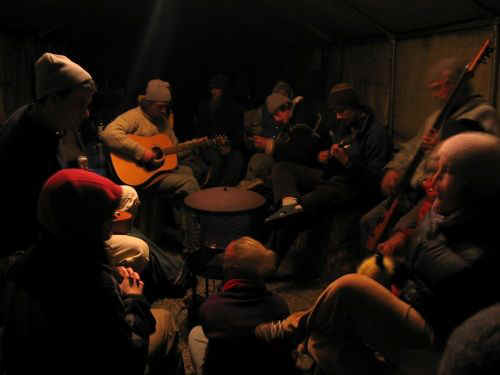 'm looking for a tree planting job for my son for the summer 2011, he is studying in Ingeneering at Cegep, college degree in Quebec, and will be off in mid May. I will be very honest, He has been struggling with drugs and would need to be isolated somewhere, work hard  and sweat it all off. Would this kind of work be good for him considering there is a lot of partying with the tree planters? I would really need your advice. If so, where should I send his resume. He's 6,2 and has a lot of strenght. I'm sort of doing it for him and hoping he will accept the challenge if ever something comes up.
Thank you so much
I'd have to say that perhaps the majority of planters in general smoke grass and experiment in other things. They are a wild bunch and it is a supremely hardcore job. One of the toughest in the world, which requires motivation, since you are paid by the tree. So if you're son is just going to whine for more drugs and mope around the block, he won't make enough money to make it worthwhile. Or if he is motivated he could make at least 250$ a day, so plenty to burn on drugs and join everyone else in the party. Perhaps the best bet is to go to replant.ca, if I am not mistaken (there are a lot of links to it on my site) and run a search in Scooter's forum with the words "dry camp" or "Christian". I know there is at least one company which does not allow any drugs in its camp.
Good luck!
---
After using your service, I've only gotten about six or seven emails from potential companies, most of which were to tell me I need to apply on their website. Only two companies were even remotely interested in hiring me, and I haven't had any of them call me back. It also looks like you're on a couple spam lists and are being discarded immediately. I assumed that for the $50 fee I would have a certain amount of assurance that I would get hired. Unless there's anything else you can do to help me get a job this summer, I don't think I'll be using your service in the future or recommending it to friends.
sorry to hear that. When did I send this off? It's a new service and I haven't applied it much yet. I do the same for translators but that is to 16,000+ companies and everyone seems quite happy with the results. For treeplanting I collected about 70 addresses, and then 40 subscribed themselves later. Not so many treeplanting companies in Canada and perhaps its more word of mouth hire. Or you have to call them on the phone and really wow them. I pay extra per month so that the server has its own IP address, so the emails shouldn't land in their spambox (and the mails were sent from you own email address). Maybe send me your cover letter again so I can analyse why it was not successful? If it didn't work I'm happy to tweak things to inform future applicants or attain better success. When I was treeplanting we got work as a group because someone knew someone, but that was more than 20 years ago, before internet even existed. Did you follow up on those that showed some interest? You can't be too passive with this sort of thing. If six companies asked you to fill in their application form that is a lead and you should pursue it. This saves you time as opposed to filling in 70 application forms. They already expressed interest, so you need to pursue it.
I'll forward a copy of the email that you sent out. You sent my resume out on February 20th. I don't know how spam filters work or what your best bet is when it comes to not getting caught in them, but the email I got from Brinkman and Associates was an automated response and had the subject line "xxx SPAM-low treeplanter applicant". It took a couple emails to get through to what I hope was a human on that company. I did fill out applications to the ones that requested it, and got one or two companies promising to call me only to never hear from them again. Most of the emails I recieved though were variations on "We cannot hire you because X, Y, and Z". I think I've done everything I can do to pursue this type of job this year, I just want to make sure that you have too before I give up.
Like any job you need to pursue things. The aim of sending your email out is if it is worth saving your time hunting down the emails and online contact forms yourself. It's a hard job and the companies want to see that your gunho and ready. Prove to them your eagerness and keep pushing them. Don't be passive about things. This tool is a quick solution to get you into the door, but after that you need to follow up. I'll change the text of this page to make this more apparent.
Treeplanting in Europe
Hi, I'm looking to see if there's any tree planting work I could do in Europe during this winter season and found your site. Can you recommend any contractors or have any further information about what's available in Europe? Any information you could give me would be very much appreciated. Thanks in advance. Luke
not the same industry in Europe I'd say. Low paying government work I think, not sure. Lived there for 20 years and a lot of it is selective logging, so the trees get planted naturally from the trees. When the big fire happened in greece they were looking for volunteers.
Getting hired late in the season
I am ready to work anywhere across Canada as a tree planter I was wondering if there were still companies hiring or am I too late (from mid-june until the end of the season)
A lot of students plant during the summer and there is quite a meat market. Better companies want to start earlier and work longer seasons. I imagine you can find work but the prices could be lower, as companies will exploit the abundance of students who have more limited window times of work.
Possible to find coastal work around September?
Hey there, I\'m in a bit of a unique situation right now and wondering if you have any advice. Well, recently I dropped out of college due to lack of interest in what I was studying. I\'ve been looking for about a week for jobs, applying online to jobs all over the country, but only got one response to tell me that they got my resume. I\'m just wondering if youhad any advice for people looking for work mid-September. I did my first season of planting last summer, but it doesn\'t look like there is any planting work at this time except for experienced people in coastal BC. I\'m willing to travel if I can get accommodations. Any advice?
Coastal planting starts up around this time and they usually have planters who started at the beginning of the year. You'd have to be a super awesome coastal planter with at least 7 years experience to stand a chance with that. Perhaps you should look into cone picking or other bush work, which starts up around now I think.
Planting in November/December
I\'m a treeplanter and traveller like you. I was just wondering if you know any company in BC that plants in November-December.
I think the latest they plant is by November, and usually planters go cone picking over the winter, which can make almost as much.
---
Copyright © KENAX, Karel Kosman – All Rights Reserved Worldwide.
We are a family operation managing private custom boat tours in the beautiful Palawan area, and are happy to help travelers with their plans through the country, having traveled a lot of it ourselves and planning to visit it all. The pages in this section concern when I was treeplanting in Canada over eight summers.