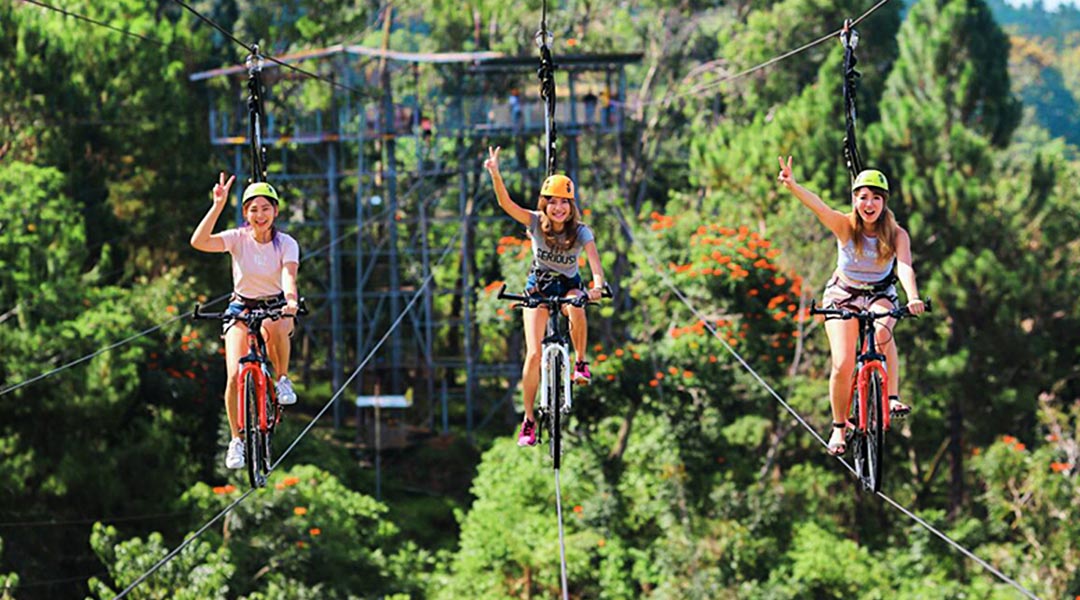 Philippines private adventure tours and packages
Different locations where to find adventure in the Philippines
Are you looking for an adventure off the beaten path and away from the tourist crowds? Whether you'd prefer it on or off the path, going it solo, with your loved one, your family or to join a group of party animals, the Philippines always has something for you.
Cliff jumping into the ocean on one of our private boat tours.
Whether it be ziplines, kayak a thousand kilometers past hundreds of islands and camp for free most of the way, cliff jump into the ocean, explore caves and famous underground rivers, a host of watersports, hitting the waves in the rough ocean of the east coast, whitewater rafting or all the way down to camping on your own deserted island, this country has you covered.
Zipline in El Nido, one of our tour places.
Our private, custom tours in the Palawan area actually cover a lot of those:
multi day tours in a remote area speckled with 52 white sand beach paradise islands
kayak along the way
lots of snorkeling and diving sites in crystal clear waters, or shipwreck diving in Coron
view the beautiful islands pass you by as you wakeboard or wakesurf
cliff jumping into the ocean
explore jungle trails to discover remote villages rarely frequented by foreigners
fishing with speargun or traditional, local way with line alone in hand (our crew will teach you)
and if you so wish, you can camp out on your own deserted island (we have a variety of available accommodation)
Ziplines and kitesurfing is also available in the area and we will be happy to organize the perfect adventure tour for you. Dates and schedules are completely flexible.

4.9/5 on Google, all our reviews.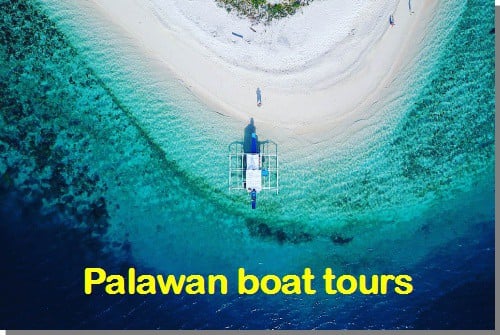 Experience the thrill of island hopping in the Philippines
Other adventure package tour locations in the Philippines
Spelunking (cave exploration) in Sagada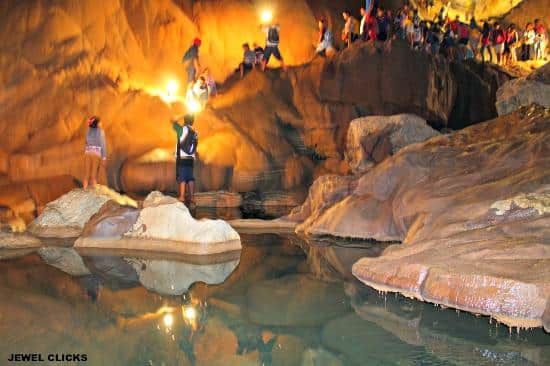 There are more than 60 stunning caves under the town of Sagada, with spectacular rock formations, the largest cave of which being Sumaguing Cave, earning the nickname "Big Cave" and considered by insiders far surpassing the splendour of the famous Underground River tour near Puerto Princesa, Palawan (considered one of the seven wonders of the world – although we think a private tour further up the river and away from the crowds is better).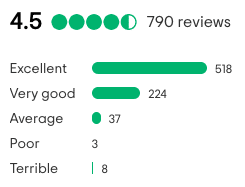 It is considered the deepest cave in the country, with a depth of more than 500 feet, and is closely tied to the culture and traditions of the locals, who used to lay the coffins of their deceased loved ones at the mouth of the cave, believing their souls will be protected in this way.
Several caves listed on Tripadvisor.
4.5/5 reviews for the most popular Sumaguing cave on Tripadvisor.
While in the area, you will also be able to check out the Hanging Coffins of Sagada: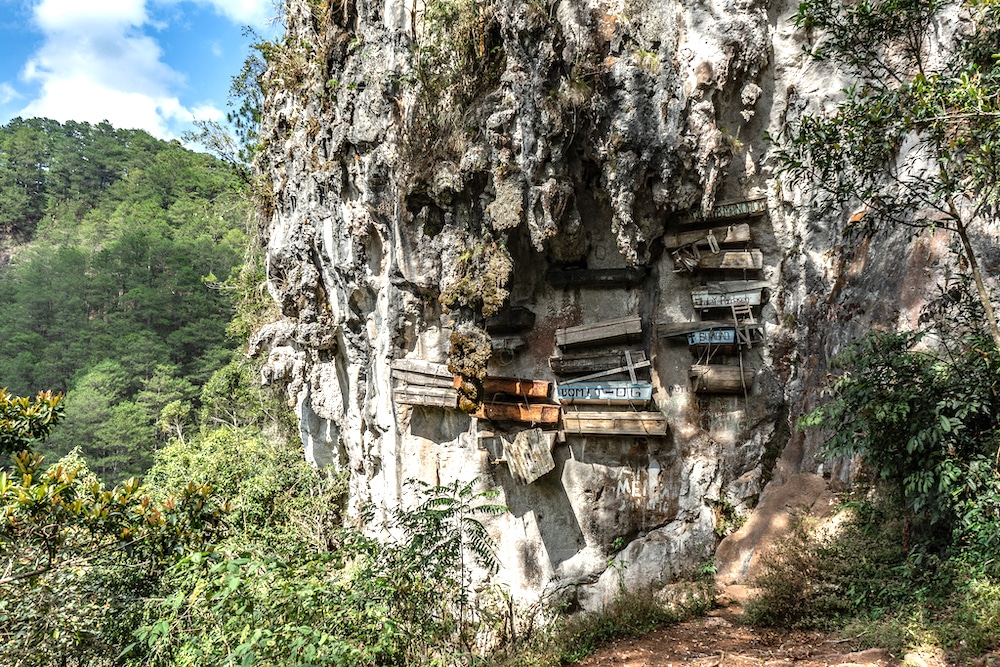 The Sagada people practiced a ritual whereby the elderly would carve their own coffin out of a hollowed log. If they lacked the strength to do so, their relatives would help them, but upon conclusion of their lives, sometimes their bones would have to be broken to cram their contents into their coffin.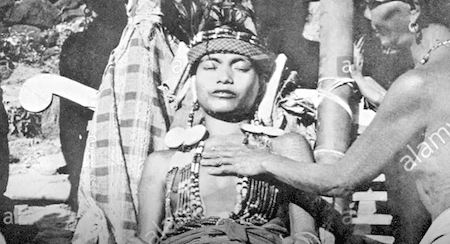 This has been practiced for some 2,000 years, and still continues to this day (although to a much smaller scale), with some of the hanging coffins well over a century old. Over time though, they deteriorate and come crashing to the ground. The locals believed that, the higher they were able to hang their relatives the easier they would be able to reach a higher plane of consciousness in the afterlife. Also, they feared being buried in the ground, believing that water would seep into their coffin and their bodies would rot much faster. Check out some more interesting background to these hanging coffins.
Plunge in Danao Adventure Park, Bohol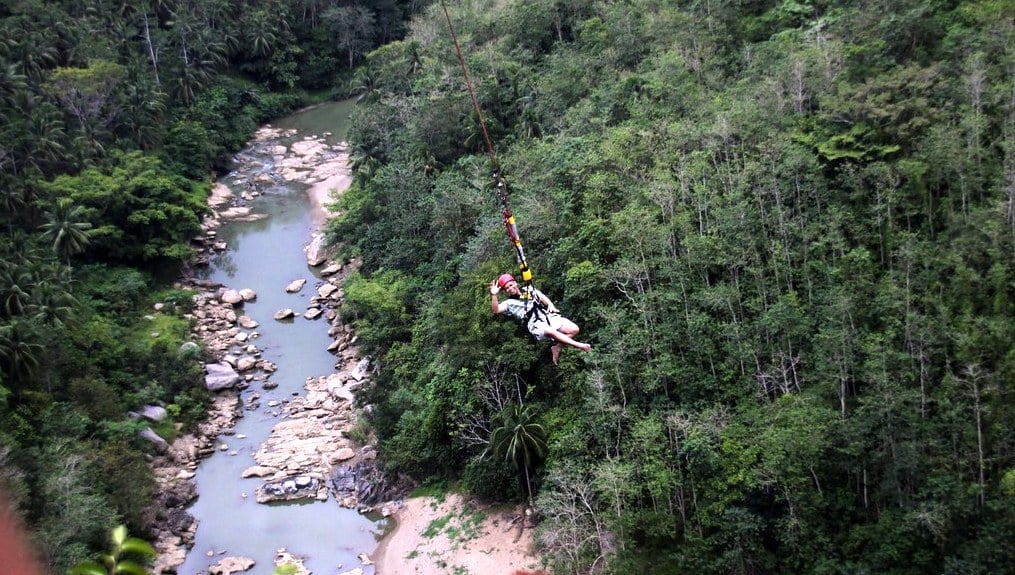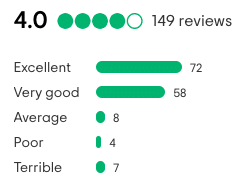 The closest you'll find to bunji jumping in the Philippines, but with a full four second free fall of 75 meters from a height of 200 meters (650 feet), it's not bad. The "Plunge" reportedly hosts the world's highest canyon swings and is the best selling attraction of Danao. Once you've swallowed your heart while descending to the earth, there are also lots of other things to see in Bohol.
4/5 reviews on Tripadvisor
Skydiving in Bantayan Island, Cebu​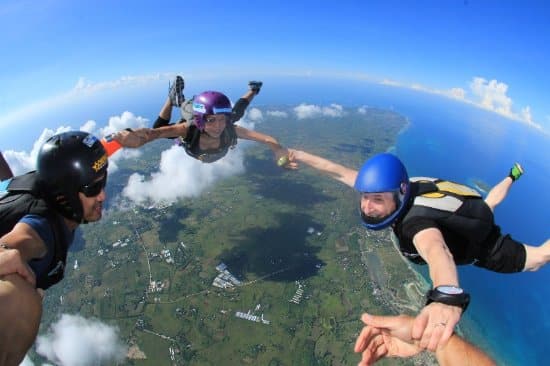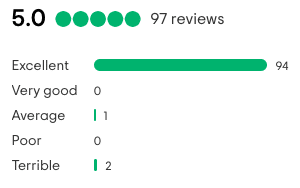 After this heart beating adventure, there are still plenty of sites to see in Cebu City and its island of Cebu.
5/5 reviews on Tripadvisor
Paragliding in Sarangani​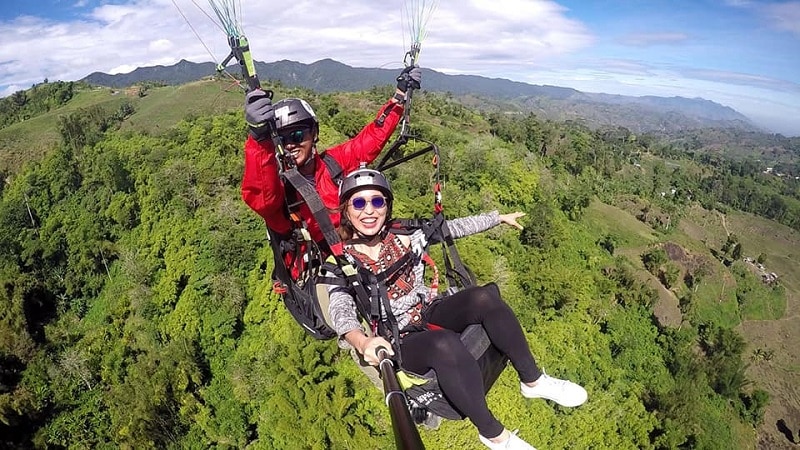 If you got a thrill from the 650 feet high Plunge, how does 950 feet suit you? Becaue that is how high the spot is above sea level. And with the steady, strong winds flowing in from Sarangani Bay, it makes it the perfect site for paragliding.
Sarangani is considered the third prominent paragliding site in the country after Carmona in Cavite province and Bontoc in Mountain Province, both in Luzon.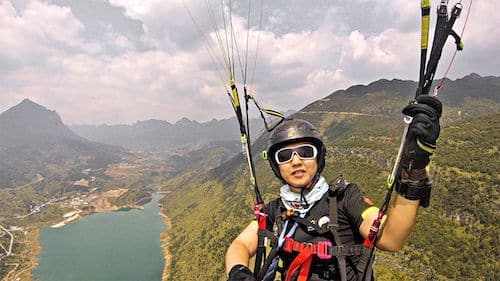 But with the rolling hills of Soccsksargen Region in Mindanao, Sarangani Bay offers the best view, enjoying it for a full twenty minutes.
You can also find paragliding experiences in Carmona, Cavite, Narvacan, Ilocos Sur, and Cagayan de Oro.
4.9/5 out of 38 reviews on Facebook.
Sandboarding in Paoay, Ilocos Norte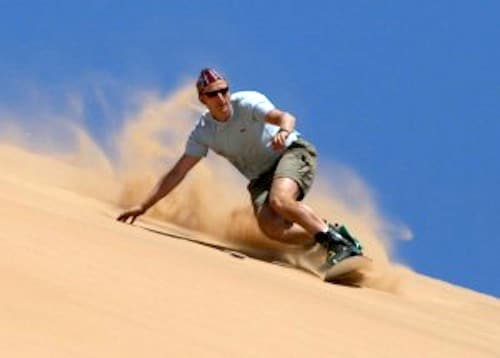 And if you've had enough of floating in the air, high above the ground, why not get down and dirty, right in the sand? 88 square kilometers of it to be exact. Wind formed sand dunes which have been the site of such films as Mad Max with Mel Gibson and Born on the Fourth of July with Tom Cruise.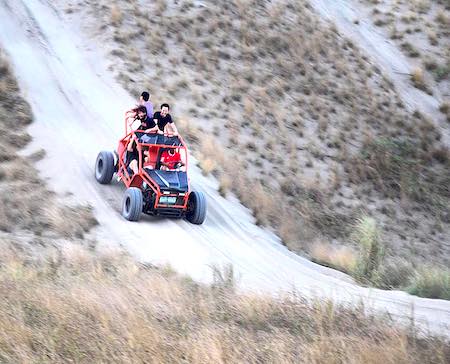 But for about 50 bucks you can crank up the excitement by renting for an hour a 4×4 jeepney to rip your way through the desert, for an entire hour with the sandboards thrown in for FREE! Such a ride is good for 5 people total.
It's just like snowboarding, except your clothes could get a bit dirty and you might develop a good tan, and for the beginners there are straps you can secure yourself with and just slide down the hills like on a sled.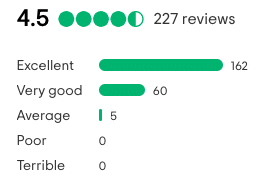 4.5/5 reviews on Tripadvisor
Swimming with Whale Sharks in Donsol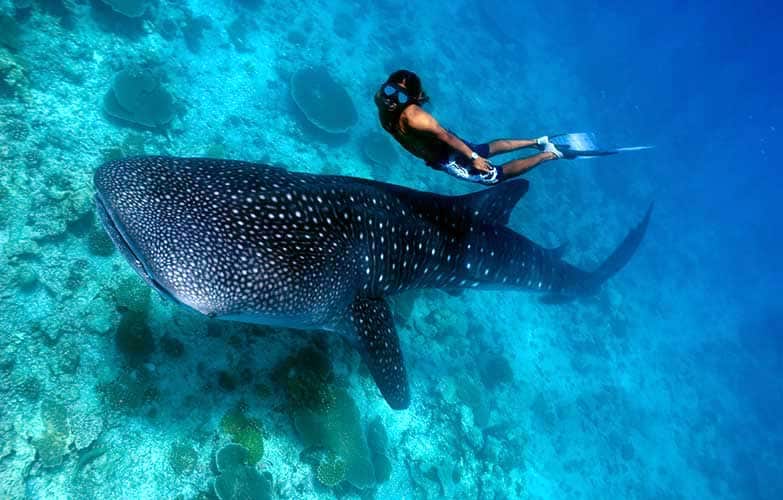 Even though whale sharks can grow to 32 to 40 feet in length, they are still known to be docile, earning themselves the nickname "gentle giant". Swimming along with these gentle sea creatures can be one of the most unique experiences you'll have while in the Philippines.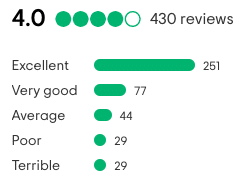 One of the best locations in this country to interact with whale sharks is in Donsol, Bicol, known for its eco-friendly tourism.
The peak season is from November to June, roughly the sunniest time of the year and when they feed off the plankton, but they are migratory in nature so don't expect to see a lot of them, especially out of season.
4/5 reviews on Tripadvisor
Canyoneering in Badian, Cebu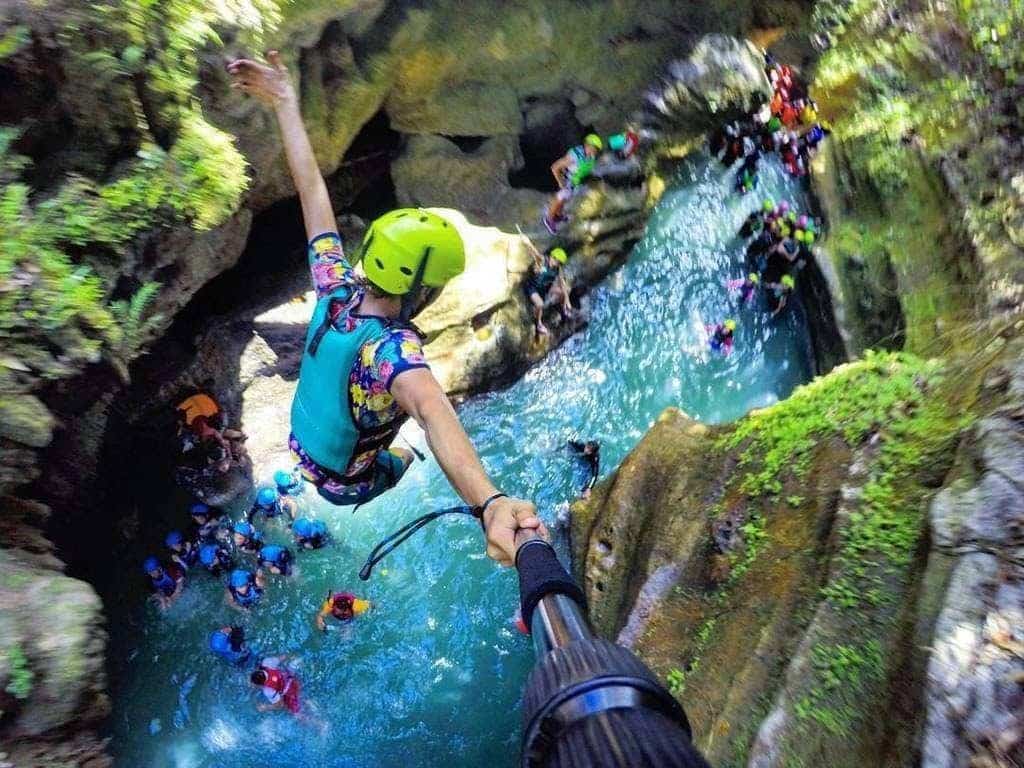 Possibly the most popular tourist activity in Southern Cebu, this adrenaline-pumping experience involves hiking, bouldering, climbing, rappelling, jumping 30ft from a cliff into the water and swimming in river canyons, while you can expect stunning scenery all along the way.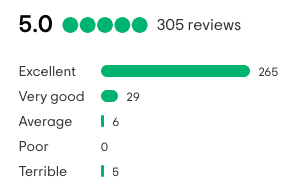 Several operators in Cebu offer this service, all with great ratings. This one has the most ratings.
Ultralight Flying in Pampanga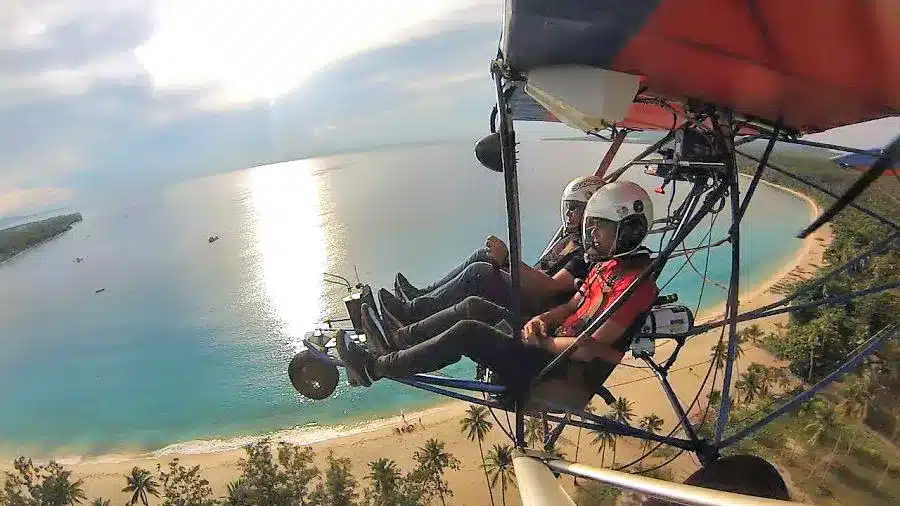 Ultralights are small 1 or 2 seat fixed-wing aircraft. If you want to experience flying in a small aircraft, ultralight or microlight flying is the perfect way to go. And thanks to the open-air cockpit, you will feel the freedom as on a motorcycle as the wind blows through your hair while soaking in the beautiful view of Mount Arayat and the vast, green fields of Pampanga below. And for an added thrill, expect to be given the controls to fly this safe and slow moving machine during your fifteen minute flight hundreds of feet above the ground.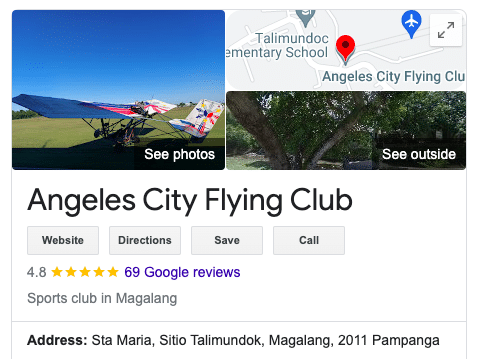 At 3,000p and 500p extra if you need a pilot, it may seem like a steep price tag for such a short experience, but at least you can enjoy their swimming pool all day and a free meal.
There are several such places in the Philippines, but this one is supposed to be the best.
4.8/5 of 69 reviews.
Whitewater Rafting in Cagayan de Oro and Kalinga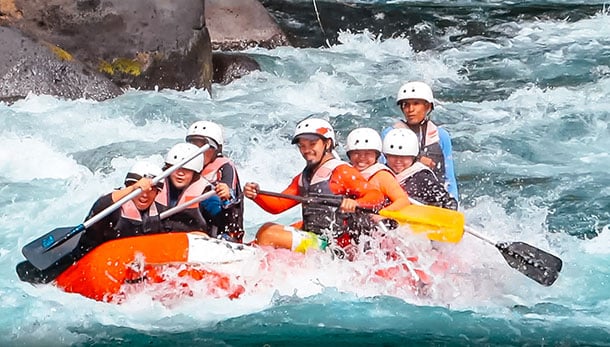 In the Philippines there are several places where you can go whitewater rafting, the two most popular of which being Cagayan de Oro in Mindanao and Kalinga in Luzon.
Cagayan de Oro is known as the Adventure Capital of the Philippines and offers rapids with varying grades of difficulty, for beginners to whitewater rafting experts alike (you can choose which – there are as many as 21 rapids!). It is the only city in the country offering year-round white water rafting.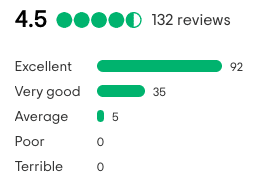 While in Kalinga, where you can get a traditional tattoo from Apo Whang-Od at the Buscalan village, you enjoy a 175-kilometer-long stretch through the mountain setting of the Chico River. Although there are a few rough patches, the guides are very skilled and, overall, this tour is ideal for starters, those who cannot swim, and families.
Several operators offer this service. This one had the most reviews.
Surfing in Siargao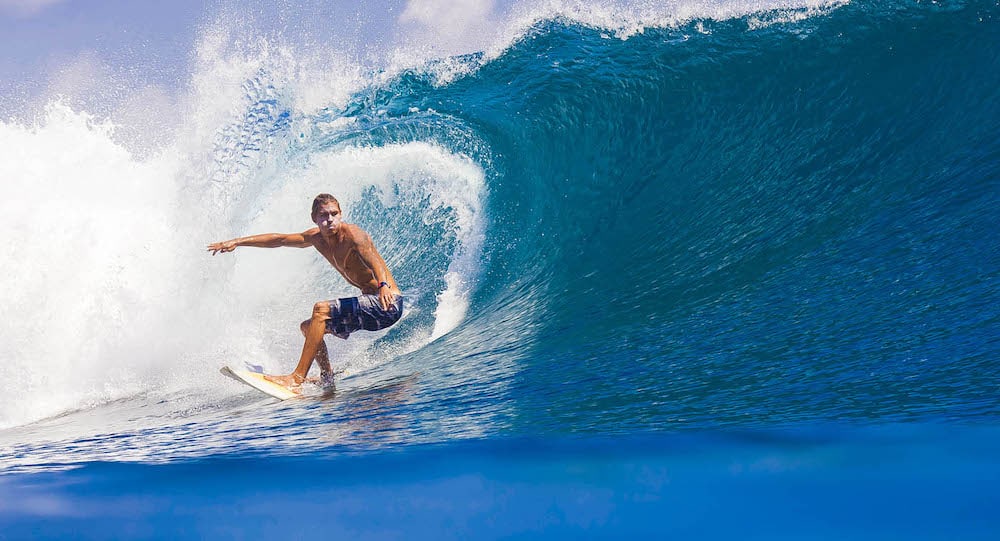 There are several surf spots in the Philippines, but the most popular is Siargao Island in Surigao del Norte on the east coast, where the open ocean brings the strongest and steadiest wind. There are several surfing locations on the island, but its Cloud 9 reef break is considered one of the best waves in the world.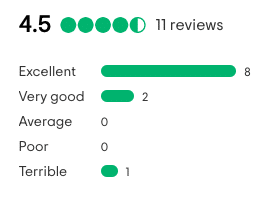 But there is much more to explore there than just surf, the island boasting some of the best tourist locations in the country, from lagoons, caves and its beautiful beaches.
There are several operators in Siargao but this one had the best reviews, otherwise,  just bring your own board and go for a spin as you wish.
Wakeboarding in Camarines Sur​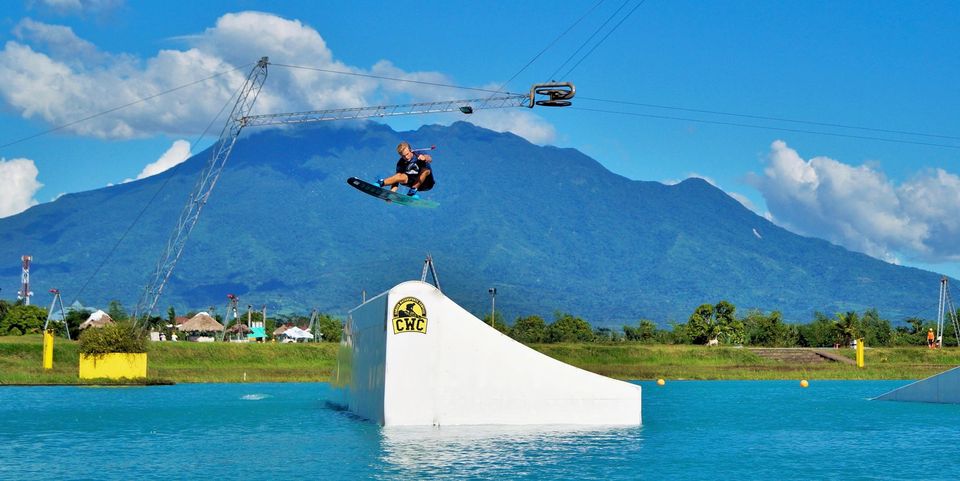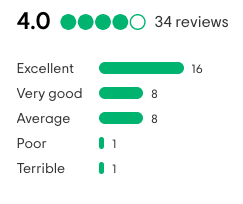 The best destination in the Philippines to try this is in Camarines Sur's CamSur Wakeboarding Complex, a world-class water sports complex in the Bicol region, and the first in the Philippines and in Asia.
Aside from wakeboarding, visitors can also try water skiing, kneeboarding, and wake skiing. It's a great side trip when visiting Mt. Mayon in nearby Legazpi, Albay.
Hiking in Mt. Pulag, Benguet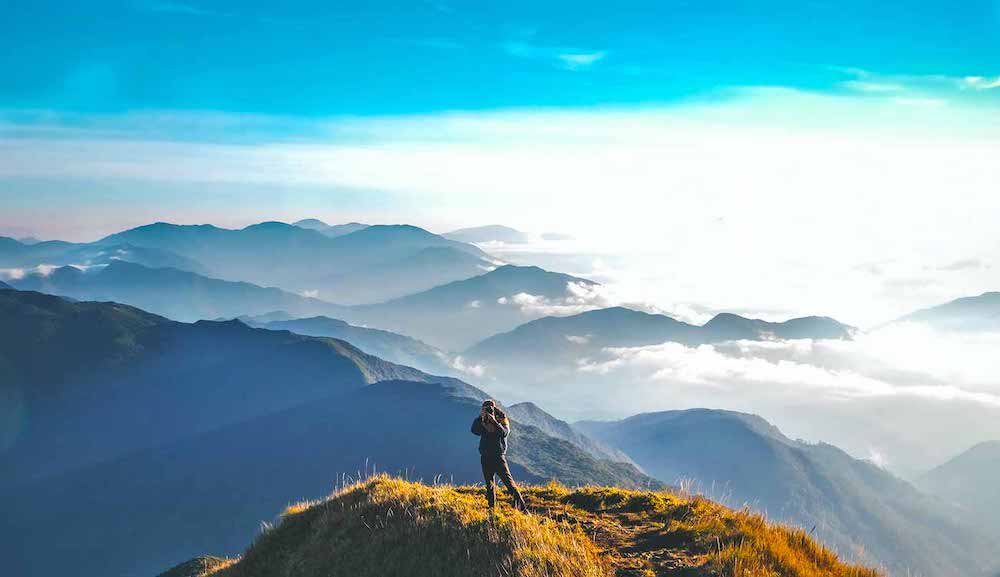 The Philippines is not only famous for its stunning beaches but also for its hiking adventures. Mt. Pulag in Benguet, the second highest peak in the country and the highest in Luzon, with almost 3km above sea level, is a popular hiking destination for both beginner and experienced mountaineers because of its famous sea of clouds view. It is located in the Philippine Cordillera Mountain Range and is very rugged, dotted with very steep slopes.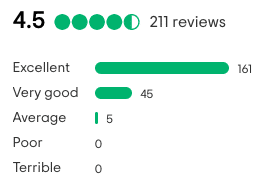 The Mt. Pulag National Park, a UNESCO World Heritage site covering 11,550 hectares, has one of the richest biodiversity in the country, having vast forests full of pines, moss, and grass, and home to threatened species such as the Philippine Brown Deer, Northern Luzon Giant Cloud Rat and the Luzon Pygmy Fruit Bat. It is a mountain worth climbing, both for its challenging trails and its natural beauty.
There are different trails for different levels of hikers, such as the Ambangeg trail, good for beginners and a single day tour with overnight stay, to the Mt. Pulag-Akiki trail, which is significantly more challenging and spanning several days.
Caving Adventure in Samar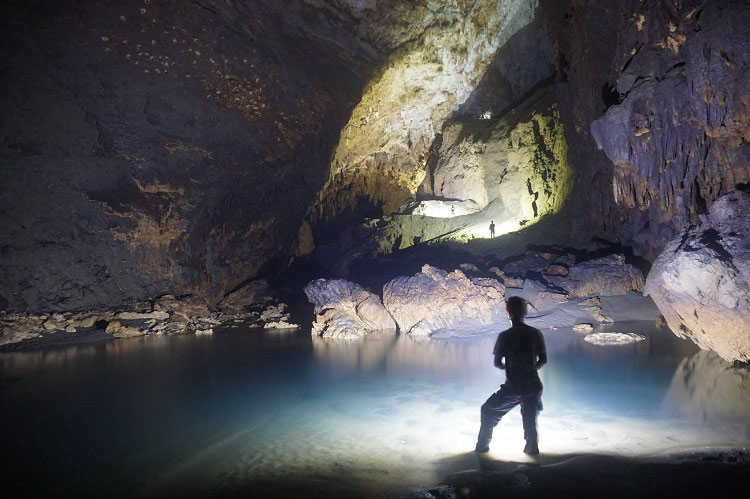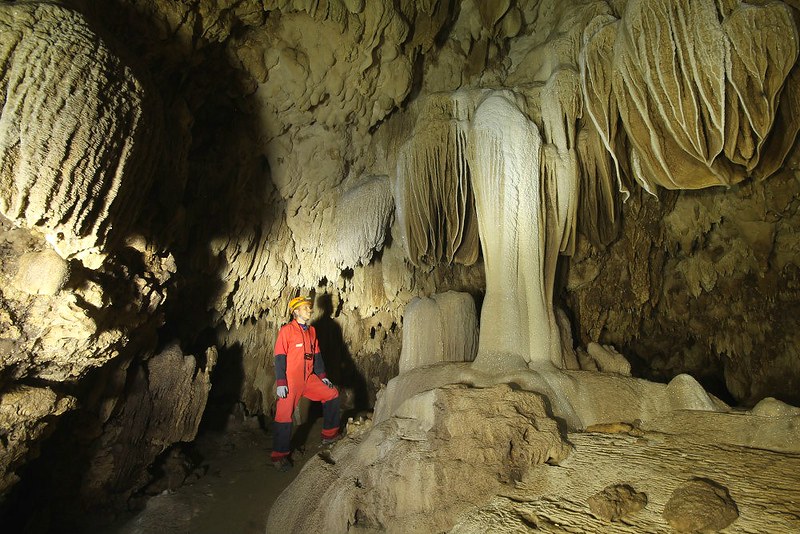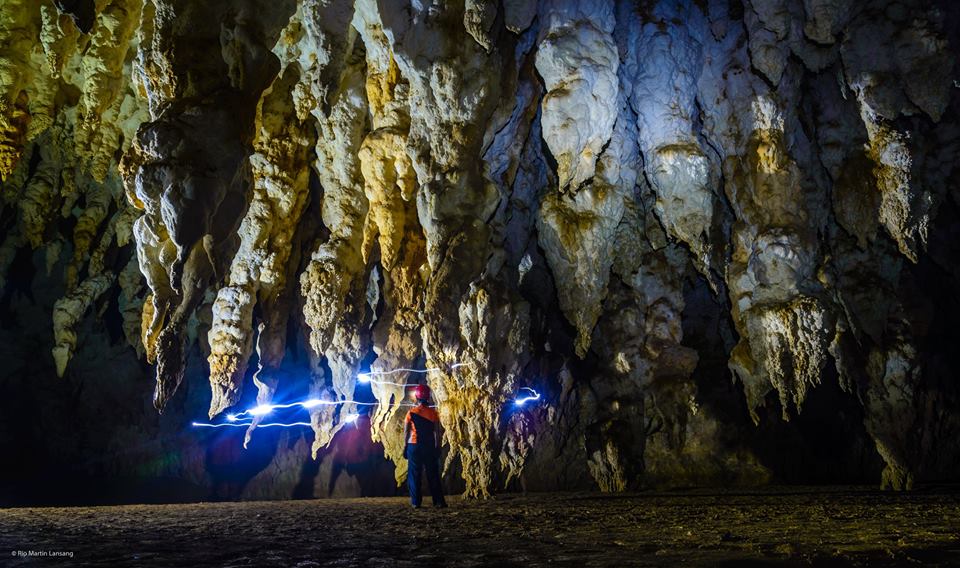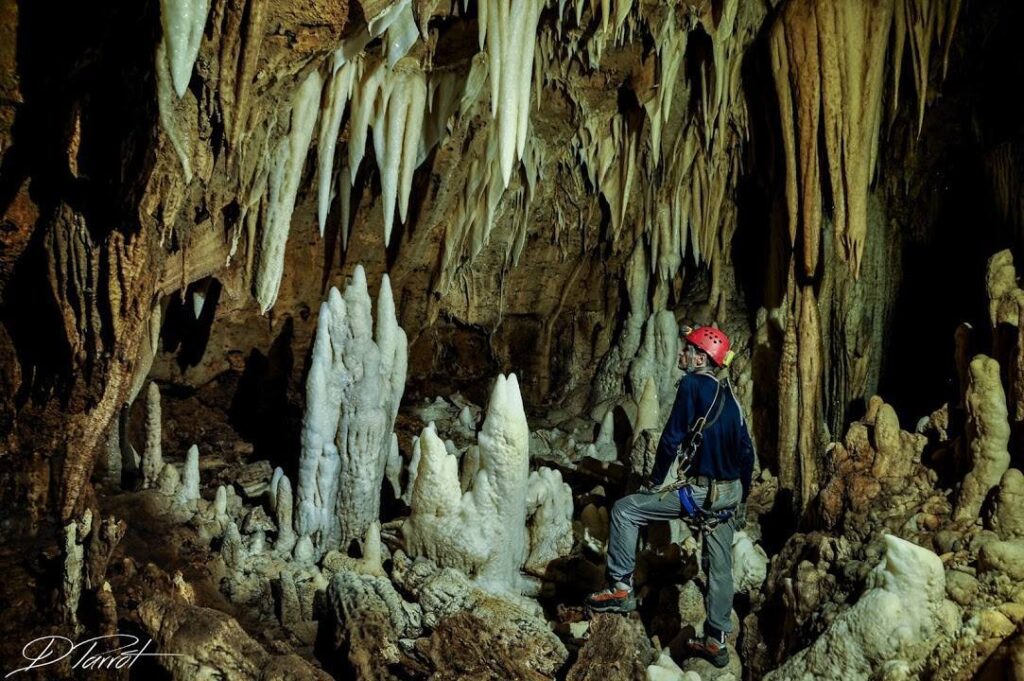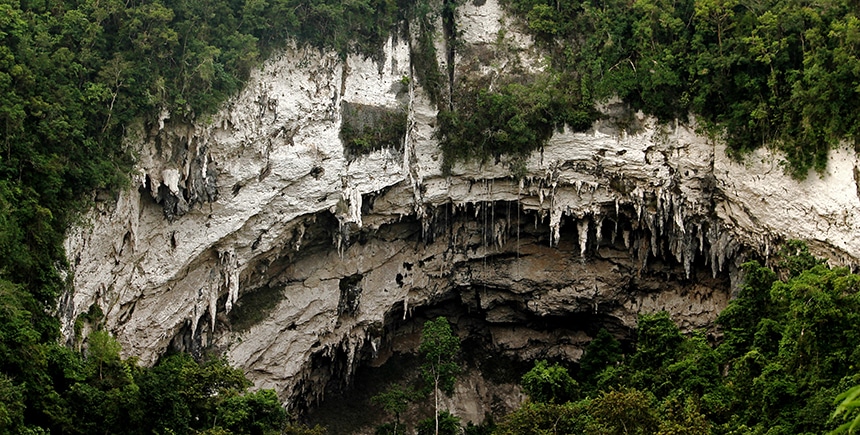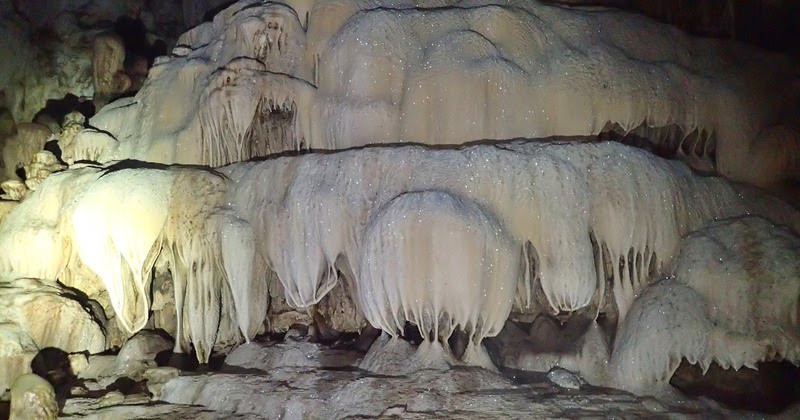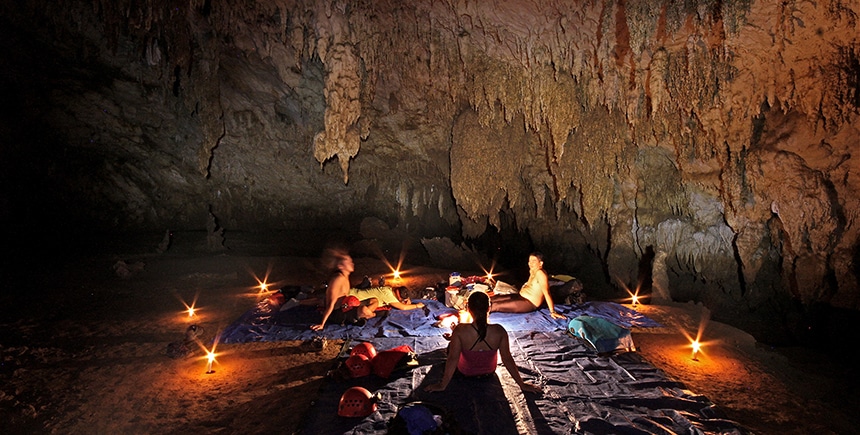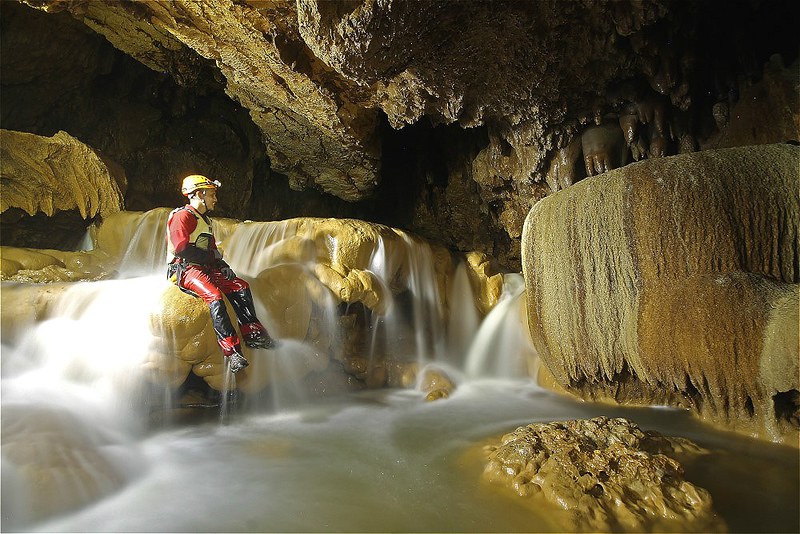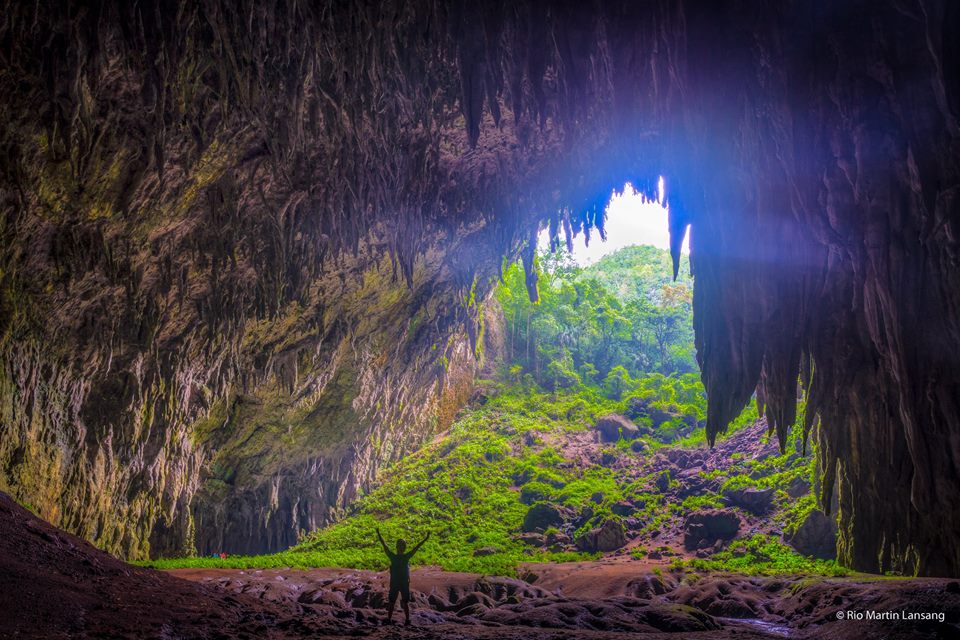 The area composed primarily of limestone, this site is so awesome it deserves a bunch of pics!

There are a lot of caves to explore in this area, but this agency seemed to have good reviews.
Samar is considered the cave capital of the Philippines, which is something for a country of at least 3,100 known caves, and boasts its largest cave system with hundred of caves already explored, still only making up a small portion of the total known.
You can explore the network of caves with only single day trips, to multiday tours where you spend a night or two inside the complex.
Sardine Run Diving in Moalboal, Cebu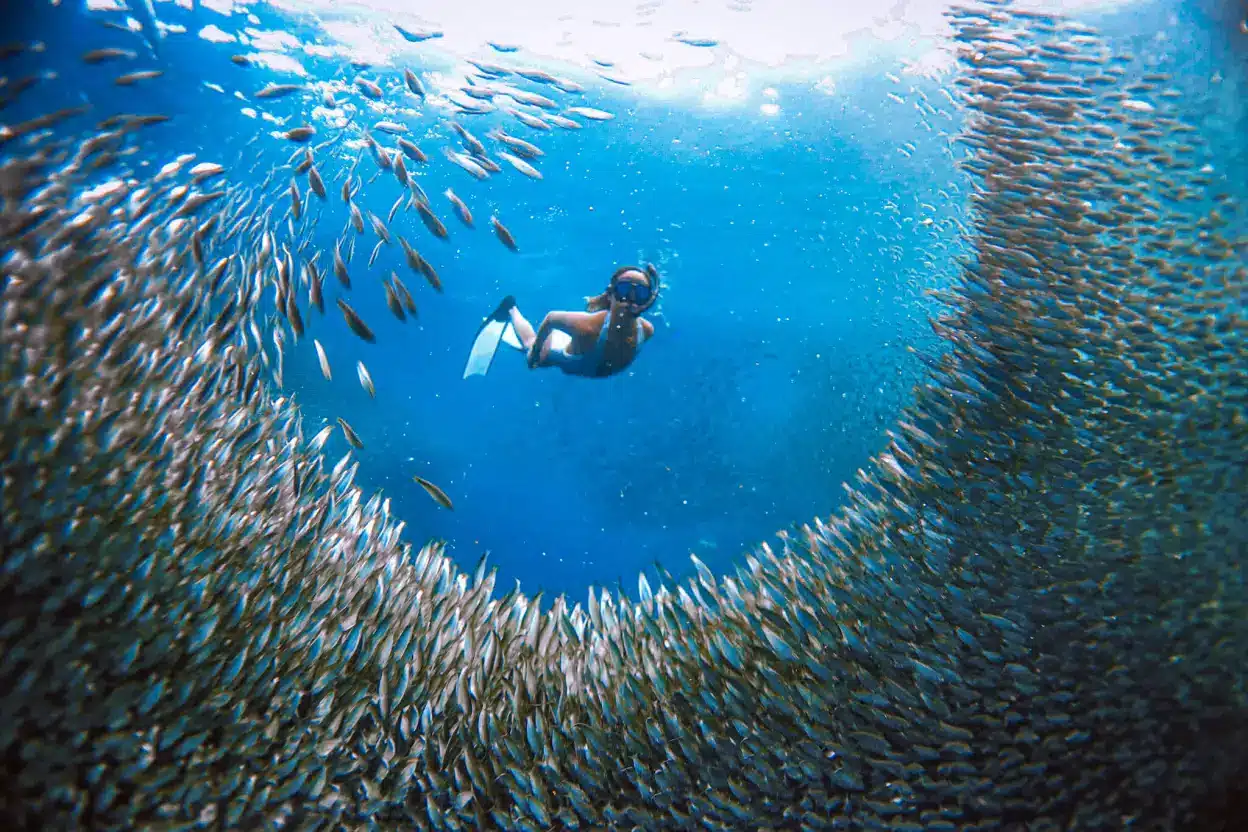 One of the most exciting things you can do in the Philippines is to float in an ocean teaming with a live run of more than a million sardines. Believed to be the second largest in the world, only after South Africa.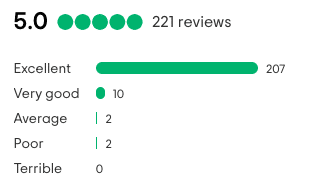 But Moalboal in the province of Cebu offers more because the year-round diving or free snorkeling activity (just 20m off the shore of Panagsama Beach) allows you to swim with turtles and dolphins as well, while canyoneering trips are possible in Cebu, for those who have had enough of bobbing, even though the waters range at a comfortable 30C. Best seen during the dry season, November through to May, when it is less cloudy and the lighting is better.
Several operators in this area, this one seemed to have the best and most reviews.