All-inclusive ten day return trip from Manila to Palawan for 10,000pesos ($200)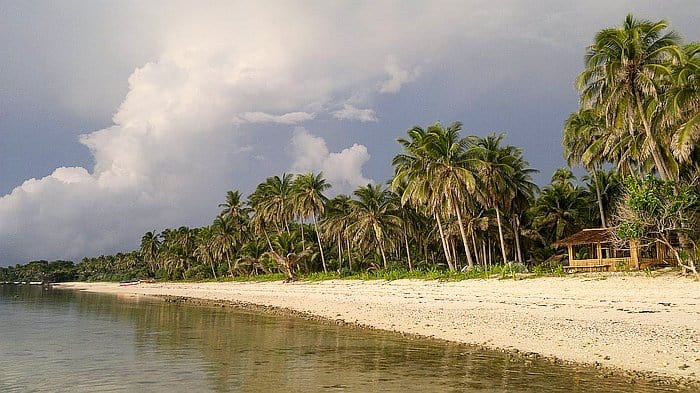 Do you live in Manila and have always dreamed of spending a week in beautiful Palawan but could not afford the expensive booking packages? I'll show you some ways how you can do it very cheaply.
First of all, as explained in my travel itinerary suggestions for the Palawan area, if you have a limited time and budget, I would suggest you skip Puerto Princesa entirely. It is not a very appealing town, and the only reason to even go down that far, the Underground River Tour, really isn't that spectacular. You'll lose an entire day waiting in line and be herded about with the massive crowd of other tourists. Then you'll lose an entire day making your way up to El Nido.
If you love nature, glad to get away from the tourist crowd, have a limited budget and only about one week's travel time, I would suggest you take the Atienza ferry straight to El Nido. That costs 1,700p, you sleep overnight in a bed (so you save one night on accommodation), and they feed you, so you save on food costs.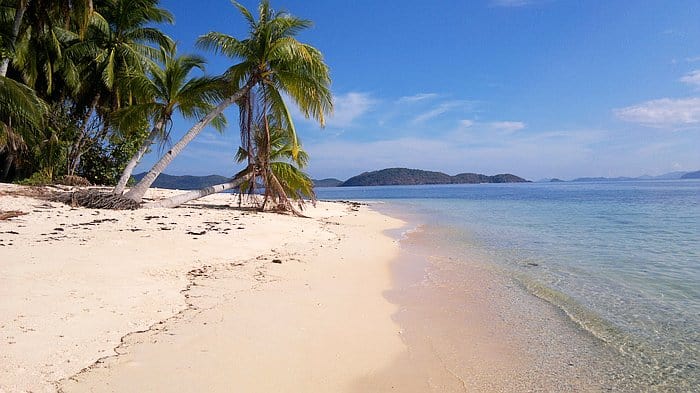 The contact for Atienza's Manila office is (Smart) 0999 881 7266 or 0998 532 6553, or (Globe) 0917 633 2090. Other details on our ferries page. Note that if the waves get too rough, sometimes the coastguards delay them from leaving. There is only one Atienza ferry doing the Manila > El Nido > Linapacan > Manila route, once a week, so a delay will delay the whole cycle.
 Day 1: 1,700p, 1,700p total 
If you have the budget and want to get that extra day in, you can take a Air-Swift flight to El Nido for around 6,500p, so about 5,000p extra.
El Nido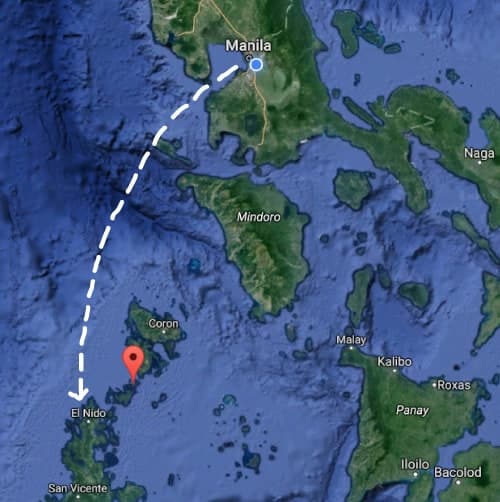 Now you have several options. You can check out our El Nido page for info on accommodation and what to do there. You can get a room for as little as 500p, perhaps less, so if there are two of you, that would be 250p each.
You can rent a kayak for 400p, so 200p each for two. The zipline for around 700p is worthwhile, otherwise there are a few nice things you can do for free. Meals are around 200p in restaurants, or there is a good public market across from the bus terminal.
El Nido is famous for its lagoons, but that will add to your budget. Note that, because they are famous, they tend to be flooded with tourists and perhaps you'd be satisfied just renting the kayak to explore the island across from El Nido. Also beautiful and you may very well be by yourselves.
Note that you may be charged 200p each for the local environmental fee.
 Day 2: 2000, 3,700 total 
(includes budget accommodation, 3 meals a day in restaurant, kayak for 2 and zipline)
El Nido has a good night life with lots of bands playing in different places, but if you want to avoid the tourists and save, you can always move on towards Sibaltan, depending on when the ferry arrives.
Moving to Sibaltan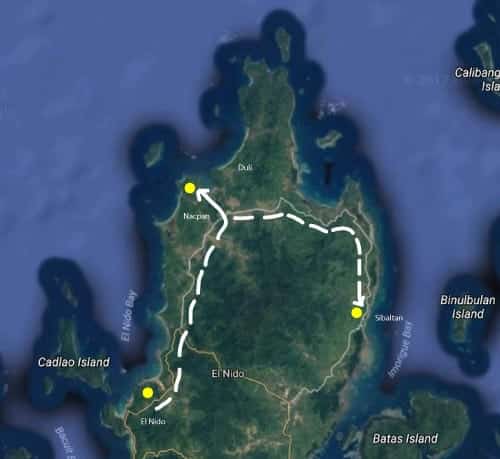 Moving east along the El Nido peninsula, we come across Nacpan, Calitang and Duli beaches, with various resorts off the beaten path as explained in our suggested accommodations page. The most affordable of these is Where to Next on Calitang beach, but close to the end of Nacpan beach, so you get two beaches for the price of one. 550p tent for two is their lowest offer.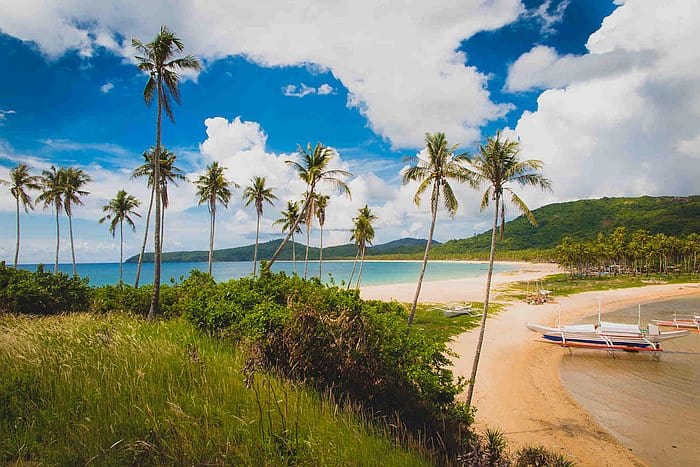 On the Sibaltan page below there are some contacts to bus and jeepney services. May require some juggling to hop along the coast, but ask the resorts you will be staying at to help you. When in El Nido you can also ask at the bus terminal.
 Day 3: 1000p, 4,700p total 
(assumes 500p for food, 300p for accommodation and 200p for transport)
Sibaltan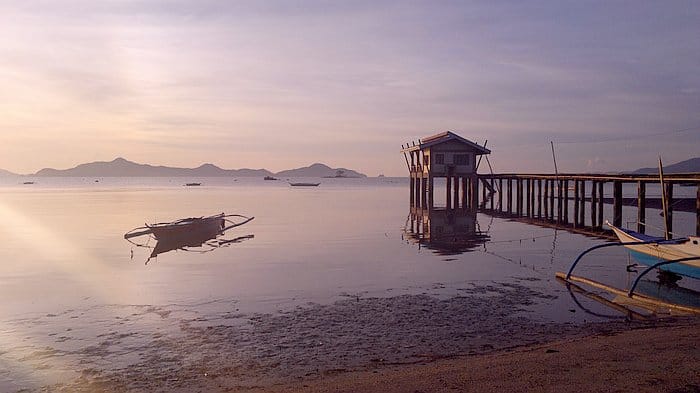 Sibaltan is a lovely little archeological village with a very long stretch of beach quickly filling up with one quaint resort after another. You should be able to get accommodation for as little as 500p for a room, and there are many options. Definitely worth visiting.
 Day 4: 1000p, 5,700p total 
Linapacan

Takling Island
I would consider this the jewel of your stay. So much to explore, but the best way to get there, if you have the budget, is by a private boat. That way you get to see a bunch of more jewels along the way, such as Pical (30 minutes by boat from Sibaltan), Takling (a deserted island you can camp out on, and there are many others), Calacala, and the tons of great places to snorkel and lounge (check out our most popular boat tour stops).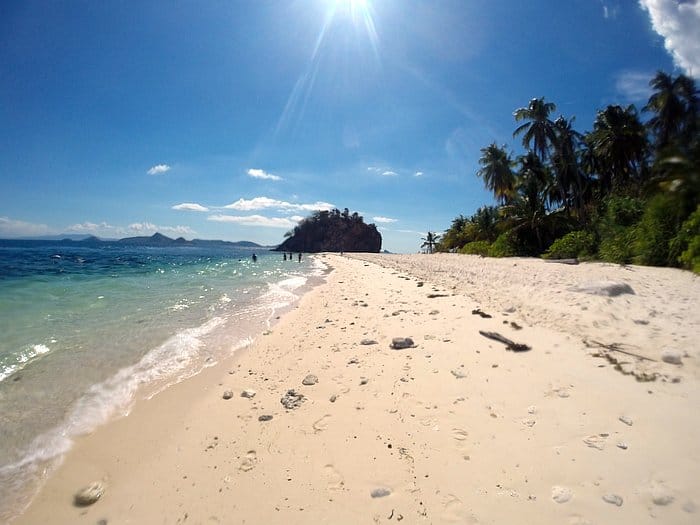 CalaCala Island
With enough people, such a tour can actually be quite affordable, especially since you will only be going from Sibaltan to Linapacan, perhaps on a two day trip, combining it with a boat tour of the Linapacan area on day 2. Or we have small boats for 2-3 people that are much more affordable, but not so comfortable, details here.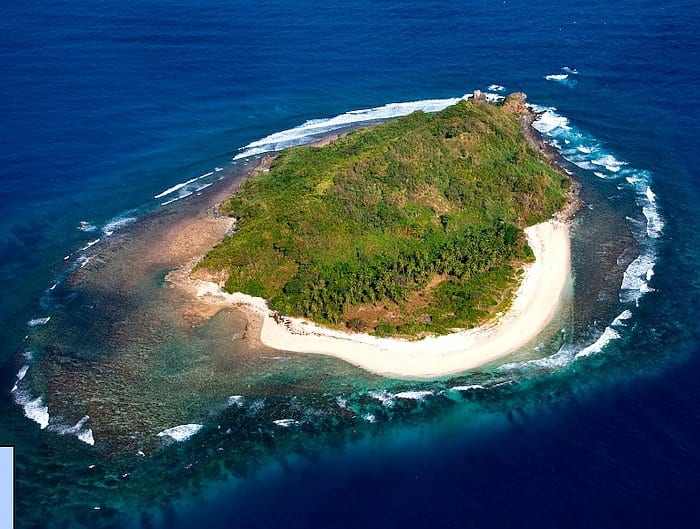 Bolina, deserted island across from our nature camp where you can sleep overnight.
If you cannot afford a private boat, there is the Lara and other ferries leaving from San Fernando, just north of Sibaltan, at least four times a week for about 700p. That will take you to Linapacan (San Miguel), where there is tons to see by inexpensive local boat tour, and affordable accommodation easy to find (about 500p/room or two people).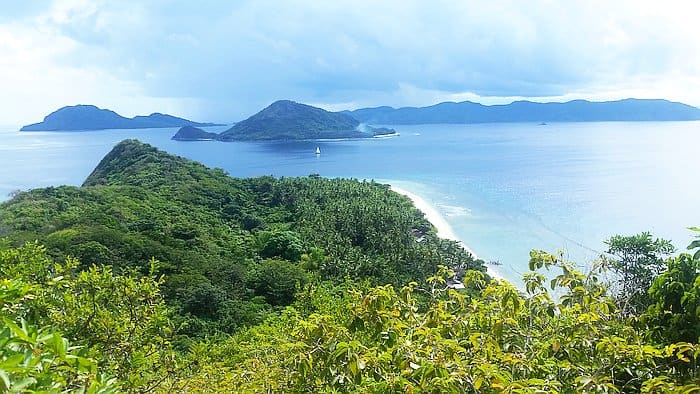 View of our nature camp beach from our island mountain.
And if you really like to get off the beaten path into beautiful and peaceful nature, you can stay at our kitesurfing nature camp. We have beach volleyball, good music, several instruments with which to play live music around the campfire at night, wakeboarding, rent a banca and borrow our fishing rods, jungle trails to explore, but general all out relax. We also cook together and food costs are only 250p/day, so a good place to save.
Drone shot of our island.
Here in Linapacan there is also an environmental fee of 200p, and perhaps also along the route to get here, so keep that in mind. Tents for as low as 600p for two, 400p for one, more details here. So roughly 500p a day including food, and assuming you will want to party it up a bit or maybe do an affordable local group boat tour, a budget of 1000p a day should be sufficient for the rest of your stay and include the Lara ferry to get here.
 Days 5/6/7/8/9: 5000p, 10,700p total 
Back to Manila
Snorkeling nearby.
So if the Atienza ferry leaves Manila on Saturday (make sure to call and check their schedule), arrives to El Nido on Sunday, leaves for Linapacan on Monday (which you can obviously take if you want to save more money by not going to Sibaltan), and leaves from Linapacan back to Manila on Monday, it should be on the same schedule a week later. Day 10 should be the next Monday and when the ferry will head back to Manila, overnight arriving on Tuesday, 1,700p, food included. Total price then:
 Day 10: 1,700p, 12,400p total 
Of course savings can be made here and there, such as not boozing up so much while staying at my nature camp (1L beers selling for 100p or big bottles of Emperador for 200p – or simply bring your own), such that, technically, you could have a ten day trip through the best parts of Palawan for as little as 10,000p.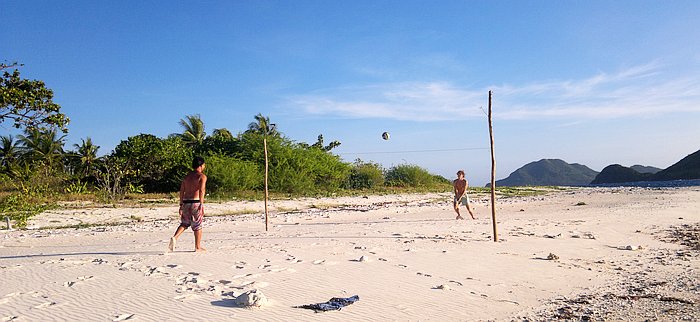 Free activity.
But if you do have more meat in your budget, there are certainly other options to making your way back to Manila. For example, you can shorten your stay in Linapacan and take one of our boat tours, small or large boat, up to Coron, visiting the most popular Coron spots along the way. If you are an avid diver, there are 8 shipwrecks around Coron, but no beach and not much else to do there.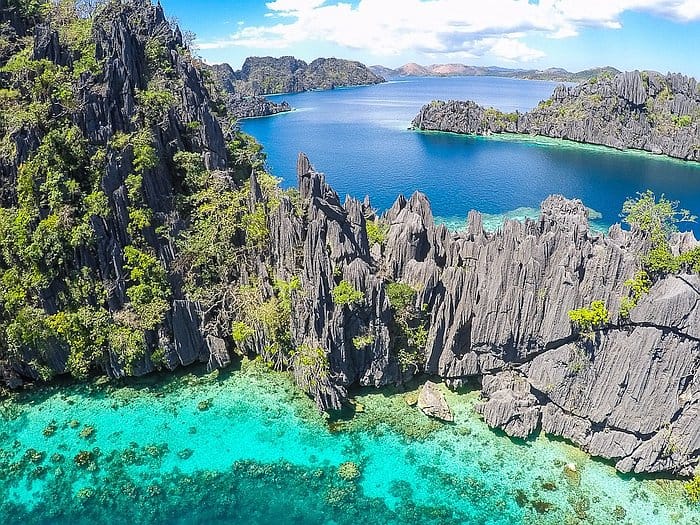 Twin lagoon near Coron.
Or if you do not have the budget for a private boat to Coron, take the Jessabel ferry, and then the 2Go ferry onward to Manila (all info on the usual ferries page).
However, it can be hectic trying to catch all the connections, and if you have the budget, a better option would be to follow my suggested itinerary, fly into El Nido, possibly beach hop by land on the way to Sibaltan, island hop by multi-day private custom Palawan boat tour to Coron, and take the big party ferry back to Manila from there. Tons of paradise beach islands to see along the way, excellent snorkeling in crystal clear waters, caves to explore, Spanish fortress and much more. Completely off the beaten path!