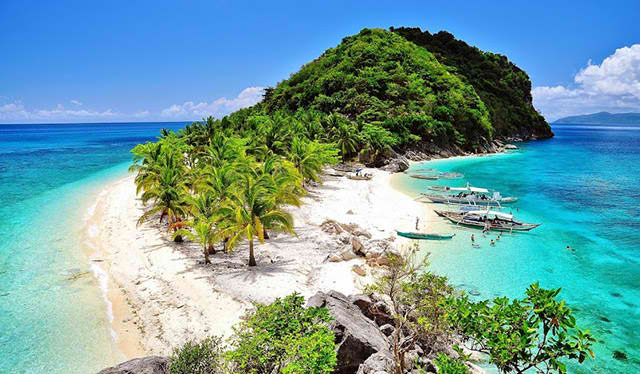 Travel Tour Packages to Carles, Gigantes
A bunch of beautiful, sandy beach islands off the northeast coast of Panay Island.
First settled around 1846, it draws in tourists not only because of its beauty, but abundance of beautiful corals and fish life. Be certain you will have some very affordable and delicious seafood.
A highly recommended stop, if you'd like to book a tour.

Things to do in Carles Gigantes
Carles is a major seafood producer, dubbed the "Alaska of the Philippines". The water territory lies within the Visayan Sea Triangle, extending from the provinces of Iloilo, Negros, Cebu, Samar, and Masbate, which in turn is part of the "Sulu-Sulaweisi Triangle" of the Sulu Sea and neighboring Indonesia. This entire area is rich in marine life, while the islands around Carles contain some of the most biologically diverse and productive fishing grounds in the Philippines, producing such goodies as mackerel, barracuda, sardines, shad, pompano, grouper, squid, cuttlefish, shrimp, prawns, shells and seaweed.
Let us start our journey at the southern most island, Sicogon, and work our way clockwise up through Carles, Pulupandan Island just to the east of it, through to Gigantes North, then South, then Bantigue Island and finally ending at Cabugao Gamay Island.
Sicogon Island
Sicogon used to be a famous island resort for the rich and famous, but at one point lost its luster to Borocay, becoming rather neglected in the process. But there are plans to build a major resort, so the number of days when it will still be a quaint stop in a natural setting could be numbered.
It got its name from Cogon, a type of grass growing in abundance on the island. It offers a lot of activities, such as island hopping, trekking at Mt. Opao, kayaking, SUP, snorkeling and cliff jumping at Tumaquin islet. It already has two resorts, so you wont be denied some better facilities and amenities.
Pulupandan Island
Going north from Sicogon Island and directly east of Carles island we have a very small island in the name of Pulupandan, blessed with a lone coconut tree and a single small hut. It used to have two coconut trees but one blew down by a super typhoon.
On one side you will find interesting rock formation which you can climb.
Gigantes North
Going farther east and a bit north from Pulupandan, we get to the northern most of the Gigantes islands, where the caves and historic lighthouse are worth a visit.
Pawikan and Bakwitan Caves
According to local forklore, the island got its name because of giant bones found in coffins in the ancient burial ground of Bakwitan Cave. The cave is now sometimes used as a shelter against strong storms, and even to hide from the Japanese soldiers during WW2.
Pawikan is much larger, but it requires a 30-45 minute steep climb up a cliff to get there. Be prepared to crawl through some tight spots, but it just makes it that much more of an adventure! Wait for a breathtaking view at the exit.
Old lighthouse
Ruins of an old Spanish lighthouse at the northern shore of Gigantes North. A breathtaking view can be found from the top of the modern lighthouse standing next to it.
Gigantes South
Rock climbing at Gigantes Sur
Local guides can take you to what they call "the Boulevard", which is a row of limestone cliffs for climbers. Make it to the top and you will see a great full 360 degree view of the surrounding islands.
Tangke Saltwater Lagoon
A smaller version of the lagoons found around El Nido and Coron in Palawan, nevertheless worth a visit, but try for high tide so that you can wade in the water. Getting there can be a bit of a climb, but there are people to help, also to guide you to the top, from which you can cliff dive into the water.
Some say it is better than the lagoons around Coron, but if there are a lot of tourists (it can get crowded), you get only 15-30min visit max, unless you want to pay for another environmental fee.
Some say it is better to get there via Carles port with its tourism office there, because if you go through Estancia port, you will only be able to visit the lagoon once the marshall leaves.
Picnic at Antonia Beach
A beautiful, secluded white sand beach requiring a boat to get to and usually included in the standard day boat tour. Good for a picnic, but if your crew does not provide, no worries, there is a local resort selling seafood.
There are also some caves for spelunking and it is a great place for casual snorkel, but you can also stay overnight in one of their tents. Beautiful rock formations.
Bantigue Island
Moving further along south we get to the small island of Bantique, voted 4.5/5 out of 16 reviews on TripAdvisor. Worth-visiting for its long sandbar and crystal clear waters. Best visited during the summer or low tide, as it can be submerged during high tides and season.
A great place if you love scallops, a mere peso each, but other sea goodies are available, such as Wasay-wasay, a relative of the oyster. Might be best visited in the mornings, before the sand gets too hot, as there are no shades available.
Cabugao Gamay Island
The most popular selfie view of the islands, you can take a picture of most of the island from one particular vantage point. A good place for swimming and sunbathing, eating fresh seafood, or exploring to…
Treck to the natural saltwater pool hidden in the cliffs
Another secluded gem worth not missing, a little bit further from the main beach.
Other interesting facts about Carles Gigantes
Not only is Carles, in particular the Gigantes Islands referred to as the Alaska of the Philippines, but also the Scallops Capital of Iloilo. Scallops are the locals' main source of income, and it is so important to them that they hold a Scallops Festival every March. Expect prices of around 1p per scallop, although you may be required to purchase a minimum order of 100p.
Not only are there many healthy corals producing tons of seafood, but the Carles Gigantes islands area is rich with limestone forests, caves and white-sand beaches. Officially it is under urgent conservation priority, as it is home to a variety of species, two of them endemic: the Gekkonid Lizard (Gekko gigante) and the Island Forest Frog (Platymantis insulatus).
The islands are also blessed with beautiful rock formations, while despite an increase in tourists in recent years, the islands have maintained their rural and untouched charm relative to such places as Borocay or Bohol.
The average half day tour, for between 1000-1500p, usually includes the following favoured spots: Cabugao Gamay Island, Tangke, Antonia Beach, Bantigue Island, and Pawikan Cave.
If you want to buy fresh seafood it is better to do so in the early morning selling areas because the goods will soon be thrown on ice and shipped off to Manila and other destinations.
Note that some areas will have power only during limited times.
History of Carles Gigantes
In local lingo they like to refer to it as Islas de Gigantes, or "Islands of Giants" in Spanish. The islands had different names before but were renamed after giant bones were discovered in one of the caves. Gigante means "giant" in Spanish.
Gigantes North has a lighthouse built by the Spanish under colonial times, but in 2008 it was destroyed by a typhoon. The keeper's house is still standing and guests can get there by motorcycle.
Folklore claims that, a long time ago, around the northeast seas of Iloilo, a giant was excitedly making preparations for his wedding. Guests had brought many gifts, but little did the giant know that his bride was taken away by pirates, hence she failed to make it to the ceremony. Angry that his bride-to-be ditched him, he threw all the presents into the sea before falling himself. These scattered offerings eventually became the Islands of the Giants. The giant's body became Gigantes South while his bride became Gigantes North.
You can check out my own tour of the area here.

Carles Gigantes islands
Average rating:
1 reviews
Nov 22, 2022
Delicious and super inexpensive seafood
It was nice to join a big group and explore all these lovely little islands while indulging occasionally in a table full of fresh seafood.