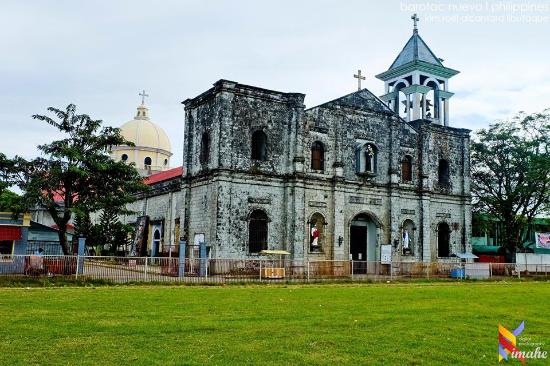 San Antonio de Padua Church
Just up the coast from Iloilo on the way to Concepcion and Carles Gigantes, the San Antonio de Padua Church can be a worthwhile pitstop for the history buffs.
Located in front of the town's football field below, the church, also called Barotoc Nuevo Church, was declared a National Historic Landmark in 1998 and played a significant role during the Spanish and Japanese occupations.

Barotac Neuvo was discovered and occupied by the Spanish in the late 16th century. The Spanish built a chapel out of bamboo and nipa to begin the evangelisation of the locals in 1573. Then trade and economy flourished with neghbouring areas, but once the soldiers fled the church was burned by locals and its friar slain. As a consequence the Spanish sent an army to "pacify" the locals by burning their houses and murdering some of them, including the local leader. On a milder note, the teachings of San Antonio were so elegantly worded for the simplest and most unread native, that he was declared a Doctor of the Church by Pope Pius XII in 1946, elevated to a saint only a year following his passing in 1231.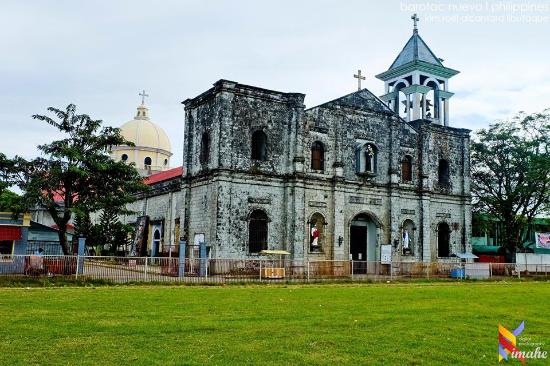 Military reinforcements came in 1581 and a new drive to evangelize the locals, to the point of further murder.
The area used to have the name Ginhawa-an, but later changed to Barotac, which in Spanish comes from the word "baro", meaning mud since a great volcano had covered the entire area with silt and destroyed its agriculture.
After 40 years the church's reconstruction was completed in 1750, in the Romanesque style, although this did not last long due to the earthquake of 1758. But measures were immediately initiated to build a new one out of coral stone and bricks, now completed by 1802.
A new church was built in 1910, lasting up to the present day, although during WW2 the military ordered the church's burning so that it could not be used by the Japanese for defenses. The fire only destroyed the convent and the Japanese were able to use the church as a stronghold for the remainder of the war. On June 13 of 1944, a spy from the Filipino troops penetrated the garrison and annihilated all of its Japanese troops. A modern steel bell tower was added in 1966 and the original curvy roof of the central facade was repaired into its present triangular shape.
The church positioned next to the football field, the town of Barotoc Nuevo holds the official title Football Capital of the Philippines.

Explore Panay
Explore Philippines
San Antonio de Padua Church
Average rating:
0 reviews