Home
»
Visayas »
Bohol travel guide
It's no secret that the Philippines has become more well-known abroad in recent years. I attribute this rise in popularity to two main factors: the first is the Department of Tourism's (DOT) successful campaigns (such as "It's More Fun in The Philippines"), and the second is the articles (which often went viral) posted by several travel writers who have been enchanted by the country's beauty. (Bohol)
The Philippines' gorgeous islands and white sand beaches have quickly become a favorite among tourists from all over the world. Many visitors, however, are under the impression that the country consists of nothing but beaches and sunshine. Not only do we have some of the most beautiful coasts and beaches in the world, but we also have an abundance of wildlife, plant life, historical sites, iconic landmarks, and marine life.
Bohol, a jewel in the Visayan archipelago, is a prime example of this.
Bohol, the Philippines' 10th-largest island, may not be as well-known as Boracay or Palawan, but it certainly has its share of breathtaking scenery and exciting dive sites that can win over the heart of even the most jaded traveler. To have even glimpsed its splendor for a moment is a privilege I count among my many blessings.
Things to Do in Bohol
Visit the famous 'Chocolate Hills'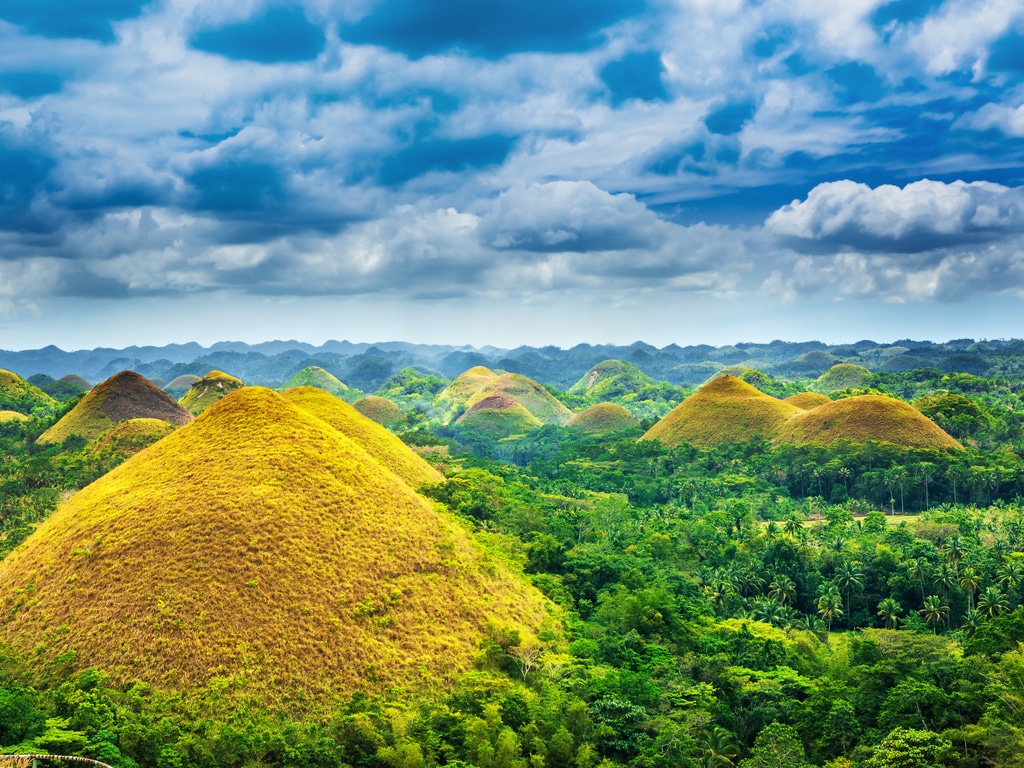 As you can see, the Chocolate Hills (or Tsokolateng Burol, as we Filipinos say) are an unusual geological structure consisting of a group of cone-shaped hills that are nearly identical in appearance. According to my research, there are more than 20 square miles covered by at least 1,200 of them. It's more accurate to say that these 'hills' range in height from 30 meters to 120 meters and are built of limestone that has been covered with grass.
"…WAIT. You call them "Chocolate Hills," but I see only GREEN. What in the world could possibly make this taste like chocolate?!"
You may be asking why these limestone hills are called "chocolate hills," and the answer is that during the dry season (December through May), the grass that normally covers them dries up and turns a darker brown. This will give the impression that there are infinite rows of Hershey's chocolate kisses, hence the name. 
TRIVIA: According to popular myth, these Chocolate Hills were formed when two gigantic rivals decided to settle their differences with a sand and stone brawl. They were at loggerheads, but after they crashed, they became fast friends. They began having such a fantastic time with one another that they neglected to clean up their mess, leading to the formation of the Chocolate Hills we see today.

Truth be told, though, this did not occur and we should not let ourselves get carried away in a fun fantasy about it. Nevertheless, I suppose this is a more "cool" explanation to give to tourists than "We don't really know how exactly…" This is because there is currently no agreement on the origin of the hills. "Weathered remains of some sea limestone on top of an impermeable layer of clay" is the most widely held explanation for the hills.

Please take note that it appears that you may also rent ATVs and explore the area's hills. Certainly, if you ask me, it's worth a go!
Take Your Time in Bohol's Mahogany Grove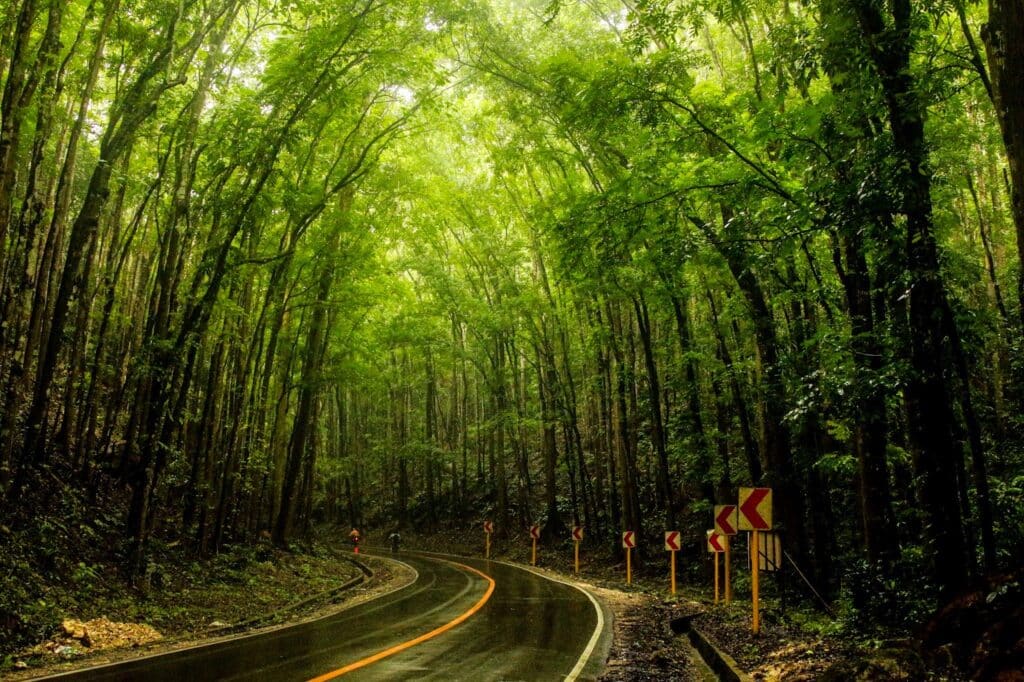 A 2 mile "Man-Made" Mahogany Forest in Bohol stands towering and uniformly green on both sides of the highway at Bilar and Loboc, making it impossible to overlook on the approach to the Chocolate Hills.
It appears this was part of a larger reforestation initiative initiated in the 1990s in reaction to forest loss brought on by the kaingin (slash-and-burn) farming method popular in the Philippines. As a result, it is a "man-made forest," since the seeds were deliberately planted by humans.
The way the tree roots emerge from the ground, wind around rocks, and spread out to the roadside is a sight to behold. You get the creeps just looking at them. The roots seem to extend out and grab at unsuspecting passers-by, like the tentacles of a big octopus, as in the "Lord of the Rings" film.
Witness the 'Tarsier'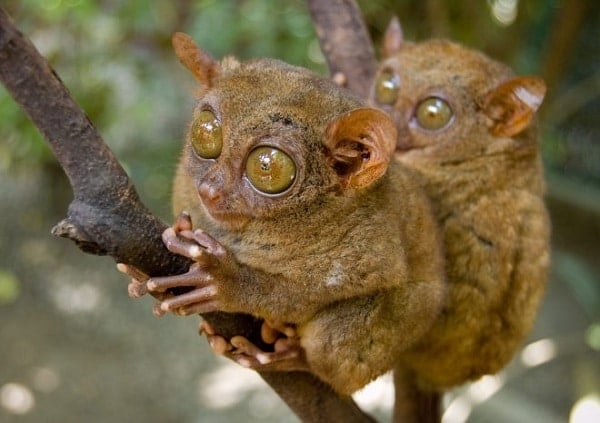 It shares the Chocolate Hills' enthusiasm for the prospect of seeing a tarsier, the world's second-smallest primate, in its natural habitat for the first time. Only in a few locations in Southeast Asia can you find them, and Bohol, Philippines, is one such place.
Cruise the Loboc River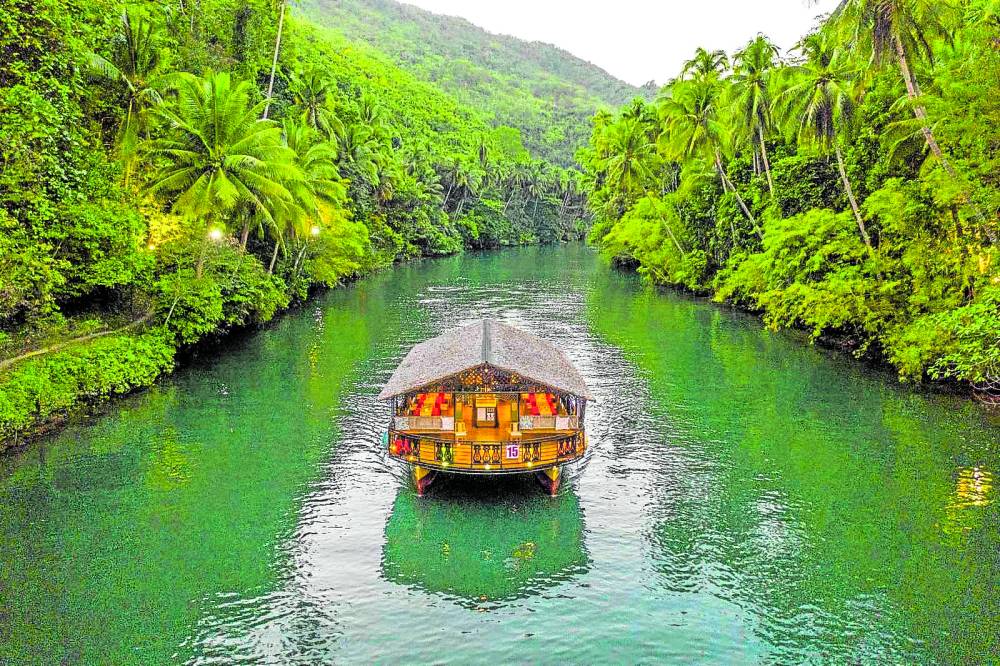 Most tours of the Bohol countryside wouldn't be complete without taking a cruise down the Loboc River in Loboc town. The price typically includes a hearty buffet lunch or dinner, which is typically served right on the raft. Onboard singers and musicians serenade diners as they enjoy traditional Filipino fare at this floating restaurant.
The cruise sets sail from Loay Bridge, right next to the Church of San Pedro. Around the hour mark of the one hour cruise, the raft pulls up in front of a large hut where more singers and dancers in traditional baro't saya perform for a few minutes. After navigating around a section of Busay Falls, the raft continues downstream.
Enjoy a relaxing cruise along the Loboc River, which is surrounded by verdant mountains and waterfalls, before arriving at the breathtaking Busay Falls. The floating eatery will return its customers to the designated spot. The duration of the cruise is approximately one hour.
Enter the Baclayon Church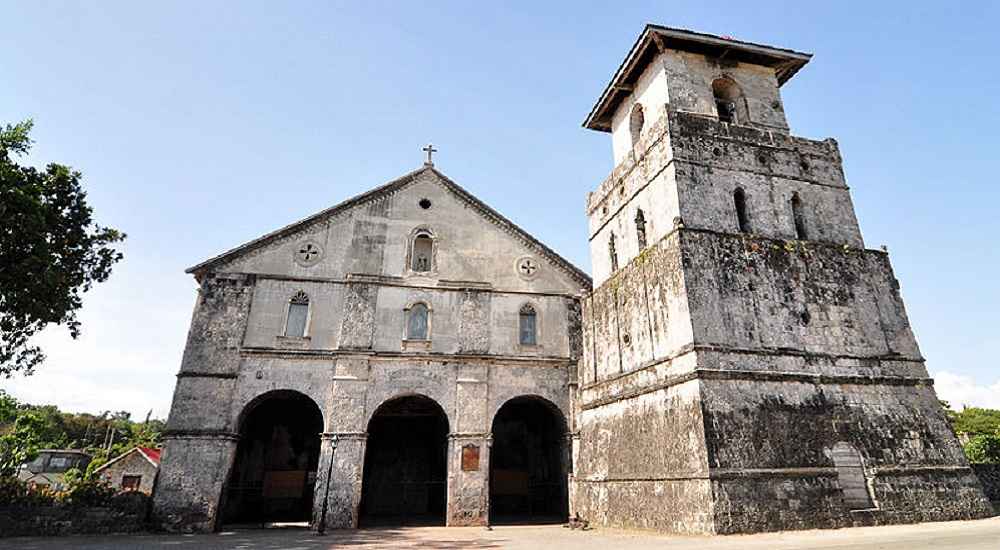 Baclayon Church is the second-oldest church in the Philippines and has been designated as both a National Cultural Treasure and a National Historical Landmark. If you're visiting Bohol and are interested in learning more about the colonial era of the Philippines, this is a great place to stop.
This church, which was constructed by Jesuit priests in 1959, is home to various priceless artifacts from the country's long and storied Roman Catholic tradition. Have a look at that altar, it's quite an amazing display, yes?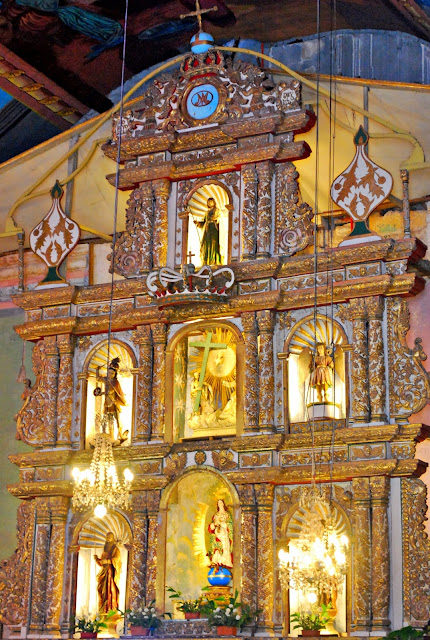 Enjoy the Water and the Ocean!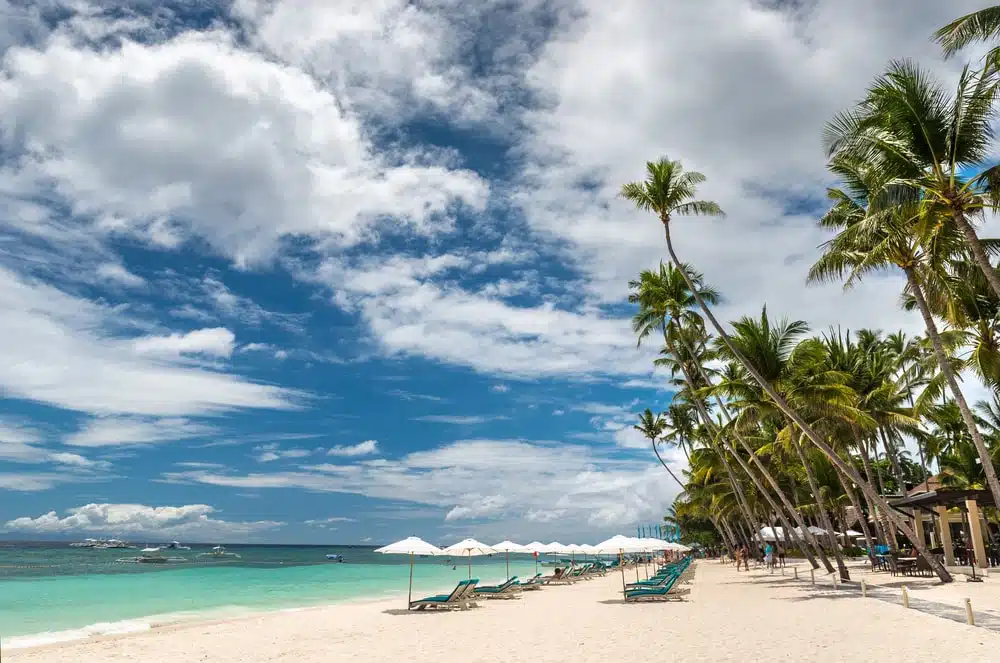 Since Bohol is an island, it naturally has many beautiful beaches. There are actually seventy-five additional uninhabited islands in the vicinity. When it comes to the most important landmarks, keep in mind:
Panglao Island: A bridge connects the main island to this convenient destination (Bohol). Alona Beach, a beautiful stretch that is roughly 1.5 kilometers long, is the most famous of the area's several beaches. There are several hotels along its shores, thus it's a good option for vacation lodging on Bohol. When looking for things to do, snorkeling and, better yet, scuba diving, are musts.
Virgin Island: Sandbar on a small, isolated island in the Virgin Island. There isn't much to do here, but it's still a nice spot to kick back and relax in the sun.
Balicasag Island: If you're looking for a great place to go scuba diving in the Philippines, go no further than Balicasag Island. If you swim out 50 meters from the shore, you'll find a steep drop-off into water deep enough for a wall dive. Even if you have no expertise with scuba diving, you may still go snorkeling around the island to observe the vibrant corals and marine life. (You can see dolphins on the way here!)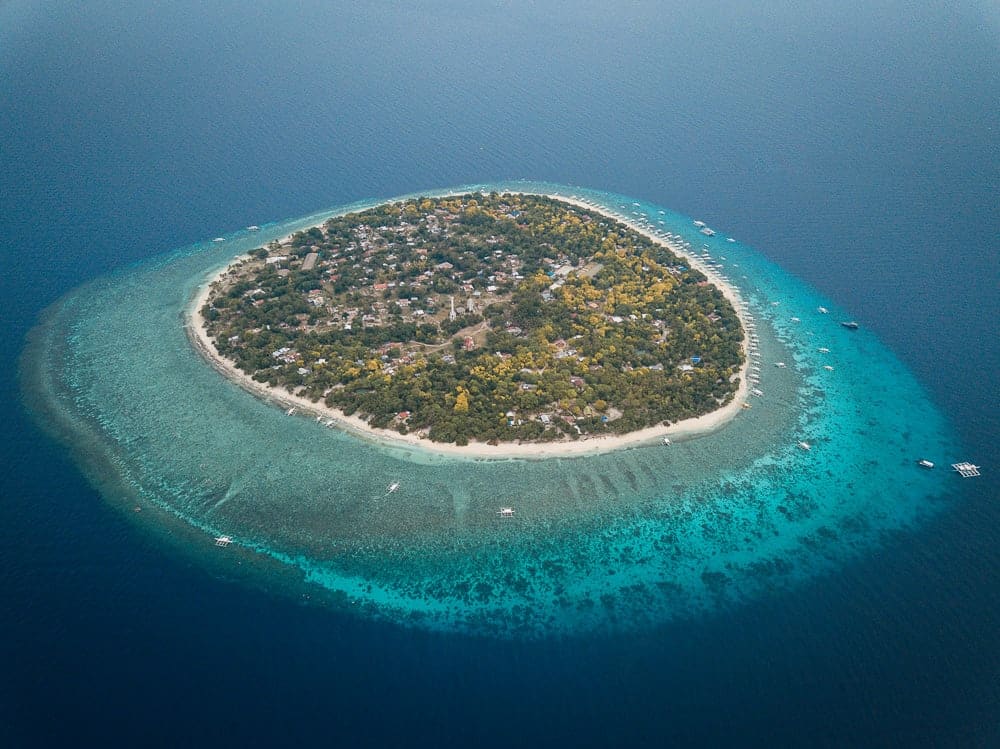 Bohol Travel Guide
How to Get to Bohol
By air. Unfortunately, there are currently no nonstop flights from other countries to this island. Travelers can fly to Bohol from Tagbilaran Airport (the capital city of Bohol is also called Tagbilaran). If you keep an eye out for promotions from local airlines like Cebu Pacific, Air Asia, and PAL Express, you may find round-trip flights from Manila or Cebu for as little as $10 (Php 500).
By boat. Every day, ferries leave from the ports of Cebu and Dumaguete. If you're ready to reserve, use the following booking links:
– From Cebu to Bohol and vice versa
– From Dumaguete to Bohol and vice versa
How to Get Around Bohol
By motorcycle. Motorcycle rentals in Tagbilaran and Panglao start at about $4 per day (Php 200). Having this much independence will allow you to go wherever you want, whenever you want.
By car. Tagbilaran is home to the majority of the island's car rental agencies, and daily rates start at $31. (Php 1,500).
By public transportation. Tricycles, jeepneys, and buses on key thoroughfares make getting about easy and cheap. When you're in a hurry to travel somewhere far away, it's hard to flag one down because they don't run on schedules. If you're not going on a tour, you should definitely get your own car.
By arranged tours. Getting around the island is a breeze if you arrange a tour in advance, as I mentioned before.
*Depending on the boat and number of passengers, island hopping boat rentals can cost $31 (about Php 1,500) to $62.
Or, if you decide to check out Palawan, our small family operation organizes private custom boat tours through the Palawan area, voted the best island in the world, with its 52 pristine white sand beaches and some of the clearest waters in the world
Check out what activities you can do in Boracay for more fun stay!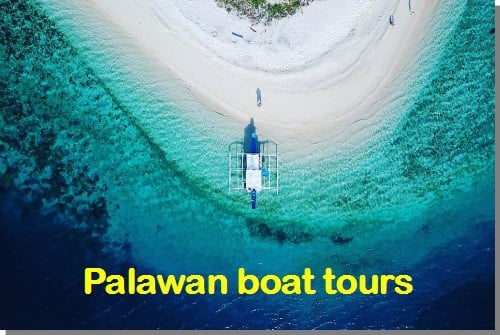 Experience the thrill of island hopping in the Philippines
Home
»
Visayas »