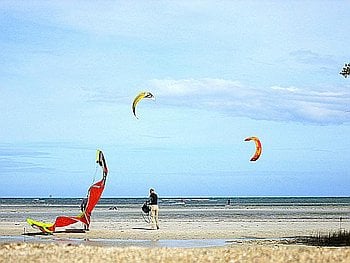 Kitesurfing and Kiteboarding in Palawan
One of the beautiful, empty beaches you can launch from to enjoy virgin turf on your own.
I no longer manage the Patoyo Kitesurfing Camp below, but am focusing on private custom or group boat tours through this beautiful area, along which you can kitesurf in virgin territory from beaches of 82 islands if you bring your own gear.
Map of kitesurfing and kiteboarding locations in the Palawan area, Philippines.
Palawan is the nicest part of the Philippines with around a thousand, mostly undeveloped paradise beach islands and one of the top two locations (area 2 below) in the country for kitesurfing (example on windfinder):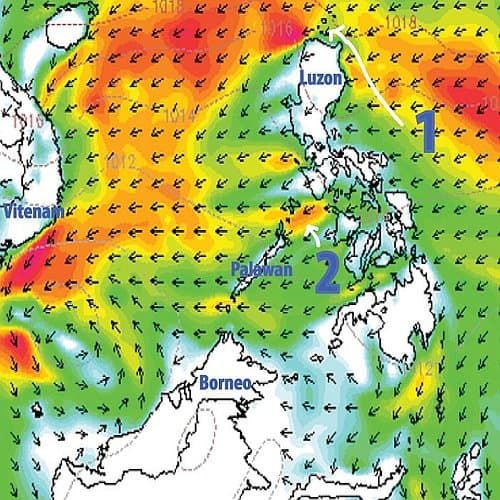 According to our itinerary suggestion, the best and most action packed way of passing through this area is to fly into Puerto Princesa (balloon farthest to the south) and make your way back north to Coron, from where you can take an overnight sleeper ferry to Manila, arriving there early in the morning. You should give yourself a minimum of 10-14 days to traverse this route so that you can see it properly and enjoy your vacation in relaxation, especially since the transport can be somewhat sporadic.
In the spirit of that suggestion, an explanation to each of the above 5 balloons will be organised in that order (below – to be added shortly), with Cuyo at the end (requiring a major detour).
Puerto Princesa
Kite Club Palawan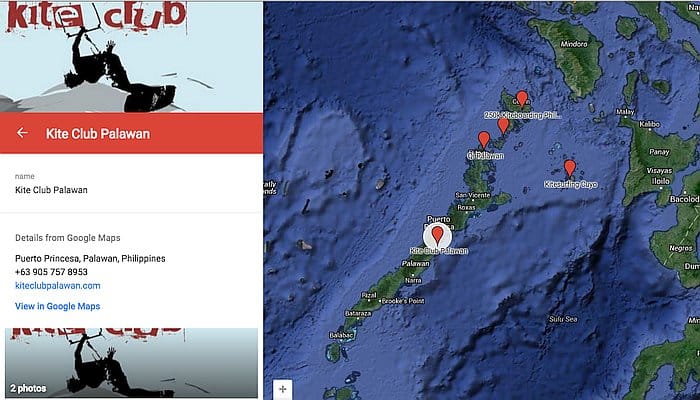 Description: The wind is on the rather light side here, but when the Amihan is northerly, there is a good side shore breeze—usually around 12 to 15 knots, but days with 20 to 30 knots as well. Prime months are December and January. The season here goes from November to March/April.
Accommodation: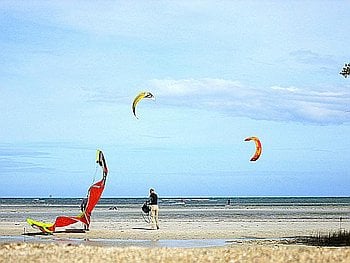 Kuyba Almoneca – 30 Minutes away from the airport and 10 minutes to kiteboarding area room rate 1,500p per night good for two with breakfast and drop and pick-up to kite boarding Area
Bahay Kubo – 20 Minutes away from the airport kiteboarding area at your door step room rte Php 2,200 to 3, 800 per night good for two with breakfast.
* Free airport service upon arrival and departure.
Kite and board rentals:
1450 Php – 1 hour, 2700 Php – 1/2 Day (3h), 4200 Php – 1 day (5h), 16000 Php – 5 Days, 19000 Php – 1 Week
Lessons:
Kite Taster 1,500p/hr, Kite Intro 8,000p/5hrs, Beginner Course 16,000p/10 hrs, Private Lesson 2,000p/hr
Weather forecast:
El Nido
Qi Kiteboarding Resort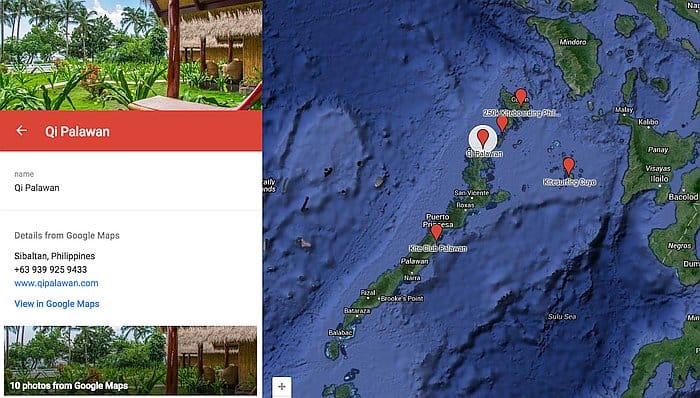 Description: With just six hotel rooms on a kilometre of beach, Qi kiteboarding Palawan offers uncrowded kiteboarding. The hotel has upscale accommodations and gourmet food, a billiards table, a small pool, large yoga deck and spa. And, the location is only one hour from El Nido town, where there is plenty of shopping and bars.
The flat waters and sandy bottom are perfect for learning or advancing your skills. Winds are moderate (12 to 20 knots) cross on-shore most days. Of course, Qi Palawan has its heavy days where everyone has to breakout the small kites, but there are other places to go for the strongest winds. With exception of extreme wind days, the water is flat with a small wave on the outer reef for the advanced riders. The season goes from November to March with December to February being the prime months.

Accommodation:
Cottages – standard: 8,800-9,900, holidays: 9,900-11,500
Villas – standard: 13,000-14,500, holidays: 14,000-16,000
Kite and board rentals: (contact)
3,500 half day, 5,000 full day
Lessons:
Full course 22,000p – 9 hours private, 12 hrs group Advanced lesson 7,000p 2 hours private, 2.5 hours group
Weather forecast:
Linapacan
Patoyo Kitesurfing Nature Resort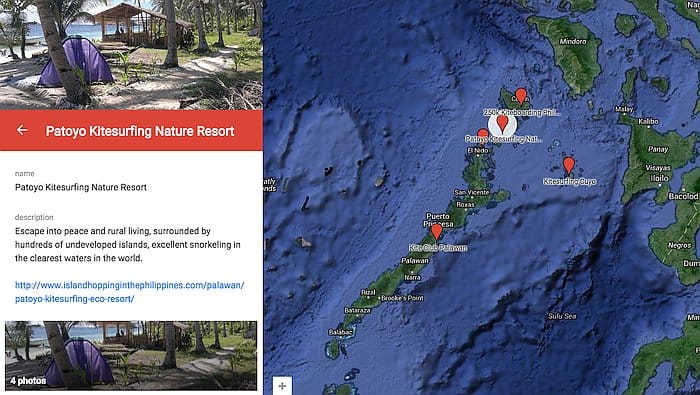 Description: Break away far off the beaten path and enjoy a real vacation in beach island paradise in the clearest waters in the world. Excellent snorkeling, inexpensive island hopping tours, caves to explore, diving at 2 shipwrecks, trekking in jungle trails or just camp out on your own island. Half way between El Nido and Coron (we also organise island hopping tours between the two) but an undiscovered gem. We are on a small island next to a rural community of fishermen families, with pigs, chickens, ducks and half naked children frolicking freely in the sun. An all natural resort built from bamboo and coconut leaves, or tents nestled into jungle pockets for the budget conscious. Island is small so can easily get to the other side for different wind conditions. Ideal for beginners and advanced
surfers alike.
Small island, so beginners can learn on the side sheltered from the trade wind, wherever it is coming from. Easy to get to the other side.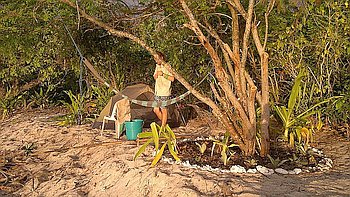 Accommodation:
Tents only at the moment, 300p/night, or 400p if 2 people.
Kite and board rentals:
1,000p per day but must share with others, as there are only two boards at the moment.
Lessons:
2,500p until you get it, flat rate.
Weather forecast:
Coron
250k Kiteboarding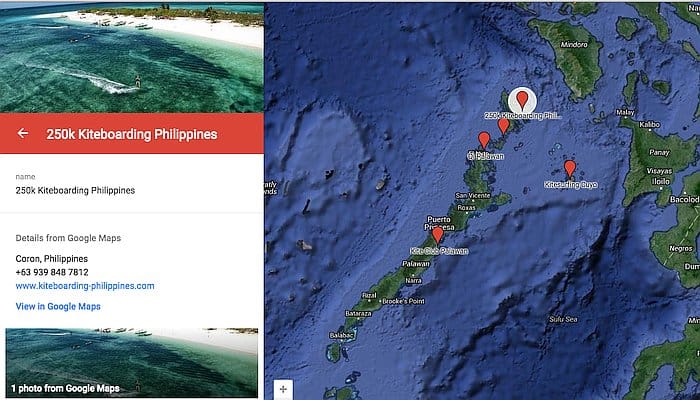 Description: They have their own private island and take people places by boat. There are lots of places to kite with different beach angles and setups. Best to come from mid-November to mid-April. The region still gets good wind towards the end of the season when the Amihan is more Easterly.
Accommodation
In their camp, bamboo huts.
Full package includes: boat transport from Coron town and back; accommodation in native style bamboo huts; three meals a day; taken by boat to different kiting spots, depending on the weather or your skill level; instructor present if you have any questions; sight seeing tours if there is no wind (diving available at surcharge); stand up paddle boards
– 9,500p/night or 50,000p for 7 days/6 nights
Kite and board rentals, with lessons:
One hour private, including gear 3,000p, 10 hrs incl. gear 25,000p
Weather forecast:
Cuyo Islands
(2 beaches)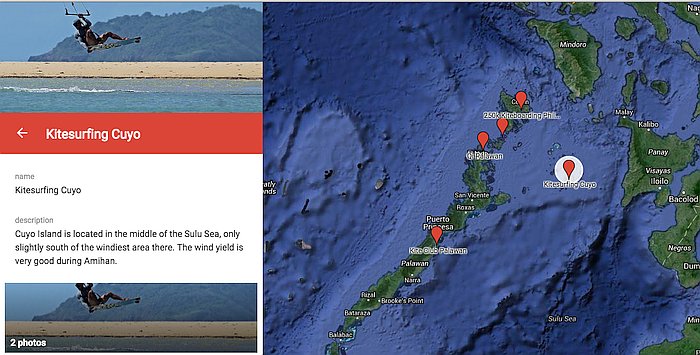 Description: Cuyo Island is located pretty much in the middle of the Sulu Sea, only slightly south of the windiest area there. The wind yield is very good during Amihan season and days with strong wind are absolutely no exception during Kitesurfing season.
There are only two weekly flights by Air Juan connecting Cuyo with Puerto Princesa on Palawan. The only other way to get there is by ferry from Iloilo and Puerto Princesa about four times weekly. Once a week there is a ferry from Manila to Cuyo with a stop at Coron. This connection works well if you want to stay at the Kitesurf Camp in Coron, however a bit of adventurous spirit is required.
Little or no night life, hard to get to.
Accommodation (2 beaches):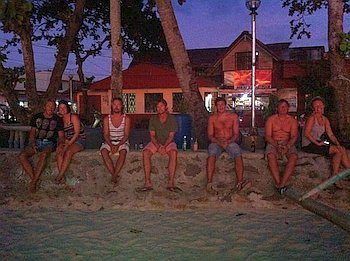 Anino Resort – right at Victoria beach, side onshore wind.
May 1 – Sept 30 1,350-4,700p (both incl. breakfast, all year)
Oct 1 – Apr 30 1,800-7,750

Nikki's Pension – kite with Buradol Kite Center
Family room 850p, Double 700p, Single 600p, Fan room 350p, Dormitory 600p
Kite and board rentals:


Buradol


– 2,000p half day, 3,500p full day

Lessons:


Anino Resort


3hrs at 9,000p for beginners – 9hrs over 3 days at 15,000p


Buradol


2 hours introduction 2,000p, 10 hours (2-3 days) beginner course 16,000p
Weather forecast:
Other Useful Sites on Kitesurfing or Kiteboarding in the Philippines
Kitesurfing and Kiteboarding Philippines on Facebook
Help Go Abroad
Surf Today
Kiteboarding Philippines
Other Kitespots
If you would like to island hop your way between these and virgin kitesurfing spots and other beautiful islands, you can join or book one of our private custom Palawan boat tours between El Nido and Coron. Tons of paradise beach islands to see along the way, excellent snorkeling in crystal clear waters, caves to explore, Spanish fortress and much more. Completely off the beaten path!