Second shopping spree – main hut on its way
Some important improvements during this period. One massive drag of the mountain internet café was that it took half an hour before I would cool down enough and sweat stopped dripping down my arms so that I could begin working on the computer. There was almost no wind, flies would tickle their way relentlessly along my skin, and I couldn't find a very comfortable position – but the view was nice.
One day it occurred to me that it would be worthwhile to walk the extra half hour to the other side of the island, sit in the shade under a humungous tree, and dip into the ocean any time I wanted. And there was an added bonus – I discovered a half decent store along the way which actually sold beer. This of course required a civilised pitstop on my daily excursions, and I managed to befriend the owner, who gives me a meal for free and agreed to deliver goods to my camp at a reasonable price.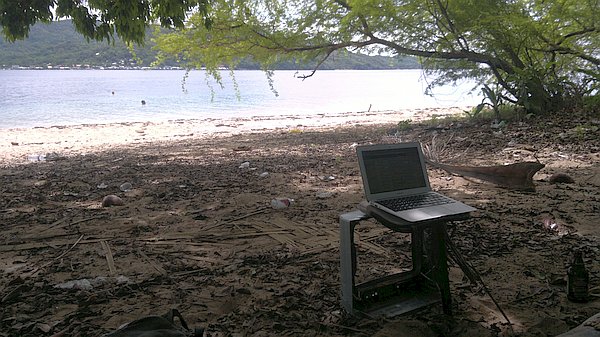 New internet location on the other side of the island, although now a 55min walk.
Czech couple guests enjoying a cool dip in the foreground, where the best snorkeling is.
Meanwhile, seems my solar setup has intrigued some people enough to purchase their own system from a travelling salesman. With leasing payments it actually works out to the same price as mine, but at much less than half the capacity. Covet thy neighbour's property. The caretaker's wife came begging to my first two guests for a thousand peso loan for the initial downpayment. I explained that my guests will be staying for only a few days, but she ignored me and kept staring up at them in the typical, pathetic Filipino begging way, hand held out and cupped upwards. I lent her the money and sent her on her way, but that combined with their pig eating all my efforts at building a compost pile, their little yappy dog exchanging lengthy, loud conversations with the local toad and gecko at obscene hours of the night, their laundry often sprawled out drying between several coconut trees and their occasional bloody harvest from dynamite stick fishing convinced me they will have to go. The owner agreed. Living for free off the land, they also eat all the coconuts, which I would like to sell to guests instead, and they burn the remains with fallen coconut branches, which I would like to reserve for our evening campfires. Fortunately, the owner has another property on the same stretch of beach, so it is good that their departure has been set into motion.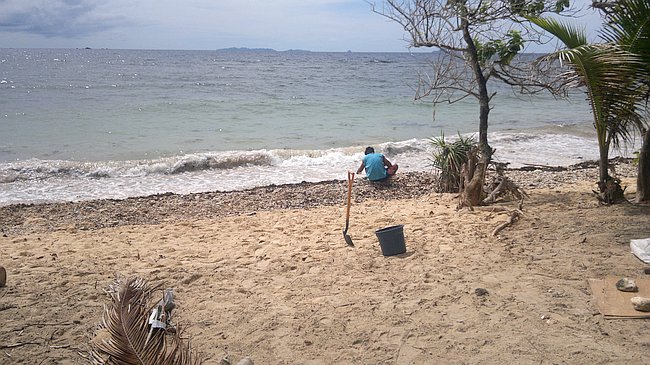 One of the locals who likes to come over occasionally and help out for free. Here handpicking
nice coloured rocks and seashells to line the property's pathways.
Elegant solution to get them off the beach (picture below).
But not before I successfully test out an all important purchase to be sent in from Germany – a high powered router mobile signal receiver which can broadcast highspeed internet throughout the camp. The internet café's migration to cool waters has been very welcome, but it costs me an hour for each leg of the journey, not to mention all the beers I end up consuming at the store half way there.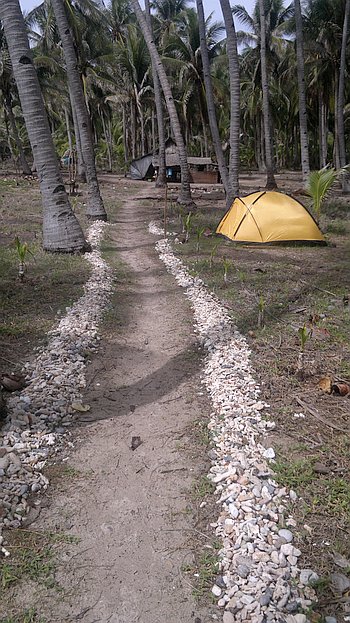 As usual, synchronicity played its guiding hand in my affairs. When I stayed at the owner's hotel before starting this project, I began to sleep on a mattress out on the balcony, since I found myself waking up in a bed soaked of sweat after the village's diesel generator turned off at midnight and the fan no longer functioned. The mattress on the balcony was an elegant solution, but after three days my laptop did not want to wake from sleep in the morning. My guess is that leaving it on the concrete balcony floor after watching a movie the night before could have caused some internal condensation by the early, cooler hours of the morning. Fortunately, it did wake up after fiddling with it for half an hour and just before I was about to abandon all fiddling efforts to take a highspeed boat to an island in the north, so that I could fix it and finish a job I was already committed to. After some research, I came to the conclusion that one of the many sensors were acting up, as Apple loads the device overboard in an attempt to avoid forced repairs under warrantee. So now I have to leave the laptop in the sun for about ten minutes every morning before starting work. Or if there is no sun, then hold it over the fire or a gas stove.
My phone also started acting up and stopped working completely, forcing me to move forward with plans to take the boat to Coron and then Manila, where I would make a major shopping trip and extend my visa for a full six months. If the power receiver works, I will have highspeed internet in camp and will be able to stay put for half year. Without internet in camp, every day I must circumvent half the island and require the services of the caretaker's family to watch my equipment while gone.
Meanwhile, the owner mentioned he will be taking his boat to Manila around this time to deliver the monthly supplies of dried cashews and squid. I will therefore be able to come back with him with my hearty shopping load, and have already found a couchsurfing host where I will be able to stay for free.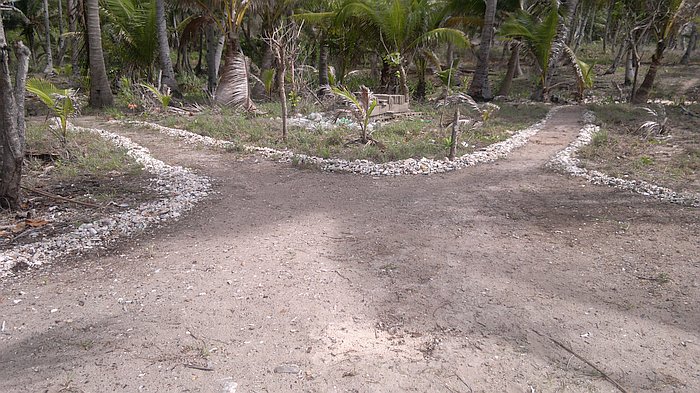 Furthermore, the owner (Ben) seems to be getting increasingly interested in the project, seeing all the work I have accomplished so far, and has offered to hire a carpenter to speed up construction of the first hut. That too will be crucial in raising my comfort level as the volunteers and I have been forced to retire to our tents or bob in the ocean during rainy times. Having a dry place to hang out at and the spacious attic for my own room, together with high speed internet in camp, will be a major improvement. Not to mention that, at a few points, the wind became so strong overnight that it practically broke my tent. It almost entirely collapsed while I was frantically pushing up against the wind-facing wall with my hands, water dripping all around me. I purchased a new tarp for the tent full of equipment and used the previous one, which was practically ripped to threads by the nightly gales, to construct a wind barrier and protection for my tent. But that now makes crawling into the tent quite awkward and uncomfortable, dragging in a lot of sand in the process. Or the sand flies are an annoyance, crawling through the screen into my tent while attracted to the reading light or light from computer monitor when watching a movie, jumping off the keyboard into the movie screen and forcing me to smear up the monitor as I squish them with my thumb.
Many factors are severely dampening the comfort level, but an Ozzie volunteer should be arriving not long after I get back and bringing with him the first kiteboard, so things are looking up!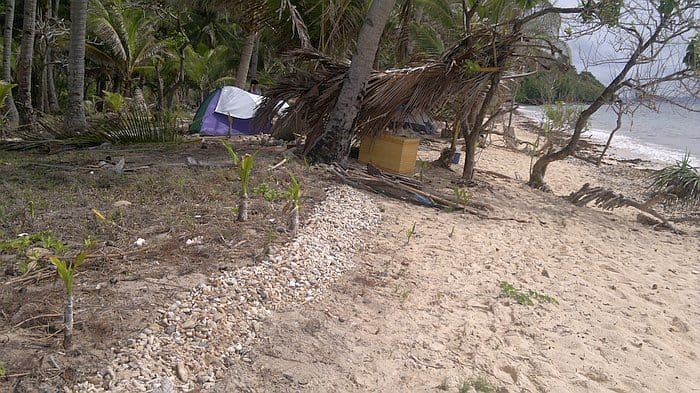 Was running out of pathways so started moving the beach rocks to as a border here.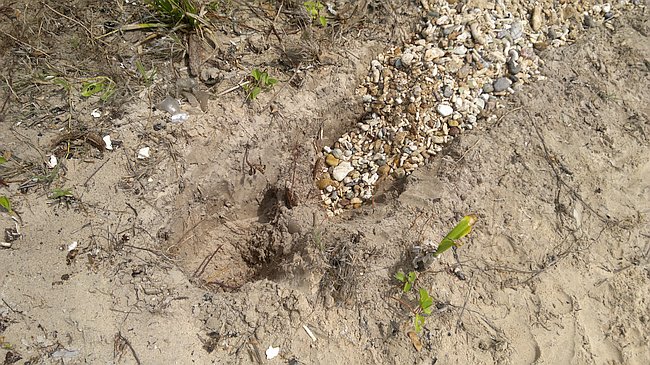 Since there are SOOO many rocks, decided to bury them deep into the sand.
But after removing all that sand, where to put it?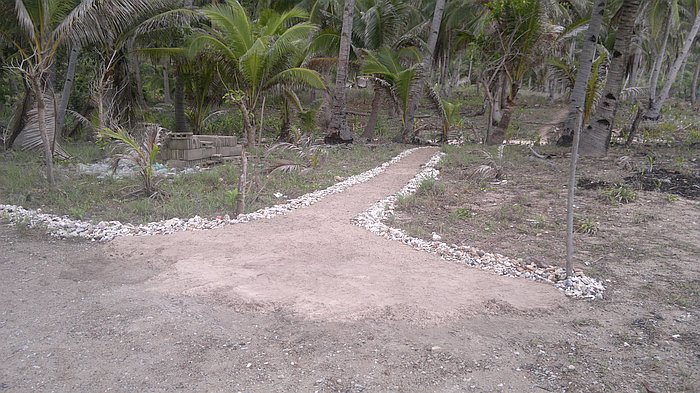 How about on the path between the rocks to make it fluffy and soft!?
Love how all this is so far costing me absolutely nothing.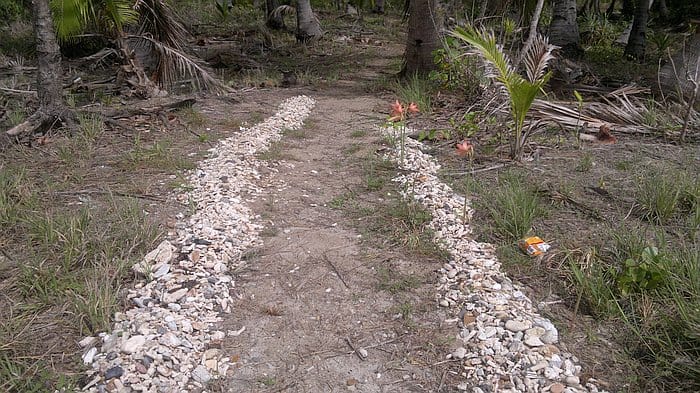 Eventually want to propagate the local flowers so that they line all the pathways and fill the property.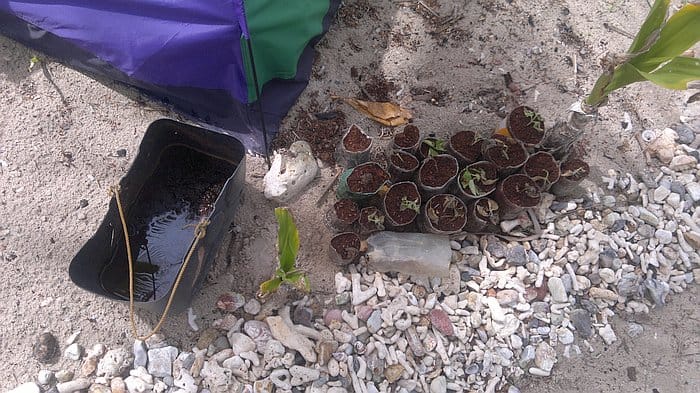 Seedlings for propagation started by the Czech volunteer, using the rotting remains of an old coconut tree for soil and cut remains of some of the many plastic bottles littering the neighbouring property.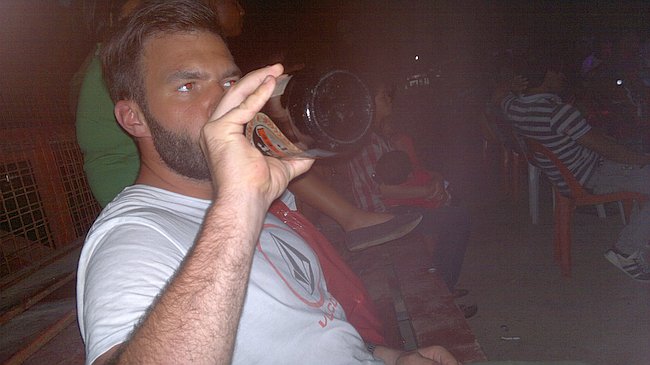 The Czech volunteer fisting a 1L bottle of local beer while celebrating a town's birthday on a nearby island.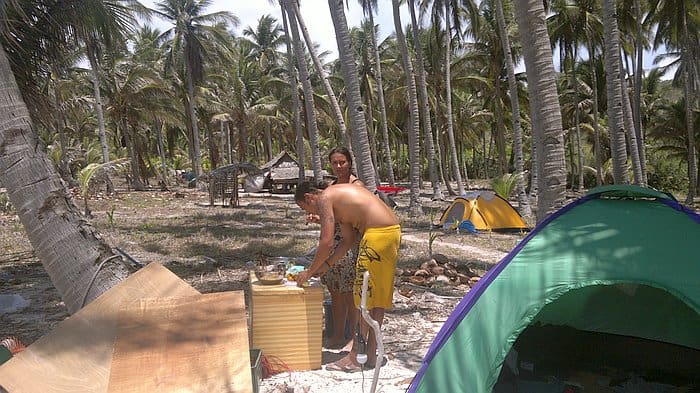 First volunteers, a Portuguese couple here making preparations for dinner.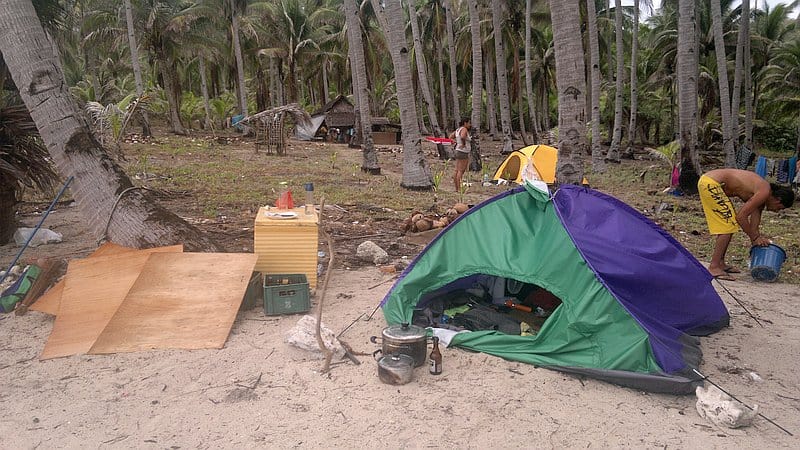 My tent did not hold out too well during the first major storm overnight. Had to push against the front with my palms while fearing that the poles will snap and water dripping on me through the roof.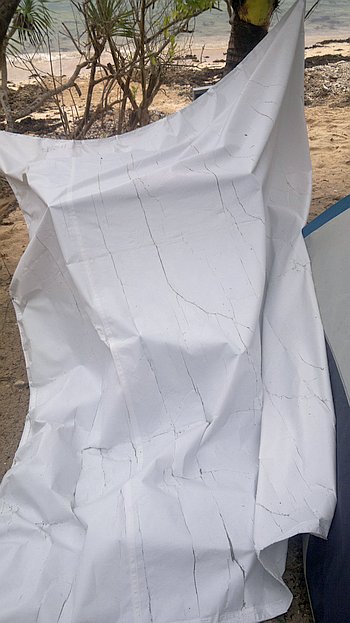 The tarp over the other, equipment tent got loose and almost ripped apart flapping in the wind.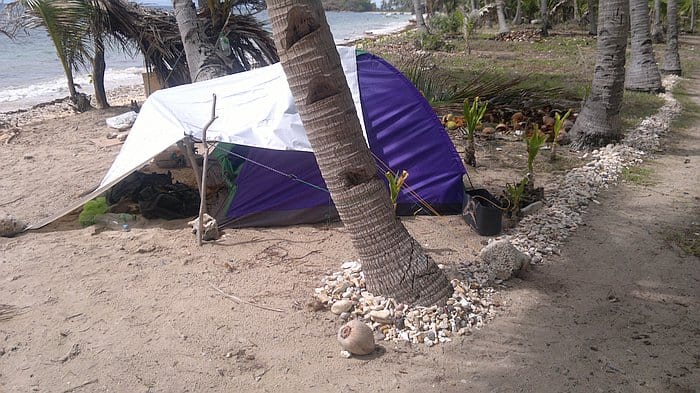 Purchased a larger tarp for the equipment tent and moved the ripped tarp as a protector over my own tent.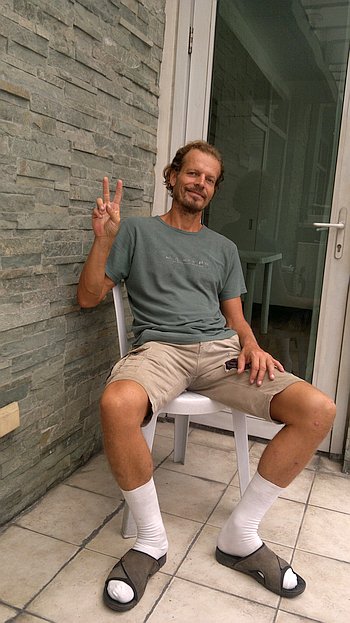 Shopping for construction material and equipment in Manila. My couchsurfing host did not like me walking around the city barefoot and dragging my dirty feet into his pristine clean house, and lent me his white socks since it hurt wearing sandals due to all the infections on my legs from sand fly bites.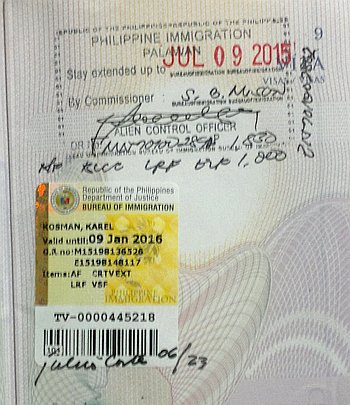 One major success in Manila is a six month visa extension.
Now I can buckle down in the trenches and start a long stretch of serious construction!