Home
»
Palawan » Patoyo »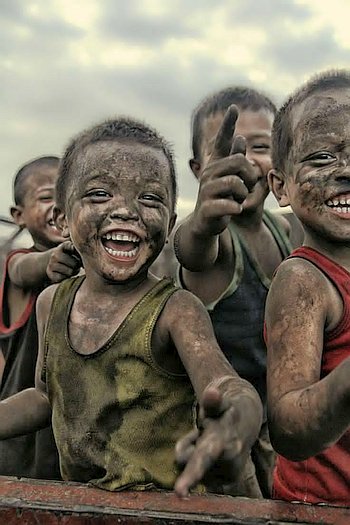 Back in Palawan when I was researching things to do in Manila for my website, I came across one blogger who wrote about visiting the slums. Horrid pictures of children wading up to their lips in black muck scrounging the city's garbage in exchange for a bite to eat that day. Thought it could make a good photo op and imagined hordes of excited children chasing after and posing for me as I handed them 5 peso coins from my pocket.
During the week I forgot to go to the bank to cash a 500 peso (about $11) note for 5 peso coins, so instead I took out the spare change from my wallet in the amount of some 700 pesos and headed out one Sunday to explore. My host explained that I don't really have to go to those particular slums but that Manila is speckled with affluent and impoverished neighbourhoods nestled next to one another, and that I merely need to cross a nearby bridge to get to this one. Although this one was considered "upper poor".
I spent about an hour wandering through, amidst the occasional holler of "Hey friend!", "Hey Joe!" or "What's up?", as the Filipinos like to say, but no sign of destitute, naked children looking like they had just crawled down a chimney, begging for money.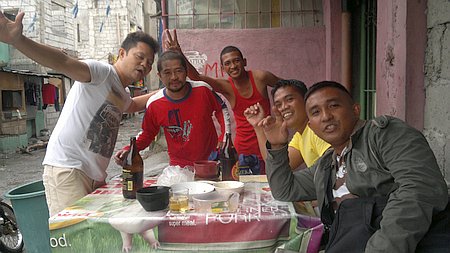 Eventually I entered a new quarter and was addressed by five blokes polishing off several 1L bottles of Red Horse beer (about 7% alcohol, so the poor man's beer). They asked me to join them for a drink, I took a sip of the horse on ice, but because I had bad experiences with it, I agreed to sit down with them if I could buy a regular small bottle.
Soon enough two San Miguel Lights showed up, my second favourite, and I spent the rest of the day with them. At least my 700 pesos will be put to good use.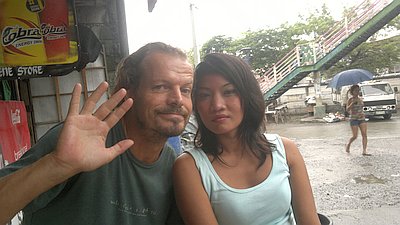 An hour into our conversation, as I was slowly catching up to their level of excited inebriatedness, a girl walked by on the street who caught my attention. I seemed to catch hers too, as she walked by staring at me, looking like she wanted to wave, stuttering in her walk as if not sure which way she should go.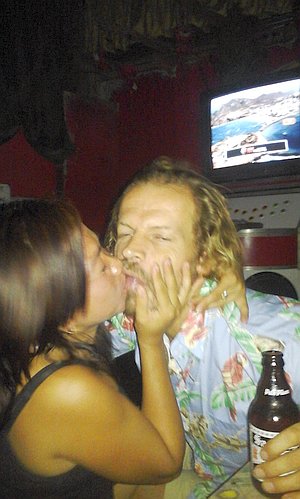 Second close call the next night when paying back the beers, some karaoke joint. Don't remember slipping the tongue.
Immediately one of the boys ran over and dragged her over to me, seated her next to me, put our hands together as if we were married, made me kiss her cheek, her mouth a little. She giggled away, occasionally placing her palm on my knee or chest in somewhat of a professional manner. "400 pesos for sex tonight, yes?" the boys would take turns trying to convince me. But the mascara-covered blemishes on her face gave me the impression of uncleanliness or something fresh off the street, so I wasn't particularly interested in pursuing the issue further, my knees bobbing nervously as I tried to keep the flies off the sand fly infections on my legs. But for fun I played along.
At my wife's request I bought her a few cigarettes, then a few beers, then a 100 pesos for a massage. It was time for one more round of beers, as I had also been buying the boys their beloved Red Horse and I only had a couple hundred pesos left. On suggestion I gave the last of it to my wife to fetch the beer. Of course she never came back, but ten minutes later one of the blokes came back with a bag full of light beers, rather taken aback when he realised I had no money left to pay him. So we drank that and I promised I'd come back in a couple of days to return the favour.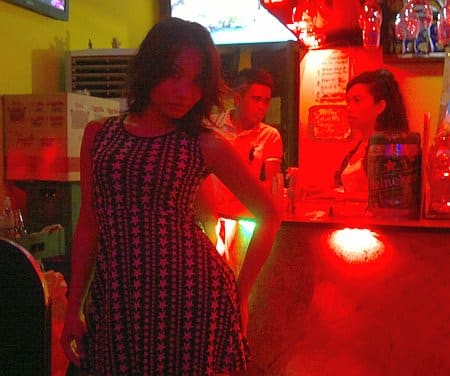 Managed to have better success on my last night in Manila, when I felt like staying up late to party and met a little vixen. We karaoke hopped until sunlight, got a room and stayed up until I realised how late it was, grabbed a cab at 2pm, packed up my stuff from my host and made it in time to the ferry departing at 5. Did I mention I love this country? Unfortunately, it slipped my mind to invite her with me.
On the way back down south I stopped in Coron to scope it out but, above all, to wait for some deliveries to the post office: a sim card router broadcasting wifi, a booster external antenna for that, and a big box of colloidal silver to try on myself and sell to guests. The router was already there but not the other two. Since the antenna might be necessary to catch highspeed internet in camp (very important), I ended up staying 10 days, but still no luck (although I did work out an arrangement with the postal clerk that others can pick up my shipments, grabbing his phone number in the process). But at least in the meantime I made another girly bar pretend girlfriend, played a lot of free pool, ate chicken burritos every morning (can't remember the last time I've seen Mexican food offered), made some new friends, had a blast, bought some more construction material and on the last day stumbled on a Rasta dreadlock jambe maker, bringing one with me for only $90 poorer.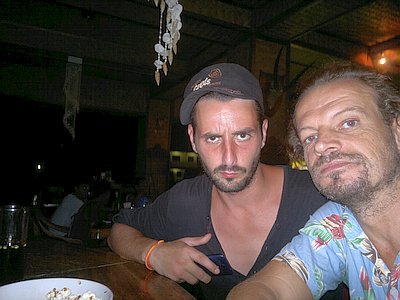 Pool drinking French buddy in Coron.
In Manila I purchased so many things and loaded them on some rickrackety boat on the suggestion of the property owner. Some of the boys on the boat egged me to give them 300pesos for beers, so I complied, hoping that will help my massive pile of arbitrary goods end intact to their destination. Also in Manila I picked up two used kiteboards from a volunteer who had lugged them all the way from Australia – that setting me back only $700 total (new kiteboards usually cost at least a thousand). So now I finally had the bait I need to start drawing in paying guests. Lugged it all to Coron, where I managed to load them onto a boat of the property owner, again giving the guarding crew member 100p for drinks and protection (I was still waiting one more day for the post office, since shipments come in from Manila only once a week). Amazingly, once I got back to San Miguel, not one single item was missing from the two boatloads was missing.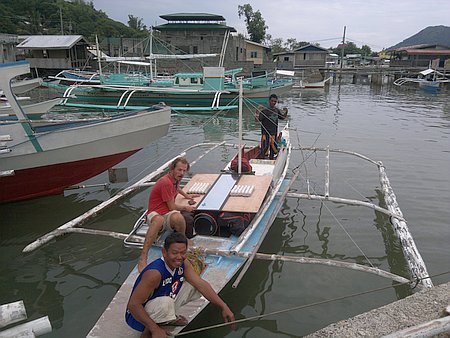 Two trays of eggs, mirror, jambe, 2 kiteboards… think I'm ready to launch.
Piled it all onto a boat and unloaded it back in paradise with the help of a new volunteer. But when I arrived the caretaker of the property urgently explained how they found the tents left opened on several occasions. I quickly scanned them both and found the most important things untouched, but over a few days noticed that all but one lightbulb had been taken, all my flashlights, 3 bunji cords left outside and strapped to a tree (used to prop up my workstation tarp) and my portable 10V speaker for amplifying my viola – guess not bad considering I had been gone for about a month and the caretaker's house is not so near to my tents.
At first opportunity I test the new router, but am shocked to find that my solar setup is not working, since the new inverter is not working (the old one started sparking and acting up the morning of my departure to Manila). Neither is my 12V and expensive fan, quite crucial to my overall comfort (when working during the day or sleeping in the hot tent) nor the regulator. Pulled out my voltmeter for testing but that is not working either. Eventually I deduced that its batteries are dead. Went back to San Miguel to buy batteries and a whole bunch more goodies, leaving the new volunteer behind to tend the show. On my return later that day, the voltmeter is still not working, but after struggling with the system for at least three hours (finding out that the old regulator and old inverter are not working either), I finally clued in that the new inverter and regulator are in fact working but that the new inverter only turns on its fan when it gets hot.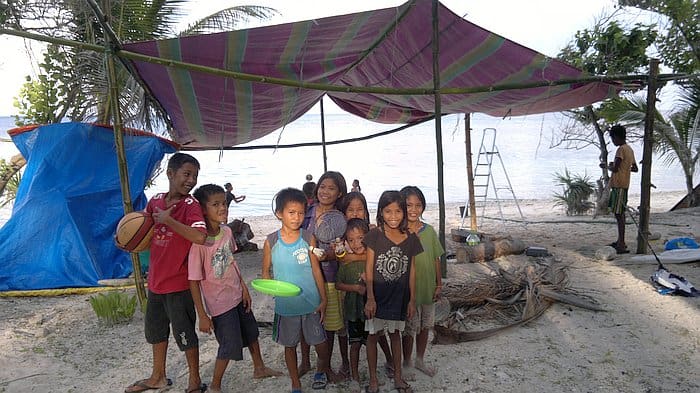 Local children welcome me back after I built rain cover for campfire.
I test the router and am elated to find it actually works, even without the fancy antenna. The owner lends me his 8x8m tarp until I build the main hut so that we can continue to sit around the fire when it rains and not have to retire early to our own tents. That is another important milestone. Having discovered me return, the beach's 15 children came running to greet me and are elated that I have added a backetball and frisbee to the volleyball and badminton rackets I let them play with, and that I will soon be putting up the basketball net.
With the pillows and sheets I brought from Manila, highspeed internet in camp, a communal area with protection from the rain, increased favour amongst the locals, a new volunteer to stay an entire month with his friend and others coming soon, a six month visa extension (possible only in Manila), the two kiteboards and a growing pile of bamboo brought in by the owner (a little over $2 per 7m stalk – grows in abundance on a neighbouring island), I am looking forward to a long period of prosperous construction!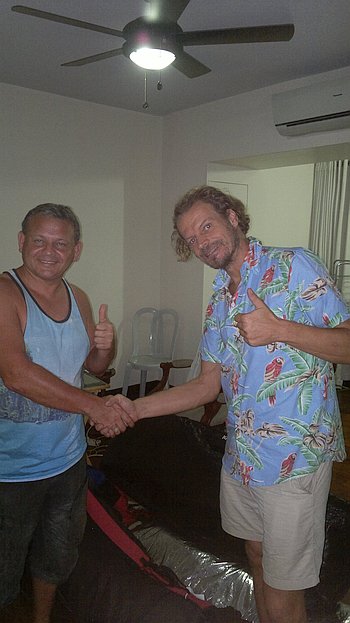 Ozzie mate with the two used kiteboards he brought for me,
wearing my new cheesy bar shirt.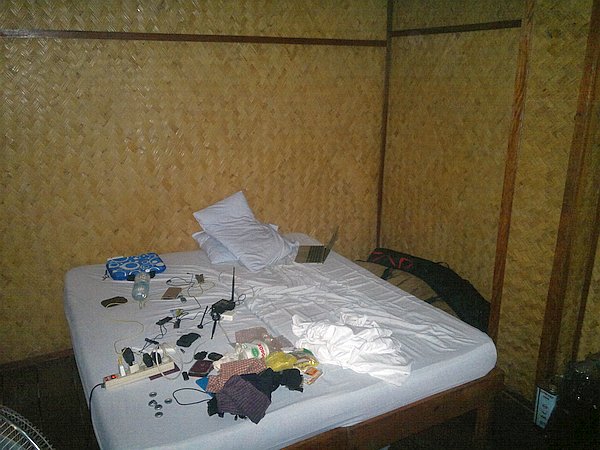 My Coron "workstation" with new sim card wifi router.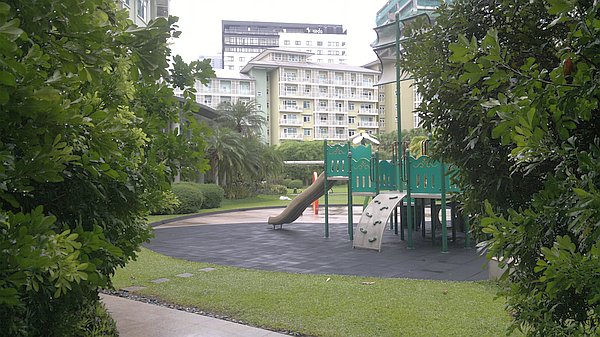 Fancy place I stayed at for free for three weeks at a couchsurfer.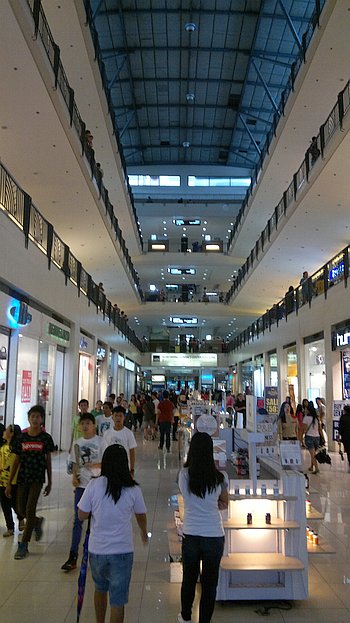 Market Market, a convenient shopping mall across the street from him.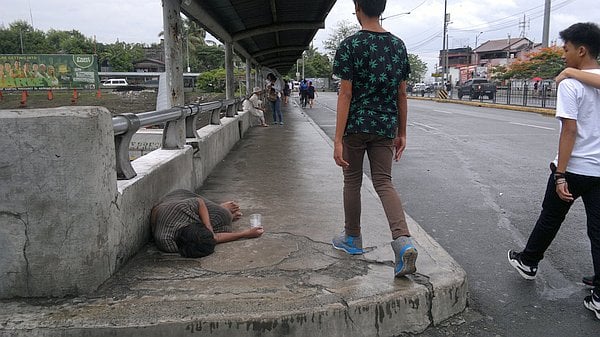 Entering the slum area just down the street from him.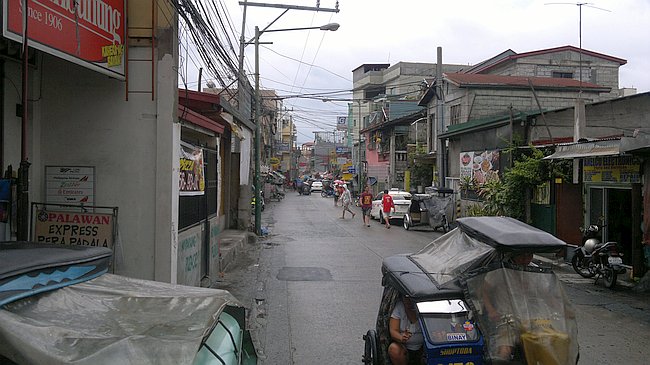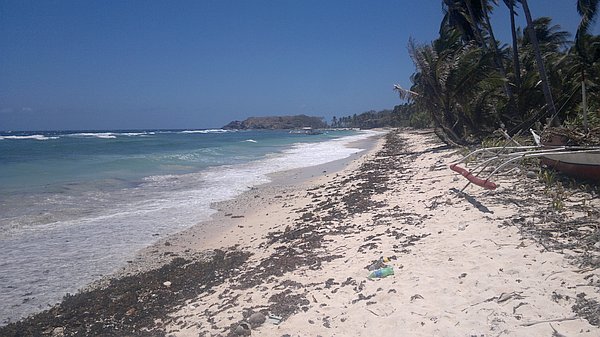 What the beach looked like before I left.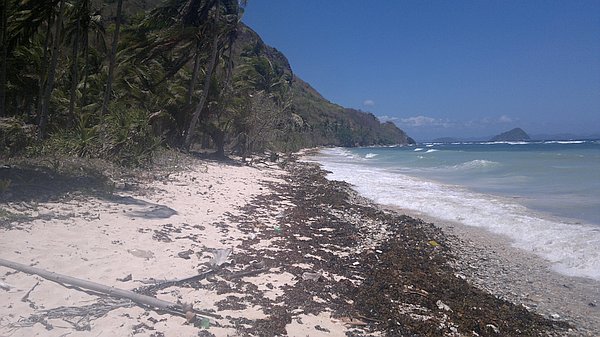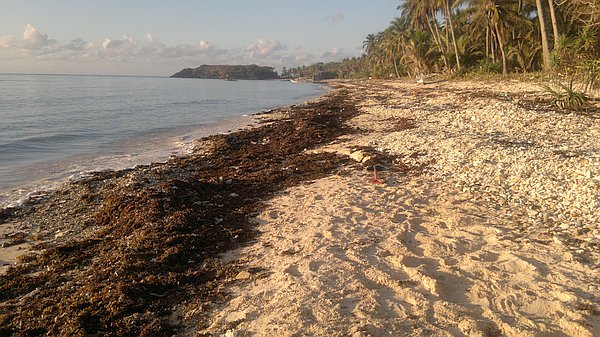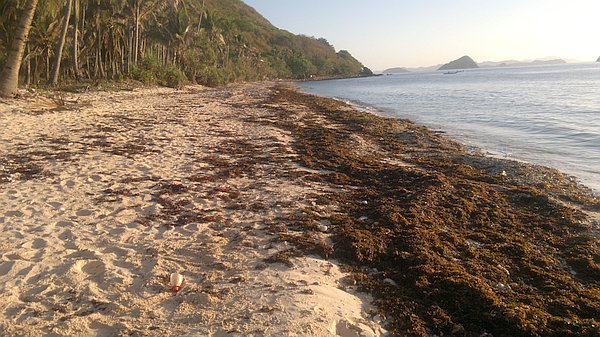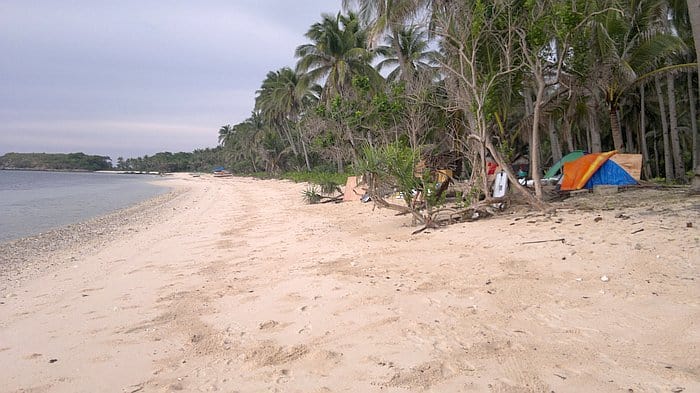 Nature was so kind as to clean it up for me before my return.
The powerful waves just gobbled up the rocks and seaweed!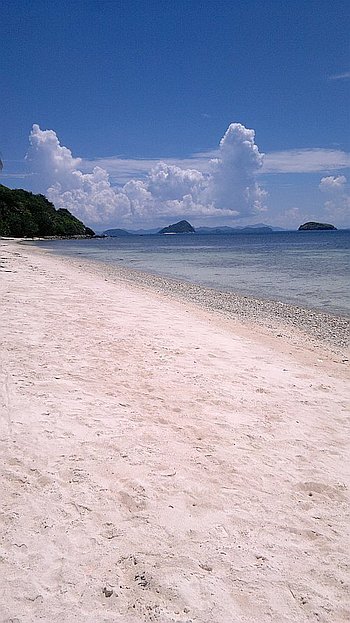 Update to mom – First Kitesurfing Lesson and Rekindling of Old Online Business

Home
»
Palawan » Patoyo »
recommends
I was looking for a personalized excursion to the beautiful bay of Bacuit. Seeing the comments, I contacted Mel. Very responsive, very efficient and perfect organization. The crew were very friendly and very helpful. And I'm not even talking about the meal on board...a marvel. In all fairness, this excursion will remain an excellent memory and I can recommend Mel and his team highly enough. A big thank-you.
André Mardoñal
2019-10-22
recommends
⭐⭐⭐⭐⭐ The island world of Linapacan between Coron and El Nido with the clearest waters in the world is truly a dream for itself! Without a boat you won't be able to see it! But what this boat trips makes so amazing is the crew! Once you come on board they might be shy in the beginning but will make you feel welcome and home from the first moment. Not only that they are looking that you sit comfortable all the time, they will prepare fresh and delicious food what the buy from local markets. They know the best spots and most beautiful islands and will bring you to places where you get this "Robinson Cruisoe feeling". Every day you visit 3 to 5 spots for snorkeling, enjoying a beach or exploring a little island. The accommodation we had was good and simple. We slept in bungalows and tents right at the beach. Sheets and towels were always provided and sometimes towels. After a while you feel like a family on board. We loved living the boat life didn't wanna leave! If you doubt take a longer than shorter trip! For any questions please message me.
recommends
All in all it was a really great experience. It's a once in a lifetime thing to do and you won't get more authentic and basic Philippino experiences anywhere else. We were not so lucky with the wind and waves so we couldn't do all the stops we wanted to unfortunately. So be aware that especially the months from January to May can be very rough on water. But we still saw some great places Benji took us. Benji and his family was very nice and they did everything they could. The food was amazing - always freshly made in authentic Philippino style and way too much for the 2 of us. Make sure to bring enough cash - many of the islands cost extra (entrance fee) and be aware that any kind of accommodation and food (200php per meal) is not included in the boat fee. Also the deposit and commission fee for the agency are a little over the top, especially since the crew does not get any of it. The costs all in all are rather high for phillipino circumstances especially given the basicness of it all. However if you think about that all 5 boat people (in our case) live off of the boat fee alone, you spent the money willingly. Be aware though that accommodation and sanataries are very basic if even existant. So you gotta have the right mindset. Bring tissue, sanatiszer and earplugs to get some better sleep. Another feedback I have concerning the size of the boat. I don't think it is sufficient for more than 4 people. If the weather is like it was these days, you always have to sit on top and it was already a little squeezy with us 2 and 5 boat people. So I guess 4 guests can be fine but more than that won't have the space. There is different boat sizes but make sure to talk about that with Karel in advance. Other than that it was really worth it and we got to see so many great beaches and reefs which we could have never been able to visit without the tour.
recommends
It was scary to book a 5 day trip with no places to stay confirmed or a strong itinerary. And in the Philippines, communication is difficult. But that is part of changing mindsets to a rural island mindset. In the end, everything worked out. We had some tough moments with bugs. But we also had some amazingly beautiful secluded beaches, the best snorkeling in the world, relaxing on the beach, and freshly made food on the boat while docked at beautiful places (better than being on land). Note, we went with Benji. Recommendations: - you must get a local SIM when you arrive to make sure pickup and everything works out - some islands have bugs - use bug spray! Pros: - a fraction of the cost - away from the crowds - can customize what you want - just ask! - a truly local experience - saw a REAL rural town Cons: - locals aren't really polished tour guides - if you don't ask for it, you won't get it, need to be pretty proactive - pretty simple "activities" - no frills like bathrooms or kayaks etc.
recommends
We can't be more grateful to have had the opportunity of experience the peace in Patoyo Kitesurfing Camping! Spending two weeks in Dimancal Island, gave us the chance to experiment the rural and traditional way of life, in touch with the nature and people. We have learnt how to cook with fire, how to open a coconut and how to survive in an environment where for a time we forget about unnecessary needs, just to focus on enjoy the small details and pleasures of life. Mentioning too the amazing snorkeling and beautiful islands around this place, which make it unique​ and special. It is a lovely option if you are running away from tourists and overcrowded places in the Philippines. You will find yourself in the middle of virgin beaches and nature, surrounding​ by charming people. We will definitely come back!
Caroline Danielle
2017-02-13
recommends
We haven't done a Tao tour, but I would suspect that this is a cheaper version of the same thing. Our boat operator (Benji) and the entire crew were were fun, friendly and made an effort to ensure we had a good time. If you get a large group of people together it can be a really inexpensive alternative to other Coron-El Nino and vice versa island hopping tours. The food was good, but more expensive than as advertised by Karl. The price quote we got was 100 php a meal, but the boat charged us 200. Since the food was good we didn't mind the extra expense, but it is important to keep in mind if you're on a budget. Definitely plan for some incidental spending. Our boat did have some mechanical issues and as a result we ended up being stuck in the same place for longer than we wanted to be. That being said, little could have been done about it and the trip was fun nonetheless.
Hauk Are Fjeld
2017-01-01
recommends
If you believe that doing the touristic tours in El Nido and going to "The hidden beach" takes you off the beaten path, you are wrong. There are lots of beautiful places in Palawan, but few of these places are without any other tourists. If you want to spend some extra effort on getting away from the tourist places, and don't mind a little "primitive" living, Island Hopping in the Philippines is definitely something you should check out
Arnold Cabiguen
2015-05-08
recommends
The snorkeling in this area is phenomenal. Clearest waters in the world. I guess it's because there is relatively such lower tourist traffic through here, and the locals really protect the reefs!
recommends
Love it so much, just had to say it twice!