I ordered a cab to take me the next morning to the bus terminal, because I imagined I had too much stuff to fit into the single motorized tricycles they mostly use as taxis here. The dispatcher suggested renting a van all the way, but that was too costly for my liking. In the evening I received a message that my friends cannot pick me up for the last leg of the journey at the usual price, because they have no guests at their resort that day. In that case the van seemed more feasible, as it would be quite a hassle to use three vehicles as I had planned, and wait in one place in between them with my mountain of purchases.
But when the dispatcher learned I wanted to go farther than the customary El Nido, but all the way to a village from where the boats depart, they wanted to charge even more. It was then suggested that the cab driver can take me all the way for an acceptable price. Perfect, one transfer only and the safest way.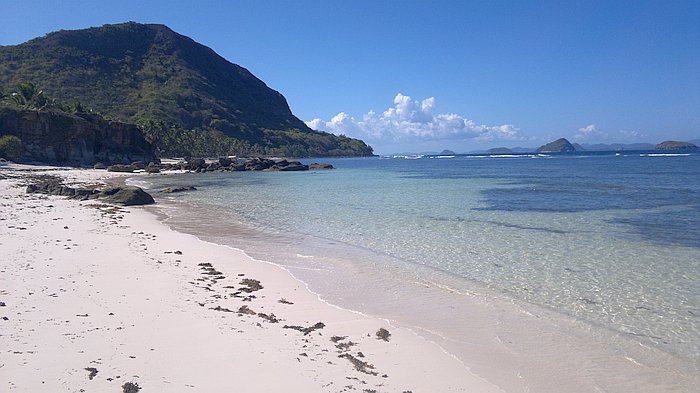 My friends back in San Miguel reported that they will be stopping off in the village port two days after I intended to take the big public ferry. So even better, as they could help me move all the stuff onto their boat. I arranged to stay at their friend's place overnight, and it was quite amusing watching all the horrified faces along the way, as they have never seen a real cab outside of the main town and must have thought I am really rich.
My tour operator friends showed up much later than planned, the 14 guests piled off the boat after completing a multi-day island exploration, we piled my stuff on, and off we sailed. This being the dry summer season, whenever on a tour, my friend would stop by an interesting bay where a hose lies floating in the ocean. He would whistle and wave to shore, where the caretaker would turn on a tap so they could fill up their water canisters from well water flowing down from the mountain. But because it was a late start today, by the time they filled up all their jugs, water bottles and showered themselves, we headed back in almost pitch black. They originally hoped to sleep in the bay, but the abundance of mosquitoes quickly changed that plan. With a small flashlight, we managed to make it back home, but slept on board due to the low tied and difficulty in getting to shore. Polished off the usual two bottles of local rum and slept like babies under the glimmering stars.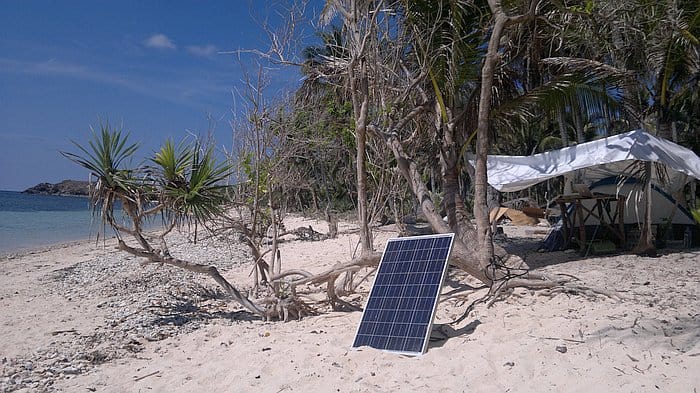 The next day we headed out at the crack of dawn, tugging behind a smaller boat to make the transfer to shore. But the waves were too rough and my friend was worried I might lose some of my expensive gear overboard when transferring to the tiny boat. So we headed back, where I slept outside in their party kiosk for the next three nights.
What an absolute tease. SOOO close to finally starting, but the weather was excellent for kitesurfing, so I took it as a good sign. My friend was hired for another group tour, so I had to move my stuff off his boat, and since it was still a bit windy, he suggested I try the mid-sized boat from the future resort's property owner. We transferred the goods and bobbed our way to the island in this much smaller boat.
Now since I had not officially tested the mobile signal on my own phone, I held it in my hand and watched the signal bars as we made our way to the island. Always looking back to where the transmission tower loomed over the hilltop. As we got to the other, open ocean facing side of the island, the waves got increasingly rougher. I clambered to keep the solar panel and other loose items from falling into the ocean, while holding onto the mast in one hand and checking the signal in another. It held a solid 3.5G signal all the way to the beach, and you can imagine how ecstatic I was. We unloaded the goods, the boat sailed away, the locals gathered around my piled up empire and helped me lug it to the location I chose to set up tent.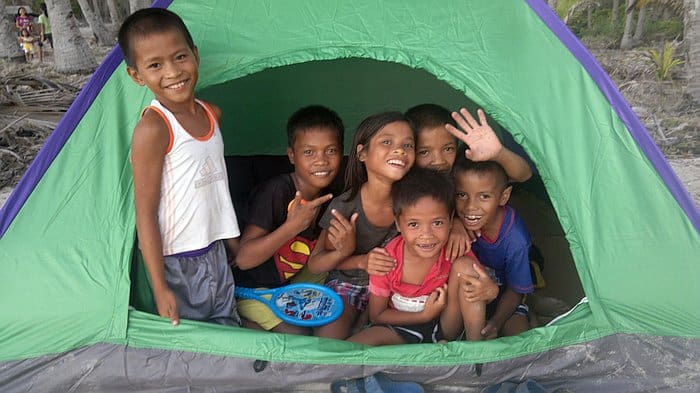 Before doing so I thought I'd confirm the mobile internet signal, but now absolutely nothing. I was shocked. I walked around searching for a signal and still nothing. After setting up the very basics, I walked the length of three beaches, walked out to a point, and climbed up a small hill protruding from the shore, but still nothing. But I so fell in love with all that I saw that I decided there is no turning back and some solution will have to be found.
The next day I took my work tools and machete and decided to plough through the jungle in search of a signal. Fortunately, some paths had already been laid, which is quite fortunate, because the extent of thickly woven jungle would have proven a daunting task to carve even one meter's length worth.
I must have walked an hour towards the other end of the island, but the ridge along which I was walking was blocked by a higher ridge across the valley, with no tower in sight. After getting about half way across what seems a 200 hectare sized island, I did manage to catch a few bars, but decided this was simply too far and headed back. Along the way, not far from my resort, I found one sweet spot on the hillside, with full signal and even some sort of abandoned jungle hut which I could use as an online workstation.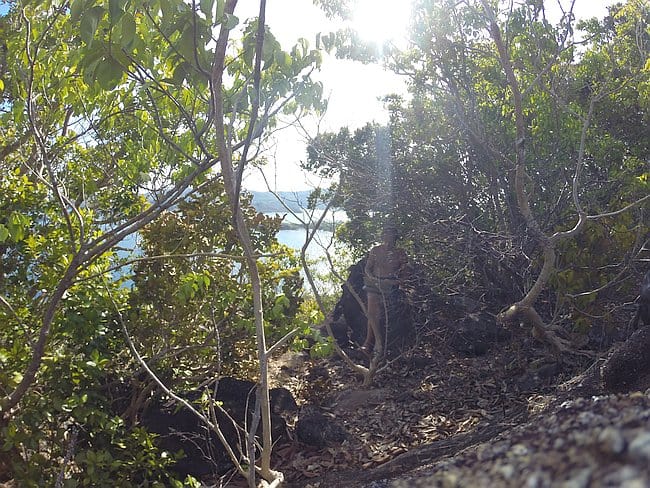 Internet spot I eventually settled for, with view.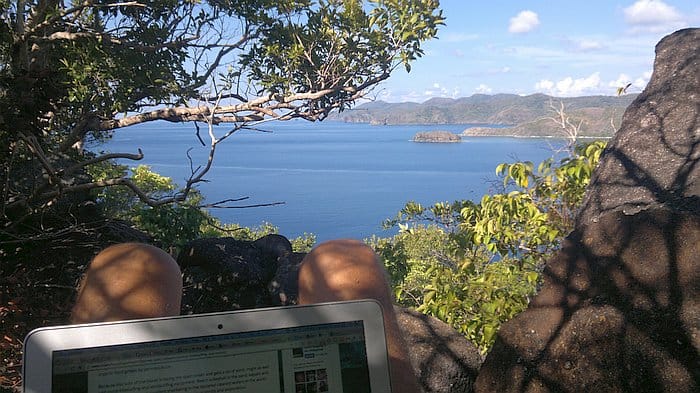 But I'd rather avoid going up this steep hill for internet every day, even though getting in shape would probably be good, so I tried my luck along shore. Perhaps I could finally see the tower if I walked to the very end of the last point. It got a bit hairy walking on sharp volcanic rock, and in a few places I was precariously close to slipping into the ocean, holding mobile in hand as I constantly checked the signal. I did finally see the tower, but I'd need to build some cement sidewalk in key places, in which case abandoned jungle hut it shall be.
Back in camp I made quick friends by setting up the badminton net between two coconut trees and lending them my rackets and volleyball. The first thing that caught my attention was all the dead seaweed on shore. Certainly not appealing to tourists wishing for pristine beaches, so I started the long process of burning it all in the fire. This has kept a fire going for three days now, as I fill up two small buckets about every 30 minutes. Plenty of dead coconut branches and leaves to start it up on embers in the morning, and plenty of dried out coconut shells to add during the evenings, to give off a nice glow and build up coals to last until morning.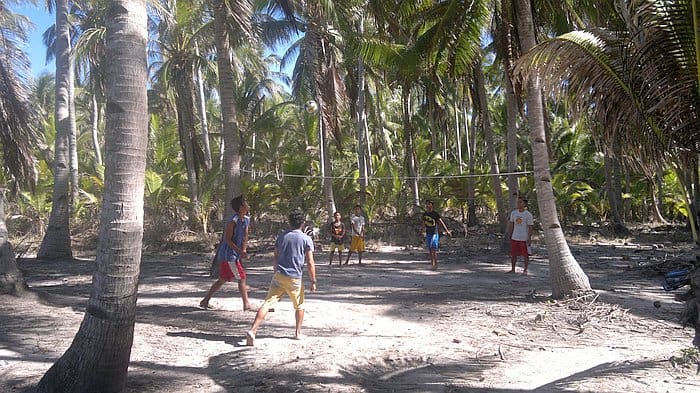 All this activity, together with my viola playing, the camp slowly taking form, the new face and unraveling of the solar system seems to have sparked great interest among the locals, who take turn hanging around watching my progress, or borrowing my badminton rackets and volleyball.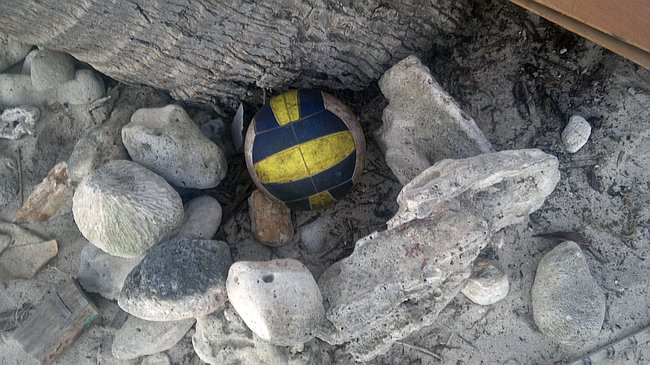 Special place made for storing volleyball, so locals could borrow any time.
The caretakers on the property were asking about a long wire to their hut, for lighting, but I explained that such long wires will result in too much drain on the battery, and that I need my single battery for my own needs. But I handed them a rechargeable flashlight/desklamp and explained that I can do all the charging during the day. They gratefully reciprocated with three small fish they had brought in from their latest dynamite style fishing, which I promptly threw on the grill of my perpetual fire.
With some experimenting, I found that I could get a mobile signal if I manually reduced it from 3G to GSM, and if I held it in certain locations, such as hanging from the roof of my tent. In this position the internet, albeit extremely slow, would work some of the time. I updated my autoresponse to customers explaining my situation and that we should text message with each other to confirm job placement. The signal would be strong enough most of the time to sms, and some of the time to view documents and send an email autoresponse.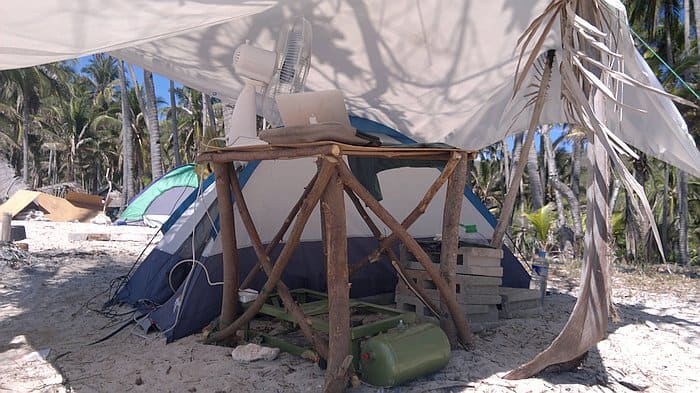 First table built for workstation. Wont find Ikea around here!
So, in all, one might say that I was repelled back to the days when I first started traveling, 9 years ago, when internet in East Europe was just as sporadic. But in return I gained this island beach paradise and the opportunity to finally shift my income away from translation, which I have been dreaming of for many years. A shoestring connection for work, or to respond to guest queries, but it's enough, and at least I'll get back into shape!
Letter to mom with more details