Getting Set Up – more details
[letter to mom]
Just got a $95 job to translate a 13 minute intro to a Czech reality TV show where some people will be chosen to live for two months like our predecessors, under Hitler I think – uncertainty if there will be food on the dinner table, no internet, no hot water or comfortable home. When I found out what it was about I burst out laughing and thought I'd share it with you, and mention an update at the same time.
Could say that I have been in a reality show myself, no hot water, getting drinking water from a hose winding its way down the mountain, washing myself from a bucket pulled up out of a well. But totally loving it and slowly making things more comfortable. I am SO thankful that I spent the extra $45 during my first round of shopping on a 12V monster fan. Buried a wire in the sand leading from the electricity/supply tent to my sleeping tent so I could finally have the fan blowing on me while asleep too. Find that I've been packing it in around 7pm, when it gets dark and certain bugs start coming out. By 9pm the mosquitos come out, and there's nothing really to do here anyway. Have been waking up usually by around 3am and watching the sun come up around 5am is absolutely fantastic.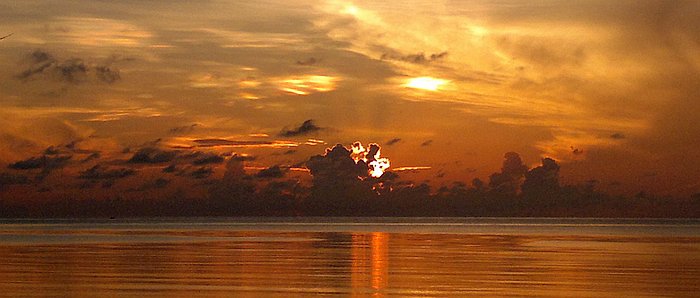 After brushing my teeth and eating 6 deliciously ripe mangos for breakfast, I'll start my day, which mostly comprises of doing something on the computer and taking breaks every tenish minutes to add something to the fire and possibly to dip in the ocean, again. For now I am mostly cleaning up the beach and beachfront area of dead seaweed, coconuts and other loose material.
During the day children often come to ask if they can borrow my badminton rackets, volleyball or binoculars. I have set up a badminton net between two coconut trees, but plan to upgrade to a stronger volleyball net on my next shopping trip, and add to that a basketball hoop (to be attached to coconut tree next to badminton/volleyball court) with basket ball, more badminton rackets (the children have already broken 2/4), maybe another volleyball. Eventually I want to build a gymnastics style workout area out of bamboo. Even with all these playing areas on the property I have calculated that I can build at least 45 jungle huts, amply spaced apart.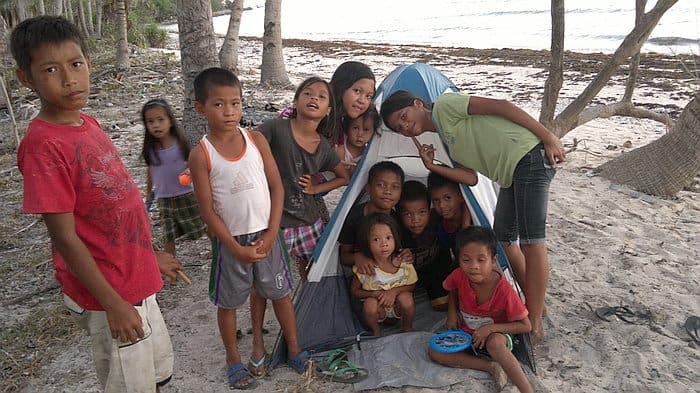 For now will keep it tents only and save up money for a windsurf and kitesurfing board. As soon as I have those it will be easier to draw in paying guests, but I already have at least a dozen volunteers who want to come and help me build. Will focus on bare minimum of air mattress in tent, possibly small fan, and save up for the boards asap. Once I have enough of those, then can start upgrading the tents to something fancier.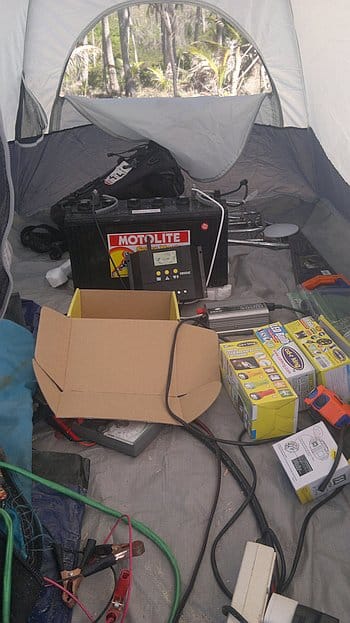 I must be an interesting oddity on these three stretches of beach, as the locals come to explore my solar system setup, and I occasionally walk by their place every day as I have to hike up to the top of a mountain ridge in order to get fast internet. In camp I have slow internet, which is enough to confirm jobs, but not enough to surf. Made more than $2000 this month again, so my two week stay on the island has not been interfering with work. At least I'm getting into shape a bit walking up that hill. Will send link to webpage once I upload some pics, but absolutely beautiful here and I have high hopes for its success in the future.
Have already received consent from the neighbours. Was here for about a week and didn't want to set up my tent too close to the caretakers here. We will eventually move them to farther back on the property. Set up my tents on the neighbour's property and they were rather perplexed when they came back from their little vacation and found me there. But I told them I liked their beachfront property closest to the one I'm currently working on and they agreed for me to give them some basic rent, or 50% of profits for the two huts I plan to build on the extension, whichever is more. In the meantime, half of this extension makes a nice campfire place and where I have my two tents set up now. It is also good for the future, as it will bother fewer guests if we are playing music in the evenings.
The caretaker is some really old guy who is somehow sick and cannot talk but keeps his mouth gaping wide open all day, wiping from his lips some strange infection which accumulates all day, and mumbles and waves his hands whenever he tries to explain something to me. In an uncanny way I always seem to understand him. I hope to heal him with my new skills. His daughter comes by occasionally, with her entourage of about 5 little children and a bun in the oven. When you look at the age of the children, I cannot imagine someone procreating more feverishly, as they seem less than 9 months apart. This is a highly Catholic country, where divorce is illegal and most people respect the church's demands not to use contraceptives. The politicians realise that this is exasperating poverty, but few make it into office without the church's blessings. Which, in the meantime, sends about 2 million pesos ($44,000) each day, untaxed, to the Vatican, for the past 300 years since Spanish colonialism. The Roman Catholics have it good! I give the caretaker (lives for free on the property with his wife in exchange for maintaining it) about a beer a day and he seems happy to help me with my daily chores. His daughter mumbles to me in some strange language (she seems to have some speach impediment too), but surprsingly I understand her too while I talk back to her in fluent English.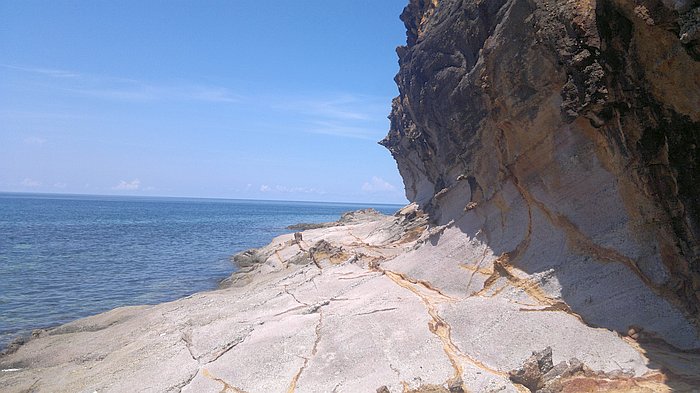 Rock is primarily volcanic in this whole area.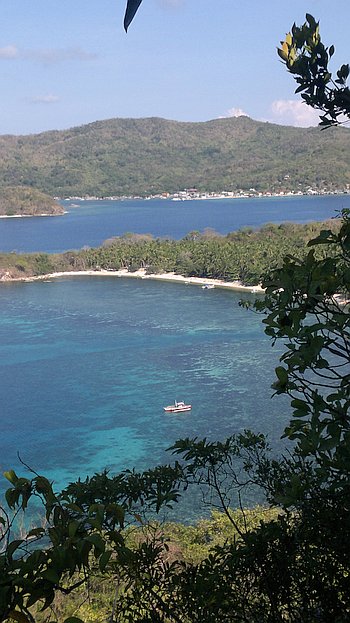 View from the Mountain (internet) Cafe,
with direct shot of mobile operator tower on
opposite island.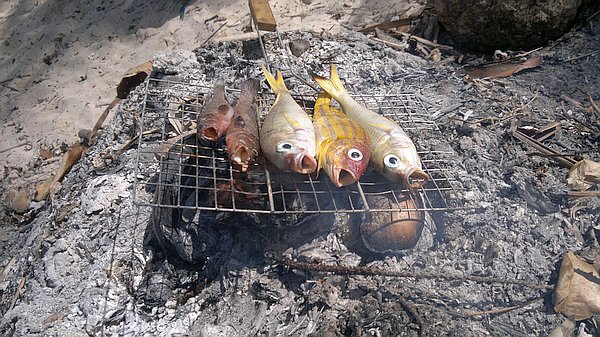 Another present from locals for
solar charging their phones and flashlights.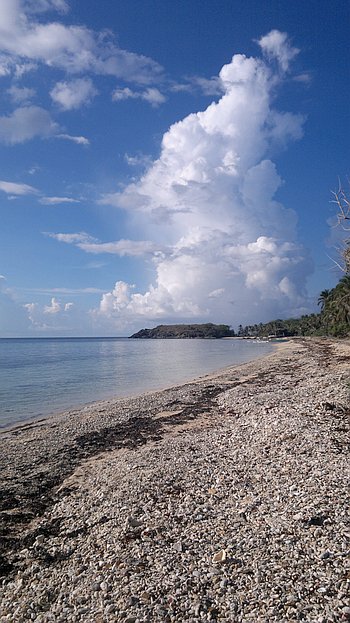 Nice fluffy clouds often.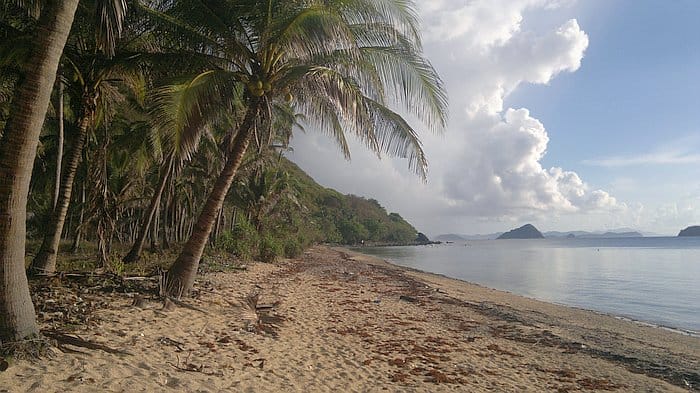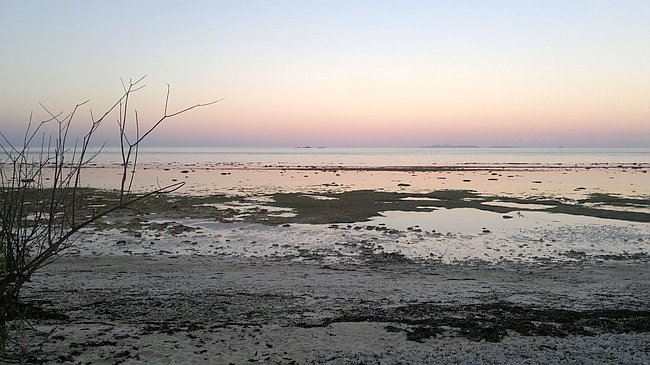 Although the sunset is on the other side of the island,
this side still gets a nice purple glow in the evening.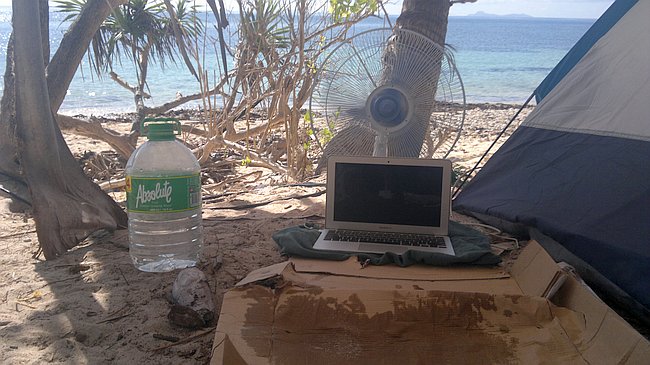 Early beginnings. Fan a life saver.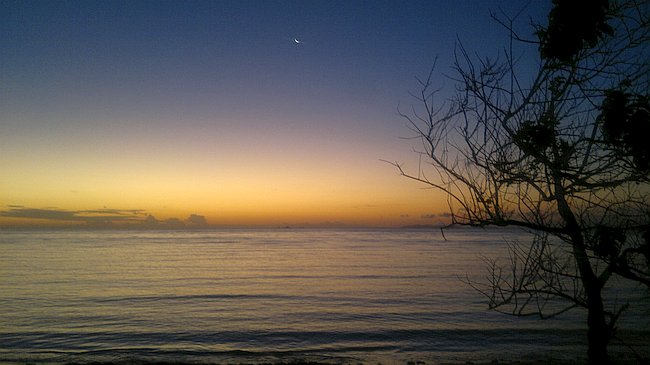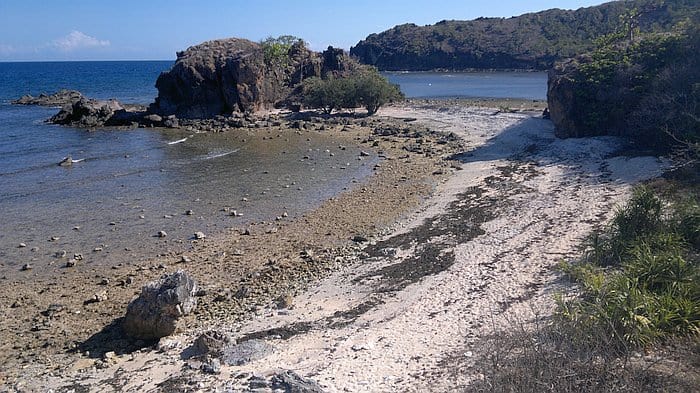 Interesting peninsula with dual shot of ocean
where I thought I could build a dinner table
for romantic couples.