This page was originally written for a camp I used to run, but it can apply if you'd like to camp on a deserted island or tent on a beach as part of our island hopping boat tours between El Nido and Coron.
If you would like to camp with your loved one or family on a deserted island, our crew can set you up with bonfire, tent with mattress, sheets and pillows etc, precooked meal, or cook for you fresh caught fish on the fire before leaving you all alone.
The area of 52 islands is magic in its seclusion away from the tourist crowds, with pristine, white sand beaches and fantastic snorkeling in some of the clearest waters in the world. It's so clear in fact, they grow pearl farms and the fruits of which you can purchase at excellent local rates from our crew.
The Patoyo camp I used to run
Following are some potential cons to help you quickly decide if this is the right place for you.
For now the toilet on the new property is dry (eventual compost), consisting of a hole in the ground, wooden planks for flooring, surrounded by a wall of coconut branches. There is a second toilet at the end of the beach for those who like to watch the sunrise.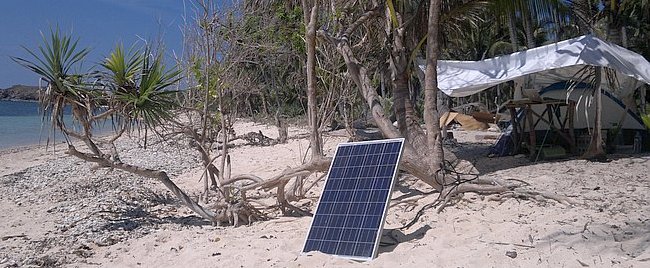 Solar power for electricity, but if there is enough sun there is plenty to charge smartphones and laptops during the day.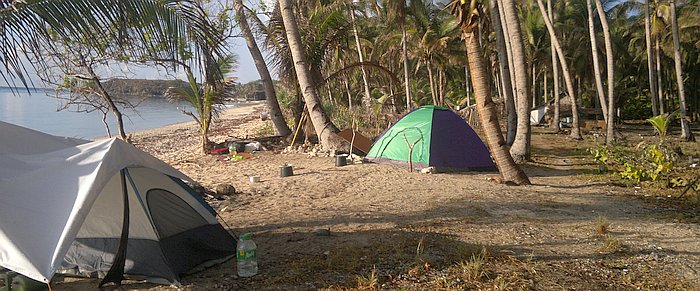 For now the only accommodation available are tents, but many are equipped with mattresses, sheets and pillows. Construction on huts should start soon. For now the plan is to build simple cabanas, which will have a bamboo floor elevated above the sand, a queen sized bed, optional hammock above the bed, extended floor for seating around the outside, an open walled system so that you can enjoy the scenery while lounging in the hammock but with coconut leaf blinds which can be rolled down if you want privacy, and a small attic space above where you can lock or hide away your belongings. If you want greater comfort the property owner has clean, spacious rooms in his hotel in San Miguel for only 200p a night, with full on electricity and fan between noon and midnight. To surf or join the fun around the campfire, you can take the boat whenever you wish for 400-600p each way (per boat).
No restaurant on site but there is a kitchen. Generally we cook together, and if there are enough volunteers, guests can pay 250p per day to have food prepared for them. Or eat at one of the homes in the rural community nearby for about 50p per meal (usually seafood caught that day by their husbands).
The shower consists of a water well in the ground with a small bucket that can be pulled up with a string and poured on yourself. A wall of coconut leaves has been made for those who prefer privacy. But the living water from the ground is very refreshing and not too cold.
Pro or con? There is high speed internet for those who need it. Just buy a Smart sim card with data plan, or we can sell you our wifi for 1p per mb.
My aim is to create a positive community of like-minded and mutually-respecting people. I love to be a good host, but I am not a servant.
Pros
A community of loving, mutually respectful people from all over the world in a naturally set, quiet environment where all the locals also live in natural huts, children run naked in the sand, while all that can be heard in the wee hours of the morning is the wind, waves caressing the beach, a quiet toad and sometimes a bird yodel.
For those who really want to get away, there are hundreds of undeveloped beaches and islands in the area, boat operators are inexpensive, and we can organise "castaways", whereby you are taken with tent to your own beach/island, with food prepared. We will pick you up the next or any subsequently arranged day.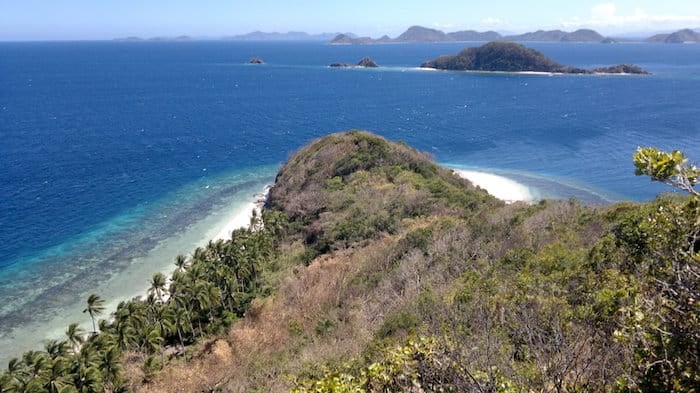 One of the many uninhabited and undeveloped islands in the area. Get lost in your dreams.
Hope you come, enjoy your stay and feel utterly refreshed in paradise and the clearest waters in the world!