Home
»
Palawan » Patoyo »
This page was originally written for a camp I used to run, but it can apply if you'd like to camp on a deserted island or tent on a beach as part of our island hopping boat tours between El Nido and Coron.
If you would like to camp with your loved one or family on a deserted island, our crew can set you up with bonfire, tent with mattress, sheets and pillows etc, precooked meal, or cook for you fresh caught fish on the fire before leaving you all alone.
The area of 52 islands is magic in its seclusion away from the tourist crowds, with pristine, white sand beaches and fantastic snorkeling in some of the clearest waters in the world. It's so clear in fact, they grow pearl farms and the fruits of which you can purchase at excellent local rates from our crew.
The Patoyo camp I used to run
Following are some potential cons to help you quickly decide if this is the right place for you.
For now the toilet on the new property is dry (eventual compost), consisting of a hole in the ground, wooden planks for flooring, surrounded by a wall of coconut branches. There is a second toilet at the end of the beach for those who like to watch the sunrise.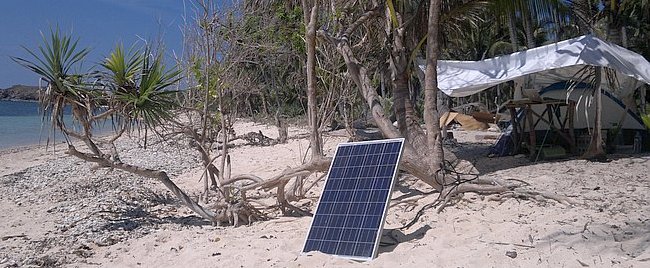 Solar power for electricity, but if there is enough sun there is plenty to charge smartphones and laptops during the day.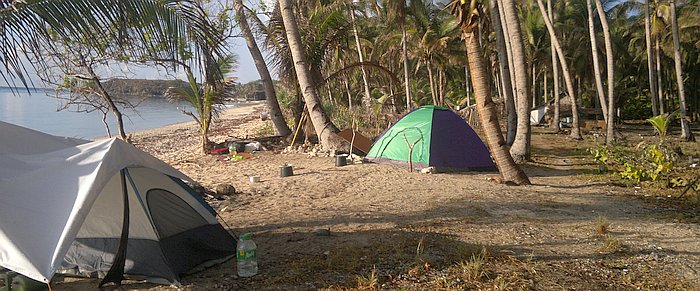 For now the only accommodation available are tents, but many are equipped with mattresses, sheets and pillows. Construction on huts should start soon. For now the plan is to build simple cabanas, which will have a bamboo floor elevated above the sand, a queen sized bed, optional hammock above the bed, extended floor for seating around the outside, an open walled system so that you can enjoy the scenery while lounging in the hammock but with coconut leaf blinds which can be rolled down if you want privacy, and a small attic space above where you can lock or hide away your belongings. If you want greater comfort the property owner has clean, spacious rooms in his hotel in San Miguel for only 200p a night, with full on electricity and fan between noon and midnight. To surf or join the fun around the campfire, you can take the boat whenever you wish for 400-600p each way (per boat).
No restaurant on site but there is a kitchen. Generally we cook together, and if there are enough volunteers, guests can pay 250p per day to have food prepared for them. Or eat at one of the homes in the rural community nearby for about 50p per meal (usually seafood caught that day by their husbands).
The shower consists of a water well in the ground with a small bucket that can be pulled up with a string and poured on yourself. A wall of coconut leaves has been made for those who prefer privacy. But the living water from the ground is very refreshing and not too cold.
Pro or con? There is high speed internet for those who need it. Just buy a Smart sim card with data plan, or we can sell you our wifi for 1p per mb.
My aim is to create a positive community of like-minded and mutually-respecting people. I love to be a good host, but I am not a servant.
Pros
A community of loving, mutually respectful people from all over the world in a naturally set, quiet environment where all the locals also live in natural huts, children run naked in the sand, while all that can be heard in the wee hours of the morning is the wind, waves caressing the beach, a quiet toad and sometimes a bird yodel.
For those who really want to get away, there are hundreds of undeveloped beaches and islands in the area, boat operators are inexpensive, and we can organise "castaways", whereby you are taken with tent to your own beach/island, with food prepared. We will pick you up the next or any subsequently arranged day.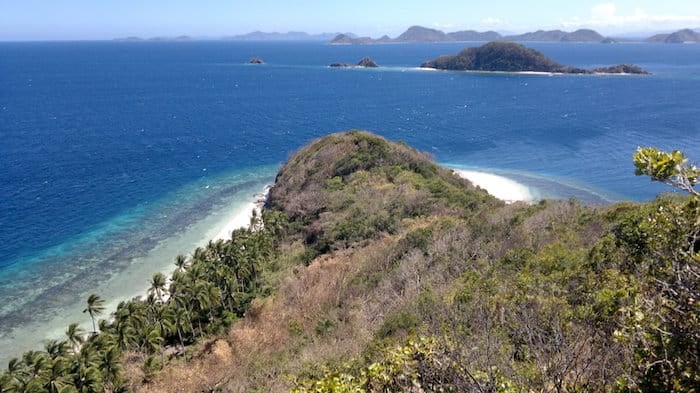 One of the many uninhabited and undeveloped islands in the area. Get lost in your dreams.
Hope you come, enjoy your stay and feel utterly refreshed in paradise and the clearest waters in the world!
Home
»
Palawan » Patoyo »
recommends
I was looking for a personalized excursion to the beautiful bay of Bacuit. Seeing the comments, I contacted Mel. Very responsive, very efficient and perfect organization. The crew were very friendly and very helpful. And I'm not even talking about the meal on board...a marvel. In all fairness, this excursion will remain an excellent memory and I can recommend Mel and his team highly enough. A big thank-you.
André Mardoñal
2019-10-22
recommends
⭐⭐⭐⭐⭐ The island world of Linapacan between Coron and El Nido with the clearest waters in the world is truly a dream for itself! Without a boat you won't be able to see it! But what this boat trips makes so amazing is the crew! Once you come on board they might be shy in the beginning but will make you feel welcome and home from the first moment. Not only that they are looking that you sit comfortable all the time, they will prepare fresh and delicious food what the buy from local markets. They know the best spots and most beautiful islands and will bring you to places where you get this "Robinson Cruisoe feeling". Every day you visit 3 to 5 spots for snorkeling, enjoying a beach or exploring a little island. The accommodation we had was good and simple. We slept in bungalows and tents right at the beach. Sheets and towels were always provided and sometimes towels. After a while you feel like a family on board. We loved living the boat life didn't wanna leave! If you doubt take a longer than shorter trip! For any questions please message me.
recommends
All in all it was a really great experience. It's a once in a lifetime thing to do and you won't get more authentic and basic Philippino experiences anywhere else. We were not so lucky with the wind and waves so we couldn't do all the stops we wanted to unfortunately. So be aware that especially the months from January to May can be very rough on water. But we still saw some great places Benji took us. Benji and his family was very nice and they did everything they could. The food was amazing - always freshly made in authentic Philippino style and way too much for the 2 of us. Make sure to bring enough cash - many of the islands cost extra (entrance fee) and be aware that any kind of accommodation and food (200php per meal) is not included in the boat fee. Also the deposit and commission fee for the agency are a little over the top, especially since the crew does not get any of it. The costs all in all are rather high for phillipino circumstances especially given the basicness of it all. However if you think about that all 5 boat people (in our case) live off of the boat fee alone, you spent the money willingly. Be aware though that accommodation and sanataries are very basic if even existant. So you gotta have the right mindset. Bring tissue, sanatiszer and earplugs to get some better sleep. Another feedback I have concerning the size of the boat. I don't think it is sufficient for more than 4 people. If the weather is like it was these days, you always have to sit on top and it was already a little squeezy with us 2 and 5 boat people. So I guess 4 guests can be fine but more than that won't have the space. There is different boat sizes but make sure to talk about that with Karel in advance. Other than that it was really worth it and we got to see so many great beaches and reefs which we could have never been able to visit without the tour.
recommends
It was scary to book a 5 day trip with no places to stay confirmed or a strong itinerary. And in the Philippines, communication is difficult. But that is part of changing mindsets to a rural island mindset. In the end, everything worked out. We had some tough moments with bugs. But we also had some amazingly beautiful secluded beaches, the best snorkeling in the world, relaxing on the beach, and freshly made food on the boat while docked at beautiful places (better than being on land). Note, we went with Benji. Recommendations: - you must get a local SIM when you arrive to make sure pickup and everything works out - some islands have bugs - use bug spray! Pros: - a fraction of the cost - away from the crowds - can customize what you want - just ask! - a truly local experience - saw a REAL rural town Cons: - locals aren't really polished tour guides - if you don't ask for it, you won't get it, need to be pretty proactive - pretty simple "activities" - no frills like bathrooms or kayaks etc.
recommends
We can't be more grateful to have had the opportunity of experience the peace in Patoyo Kitesurfing Camping! Spending two weeks in Dimancal Island, gave us the chance to experiment the rural and traditional way of life, in touch with the nature and people. We have learnt how to cook with fire, how to open a coconut and how to survive in an environment where for a time we forget about unnecessary needs, just to focus on enjoy the small details and pleasures of life. Mentioning too the amazing snorkeling and beautiful islands around this place, which make it unique​ and special. It is a lovely option if you are running away from tourists and overcrowded places in the Philippines. You will find yourself in the middle of virgin beaches and nature, surrounding​ by charming people. We will definitely come back!
Caroline Danielle
2017-02-13
recommends
We haven't done a Tao tour, but I would suspect that this is a cheaper version of the same thing. Our boat operator (Benji) and the entire crew were were fun, friendly and made an effort to ensure we had a good time. If you get a large group of people together it can be a really inexpensive alternative to other Coron-El Nino and vice versa island hopping tours. The food was good, but more expensive than as advertised by Karl. The price quote we got was 100 php a meal, but the boat charged us 200. Since the food was good we didn't mind the extra expense, but it is important to keep in mind if you're on a budget. Definitely plan for some incidental spending. Our boat did have some mechanical issues and as a result we ended up being stuck in the same place for longer than we wanted to be. That being said, little could have been done about it and the trip was fun nonetheless.
Hauk Are Fjeld
2017-01-01
recommends
If you believe that doing the touristic tours in El Nido and going to "The hidden beach" takes you off the beaten path, you are wrong. There are lots of beautiful places in Palawan, but few of these places are without any other tourists. If you want to spend some extra effort on getting away from the tourist places, and don't mind a little "primitive" living, Island Hopping in the Philippines is definitely something you should check out
Arnold Cabiguen
2015-05-08
recommends
The snorkeling in this area is phenomenal. Clearest waters in the world. I guess it's because there is relatively such lower tourist traffic through here, and the locals really protect the reefs!
recommends
Love it so much, just had to say it twice!