Home
»
Palawan » Patoyo »
If you would like free accommodation in tent and half price off renting any equipment (if not used by guest), please apply through the usual websites such as workaway or helpx. Below is an old autoresponse for applying volunteers, to give you an idea.
Here is a video submitted by one volunteer:

And here's a video how the volunteers went on a local island hopping tour:
To spare you a lot of potential reading, will list the most important points first:
Toilet is a hole in the ground, several places, hidden behind a wall of coconut branches and leaves. Now we also have a porcelain toilet in a coconut leaf shack (to flush must bring a bucket of water), but I personally prefer the ocean.
Tents only for now, but most have a mattress, some have pillows, and you can help bring the rest.
Electricity only 100w solar at the moment, so you can charge your stuff during the day, capacity permitting.
Perhaps some of my ways may bother you, or vice versa. In short, do you mind staying with Tarzan? Details at the bottom of this letter or before "How to get here".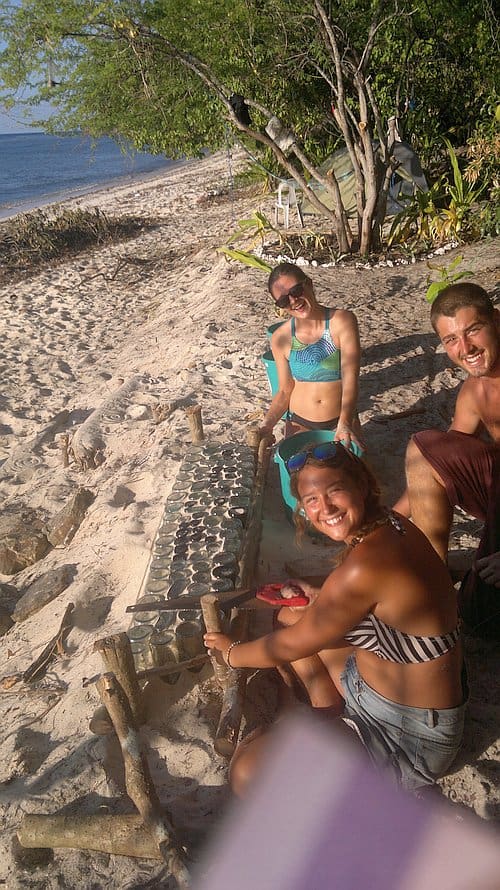 Volunteers recycling glass bottles collected from the beach to serve as a table and barrier to stop people from walking along beach ledge to keep it as a separate platform. Volunteers are told some basic concepts but given free reign to beautify the area according to their creative energy and inspiration.
On the flip side though, it is a wonderful paradise beach island (check out this video), declared clearest waters in the world, hundred of undeveloped paradise beach islands to explore in the area, and live along a strip of three breath-taking beaches on which reside simple Filipinos who probably do not have any electricity, children play naked, shower by pulling up bucket from local well, no TVs, and who survive each day by eating local coconuts or whatever they catch from the sea. 200 hectare island full of monkeys, jungle paths throughout. Sunrise directly opposite the beach, purple sky when sun setting on other side of the island. A truly magical place.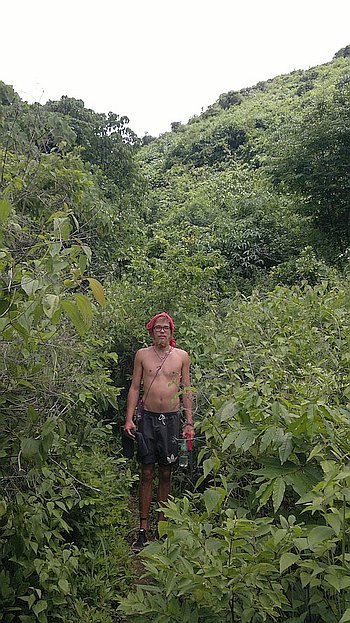 Building trails up mountains in the jungle so guests have something to do.
Help bring something
One thing you could help out, if you so choose, is to bring something that I cannot so easily buy here, such as:
second hand windsurfing kit
fancy spices like cumin or caraway seed (preferably in bulk), Dijon mustard for making salad dressing, thyme
ultimate frisbee
if possible lots of rolling tobacco, filters and papers, such as from Chinatown in Kuala Lumpur. Drum and Rizla are good, otherwise just ask what is good.
aloe vera seeds, to help all the whities who come here and burn their skin, or scratch up when renting a motorcycle.
cash if you have a PayPal account and I have funds in mine, since the nearest ATM machine is in Coron, a 6 hour boat ride away.
if you are a coffee drinker (I am not), I can tell you where you can get some good stuff on the way and teach you how to roast fresh beans on the fire.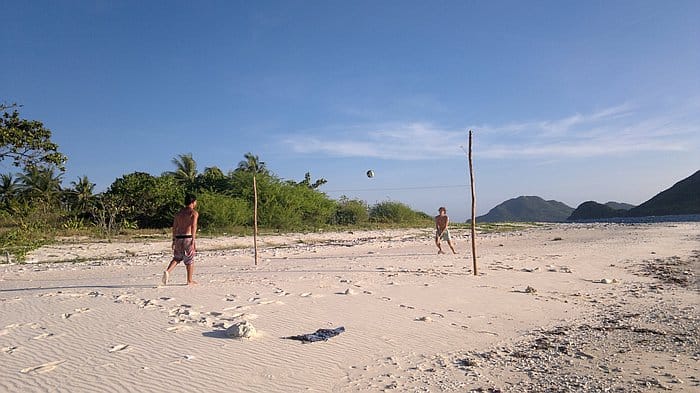 Almost anything can be built from nature or recycled.
Next project is to tie together fishing nets washed up on the beach, for a proper net.
I can buy these from you as soon as you get here (except the coffee), but this is strictly just an idea. The shops in this area are rather limited and not everything can be brought in through ebay. Please first ask me to see if I still need any of these or if I have the funds.
For food, I will be getting regular boatloads for myself, including a few cases of beer (I could never survive without), but the local village is limited for veggies supplies, so I request volunteers to bring as many veggies as possible. I can give you instructions on the best places to shop in Princesa, otherwise some veggies can be bought in Coron or El Nido, but those, once again, are pretty limited.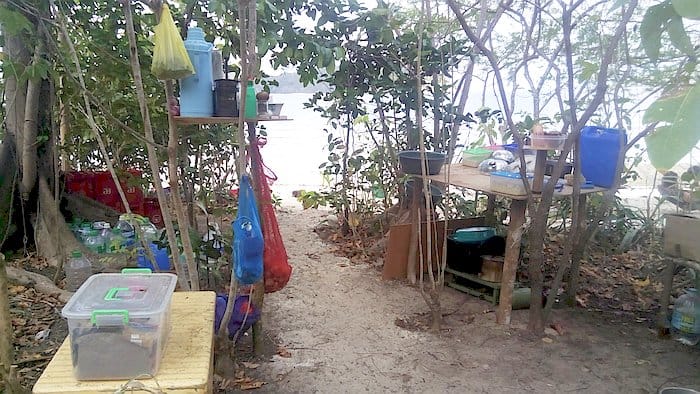 Our budding kitchen area. Hardly ever rains, now with tarped roof for when it does.
You can rent my banca boat for 250p to explore the surrounding islands, or borrow my fishing gear to help reduce your food costs (I'll buy the fish from you).
Drinking water is brought in from a delicious well on our boatman's island, but if do insist on bringing in bottled water, please make it the 4-5L ones so that we or the locals can put them to good use.
You can check up on progress of the project here, or check out the Reviews to get an idea of what to expect. Or our latest pics uploaded to our facebook page top right of each page.
There is EXCELLENT snorkeling here and tons of islands to explore. I am an easy going guy and I'm sure you will really enjoy your stay here.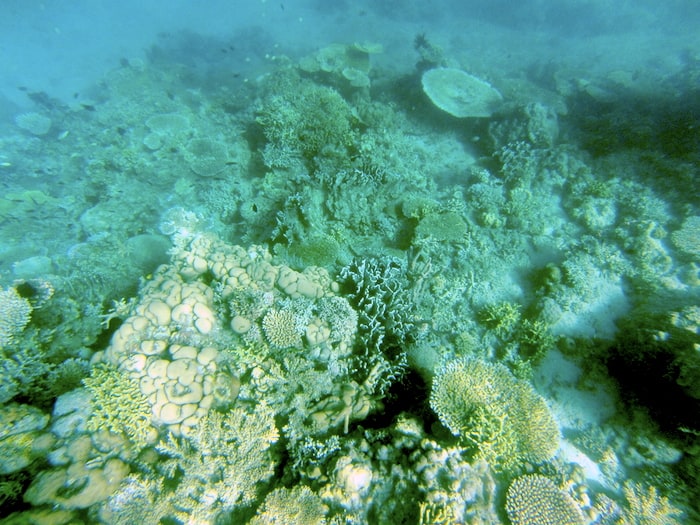 Work
Most important work is cooking and keeping the place tidy, then about an hour a day of creating pockets in the jungle to make room for more tents and beautifying the place using natural resources. Those who stay longer and prove capable can learn how to make furniture out of bamboo, or do more fun, artsy stuff like hang seashells from tree branches. A bit hard to get to so you should try to stay longer to make it worthwhile.
Building the garden (if you could bring seeds that would be great), compost pile (need to fence it off against the local pigs and chickens etc.), creating offshoots of natural flowers on the property so the whole property is full of flowers along its paths.
Networking with locals to teach their children things or languages, and explain to them how they can make money from guests.
Help me make videos, my hobby. Can be skits we make up or whatever. Youtube videos are always a good promotional tool, help push the website up in the rankings, and may inspire guests to get involved. We're all here to have fun!
Anything you can think of too add an artistic or warm touch to the place.
And what I was thinking of for the long term, a yoga teacher with some profit sharing plan. Possibly short-term if there are paying guests. The sky's the limit and let your ideas flow!
We mostly cook food on the campfire, often fresh fish given or sold to us by locals, and there are tons of free coconuts to be had. The local selection of veggies in San Miguel is very limited. Whatever you manage to bring in we'll split the costs between us. Coron is an excellent place to get mangoes and tons of other stuff, since it is only a boat ride away (Princesa is much farther and warrants a stopover in El Nido and other places).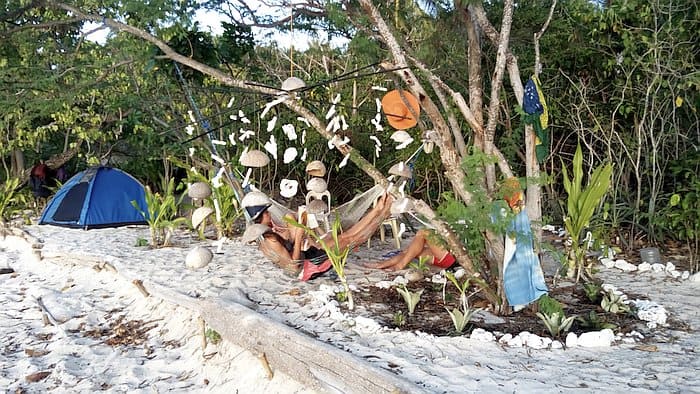 So many shells, so many things can be done with them.
Can you live with Tarzan?
These are some of my habits, ways of doing things and pet peeves. It's a long way out here, so best you know what to expect so that you can decide beforehand if it is worth it.
Most of the nutrients in carrots and potatoes (even cucumbers) is in the peel. If you remove 85% of the pesticides, you also remove 85% of the nutrients, so it is a pointless exercise. Not to mention that they probably do not use pesticides here as most is grown by local farmers. I just wash and scrub them in the ocean with my bare hands.
Salt is a disinfectant, soap is not. The quality of soap is to separate oil from water, so it is not necessary to obsessively compulsively wash everything with soap (a simple rub in the ocean is enough), but if you really feel the need, you are welcome to do the dishes. Furthermore, youngsters these days are growing up with asthma and all sorts of allergies because they grew up in a sterilised environment. It is healthy and natural to expose yourself to the elements – consider it like a natural vaccine. I almost never get sick.
Other qualities which annoy me is even a sliver of pretentiousness, or generally self-serving nature. I want to build a community of mutually respecting people, a little bit like a rainbow gathering, and intend to apply the same screening to paying guests. I earn good money online and don't pay rent here. I don't need my paradise spoiled, but hope you can be a part of it and I love to host people.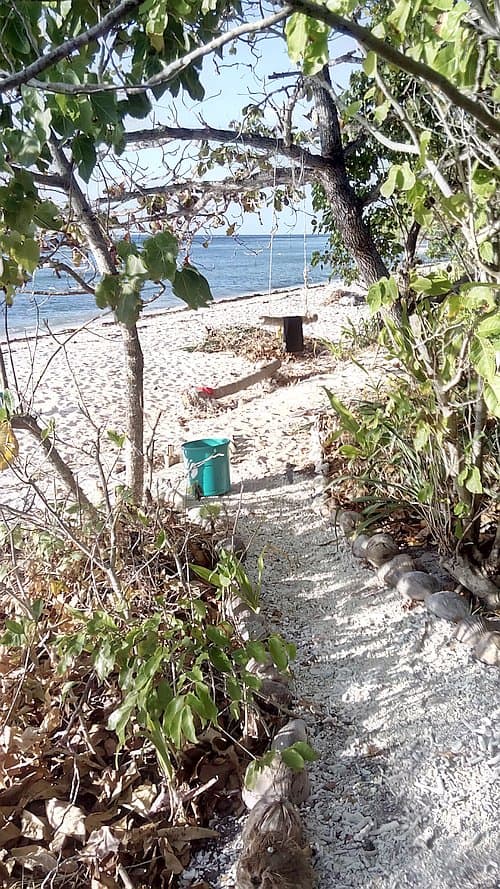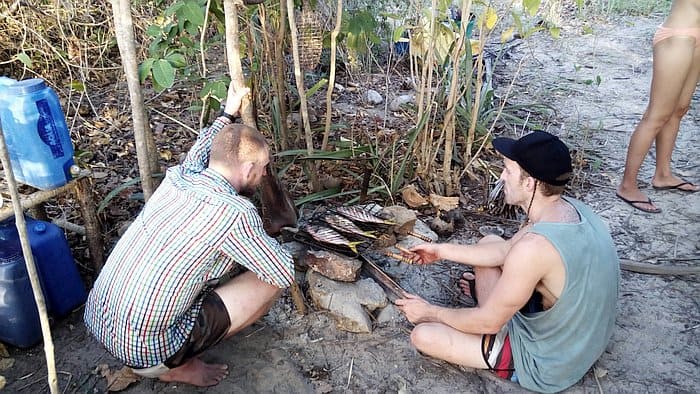 Things to do
I have many musical instruments so musicians are welcome for evening entertainment around the campfire, otherwise I have good music with sound system.
I'm on a small island with about 20 locals (fishermen families). Easy walk to the other side. Completely rural with freely wandering chickens and pigs, no concrete in sight. There is a local carpenter who builds boats and you are welcome to hire locals to teach you their skills (such as how to make a roof out of coconut leaves). Otherwise I have a lot of construction skills I can teach you if you stay longer term.
Then there is beach volleyball, basketball with the locals, badminton, jungle trails we've built on this and surrounding islands, or go on a cheap local boat tour (300p per person). Caves to explore on another island, two shipwrecks with two private local divers with gear. Then of course kitesurfing, but the gear is expensive and I have to rent that at full price (about 2,500p per day). I'm also building up a paper and digital library.
Home
»
Palawan » Patoyo »
recommends
I was looking for a personalized excursion to the beautiful bay of Bacuit. Seeing the comments, I contacted Mel. Very responsive, very efficient and perfect organization. The crew were very friendly and very helpful. And I'm not even talking about the meal on board...a marvel. In all fairness, this excursion will remain an excellent memory and I can recommend Mel and his team highly enough. A big thank-you.
André Mardoñal
2019-10-22
recommends
⭐⭐⭐⭐⭐ The island world of Linapacan between Coron and El Nido with the clearest waters in the world is truly a dream for itself! Without a boat you won't be able to see it! But what this boat trips makes so amazing is the crew! Once you come on board they might be shy in the beginning but will make you feel welcome and home from the first moment. Not only that they are looking that you sit comfortable all the time, they will prepare fresh and delicious food what the buy from local markets. They know the best spots and most beautiful islands and will bring you to places where you get this "Robinson Cruisoe feeling". Every day you visit 3 to 5 spots for snorkeling, enjoying a beach or exploring a little island. The accommodation we had was good and simple. We slept in bungalows and tents right at the beach. Sheets and towels were always provided and sometimes towels. After a while you feel like a family on board. We loved living the boat life didn't wanna leave! If you doubt take a longer than shorter trip! For any questions please message me.
recommends
All in all it was a really great experience. It's a once in a lifetime thing to do and you won't get more authentic and basic Philippino experiences anywhere else. We were not so lucky with the wind and waves so we couldn't do all the stops we wanted to unfortunately. So be aware that especially the months from January to May can be very rough on water. But we still saw some great places Benji took us. Benji and his family was very nice and they did everything they could. The food was amazing - always freshly made in authentic Philippino style and way too much for the 2 of us. Make sure to bring enough cash - many of the islands cost extra (entrance fee) and be aware that any kind of accommodation and food (200php per meal) is not included in the boat fee. Also the deposit and commission fee for the agency are a little over the top, especially since the crew does not get any of it. The costs all in all are rather high for phillipino circumstances especially given the basicness of it all. However if you think about that all 5 boat people (in our case) live off of the boat fee alone, you spent the money willingly. Be aware though that accommodation and sanataries are very basic if even existant. So you gotta have the right mindset. Bring tissue, sanatiszer and earplugs to get some better sleep. Another feedback I have concerning the size of the boat. I don't think it is sufficient for more than 4 people. If the weather is like it was these days, you always have to sit on top and it was already a little squeezy with us 2 and 5 boat people. So I guess 4 guests can be fine but more than that won't have the space. There is different boat sizes but make sure to talk about that with Karel in advance. Other than that it was really worth it and we got to see so many great beaches and reefs which we could have never been able to visit without the tour.
recommends
It was scary to book a 5 day trip with no places to stay confirmed or a strong itinerary. And in the Philippines, communication is difficult. But that is part of changing mindsets to a rural island mindset. In the end, everything worked out. We had some tough moments with bugs. But we also had some amazingly beautiful secluded beaches, the best snorkeling in the world, relaxing on the beach, and freshly made food on the boat while docked at beautiful places (better than being on land). Note, we went with Benji. Recommendations: - you must get a local SIM when you arrive to make sure pickup and everything works out - some islands have bugs - use bug spray! Pros: - a fraction of the cost - away from the crowds - can customize what you want - just ask! - a truly local experience - saw a REAL rural town Cons: - locals aren't really polished tour guides - if you don't ask for it, you won't get it, need to be pretty proactive - pretty simple "activities" - no frills like bathrooms or kayaks etc.
recommends
We can't be more grateful to have had the opportunity of experience the peace in Patoyo Kitesurfing Camping! Spending two weeks in Dimancal Island, gave us the chance to experiment the rural and traditional way of life, in touch with the nature and people. We have learnt how to cook with fire, how to open a coconut and how to survive in an environment where for a time we forget about unnecessary needs, just to focus on enjoy the small details and pleasures of life. Mentioning too the amazing snorkeling and beautiful islands around this place, which make it unique​ and special. It is a lovely option if you are running away from tourists and overcrowded places in the Philippines. You will find yourself in the middle of virgin beaches and nature, surrounding​ by charming people. We will definitely come back!
Caroline Danielle
2017-02-13
recommends
We haven't done a Tao tour, but I would suspect that this is a cheaper version of the same thing. Our boat operator (Benji) and the entire crew were were fun, friendly and made an effort to ensure we had a good time. If you get a large group of people together it can be a really inexpensive alternative to other Coron-El Nino and vice versa island hopping tours. The food was good, but more expensive than as advertised by Karl. The price quote we got was 100 php a meal, but the boat charged us 200. Since the food was good we didn't mind the extra expense, but it is important to keep in mind if you're on a budget. Definitely plan for some incidental spending. Our boat did have some mechanical issues and as a result we ended up being stuck in the same place for longer than we wanted to be. That being said, little could have been done about it and the trip was fun nonetheless.
Hauk Are Fjeld
2017-01-01
recommends
If you believe that doing the touristic tours in El Nido and going to "The hidden beach" takes you off the beaten path, you are wrong. There are lots of beautiful places in Palawan, but few of these places are without any other tourists. If you want to spend some extra effort on getting away from the tourist places, and don't mind a little "primitive" living, Island Hopping in the Philippines is definitely something you should check out
Arnold Cabiguen
2015-05-08
recommends
The snorkeling in this area is phenomenal. Clearest waters in the world. I guess it's because there is relatively such lower tourist traffic through here, and the locals really protect the reefs!
recommends
Love it so much, just had to say it twice!