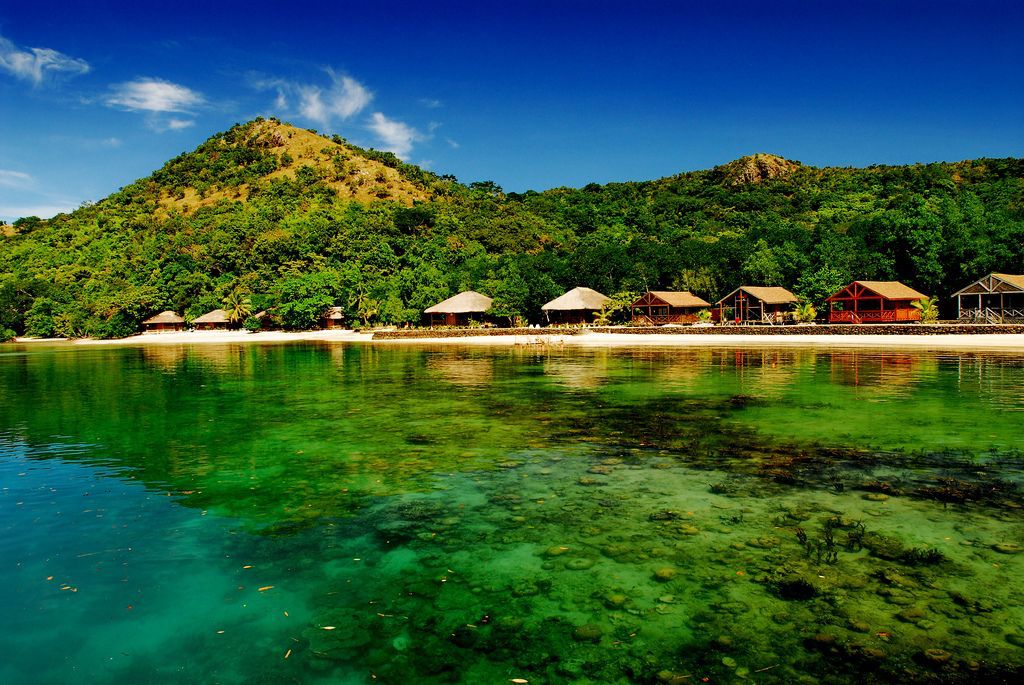 You can rent a bike from the Brujita place according to the Coron page, or just ask around. The following was recommended to me by a local friend. I like to use maps.me, because it does not require internet but only gps. During the rainy season (June to Novemberish), be careful of wet, soft, muddy roads that is easy to slip with your bike. I did this trip in June of 2018 and found some roads washed out or blocked later on, so I will only explain an easy and nice route for a day or two. During the dry season you can explore more, unfortunately I could not fit that into my schedule.
The above picture shows my friend's place mark up in the mountains around Coron, bottom right corner of the picture. The top left of the above map shows four place marks recommended to me by a local friend. A closeup in the image below. The mark on the bottom left of the below map is for Ocam Ocam beach. Nice hangout or place to overnight for around 500p per hut.
Ocam Ocam beach

drive on the way there
But if you have time, go north for a rest of the day trip.
I did not manage to get to the Turda recommended by a friend. Couldn't find the turnoff in the road. Good luck with that one! I tried the small road to Quezon below, but ran into a gate after two sections in the road where the river ate the bridge and I had to go across the river in an alternate route. So unless you have enough time or the conditions are better, could be better to move straight on to Quezon.
Quezon
This is my first motorbike trip in the country, and borrowed a bike from a friend that was frustratingly in ill repair. Half way to Quezon, on the dirt road, my chain guard came loose. It was impossible to drive and I stood there baffled what to do. A gentlemen drove by on his bike, two of his sons strapped on, and slowed to ask what the problem was. I asked if he had any string, he said no and rode away. As I was about to tie it back up using a usb cable and power cord (I had not been set up properly yet for the road), he showed up again with a little string (in typical Filipino manner just barely enough to get the job done).
He invited me to his place (Quezon mark above), where he fixed my bike and I stayed at his place, sang karaoke with his lovely family and headed back the same way the next day. It rained too hard overnight and the dirt roads were too soft to feel safe during this rainy season, but my friend recommended all the little corners of the island are wonderful. I would suggest that the rest from Quezon clockwise around the island is doable in a day, but that you should be sure that your bike is in good condition and perhaps have some basic tools. Otherwise the Filipinos are generally nice and will take care of you in one way or another, especially in these rural areas.
His house and the bike he fixed for me. Video of his karaoke below.
I gave the guy and his family 300p (accommodation), and oops the 8 litre bottles of Red Horse during karaoke night which we shared in half. Not so interesting town but apparently the tourist attraction is to check out the big fat seals just north of Quezon (Calauit), or the Safari (north of Turda  in the second picture above). Whichever you go to of these two, the
 cost for the boat 
1500p/day for either the Safari or the Seals. Can maybe negotiate less than 3000p for both; or
200p/hour
He said there was some chance you could find accommodation once there. Otherwise, I'd suggest for this sleepover trip to crash at Ocam Ocam.
There is also a beach not far east of Coron along the south shore, this below video showing a clip as driving down from my friend's place in the mountains:
Back to motorbike motorcycle tour in the Philippines.
Busuanga Island
Average rating:
0 reviews