With 6 sunken warships Coron is a diver's haven, but it also has many beautiful lagoons like El Nido. Hardly any live music in this town but it has good people, good energy, and a good place to hang out and party. Check out my friends at the Happy Hippy House.
Click here if you are interested in reserving a local boat tour. Or info on a bike tour of Busuanga Island.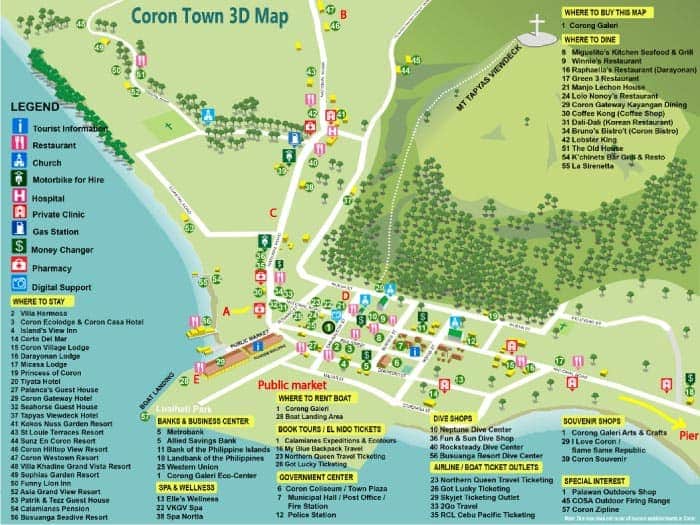 Because the map (click to enlarge) may be a bit hard to follow, I'll explain my favourite places in words.
A yellow arrow is pointing in the direction of the pier, bottom right of the map. It is about a 30 minute walk to the center, so if you have a lot of stuff, better to take a tricycle taxi, which should be 10p each, 20p max each, or about 40p total (Coron taxi drivers are much better than most other places).
This will take you along National Road until the sharp bend to the right where you will see the number 34 on the map. Let us use this as a good point of reference (let's call it the MAIN INTERSECTION).
This main intersection is where 2Go's office is located, if you want to book a ferry back to Manila. There are other travel agencies in that section if you want to book a flight or anything else.
Going left from main intersection
A sharp left at this intersection will take you downhill down a one way street, where on the right hand side you will shortly run into the entrance to the Seadive Resort, (note that president Duterte himself said he is willing to come down to these "cesspools" with dynamite sticks in hand, blowing them all up real good. So the likes of Seadive and other establishments beyond the 30m from shore limit might well be gone by the time you get there – this reported in June of 2018) my personal stay of preference (about 400p for single room). You cross a little bridge to get to the reception, shortly before which you will pass the Helldiver's Pub, my personal pub of preference. Free pool, free popcorn, free movies until the music turns on around 7pm, and good music and vibes after that. There is also a free foosball table, but don't expect locals to know how to play that (but do expect them to kick your butt on the pool table). During the day you can book diving and its restaurant is a nice place to hang out, although hardly the best dining in town. If you are on a budget, you can also rent a kayak and dart across the bay for some island exploration as shown in this cool video.
Instead of turning right to go into the Seadive, you can continue down that one way road until it opens into a sort of square. Head right along the edge, enter two long buildings as shown on the map until you get to the very end, point
E
, where you can book any of the lagoon and other boat tours. From there you can easily walk to the public market (red letters on map), for lots of fresh veggies and some eating stalls for the budget conscious. You will also notice a lot of banca boats parked along the shore around the pier. If you are stuck trying to find a
ferry south towards El Nido
, you might try some of them.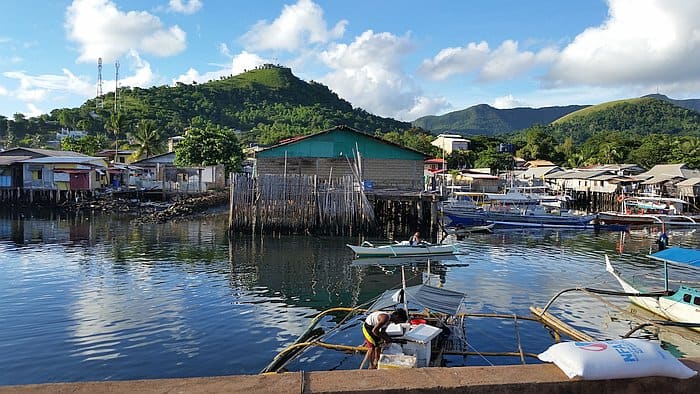 View of Coron from the public market.
If you do not go down to E, a more interesting route to get to the public market (red letters) is to continue straight through the open square after you pass the Seadive, bend left along it and then take your first street to the right. That noodles its way past interesting shops towards the public market. There is one big grocery shop on the left with a gourmet section, such as if you have a craving for nacho chips and salsa.
Going right from main intersection
Back to the main intersection (your back towards the pier), if you continue going north (right) after the bend, you will pass a Bistro on your right hand side which serves moderate quality pizza (the best pizza in town is Altrove, not far from the main intersection. They open at 5pm but you can order from their window outside and eat it across the street in the Hangover bar, where they sometimes play live music at night). Continue along the road and shortly, on your left hand side, there is a coffeeshop selling shakes which has moderately fast internet, if you have your own device. The internet at the Seadive restaurant can be repressively slow.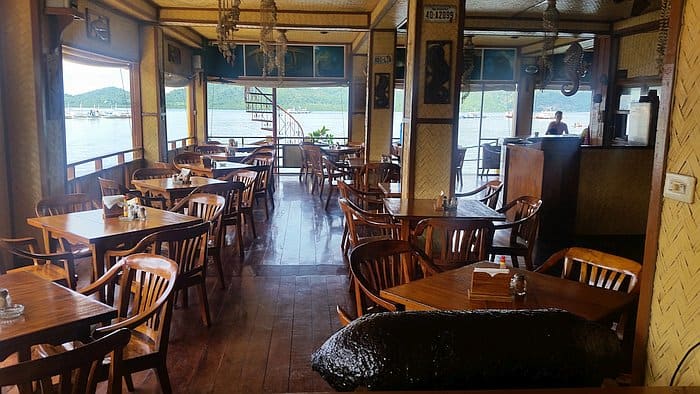 Seadive restaurant.
Continue along the National Road and you should soon come up to Coron Backpackers Hostel on your left hand side. Affordable shared accommodation and nice atmosphere, but the garbage floating in the water can be a bit of a turnoff.
Continue along the same road and on the left hand side you will come up to point C, Brujita's, my favourite place to eat in town. Robust menu, totally delicious and a nice section for vegheads too. Also, across the street and a bit back into town, they have a motorcycle rental shop if you wanna cruise around the island at some point. On the same side of the street as Brujita's and nearby is Levine's, which also has good veggie food but cheaper (check out the Rural Coron page).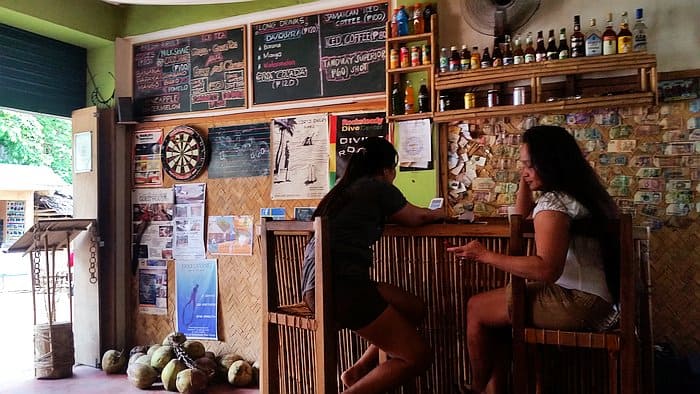 Brujita restaurant.
After filling yourself up on healthy, you can continue on up the road to point B, near the top, where there is a smokey girly bar with the usual karaoke. Before you get there though, there is another shared dorm hostel which was highly recommended to me, Coron Guapos Guesthouse.
From main intersection back towards the pier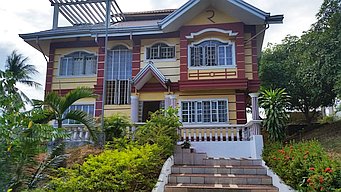 Back down to the main intersection, take the hard left at the corner on your way back to the pier until you get to the first intersection, take a left and walk uphill along that road (Rosardo street). About half way up this short section, on the left hand side you will see Roger's Manor. Click on the pics to take you to more and contact info, or go to the Rural Coron page.
Or instead of going up Rosardo, continue along the main National Road to the second intersection. Walk a bit farther and, on the left hand side there is a little shop which sells the cheapest beer I could find in town. Open long hours.
Go back to that same intersection and start walking up the hill (San Augustine st.). On the left hand side you'll come up to point D, which is a cool little rastaman mellow tatoo bar hangout, my second favourite night venue in town.
Continue walking up that road until you hit the intersection. On the opposite, left hand corner you should see Genevieve's shop. She has a nice quiet little hotel with a few rooms, you wont find her on the internet other than this page, and her number is 0977 850 7959. If you go left at this intersection it will eventually take you to the Hippie House Bar, another cool place to hangout, but the neighbours complained and they no longer jam there.
Otherwise, if you continue straight through this intersection and uphill along that road, you will eventually hit some stairs to your left. Walk up that for a long and grueling workout to take you to the cross on top of the hill and a nice view of the area for a good day activity. Or bring your tent and sleep there for free. No worries, there are some guards tending the tower and it is okay. At a certain vantage point you will be able to see both the sunrise and sunset.
Heading back towards the pier
This place is no longer open, but you can check out the pics on that page to see the work of the owner, who is an artist and often frequents the cool bar Hippy Happy House.
If you go back down to the main National Road before you started climbing towards Genevieve, continue going towards the pier. About half way there you will find the Obra Bar on your left hand side.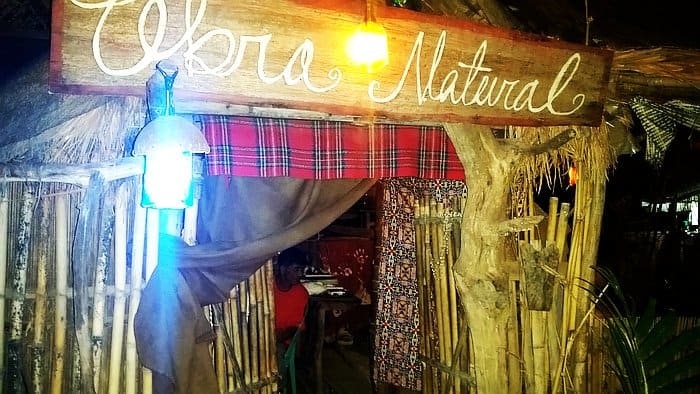 This is where I bought my Jambe from my good buddy Rodney. He no longer operates the bar but left it to a friend of his who is a tour guide and who can take you to an island just outside of Coron if you want to make a lot of noise or stay overnight, or other tours. I like this place so much I made a webpage for it. And if you are lucky, you might even meet Rodney and stay in his cool abode up in the mountains! The bar is somewhat incognito and easy to pass by, which is why I suggested they put a blue light outside, so now it should be easy!
Following are some more pics of Coron.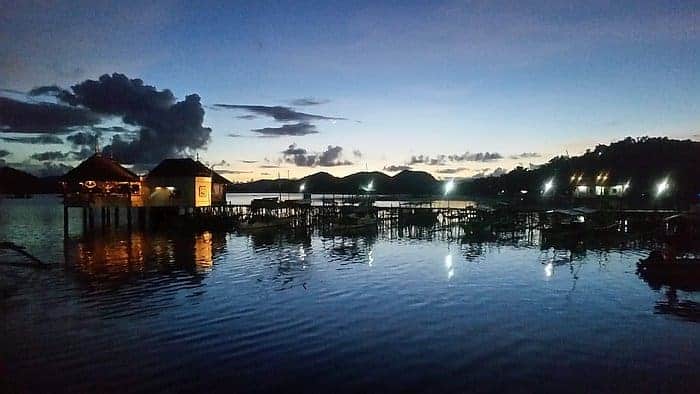 View from Helldiver's pub.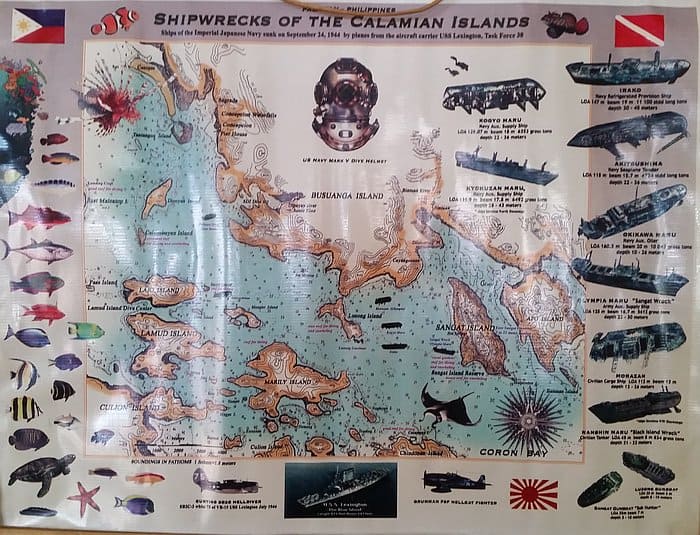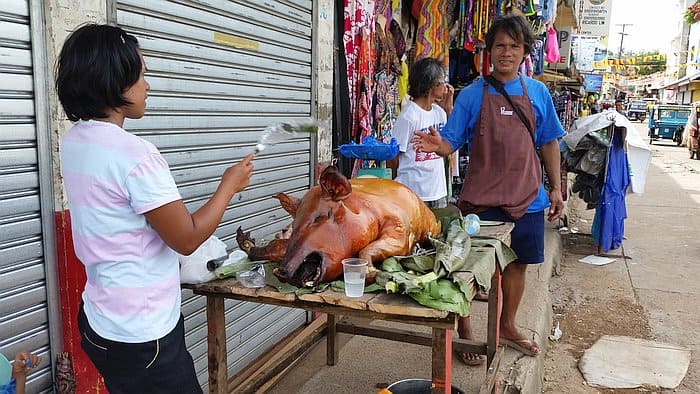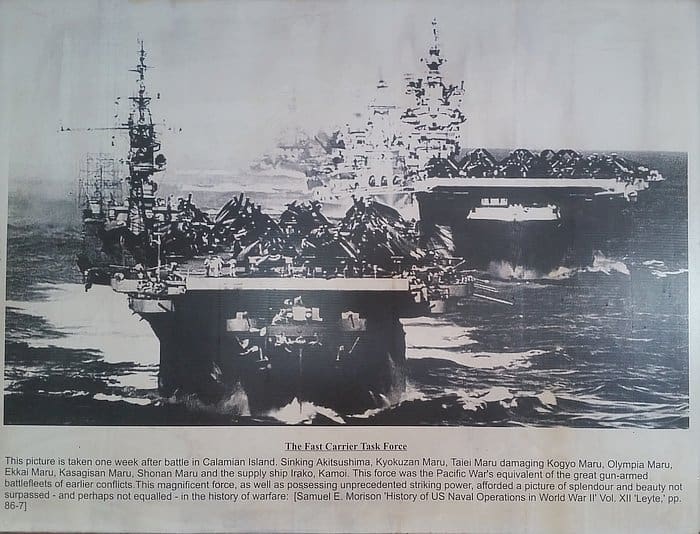 View from top of mountain where cross is:



Kayangan Lake and Twin Lagoons near Coron
Click here if you are interested in booking some local Coron tours. Or check out rural Coron.
Now that you've checked out this town, if you're headed to El Nido, another tourist hotspot, you can join or book one of our private custom Palawan boat tours. Tons of paradise beach islands to see along the way, excellent snorkeling in crystal clear waters, caves to explore, Spanish fortress and much more. Completely off the beaten path!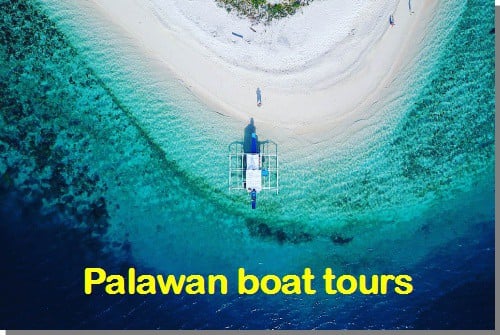 While in Coron, why not get a great and inexpensive dental job/checkup?
Back to suggested itinerary for Palawan.