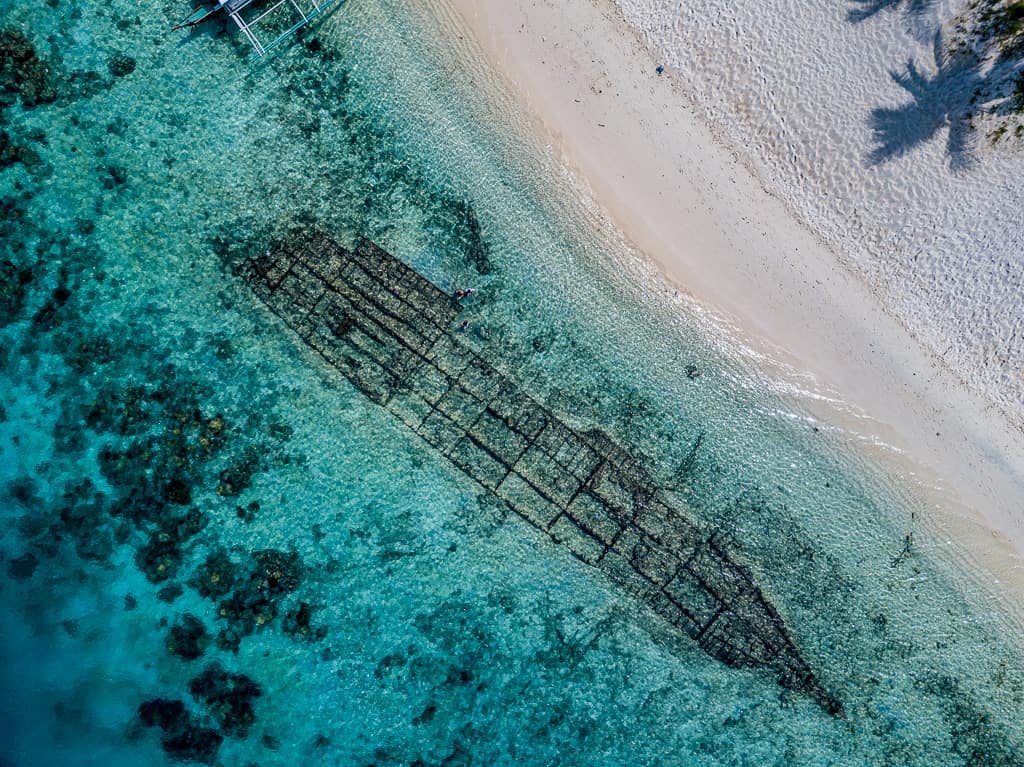 Exploring Caves and Shipwrecks in Black Island, Coron, Philippines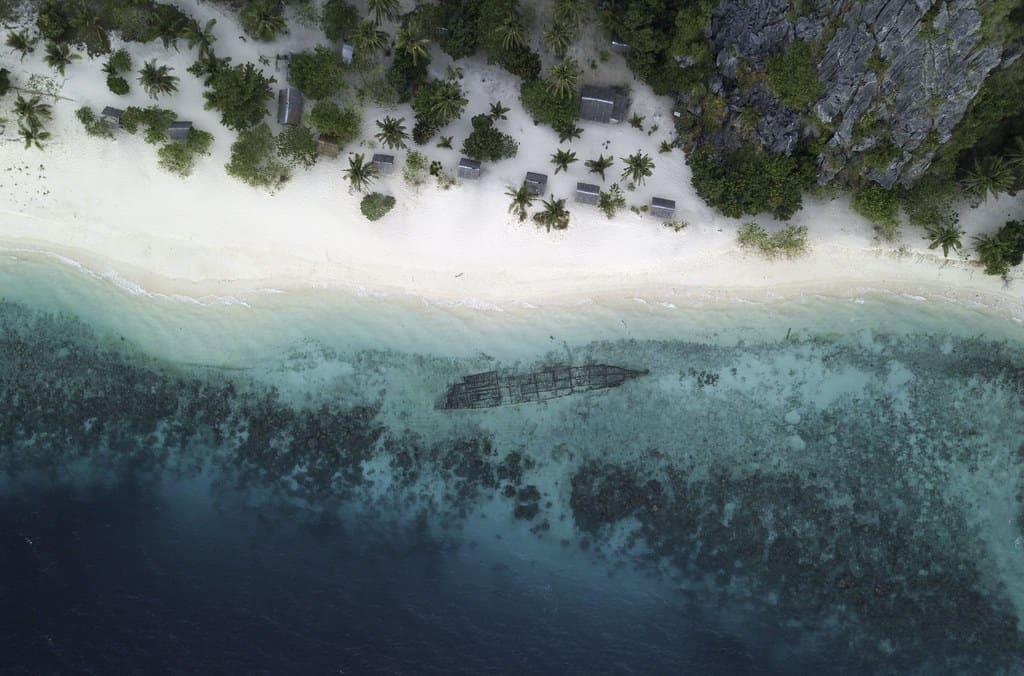 Do you want to stay in an island as you own it? Well, the Black Island is the island for you. Located in Busuanga, Palawan, only few tourists find this beautiful island. Black island gives off a very interesting feeling when approaching it's monstrosity. However, its name is the complete opposite of the color of its sand on the shore. It is also a place of tranquility. There is a cave in the island where you can swim in fresh water inside it. Definitely a place to relax away from the busy life in the city.
The Black Island is usually part of the tour from CALAUIT SAFARI. After visiting the giraffe and zebra you will travel 5-10 minutes to the port. You will ride a boat for 30 mins – 45 mins in order to reach the island. But if you  are not into visiting Calauit Safari Park, you can book a Coron private island hopping boat tour. It will take around two to three hours to reach this lovely island and I can say it is well worth it. It has a stunning fine white sand beach and there's a Japanese WW2 shipwreck just by the beach.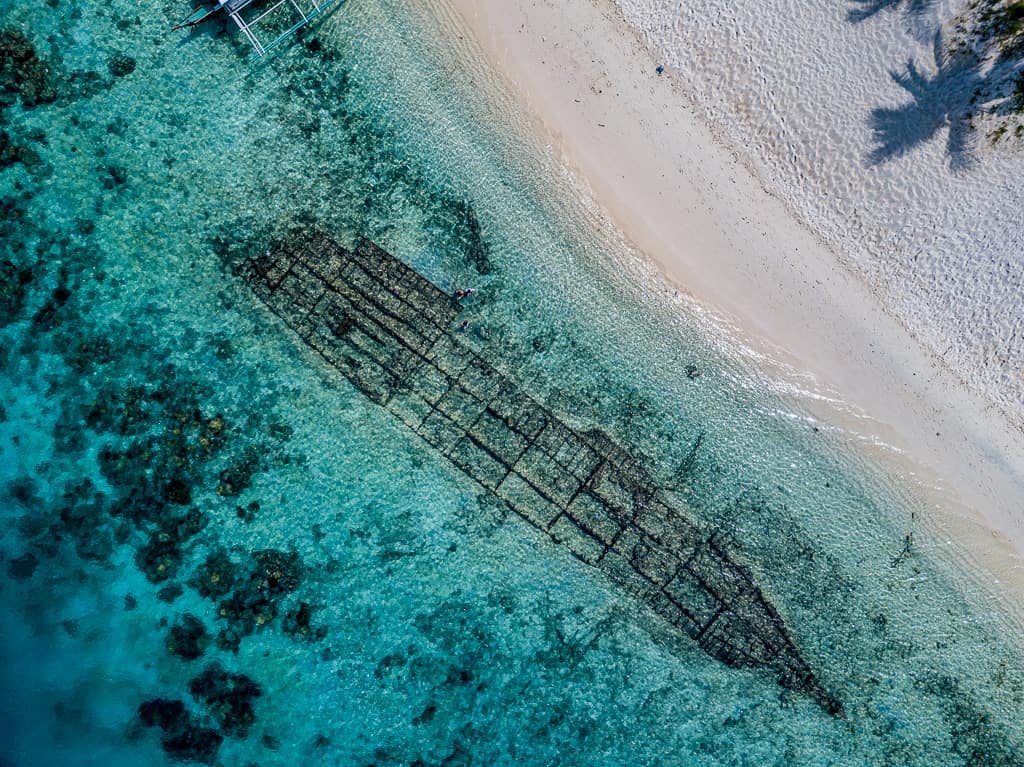 There's no port/jetty so boats anchor just off the beach, so be prepared to jump off the boat into shallow water like most other beach destinations (Banol beach, Banana island, and CYC beach, etc.). We were lucky enough to be the only boat at the island, but there is ample room for many to anchor.
As you can see in the picture the water is different from the water of Coron. The beach before reaching the Black Island is with crystal turquoise waters. So,  do not forget to bring your snorkeling gear to enjoy your swim and view the corals and aquatic life.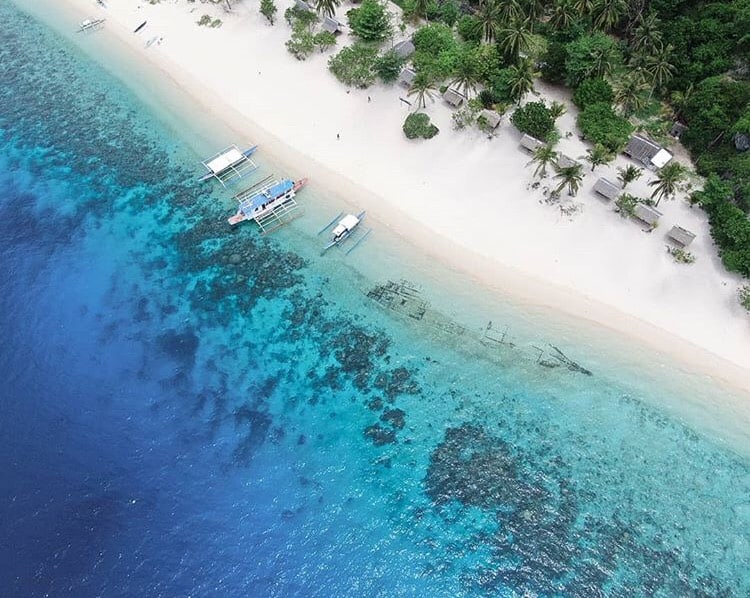 Just when you thought the island couldn't possibly get any better, we discovered a series of mysterious caves with amazing structures hidden within the towering cliffs.  Inside them were insane shimmering rock formations and crystallized swimming holes where we could cliff jumping.
Our first destination was to explore the caves and the small lakes within. The main cave is located a short walk up the beach and over a small makeshift wooden ladder to get over the rocky entrance. It is huge with at least 40 feet between floor and ceiling. Inside isn't big – as it doesn't go in very far, but it has a large roof so it it's cramped or claustrophobic feeling. The lake inside is quite small but sufficient enough to swim in and explore with snorkel and mask (fins aren't necessary) but apart from a few rock formations there's not much to see (both in and out of the water). The water is clear, clean and cold but can easily become cloudy with silt disturbance from the bed. Though for me, it was a great novelty being able to actually swim a body of water in a cave. There's another small body of water in the cave with a tiny underwater access cave that you can squeeze through, deep enough to do a "bombie" into it creating a big splash but water will become murky with everything that's just been disturbed. You may even cliff jump into both or simply admire the stalactites and rock formations from within the depths of the cave.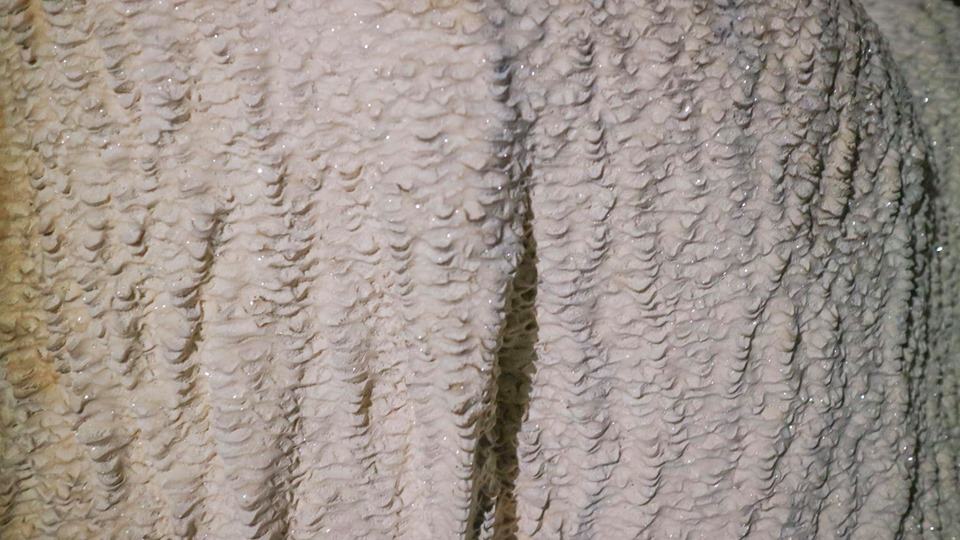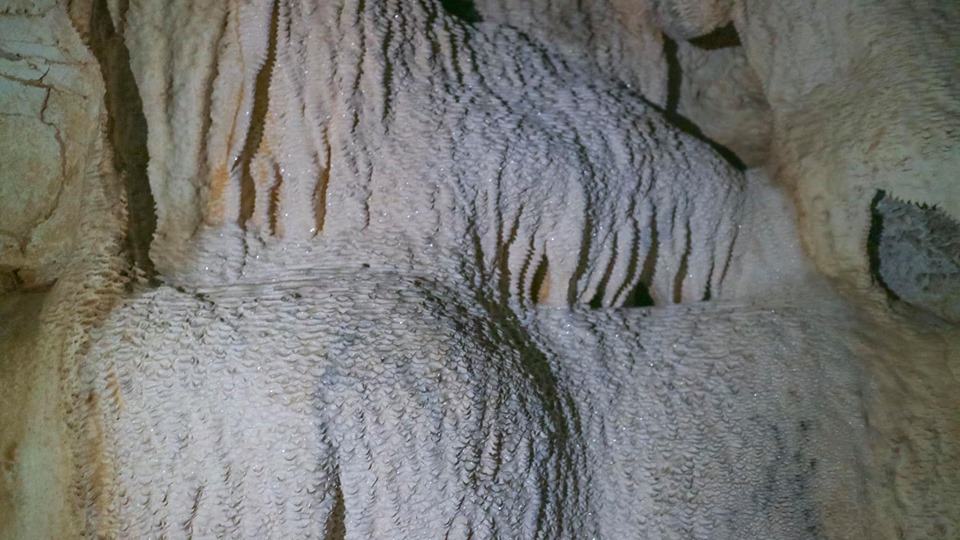 The second cave in Black Island is near the first but this requires a climb up the rocks or stairs (only a few meters) to gain access. It was quite boring and was probably used as a shelter for fishermen in storms many years ago. However, it has shimmering white stalagmites and stalactites. You need to bring a flash light or you can use the flashlight application in your mobile phone to see where you are going and to see the dazzling, shimmering, splendid rock formations that rise from the floor of a cave due to the accumulation of material deposited on the floor from ceiling drippings. It was magical! Promise!
The Black Island is also popular to tourists because of its easily accessible Japanese Shipwreck during the world war 2. You do not need to be a licensed scuba diver to be able to see this Japanese Shipwreck. When we went there, it was low tide so we were able to access it easily. The water is crystal clear that you can even see it from the shore during low tide.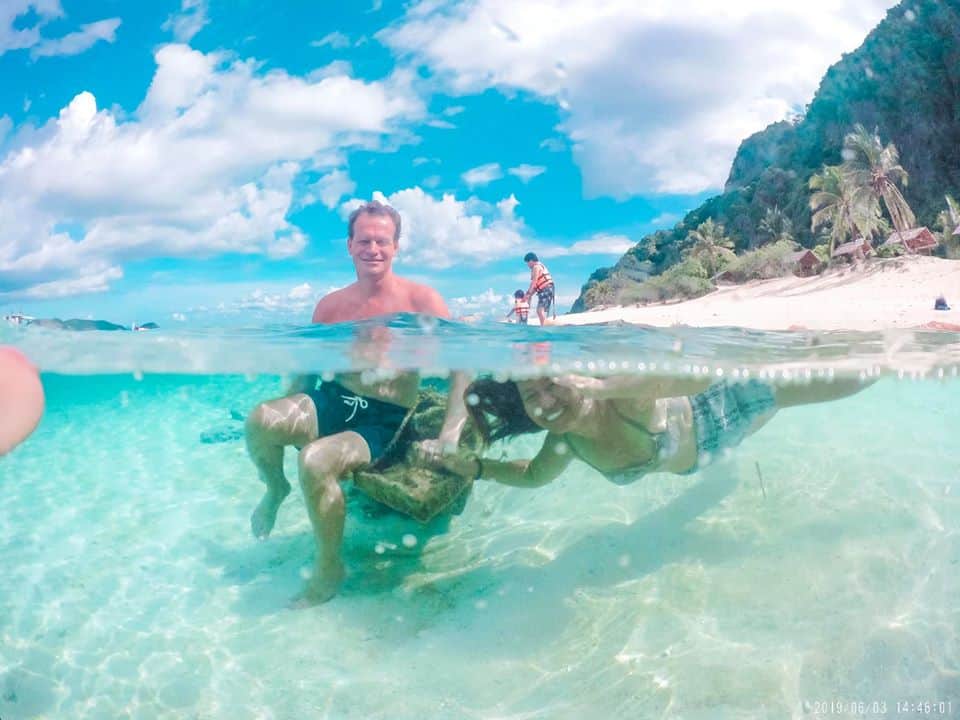 According to stories, this is one of the islands where the Japanese buried their gold inside the cave. It was not hard to mistaken Black Island amid the archipelago.  While the surrounding islands are verdant and green, Black Island boasts tremendous black cliffs that feel dramatic and almost threatening, hence the name Black Island.
Spent an afternoon picnic on the white sandy beach of this beautiful island which is guarded and maintained by the Tagbanua, an indigeneous people of this region. The black cliff backdrop is where the swiflet birds live (known for their edible nests used in birds nest soup).
On the beach, there are little huts for sheltered picnics and a place to relax while enjoying the beautiful view.
There is a reasonable fee to visit and enjoy the island as well as use the huts. The fee goes towards maintenance of the island and future plans for safe docking of boats and protection of the surrounding coral reefs, as well as improvement of public washrooms and sanitation to accommodate the influx of visitors.
Black island is a one of a kind paradise. The place looks like it came out of a Jurassic Park or King Kong movie. Beautiful black limestone, a shipwreck (just close to the shore) which can be easily accessed during low tide, a cave, a cold spring, perfect white sand beach, and lots of fishes! Great place to free dive and snorkel! If someone asked me to go back, I'd go back in a heartbeat.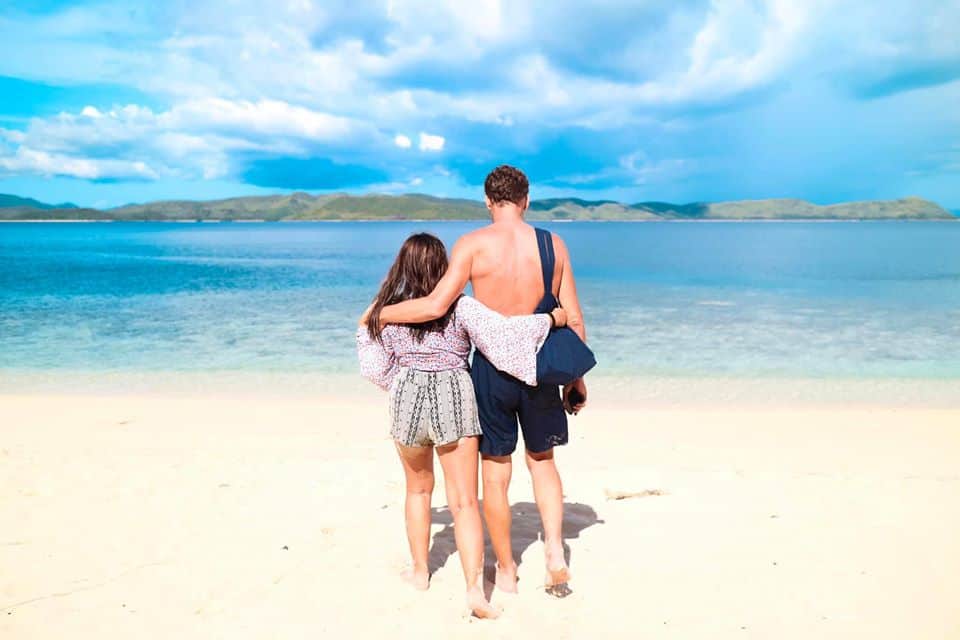 Overall, this island was a fantastic experience – clean, clear beach & water, close by wreck easily accessible (especially during low tide), small cave with water, huts to relax and chill in and have lunch, Due to its further distance and the duration of boat travel to get there, only few tourists would inlude this island in their island hopping tour itinerary. When we went to Black Island, we saw no other tourists (NOT ONE!). I suppose the only downside is the time traveled by boat to reach this stunning and of the beaten path island. There are changing facilities and lots and lots of fish and corals. Very, highly recommended island to visit  for a peaceful and relaxing day with family, friends or even solo plus breaking the monotony of Coron Bay  or Coron islands – but the spots there are beautiful too.
To book a private boat tour just fill in the form here and choose "Coron only" as your route. Or more info on Coron boat tours.
Or, for inquiries regarding prices and boat tour packages, please click the photo below: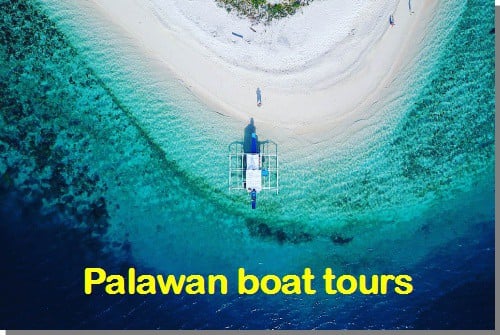 Other links regarding Coron tours
Kayangan Lake
Twin Lagoons
Malcapuya Island
Banana Island
Bulog Dos
Barracuda Lake
Tips on choosing tours around Coron
Rural Coron
Obra Bar
[rev_slider alias="instagram-gallery"][/rev_slider]