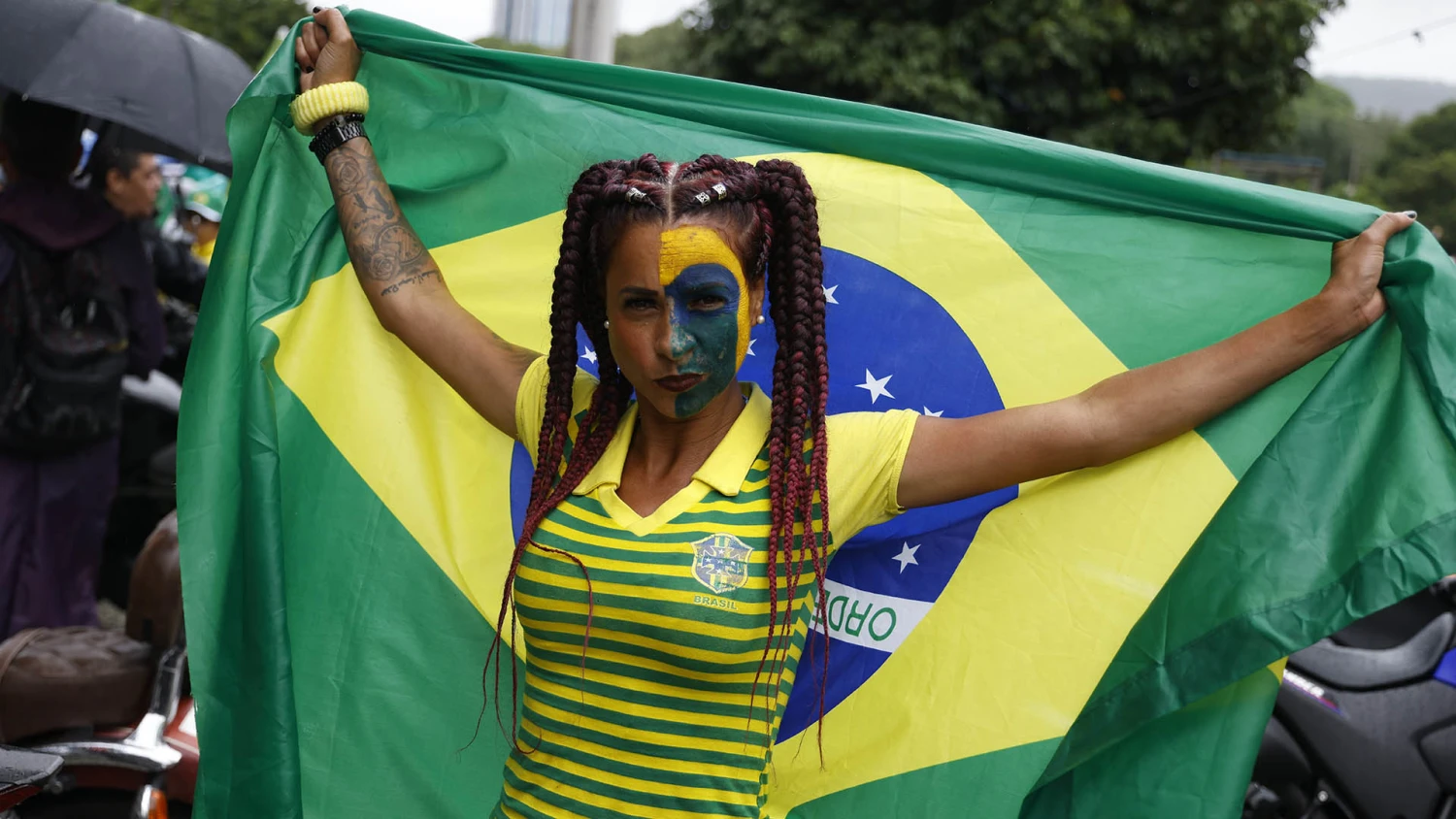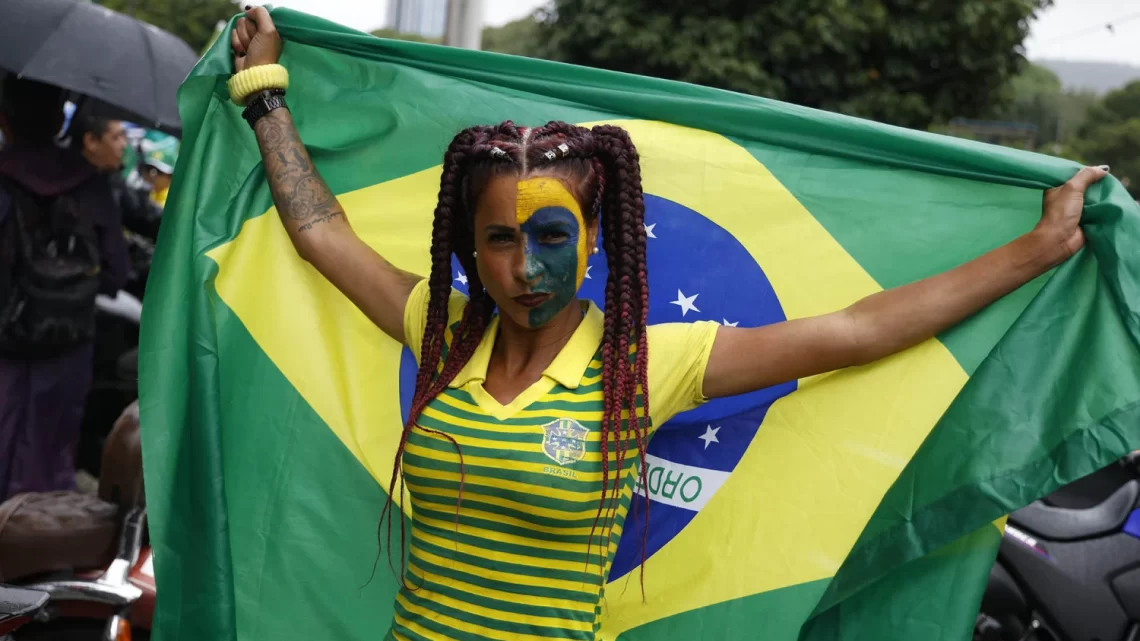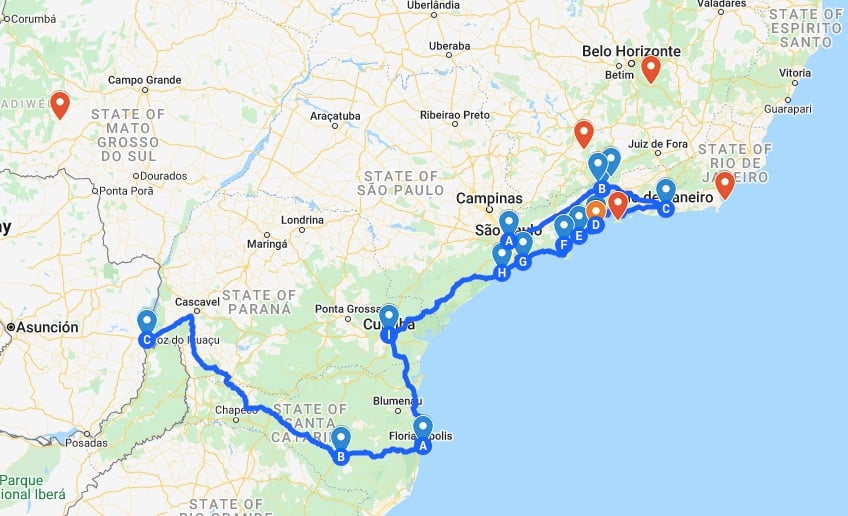 Things to see in Brazil
We flew into Sao Paulo, seemingly the cheapest to fly into South America from South East Asia. We decided on Qatar Airlines, as many of the flights had a stopover in the U.S., where the international and domestic airports are not separated and my Filipino wife would require a regular tourist, not transit visa.
There was another Ethiopian Airline with a similar route, but Qatar Airlines was interesting because they offered a four day visa free layover in Doha.
Brazil is one of the five countries in South America where visa entry was free for my Filipino wife, so we decided to use up the 90 days free visa to explore the country before continuing on to Argentina.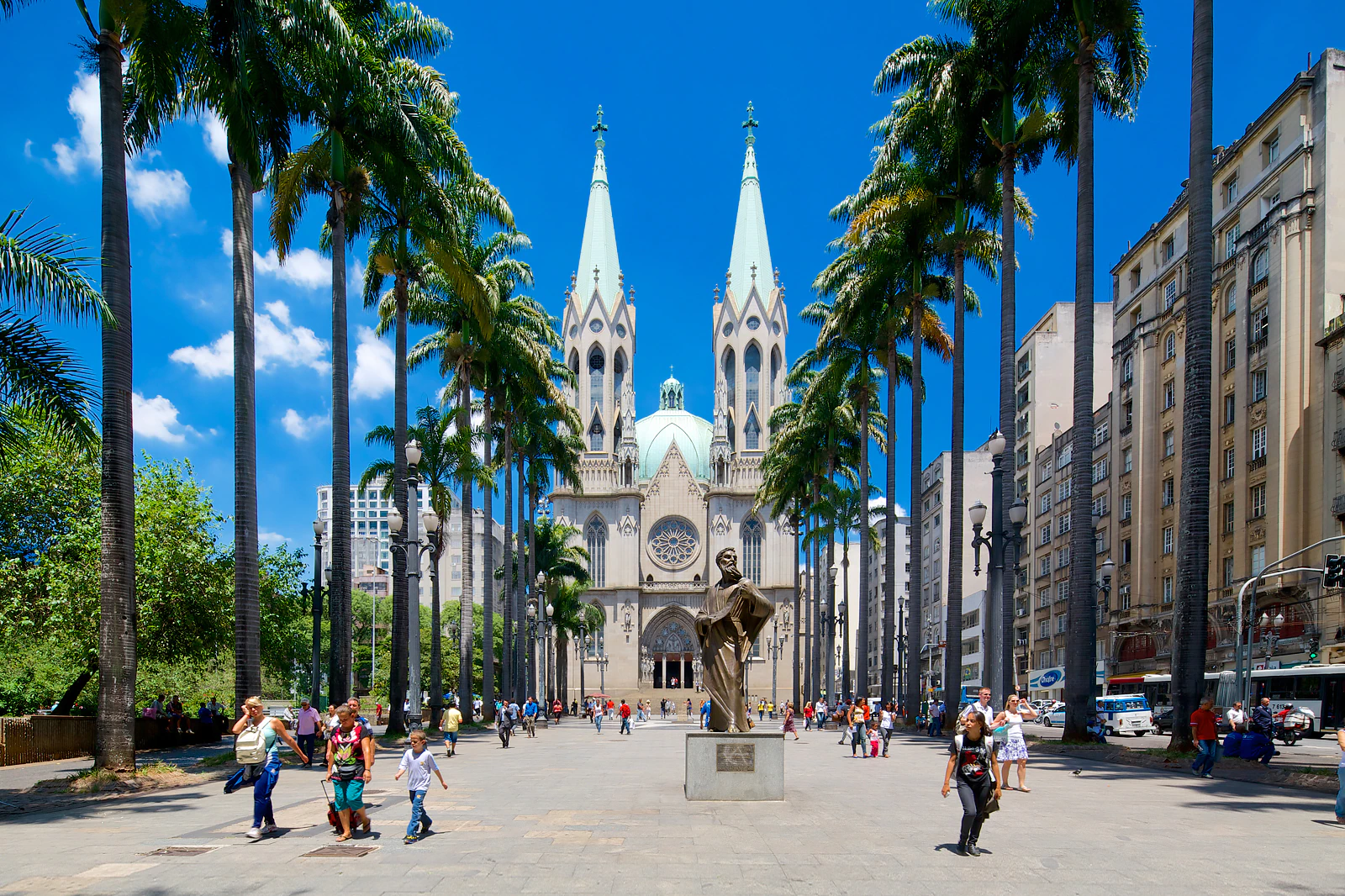 We found Sao Paulo very vibrant, the people friendly, overall safe, and a wonderful restaurant scene.
We also found a host in Itatiaia, a national park halfway to Rio de Janeiro. Our plan is to stay there a week to explore the area and try some Ayahuasca from a local Shaman tribe. Our host took us on a local tour of the national park: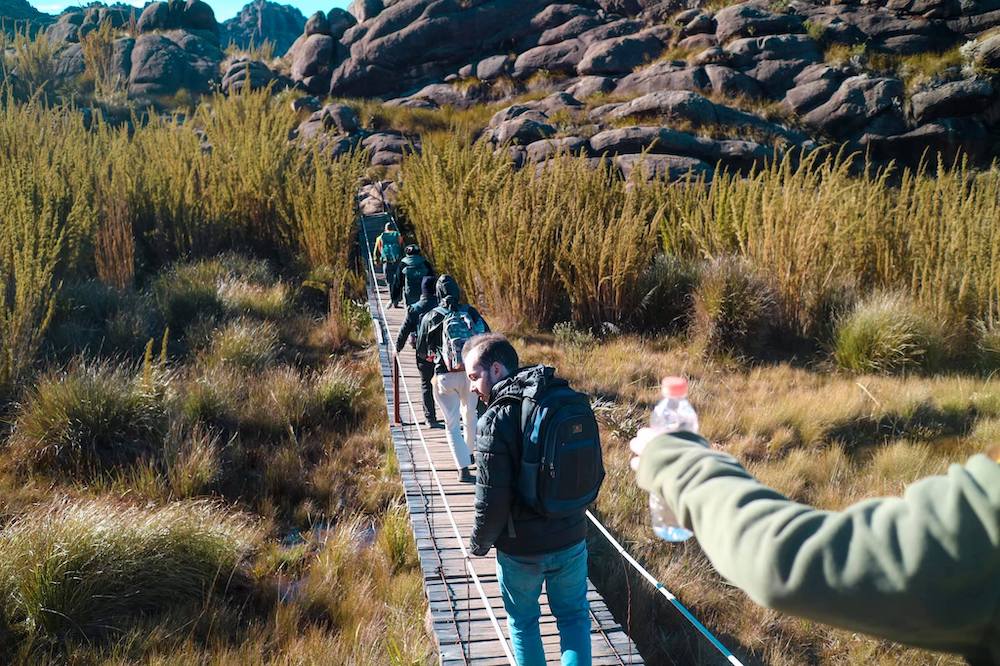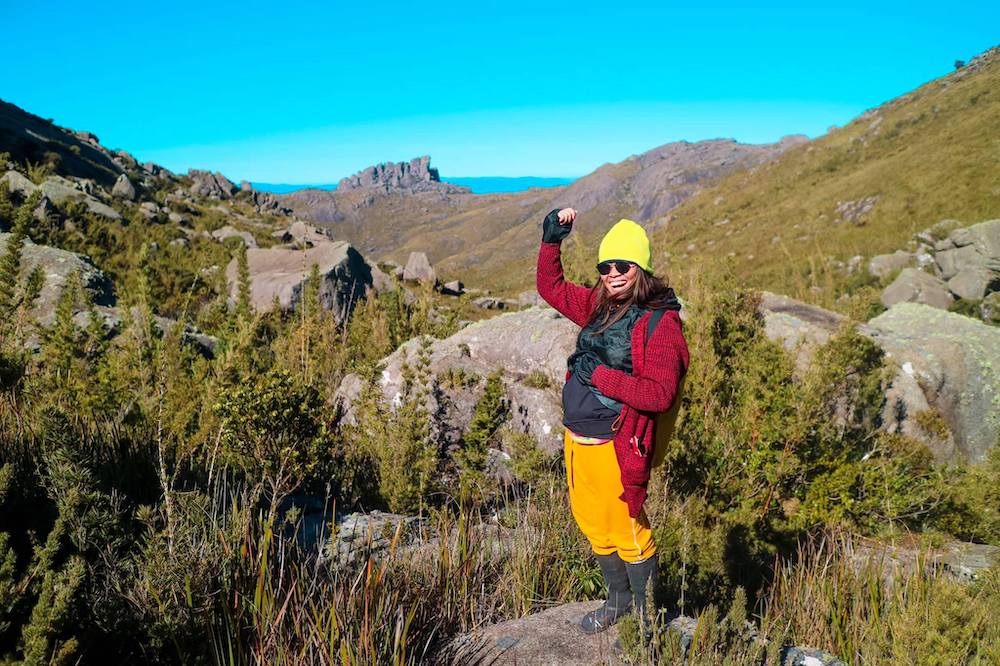 Baby she is carrying is getting larger but she's still a trooper for adventure!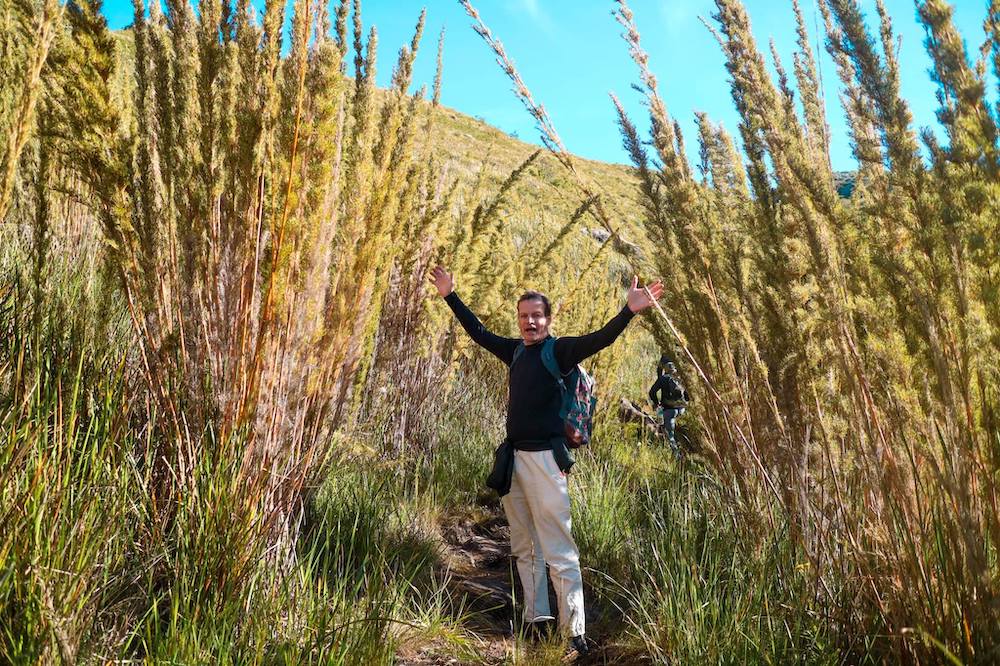 Some tall grass along the way.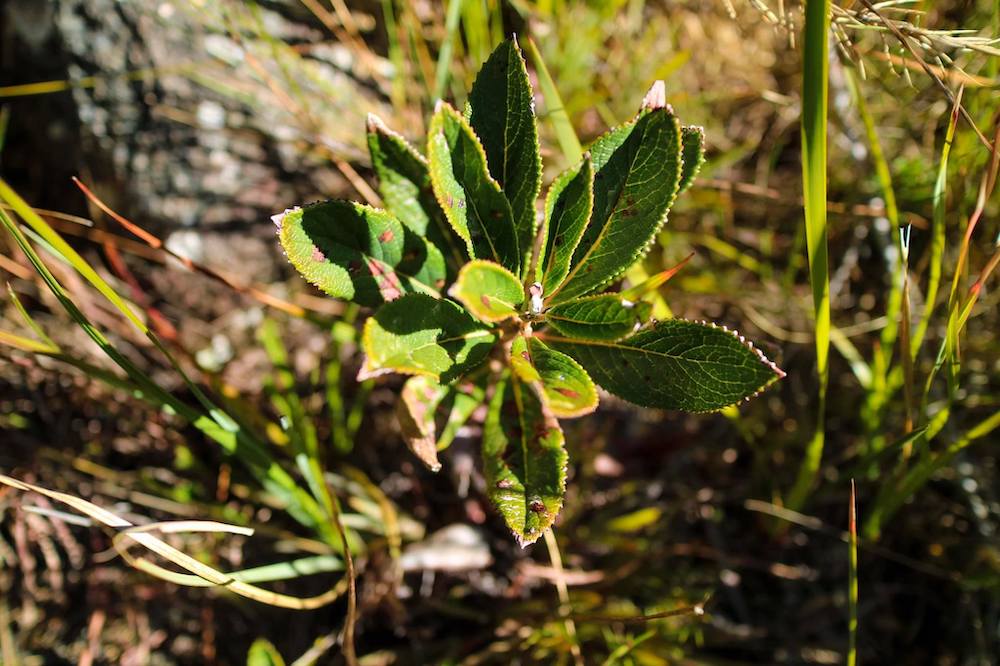 Interesting nature.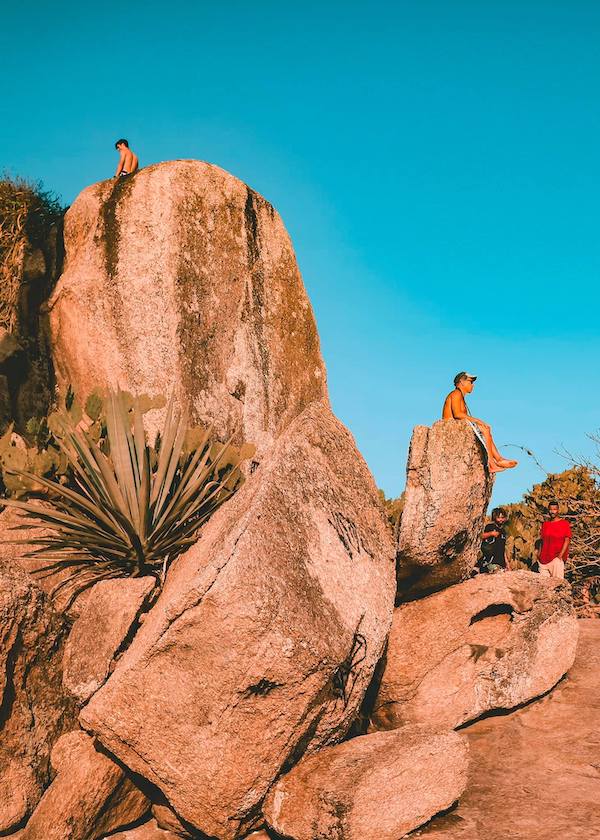 So far Rio seems much more dangerous than Sau Paulo, but based on my internet research, the trick is simply not to flash Rolex watches, jewelry or smartphones in busy sections of town, where they can be snatched from your hand by petty thieves. Otherwise the general consensus is that people are very friendly, stay away from the slums, do not flash your fancy goods (even if sitting in a cab with open window), and you should be okay.
After Rio, as shown in the map above, we dillydallied our way southward along the coast, stayed for a couple of nights at a couchsurfer who brewed his own beer, and eventually made it to Santa Catarina, not far from Florianopolis. Our host and his parents loved us so much they insisted on feeding us and that we stay as long as possible.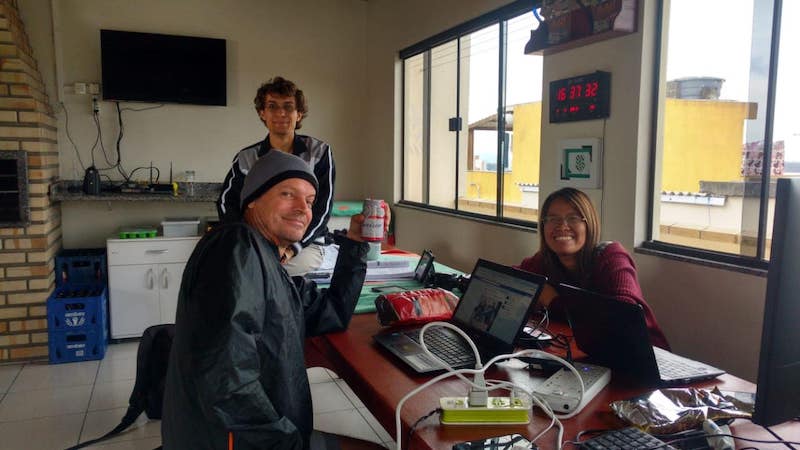 His dad loved to bbq steak, and yes, the beef down there is fantastic.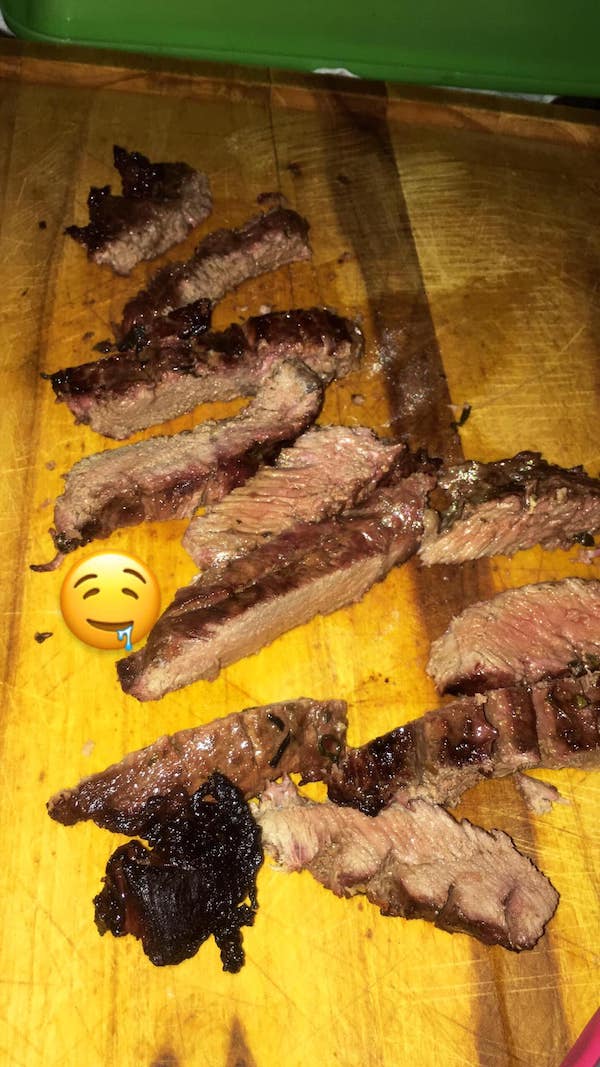 To express my gratitude for their kind generosity, I brought a juicy variety of micro brewery beverages to accompany his fantastic cooking.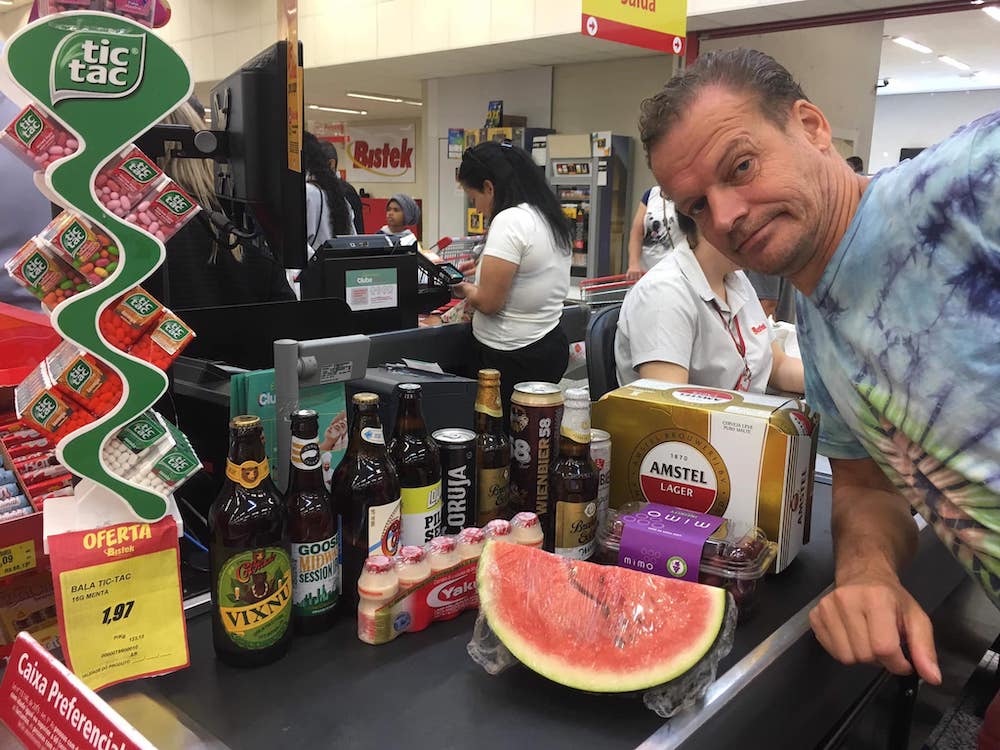 Since it wasn't so easy for Mel to get into Argentina, we decided to continue on to Bolivia. But not before checking out the famous Iguazu Falls. Similar to Niagra Falls, which is split on the border of the US and Canada, these falls lie split on the borders between Paraguay, Argentina and Brazil.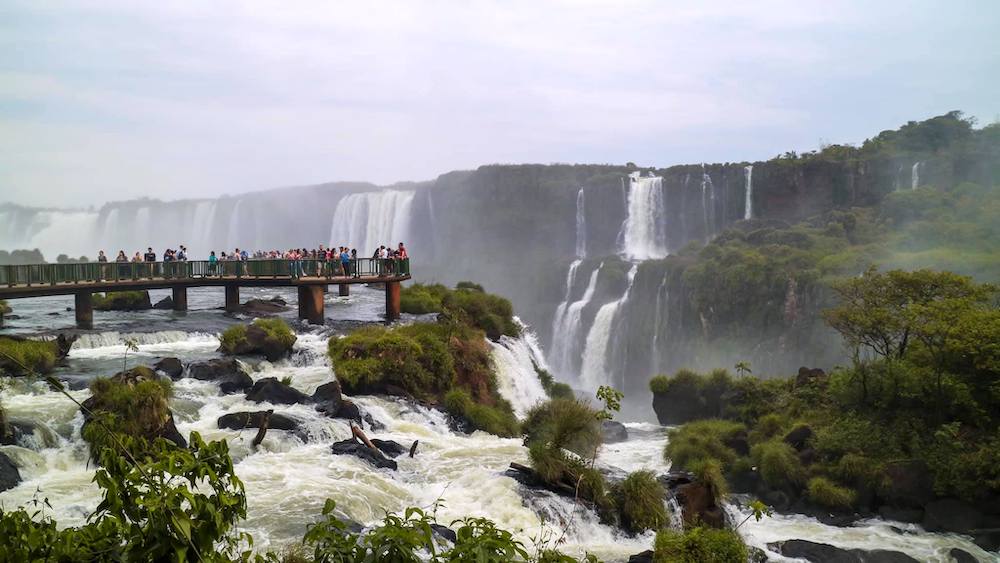 We thought we'd even give it a shot to walk across into Paraguay. The locals just walked past the border booth without stopping, but not wanting to take a chance, we dropped in and they turned us back. Mel got back into Brazil no problem but I had to use my Canadian passport instead, as the Czech one was expired, or only single entry. Thank goodness we were not separated!
Because we could not take a bus across Paraguay we had to resort to flying again, and off to Bolivia it was!
Some information about Brazil
Below is some info I have collected from Tripadvisor on beaches to visit on our way down to Argentina, but since it is so cold now we will not explore that path. Perhaps at some point in the future. Our plan now is to head to Argentina after we are done with Brazil, find a nice shelter over the winter, and once summer starts, to make our way clockwise around the continent (preferably with our own van), making it to the northeast corner from where we can dive into and scope out the Amazon jungle. Brazil is the fifth largest country in the world and getting to the Amazon from down south would require a four hour flight. Better to dive into it from the north end.
Suggestions from some friends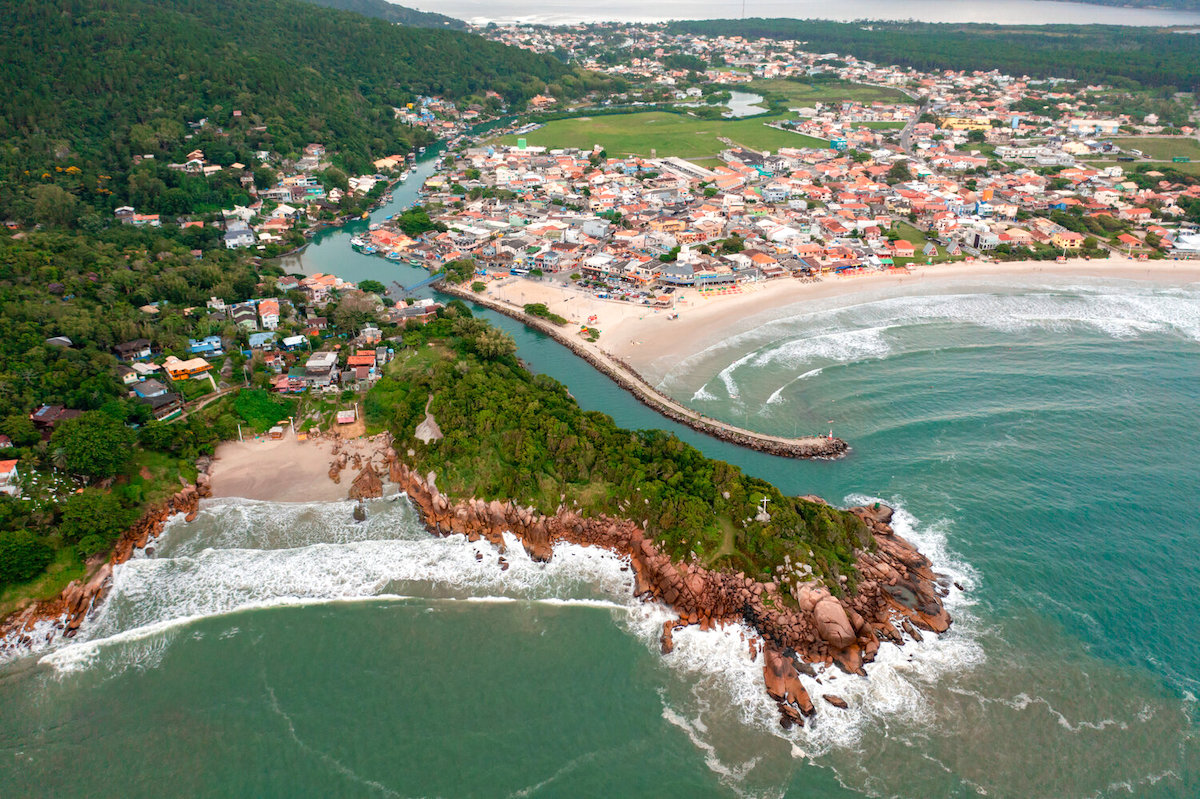 Tim suggests: Florianopolis is a gorgeous city on an island. And Ubatuba, about an hour by bus from Sao Paulo,
John Chi says Trinidade near to Paraty (also visit). And Ilha Grande near Rio.
Another cool area is in the state of Minas Gerais. There is a cool town in mountains called Sao Tome Das Letras. And further on into Matto Grosso state a chill town called Bonito. Or you could stay on the coast: buzios, ubatuba. Or a bit north to itaunas. The Bonito town in matto grosso is a well known destination. Much animal life nearby and cool cowboy stuff in area
Sao tome das letras is known as a mystical and weird place in brazil
Another well known town is OURO PRETO, in minas getais state.
Ive travelled most of brazil. Just not the south.
Coastal trip:
https://www.tripadvisor.com.ph/ShowTopic-g303631-i2161-k12535684-Nice_coastal_bus_or_train_to_Buenes_Aires-Sao_Paulo_State_of_Sao_Paulo.html#99966488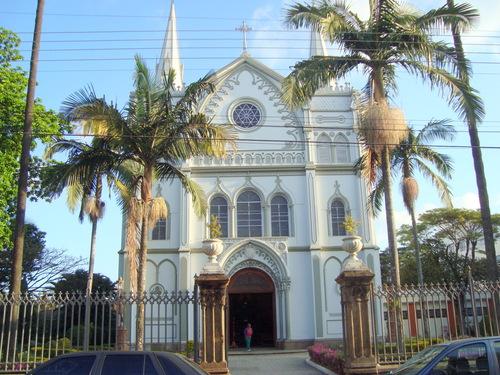 I like the city of Lorena (near Itatiaia). It's not a beach town though, it's famous for its mountain views and access to Bocaina National Park nearby. (The nearest beach is Paraty which is 2 hours away). Have a good meal at Battagini, their feijoada is wonderful. Stay at the Olympia Hotel or at the Dom Apart Hotel, both near the city centre. The city is about halfway between SP and Rio and only 8 km from the road down to Paraty. Buses: From Rio, Viação Sampaio (3 daily), from SP, Viação Cometa (8 daily) Oh, and the area also boasts O Paturi, one of the very few restaurants specialised in duck in Brazil. (In Guaratinguetá, some 5 km from Lorena)
Itatiaia is in the mountain region that straddles three states: Rio de Janeiro; Sao Paulo and Minas Gerais… sort of close to midpoint in the main road that links the São Paulo and Rio metro areas. great place for trails, hilkes, waterfalls etc… some of the highest mountains in Brazil are in the area, like the Pico das Agulhas Negras at close to 2800 meters: . https:/…Pico_das_Agulhas_Negras. look up the Itatiaia National Park:. https:/…REVIEWS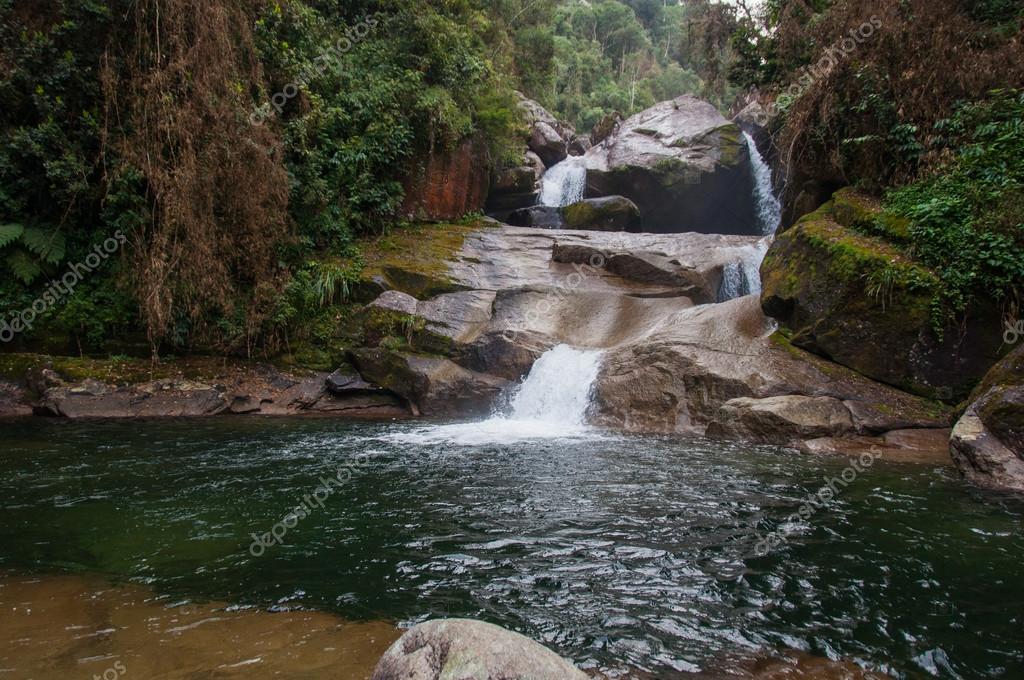 Yes, Itatiaia and Lorena are in the same area. It's about 70 km between them. Leaving Itatiaia, turn right onto Dutra, and once you cross the RJ/SP border it is 58 km to Lorena main entrance (One reference is the Yakult factory on your left, the entrance is about 2 km further on). You go along a long tree-lined avenue (Peixoto de Castro) and at the end you will see the Olympia Hotel on your left. The Dom Apart Hotel is the other side of the train line (goods only, unfortunately). Battagini is in the heart of the city.
Taking bus to buenes:
Ilha Grande (Big Island) is 95 miles southwest of Rio de Janeiro. The island is a largely undeveloped protected area and noted for its beautiful beaches and hillsides covered in lush tropical forests. There are no cars and no banks on Ilha Grande, so bring cash with you since not all hotels, shops, and restaurants accept credit cards. The largest village on the island is Vila do Abraão, where most of the visitor facilities are located, and can be reached from the mainland by local ferries and catamarans.
Ilha Grande Info:
https://bit.ly/1xWcSuC
https://bit.ly/1rPHCuO
A relatively short two-hour drive from the city of Rio de Janeiro, followed by a quick boat trip, and you may think you've entered another world. 'Ilha Grande' (Big Island) is one of the most beautiful islands off Brazil's famous 'Costa Verde' (Green Coast) and its close proximity to the city, natural beauty and wealth of activities on offer for visitors make it a perfect destination for weekend getaways.
Largely untouched by human development, Ilha Grande hosts one of the richest ecosystems in the world.
With cars forbidden on the island, hiking is one of the most popular activities and means for reaching some of the island's most untouched site of natural beauty.
Elite Dive Center:
https://bit.ly/2FaQiag
Hiking to Lopes Mendes Beach:
https:/…
Lopes Mendes Beach by boat:
www.hotel-ilhagrande.com/Lopes_Mendes_boat
The Island Paradise of Ilha Grande:
https://bit.ly/1DsbiU2
https://bit.ly/17LCAlO
"My kind of paradise on Ilha Grande."
https://bit.ly/2IuRPHo
How to get there:
https://bit.ly/12mtQTd
Ilha Grande is home to thousands of species of wild animals, birds and sea creatures.
https://bit.ly/2zuh2Pr
Safari-Lancha Speed Boat: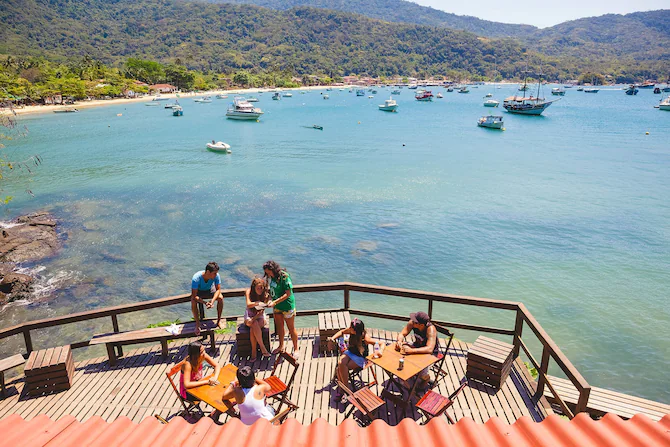 Biergarten Hostel in Ilha Grande:
https://bit.ly/R11MB9
Aventureiro Beach:
https://bit.ly/1Q8QU09
With shallow, calm waters, Lagoa Azul (Blue Lagoon) is one of the best snorkeling spots in Ilha Grande.
https://bit.ly/1zWgpUj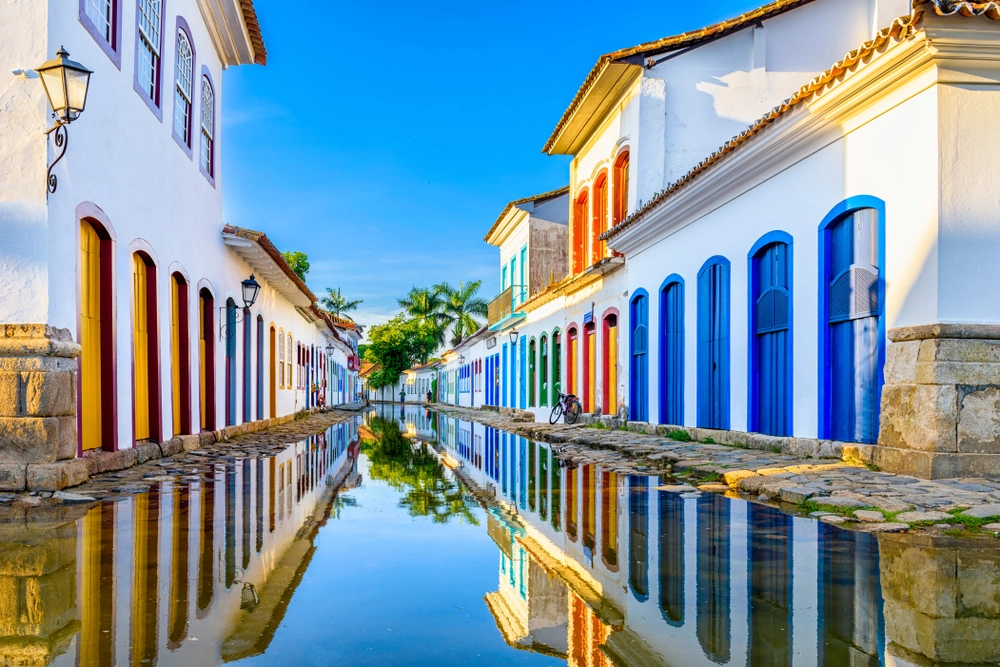 Paraty (also Parati), a coastal historic town between Rio de Janeiro and São Paulo, is about 160 miles from Rio and replete with picturesque cobbled streets, forests, waterfalls, islands, and an emerald-green sea.
Paraty Info:
https://bit.ly/2DkyadW
https://bit.ly/1oEGHGe
https://bit.ly/13wnPnr
Restaurants in Paraty:
https://bit.ly/2gNqwdo
Things to do in Paraty:
https://bit.ly/2gTJcsB
Exploring the beaches near Paraty.
https://bit.ly/2AKNZGL
Intercity buses in Brazil:
There is no one bus company that serves the whole country. See "BuscaOnibus."
https://www.buscaonibus.com.br/en
https://www.costaverdetransportes.com.br
Bus services are often sold in three classes: Regular, Executive and First-Class (Leito, in Portuguese). Regular may or may not have air conditioning. For long distances or overnight travels, Executive offers more space. First-Class has even more space and only three seats per row, making enough space to sleep comfortably.
All trips of more than four hours are covered by buses with bathrooms and the buses stop for food/bathrooms at least once every four hours of travel.
Brazilian bus stations, known as rodoviária or terminal rodoviário, are often in pretty sketchy areas, so if you travel at night be prepared to take a taxi to/from the station.
The Rodoviária Novo Rio long distance interstate bus terminal is located five minutes away from the downtown district (Centro) in a somewhat seedy part of town, so it's best to take a taxi there.
Weather in Paraty:
Paraty was built by Freemasons when Brazil was under Portuguese rule, and the colonial Masonic architecture and colorful symbols can be found all over the historic center.
Hotels, Hostels & Pousadas in Paraty:
https://www.tripadvisor.com.ph/Hotels-g303503-Paraty_State_of_Rio_de_Janeiro-Hotels.html
(The word "pousada" comes from the Portuguese word "pousar," meaning "to stay" and refers to accommodations such as bed and breakfasts, guesthouses, eco-lodges, inns, and sometimes boutique hotels. They are normally small, often six to eight rooms, and are usually individually owned and operated.)
https://www.hostelworld.com/findabed.php/ChosenCity.Paraty/ChosenCountry.Brazil
Beaches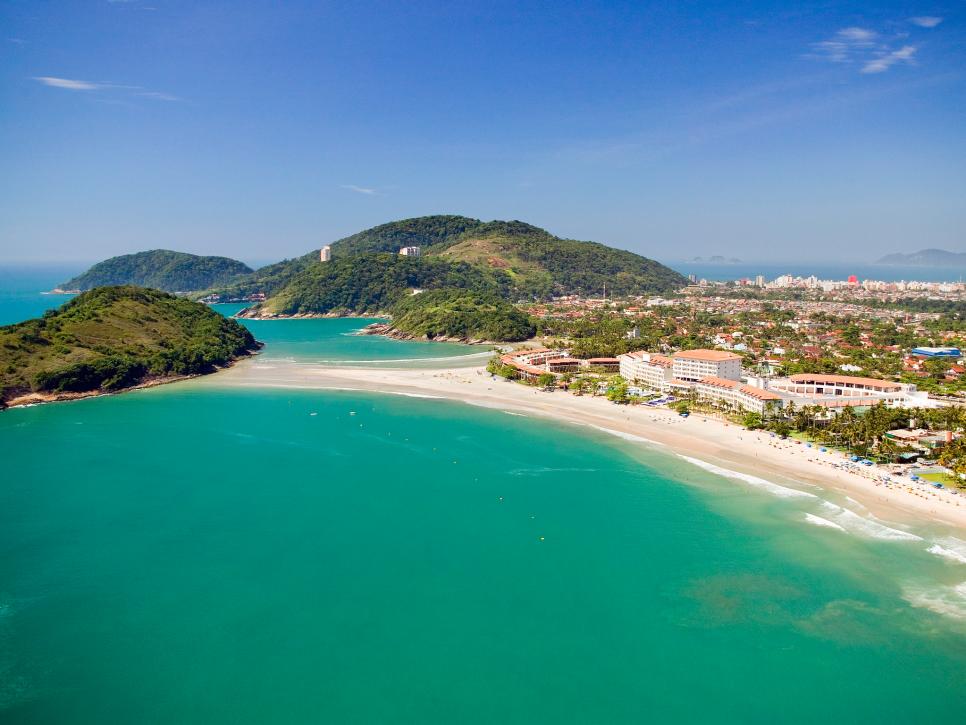 Almost the entire coast is lined with fabulous beaches, and the beach lifestyle is a big part of Brazilian culture. Nowhere is that more true than in Rio de Janeiro, with its laidback, flip-flop-footed lifestyle and famous beaches like Ipanema and Copacabana. Beaches in other areas of the country may not have the instant name recognition but are no less amazing. The Northeast has jewels like Jericoacoara, Praia do Futuro, Boa Vista, Porto de Galinhas, and Morro de São Paulo which bring in throngs of travellers, particularly Europeans. Landlocked mineiros go mingle with the rich and famous at Guarapari or dance forró in the sand at Itaunas, while paulistas head for Caraguá or Ubatuba. In the South, weekend revelers flock to Ilha do Mel or Balneário Camboriú, while the 42 beaches of Santa Catarina Island draw in thousands of Argentianian tourists every year. Hundreds more beaches lie ready to be explored as well.
The temperatures in the area will be between 10-20°, with the sea always bellow 10°, I don't believe it will bee a nice weather to exxplore beaches… maybe it's better to vist places like SÃo Paulo, Curitiba and Iguaçu Falls.
Even in Paraty area the weather is not the best, but more warm, between 17-27°, and the sea around 15°.
—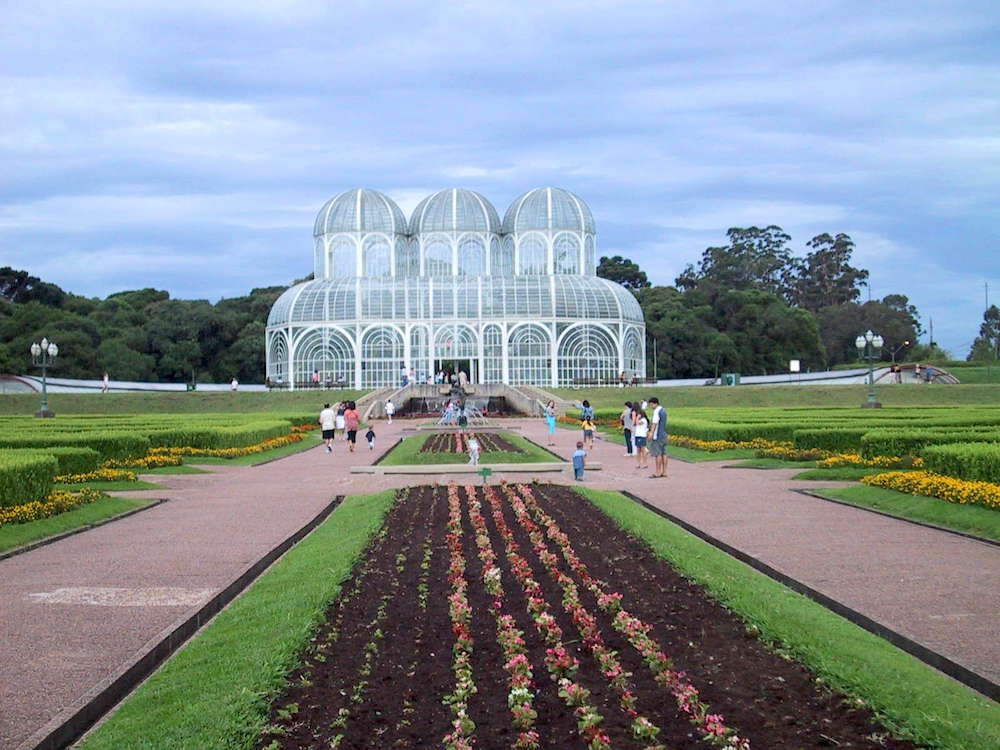 One of our favourite cities is Curitba. Absolutely beautiful and lots to see in terms of museums etc. From there we stayed in Matinhos getting part of the way on the Serra Verde Express train….. What an experience. Matinhos….nice beach but not much there but just off the coast is Ilha do Mel. Absolutely the most beautiful place to stay. No cars at all and not many people. And there's Internet, in fact, we had very little trouble with the internet wherever in Brazil. Enjoy!
It is impossible to travel right along the coast by bus due to lack of roads (the dictatorship of the environmental lobby calling the shots, prohibiting a road that would shave 3 hours of travel times to the South, and ease traffic in Curitiba). The gap, between Cananéia and Antonina, can be done by boat.
In short:
Rio to Santos (8 hours). Over 300 beaches between Mangaratiba and Bertioga. At Bertioga the road moves away from the coast – but you can solve this by getting off in Bertioga and then getting Über and 2 ferries to Santos, via Guarujá.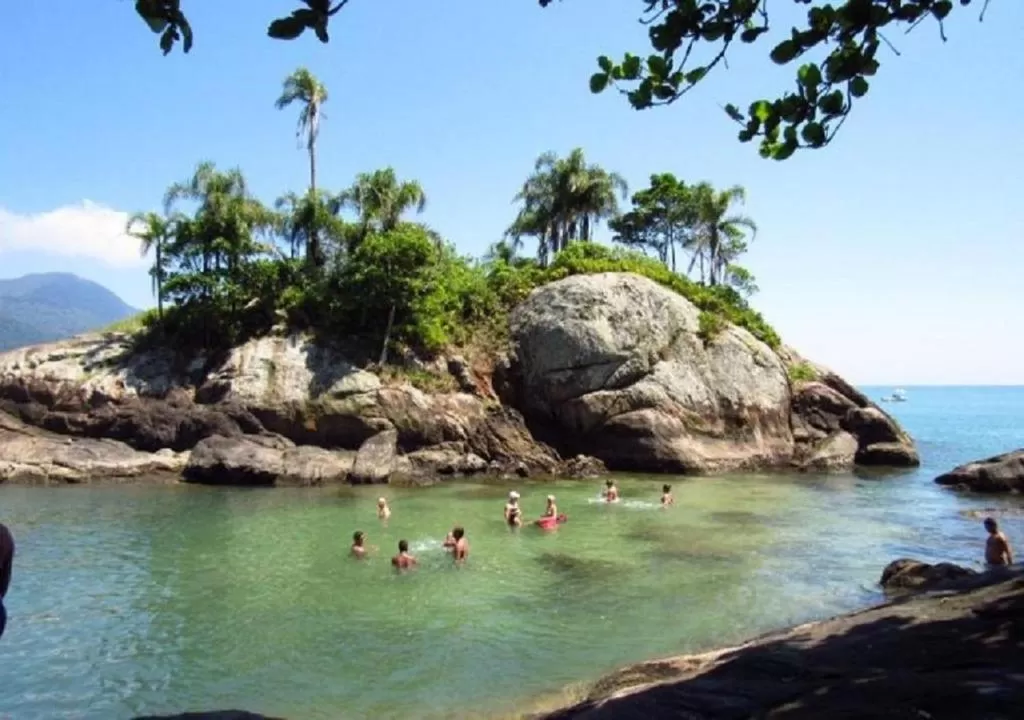 Santos to Peruíbe (2 hours) – Take the city bus, NOT the long-distance one which takes an inland road. Beaches for some 50 km, as you are on a city bus you can easily get off and visit a beach, then take the next bus for onward travel.
Peruíbe to Cananéia (time unknown) – Inland travel. There may not be a direct bus, in which case get off in Registro and get a bus to Cananéia from there. (No good coastal road, also for environmental reasons)
Cananéia to Antonina (boat)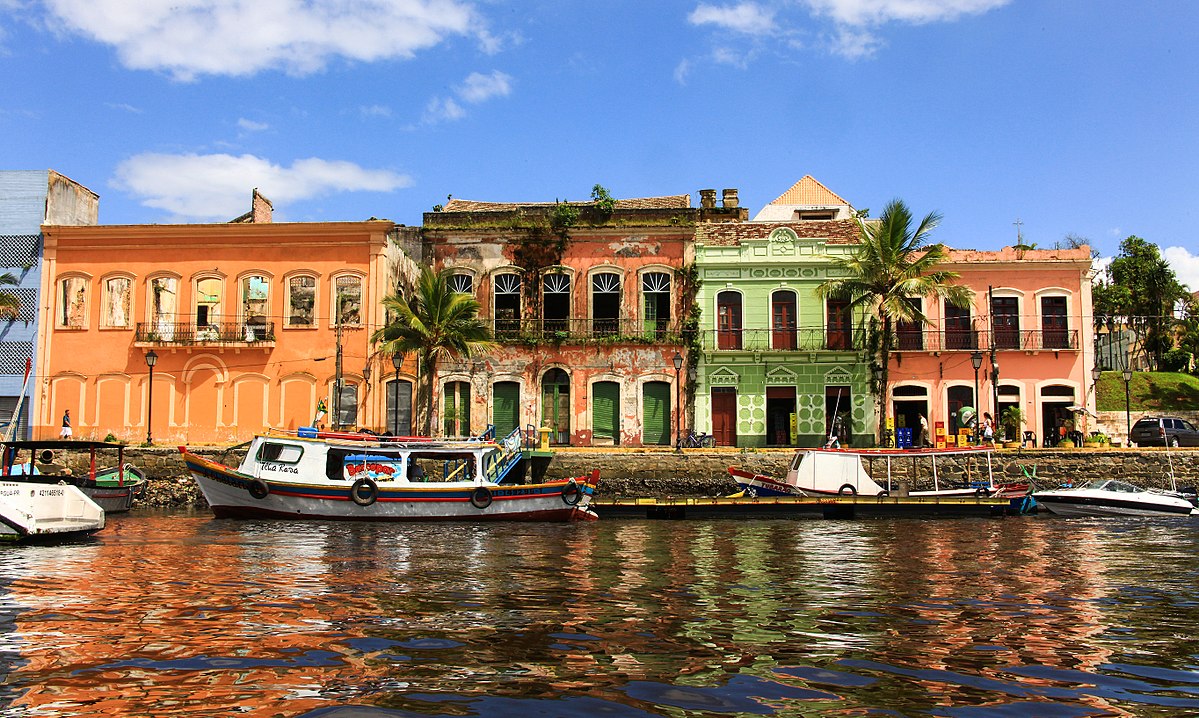 Antonina to Paranaguá (1 hour, local bus). Good mountain views, not sure of beaches.
Paranaguá to Joinville (1 hour, coach or local bus). Probably no beaches.
Joinville to Florianópolis (3 hours). The best part of the journey, with endless beaches (better than those in SP) and mountain views. No wonder the state is often called 'Santa e Bela Catarina' (Holy and Beautiful Catherine!)
Florianópolis to Bs. As. (no information, never done the trip)
Rio de Janeiro
Eager cs host: https://www.couchsurfing.com/people/pedro-paiva-7
If you are rio off course go to Copacabana and Ipenama! its lovely!! You cannot miss sugar loaf mountain and Christ the redeemer.. Escadaria Selaron is nice to see as well.. Hanggliding is wonderful to do.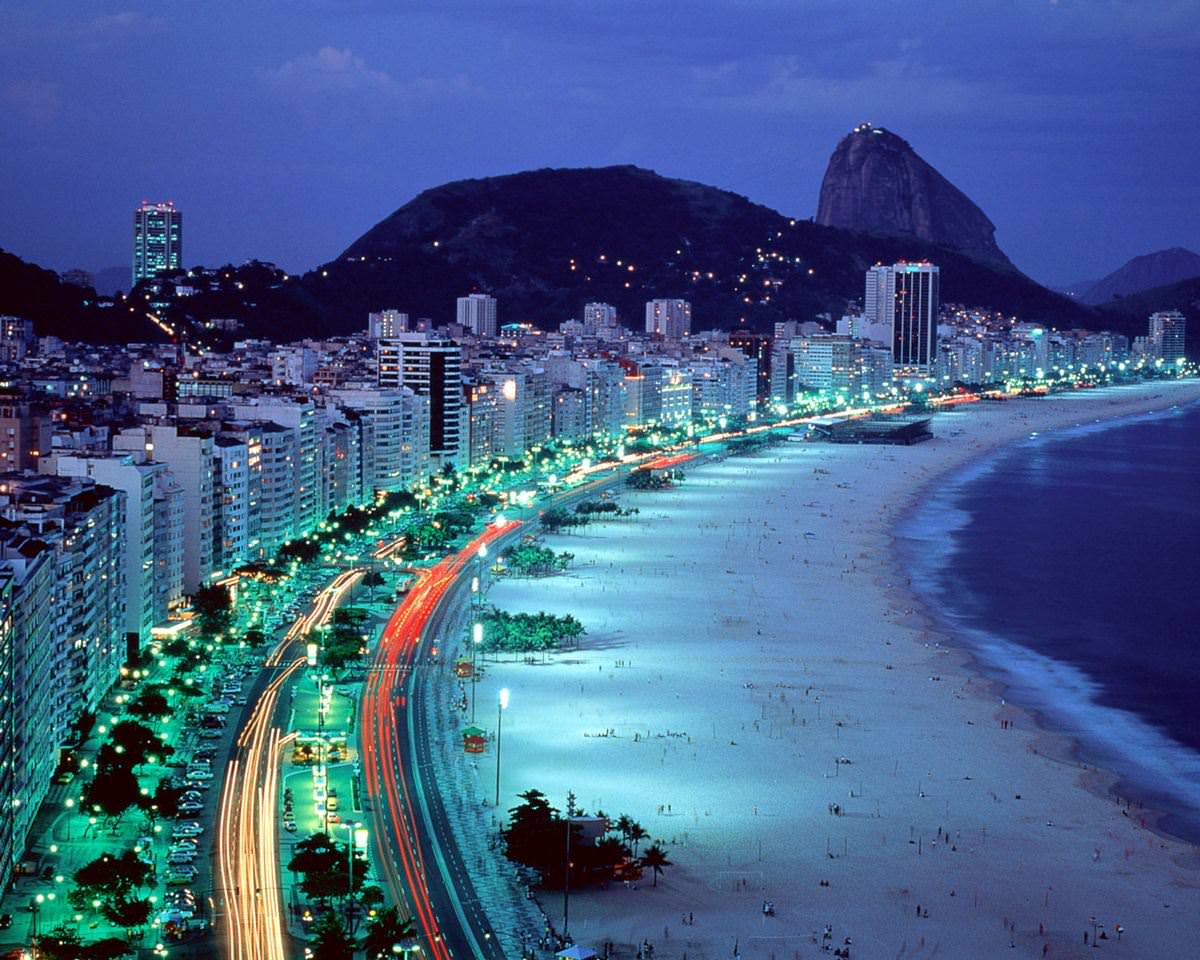 Although some parts of it have been renovated, particularly the Lapa district, where many world-class samba clubs are located. Always take a taxi when visiting Lapa and make a reservation at the club you intend to visit in advance.
After Copacabana and Ipanema: where to next
The usual choices nearby are either Buzios and Arraial do Cabo to the north and/or Ilha Grande and Paraty to the south. 
Or you could continue up the coast past Buzios, all the way to Salvador, stopping in Vila Velha, Abrolhos, Porto Seguro/ Arraial D'Ajuda/Trancoso, Ilheus/Itacare, Marau peninsula, Boipeba, Morro do São Paulo, Itaparica and into Salvador.
Buzios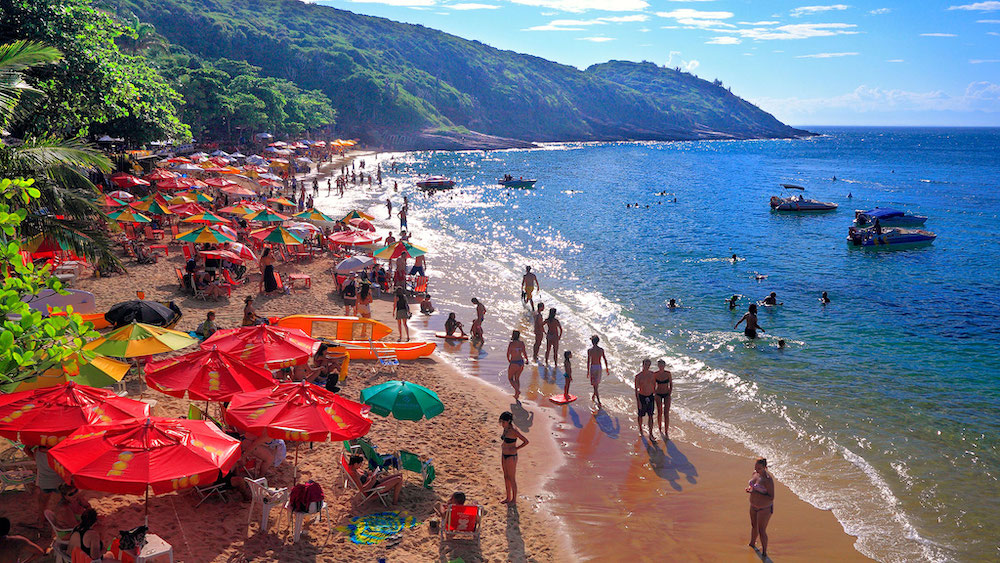 Armação dos Búzios often referred to as just Búzios, is a resort town and a municipality located in the state of Rio de Janeiro, Brazil.
A  former peaceful fisherman's village in the southeast of Brazil, Buzios became Rio de Janeiro's fanciest and liveliest coastal town after a visit by Brigitte Bardot and her Brazilian boyfriend put it on the map. Buzios is a collection of three small towns—Ossos, Manguinhos and Armação de Búzios—known for their animated nightlife, gorgeous beaches, and turquoise waters. Here are the best things to see and do in Buzios.
Party till dawn at Privilege
Under the same ownership as Privilege Ibiza, Privilege Buzios is one of the most animated and sought-out party spots in the region. Its spacious ambiance is spread over two floors, and four bars cater for the club's there-to-be-seen crowd. Its location on the Orla Bardot waterfront coupled with the thump of deep house music set the scene for a great night out.
Party till dawn at Privilege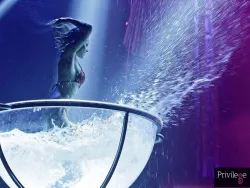 Under the same ownership as Privilege Ibiza, Privilege Buzios is one of the most animated and sought-out party spots in the region. Its spacious ambiance is spread over two floors, and four bars cater for the club's there-to-be-seen crowd. Its location on the Orla Bardot waterfront coupled with the thump of deep house music set the scene for a great night out.
Privilege, Rua José Bento Ribeiro Dantas, 550 Centro, Búzios, Rio de Janeiro, Brazil, +55 22 2623 5472
Laze the day away at Rocka Beach Lounge
This casual seafood restaurant clings to the hillside and overlooks Praia Brava beach. Serving fresh and varied seafood dishes, Rocka is the spot to go to eat good food and sip on smooth caipirinhas. The lounge chairs and beds scattered out on the terrace encourage visitors to retreat for a lie down after a wholesome meal and spend the afternoon chatting and watching the world drift by.
Rocka Beach Lounge, Praia Brava, 13, Búzios, Rio de Janeiro, Brazil, +55 22 2623 6159
Go turtle spotting at Praia da Tartaruga beach
Known for its calm seas and pristine beaches, Praia da Tartaruga is an ideal place for snorkeling, and one of the best places in Buzios to catch a glimpse of a sea turtle. The seafront kiosks provide simple snacks, chilled beers, and strong caipirinhas for a leisurely day at the beach, but be sure to stay until the end of the day—Praia da Tartaruga beach offers an unbeatable spot to see one of Buzio's best sunsets.
Praia da Tartaruga, R. da Tartaruga, 17, Búzios, Rio de Janeiro, Brazil
Be entertained on Rua das Pedras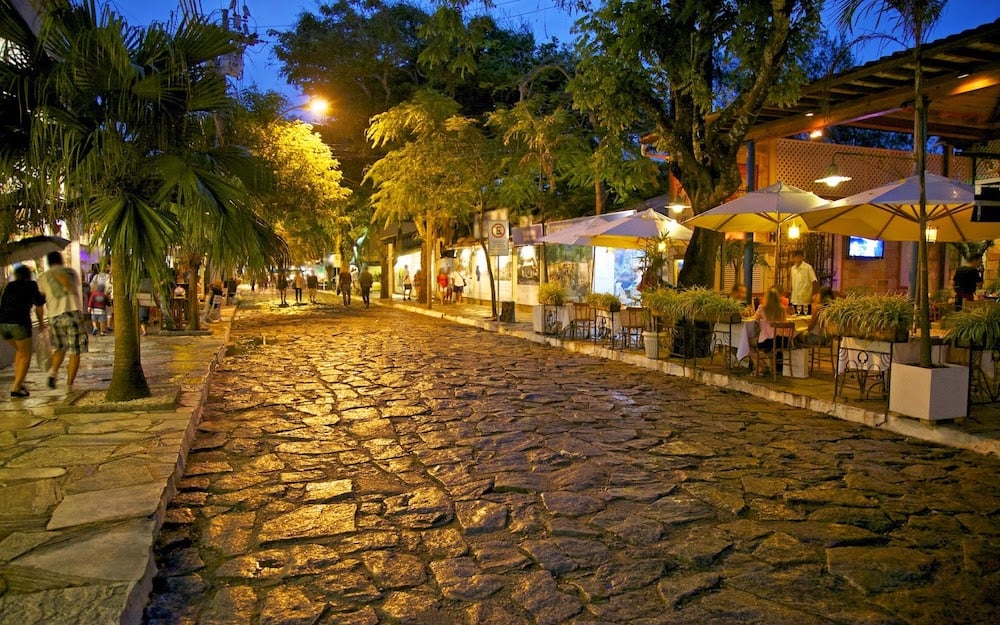 The long cobblestone street of Rua das Pedras adds a European feel to Buzios, as a reminder of the past Portuguese colonization. It's the main eating, drinking, shopping, and entertainment hub of Buzios, where people go to buy branded beachwear, or meet in the evening to drink cocktails and mingle. During the week it remains relatively peaceful, yet on the weekends or during holiday season expect the area to get crowded.
Rua das Pedras, Búzios, Rio de Janeiro, Brazil
Marvel at the red sand at Praia do Forno
Praia do Forno is a well-preserved beach with coarse red sand, and plenty of intriguing coves and rock pools that are best explored with a snorkel. The beach bar at the top of Praia do Forno beach offers a pleasant venue for a few cooling drinks and some satisfying Brazilian beach snacks.
Praia do Forno, State of Rio de Janeiro, Brazil
Explore Buzios' islands on a boat trip
There are over 20 beaches at Buzios, and lots of untouched islands nearby that can't be accessed by car. The best way to visit them is to take a boat trip that spends half a day navigating around Buzios' finest beaches and islands. Each stop includes a chance to swim, snorkel, and lounge on the shores before hopping back on board for an on-deck lunch and drinks.
Admire Praia Azeda and Azedinha beaches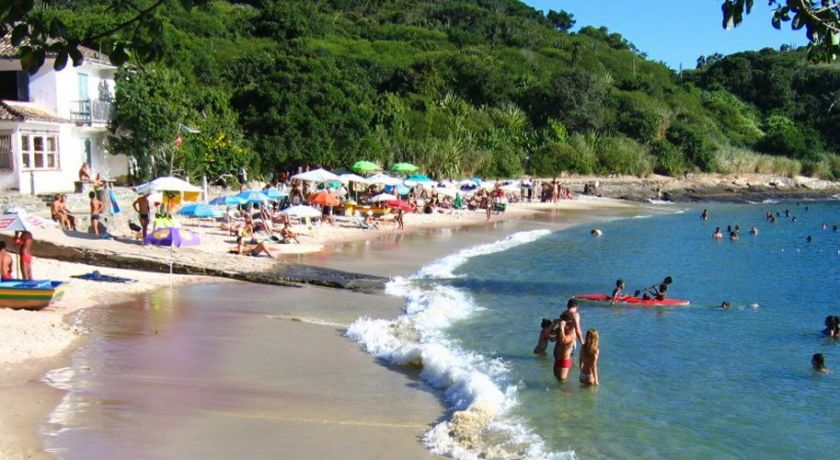 These two beaches are joined together to make one, and are considered among the most beautiful in Brazil thanks to its turquoise waters and white sands. It's best to get there early to pick out a good spot and grab a beach umbrella—being only 650 feet (200m) long means that it can get quite crowded quickly, especially on the weekends.
Arraial do Cabo
Arraial do Cabo is a coastal town in the state of Rio de Janeiro in southeastern Brazil. It's known for white-sand beaches like Grande, Forno and Pontal do Atalaia. Offshore are shipwreck dive sites and the Gruta Azul (Blue Grotto) cave. On nearby Cabo Frio Island, the ruins of Cabo Frio Lighthouse date to 1836. To the north, the town of Cabo Frio is home to 17th-century, Portuguese-built Fort St. Matthew.
Arraial do Cabo is a coastal town in the state of Rio de Janeiro in southeastern Brazil. It's known for white-sand beaches like Grande, Forno and Pontal do Atalaia. Offshore are shipwreck dive sites and the Gruta Azul (Blue Grotto) cave. On nearby Cabo Frio Island, the ruins of Cabo Frio Lighthouse date to 1836. To the north, the town of Cabo Frio is home to 17th-century, Portuguese-built Fort St. Matthew.
Prainhas do Pontal do Atalaia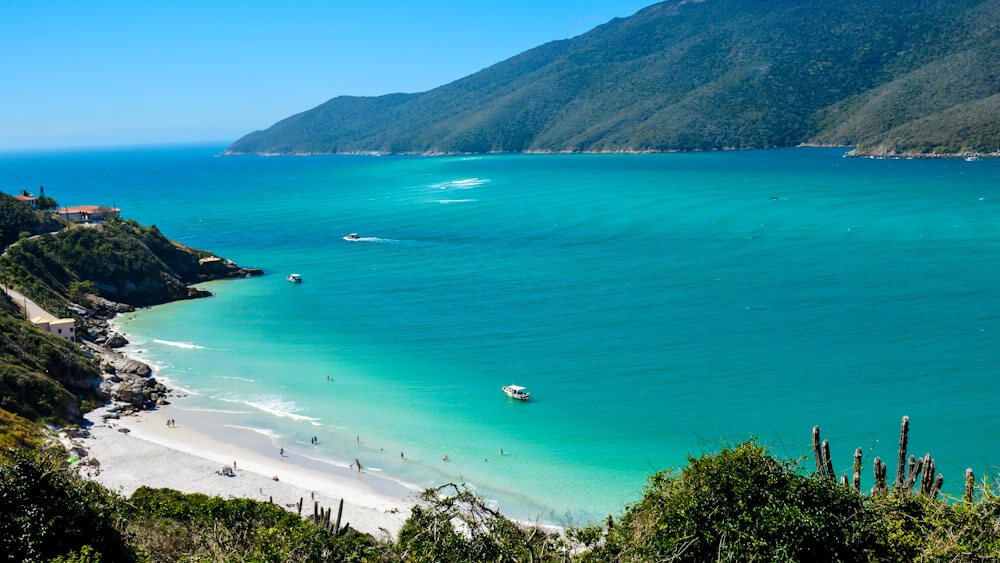 Start out by visiting some of the beaches in the area, as that is likely one of the main reasons you are visiting Arraial do Cabo. They say save the best for last, but life is short. As you turn the corner over the back side of the peninsula on which Arraial sits, you will be rendered speechless as you are greeted with a view of blinding white sand and a bunch of boats bobbing in the bay, on water so clear they cast shadows on the ocean floor.
Prainhas do Pontal de Atalaia, Arraial do Cabo, Rio de Janeiro, Brazil
Praia do Farol
Across from the main prainha on Pontal do Atalaia, you will see almost a mirror image of the beach on which you stand, but this one is more secluded. That is largely because it is a separate island not attached to the mainland, and is only accessible by boat, but it has a terrific beach, a coastal cave called Gruta Azul, and some trails through the dense bush that lead you up to the highest point of the island for a spectacular panoramic view.
Farol do Cabo, State of Rio de Janeiro, Brazil
Praia Grande
Whoever named the beaches in Brazil was less than creative, as another Praia Grande rears its head in Arraial do Cabo; but if you decide to walk up or down the beach, you will soon see why it bears the name, as it is simply enormous. Two beaches run down both the east and west sides of the town and Praia Grande occupies the whole west side just a five-minute walk from the center of the town.
Praia Grande, Arraial do Cabo, Brazil
Praia dos Anjos
This is one of the more happening, crowded beaches in the area as it is directly accessible from the town, but it is a great place if an open beach bores you and you would like to be entertained with some beach activities. They have two nets for beach soccer, restaurants and cafés close by, sand dunes, and dozens of boats floating in the harbor.
Praia dos Anjos, Arraial do Cabo, Brazil
Praia Forno
A short stroll from Praia dos Anjos will give you a terrific view looking back at Arraial do Cabo, and as you continue on a little farther and the hill starts to slope in your favour, you will be exposed to another gorgeous view – this time of the secluded Praia Forno, or "Ovens Beach." A horseshoe bay is protected on all sides by jungle-covered hills, and the warm blue water laps up against a thin strip of beach lined with basic restaurants and bars where you can get a bite or a beverage.
Praia do Forno, Arraial do Cabo, Brazil
Passeio de Barco
Walking through the streets, and most certainly at Praia dos Anjos, you will spot guys in vibrant shirts that say "Passeio de Barco" as they chase down cars of arriving tourists to try to sell them their boat tours. Hook up with a couple of these guys, get some prices, and pick a boat tour that appeals to you. They are all quite similar and will carry you around the open seas, visiting some of the more secluded spots around Arraial do Cabo that are only accessible by boat.
Cabo Frio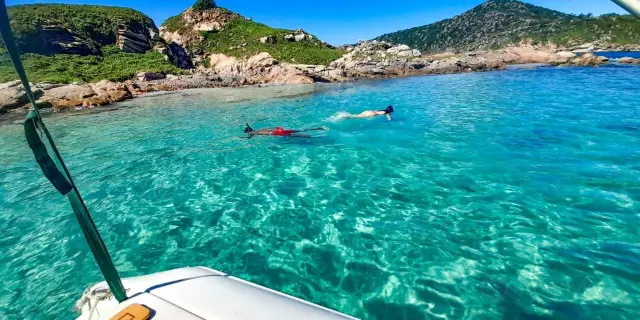 Come into Cabo Frio for a change of pace, as this little city has more going on than Arraial do Cabo, and you can find some great deals on things you might need to buy, such as cheap but suave sunglasses, or discounted yet stylish shoes. You can also vsit the historic quarter and pay a local fisherman to take you over to Ilha Japonesa, a deserted little island in the inlet.
Cabo Frio, State of Rio de Janeiro, Brazil
Armação dos Búzios
This is a town with such an elegant appearance it could teach Ipanema in Rio de Janeiro a thing or two. Walk from Praia dos Osso along the belt along the water that is lined with restaurants and bars on one side and the open ocean, islands, and bobbing fishing boats on the other, and you will end up in the historic yet trendy center of the town, where even the McDonald'shas had such a stylish makeover that it fits right in.

Armação dos Búzios, Rio de Janeiro, Brazil
Scuba dive
Go under the surface and enjoy the crystal-clear water with a certified dive instructor if it is your first time, or visit one of the dive hostels that you can stay at to take classes and practical dive exams, if you'd like to get your certifications.
Dune buggies
One of the accepted ways of getting around here is in open-roof dune buggies, and you can rent them at very reasonable prices to explore the peninsula and neighboring towns and beaches. They usually are charged in two-hour time slots, with every two hours costing around US$20 per person, so you might as well all rent your own ride rather than playing co-pilot.
Uber is good here and about half price of regular street cabs.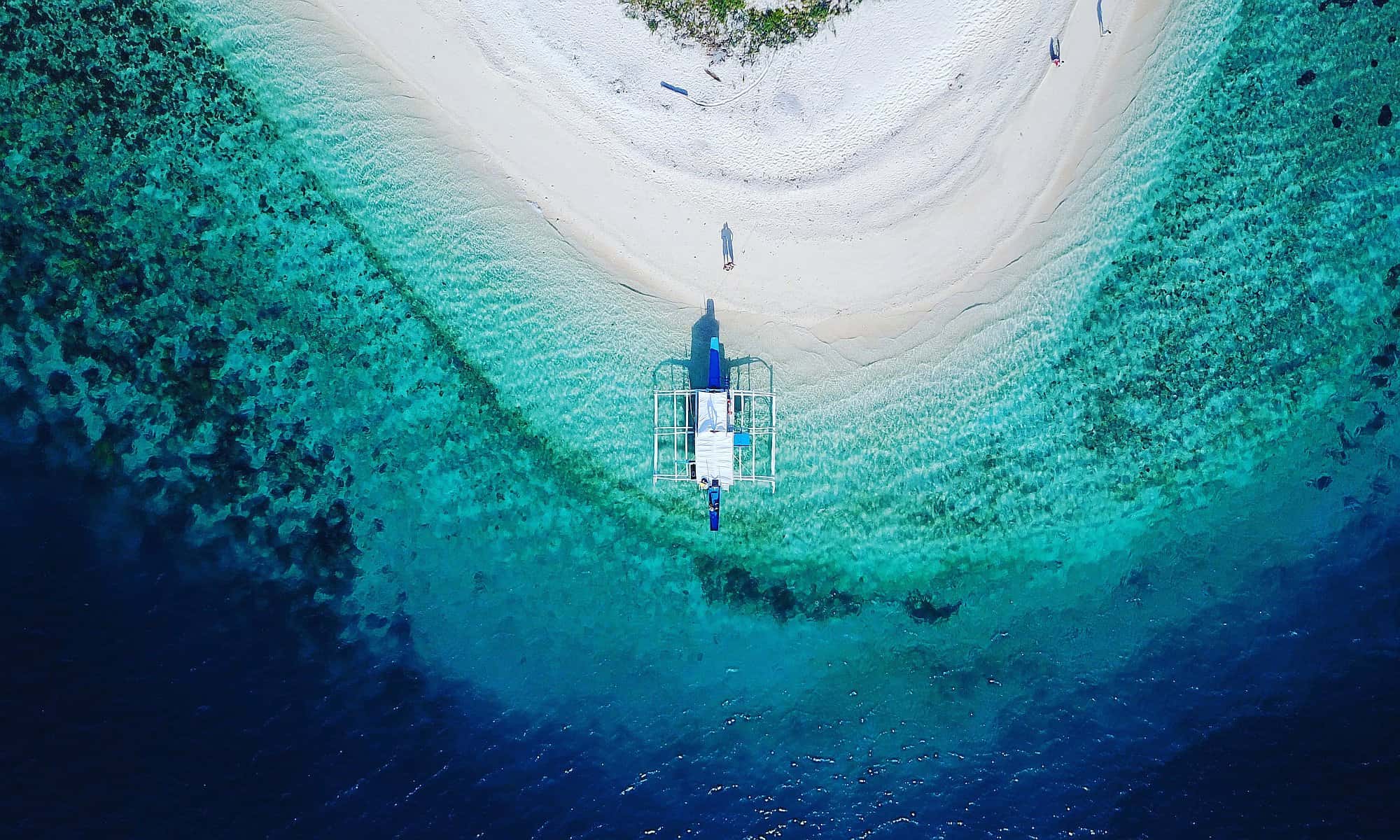 Come join us on one of our paradise island hopping boat tours in the Philippines!