Home
»
Palawan » v »
Our first flight was to Beijing, China, before flying on to Qatar, where we were allowed to stay four days before flying on to South America. One incidence of interest was that, when we were confused which line to stand in to get onto the plain, a very nervous attendant quickly escorted us past about three long lines straight onto the plane, as if she was given strict instructions to treat foreigners special.
Another memorable incident is we tried to buy a can of softdrink. After spending some time to find an exchange bureau, we got some coin but none of the drink machines worked as it seemed the coin slots were crammed shut. Everyone was buying with their phones but with some effort we found one local who begrudgingly accepted our coins to use his phone for a purchase.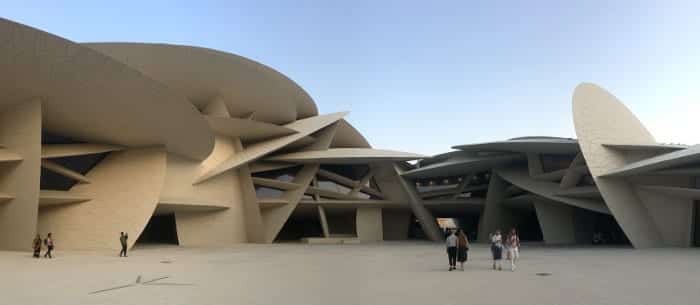 Some museum we checked out in Qatar
Before our arrival to Qatar we found a person willing to act as our free taxi and tour guide. On flying in, the city and streets were lit up like blaring Christmas lights, so I presumed gas must be very cheap in the country. Less in price than the equivalent volume in Coke we were told. Our guide took us to our free accommodation (found through Couchsurfing), which was at the house of the ambassador of a Nigeria. He was very hospitable and we felt we were treated like royalty.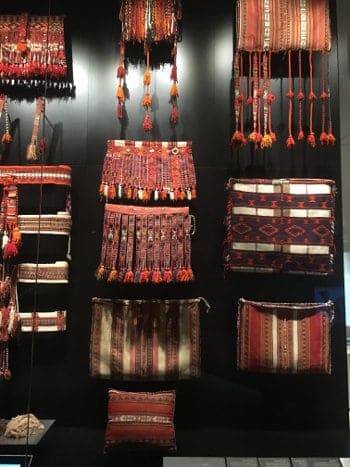 During the daytime we would take a break in our air-conditioned room to take a small walk to the local grocery store. But the air was so thick with intense heat it almost felt difficult to breath, some 50C in temperature.
On day three, according to the advice of our guide, we waited until late afternoon when the temperature was more tolerable to have a go at riding camels and dune buggies in the sand. Then it was off to Brazil.
There we stayed a few weeks for free in a basement guest room of a university dorm where Mel's friend was studying and hopped our way from one surfcouch to another, to Rio de Janeiro, experienced Ayahuasca in the mountains, across the salt flats of Bolivia and the Inca trails in Peru (part of my World Travel pages), until we ended in a small surfer fishing village as recommended by a friend of mine: Canoa, Ecuador.
A very cool and chill place where we decided to stop traveling for a while. Which was opportune because it was where Mel delivered our new son. Wrong side up in her belly, so it had to be by C-section, but we were very fortunate since health care is free in the country, even for tourists!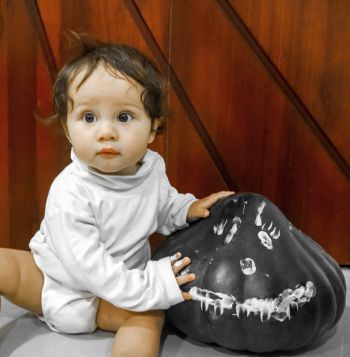 Excited to find a wonderful and affordable housing only two blocks from the beach, we started making various purchases for our budding new family and longer term stay, which included windsurfing equipment totaling almost $4,000 including shipping from the US. These purchases drained our reserves dangerously close to zero, but that is okay because our costs are relatively low here and our boat tour business back in the Philippines is operating at full force.
The surf equipment finally arrived and I managed to take it out about three times before covid happened. We were no longer even allowed to enjoy the beach, but it did not take long for the local law enforcement to get lax, allowing us to drink a few beers in one of the many closed snack bars, not having to wear a mask, and eventually I was able to take out the surf board again as well.
Perhaps the lockdown and lack of allowed activities resulted in my increased beer consumption, but at one point I woke up from a morning "nap" surrounded by a small group of worried people. Apparently I had suffered a seizure and was out cold for almost an hour. I had epilepsy as a child so I presumed it must have resurfaced.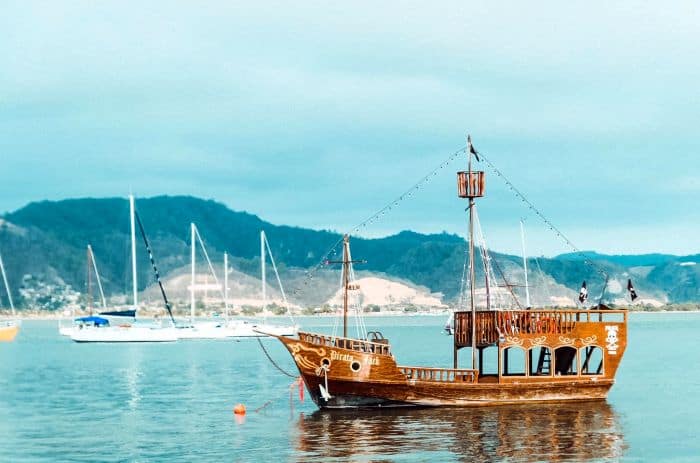 Once the lockdown sufficiently lifted, we spent a month in the capital to arrange paperwork. We decided it was too risky to stay in the country, expecting a second wave at some point. The conditions to stay here had also changed, requiring apostatized proof of a clean criminal record from every country we stayed in for the past five years, impossible to obtain for the both of us. And to take our son out of the country we needed an apostatized birth certificate with an Ecuadorian passport and a long list of documents with certified translations from various embassies. The amount of paperwork to get the three of us out of the country back home was insane, but at least our son will end up with four passports (Canadian, Czech, Ecuadorian and Filipino).
It was in the capital that my hemorrhoids started acting up again, the second time in two decades that it ballooned to stage four severity. I slept like an ostrich with its head buried in the sand, my ass up in the air with the fan blowing on it all night. I could not sleep at all and Mel my nurse wife decided we had to go to the emergency ward of the hospital.
Fortunately, medical care again was free, I spent two weeks in the hospital, where I mentioned my previous seizure so they sent me through a long line of diagnostic tests in the form of EEG, MRI and even ECG. At the end of it I was quite surprised to learn that the cause was improper sleep. The lockdown had put an abrupt halt to our boat tours business. Customers were asking for refunds and our paypal account was draining quickly. So I transferred what I could to my bank and scrambled for another source of income. A few years ago the boat tours became successful enough that I decided I would no longer accept translation work. I held my finger over the Quit button, but my gut instinct told me it wasn't a good idea. So instead of cancelling my account with my top customer, I set up an email filter to automatically delete all their emails. Once I removed that filter the job offers started pouring in again. Unfortunately, it takes them a month and a half to pay once work is completed, but fortunately they owed me about $497 while I had set the payment threshold at $500. Hence, unbeknownst to me, they had been holding onto this sum all these years and it sure came in handy.
Because most of the project managers were located in the Czech Republic, I shifted to a routine of waking up at 1am in order to start accepting work, usually ending my work shift around noon. This combined with my overall stress due to the new situation and my increased beer consumption disrupting my sleep, the doctor explained that I was not getting enough deep REM sleep, during when our body stabilises its electrical rhythms, this lack of stabilising resulting in my seizure.
Once the lockdown completely lifted on December 12, over a year since we started our travels, we were given only 30 days to wrap up our affairs to leave the country. We went back to the capital to finalise matters at some of the embassies and borrowed funds from several sources to cover the expensive flight back. It was difficult to find a route that could accommodate our various passports, especially Mel's Filipino one, and to find an airline able to take my surf equipment, but we finally settled on Turkish airlines. And what a trip it was, with 20+ hour layovers in Panama City and Istanbul and the long flights in between, it was, it seemed, an outright miracle that we managed to transfer our mountain of accumulated stuff, the baby carriage, and an unbelievably well behaved nine month old baby.
Now we are safely back in Iloilo City, staying at the parent's place, but a new Covid strain has surfaced in the UK, so to avoid another lockdown we decided to make our stay here short so we can head to our dream location of Siargao. Back to the beach and lax rules where another lockdown will be more tolerable. Our plan is to get a loan to buy some property to develop it for tourists once these lockdowns are properly lifted. Perhaps after they try to vaccinate the world, for it might only be possible to travel once vaccinated. Not in our interest, so preferably to settle down in paradise and let the world come to us. Grow vegetables, hook up to Starlink internet, get off the grid with solar panels and wind turbine, and try to carve out a quiet niche in this increasingly insane world.
Home
»
Palawan » v »
recommends
I was looking for a personalized excursion to the beautiful bay of Bacuit. Seeing the comments, I contacted Mel. Very responsive, very efficient and perfect organization. The crew were very friendly and very helpful. And I'm not even talking about the meal on board...a marvel. In all fairness, this excursion will remain an excellent memory and I can recommend Mel and his team highly enough. A big thank-you.
André Mardoñal
2019-10-22
recommends
⭐⭐⭐⭐⭐ The island world of Linapacan between Coron and El Nido with the clearest waters in the world is truly a dream for itself! Without a boat you won't be able to see it! But what this boat trips makes so amazing is the crew! Once you come on board they might be shy in the beginning but will make you feel welcome and home from the first moment. Not only that they are looking that you sit comfortable all the time, they will prepare fresh and delicious food what the buy from local markets. They know the best spots and most beautiful islands and will bring you to places where you get this "Robinson Cruisoe feeling". Every day you visit 3 to 5 spots for snorkeling, enjoying a beach or exploring a little island. The accommodation we had was good and simple. We slept in bungalows and tents right at the beach. Sheets and towels were always provided and sometimes towels. After a while you feel like a family on board. We loved living the boat life didn't wanna leave! If you doubt take a longer than shorter trip! For any questions please message me.
recommends
All in all it was a really great experience. It's a once in a lifetime thing to do and you won't get more authentic and basic Philippino experiences anywhere else. We were not so lucky with the wind and waves so we couldn't do all the stops we wanted to unfortunately. So be aware that especially the months from January to May can be very rough on water. But we still saw some great places Benji took us. Benji and his family was very nice and they did everything they could. The food was amazing - always freshly made in authentic Philippino style and way too much for the 2 of us. Make sure to bring enough cash - many of the islands cost extra (entrance fee) and be aware that any kind of accommodation and food (200php per meal) is not included in the boat fee. Also the deposit and commission fee for the agency are a little over the top, especially since the crew does not get any of it. The costs all in all are rather high for phillipino circumstances especially given the basicness of it all. However if you think about that all 5 boat people (in our case) live off of the boat fee alone, you spent the money willingly. Be aware though that accommodation and sanataries are very basic if even existant. So you gotta have the right mindset. Bring tissue, sanatiszer and earplugs to get some better sleep. Another feedback I have concerning the size of the boat. I don't think it is sufficient for more than 4 people. If the weather is like it was these days, you always have to sit on top and it was already a little squeezy with us 2 and 5 boat people. So I guess 4 guests can be fine but more than that won't have the space. There is different boat sizes but make sure to talk about that with Karel in advance. Other than that it was really worth it and we got to see so many great beaches and reefs which we could have never been able to visit without the tour.
recommends
It was scary to book a 5 day trip with no places to stay confirmed or a strong itinerary. And in the Philippines, communication is difficult. But that is part of changing mindsets to a rural island mindset. In the end, everything worked out. We had some tough moments with bugs. But we also had some amazingly beautiful secluded beaches, the best snorkeling in the world, relaxing on the beach, and freshly made food on the boat while docked at beautiful places (better than being on land). Note, we went with Benji. Recommendations: - you must get a local SIM when you arrive to make sure pickup and everything works out - some islands have bugs - use bug spray! Pros: - a fraction of the cost - away from the crowds - can customize what you want - just ask! - a truly local experience - saw a REAL rural town Cons: - locals aren't really polished tour guides - if you don't ask for it, you won't get it, need to be pretty proactive - pretty simple "activities" - no frills like bathrooms or kayaks etc.
recommends
We can't be more grateful to have had the opportunity of experience the peace in Patoyo Kitesurfing Camping! Spending two weeks in Dimancal Island, gave us the chance to experiment the rural and traditional way of life, in touch with the nature and people. We have learnt how to cook with fire, how to open a coconut and how to survive in an environment where for a time we forget about unnecessary needs, just to focus on enjoy the small details and pleasures of life. Mentioning too the amazing snorkeling and beautiful islands around this place, which make it unique​ and special. It is a lovely option if you are running away from tourists and overcrowded places in the Philippines. You will find yourself in the middle of virgin beaches and nature, surrounding​ by charming people. We will definitely come back!
Caroline Danielle
2017-02-13
recommends
We haven't done a Tao tour, but I would suspect that this is a cheaper version of the same thing. Our boat operator (Benji) and the entire crew were were fun, friendly and made an effort to ensure we had a good time. If you get a large group of people together it can be a really inexpensive alternative to other Coron-El Nino and vice versa island hopping tours. The food was good, but more expensive than as advertised by Karl. The price quote we got was 100 php a meal, but the boat charged us 200. Since the food was good we didn't mind the extra expense, but it is important to keep in mind if you're on a budget. Definitely plan for some incidental spending. Our boat did have some mechanical issues and as a result we ended up being stuck in the same place for longer than we wanted to be. That being said, little could have been done about it and the trip was fun nonetheless.
Hauk Are Fjeld
2017-01-01
recommends
If you believe that doing the touristic tours in El Nido and going to "The hidden beach" takes you off the beaten path, you are wrong. There are lots of beautiful places in Palawan, but few of these places are without any other tourists. If you want to spend some extra effort on getting away from the tourist places, and don't mind a little "primitive" living, Island Hopping in the Philippines is definitely something you should check out
Arnold Cabiguen
2015-05-08
recommends
The snorkeling in this area is phenomenal. Clearest waters in the world. I guess it's because there is relatively such lower tourist traffic through here, and the locals really protect the reefs!
recommends
Love it so much, just had to say it twice!