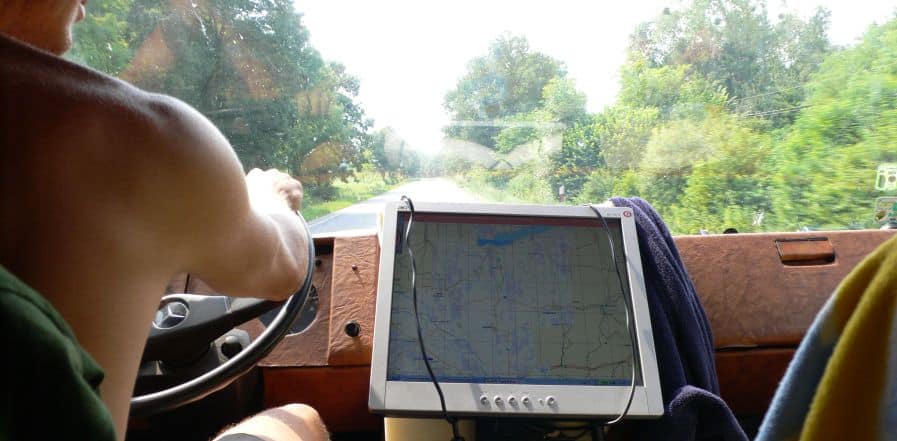 Buy a Camper Van / Motorhome / Caravan for Sale in Europe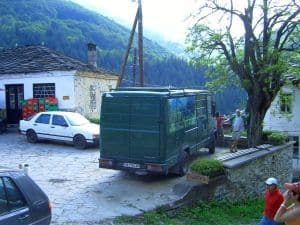 image gallery
It's been quite the adventure these past five years but I have decided to cut the umbilical cord and leave the truck behind in Europe while I travel the rest of the world, continuing my internet-based work out of a backpack.
The truck (Mercedes 709D) served me well over the years and I have not driven it that much, and have been investing money into it to bring it up to great shape. I'd like to sell it as a ready-made package and here are some of it's key features:
inside carpentry work my own (how to design a caravan)
two 110W solar panels on the roof which can be tilted to better face the sun (although I rarely find the need), complete with regulator, two 285 Amphour batteries – plenty of battery power to run a laptop in the dark until morning, and plenty enough power during a sunny day to run everything (Caravan Electrical Connections). I ran my company through the internet while on the road, so designed as a mobile office.
sleeping room for 6 and sitting room with seatbelts for 7 (including driver). Dimensions are 6.5m long, 2.3m high and 2.2m wide. I am six foot or 180cm tall and, even with the thick insulation and woodwork, I can stand up straight inside or stretch out along the back bed.
1,400W stereo with four 50W speakers and one 200W woofer. Open up the backdoors and make a great outdoor party!
image gallery 12V LED lighting to help conserve energy.
120 and 240V inverters and smart adapter (converts the solar 12V system to either US 120 V or Europe's 240V. The smart adaptor converts the 12V directly to the 16V or whatever your laptop requires, which saves about 30% energy consumption – instead of converting it first to 240V and then back down to 16V using a standard adaptor).
12V electrical cooler that can be easily carried to the beach.
even though it has already been driven 600,000 km (I bought it used), its Mercedes diesel engine is flawless and starts every time without the slightest hitch. I've been told by experienced mechanics that these old Mercedes trucks can go as much as 2.5 million km.
fancy GPS system (large LCD panel can also be used for watching movies, in combination with the super stereo).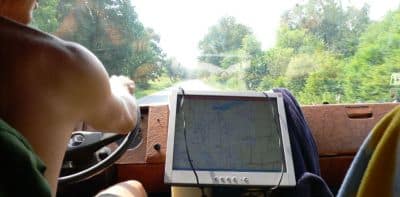 alarm system with sensor and which can send you a text message any time it is activated. With your phone you can hear what is going on in the truck and also speak through the built in speaker. On command it will also text you its GPS coordinates.
the bottom of the metal casing around and under the truck has been entirely replaced in the fall of 2010 and the entire truck repainted, also with rust-protective paint.
other parts have been replaced over the years such that it is in practically mint condition.
fairly new tires which should still be able to handle about 30,000km.
underneath the back bed is a solid metal safe which can be used for additional storage.
2 removable racks for the roof and a bag of bunji cords to strap down bikes, skis and so on
complete with all the gadgets one might want while traveling, such as 20L portable water container, portable volleyball net/court, tennis racket, badminton rackets, 2 lawnchairs and three smaller, foldable chairs, 7L pressure cooker and lots of pots, bowls and cutlery etc., a larger propane tank that can be filled up for 10 Euro at gas stations (lasts about 9 months) with two adjustable stoves and a separate collapsible camping oven/stove, maps of much of Europe, board etc games and games for the water (snorkeling gear, plastic tennis set, nerf football), all the tools I used to put it together and lots more (decided to just get rid of everything and start over on another continent).
It is currently on Bulgarian plates, because insurance is much cheaper here (about 200 Euro a year) and I do not have to pay for any insurance while away (in case I don't manage to sell it). I can help you get a Bulgarian ID if necessary and you can come stay in the truck with me for a little vacation on the Black Sea coast to give it a test ride and check it out in detail.
I designed it this way because I did not want it to look like a campervan but rather a commercial vehicle which can be parked in a city without drawing attention to the police. So far I've never had a problem. It is painted green so that it can park in nature and be camouflaged.
My asking price for everything is 25,000 Euro, or best offer. Send me an email if interested!
Check out how couch surfers raved about it when I hosted them.
Check out one of our very fun road trips.
Picture gallery of my travels.