Coron was fun, as I ended up staying around three weeks with my friend (above video) up in the mountains around Coron. Occasionally we'd hop on his bike to go downtown or to the beach. His bike didn't have breaks so he putted forward at a slow speed, using his manual gears to slow down when needed. Although the teeth on his gears were worn away from the practice and the chain would often slip a few in the process. Overall a scary prospect, but I went with him most of the time he left his enclave.
Hanging out jammin' with the boys at the Happy Hippie House
While in the hood I thought I'd take advantage of the moment to round myself up boatmen in the Coron area. So far my endeavours had failed. I'd walk down to the new market where all the tour boats hung out, their operators playing chess or smoking cigarettes waiting for tourists. Each time I appeared a group quickly formed excitedly around me hoping for business. I'd explain that I have a website with guests regularly looking for reservations. And each time the boatmen would ask "how many guests?" And each time I'd try to explain that I do not have any guests at the present moment but this is about future reservations and finding boatmen capable of responding to mobile text messages whether or not their boat is available on a certain date.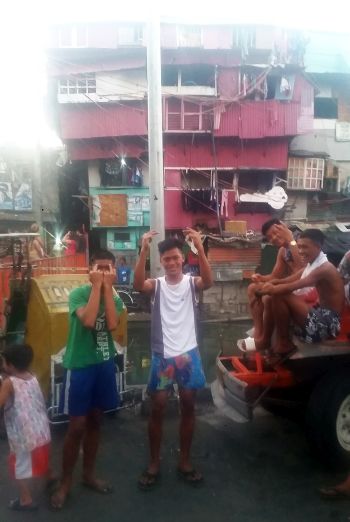 Wandering the streets of Manila, greeted by the friendly locals.
Each time I'd go down to this market I'd get another contact or two, but when I went back to the island and got a reservation request, I'd text some of my new contacts, but always with dismal results. Next time I was in Coron I went down to the market again in search of more boatmen. A previous contact was in the new group surrounding me, when he said, "Sorry I did not respond last time, I didn't have any load." What, ONE peso? When I am offering him thousands of pesos in potential business, just for a single reservation? I was getting tired of the Coron boatmen. A manifestation of the great Filipino laziness and money gouging uselessness I have been almost getting used to during my three years stay in this country. I collected some more phone numbers, unfortunately with the same results.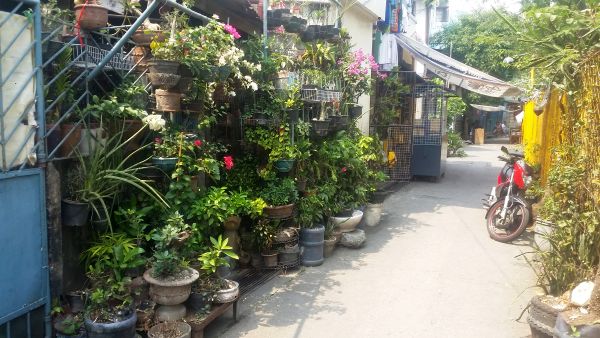 There is such a lack of parks in Manila that some compensate outside their homes this way.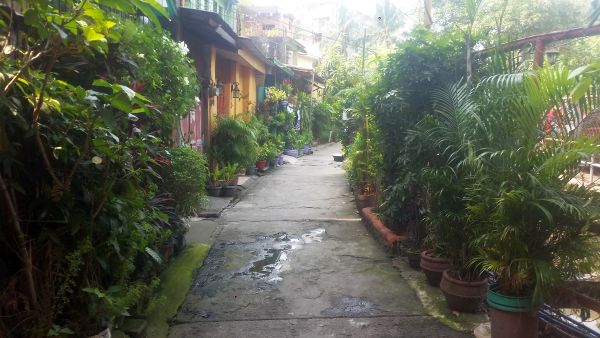 On this last visit I confronted the group and said I was not interested in collecting a few phone numbers but asked how I could get the phone numbers to ALL of Coron's boatmen. Managed to get the secretary in the office of the local tours organisation to email me the list of almost 300 local and officially registered boatmen. Now I was ready to get down to business. I found an online service which enabled me to send a text message to this list of 300 for an affordable rate. I sent out my message, asking them to respond back to my regular number, but after a brief flurry of questions and answers among a small handful of respondents, I was disappointed that this campaign had yielded only one single respondent seeming to have sufficient competence or reliability, but even who turned out to be a dead end.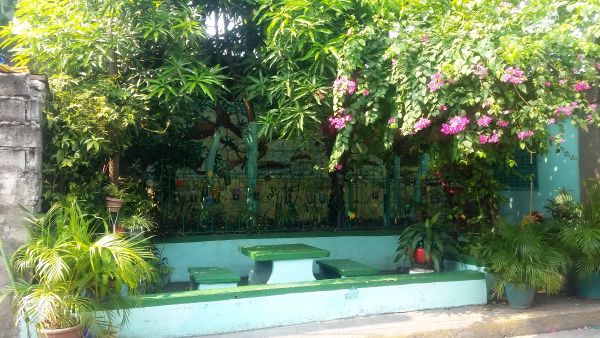 Increasingly, in this highly Catholic country, building a business here seems like the bible refers to as building a house on quicksand. It seems that texting and expending the occasional peso to secure a future reservation is too arduous a task and that the locals seem quite content to play chess game after chess game and smoke cigarette after cigarette waiting for tourists to walk into their laps.
When communicating with guests, I am often complimented by the wealth of information I provide (even though most often a simple copy/paste or autoresponse) and the speed in which I respond. Perhaps that stems from decades of translation – I can both type very fast and I am used to responding quickly. In the end, perhaps I should be grateful for the local laziness and unresponsiveness, in that this will give me the edge for future expansion. I'm told by my guests that even my mighty competition of Tao Expeditions is frustratingly unresponsive to simple questions out of the box.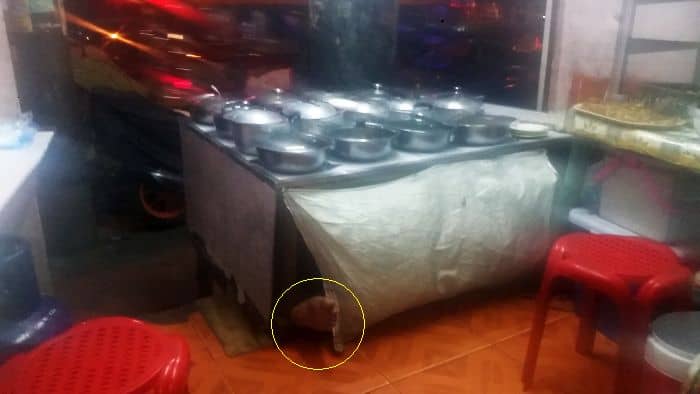 One thing they can think out of the box about is where to sleep!
In fact, I often pondered over the possibility of hiring someone to answer all these questions on my behalf, in order to free up some of my time to expand in other areas, but that honestly will be a difficult task. After all, it is me who has travelled through these areas and the questions are often very specific that require a broad knowledge and some serious thought to get the answer right. Each answer is essentially a sales pitch to get someone to pay the reservation deposit (my income), so correct wording and substance is very important.
Alas, it is still a more interesting job than translation. In the beginning I was getting very frustrated answering all these questions and worked on ways to streamline or automate the process, but in the end I resigned to the flood and accepted it as my new job.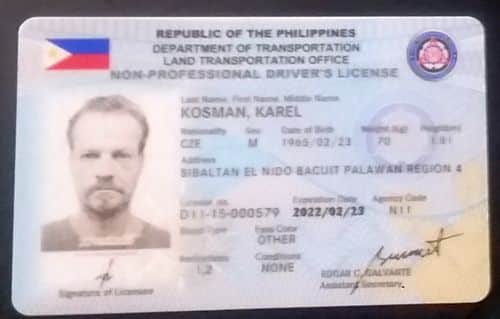 In anticipation of my upcoming exploration of the Visayas region, while in Manila I got myself a driver's licence. Why does it seem that with every new photograph for the authorities I look more like a criminal? The doctor said I must be kidding during the test and I was forced to get some prescription glasses. To compensate for my picture, decided on kind purple frame and this is my practiced happy face for any police who might feel compelled to pull me over.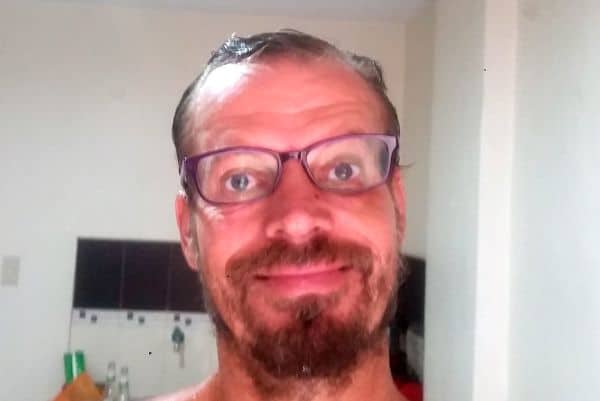 Manila
Left a big chunk of my belongings with Rodney. The plan is to go to North America, set up the bank accounts etc, then fly back to Manila from Los Angeles, go back up to the Coron mountains for a week or two, and pick up my most needed belongings to take east, my new destination.
Now, with only a single, light backpack, I took my favourite way to Manila – the 2Go overnight ferry. Found my bed and made a quick and instant beeline to the bar upstairs, where they had already begun warming up for the karaoke evening ahead.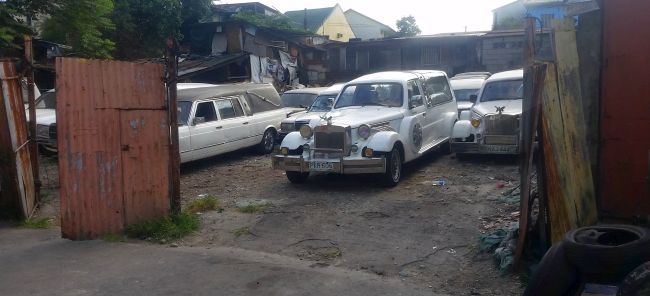 Being one of the first to arrive there I secured for myself a nice table and chair, in which I set myself for most of the evening. But after a few beers I overheard one of the singing guests as coming from the Czech Republic. Did not take long to spark up a conversation and we ended up chatting and joining other groups until around 5 in the morning.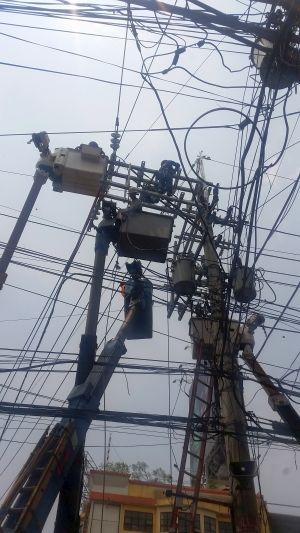 Woke up in my bunk bed, mouth gaping open as I snored upwards while a local prodded my feet with a stick, "Dude, get up, we're in port!"
I walked to the agency which had been handling my visa extensions for me, and with them went to the bureau of immigration to get my exit visa (yes, now one needs permission to leave a country).
After learning that holy week (Easter) was coming up, when Filipinos like to walk in procession and whip their own backs, splattering blood on bystanders, I realised I had to take an earlier ferry to Manila, since the immigration office will be closed during this period. That forced me to stay more than two weeks in Manila, not a pleasant prospect.
Picture left: somewhere in that mess of wires is a worker fixing something.
After failing to find a free couch, I resorted to an airbnb place within walking distance from the pier, visa extension place and the bureau of immigration. And it was a painful two weeks indeed.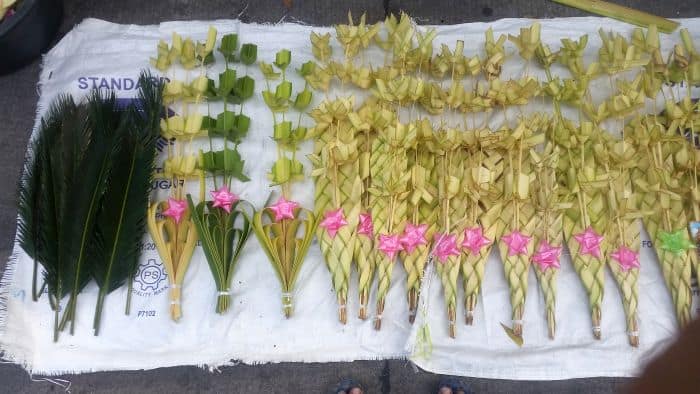 During holy week the locals would make and sell religious ornaments made from nature.
Not only were there no windows in my small hotel room, but the neighbourhood was devoid of much to do. During this time I must have walked at least 50km in my sandals, scouring the neighbourhoods in search of leisure and preoccupation. The bars at night were mostly dark inside with flashing disco Christmas lights and where I would often be approached by a girl or boy pretending to be girl if I want a companion. Not my cuppa. I managed to find only a single park, the city's only official one. In the end I invented my own passtime by walking in different directions from my hotel. With my fancy maps.me app I bookmarked the gps location of the hotel and returning home after a long wander was a simple matter or pressing the Go To button – a simple path was chosen for me and it was easy to stagger my way back, dropping in on the occasional 711 to exchange my emptied beer bottle for a new one.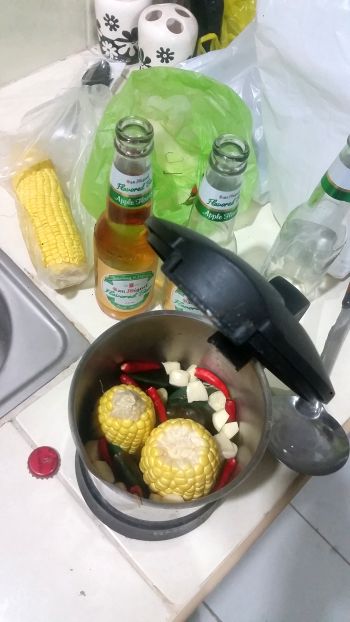 Picture left: discovered corn and clams in the local market, both of which I had not had for a very long time. Might as well put to some use the hotel room's water kettle (garlic and hot peppers added – totally delicious!).
Even though the country's president had recently passed another draconian law preventing one from drinking in public, I always had the tourist advantage that I could play dumb that I did not know. In any case, because of the location of the hotel, I most often found myself wandering through poor areas where it did not matter, and if I was lucky, I stumbled on street markets.
That is where I found the most interesting action. The real life of the party. I'd often be called over to join a group for a few shots of brandy before moving on. Here is one funny example.
How to get a haircut in Manila
Will be going to Canada for a couple of months to visit mom and, not only do I want to look nice and presentable to her, but also for the border guards, who are becoming increasingly Nazi police state post the 911 inside job. Lots of barber shops in the hood where I'm staying at in my Manila airbnb place, all around 50pesos (about a buck). It was easter Thursday, start of holy week here, and I decided I did not want to spend another day in my dark, windowless room in front of the computer but to wander around and see if I could see any street festivities or blood splattering from locals carrying the cross and flailing themselves. Stopped in the nearest barber shop, just across from the local 711 where I spend most of my money restocking my beer supply. Gestured that I wanted to trim my beard and even had a speech prepared that I had been cutting my own hair for the past 30 years for various reasons, one of which is I grew tired of explaining to barbers what I wanted, only to watch them do what they do all the time by habit. Which would be worse here considering their usual style is what I like to call the Filipino rooster: buzz cut on the sides and the hair fluffed up on top and at an angle. This barber seemed not the exception and sent me away with a grimace.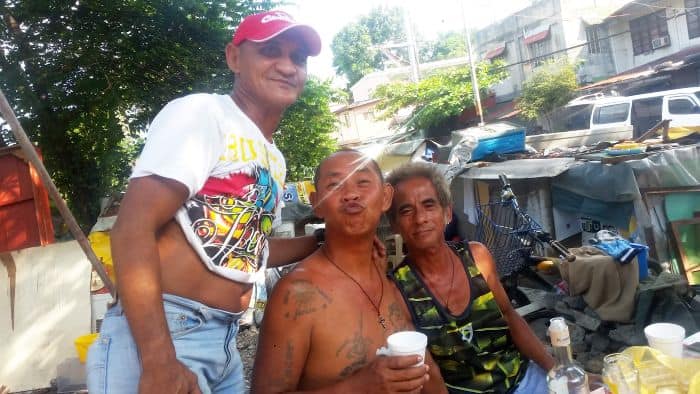 Met this family on one of my strolls. They live in shacks homemade from garbage, right next to the railroad tracks. They invited me for brandy and snacks. Amazing how people can be so happy with so little.
So I wandered the streets in search of some blood splattering, at the same time keeping a casual eye out for barber shops. Followed my maps.me guide to what I recently marked as a party part of town, where many streets are filled with little stands, children running around, the alleys full of life, and almost as important, frequent 711s so I could be assured to always maintain a beer in my hand.
Was walking down one busy street when a bloke called out the customary, "Hey Joe, where you go?" We chatted briefly and then he remarked, "Want a haircut?" waving his hand to the side. I had to bend down so I could look below the awning, where there was a little barber shop sign. But they were suffering another brownout and said it could not be inside because there is no electricity and not enough light. They quickly brought out a chair for me to sit on. I asked if they had a mirror, which they said they did not, so I told them I want to see what he is doing and started to walk away. I do not want to look like a rooster!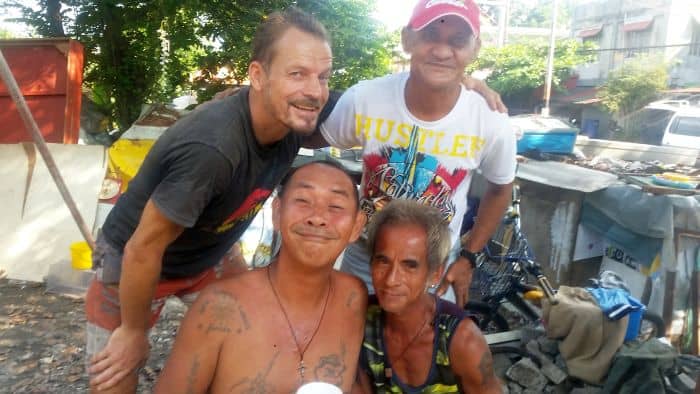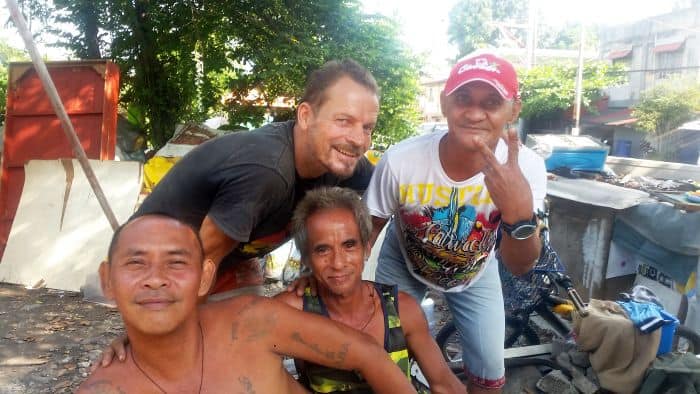 As I was about ten paces gone I heard a squelch, turned around and saw my friend gesturing for me to come back.
On arrival he produced a small mirror, which apparently one of his friends had ripped off the handle of his motorcycle. I held that in my hand while the show started. I asked if I could get a beer, at which point one one-legged fellow with crutches leaped off his seat offering to come to the rescue. I gave him a 50 note, he gave me a cigarette as bonus and I said he could keep the change. My friend jokingly told me I should watch out for this guy, not trust him, and that he lost his leg because he got too drunk.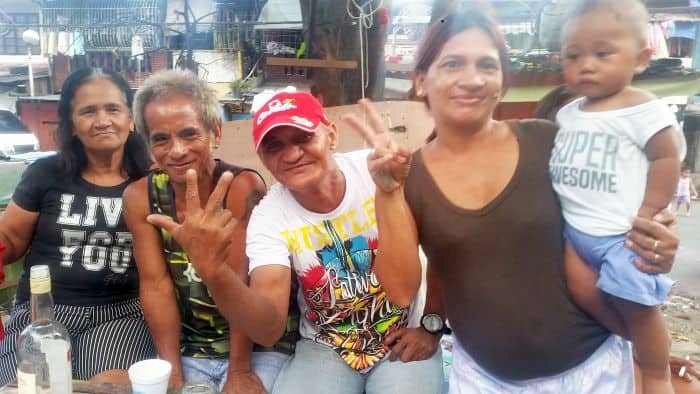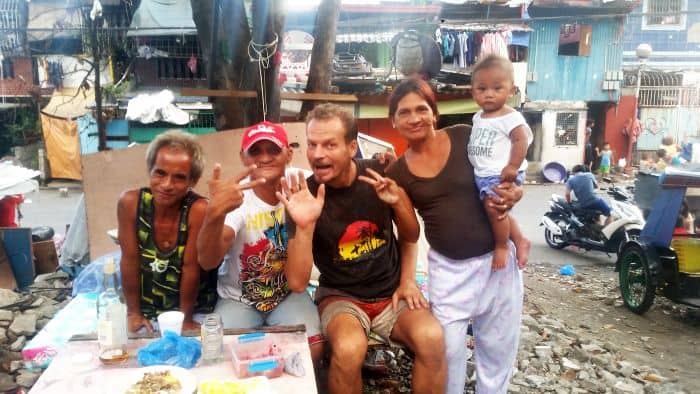 Then, out on the street under open sunlight, seated in my plastic chair, the show commenced. While about ten faces were about 2 feet distance from mine, keenly watching every magical scissor movement of my barber, as I did with the little mirror held in my hand.
On completion I gave him a robust voluntary 200p ($4), they congratulated me that I looked ten years younger, and I was on my way as another customer had already sat down in my chair awaiting attention. During the cut I was hoping to take a selfie of us all, but forgot in the shuffle. So I guess this pic is the next best thing, taken about a block down the street at a railroad crossing and probably the closest thing to a public park one will find in any average neighbourhood in Manila: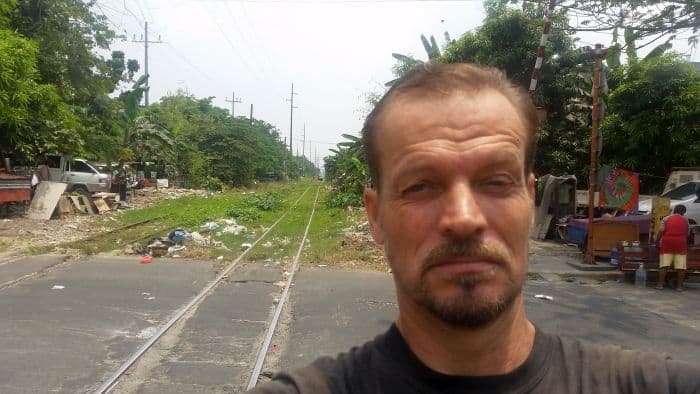 Being my first time booking through airbnb I made a mistake in that I presumed the last day I chose on their calendar was the last night I book through them. Unfortunately, it was instead the day I was to check out and, sure enough, when that time came, I was surprised to find myself homeless my last night in Manila.
No worries though, I have a rich enough history in sleeping at the airport.
I proceeded to make the long walk there, but check out the coastline along the way, when I stumbled upon the Mall of Asia, the meeting point with the exgirlfriend and her entourage of the hotel owner back in Malaysia who had given me her contact. A full circle one might say, but this time I discovered its shoreline promenade.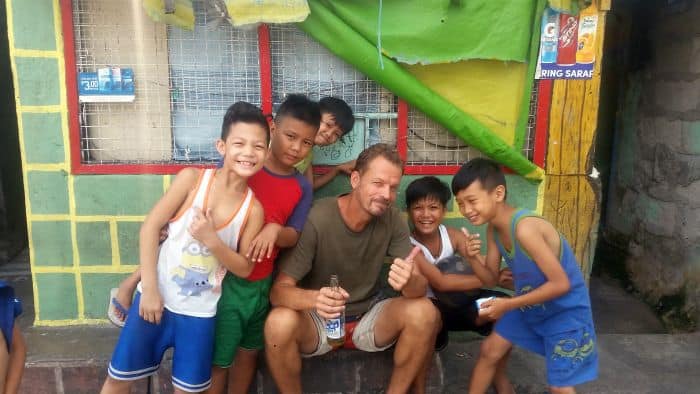 Hanging out at a local basketball court near the airport waiting for my afternoon flight.
Worth checking out, but continued on to the airport, to which I arrived with sore feet after about four hours stroll. It was late by the time I arrived and not enough time to make it back to some of the colourful street markets I had crossed through, so instead I chose the hood nearest to the airport, without disappointments. I returned the next morning to spend the last of my pesos before heading off to Vancouver.
Partying with the locals in hood next to the airport while they munch on young mangoes plucked from nearby trees.