Malcapuya Island, tropical white sand beach paradise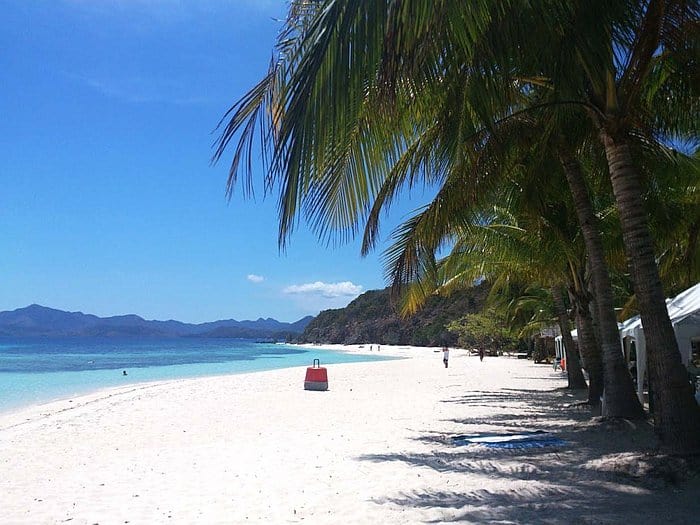 #1 of top things to do around Coron according to Tripadvisor.
This island, along with Bulog Dos and Banana Island are part of a package offered by local tours in Coron because they are located so close to one another. Each of these stops, Bulog Dos and Malcapuya, charges an entrance fee of  200p/person, and is located close also to our recommended stop for this area, No Name island. Malcapuya Island is apparently the best of these three, and any of these four is a good stop to break up the trip into smaller parts. If you want to visit more than one stop in this area, you might not have time during the same day to also visit Araw Beach.
Malcapuya island is so far the best island I have been to near Coron. It has a long stretch beach, very unique rock formations and the island has soft white sandy beaches comparable to Boracay. Its sand is really so soft! Didn't I just say that twice?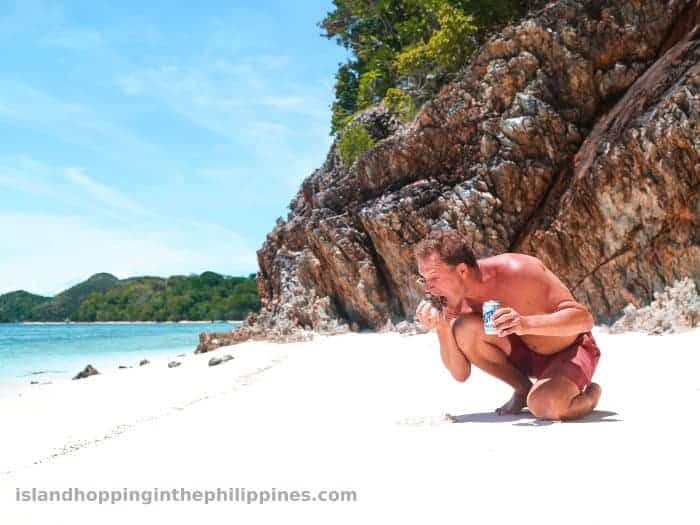 The sand is so soft that you might want to have a taste to see if it's real sand
It is quite far to get there from Coron town. It will take maximum 2 hours by boat depending on the size of waves. I would suggest leaving early to expedite the journey because usually during early morning, the waves are calm. Another IMPORTANT TIP: I highly recommend booking a private boat tour. In this way, you can manage your time. The usual "joiner tours" with 16-22 people leave around 9:00am, in which case many boats are on board hopping from one island to another with the same itinerary and duration of stay, making the islands fully-packed of tourists.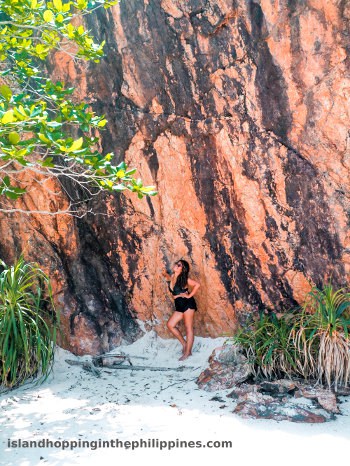 Amazing rock formation I camouflaged against with my suntanned skin
Based on our experience, we left around 7:30am and we got to our first destination, Bulog Dos, after 1.5 hours. At that time we were the only ones, so we were able to take awesome photos of the sand bar and the beach without hoards of crowds in the background.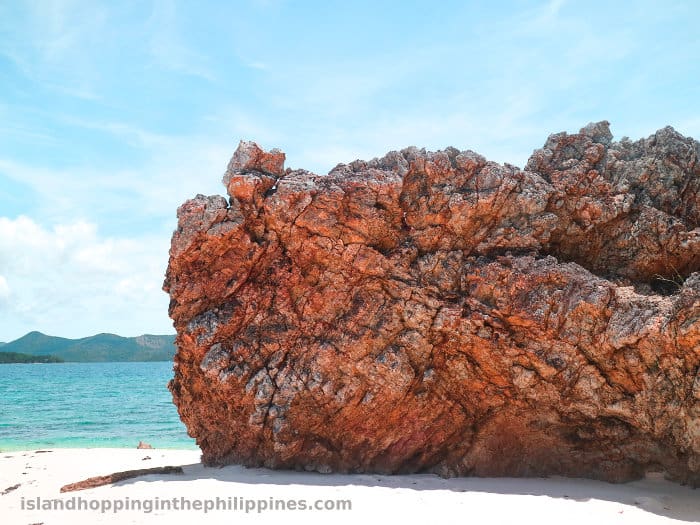 One of the huge unique rocks found in Malcapuya Island
If you are visiting Coron with a limited schedule, you should not miss visiting this island. It is quiet, clean and something unique from the touristy lakes in Coron.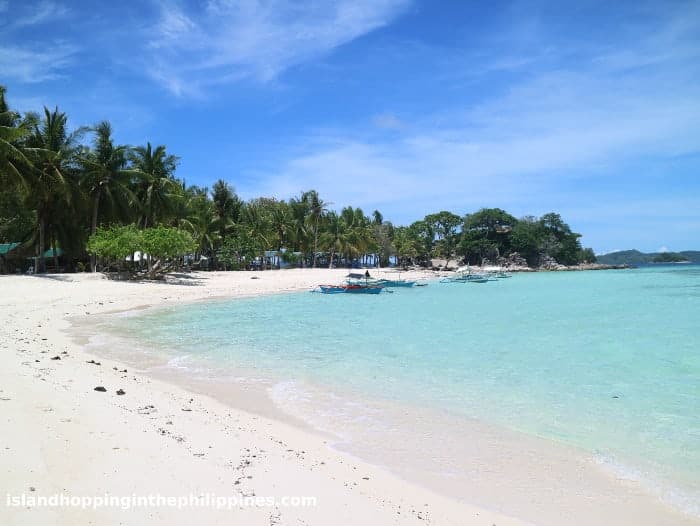 Enjoy the white long stretch beach of Malcapuya Island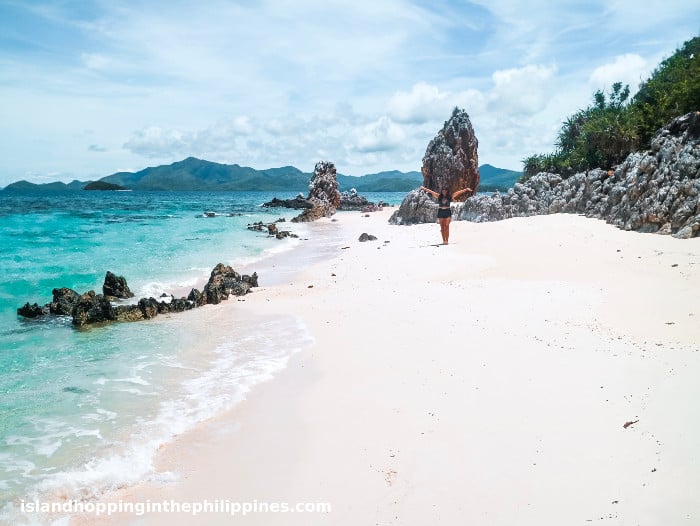 Look at these amazing nature-made rock formations – it's Instagram-worthy!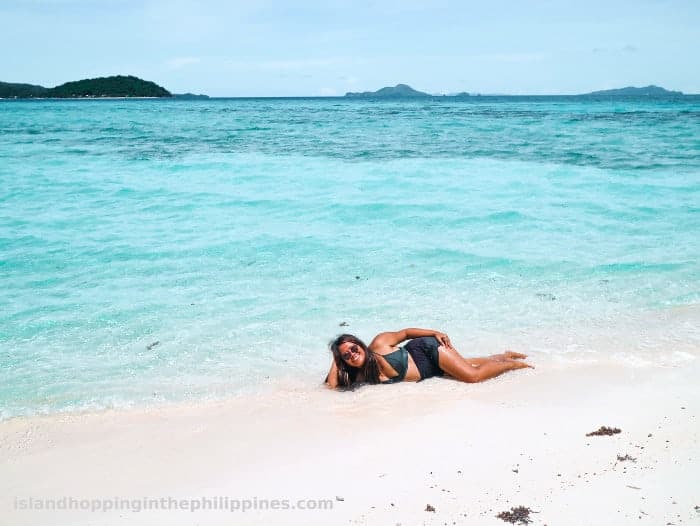 Unspoiled beach with fifty shades of clear blue water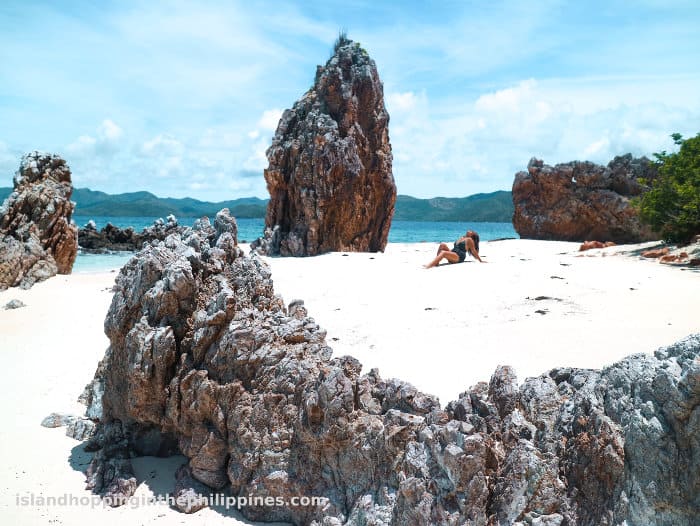 Enjoy the whole beach away from the crowds by booking a private boat tour with us!
This one has an entrance fee of 200p, but they have begun work on a new resort, so it is uncertain how long it will remain open to the public (check out the Tripadvisor link above to make sure).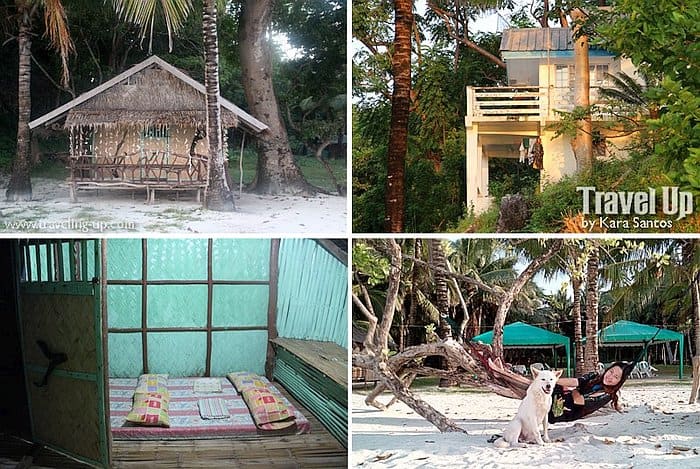 At the moment it offers accommodation as explained on https://www.traveling-up.com/a-night-in-malcapuya-island-coron/ (TravelUp pics):
Our room for the night was a simple cottage by the beach, an enclosed thatched hut with an electric fan and a mattress on the floor. Cost for cottage rental was P750/person.
There are two restrooms with open air showers a few meters away from the huts.
The island does not have electricity, but they have a generator which provides light and electricity at night.
There are outlets in the huts where you can charge phones and camera batteries.
You can also opt to stay in a simple house-for-rent on an elevated portion a few meters from the shoreline, which has a single room, basic yet comfortable beds, and a decent restroom.
Rather undeveloped at the moment, which only adds to its charm, with many deserted and protected beaches.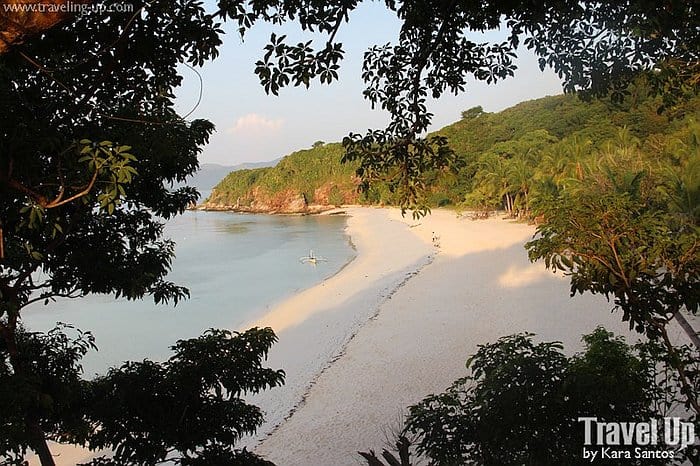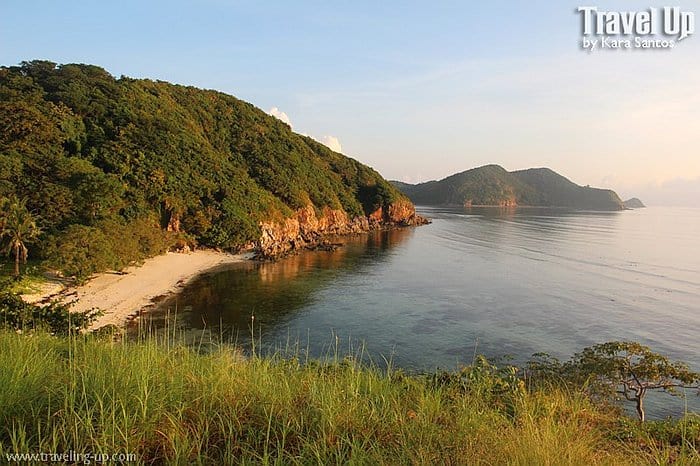 To get here you can join or book one of our private custom Palawan boat tours between El Nido and Coron, or Coron only tours. Tons of paradise beach islands to see along the way, excellent snorkeling in crystal clear waters, caves to explore, Spanish fortress and much more. Completely off the beaten path. You can even rent one of our wakesurf or wakeboards for a total blast drag through paradise!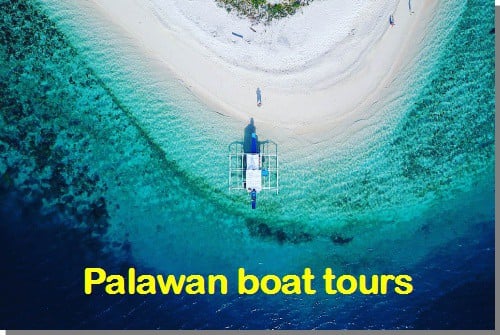 Experience the thrill of island hopping in the Philippines
Other links regarding Coron tours
Kayangan Lake
Twin Lagoons
Malcapuya Island
Banana Island
Bulog Dos
Tips on choosing tours around Coron
Rural Coron
Obra Bar