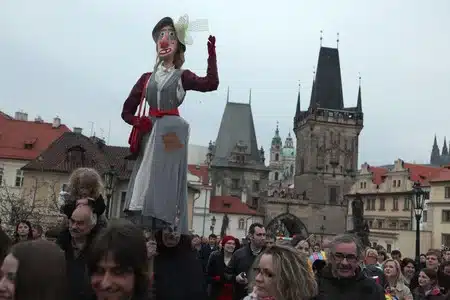 Witch Burning – Explanation
One of the many festivities and traditions in Prague which made us label it "the magic years" for about 8 years after the fall of Communism. We'd collect as a large group on top of Petrin hill, with musical instruments and drum sessions, burning effigies and the old jean jackets on one's back over a bonfire, drinking beer and having fun until the wee hours of the morning.
This is actually where I met Jana, who became my best friend for the next 8 years. She was playing guitar and singing, deep in a puddle of crowd huddled close around her, all squatting comfortably on the ground, leaning on each other. I decided I simply MUST become this friendly person's amigo.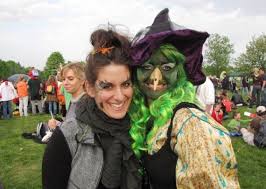 Unfortunately, over the years, as the tentacles of bureaucracy and sedate existence crept into this outburst of freedom following decades of tyranny, fewer and fewer people bothered to make the long trek up the hill, the kiosk stopped selling beer, and the cops eventually showed up, banning the event entirely.
But it was fun while it lasted, and when the party gets sour, heck, it's simply time to move on!
What is it?
Well, did some researching and didn't get too much information. What's more, I'm getting bored of this, so I'll just have to tell you what I know.
So like there were like these real bad witches in Northern Moravia (15th century). But heck, they weren't actually so bad but rather the Catholic church wanted to seize some property so they made up these stories that certain chicks were negotiating with the devil and they simply had to be burned at the stake. Terrible stuff man.
Then I think it developed into some custom which was supposed to scare away winter or something. Frigid winter it is indeed. Anyway, it's grown into this custom amongst the expat community here is Prague (and some cool Czechs who can tolerate these
directionless lowlifes) to meet up top here every year.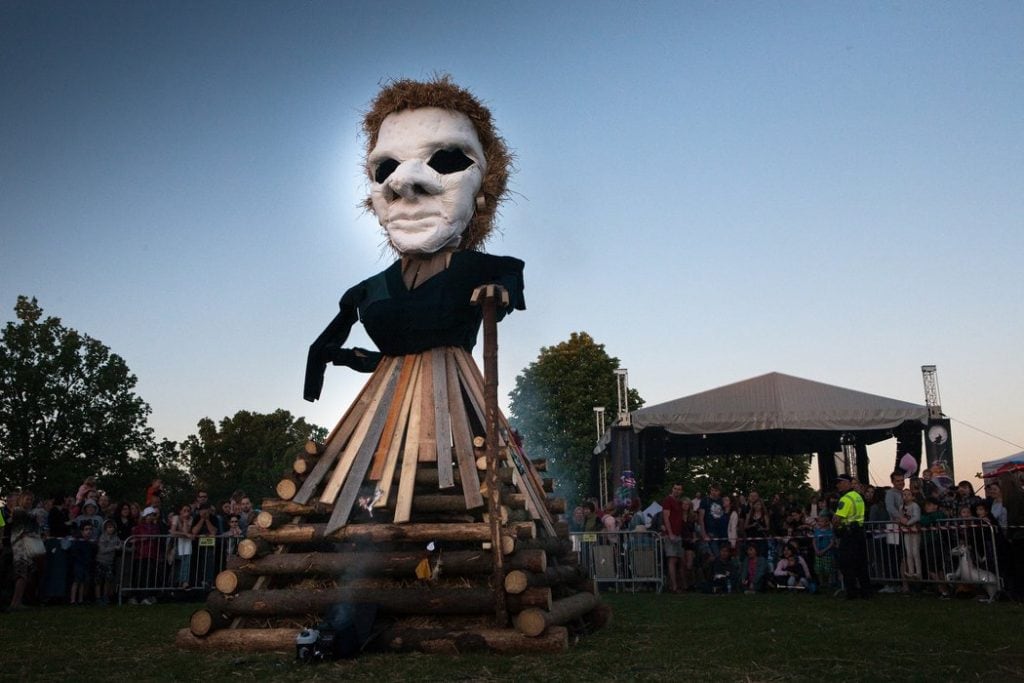 Some years (and I think this year as well), the hip drama dude organisers in town create this drama act where they make this fake witch and go through the ritual of burning the life sized look alike in the fire. Other years some dudes brought out their heavy duty stereo. Most years there's at least live music. I'm gonna bring my bongo.
Last year there were four of us left and went over to the Finnish Nokia dude's house overlooking Malostranska nam. and I started making eggs (which Eric immediately barfed all over his naked chest). Speaking of naked chest, Jana was bitchin' that it was hot and that we as males were allowed to take off our shirts. So I said, "take your shirt off then." So she like did right. Then, in the middle of making the second batch of eggs, these hands slide around my waste from behind and start unzipping my pants. I turn around and I notice that these f*cking freaks are all naked. Well, we certainly couldn't stop here! so Eric straps the bongo around his waste, Olli straps his accordion around his chest, I grab my harmonica and Jana grabs a cigarette, and there we all go, buck raw naked, eleven in the morning on the next day after whitchburning for a casual stroll through Malostranska nam. Eric and Olli kind of chickened out and stayed rather on the edge of the square accompanying us musically while we slowly wandered to the center of the square.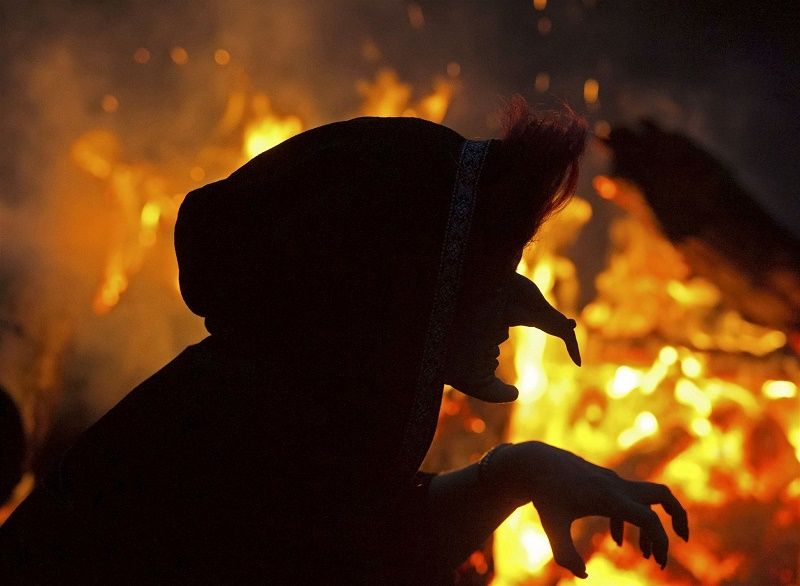 We were almost in the middle and I said, "well, I guess that's good enough." But no! Jana simply had to go all out and made
me walk with her, slowly, very slowly, to the opposite end of the square. Then we walked around the corner to where that cafe is and walked to the edge of that (direction towards Joe's). People started turning their heads very slowly and pretend that they do not see what they see. Jana casually ruffles some guy's hair who was also pretending that he does not see what he was seeing.
Then we walked back, unfortunately slowly again. I think 50 people took pictures of us that day. Many ran up hectically asking, "what's the protest?", to which we responded, "we were born this way man."
Walked back up the stairs to the safety and comfort of Olli's abode to the background music of sirens whipping by on the street below apparently in search of some naughty people. Then we hung with our various small parts off the window sill waving to tourists coming by for about half an hour, at least until the cops finally came and were pounding on the door.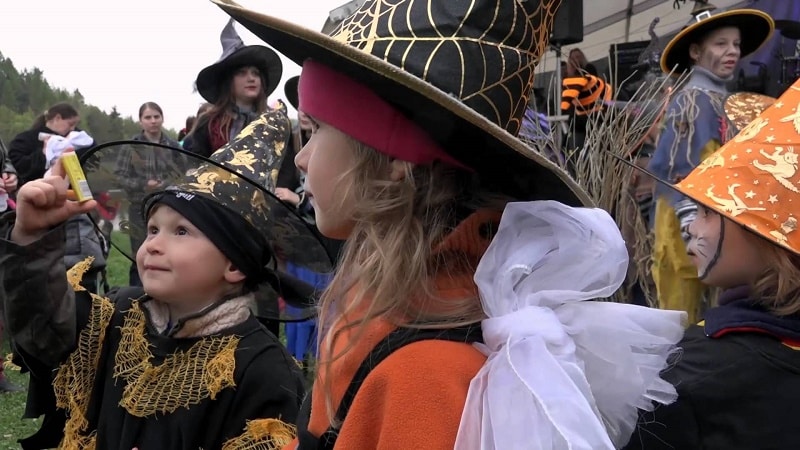 But after this show, the landlords of the building, who previously never liked the Finnish dude, decided they love him and told the cops to go for a picnic.
Anyway, the spirit is in the air and if you want to take part in this oozy evening, come (yes, you may bring clothes).
For this purpose, using my classy turntable which I could manually play backwards with my finger, I played the famous Stairway to Heaven. Took me a while to find the part talked about, and found it best to play back half speed.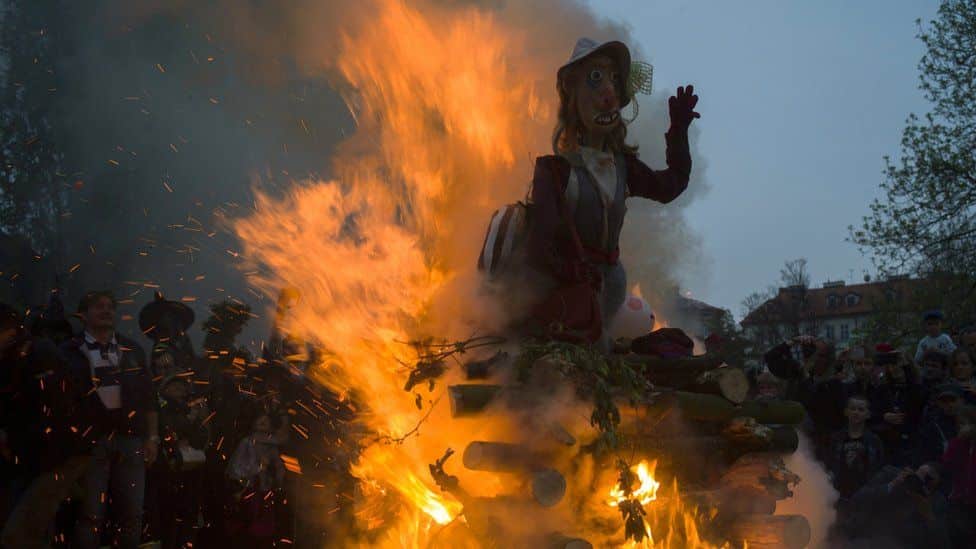 The lyrics of this section forward:
"Yes there are two paths you can go by, but in the long run,
there's still time to change the road you're on."
What I heard when played backwards at half speed: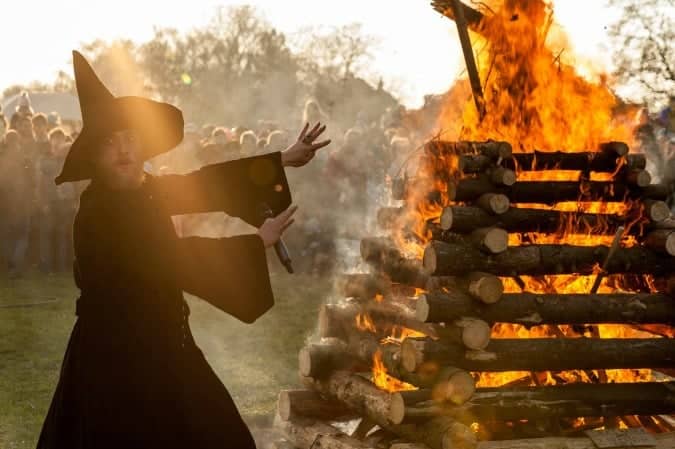 "My sweet Satan. C'mon little child don't make me sad
there's power in Satan."
(mixed over with my voice of course)
Click here to download the MP3 file.]
Witch burning can also be referred to as witchburning, or carodejnice in Czech, or with Czech characters čarodejnice.
Copyright © KENAX, Karel Kosman – All Rights Reserved Worldwide.
We are a family operation managing private custom boat tours in the beautiful Palawan area, and are happy to help travelers with their plans through the Philippines, having traveled a lot of it ourselves and planning to visit it all. These pages in this section cover my various solo travels through Europe before meeting my wife.