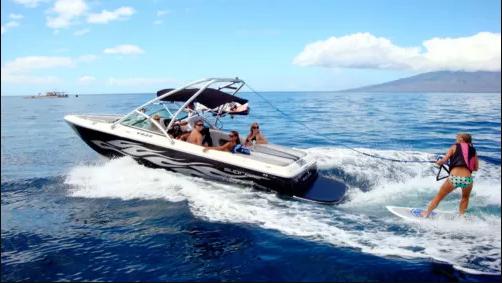 Wakeboarding and Water Skiing by Speed Boat
Wakeboard in the beautiful Linapacan area, or anywhere in between Coron and El Nido if you join one of our private boat tours.
I am no longer managing the kitesurfing nature camp in the Linapacan area, so I have given my two kiteboards to my two best boatmen (part of the private boat tours). You can use those for wakeboarding and eventually we'd also like to get waterskiis and stock up more of the boats. There is a speedboat in the Linapacan area we can arrange for you, otherwise it would be by big banca boat, so turning around to pick you up if you fall may take longer.
If as part of a private boat tour, the price would be an additional 1,000p/hour.
Previous text for this page:
Okay, only two kiteboards for now, but better suited for beginners to intermediates. Wakeboards are on the shopping list, as are water skiis, windsurfing equipment and all sorts of other toys, but if you like to frolic and have fun in paradise off the beaten path, this is the place for you.
We already have a gymnastics workout station made from bamboo, excellent snorkeling in the clearest waters in the world, caves to explore, two shipwrecks for divers, and many deserted or sparsely populated islands to discover with the nature trails we like to carve into the jungle.
Prices are 3,000p (about $65) an hour to be pulled by speedboat. When you want to rest we can organise local boat tours for you – so much to explore, great place to get away from it all.
Or the best option is to join or book one of our private custom Palawan boat tours between El Nido and Coron, since some of our boats are equipped with wakeboards and you can cruise between the islands along the way. A speedboat can then be arranged once at the halfway point. Tons of paradise beach islands to see along the way, excellent snorkeling in crystal clear waters, caves to explore, Spanish fortress and much more. Completely off the beaten path!