The Philippines is known for having its rich biodiversity as its main tourist attraction. Its beaches, heritage towns and monuments, mountains, rain forests, islands and diving spots are among the country's most popular tourist destinations. However, Philippines is known for its unique cuisine too.
So what makes Filipino food special?
The mixture of rich tastes and textures make Filipino foods special. Most Filipino foods are very simple to cook and always a pleasure to serve and eat. These delicious and mouth-watering dishes are always welcome on the dining table in whatever time of the day. Filipino food consists mostly of vegetables, seafood, dairy, meat and rice. Like Philippine fiestas, Filipino recipes are rich in flavour and colour that are not only a pleasure in the eyes but also a pleasure to eat. Warning: RICE will never be absent. From breakfast to lunch and until dinner, rice is always present.
The aroma in a filipino dish makes the food more inviting to eat and makes you want to savor the food slowly bits by bits. Most foreigners may see it looking dull yet interesting and intriguing. The way of cooking displayed in different households mesmerizes foreign people and even Filipinos themselves especially when they smell the aroma of the food that is being cooked. That is one thing that makes Filipino food interesting. Its smell makes it unique and it is something you have to watch out for.
A certain dish is cooked in many different ways depending on which part of the country you are staying. It may be the same dish but the style of cooking, flavour and ingredients vary and this makes the Filipino food interesting and special. While other countries are cooking the same dish exactly the same, Filipinos are cooking it in varying flavours and in diverse places, techniques how it is cooked and the ingredients used, you can tell the origin of the person who cooked it.
The Filipino food is not only interesting and special because of its aroma, flavour and taste but with all the names they come up with are something to perk up your mind and your tongue.
Having said all this, all Filipino foods could never be complete without the Filipino people who prepared all this food with all their hearts. For a moment, just imaging one of the occasion you had celebrate with your love ones, family, and friends there you will remember it will never be complete without Filipino foods like pansit, adobo, kinilaw to name a few. These make eating Filipino food an unforgettable experience.
Is Filipino cuisine healthy?
As delicious as it can be, though, Filipino cuisine has its health pitfalls. Fatty meats, salty sauces, and fried vegetables are common ingredients, though they can often be replaced with healthier alternatives.
What is the best food in Philippines?
Here are the 36 dishes that define Philippines:
1. Adobo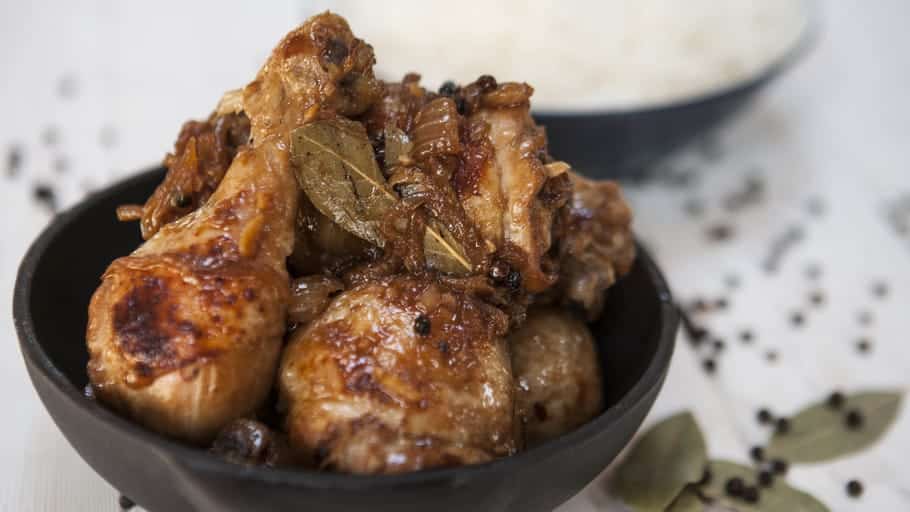 No list of Filipino food would be complete without adobo.
A ubiquitous dish in every household in the
Philippines
, it's Mexican in origin.
But Filipinos found that cooking meat (often chicken and pork) in vinegar, salt, garlic, pepper, soy sauce, bay leaves and other spices was a practical way to preserve it without refrigeration.
This cooking style can be applied to different meats or even seafood.
Chiken adobo is the most famous version.
Abe Serendra, Serendra Plaza Serendra Plaza, Taguig City, Luzon Philippines;
2. Lechon
The lechon is the most invited party guest in the Philippines.
The entire pig is spit-roasted over coals, with the crisp, golden-brown skin served with liver sauce, the most coveted part.
In Cebu, the stomach of the pig is stuffed with star anise, pepper, spring onions, laurel leaves and lemongrass resulting in an extremely tasty lechon, which needs no sauce. Now, they have lechons stuffed with seafood which is more expensive. Usually lechon is popular in filipino big occasions like weddings, debuts and other big celebrations.
Elar's Lechon, 151 Quezon Avenue Corner Speaker Perez Street, Quezon City, Luzon 1114 Philippines;
CnT Lechon, 1377 V. Rama Avenue Guadalupe, Cebu City Philippines;
3. Sisig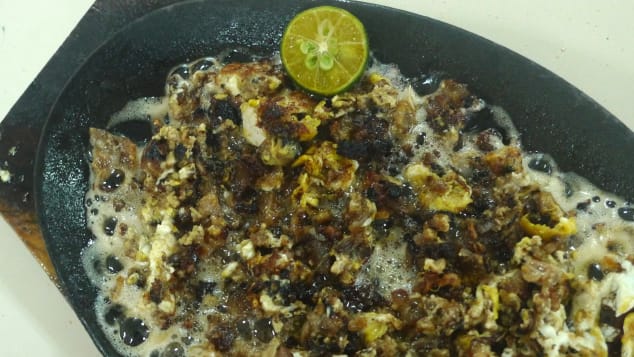 Nothing goes to waste in Filipino food, TRUST ME!
In the culinary capital of Pampanga, they turn the pork's cheeks, head and liver into a sizzling dish called Sisig.
The crunchy and chewy texture of this appetizer is a perfect match for a cold beer.
Serve with hot sauce and Knorr seasoning to suit the preference of you and your buddies.
4. Crispy pata
Not for the easily spooked, this pork knuckle is simmered, drained and deep fried until crisp.
The meat is tender and juicy inside, with a crisp, crackling exterior (skin).
Served with vinegar, soy sauce and chili, so yummy!
5. Chicken Inasal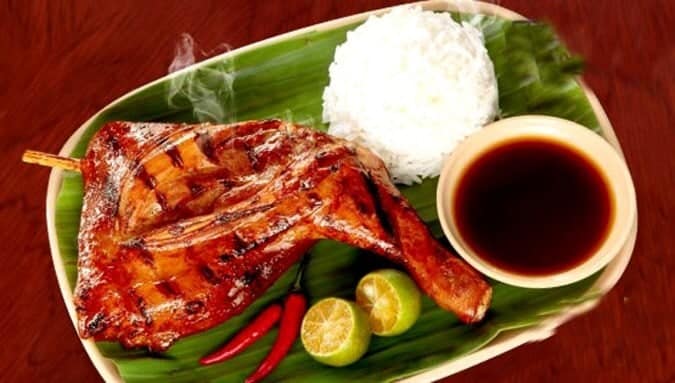 Yes, it's grilled chicken.
But in Bacolod, this is no ordinary grilled chicken.
The meat is marinated in lemongrass, calamansi, salt, pepper and garlic and brushed with achuete (annatto seeds) oil.
Every part of the chicken is grilled here from the paa (drumstick), pecho (breast), baticulon (gizzard), atay (liver), pakpak (wings) and corazon (heart).
It must be eaten with a generous serving of garlic rice, with some of the orange oil used to marinade the chicken poured over the rice.
You can go chicken crazy at Manokan Country where there is a row of authentic Inasal restaurants.
There is this Mang Inasal restaurant which can be found in every malls in the Philippines which has tasty and tender chicken barbecue.
Aida's Chicken, Fr. M. Ferrero St Manokan Country, Bacolod, Negros Occidental Philippines;
6. Taba ng talangka
The fat of a small variety of crabs are pressed and sauteed in garlic.
This cholesterol-laden Filipino food is often used as a sauce for prawns or eaten with fried fish and rice.
The best taba ng talangka comes from the provinces of Pampanga, Tarlac and Bulacan.
It's worth buying a bottle or two from the markets there, or pasalubong shops like Bulacan Sweets.
7. Pancit Palabok
When Filipinos have guests, they don't skimp.
The pancit palabok served on most birthday parties oozes with flavors and textures.
The noodle dish is layered with rice noodles, a rich orange sauce made from shrimp broth, pork, hard boiled eggs, shrimps, chicharon (pork rinds) and sometimes squid.
8. Bulalo
Despite the perennial heat, Filipinos often enjoy sipping piping hot bulalo soup made with from freshly slaughtered beef.
The broth is rich with flavors seeped from the beef  and its bones after boiling for hours.
The bones are big, meaning more bone marrow to enjoy.
In Santo Tomas, Batangas, there's a row of restaurants along the highway serving bulalo.
9. Arroz Caldo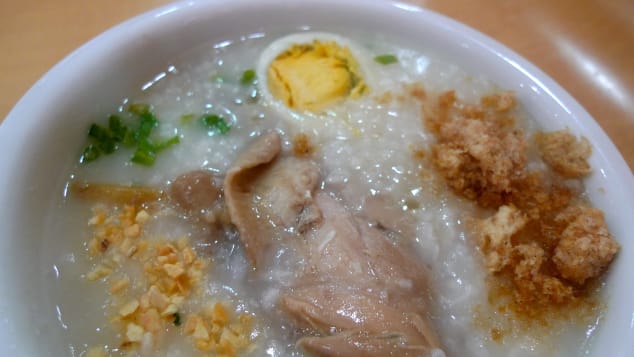 Candice Lopez-Quimpo
While chicken soup soothes sick Westerners, Filipinos turn to arroz caldo, a thick chicken rice porridge.
Cooked with ginger and sometimes garnished with a hard-boiled egg, toasted garlic and green onions, this Filipino food is sold in street-side stalls.
If dining al fresco doesn't suit, there's the 
Via Mare
 outlets around Manila.
10. Fish tinola
The freshness of Philippines' rich marine life can be tasted in its fish tinola.
The simple sour broth is flavored with onions, tomatoes and sampalok (tamarind) and cooked over coco-lumber firewood for hours.
Cebuanos know to go to A-One, a small hole in the wall known, cooking up to 200 kilos of fish daily.
A-One, Rd. North 6, North Reclamation, Cebu City
11. Kare-kare
One of the most favorite dishes of Filipinos. This stew of oxtail has the most delicious sauce made from ground toasted rice and crushed peanuts.
Banana blossom, eggplants and string beans add more interesting textures, making it a complete meal on its own.
It's eaten with steamed rice and bagoong (shrimp paste).
While mom's kare-kare is always best, the version at Cafe Juanita is authentic.
Cafe Juanita, 2 United St Kapitolyo, Pasig, Luzon Philippines;
Everybody's Cafe, MacArthur Highway Dau, San Fernando, Luzon Philippines;
12. Ilocos empanada
Yes, its name reveals its Spanish origins.
But its ingredients are all local.
Grated unripe papaya or bean sprouts, egg and loganiza (pork sausage) are stuffed in the empanada and deep fried, accompanied with a spicy vinegar sauce.
Get this staple Filipino food from stalls beside the cathedrals in Vigan and Laoag.
13. Sinigang
Sinigang is a stew of fish, prawns, pork or beef soured by fruits like tamarind, kamias or tomatoes.
Often accompanied by vegetables like kangkong, string beans and taro, this stew is best eaten with rice.
A modern, but delicious spin on Sinigang is Sentro 1771's version called Sinigang Corned Beef.
Sentro 1771, 2/F Greenbelt 3, Makati, Luzon Philippines;
14. Tapa
Filipinos are huge rice eaters, and breakfast is no exception.
A tap-si-log consists of thin slices of dried marinated beef served with fried egg and garlic rice.
While it is breakfast fare, it's also a quick, satisfying meal you can eat anytime and available in most places.
Making it accessible all the time and even available for deliveries, 
Tapa King
 serves it in the classic, sweetish and spicy versions.
Tapa king, #13 Ano 96 Street, Brgy. Hagdang Bato, Libis Mandaluyong City 1552, Manila, Luzon Philippines;
15. Dinuguan at puto
It may not look appetizing.
But this black dish of pork and pig innards — stewed in fresh pig blood seasoned with garlic, onion and oregano and eaten with a white puto (rice cake) or steamed rice — is a comforting dish for many Filipinos.
The MilkyWay Cafe's version tastes homemade and clean.
MilkyWay Cafe, 2/F MilkyWay Bldg, 900 Arnaiz Ave (Pasay Road) corner Paseo de Roxas, Makati, Luzon 1200 Philippines;
16. Laing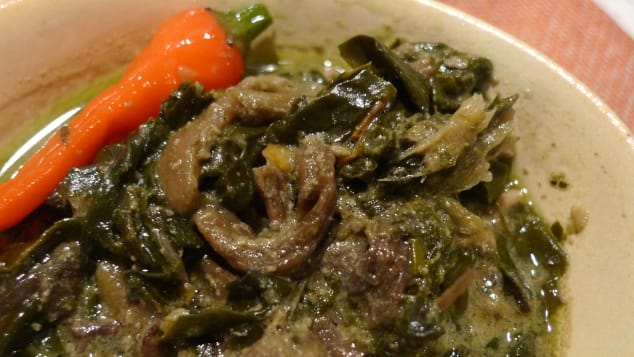 This dish of taro leaves cooked in rich coconut milk is an everyday staple in Bicol.
Morsels of meat and chili are added to give punch to the Laing.
It's eaten with steamed rice.
The authentic versions from kitchens in Naga and Albay are most delicious.
In Manila, it can be found at Dencio's.
Dencio's Bar and Grill, Gateway Mall, Araneta Center Aurora Boulevard, Cubao, Quezon City, Luzon Philippines;
17. Pinakbet
Up north in Ilocos, the vegetable dish of okra, eggplant, bitter gourd, squash, tomatoes and bagoong (shrimp or fish paste) called pinakbet is a favorite.
And now, this healthy, cheap, and easy to cook dish has made its way around the archipelago.
It is cooked in most households and local restaurants.
Max's Restaurant, Ayala Avenue Ground Floor, Convergys Building, Makati, Luzon Philippines;
18. Sinugno
Cooking with coconut milk is common in the province of Quezon, south of Manila.
Freshwater tilapia fish is grilled then simmered in coconut milk and chili.
It's definitely freshest when eaten close to the fishponds as they do in Kamayan Sa Palaisdaan.
Kamayan sa Palaisdaan Hotel & Resort, Brgy. Dapdap, Tayabas City, Quezon Philippines;
19. Bagnet
The lechon kawali, the deep fried pork, is a popular Filipino food all over the country.
Meanwhile, bagnet, a siimlar dish from the northern province of Ilocos, is coveted for its irresistible crunchy skin dipped in the sweet-sour vinegar sukang Iloko.
Buy it from the markets of Ilocos, or try it at Cafe Juanita.
Cafe Juanita, 2 United St Kapitolyo, Pasig, Luzon Philippines
20. Pork barbecue
In a country where almost everything is marinated, skewered and grilled in the street corners, everyone has their favorite barbecue meat.
Pork is the most popular.
Cebu is known for barbecue stalls along Larsian Street just off Fuente Osmena Circle.
Manila residents are addicted to that from Ineng's, which has many outlets in Metro Manila, for its big, chunky pieces of pork with a perfect, salty-sweet marinade.
Ineng's, Dela Rosa Car Park, Dela Rosa Street, Legaspi Village, Makati City, Metro Manila
21. Longaniza
Every province has their version of the pork sausage called longaniza.
It varies from sweet to garlicky to spicy.
Usually eaten for breakfast with garlic rice, fried egg and a dipping sauce of vinegar.
Zoricho
, 118 Silver City, Frontera Verde, Ugong, Pasig City, Metro Manila; +63 2 571 3269
22. Bicol express
A fitting tribute to people who love coconut and spicy food is bicol express, a fiery chili, pork and coconut milk stew.
23. Balut
No trip to the Philippines would be complete without sampling its famous balut.
Vendors peddling these eggs on the street chant "Baluuuuut!" to entice buyers.
This 17-day-old duck embryo is boiled, served with rock salt or spicy vinegar and is often consumed with beer.
24. Fish kinilaw (Ceviche)
Also known as ceviche. Filipinos have their own version of this dish. The day's fresh catch is dressed in palm coconut vinegar, ginger, chili and spices.
Each province has its own way of preparing kinilaw.
Most wet markets will prepare this for you.
Most popular in Cebu is to eat it in Su-tu-kil, the row of seafood eateries (Lapu-LapuCity,
Mactan
, Cebu).
25. Inihaw na Liempo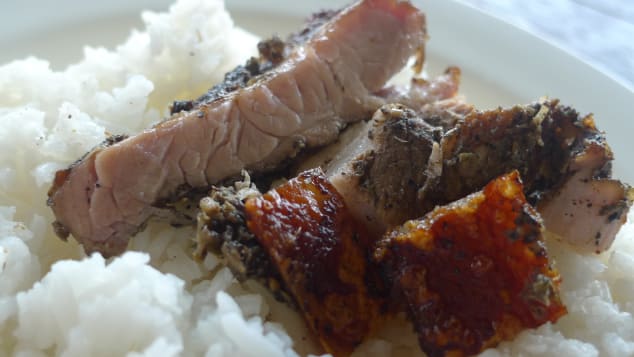 A Filipino-style barbecue using a popular pork part: liempo (pork belly).
Arguably, the best is Cebuano style — a slab of liempo stuffed with herbs and spices and roasted.
The result is juicy flavorsome meat inside and crackling skin outside.
26. Bibingka
For many Filipinos, Christmas is marked by the scent of bibingkas cooking at dawn.
These rice cakes are made by soaking the rice overnight, grinding it with a mortar stone and mixing in coconut milk and sugar.
Laborious.
The batter is poured into clay pots with banana leaves, with coals on top and below.
It's garnished with salted eggs, kesong puti (white cheese made from Carabao's milk) and slathered with butter, sugar and grated coconut.
Best eaten hot from weekend markets.
The best one is from Aling Linda at the Sidcor Sunday Market at Centris Mall, Edsa, Quezon City.
For the rest of the week, there's 
Via Mare
 or Ferino's Bibingka with branches all over Metro Manila.
Cafe Via Mare, Shop 138, Greenbelt 3 Ayala Center, Makati, Luzon Philippines;
27. Suman at manga
Sold along the roadside, suman are sticky rice snacks steamed in banana or coconut leaves.
There are many versions of suman, depending on the ingredients and leaves used.
These Filipino food snacks are often paired with sweet ripe mangoes.
They're cheap snacks, which travel well.
They can be bought from roadside stalls, or enterprising vendors peddling them on buses.
28. Halo-halo
Many people joke that the Philippines has two seasons: hot and hotter.
Cool off with some halo-halo.
In Manila, MilkyWay Cafe offers the best halo-halo with finely shaved ice and a generous serving of leche flan, gulaman, pearls (tapioca), ube, banana, kaong, beans and garbanzos, milk and a scoop of ube ice cream. The best halo-halo for me are the ones in La Paz market in Iloilo City and of Mang Inasal.
29. Buko pie
Go loco over coconut.
In the province of Laguna, buco pie (young coconut pie) wars are hot.
Each claims to be the best. Also, if you visit Iloilo, in Oton there are plenty of stalls selling buko pies along the highway.
Orient D' Original may have a tacky name but this pie shop has been a favorite for 45 years.
They serve the pie hot, with a delicious filling with generous layers of tender coconut meat.
Orient D' Original, National Highway, Los Banos, Laguna, +63 4 9536 3783
30. Puto bumbong
These may look like miniature chimneys along the roadside stalls, but that's what gives the chewy purple snacks their name.
Traditionally, purple mountain rice was used to make these, steamed in bamboo tubes, then served with butter, panocha (brown concentrated sugar) and grated coconut.
The 
Via Mare
 chain has been consistently producing chewy snack for years.
Cafe Via Mare, Shop 138, Greenbelt 3 Ayala Center, Makati, Luzon Philippines;
31. Turon
This fried banana with langka (jackfruit) or banana all sealed in a lumpia wrapper is our version of a sweet spring roll.
It is peddled around the cities and towns for the perfect merienda (mid-morning or afternoon snack).
32. Pan de sal
Pan de sal are small oval buns often eaten by Filipinos for breakfast. A brownish crust conceals a soft and fluffy inside. The best pan de sal is baked in an oven using firewood, naturally infusing the wood flavor into the bread.
Everyone has their favorite bakery, but 
Pan de Manila
 with outlets all over Metro Manila is consistently delicious.
Pan de Manila, lower GF dela Rosa carpark 2, Makati, Luzon Philippines;
33. Taho
Brown sugar syrup is stirred into warm soybean custard and topped with sago pearls.
Traditionally sold by vendors walking the streets calling out to those at home, but can also be sourced from supermarkets and restaurants.
34. Tablea tsokolate
A customary hot chocolate drink that stems from Spanish colonial times, tablea tsokolate is made from tablea de cacao — bittersweet, thick flat chocolate disks.
The traditional version is available at Adarna Food and Culture.
Adarna Food and Culture, 119 Kalayaan Avenue Diliman, Quezon City, Luzon Philippines;
35. Halayang ube
The ube or purple yam is a popular ingredient used for desserts and here it's made into a sweet halayang ube (ube jam).
Their product is smooth and creamy, and helps provide a livelihood to the single mothers who make them.
Good Shepherd Convent, Gibraltar Road Benguet, Baguio, Luzon Philippines;
36. Leche flan
This is a popular dessert among locals — an egg and milk-based custard capped off with glistening caramelized sugar
Food during multi-day island hopping boat tours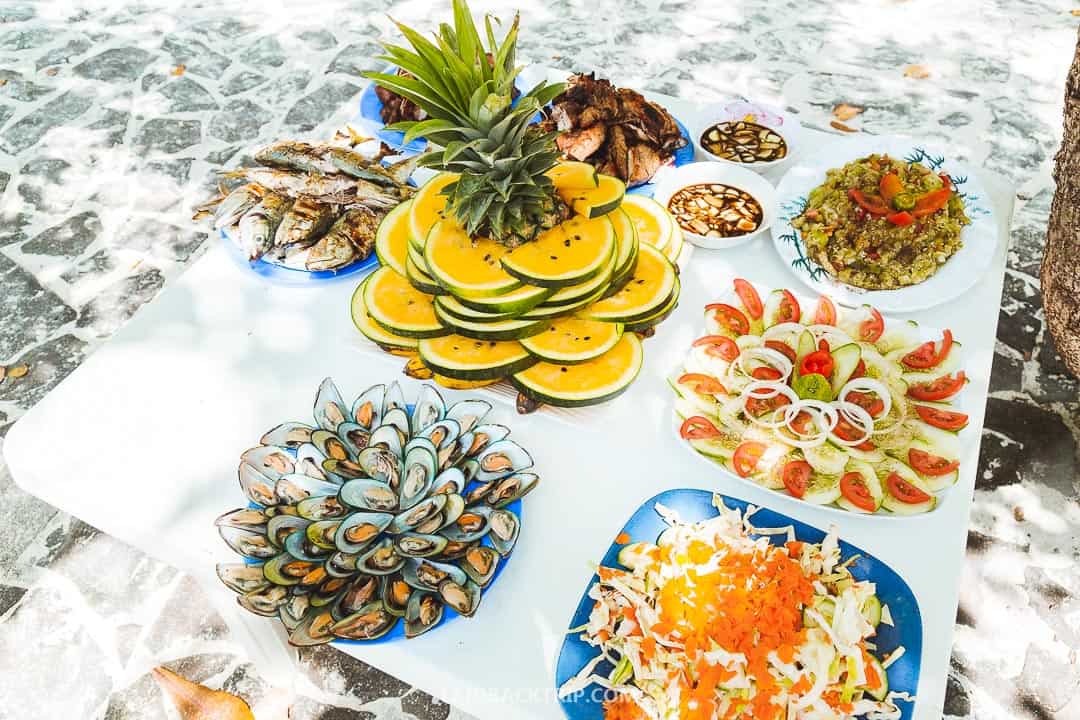 Being on the beach on a sunny day is the best especially when you are being served with fresh caught fish. In our multi-day island hopping between Sibaltan (El Nido) and Coron or vice versa, our boat crew would usually catch some fish while you are enjoying yourself on the beach or snorkeling and grill it on some charcoals. This is paired with rice, the staple food of Filipinos and tastes better if you dip your grilledf fish into a bowl with vinegar, soy sauce, kalamansi and some small chilis (which are very spicy by the way).
If you are coming from Sibaltan, our boat crew would do the marketing there. You must coordinate with your boatman if you have some diet specifications and requests. One of the advantages of customized private boat tour is, YOU ARE IN CONTROL. Meaning, its between you and your boatman to make things better and easier especially with communication.
Our daily budget for food per meal per person is 250 pesos. Some people may want to have fancier food, like more seafood like crabs, lobsters, oysters huge shrimps which cost a lot but still possible for an extra cost.
We also have another option which is suitable for people who are adventurous and want to catch their own fish which could be more fun and exciting. We have spear guns for rent which you can use and by the help of our boat crew, you might be able to catch a fish or two and will serve as your meal for FREE, if YOU ARE LUCKY ENOUGH!
If there are some fruits available in the market, our boat crew can serve you some fresh mangoes and pineapples, whichever is available.
When it comes to drinks, we offer FREE fresh spring drinking water. If you are reluctant and do not feel safe to drink it, you may bring your own distilled water. If you want to enjoy the beach with some beers, you are welcome to bring with you some. This will be better if you can inform your boatman and request an icebox where you can keep your beers cold throughout the day. On the other hand, for those who are looking forward to have some coconut juice, in some islands during your multi-day island hopping boat tour, there are plenty of coconut trees where you can get fresh coconuts. You may ask one of our boat crews to climb and get some for you. Some islands could give it to you for free but some may charge you 30-50 pesos each.
Philippines is rich in seafood, if I were you, I would grab this opportunity to taste it. Filipinos love to eat and are great cooks. They usually like dipping grilled food into a bowl with soy sauce, vinegar and kalamansi. Also, you should not be surprised if they serve your meal with rice, three times a day. Oh, please do not forget to taste our mangoes. We have the sweetest mangoes in the world, trust me!
Book your customized private island hopping boat tour with us and get to experience real filipino island life and delicious food! Click the photo below: