From Bali to the Kitesurfing Resort project, Philippines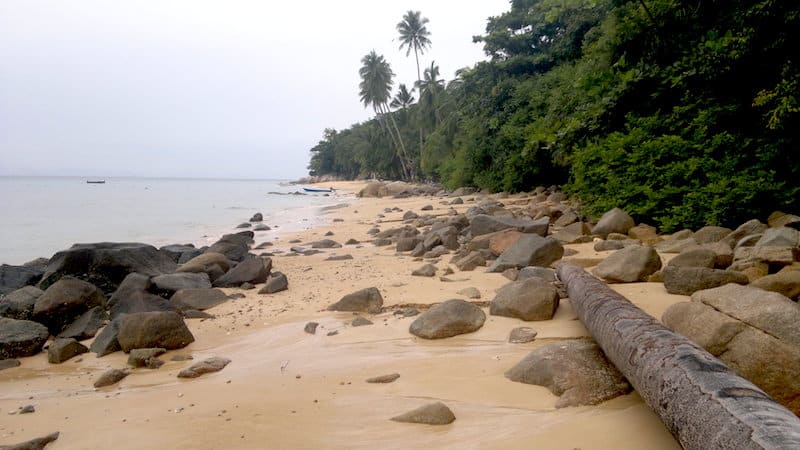 A quick recap. The last place I had a viable option of setting up a dream resort on a paradise beach is in the Perhentian Islands. But the Muslim owners typically frown on my beer consumption, and are somewhat unsettled by my ambition. Everything must go slow they say. They already revealed to me that some of their friends started developing the property but had given up, because they are lazy. I can see that slow in Asia can easily mean never. They eventually decide not to let me move forward with my plans and it is back to the drawing board.
I stay on the island until the season is almost over, and learn in the process that the tides get so high in the winter that the beaches are entirely covered. Hardly any tourist, everything shuts down, and seems like a place I would not enjoy most of the year anyway.
Since my 90 day visa is coming to a close, I make my way to the nation's capital, Kuala Lumpur. I discover it is not so easy to extend a visa here and that too many travelers try to do so in Singapore. It seems that my best bet will be to spend at least two weeks in Indonesia and give myself time to decide what to do next. But before departing on this next mission I have the opportunity to spend an evening with some old friends I met back in Prague. They had just finished a teaching stint in Indonesia and have freshly moved to Malaysia on a new contract. They explain that, after Prague, they tried it for a while in Austria, but eventually left with their tail between their legs and only $50 in their pockets, total. But after Indonesia, with no night life or partying to mention, they now boast to have $50,000 in their coffers. I mention my plans to build a resort and they think about it.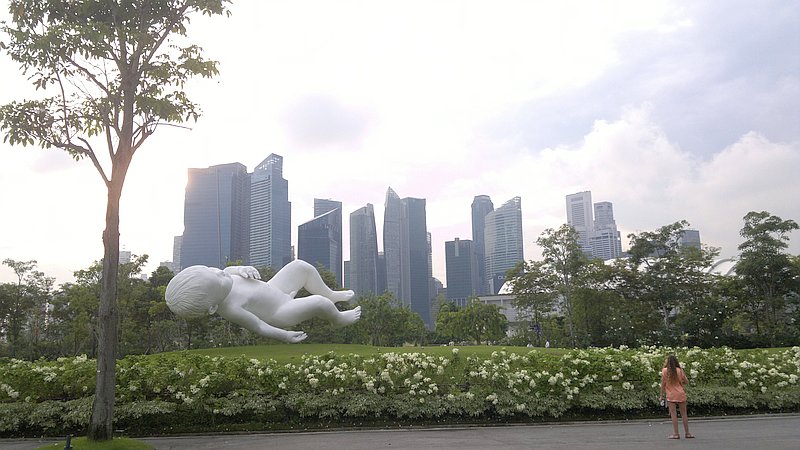 Visa run through Singapore
I take the bus to Singapore, but not before first stocking up on rolling tobacco. Kuala Lumpur is one of the few places I found this preferred commodity, as I'd rather stay away from the ammonia pumped into factory-made cigarettes. I get to the border crossing and am asked if I have any tobacco. I promptly surrender all in full honesty and am asked to follow the guard. I notice a little snicker quivering in his lips.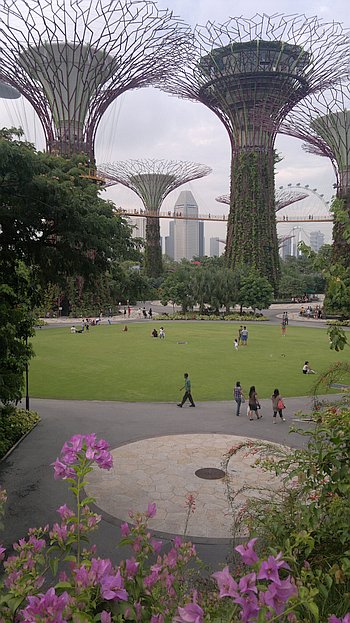 I am escorted to another guard, who asks me to sit on a bench in a small, jail-like room. I notice how he purposefully closes the door almost shut while he steps out for a while. Seems like another police psychological exercise in the brewing, whatever the issue. After a hanging moment he returns and explains there is a limit to the amount of tobacco I can bring into the country (measured by weight), pointing his finger to some text on the wall indicating that I must now pay a $250 fine. Understandably, I blow up, hovering over him with inflamed face, to which he responds with a shocked expression. I ramble a long-winded speech how his affluent country should not resort to such petty ways of extrapolating money from first time visitors. He asks me to calm down and compromises with, considering I am in fact a first time visitor, he can waiver this penalty. Later I lambast the authorities with an email explaining how this guard was power tripping and how I do not need to be made to feel like a criminal. Considering this country issues a death sentence for trafficking marijuana, I really do not ascribe it as near the top of my bucket list. Nevertheless, I do spend a few days exploring it, and it does have a nice nature park on its outskirts.
After landing in Indonesia, I apply my usual routine of walking slowly and letting the circumstances dictate which direction I should go. Following the standard onslaught of aggressive taxi drivers, I eventually meet someone who is a mild more to my liking. His English is very poor and I find it somewhat difficult to explain "I love nature" or "off the beaten path". In any case, he directs me to one of the stalls and off I sail to the remote island he suggested to me.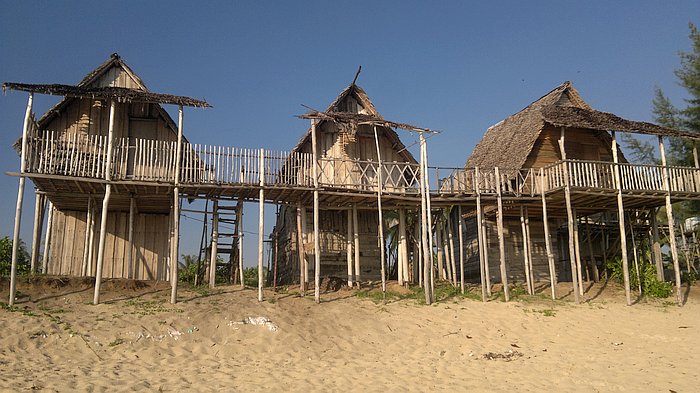 As soon as I disembark, I am surrounded by 30 starving tricycle taxi drivers clambering for a buck. I apply my usual approach of wandering along looking unenthused, when I catch a glance at one of them. Somehow this person seems the right ticket and I jump into his bike, after he spent 5 minutes ensuring me that we are too far away from the center to walk, as I usually do, and that I am much better off going with him.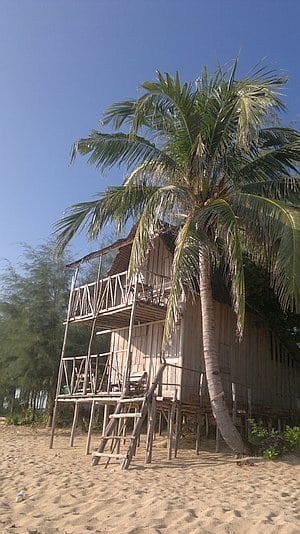 We bounce around town until he proposes, considering my budgetary requirements, to stay at his house. It appears they rent out three small rooms in a separate construct, but plenty for my needs. Because I keep stressing I want to see a nice beach, we load up in two bikes with all his friends and make our way there. Hardly paradise, with stink from garbage and rotting fishing boats propped up on the shore, but I do play some viola for this small group of boys and eventually head back to the homestead.
It is there that the subject of marijuana comes up. I express interest, but fear of jail, crossing my wrists to help explain my thoughts, since their English language skills are hardly polished here in the outback.
We spend an evening on the roof of my abode, playing guitar and singing, drinking cans of beers, and smoking copious amounts of dope. Slowly the party disperses and I am left with only two of them. One the provider/dealer and the other who was playing most on the guitar. The conversation slowly takes a turn and I am told by the guitar player, "I am the local law enforcement," gesturing to my wallet that I should pay something. In Bali it is a $50,000 Euro fine and five years in jail for possession. Bali is a part of Indonesia, although they'd rather separate, and I heard the law is more strict here. Meekly I pull out my fat wallet and start pulling out the dirtiest notes. "Like this?" No, the guitarist shakes his head. "How about this much?" Another head shake. Eventually he clarifies "bright blue". "Really?", I say. Slowly I draw out a crisp 50,000 Rupee note from the thick batch and hand it to him. He nods with approval, and asks me what I think of marijuana (after he and his supplier friend had smoked at least as much as me). I talk about peace, love and happiness, bowing my head as we embrace each other somewhat. Eventually he goes away, but leaves me a can of beer and I learn the next day that, afterwards, he had partied it up with his friend for a while at the local whore house. But at $4.5 dollars, I really couldn't complain, and I got a beer out of the deal.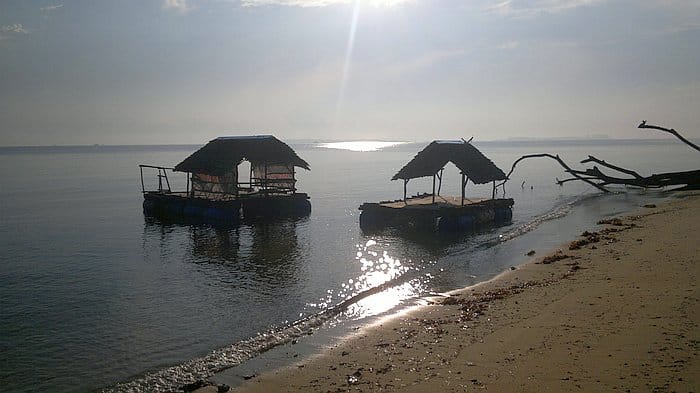 From close jail to paradise
The next day my host is upset about how things came about and declares this guitar player no longer is friend. By this time I have already decided this is not the paradise I am looking for and want to get back (as fast as possible…) to the ferry to move onto my next destination – back to the main entry point. My host escorts me back to the ferry and waits with me, while I buy him more beers, and lo and behold the guitarist shows up again, in full uniform and all his glory, handing me his phone with messages written on it so that my host cannot hear the conversation. Underlying threats, but I manage to scrape my way off the island and vow to never again frequent such impoverished areas.
I get back to the main town at the entry point but am so accosted by taxi drivers, prostitutes and dirty children offering sex that I decide to quickly exit my clean hotel to the next location, wherever that might be.
Through couchsurfing I find one place not too far away and am assured that it is in nature. On arrival, it is clearly not so, but I am happy to speak English to the students in my host's school, explore some sites and another island before making my way onward.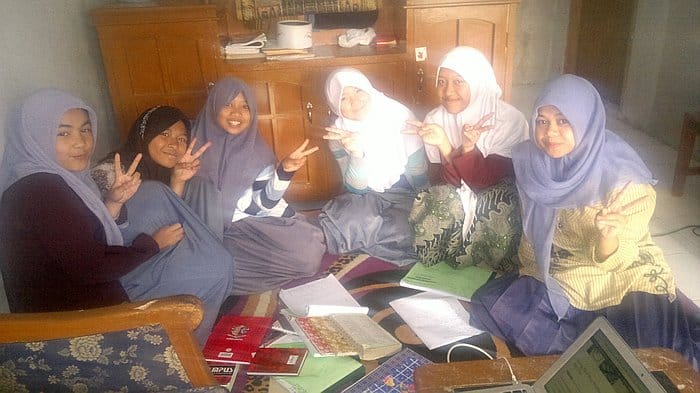 The next island is perfect, but too expensive (close proximity to Singapore, one of the richest countries in the world), shoddy internet and decide to leapfrog to a very obscure location in southern Java: an orphanage arranged through help exchange. The children are very welcoming and clap their hands with every word that comes out of my mouth. I play soccer with them for about a month, but the honeymoon fades to an end, I struggle to get a visa extension and off I am to some supposedly renowned paradise island, Karimunjava. Much better than what I had explored so far in Indonesia, but not exactly my cup of tea and soon enough I am heading back to Kuala Lumpur, a much safer haven.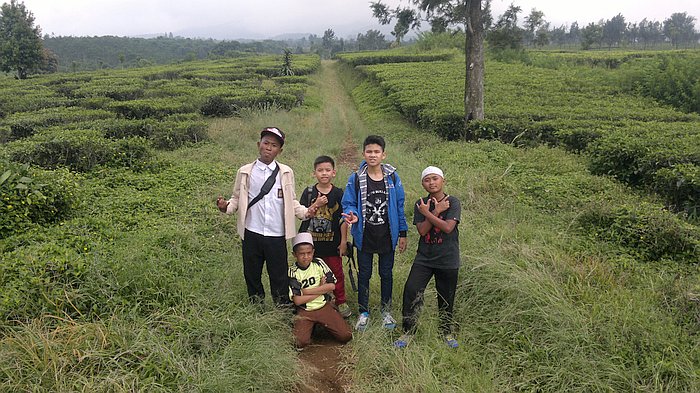 On arrival by plane, as planned, I get another 90 day visa. But back in Indonesia I was sent a surprise invite by a hot German girl to visit her while she goes on a yoga retreat in Goa, India. She had couchsurfed with her friend at my place back in Thailand and found this the most welcoming invitation, or a perfect present for my upcoming 50th birthday. But in Kuala Lumpur I learn from the Indian embassy that I must either fly back to the country of my passport (Czech, as I am using that passport to travel around Asia), or apply in Bangkok. Unfortunately, I had just spent 2.5 years in Thailand and to re-enter I must either fly back to the country of my passport or stay out of Thailand for 9 months. That period has not yet passed, so looks like hot German chick (with her hot female friend) will simply not happen. Where to go then? I hum and I haw and the Philippines comes to mind.
A new home?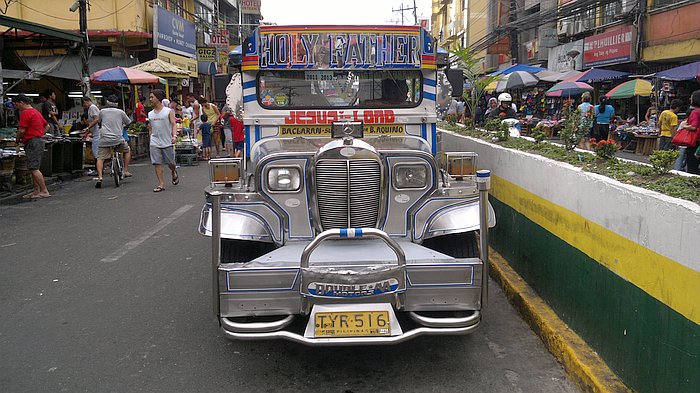 On arrival I am mesmerised by the beauty of the girls in the billboards, the hospitality of the people, and for the first time in my life I can seriously see myself settling down and starting a family.
When returning to KL (Kuala Lumpur) from Indonesia, I communicate with my old Prague friends and we decide to spend New Year's Eve together in Melaka, just south. A quaint, tourist town where, through Tripadvisor, I found a venue to jam my viola. An amazing musician who plays fabulously on six instruments, totally kicking my butt in the sixth of them – the violin. But we had a few good jams and, in the process, I met and befriended a Scot. We painted the town, locals buying us round after round of beers due to our special oddity. I particularly liked how he was so proud that the English, after arduously suppressing the Scots, employed them to take over the Irish and then the rest of the world, setting them free to pillage every village, kill the men and do with the women as they wished. "Any man who wears a skirt with their balls free in the wind must be tough," I gesticulated, to which he immediately responded, "A boy named Sue!" You must know the Johnny Cash song to understand that one.
Jammin with the man at Me and Mrs. Jones.
In any case, we bonded well and I stayed one night at his place back in KL (where he dragged me by the hair to the local whore joint, after I had informed him that I was without girlfriend for the past nine years, and exclaimed, "If you do not fuck any of these girls, I will grab your dick with my hand and fuck them for you!"). He promised to come visit me in the Philippines for my upcoming birthday bash.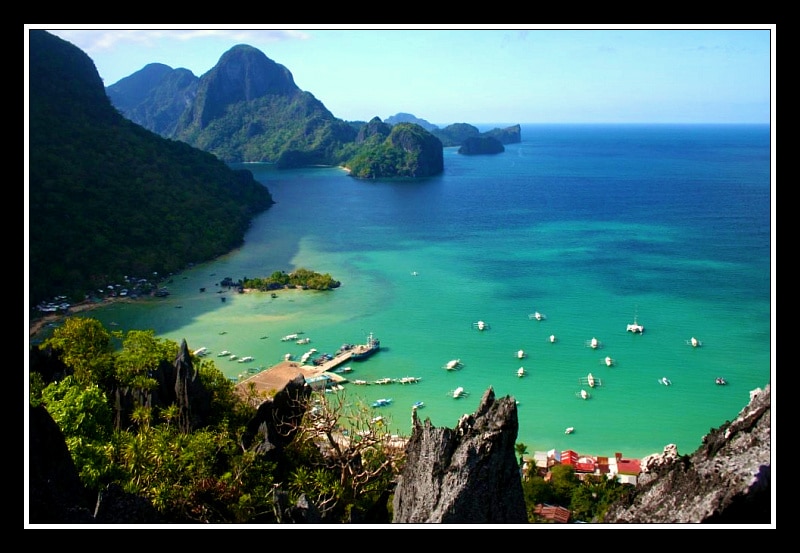 For more than a decade I have been telling myself I want to make this shindig a major one. Half way to the last item on my bucket list of reaching a hundred and jumping out of a plane to splatter on the ground. No lying in bed the last few years of my life and I'd rather go out with a fat splatter bang. On my way here one friend suggested El Nido, and after checking out some of its pictures, I abandon my previous plan to explore the country by motorcycle, instead making a beeline to this popular destination. Need some time to find the ideal place for my new Scottish friend, complete with proper red light district and all the other, demanded creature comforts. But en route he fell in love with a Nigerian girl, while another from his past was pestering him. We decided it would be logistically too difficult for him to get to my remote location for the long weekend he had in mind, abandoning me to party my big 50 on my own (or with whichever random locals I could muster up, as I had been planning anyway).
Jammin with local traditional musicians teaching children.
I did some research on Tripadvisor and decide on a beautiful beach resort east of El Nido. I end up staying for two months, make some friends, and arrange to celebrate my birthday by spending 5,000 pesos (rhymes nicely with 50) on seafood to fund "the band", which are the local children being trained by a traditional Palawanese musician aspiring to preserve the heritage of the area. Some 30 children bellowing out their lungs while I played along with my viola. Half the village showed up for the event, I gulped down a couple of raw oysters and was plenty satisfied. Sibaltan is a nice archeological village to stay in for two months, but the travel bug is brewing as usual and I'm looking forward to hitting the road again. However, in this country of 7,107 islands, perhaps I should be saying "hit the water".
To explore this country while supporting my new entrepreneurial venture of organising island hopping tours, I order three portable solar panels hand made by a forest ranger in the US. Mobile signal for internet is available almost everywhere, but electricity is not, most villages running their diesel powered generators from noon to midnight, or more frequently, 6-10pm in the evenings. Hardly enough to power my online work – especially if I want to watch a movie or two in the wee hours.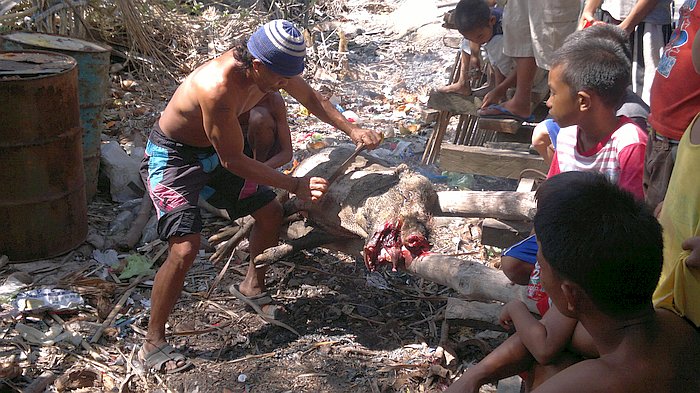 Stocked with my self-sufficient arsenal, I head out to the first island of Pical, a mere 30 minutes by local fisherman boat from Sibaltan. I suggest that I could hire a guide to take me to the other side of the island, as I heard there was another village there, from where I could hire another fisherman boat to take me to some next destination. Afterall, in this area alone, there are some 1,700 islands, so fertile ground aplenty for exploration and frolicking. The plan is to create a database of villages and homestays, with a network of fishermen to hop guests from one authentic destination to another. The guests would be provided with all contact numbers while I would notify homestays of the next arrival. I assume I will have an exclusive arrangement, so no need to confirm availability.
But my host on Pical mentions that the other village on the island isn't really a village but just a small collection of huts, instead recommending that I join him on Monday as he plans to takes his boat the long journey to San Miguel, Linapacan, to report his accounting. Arcenas, my host, is the captain of his village while San Miguel is the regional centre. Arcenas makes his living by collecting catch from local fishermen and hauling it off to Manila for sale. I enjoy watching his operation as his helpers package the goods on ice, weighing everything.
Cool boat tour I took of this area.
So off we go in his larger vessel, which docks to San Mig's pier by latching onto another vessel (no other room). Strapping my volumous and sturdy backpack that I bought back in Canada for treeplanting some 30 years ago, heavy and laden with foldable solar panels, 12V battery and everything else I need to continue my online business, with viola dangling in free hand and all the other goodies I brought with me, I hobble precariously across the makeshift bridges between the boats and eventually make it onto the pier.
Once on the mainland I pass one local who asks me "What's up?" and learn that he owns 100 hectares of property on the island just across the bay. We exchange telephone numbers and I follow his advice by continuing down the road to the left in search of accommodation for the evening.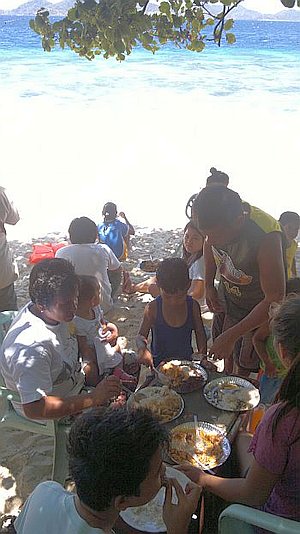 The last hotel in succession is BRC, a nice clean place where I shack up for the night at the amicable and budgeted price of 200 pesos ($4.5). Since the electricity only runs here from noon to midnight and is a rather central area to many islands, I decide to use this as my base, exploring the surrounding areas on the side. Afterall, the three solar panels do not seem to be enough for my needs. Perhaps the regulator is too weak. But it is nice to settle in a new area.
I befriend a fellow by the name of Henry Boy (all Filipinos seem to have a designated nickname next to their real name) who organises for me boat trips to various islands. One is an hour away and we go there with about 30 of his relatives to celebrate one of them who is heading to Canada for a nursing job. After stocking up our bellies with fine, grilled food and beer, we decide to explore the island. 100 hectares with about 4 beaches, all owned collectively by this big family (as all Filipino families seem to be). The last time he visited the island was some 40 years ago, we scratched and clambered our way back through the mountainous middle, but with no mobile signal and a far shot from the tourist path, this project will have to wait.
However, he did suggest one property closer to home, Patoyo island, about a 15 minute boat ride from San Miguel. Great mobile signal for internet and the entire family seemed keen on my idea to develop their land without buying it and at 50% profit sharing. I agreed to pay 10,000p a month in rent (about $220), but one member of the family working in Japan objected for some reason and the whole deal was cancelled. I find that many here are shortsighted, just want to sell out so that they can lavish their necks with gold but leave nothing for their grandchildren.
I'm somewhat disheartened, but fortunately have a couchsurfing guest visiting from Spain to cheer me up. He is my first CS guest in the filis, a highly gregarious individual who teaches kitesurfing in Vietnam. He checks out the previously potential property with me and comments it would be a perfect kitesurfing spot. Not to mention that the snorkeling along that stretch of coast is fantastic. And due to his gregarious nature, he gleans from the owner of the hotel I am staying at that he owns several properties on different islands. Not the least of which is an entire island worth $1.5mil. Considering the owner used to be the town mayor, he seems a more suitable candidate for my venture than to deal with dozens of bickering siblings. Especially a female maid working in Japan, as women in the equation often seems to introduce an element of irrational emotion not the most suitable for simple business dealings.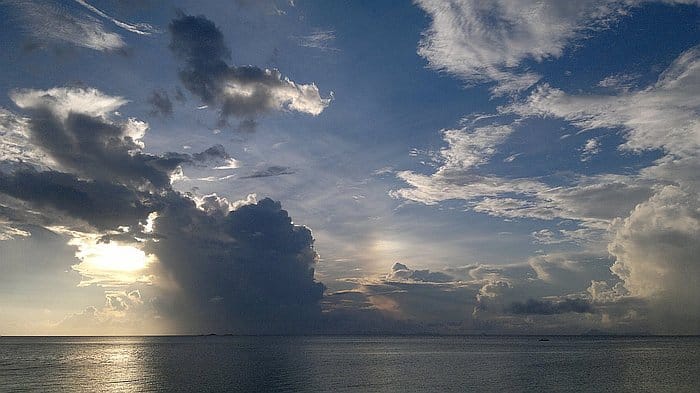 It turns out that one of his properties is on the other side of Patoyo, where we have agreed to launch my big fat resort dream. Unfortunately, the mobile signal is very weak on this side and most of my struggles during my first five months here has revolved around that. You may read about my various mishaps and misadventures here. Since I expect not to be traveling for some time, that website should be the best place to keep up with my life's journey. For that can be wonderful, even if staying put in a single place. From the billboards I saw in Manila and generally along the way, I'm close to firmly convinced to start an interesting new chapter in my life: settle down and start a family of five children. Who knows how the story will unfold after that, but it is a chapter, or legacy some say, that I would like to add to this unfolding book.
We are a family operation managing private custom boat tours in the beautiful Palawan area, and are happy to help travelers with their plans through the Philippines, having traveled a lot of it ourselves and planning to visit it all. These pages in this section cover my various solo travels before meeting my wife.