Bohemian Paradise Pictures with the Hash House Harriers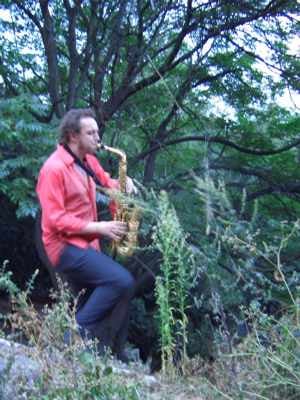 I used to spend a fair amount of time in this area on the weekend, camping with friends, cycling through endless forests and castles. I loved showing this to guests to the country, which I decided to organise a big hash event. A once a year event which can be organised for each particular area. Hashers in general are in their later years but successful with money to burn, traveling around the world to different events, acting like silly children and drinking lots of beer, but staying in shape at the same time.
It was my pleasure to organise this big event for them, with about 60 people showing up. Most of them stayed at a camp where I usually frequented and organized for the camp to roast over fire a couple of pigs, Czech style. I also mustered up some band member friends and organised two bands of entertainment that evening, while I brought my djembe and jammed with them, the hashers kind enough to hold me up for falling over while I sat jamming, because, inevitably, I will drink nonstop beer during such events, especially if I organise them. I was very happy to host so many people to this beautiful area.
One of my band members I invited. He played in both bands. He looked out of shape and I was concerned if he could handle the long walk along the trails during the day. He pointed out that, being a sax player, he exercises his lungs a lot. I waved it off as nothing and politely nodded. But once on the trail, me, as someone who sports about six days a week for hours at a time, was quite surprised to see him always ahead of me, waiting while I panted.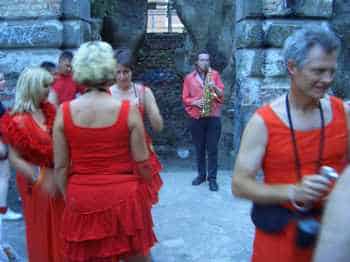 Hashers truly like to get silly, especially for such large events.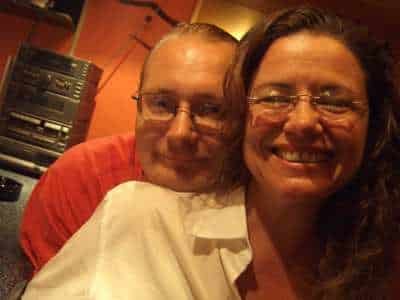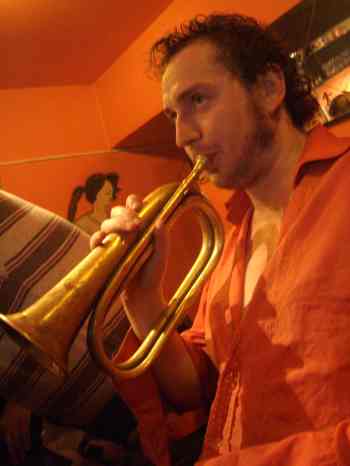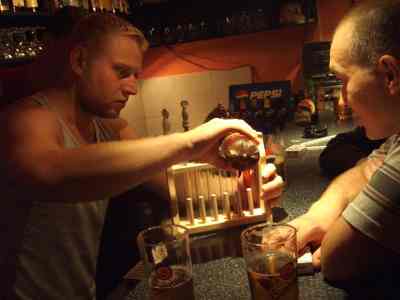 Anticipating the dreaded next
blood sucking Devil's herbal concoction.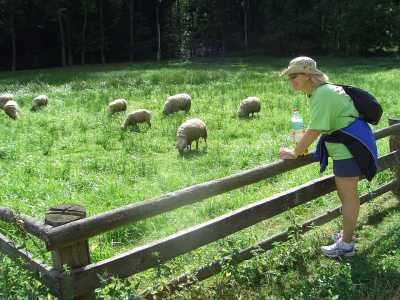 Before the sacrifice.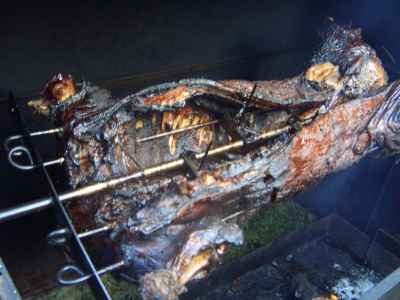 Friday night pig on the roast.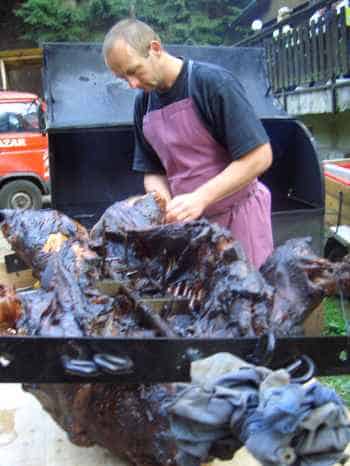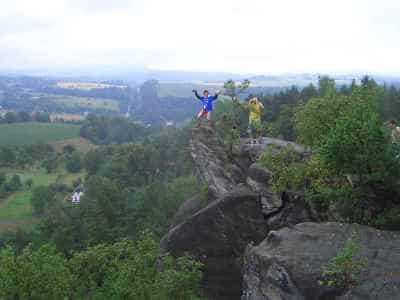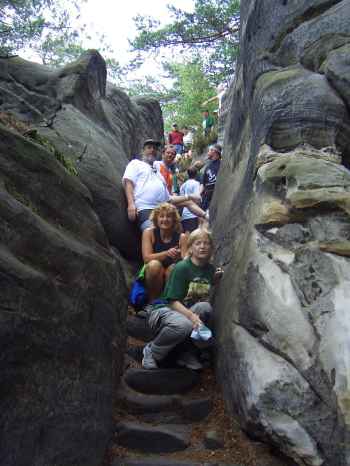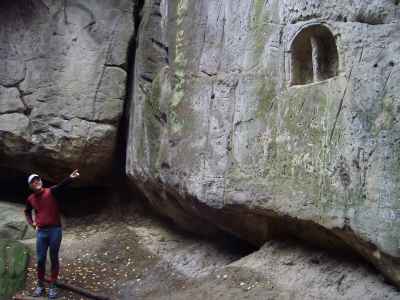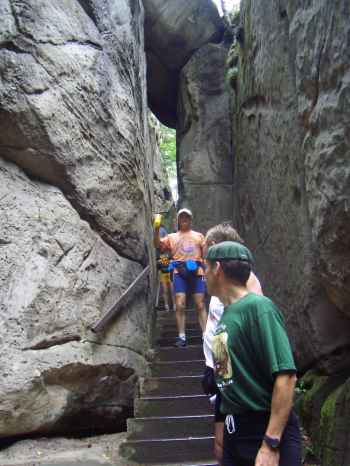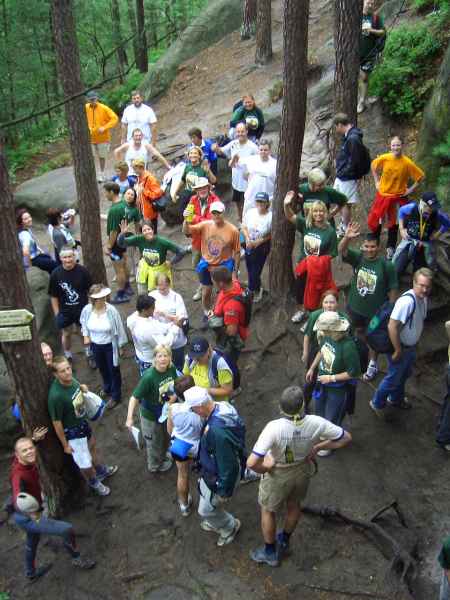 To encourage these lovely old farts to stay in shape, the trails to follow are designed for walkers and joggers alike. The joggers follow flour marks left by the trail blazer a few hours beforehand, occasionally following false trails, the fit explorers sometimes sounding their horns when they have found the true trail, so that the walkers have time to catch up and we all conglomerate together, usually sing dirty songs and drink beer if available, before continuing on "the [rabbit/hare – roots are British hunting] trail".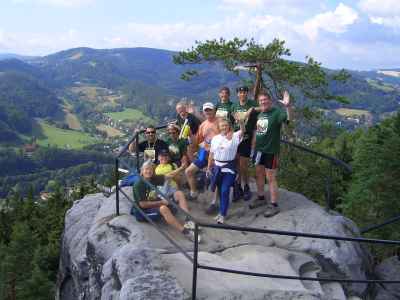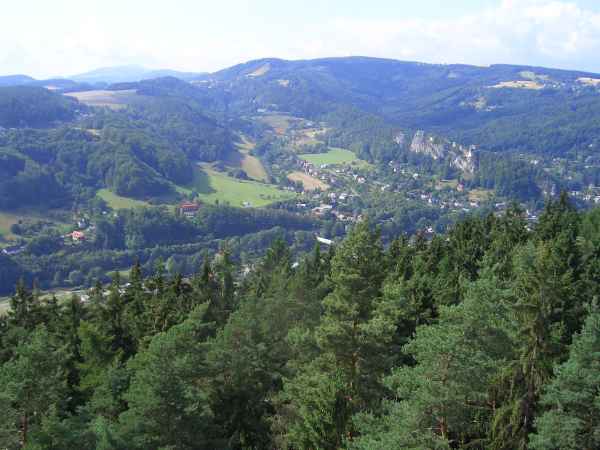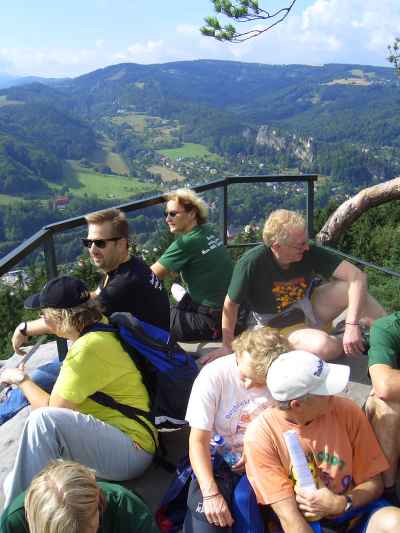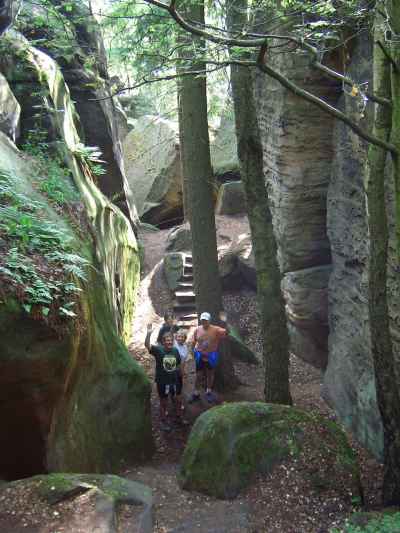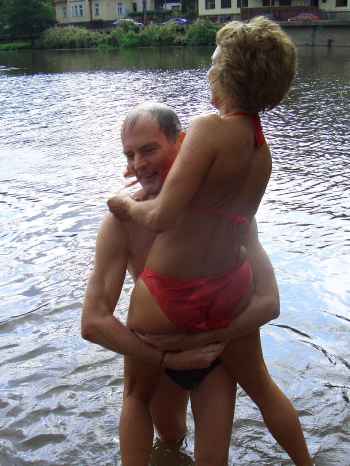 At Mala Skala in the river after a hard day's walk.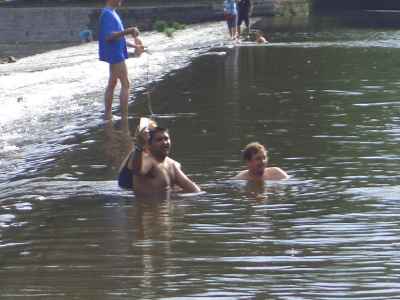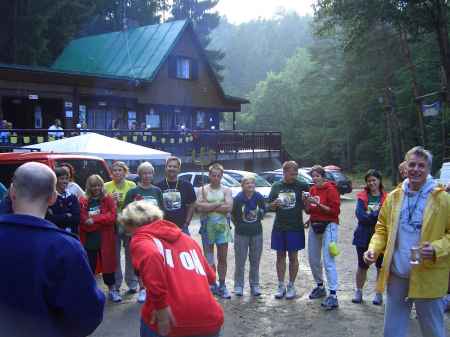 Downdowns in camp on Saturday. A downdown is when you have to "down" a full glass of beer, usually because of some made-up misdemeanour [blamed by someone else] during the trail, as a form of "punishment", while the rest sing some dirty hash song. I always loved getting punished.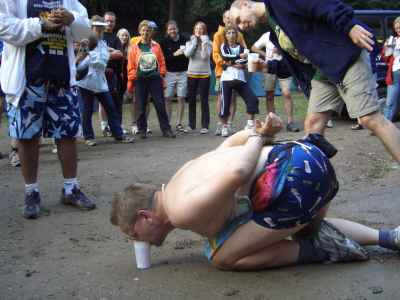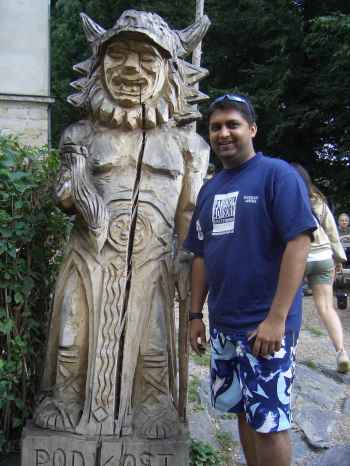 Sunday morning in front of castle Kost.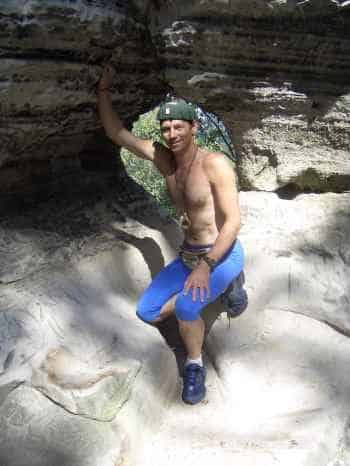 In Krasna Vyhlidka area.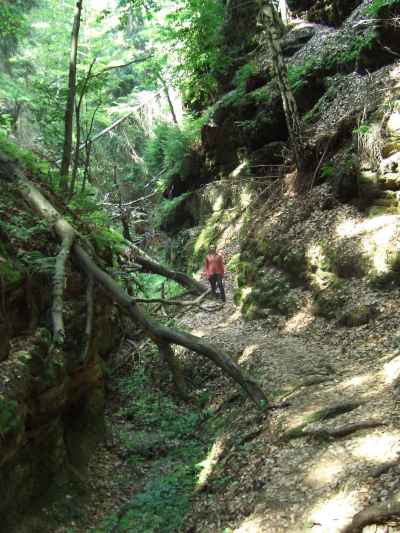 The sax player joins us on Sunday! I was actually so drunk I took the wrong turn and went down the wrong path with my two friends. First time discovering it, in the valley between the scenic ridges, so I missed the group but I'm sure they had a great time and I enjoyed discovering a new path.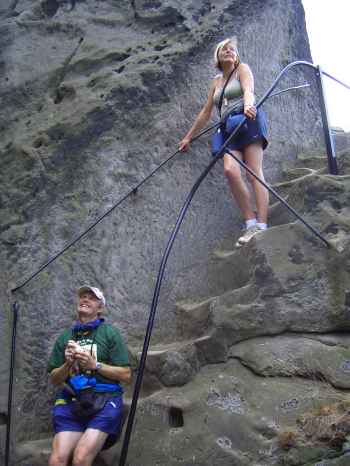 At the old bandit castle.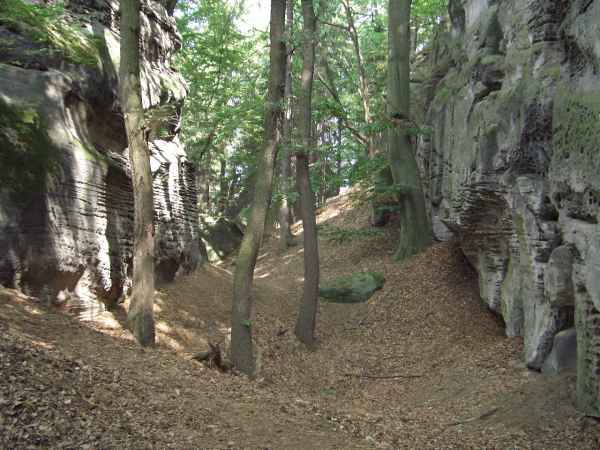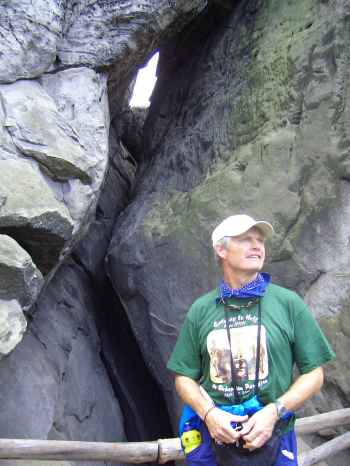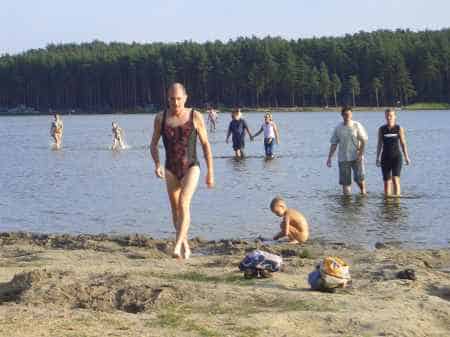 Swimming at the end of Sunday in Mosquito lake.
Free Willie is still going strong on the Red Dress Run.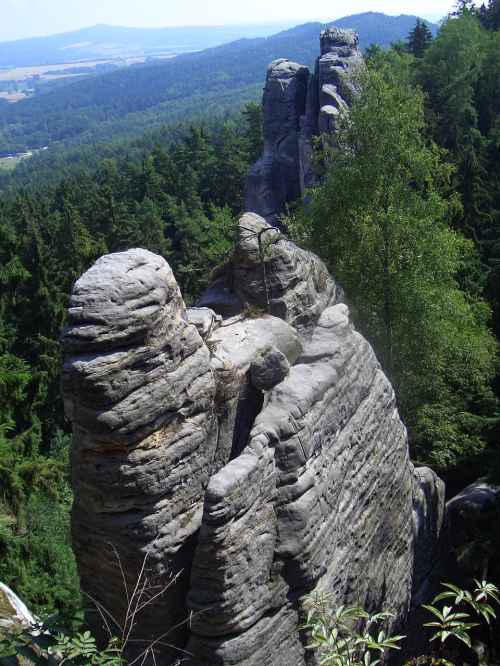 Monday northwest of Jicin.
Fewer of us left!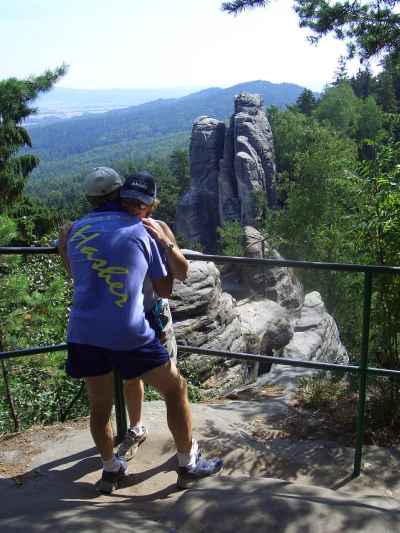 Hash sex on the rocks!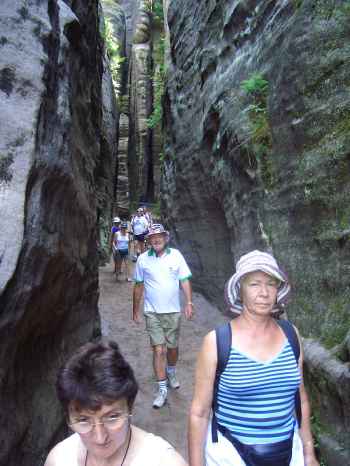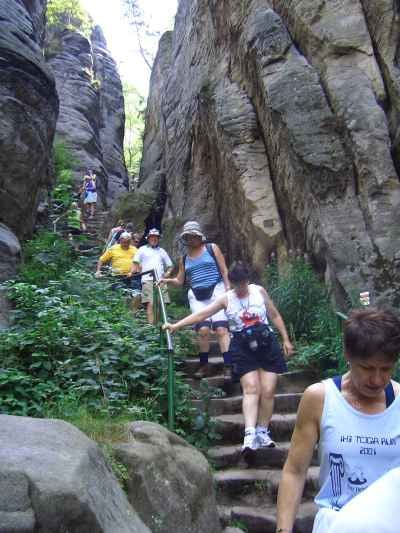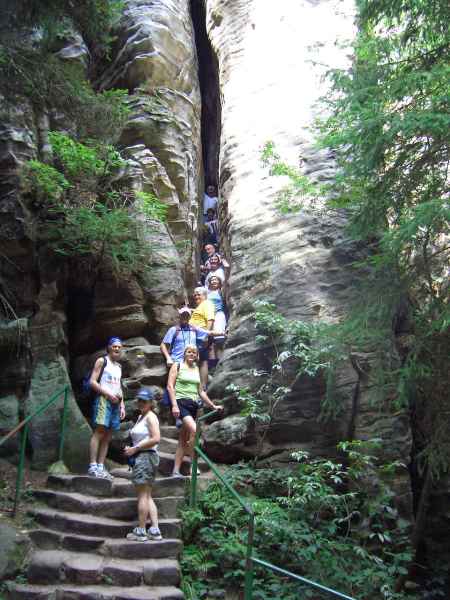 Needleman was a bit pensive here…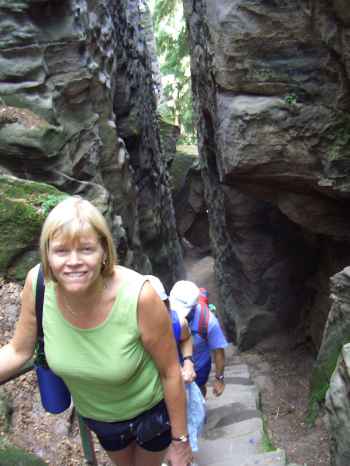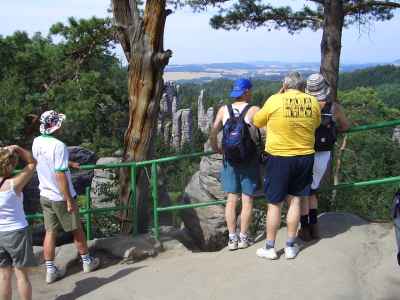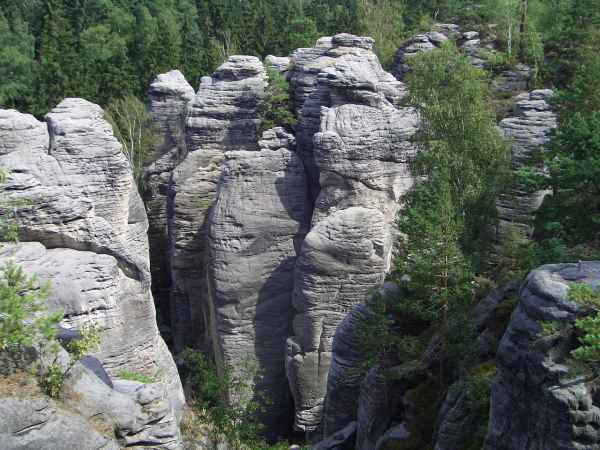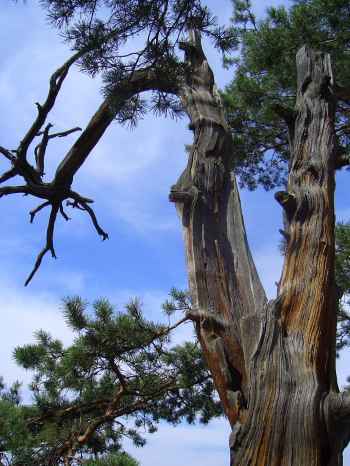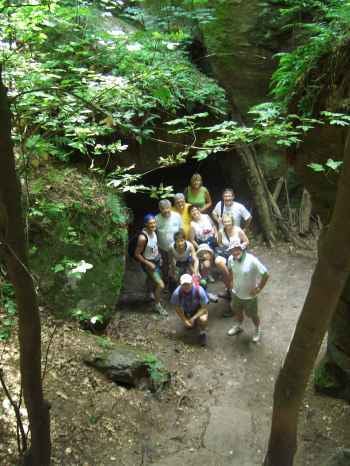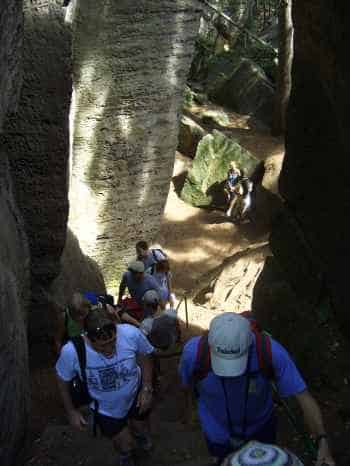 If it's not up, then it's down,
and then up, and then down…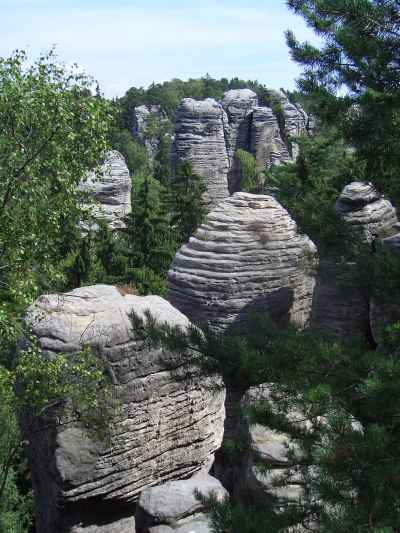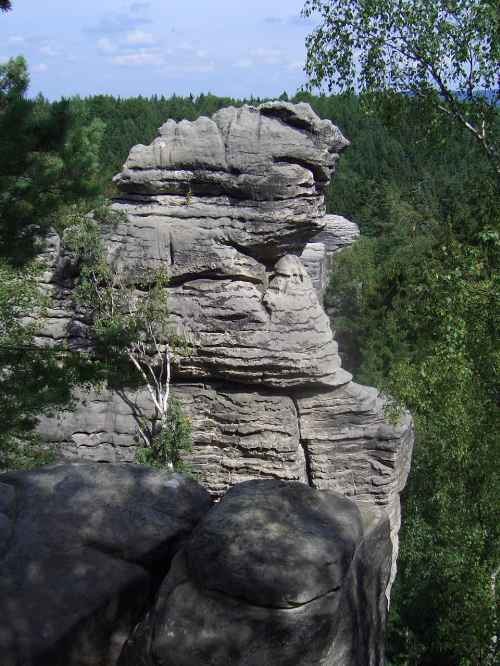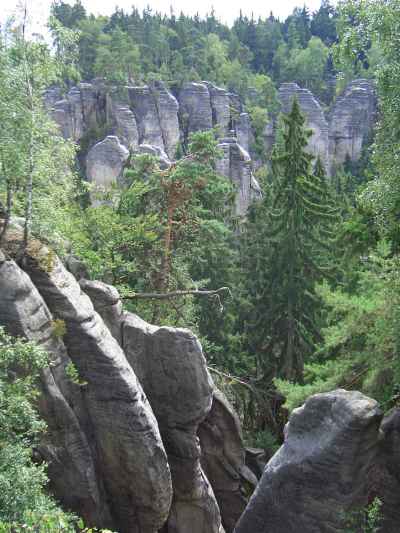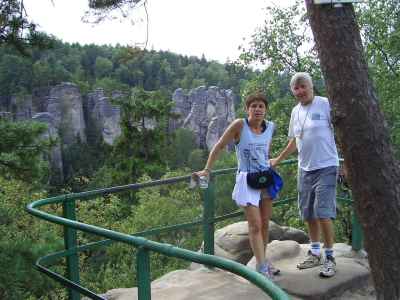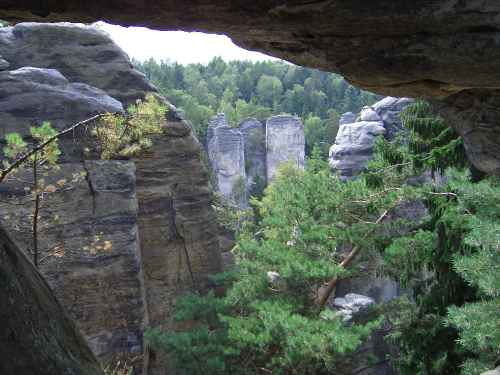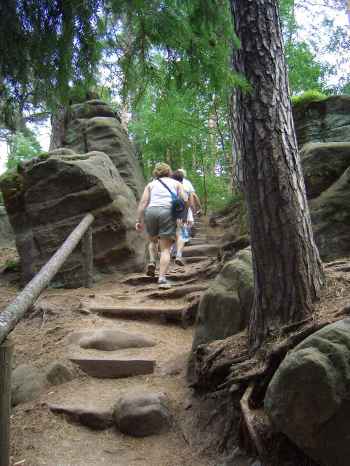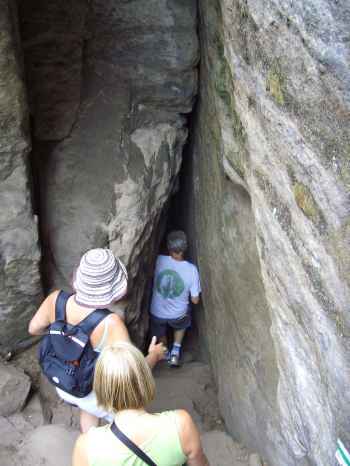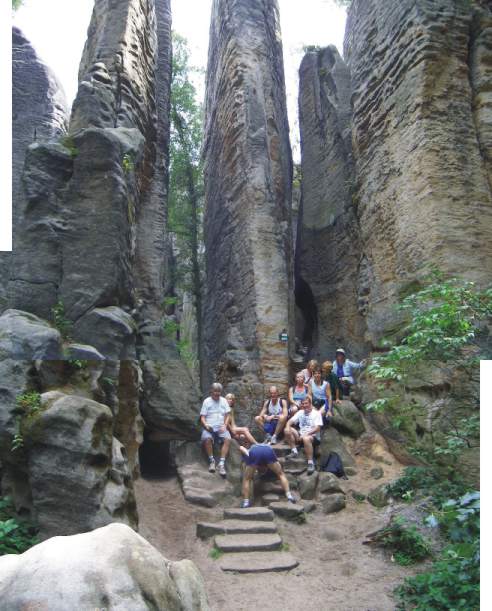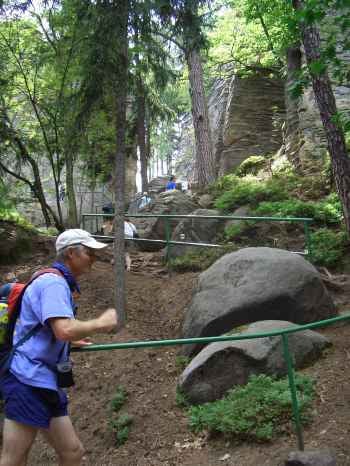 Marching forward, almost a jog.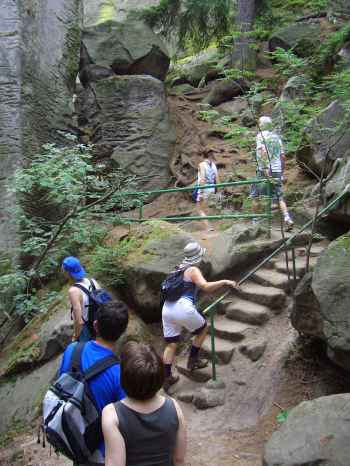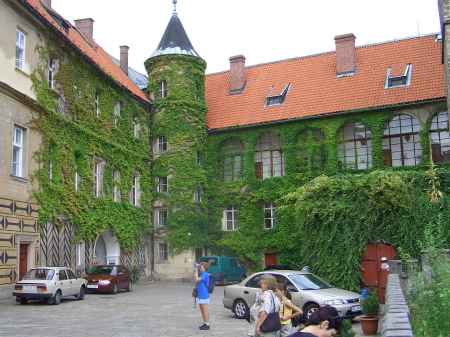 The Hruba Skala castle where all the rich dudes stayed.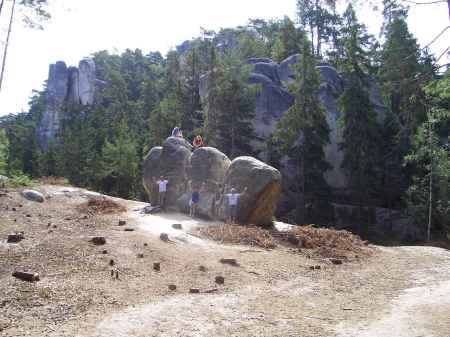 Walk on Tuesday around the Hruba Skala castle – last day for the very few remaining!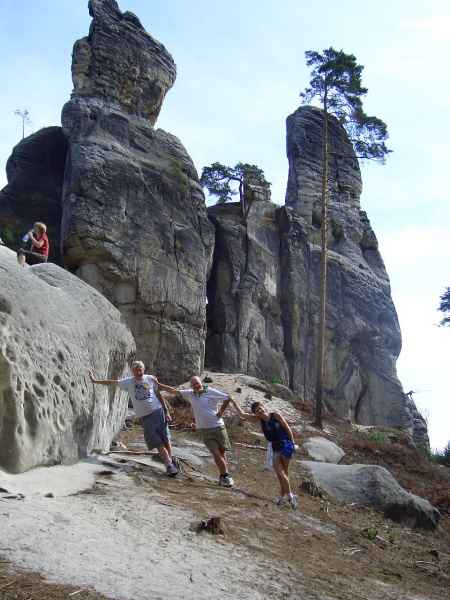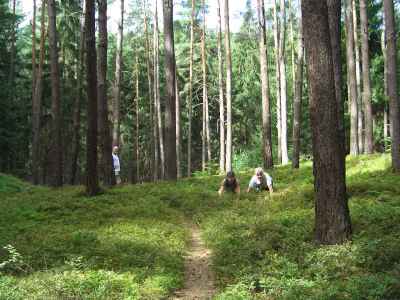 Local blueberry eating animals.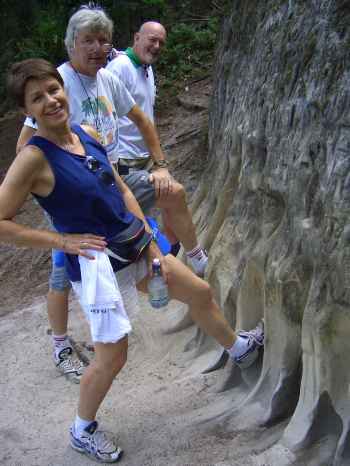 Contributing to local foot scraping art?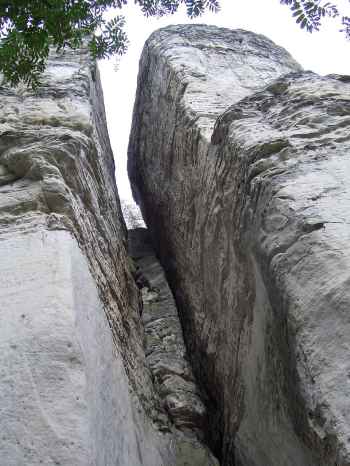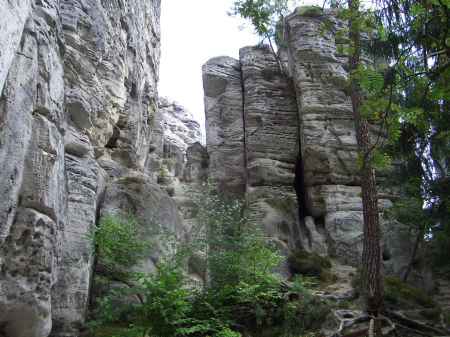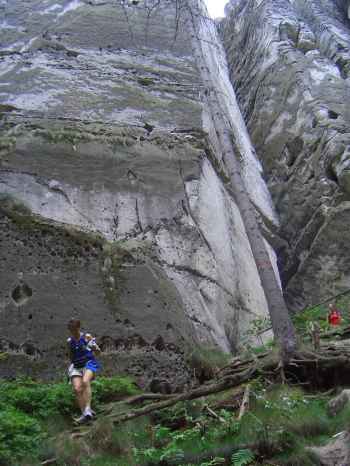 Weaving through the rocks on our own trail,
planning for a real hash ramble next year.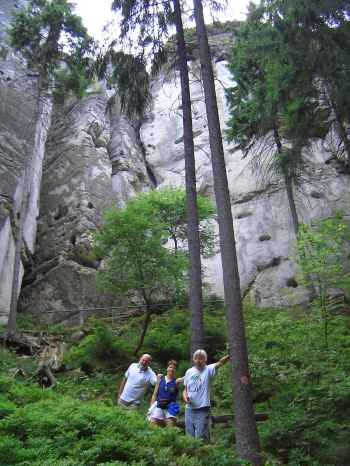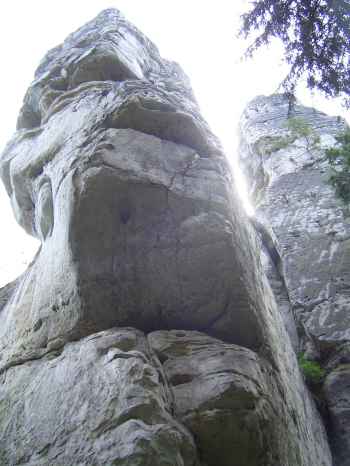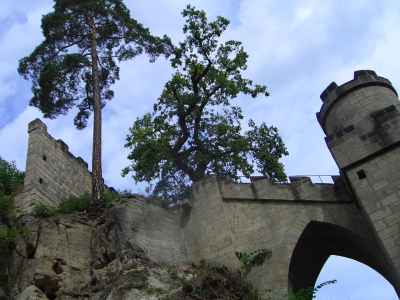 At Valdstejn castle for a beer.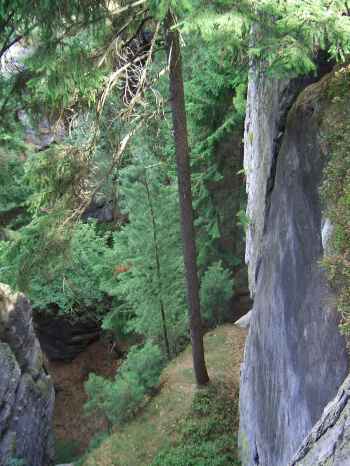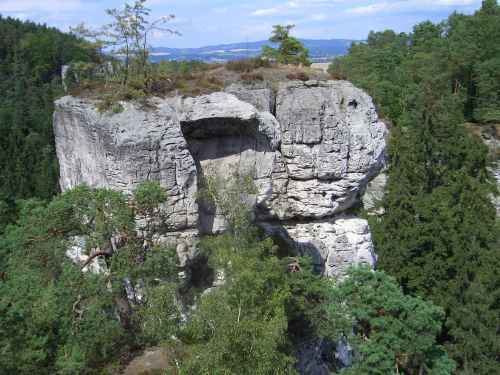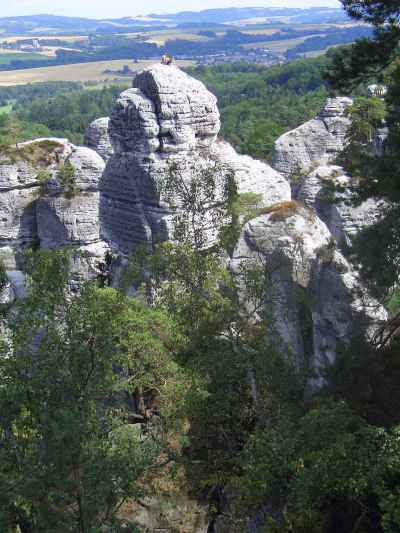 Note climber on rock.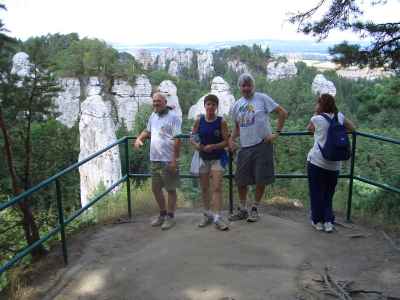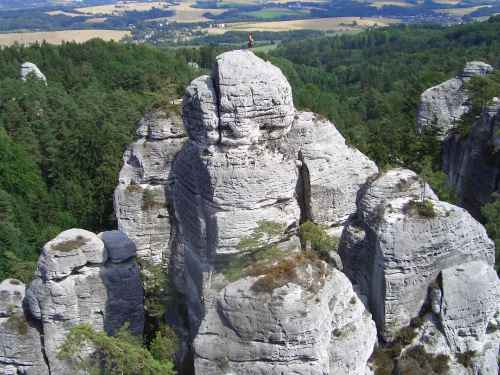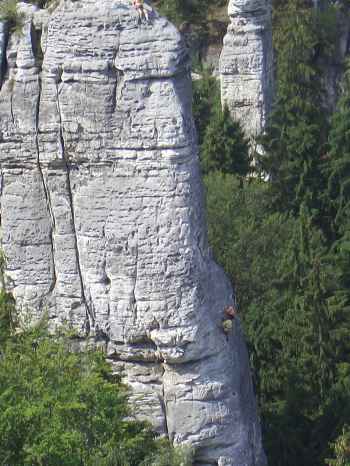 Note three climbers.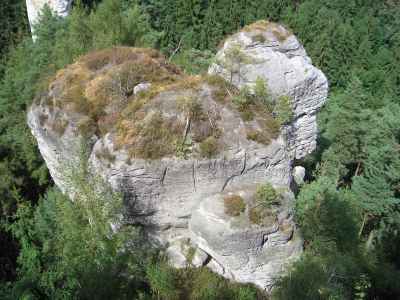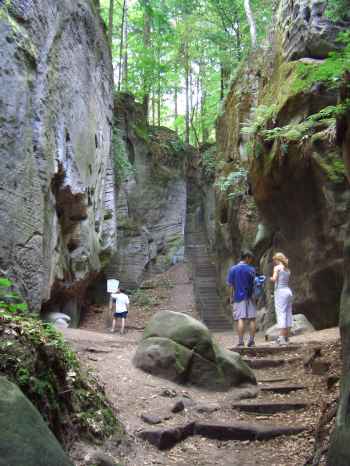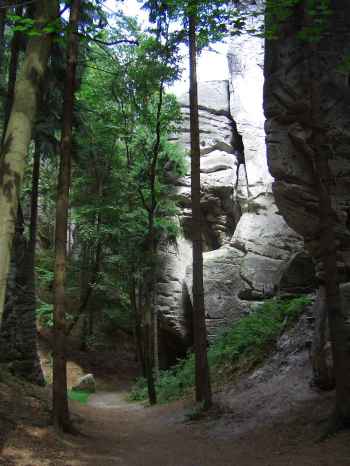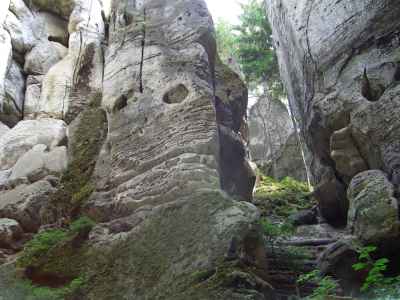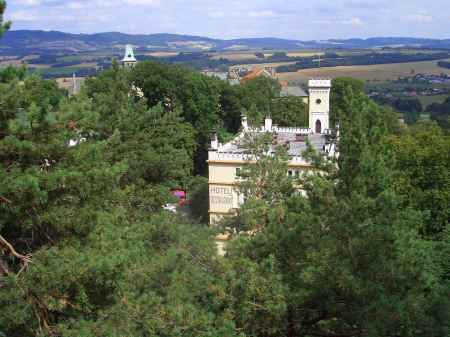 And final shot of Hruba Skala castle hotel from above in ruins of the Powder Tower.
Hey, sorry for the small size of the pics. Old technology long time ago, but hopefully "you get the picture", heh heh. Certainly hope to take my budding family to the region one day.
Back to Certoryje Bohemian Paradise page.
My Life in Prague | Czech Festivals | My Reflections of the Czech Republic