Below are regular venues where they have a live jam music scene. Or you can go to this useful Koh Phangan party events calendar. If you are interested in the Full Moon party...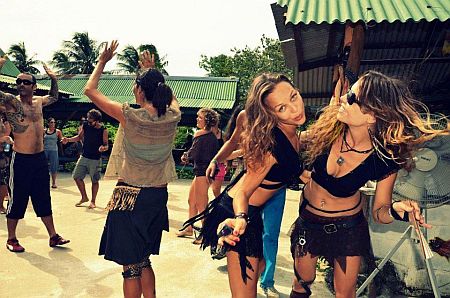 Dancing in the sun at the middle joint.
Otherwise, I would suggest the following, weekend extravaganza. Go to Haadrin and either take the five minute boat ride (150 baht each way during the low season) or the jungle trail to Haad Rin, getting there for Thursday so that you can enjoy the jam music and good food at the Sanctuary on Haad Thian beach. At least this way you'll be able to get a bungalow, like this fantastic one, before the storm hits on Friday and almost impossible to find something. If you do get stranded, the Eden bar had no problems me sleeping on some of their floor pillows until the storm moved there by around noon on Saturday. Friday night from around 11pm check out Guy's Bar in Haad Thian, which moves to another place around 7am, and then to Eden by roughly 11am, which continues on until Sunday around 3pm. This is much more interesting than the Full Moon party, happens every weekend, and if the full moon happens to be around the weekend, you can combine it, even on the same evening. If you stay in the Haad Yuan beaches area you can go to these parties any time of the day or night and it does not have to turn into an all night bender. Managed to get a great tan on MD.
Live or Jam Party Music
Mondays
Green Leaf restaurant
Same place as on Wednesday but tonight from about 7-10 is musician's night, working on songs, but is often better than the jamming on Wednesdays (Greek mandolinist from Balance comes over, playing with yours truly on viola).
Reggae Bar in Haad Salad
As you are entering Haad Salad once you get off the main road, it is shortly on your right hand side, just before the diving shop. Restaurant atmosphere, but can get wild once the crowd hits the dance floor. Starts around 10pm.
Tuesdays
Jam Bar
Same place that rocks hard on Saturdays but on Tuesdays it's mostly unplugged and real cool. Starts around 10pm.
Wednesdays
Green Leaf restaurant
On the main street in Srithanu, not far from 711 going along the coastal route towards Thongsala, left hand side not far after the intersection, just before the hardware store/bank machine. 7-10pm, very nice ambient cafe atmosphere, on Wednesdays they also have delicious all-you-can-eat Indian veggie buffet (some chicken sticks for meat lovers) for 120 baht, starting from 6pm.
Balance
After the Green Leaf you can go to Balance (it starts around 10), almost at Chaloklum along the coastal road. Right hand side of the road, just past the little bridge as you decend the largest, most dangerous hill, after which the road is relatively flat and safe. They often start a campfire out back, nice chill scene.
Omega Bar
In the centre of Chaloklum, the main street parallel to the seashore but behind 711 (not on the main street road to Thongsala). British owned, hopefully still happening.
Thursdays
White Rabbit
In Baan Tai. If you're staring at the 711 go left along the main road towards Thongsala. Its got a big sign and is on the left hand side about 50m up the road.
Fewer but good musicians, groovy scene. May only be on during the high season.
Monkey Bar in Srithanu
A total chill bar, unplugged, campfire on the beach, exotic fire show, very southern end of Srithanu beach just before the fishing boats.
The Sanctuary in Haad Yuan
A Yoga retreat, good food can be found here, great jam scene on Thursdays.
Saturdays
Walking Street in Thongsala
If you're at the 711 across the pier, facing the pier, walk left along the shore (ocean is to your right) until you hit a three way intersection and you are forced to bend slightly to your left, now walking away from the beach. On Saturdays this open stretch of road is blocked off to cars and becomes an open market. Walk almost to the end of that stretch, before you get to the next three way intersection which continues on to Baan Tai, and on your left you should find a little cafe with crazy man Toy playing on his guitar and whoever else is there to join. Street music style. Starts from 5pm and once finished perfect time to move on to the Jam Bar below.
Green Leaf restaurant
Same place as on Wednesday but tonight from about 7-10 is musician's night, working on songs, but is often better than the jamming on Wednesdays (Greek mandolinist from Balance comes over, playing with yours truly on viola).
Jam Bar
Not far south of Srithanu, a bit north of Thongsala, roughly at the middle point of the long stretch of beach along which the road runs. Just past the little bridge that crosses the little river, when heading towards Srithanu and on the beach side.
Plugged and jammin' hard with the island's best, leaning towards rock and blues, but limited only to the free flow of talent visiting from around the world.
Sundays
Drum jam on Srithanu beach
Outside jam session, starts at 5pm, weather permitting, jambe-based but any musician is welcome to join, whether plugged in or not. Sometimes with campfire on beach but often with groovey yoga dancers and entertainers taking turns putting on a fireshow.
Sunny Bar in Haad Salad
Owned by the cousin of Monkey Bar man above (Kai giving the fireshow), so another totally chill and friendly place, small stage, cozy atmosphere. Starts around 9pm.
Ananda Wellness Resort
The Ananda is a bit north of the Jam Bar above, along the same long stretch of beach but on the land/inner side of the road (right as you are driving north, towards Srithanu).
Usually from 7-10pm, and maybe only during high season, otherwise a DJ plays traditional Greek music and sets a fabulous atmosphere, to a healthy and delicious menu. If you are lucky you may catch a belly dance or two.


Party Joints
I'm sure there's tons of places you can party around the island, I'll just name a few that struck me so far, and add more as I discover more. Otherwise you can check out the phanganist website. Lots is happening on the island.
Srithanu Area
Monkey Bar
Three Monkeys Bar is a cool chillout joint right on the beach, where jams can occur around campfires and always one bloke putting on a fire show. Every night of the week during high seasons, otherwise still a cool hangout during low season.
Pirate Bar
Other end of the same beach section as the Monkey Bar, and then some. Fridays dance music during high season.
Haad Yuan
Guy's Bar to Eden
Probably the best party action on the island. Gets kickin' at Guy's Bar on Friday at around 11pm, then bop till you don't drop and follow the crowd to the next bar at around 6am. Burn dancing in the sun for a few hours and shuffle on to Eden, overhanging the ocean and see if you can last until Sunday around 3pm.
Feel free to add your own suggestions!