Rental and Renting a Bike in Koh Phangan, Thailand
This may be a common scam throughout Asia, but it certainly is on this island, where the tourist money flowing through is high and locals might milk what they can. And the way they milk tourists here is by charging them exorbitant fines with the slightest scratch of their bike. They won't rent it to you without your passport, so they basically have you by the balls. They claim they have to order a new part from Surathani and delivery is expensive, but they never do that and just cash in. Make sure all existing scratches are logged on the contract, take pictures if you like, and drive sober, very carefully, and cross your fingers that none of the many crazy tourists here will slam into you at the obscene speeds they sometimes drive.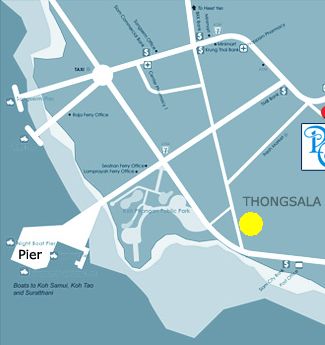 Alternatively, go to someone you can trust. If others mention to me other trustworthy establishments, I'll check them out and consider adding them here. In the meantime I only know of one. She is a nice and honest woman, and because I rented from them for several months they did not even charge me anything when I had a drunken accident. They fixed the mirror free of charge and wavered the other minor damages. If you're here for 4 or more months you can buy one of hers and sell it back to her or her bike repairman, or to someone else at potentially the same price. She also organizes package deals for visa runs to Penang, Malaysia, and can book your train/boat tickets for you, so check her out, but don't expect a response if you email. Phone is better, or just walk the short distance from the Thongsala pier once you get there, map to the right (she is yellow dot).
For written directions, when you get off your pier (there are three next to one another), with the pier to your back you should be facing a major road, and may even see the 711 to towards the right. Go right along this road, passing the 711 and with the beach to your right. Once the beach ends along the road you hit an intersection, where you can go straight and into an area with a lot of cheap restaurants, hardware stores and other shops. A good street to know. Instead, take a left at this intersection, away from the beach, and you will soon hit the Phangan Travel bike rental agency on your left (about 50m).
Another honest place I found is in Srithanu, kiddie corner across from 711, across the intersection street from Tanong the taxi hammock man.
If you know any good and honest places let us know in the comment box below!
Motorbiking tips for beginners
Consider it a very dangerous machine. Imagine flying through the air, because a dog ran into the road or what not, even at only 40k/hr, most of your baby skin slowly descending before it scrapes and rolls across the rough pavement, if you are that lucky. Don't get yourself the "Pharang tattoo", as they call it. Not only will the pain, bandaging and higher costs dampen your vacation, but you may pay a high scratch bill when returning your bike, or pay costs to someone you injured because, here, it's always the foreigner's fault.
first thing is to put your stand up. Something easily forgotten and then you risk getting thrown off balance when leaning in to make a left turn. Very dangerous.

start slow and make sure the bike is not pointing into traffic or obstructions when sparking the ignition. Those tuktuks can barrel quickly to their next destination and you do not want to find yourself under one of those. Make sure there is clear space before you and start very slowly.

it is not like a car, which won't just fall over and all you need to do is gently steer. You do not turn the wheels when turning in a corner but lean the bike. If there is the slightest amount of dirt at a corner (and there often is) while you are turning your front wheel and not leaning in enough, you are screaming for a recipe disaster. Practice quiet corners first and feel comfortable about the lean before hitting the busy road.

changing directions on a quiet stretch can be a good exercise. Use your inner leg as a pivot to lean in sharply, get to the other side of the road and end by pointing in the opposite direction.

once driving, practice breaking. Go slow, like maybe 25, imagine a cat darting out and slam on the breaks. You need to use your BACK brake first and the most. If you use your front too much, especially while going downhill, there is great risk that the back will start skidding past the first and you quickly fall over. The front break should be supplementary and with less pressure, so start quickly on the back, then fill in the front as/if needed. Do this exercise several times until the shift becomes instinctive. I've seen people who simply froze and collided into something with no breaks at all.

be extremely aware of everything around you, and use your rearview mirrors frequently. Be aware of your own driving but equally when approaching a blind corner, as you need to anticipate the unpredicted from others. There are other newbies on the road, or drunk and irresponsible drivers, so leave yourself a safe buffer zone wherever you go.

if you practice these simple exercises for about 10 minutes before you hit the big road, and keep driving safely and slowly, you can start to increase as your confidence improves. It's tempting to push the throttle, but the slightest obstruction can send you flying and, trust me, the scrapes are very unpleasant, and can take an uncomfortably long time to heal in this warm, tropical climate.

Wanna get a driver's license?
Can be pretty simple, the medical test requiring that you have a pulse and the physical test requiring that you press the left or right pedal depending on which light goes on. To drive across borders in Asia though an international license is required. Make sure the yellow ownership of your bike is in your name, or correctly stamped.
More info here:
I don't know about International drivers licence but for the Thai licence he has to go to Immigration and ask for a residency letter (usually around 400 Baht), get a doctor's certificate to confirm that he is fit and healthy (all of the clinics on Samui know what to write if you tell them it is needed for the driving test), passport and his current driving licence from his own country.
If he does not have a licence from his own country then he will have to take the full test on Samui. If he does have one he may be lucky and just have to take the basic sensory tests which are very easy, they must be because I passed them!!!
He cannot do all of this in one day as the residency letter from the immigration office can take a whole morning to get. The transport office is in Lipa Noi not far from Nikki Beach and he must be there at 8.30 in the morning to submit his papers. If he arrives much after this he will be turned away and asked to come back tomorrow.
I think the cost of the licence is around 350 baht, and the doctor's letter is usually about 150 Baht so he should be able to get everything done for 1,000 baht.