Koh Phangan Full (Fool) Moon and other parties
This event started in 1985 as a birthday party on the beautiful beach of Haadrin on full moon. This island, which they say sits on a bed of crystal emanating mystical energy, created such a groovy vibe that the group came back the next full moon, the tradition growing ever since. But it has grown so much, now attended by as much as 30,000 drunken fans in a single evening, that it has been reduced to a university frat party, this site explaining it well.
If you really need to say you were there, I'm told it is better the night after or before, or even better two nights before. Otherwise checkout the afterparty at the BackYard, which runs from 8am to 10pm the day after. There's so much more to do on this island and you can check here for upcoming events, such as the half moon, the black moon, the jungle party... lot's of opportunities to get wasted.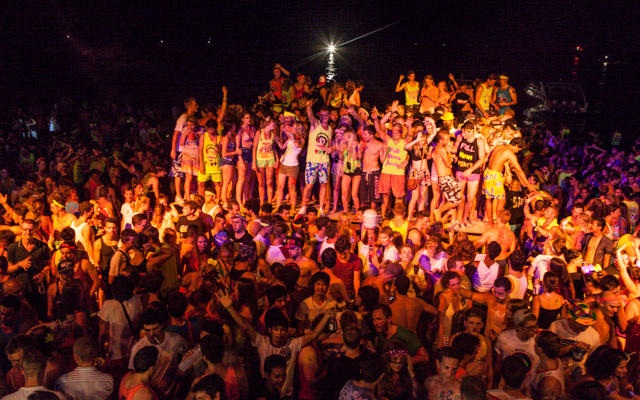 Apparently more people die by fallen coconuts here than by motorcycle accidents, so be careful which plot of sand you choose to rest your head on!
And apparently at least one person dies at each of these FM events. Girls in stalls waving their arms at you to entice you to buy another bucket of hard alcohol with straws, as you walk down the beach taking turns sipping out of it. Weaving between the drunken mass of youngsters, Thais on the beach offering you every drug you might fancy, the insanest and anarchic stereo wars you can imagine. Maybe they sell you shit so they can clean out your pockets the next morning as you lay face first in the sand. I saw one tall German fall flat on his face, burying it into the sand. A loud thud like a whale falling on the beach. I and everyone else just walked by as any of us were too screwed to do anything about it. If there is a group of you choose a meeting point in case you lose each other, because holding your hands firm doesn't seem to help. Perhaps bring along a rope and hold onto it like kindergarten children.
Be careful, paint yourself and go!
If you want to join others you might check out the Koh Phangan group at Couchsurfing.org.
Otherwise, during the high season (December to March) some of my favourite hangouts are 711s, mostly the Ban Tai one, Srithanu, and to some degree the main one in Thongsala by the open night market. Cheap beers and easy to meet cool people.
And while you're at the Haad Rin beach, take a day out to go on a two hour trek through the jungle to the next beach up the coast, Haad Yuan. Or you can be lazy and take a boat for 150 baht. There are three sets of beaches there and some of the nicest on the island. At the middle one, Haad Tien, there is Eden and the Sanctuary. I believe the Sanctuary has live music on Thursdays and Eden dance rocks until the morning on Fridays and I think Tuesdays.