What Koh Phangan is All About
Koh Phangan is one of those places you come to visit and decide you simply don't want to leave. Why leave perfect paradise? A wide range of people inhabit this little wonder of nature. Young kids come up for a few days to celebrate the full moon, half moon or black moon parties, drinking copious amounts of alcohol out of a bucket, wandering up and down the beach in front of blaring stereo wars spewing out of bars sandwiched next to one another, vying for their attention.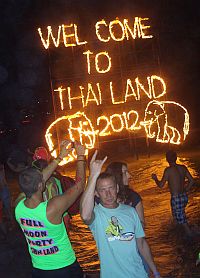 This while locals cover them with fluorescent paint as they dance under a full moon light, the name of the event ablaze in the water. It's still an experience, but not the same Haad Rin party beach ten years ago. Much of the island though is still untouched, with pristine and uncommercial beaches everywhere.
Then you have the Yoga crowd, who don't drink any alcohol, eat only vegetarian food and who have come here to be healed or discover themselves spiritually. Meditation retreats also abound.
Then there is the older, stoner crowd, bodies tattooed from top to bottom, jamming live music around the island. We have Russians, Dutch, Germans, French, Italians, Brits, and many of them have chosen to live there.
Between all that we have the local Thais, who have gotten so used to the mayhem they have stopped considering themselves regular Thai. And why pretty well everything goes on this island. English is abundant and you will not miss a chance finding something to do.
We have grown to truly love this island and decided to dedicate our time to preserve its charm and magic nature. This site is dedicated to encourage tourists to be more respective of our environment and to teach locals that there is a good market for green tourism. Let's all respect this beautiful island!