Home
»
Palawan »
Puerto Princesa is the largest city on the island of Palawan and the plane fare from Manila is about half that of to El Nido. Hopefully your plane will land by 6pm so that can go directly to one of the two travel agencies located to the left as you leave the building. There you can book a van which will pick you up the next morning to take you to the Underwater River Tour. If you need to book in advance, you can try +639175820705 [email protected], although I did not find them very friendly. Otherwise, to the right as you leave the airport terminal, there is a free tourist information office.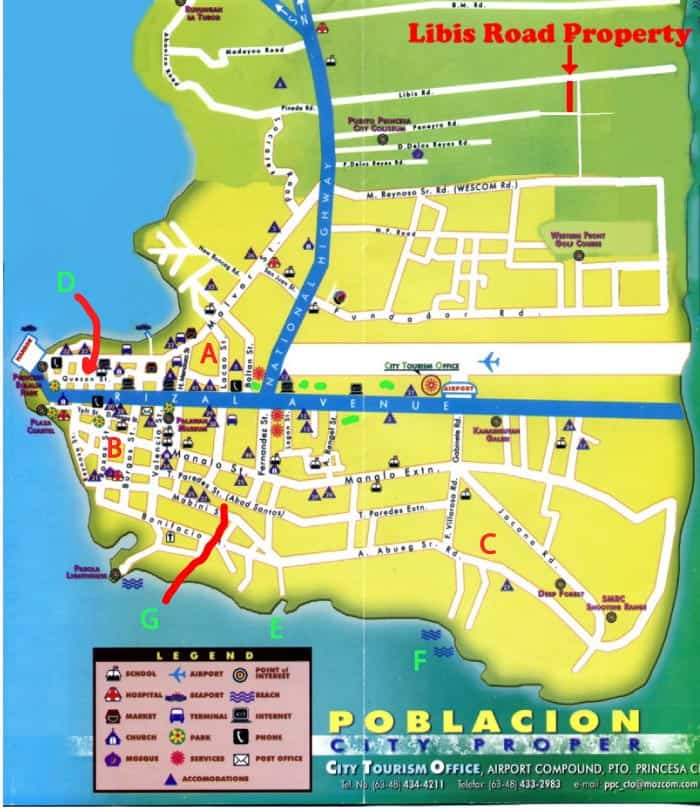 There are a lot of live music venues in town, many shown with the light green spots on the map above (click to zoom in), mostly around the main intersection (dark blue thick road) and the section running just below the airport strip to the right of the main intersection. There is another venue in a fancy new mall about half way towards Robinson's Mall along the main blue road heading north.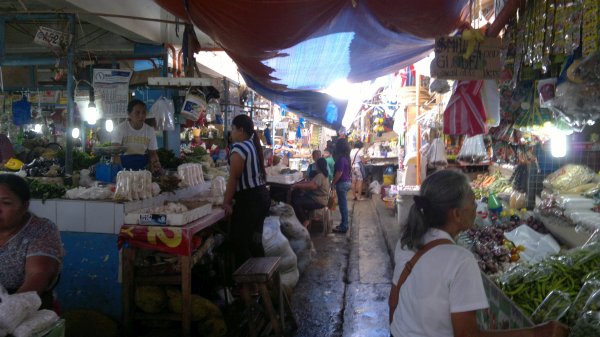 For shopping there is a pretty cool public market to explore, buried and hidden off the street, where you can get practically everything it seems. Including a "food court" where you can sit down to eat cooked goodies, and many specialty items you cannot find anywhere else in town. And cheaper! That is located where the green D on the map above is pointing to.
If you plan to spend the next day in PP, I didn't find much to do besides the market above or this little fishing village, marked with a green E on the map.

If you walk further east down the road, you will eventually find the city's only beach (below), marked with a green F on the map. There is an entry fee, I believe 150p.


My favourite place to eat is where the green G is pointing. Heading south from the main intersection, until the end at the T intersection, take a right at the corner where the gas station is. There are about three places on the right hand side of the road. You can pick what you want from each of them and sit where you want. You can buy fresh veggies in the first place, so a good option for vegetarians.
Accommodation
As usual, I like to walk and explore everywhere I go and choose places in different budget ranges but which have a good feel to them, or other good selling point.
DLM Pensionne
A nice, quaint pension in a quiet area, close to the center (approximate location marked with a red B on the map – otherwise, they're marked in the map of their facebook page). They can arrange to pick you up from the airport and another place if they are full. Good for families.
Upper deck where you can chill with a cooked meal, overlooking the ocean with hammock in the background.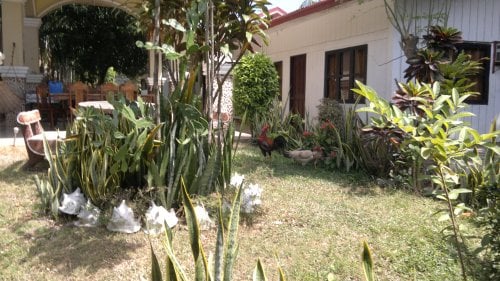 Chickens frolicking in the garden.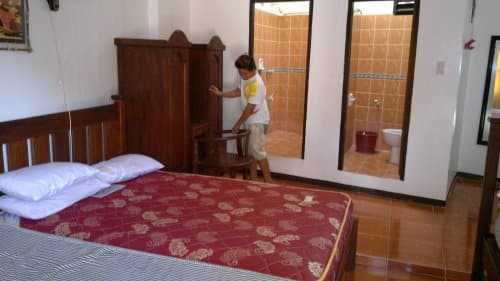 One of the family rooms, with 2 bathrooms.
Their prices:
Our rates for Twin sharing or single sharing Fan is 600 and aircon 800,
Triple sharing (1 queen bed and 1 single bed) fan 900 and air con 1,100,
family room for 6 person fan 2,000 and aircon 2,400 (pesos).
18 B. Mendoza St.
Puerto Princesa City 5300
tl. 0917 315 5553
La Red's
This place is cool because, not only is it only 200 pesos a night in a nice quiet area not far from the center, but the nice female owner will not rent out entire rooms to singles. She wants the rooms to be shared, as it draws in the type of guests she likes and gets along with.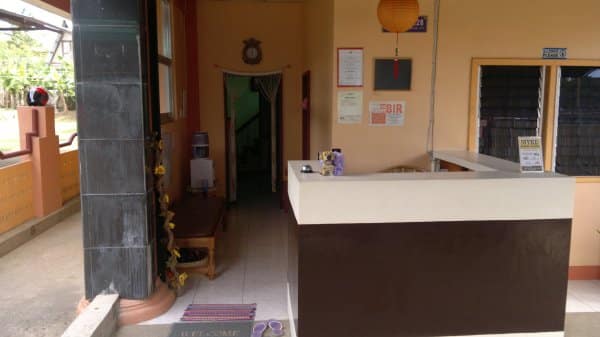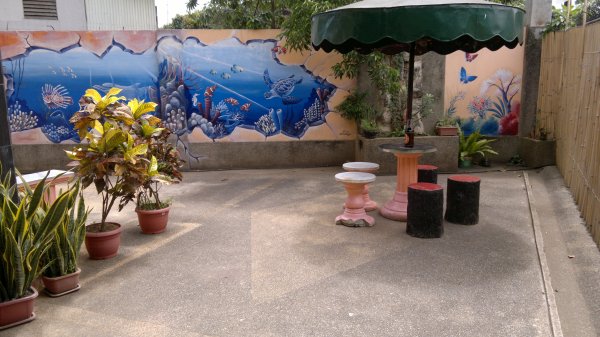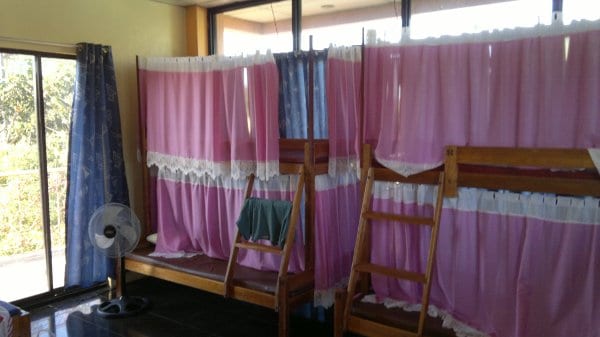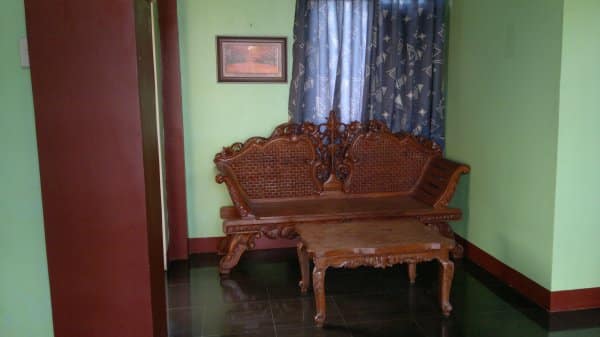 Was a lovely place. Unfortunately they seem to have gone out of business, but I was recommended another place, Your Space Pensionne, 10 minute walk from the airport, good sleep, 350p single, 250p double.
Approximate location marked with a red A on the map above.
Puerto package fancy romance ($44)
The last place that I liked during my exploration of this town, for those who want something more fancy.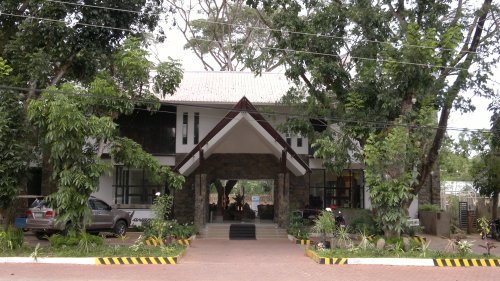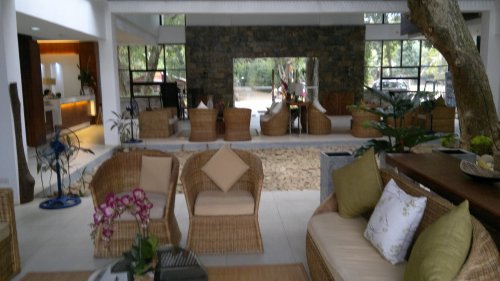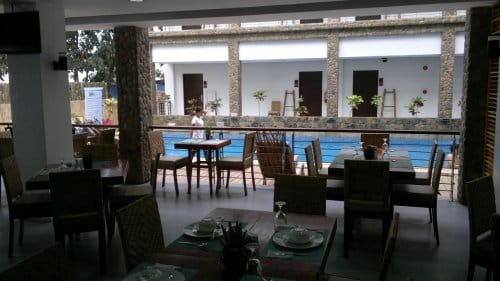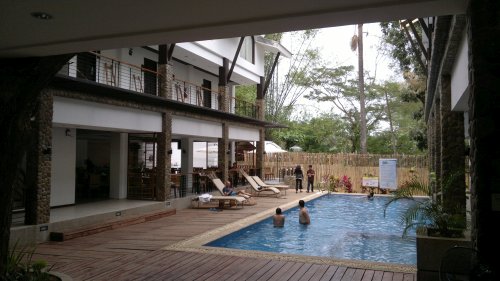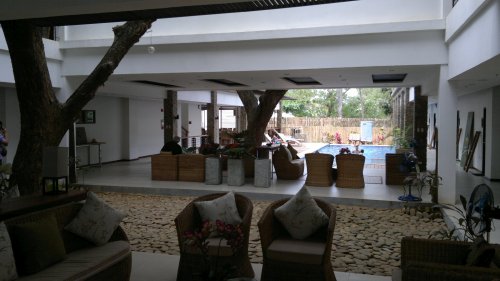 Marked with a red C on the map, not far from the beach. Unfortunately, none of the contact details they sent me seemed to work at the time. If you manage to get it, let me know!
An emergency option could be Natua's Cabin, reasonably priced and right next to the airport.
Alternatively, you can try a friend of mine, the son of the hotel owner in San Miguel, Linapacan. He plays great guitar and would be glad to show you around town, or rent out a room in his flat for 200p per person per night (5-6 people max). Or drive you around town or to Sabang (Underground River Tour) for 200p an hour (4 max in his car), or about 5,000p all the way to Sibaltan, east of El Nido and where most of our boat tours start or end. Just contact us so we can connect you with him.
Underground River Cruise
Once you are done exploring PP, you can start heading north, first stop the famous underground river cruise, hailed as one of the seven wonders of the world.
But because it is so popular, the wait can be long. While waiting, the van might take you to either the local zip line (although I'm told the one in El Nido is much better), or the mangrove river cruise, which I would personally recommend. 200p and a nice beach area to explore as well.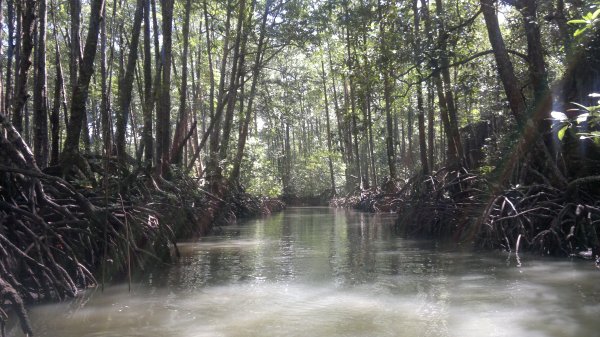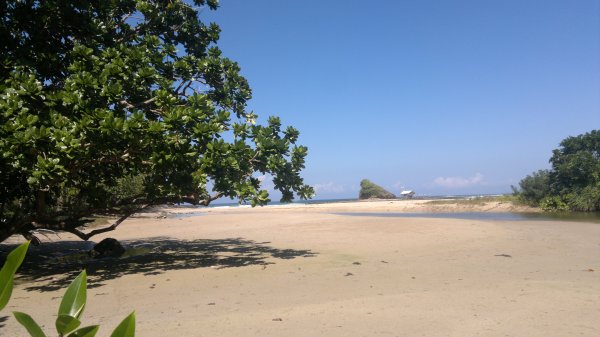 Mangrove river cruise.
The underground river cruise (the boat out there is fun too!) costs 1,500 pesos and the mangrove cruise is 200, for a total of $37. I would recommend not trying to arrange the tour yourself, because you first need to get a permit and all can be rather exasperating and confusing, especially if you do not have your own wheels, since the permit place is located near the highway.
The scene can be rather hectic during the day, but I'm told Sabang, the local village, is quite a nice place to stay.
Transportation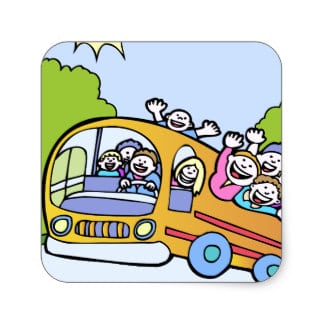 The bus terminal is located at the north end of town, a bit north of Robinson's Mall, if you head up north along the blue marked National Highway as shown in the map at the top of this page. If you stand just north of the blue intersection (where the National Highway meets Rizal Avenue), you can easily find a jeepney for about 10p to Robinson's Mall, possibly to the bus terminal. Or catch one somewhere along Rizal Avenue by asking locals for advice. Otherwise a tricycle taxi should cost between 100-150p, although locals usually pay 60p, so feel free to haggle.
The fancy big buses are around 450p to El Nido, and they are my preference, as they are quite comfortable. A van will get you there about one hour earlier (about 5-6 hours) but for as much as 600p or more and I find them quite crammed and uncomfortable. If you have enough time, I would suggest the public bus for about 350p. It takes the entire day and stops at all the little villages along the way. This way you really get a feel for the local scene, which you entirely miss if taking either of the previous two options. When I took it I was the only foreigner, the bus was crammed with people standing in the isle, yet the locals insisted on giving me so much respect that they kept the seat next to me empty. They all seemed tickled pink by my presence.
You can probably catch a van at the bus terminal, or for a better deal you might try across Rizal Avenue from the airport. Or you could try a friend of a friend, Quatar Van 090 664 84 602, who can take you to El Nido for 600p or straight to Sibaltan for 700p (they will pick you up in the morning directly from your hotel). They might even be able to arrange a private tour of Palawan for you too.
Home
»
Palawan »
recommends
I was looking for a personalized excursion to the beautiful bay of Bacuit. Seeing the comments, I contacted Mel. Very responsive, very efficient and perfect organization. The crew were very friendly and very helpful. And I'm not even talking about the meal on board...a marvel. In all fairness, this excursion will remain an excellent memory and I can recommend Mel and his team highly enough. A big thank-you.
André Mardoñal
2019-10-22
recommends
⭐⭐⭐⭐⭐ The island world of Linapacan between Coron and El Nido with the clearest waters in the world is truly a dream for itself! Without a boat you won't be able to see it! But what this boat trips makes so amazing is the crew! Once you come on board they might be shy in the beginning but will make you feel welcome and home from the first moment. Not only that they are looking that you sit comfortable all the time, they will prepare fresh and delicious food what the buy from local markets. They know the best spots and most beautiful islands and will bring you to places where you get this "Robinson Cruisoe feeling". Every day you visit 3 to 5 spots for snorkeling, enjoying a beach or exploring a little island. The accommodation we had was good and simple. We slept in bungalows and tents right at the beach. Sheets and towels were always provided and sometimes towels. After a while you feel like a family on board. We loved living the boat life didn't wanna leave! If you doubt take a longer than shorter trip! For any questions please message me.
recommends
All in all it was a really great experience. It's a once in a lifetime thing to do and you won't get more authentic and basic Philippino experiences anywhere else. We were not so lucky with the wind and waves so we couldn't do all the stops we wanted to unfortunately. So be aware that especially the months from January to May can be very rough on water. But we still saw some great places Benji took us. Benji and his family was very nice and they did everything they could. The food was amazing - always freshly made in authentic Philippino style and way too much for the 2 of us. Make sure to bring enough cash - many of the islands cost extra (entrance fee) and be aware that any kind of accommodation and food (200php per meal) is not included in the boat fee. Also the deposit and commission fee for the agency are a little over the top, especially since the crew does not get any of it. The costs all in all are rather high for phillipino circumstances especially given the basicness of it all. However if you think about that all 5 boat people (in our case) live off of the boat fee alone, you spent the money willingly. Be aware though that accommodation and sanataries are very basic if even existant. So you gotta have the right mindset. Bring tissue, sanatiszer and earplugs to get some better sleep. Another feedback I have concerning the size of the boat. I don't think it is sufficient for more than 4 people. If the weather is like it was these days, you always have to sit on top and it was already a little squeezy with us 2 and 5 boat people. So I guess 4 guests can be fine but more than that won't have the space. There is different boat sizes but make sure to talk about that with Karel in advance. Other than that it was really worth it and we got to see so many great beaches and reefs which we could have never been able to visit without the tour.
recommends
It was scary to book a 5 day trip with no places to stay confirmed or a strong itinerary. And in the Philippines, communication is difficult. But that is part of changing mindsets to a rural island mindset. In the end, everything worked out. We had some tough moments with bugs. But we also had some amazingly beautiful secluded beaches, the best snorkeling in the world, relaxing on the beach, and freshly made food on the boat while docked at beautiful places (better than being on land). Note, we went with Benji. Recommendations: - you must get a local SIM when you arrive to make sure pickup and everything works out - some islands have bugs - use bug spray! Pros: - a fraction of the cost - away from the crowds - can customize what you want - just ask! - a truly local experience - saw a REAL rural town Cons: - locals aren't really polished tour guides - if you don't ask for it, you won't get it, need to be pretty proactive - pretty simple "activities" - no frills like bathrooms or kayaks etc.
recommends
We can't be more grateful to have had the opportunity of experience the peace in Patoyo Kitesurfing Camping! Spending two weeks in Dimancal Island, gave us the chance to experiment the rural and traditional way of life, in touch with the nature and people. We have learnt how to cook with fire, how to open a coconut and how to survive in an environment where for a time we forget about unnecessary needs, just to focus on enjoy the small details and pleasures of life. Mentioning too the amazing snorkeling and beautiful islands around this place, which make it unique​ and special. It is a lovely option if you are running away from tourists and overcrowded places in the Philippines. You will find yourself in the middle of virgin beaches and nature, surrounding​ by charming people. We will definitely come back!
Caroline Danielle
2017-02-13
recommends
We haven't done a Tao tour, but I would suspect that this is a cheaper version of the same thing. Our boat operator (Benji) and the entire crew were were fun, friendly and made an effort to ensure we had a good time. If you get a large group of people together it can be a really inexpensive alternative to other Coron-El Nino and vice versa island hopping tours. The food was good, but more expensive than as advertised by Karl. The price quote we got was 100 php a meal, but the boat charged us 200. Since the food was good we didn't mind the extra expense, but it is important to keep in mind if you're on a budget. Definitely plan for some incidental spending. Our boat did have some mechanical issues and as a result we ended up being stuck in the same place for longer than we wanted to be. That being said, little could have been done about it and the trip was fun nonetheless.
Hauk Are Fjeld
2017-01-01
recommends
If you believe that doing the touristic tours in El Nido and going to "The hidden beach" takes you off the beaten path, you are wrong. There are lots of beautiful places in Palawan, but few of these places are without any other tourists. If you want to spend some extra effort on getting away from the tourist places, and don't mind a little "primitive" living, Island Hopping in the Philippines is definitely something you should check out
Arnold Cabiguen
2015-05-08
recommends
The snorkeling in this area is phenomenal. Clearest waters in the world. I guess it's because there is relatively such lower tourist traffic through here, and the locals really protect the reefs!
recommends
Love it so much, just had to say it twice!