Only a one hour ferry ride from Iloilo, 250p each way, as opposed to the 4-5 hour bus ride from Dumaguete. If you are late to catch the fastcraft back to Iloilo, there is another slow ferry to Dumangas, but then you'll need to catch a tricycle taxi from there to get you the rest of the way.
Shuttle vans or buses from Bacolod to Sagay are for around 170p (takes about 2 hours), then 70p tricycle taxi to take you from Sagay to the old port. Prices to get to the island are listed below.
A van can also be rented for around 3,500p/day total, cutting down the trips by half.
The cost of our guide is 1000p for the day, plus his transport costs and entrance fees, plus a $20 advance payment processing fee. You can combine with other tours, as will be explained in the booking process.

About the Suyac Island Mangrove Eco-park
The Suyac Island Mangrove Eco-park is a community-based eco-tourism site just offshore from Sagay City, Negros. It is managed by Suyac Island Ecotourism Attendants Association in which all of the members are residents of the island. The park is home to one of the oldest and largest Sonneratia Alba mangrove on Negros Island, and includes other mangrove species.
It is located in the center of the 32,000-hectare Sagay Marine Reserve, the first of its kind in the country and established sometime in the 80s.  It is now recognized nationally and internationally as one of the most successful marine conservation programs in the Philippines and has won the prestigious Gawad Galing Pook award in 1997.
The Mangro forest itself covers 500 hectares (100 hectares reforested), 33 species of true mangroves with 10 mangrove-associate species, 10 species of sea grass in around 3,000 hectares of sea grass beds, 78 species of Macro Benthic Algae, 60 Genera of hard, black & soft corals, 5 species of Giant Clams, more than 250 species of Reef & Pelagic fishes, 4 species of Marine Turtles and 5 species of endangered Dugong (sea cow). Giant Fruit Bats may be found in the mangrove areas (Suyac Island).
The local community in Sagay City have understood the importance of eco-tourism for their livelihood. On the 1.8 hectare large Suyac Island they built a bamboo boardwalk 800m long traversing the 4 hectare mangrove area, and are very diligent in preserving and maintaining it.
The warm and gentle people welcome visitors with song and a Polynesian garland of flowers. The place is very serene and peaceful, and once you finish exploring it and wading in the soft submerged sand under the shady protection of the mangroves, the locals will feed you with fresh crabs, fish, clam soup, grilled pork, salad and fruits in one of their visitor huts and cottages. So far the forest is only available for day tours, but they are getting ready to build cottages for overnight stays. Development had been set back somewhat by typhoon Yolanda, but fortunately the forest, only 3km offshore from the city, helped protect it from the fierce storm – another reason why it should be preserved.
The best time to experience it is during high tides, when the sea level rises up in the forest so you can wade in the soft sand among the roots, shade and breeze. But they also offer boating and paddle tours (prices below).
Fees and prices
Entrance Fee to Suyac Island 50p
Terminal Fee 10p
Cottage 500p
Corkage Fee: P150.00/group (for selected foods only)
Special meals can be prepared but need warning at least two days in advance.
Paddle Tour 300p (only possible during high tide – go deep into the forest and check out the bats and birds!)
Pre-wedding Photoshoot 500p
BOAT SERVICE
P500.00 – 1-10pax (Roundtrip)
– an additional of p40.00 for every excess person
Rules
Since it is an eco-tourism site, responsible travel policies are being observed.
Some of the eco-park rules and regulations are as follows:
Garbage in – Garbage out policy
Bringing and drinking of liquor is prohibited
No smoking in almost all areas, a designated area is provided.
Two-piece bathing suit is not allowed
Overnight stay at the park is not yet allowed
Don't use soap, detergent or shampoo that will damage the marine eco-system.
Take nothing but pictures, Leave nothing but footprints and Kill nothing but time
Or, if you decide to check out Palawan, our small family operation organizes private custom boat tours through the Palawan area, voted the best island in the world, with its 52 pristine white sand beaches and some of the clearest waters in the world.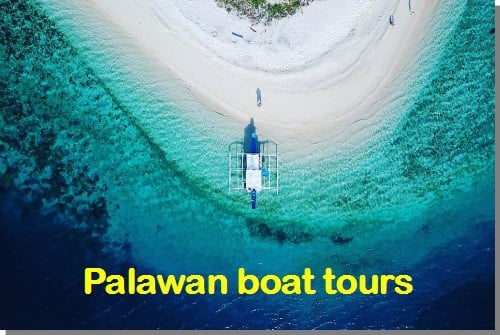 Experience the thrill of island hopping in the Philippines