covid restrictions rules advisory
November 2, 2022
Now only an antigen test is required, which is the drawing of blood, 24 hours before arrival – swab test is no longer necessary.
October 27, 2022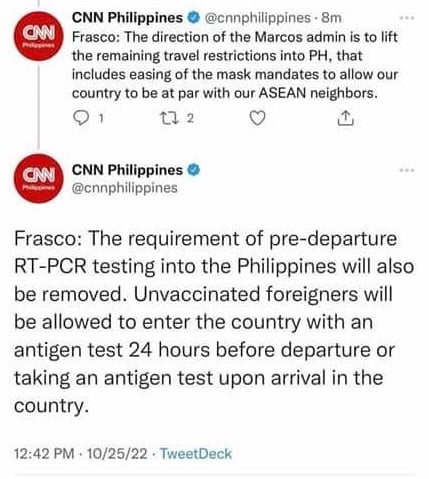 September 13, 2022
CNN article on: Marcos signs order allowing voluntary use of face mask outdoors
Meanwhile, the latest news according to our boatmen is that El Nido and Coron only requires a vaxpass to enter.
June 28, 2021
From the government website:
Tourists from "Green countries" allowed in if fully vaxxed with two shots, but still require a seven day quarantine period on arrival, so still not quite there yet folks!
February 17
Department of tourism announces plans to open up country to foreign tourists this year (perhaps April), easing restrictions in Manila this March. More details here.
Update on February 1
Effective February 1, 2021, foreign nationals allowed to enter [refer below for latest info on who may enter] under relevant IATF resolutions shall be subject to the following conditions:
With valid and existing visa at the time of entry, except for those qualified under the Etalikbayan program under Republic Act No. 6768 or the Act Instituting the Balikbavan Program;
With pre-booked accommodation for at least seven (7) nights at an accredited quarantine hotel/facility;
Subject to COVID-I9 testing at the quarantine hotel/facility on the sixth (6th) day from date of arrival;
Subject to the maximum capacity of inbound passengers at the port and date of entry;
Update on January 25
On January 25, 2021, with a little over 10,000 deaths from Covid reported in Philippines so far, out of a total country population of more than 110 million, it seems rather baffling that this tropical country with temperatures around 31C all year round would undergo such extreme lockdown measures. Even between individual islands out of the more than 7,000 total. As it stands now a foreigner cannot enter the country if not married to a local, but things are due to change at the end of this month, so lets see how that goes. In the meantime I will update this page as I find out more information, with more details below. Latest rumour is the country might open at the beginning of June, but could be pure speculation.
When we arrived to Manila a little over a month ago we had to pay 4,500p each for a swab test but only had to pay for one night in a designated hotel to wait for the results. Then we flew to our destination in Iloilo City, where we were permitted to stay under home quarantine for ten days. No official had check our adherence during this period and our home quarantine consisted of a makeshift wall made of piled up furniture, reaching about halfway to the ceiling, which the parents had put into place to divide the living room in half in order to create our own entrance to our own room. During this period we rarely ventured outside the garden and where no one bothered to wear a mask. Fortunately there was a kiosk nearby selling beers, although none of the restaurants were permitted to do so. Once this ten day period was over we went to some local official place to receive our quarantine clearance, an A5 size paper without which we later found we could not get onto a neighbouring island — thankfully we saved it and wife took a picture of it.
In other provinces the rules can be markedly different and it has been amusing reading the updates and frustrated responses to them in the FB Cebu Foreigner's Club. At this date a swab test is required to go to different parts of the country. The latest news is that a swab test is required on arrival to Manila, with a second one for confirmation three days later before being set free.
In Iloilo City every mall requires a face shield in addition to a mask, but regular glasses are okay instead of the face shield. In Cebu you are required to wear a face shield if riding as a passenger on a motorcycle, but not the driver. Passengers in jeepneys require face shields, not all the jeepneys display this requirement, but for even those that do, no one bothers to adhere. Babies are not allowed in malls. Then again, the rules in this country can often be quite confounding, but the people are loveable and their laissez-faire attitude to a lot of things is what makes this country a place to escape from your worries to hit its endless beaches and crystal clear waters.
Some websites where you might find some useful information:
Public And Travel Advisories On Covid-19
Below is the latest info I have drawn on the situation on January 25, 2021
People who are allowed to enter the Philippines as of now if coming from any of the banned countries:
1. Filipino Citizens
2. Dual Citizens with PH Passport or Dual Citizenship Documents
3. Foreign Nationals with Valid Visas:
a. Accredited Foreign Diplomats
b. Personnel of accredited International Organizations such as WHO and the U.N.
c. Foreign dignitaries.
4. Foreign Spouse and Minor Children of Filipino Citizens
a. They must secure an entry visa to be allowed entry.
b. They must be traveling with the Filipino Citizen.
P.S – Balikbayan Program is still suspended for people coming from any of the banned countries. Subject to change if the travel ban will be lifted on January 31 or it will be extended again.
Reminder: The travel ban is still in effect until January 31 unless extended. The only thing that was lifted is the absolute 14 day facility based quarantine.
Latest update from Philippine Airlines on January 25, 2021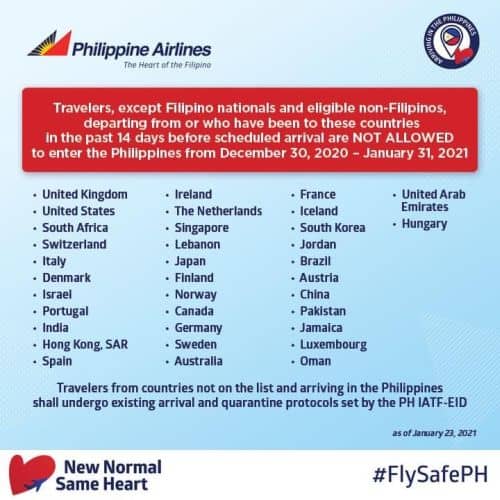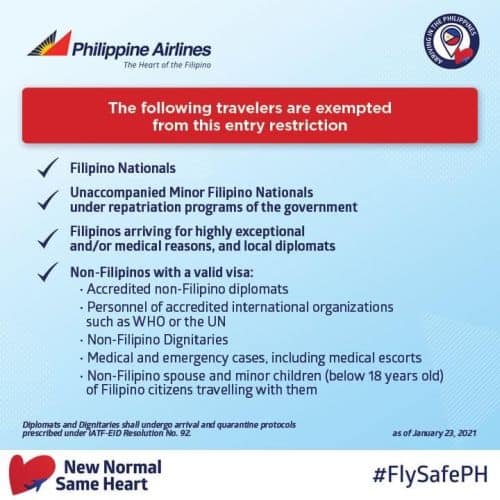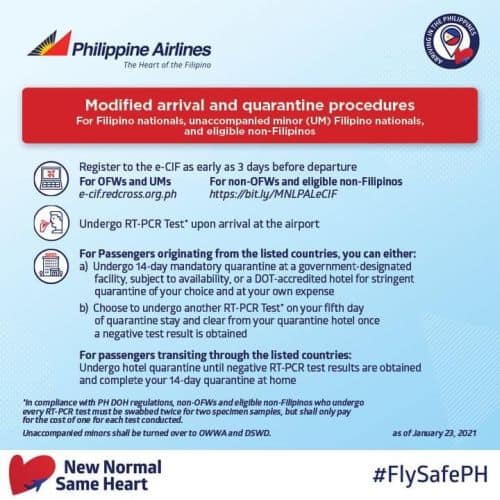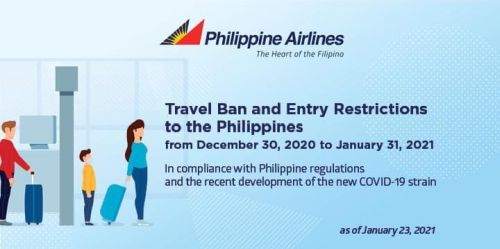 Below are a set of requirements mandated by the local government for tourists entering El Nido
Negative swab test result 72 hrs before the trip.
A QT-ID must be presented as proof that you have submitted complete documents online at www.elnidotourism.ph to confirm that you are allowed for travel in El Nido. The QT-ID must be accomplished 48 hours prior to arrival.
For airline requirements check air-swift.