96 hours Free Transit Visa in Qatar
July 5, 2019
Transiting through Doha on your flight with Qatar Airways? You can now enjoy summer in Qatar this 2019 with a FREE TRANSIT VISA when you book your ticket online with Qatar Airways.
Make the most of your stop by experiencing the culture in Doha and by exploring the city. Why not spend few days in Doha before flying to your next destination? This 96-hour transit visa is free, with no additional charge and it will take at least 7 days to process. Hassle-free right?
Before you apply, please make sure you have the following mandatory documents.
A clear passport copy for each passenger (including infants). The passport should be valid for a minimum of six months at the time of entry into Qatar.
The confirmed tickets into Qatar and onwards must be on Qatar Airways operated flights only. Passengers travelling on code-share flights will not be eligible.
After successfully applying for the visa, you can check the status of your application using your visa request number or by emailing them at q[email protected]
Please ensure the information included in your visa approval notification matches the details stated on your passport. In case of any discrepancy, please contact us or visit the nearest Qatar Airways office.
The transit visa is only valid for 30 days and you need to apply again if it already expired.
We had a connecting flight in Doha on the 27th of June so, I decided to apply for transit visa on the 6th of June to be sure. However, because of RAMADAN, the usual 7 days processing took up to 14 days. I was scared that I could not make it on time or there was something wrong in the copy of my passport I sent because it was not a scanned one.
I had to track my visa status once in a while in case there was an error.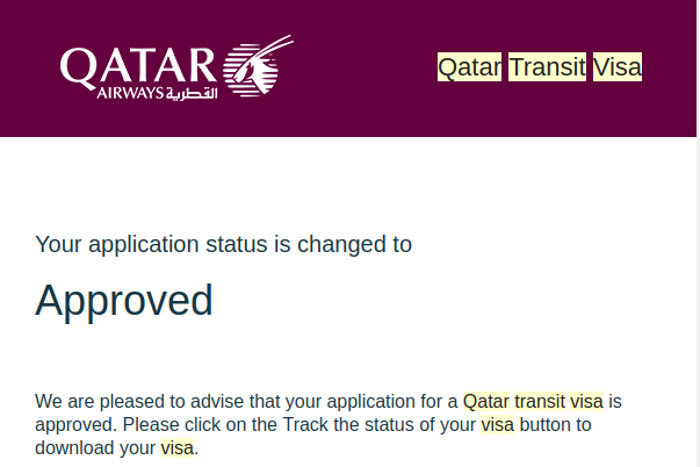 Nevertheless, I got it few days before my flight and it was approved. Booking through Qatar Airways was the best decision we have ever made. Food on board was great and they have variety of drinks. From fruits juices to whiskey, vodka, wines and beers, UNLIMITED! Which my husband was really happy about.
Make sure you print a copy of the approved visa and bring it with you when you travel, as it should be presented prior to check-in and upon arrival in Qatar.
Nationals from a total of 80 countries can now take advantage of visa free entry into Qatar, thanks to their new visa waiver upon arrival. If you are applying from one of these countries, a pre-approved transit visa is no longer needed. For more information, click here.
Now, Qatar is preparing for welcoming millions of tourists this coming FIFA women 2022. Thus, will attract lots of businesses and tourism.