[vc_row full_width="stretch_row_content_no_spaces" full_height="yes" equal_height="yes" content_placement="middle" video_bg="yes" video_bg_url="https://www.youtube.com/watch?v=TIgC0W-Ph20″ video_bg_parallax="content-moving" overflow="default" css=".vc_custom_1581615506459{padding-top: 50px !important;padding-bottom: 80px !important;background-image: url(https://islandhoppinginthephilippines.com/ph/wp-content/uploads/2020/02/twin-lagoon-coron-palawan-drone-shot.jpeg?id=170) !important;}" el_id="services"][vc_column css_animation="fadeIn" width="1/2″ overflow="default"][vcj_single_image image="23″ alignment="center" size="full" radius="0″ lightbox="0″ overlay="disabled" animation_speed="2″ animation_delay="0″][/vc_column][vc_column css_animation="fadeInRightBig" width="1/2″ overflow="default" max_width="415″][vcj_empty_space height="40px"][vcj_heading_simple content2="Experience breathtaking paradise" alignment="left" weight="400″ italic="" size="custom" desktop_size="36px" line_height="120%" animation_speed="2″ animation_delay="0″][vcj_empty_space height="12px"][vcj_text_block paragraph_whitespace="1″ text_size="16px" line_height="190%" link_color="#eded8b" link_hover_color="#eded23″]Let us design the perfect vacation in the Philippines for you![/vcj_text_block][vcj_empty_space height="35px"][vcj_single_image image="102″ image_hover="103″ url="https://islandhoppinginthephilippines.com/contact/index.php?a=add" radius="0″ lightbox="1″ overlay="disabled" animation="slideInRight" animation_speed="2″ animation_delay="0″][/vc_column][/vc_row][vc_row][vc_column][vc_row_inner][vc_column_inner][vc_column_text]
Vacationing in the Philippines
With 7,000 islands and so much to see, you need a battle plan for the perfect vacation.
Vacationing in the Philippines is awesome. I lived in Thailand for more than two years, and thought that was the tourist destination of all tourist destinations, even after traveling to some fifty countries, but after living in the Philippines for a few years I decided this is my new favourite spot.
Although the food might not be as exotic and amazing, the people are sincerely friendly, English is an official language, it is easy to stay longer term, and the people are respectful of their beautiful nature. More than 7,000 islands, pristine and some of the clearest waters in the world. Endless beaches and very easy to get off the beaten path.
It all depends on what is your budget, schedule, and tastes.
Because there are so many islands, it is not fast to get around, for which reason the Philippines is better considered as a group of several countries. But it is understandable that you'd like to at least check out the country first before making a commitment to later visits. For this reason we've broken down possible itineraries which you can use as a sample.
First time visit, only two weeks, want to see as much as possible, the best:
A two week vacation should cost from < to < , depending on the level of accommodation and boat tour. Price breakdown and options here<.
Or refer to our suggested itineraries, if you are ready to visit only certain areas in greater detail. Chill, travel less and enjoy your time, in different price categories.
Or contact us and we'll figure out something special for you…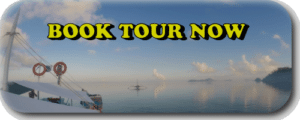 If you make it to Palawan, we would love to host you on one of our custom private or group boat tours between El Nido and Coron.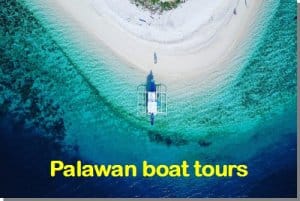 [/vc_column_text][/vc_column_inner][/vc_row_inner][/vc_column][/vc_row][vc_row full_width="stretch_row" overflow="visible" css=".vc_custom_1576075978449{padding-top: 80px !important;padding-bottom: 80px !important;background-color: #f2f1f8 !important;}" el_id="reviews"][vc_column][vcj_heading_simple content2="OUR MANY SATISFIED CUSTOMERS" color_text="#7d1eff" weight="600″ italic="" size="custom" desktop_size="14px" animation_speed="2″ animation_delay="0″][vcj_empty_space height="8px"][vcj_heading_simple content2="Reviews" color_text="#000000″ weight="300″ italic="" size="custom" desktop_size="52px" line_height="120%" animation_speed="2″ animation_delay="0″][vcj_empty_space height="30px"][vc_tta_pageable no_fill_content_area="1″ autoplay="3″ active_section="1″ pagination_style=""][vc_tta_section title="Section 1″ tab_id="1575043334958-b2c88abd-1fac"][vc_row_inner gap="15″ overflow="visible" css=".vc_custom_1575641688607{margin-right: 0px !important;margin-left: 0px !important;}"][vc_column_inner width="1/3″ overflow="default" css=".vc_custom_1580833815739{padding-top: 55px !important;padding-right: 40px !important;padding-bottom: 55px !important;padding-left: 40px !important;background-color: #ffffff !important;}" css_animation="bounceInLeft"][vcj_heading_simple content2="On Google" color_text="#686868″ color_text_hover="#000000″ link="https://www.google.com/maps/place/Island+Hopping+in+the+Philippines/@11.9977902,120.2020123,17z/data=!3m1!4b1!4m10!1m2!2m1!1sisland+hopping+in+the+philippines!3m6!1s0x33b563d8f8b77acf:0x991d783871a7889e!8m2!3d11.997785!4d120.204201!9m1!1b1?hl=en" link_target="_blank" weight="500″ italic="" size="custom" desktop_size="22px" line_height="120%" animation_speed="2″ animation_delay="0″ margin="0px 0px 0px 0px"][vcj_empty_space height="3px"][vcj_icon_group icons="%5B%7B%22icon%22%3A%22fa%20fa-star%22%7D%2C%7B%22icon%22%3A%22fa%20fa-star%22%7D%2C%7B%22icon%22%3A%22fa%20fa-star%22%7D%2C%7B%22icon%22%3A%22fa%20fa-star%22%7D%2C%7B%22icon%22%3A%22fa%20fa-star%22%7D%5D" icon_size="16px" icon_color="#ffbd0c" width="15px"][vcj_text_block paragraph_whitespace="1″ text_size="15px" line_height="190%" text_color="#686868″ margin="0px 0px 0px 0px"]
Excellent organisation (4.9/5 of 16 reviews)
We booked a 4 days/3 nights private boat trip from Coron to Sibaltan. The organization went very well from the beginning, the owner answered to all my questions, and we were able to choose which islands to visit and where to sleep. The first night we slept in a bungalow in Banana Island, the second we camped in Araw beach and the last we slept in a seafront bungalow builded on a tree in Pical on Iloc Island.The islands in that area are the most beautiful islands I have ever seen, with clear water, lots of coral reef and fishes to see, white sand and almost deserted. The crew was very friendly and polite and they organize every single meal and for camping they give you a tent which was just perfect! This was our highlight in our 2 weeks in the Philippines and I wish I had booked a longer trip. A private trip gives you the freedom to decide where and when to go.[/vcj_text_block][vcj_empty_space height="20px"][/vc_column_inner][vc_column_inner width="1/3″ overflow="default" css=".vc_custom_1575641226158{padding-top: 55px !important;padding-right: 40px !important;padding-bottom: 55px !important;padding-left: 40px !important;background-color: #ffffff !important;}"][vcj_heading_simple content2="On Facebook" color_text="#686868″ color_text_hover="#000000″ link="https://www.facebook.com/pg/islandhoppinginthephilippines/reviews/" link_target="_blank" weight="500″ italic="" size="custom" desktop_size="22px" line_height="120%" animation_speed="2″ animation_delay="0″ margin="0px 0px 0px 0px"][vcj_empty_space height="3px"][vcj_icon_group icons="%5B%7B%22icon%22%3A%22fa%20fa-star%22%7D%2C%7B%22icon%22%3A%22fa%20fa-star%22%7D%2C%7B%22icon%22%3A%22fa%20fa-star%22%7D%2C%7B%22icon%22%3A%22fa%20fa-star%22%7D%2C%7B%22icon%22%3A%22fa%20fa-star%22%7D%5D" icon_size="16px" icon_color="#ffbd0c" width="15px"][vcj_text_block paragraph_whitespace="1″ text_size="15px" line_height="190%" text_color="#686868″ margin="0px 0px 0px 0px"]
Wish we could have stayed longer (5/5 out of 11 reviews)
The island world of Linapacan between Coron and El Nido with the clearest waters in the world is truly a dream for itself! Without a boat you won't be able to see it! But what this boat trips makes so amazing is the crew! Once you come on board they might be shy in the beginning but will make you feel welcome and home from the first moment. Not only that they are looking that you sit comfortable all the time, they will prepare fresh and delicious food what the buy from local markets.
They know the best spots and most beautiful islands and will bring you to places where you get this "Robinson Cruisoe feeling". Every day you visit 3 to 5 spots for snorkeling, enjoying a beach or exploring a little island.
The accommodation we had was good and simple. We slept in bungalows and tents right at the beach. Sheets and towels were always provided and sometimes towels.
After a while you feel like a family on board. We loved living the boat life didn't wanna leave! If you doubt take a longer than shorter trip![/vcj_text_block][vcj_empty_space height="20px"][/vc_column_inner][vc_column_inner width="1/3″ overflow="default" css=".vc_custom_1580838600685{padding-top: 55px !important;padding-right: 40px !important;padding-bottom: 55px !important;padding-left: 40px !important;background-color: #ffffff !important;}" css_animation="bounceInRight"][vcj_heading_simple content2="On Tripadvisor" color_text="#686868″ color_text_hover="#000000″ link="https://www.tripadvisor.com.ph/Attraction_Review-g729733-d8762651-Reviews-Island_Hopping_in_the_Philippines-Coron_Busuanga_Island_Palawan_Province_Mimaropa.html" link_target="_blank" weight="500″ italic="" size="custom" desktop_size="22px" line_height="120%" animation_speed="2″ animation_delay="0″ margin="0px 0px 0px 0px"][vcj_empty_space height="3px"][vcj_icon_group icons="%5B%7B%22icon%22%3A%22fa%20fa-star%22%7D%2C%7B%22icon%22%3A%22fa%20fa-star%22%7D%2C%7B%22icon%22%3A%22fa%20fa-star%22%7D%2C%7B%22icon%22%3A%22fa%20fa-star%22%7D%2C%7B%22icon%22%3A%22fa%20fa-star%22%7D%5D" icon_size="16px" icon_color="#ffbd0c" width="15px"][vcj_text_block paragraph_whitespace="1″ text_size="15px" line_height="190%" text_color="#686868″ margin="0px 0px 0px 0px"]The most unforgettable experience in Palawan (4/5 out of 21 reviews)
We booked a 3 days private tour from Coron to Sibaltan through the website. Karel responded quickly and arranged Benjie as our boat operator. Benjie and Sonny helped us a lot on our tour guidance and accommodation arrangement. We met one day before to confirm the schedule and details. The crews are nice and easy going as well. The food was great. We were happy to have some times to interact or play basketball with local people. Those islands and beaches in Linapacan were amazing! We really love this experience and hope to come back again:)[/vcj_text_block][vcj_empty_space height="20px"][/vc_column_inner][/vc_row_inner][/vc_tta_section][/vc_tta_pageable][vc_column_text]
Reviews on our own webpages
[/vc_column_text][/vc_column][/vc_row]