Private Boats, Public Ferries and Flights between El Nido, Linapacan and Coron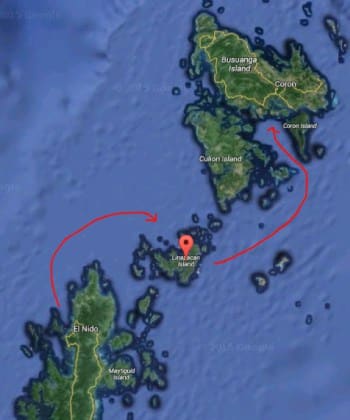 Linapacan is a beautiful area off the beaten path and about half way between El Nido and Coron, as shown in these beautiful videos. The easiest and least expensive way to get here is by Jessabel and Bunso ferries (details below). Big safe banca boats with capacity for 80 people, but they do not make a regular stop in our harbour, so you need to contact the new manager at Arnold Cabiguen <[email protected]> so he can arrange for them to stop in the ocean and transfer you to a smaller local boat which can take you either to my island or to San Miguel (or elsewhere locally). 1000p each to get you to Linapacan and then another 1000p for the small boat to transfer you locally.
A second option is to take the Marfye's ferry from San Fernando, a small town about one hour van ride east of El Nido. There is another ferry called Lara running every Monday, Wednesday and Friday between San Fernando and San Miguel in Linapacan, contact Sir Rruel Llado at +63 939 925 6218 for reservations. For other options you can contact Dory at +63 920 954 8991.
To get from El Nido to Sibaltan, one van service is Leila Baja at 09753868473 / 09753006616, 200p per person or 2,500p for special commission.
If you need to get here from Coron when Jessabel is not operational, I can possibly organise a small boat for 4,000p, capacity for 2, or a larger private boat for 8,000 (can include a little island hopping). Same prices apply from San Fernando, details here.
Then there is the Atienza ferry which runs between Manila and Linapacan (apparently does not stop in Coron), and now apparently also between El Nido and Linapacan (check details below).
You can also try the beach of San Fernando or the public market in Coron and ask different boats, but the coast guard is getting strict about boats having the proper permits to take foreign passengers, so you will have to be surreptitious about your endeavours or actual departure. Or perhaps wear a burka??
And lastly but most interesting, you can hire a private boat (depending on the number of passengers, can be less than $20 a day), between El Nido and Coron. There are tons of beautiful islands and things to explore, such as caves, the Spanish fortress, cliff diving into the ocean, and fantastic snorkeling in the clearest waters in the world.
Or click here if you are interested in booking some local Coron tours, or around El Nido.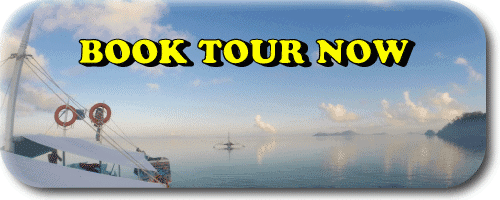 Mbca Jessabel
Their numbers are +63 918 967 6838 and +63 917 655 5915 and they can even help arrange van or bus pickup for you. Or arrange ferries to Manila, Puerto Princesa or Mindoro. If in Coron you can find them here:
Or in El Nido you can get tickets and details from The Og's Pension or The Artcafe Boutique near the pier.
Jessabel on Facebook.
Atienza Shipping Lines

(contact below)
Click on to zoom in
Pictures below from their Coron office, March 2018:
Below picture taken of schedule at the Coron office, but everything seems to have shifted one day forward, the ferry from Linapacan to Manila now leaving every Tuesday at 11:00 a.m. Best to always call them.
[email protected], their facebook, Manila office: 0999 881 7266, 986 3118, Palawan office: 0939 912 6840, 0998 881 7226 (best to call them as they do not seem to respond to emails), Linapacan: 0909 2022 079.
For their boat going to Linapacan, called MV May Lillies, you can check out that link for more info online. But be warned, at 14.5 km/hr, make sure to bring a deck of cards with you!
According to the latest inside scoop from Dory (contact above), MV May Lillies now leaves from El Nido To Linapacan on Tuesdays at 8pm, leaves from Linapacan to Manila 10am Wednesday, and leaves Linapacan to El Nido on Sunday at 2am.
Marfye

 
Runs between San Fernando (about an hour by van east of El Nido) and Linapacan (no longer goes to Coron).
Contact: 0910 992 6727, 0907 927 8630, marfivenia caabay <[email protected]>
Bunso Transport

 (contact below)
Bunso on Facebook – tel: 0907 985 5306
D'Asean Journey
Contact: 0920 617 4950, 0917 563 1230, 0920 721 0011
Montenegro Lines
This is a new FAST BOAT but does not stop in Linapacan (although they plan to soon), but if enough people keep asking perhaps they will make it a regular stop, as there is so much to see in this beautiful area and they cruise right by it on their way.
Their website wasn't working when I tried it a few times, and when I sent them an email I received the following automatic information. I called the head office and they confirmed the above information.
For any inquiries and booking reservation please contact our MSLI Travel and Tours (Batangas / Main Office) 0908-571-3984, MSLI Booking Station (El Nido / Ticketing Booth) 0928-826-1645/ 0915-092-0358 and MSLI Booking Station (Coron / Satellite Office) 0917-496-2009/ 0917-520-1993 for any inquiries and booking reservation.
More info and contact to other booking agents on this Tripadvisor thread.
Ferries between Manila and Coron
Although they are slower than flying, a ferry can be more fun and less stressful. There is live entertainment on the 2Go ferry, you sleep comfortably in a bed, leave in the afternoon and arrive at your destination early next morning. At 1,500p it can be the same price as accommodation.
2GO Travel (large ferry)
Please check their webpage for updated schedule
Leaves Manila from Pier 4 Fridays at 5pm – arrives at Coron Saturday 7am.
Leaves Coron Sundays at 4.30pm – arrives at Manila Monday 6.30am
Trunkline : (+63 2) 5287000
E-Mail: [email protected]
https://www.facebook.com/2GoTravel
https://travel.2go.com.ph/Schedules/schedules.asp
Bunso
CORON – EL NIDO
Tuesday/Thursday/Friday/Sunday
EL NIDO – CORON
Monday/Wednesday/Friday/Saturday
Booking office downtown Coron/El Nido
Phone: +63 (0) 9103710621
or +63 (0) 9359588273
Atienza Shipping Lines (freighter)
M/V April Rose, (steel hull) Estimated travel time: 17 hours
Wednesday 4pm MANILA – CORON, Saturday 4pm CORON – MANILA
PHP 1,000 Ordinary / PHP 1,150 Aircon
Pier 5, Manila
Telephone No: +63(0)29863118, +63(0)25368123
Mobile No: +63(0)999-8817266
E-mail address: [email protected]
https://www.atienzashippinglines.net/schedule.htm
 Flying in, Flying out
Borneo – Palawan
[The following was taken from the internet but from what is now a suspended account:]
If you take Aleson Shipping from Sandakan, Sabah it will not make any stops along the way to Zamboanga. If you take Weesam – they will make deliveries along the way.
I have not yet made the trip with Weesam and likely will not be taking them in the future, because I prefer the open air deck of the Aleson Shipping vessel.
The Superferry does make trips between Zamboanga and General Santos – I have done that trip one time a few years back – we did make a port of call in Cotabato City on the way.
I suggest not driving from Zamboanga through Cotabato City on the way to General Santos. The 2 times that I made this trip on my bike, I did not see any buses at all on the road coming in from the north. Traveling that route is a bit dicey.
The ferries between Surigao City, Mindanao and Liloan, Leyte take about 4 hours and it's a basic run.
Here is an option that might interest you – Sandakan – Zamboanga – Pagadian – Ozamis – (to Mukas by ferry – 45 minutes) – Iligan- Cagayan de Oro – Butuan – Surigao City – Liloan – Sogod – Agas Agas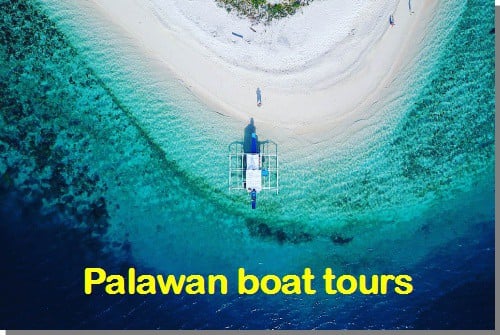 Back to Suggested Travel Itinerary for the Palawan Area
  If the information on this page was useful, let others know with a review!  
Ferries
Average rating:
0 reviews